States with the most active hate groups
Published 8:30 pm Monday, December 19, 2022

Canva
States with the most active hate groups
The number of active hate groups in the U.S. has been declining since 2018, a trend that may be surprising considering the fact that hate crimes are on the rise, according to the Federal Bureau of Investigation. Furthermore, the actions of extremist groups—including those that instigated and participated in the Jan. 6 capitol insurrection—seem more visible than ever before.
But the decrease of hate groups active over the past several years does not, in fact, signal the diminishing influence of hate-fueled and extremist ideology, according to the Southern Poverty Law Center, a civil rights organization that tracks hate and extremist groups in the U.S. Instead, it indicates that public opinion on the mobilizing doctrines of these groups has undergone a significant shift: once considered fringe by the vast majority of Americans, far-right extremist ideology has begun to move into the mainstream.
This shift is far from unique to the U.S. Across the world, from France to India, increasingly far-right thinking has found footholds in more mainstream conservative politics through nationalist rhetoric, anti-immigrant policies, and calls for a return to "traditional values," a euphemism for the maintenance of white patriarchal power. In the U.S., the increased visibility of white nationalist and antisemitic groups dovetailed with former President Trump's emboldening support—resulting in the aforementioned attempted siege on the U.S. capitol, an event that remains mired in both legal and ideological strife.
Hate groups are defined by unifying mission statements or doctrines that hinge on contempt for a group of people, often on the basis of race, religion, or sexuality. According to the Anti-Defamation League, a group with hate-motivated individuals does not necessarily make the organization a hate group; instead, the organization must have a purpose driven by hateful ideology. Extremist groups are sometimes differentiated from hate groups in that they are defined by beliefs or goals that are outside of the mainstream, but are not necessarily motivated by hatred of a particular group.
Stacker analyzed data compiled by the Southern Poverty Law Center tracking active hate groups across the country. States are ranked according to active hate groups per million residents in 2021. Most of the hate groups in the U.S. are white power groups espousing Confederate or Nazi ideology, often utilizing symbolism from those movements.
Read on to learn which states have the most active hate groups.
You may also like: States with the most liberals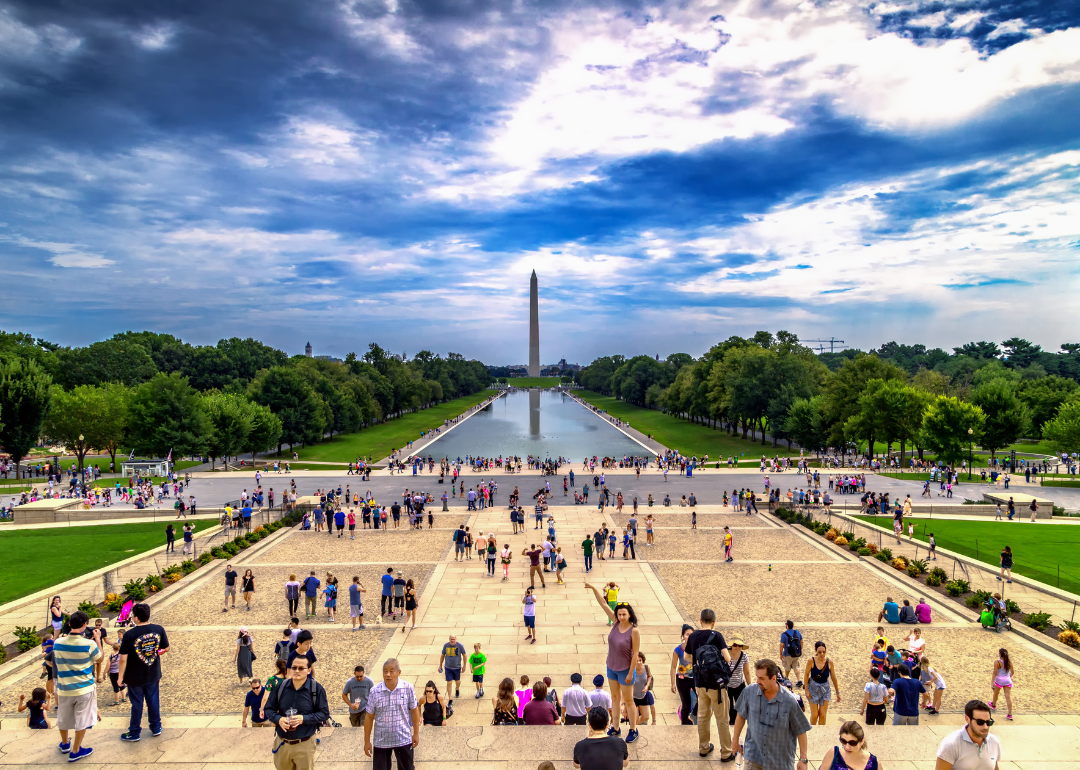 Canva
#51. Washington D.C.
– Hate groups per million residents in 2021: 0
– Total hate groups tracked in 2021: 0
– Unique hate groups tracked since 2011:
— General Hate: 15
— Other: 11
— Anti-Muslim: 11
— White Nationalist: 8
— Anti-Immigrant: 5
— Anti-LGBTQ: 4
— Neo-Nazi: 1
— Male Supremacy: 1
— Ku Klux Klan: 1
— Holocaust Denial: 1
— Antisemitism: 1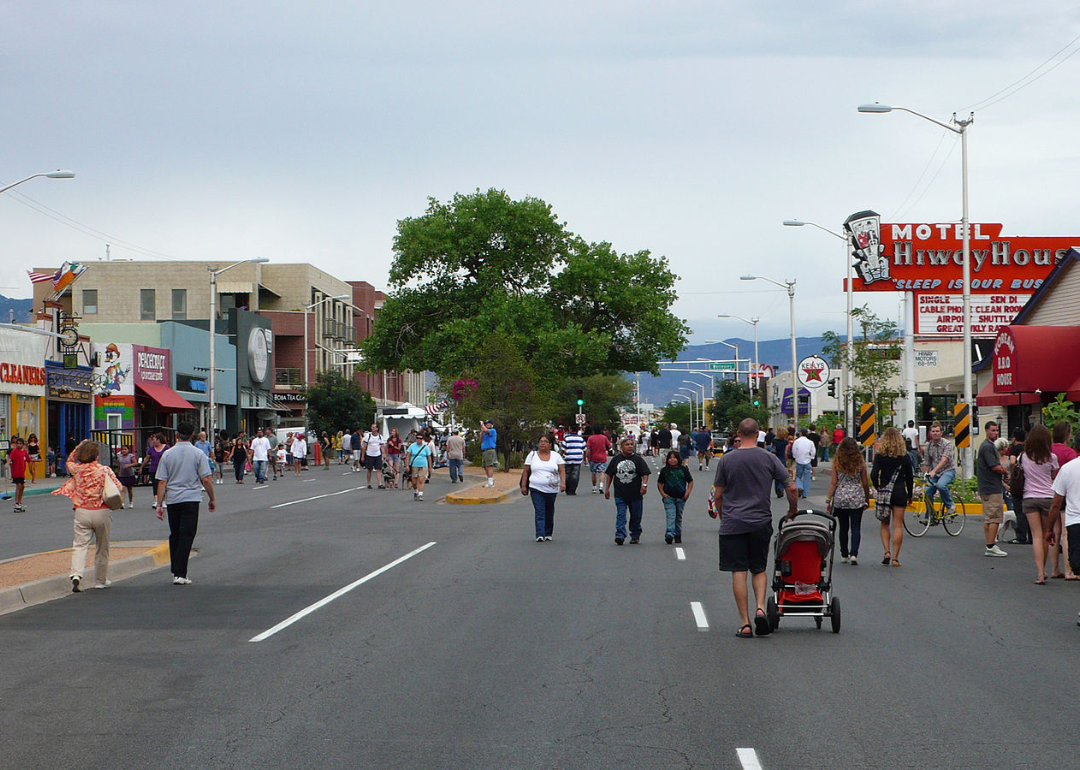 Camerafiend // Wikimedia Commons
#50. New Mexico
– Hate groups per million residents in 2021: 0.47
– Total hate groups tracked in 2021: 1
– Unique hate groups tracked since 2011:
— Ku Klux Klan: 3
— General Hate: 2
— Racist Skinhead: 1
— Christian Identity: 1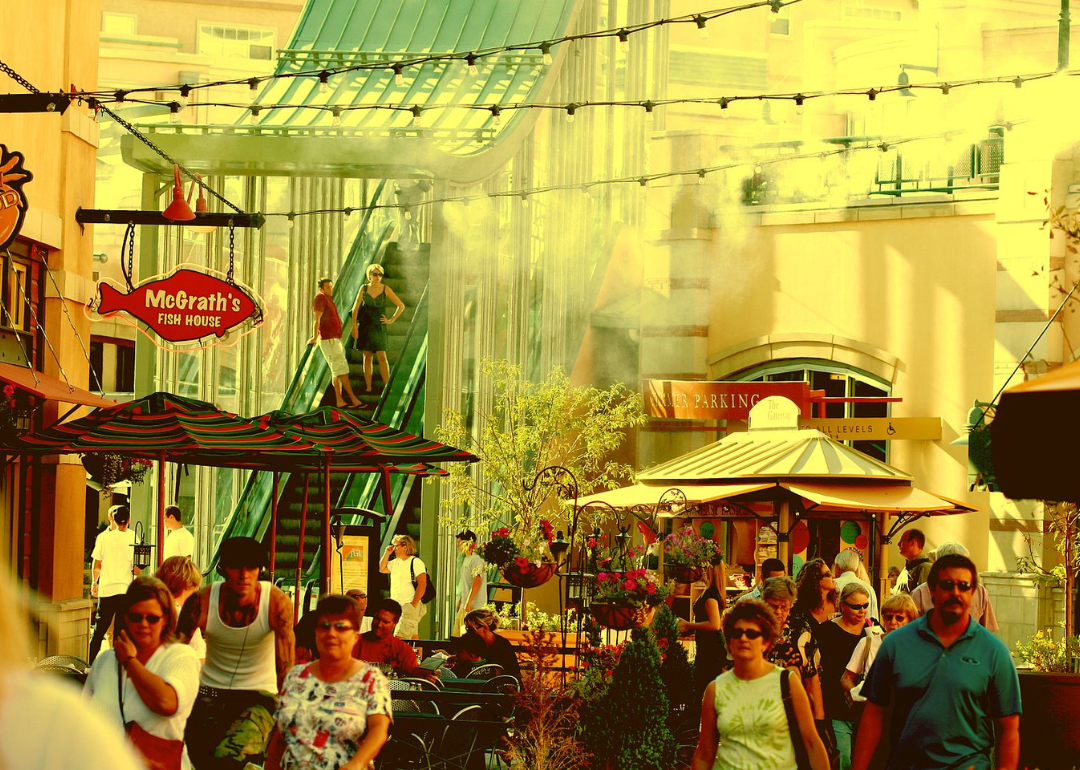 Pink Sherbet Photography // Wikimedia Commons
#49. Utah
– Hate groups per million residents in 2021: 0.60
– Total hate groups tracked in 2021: 2
– Unique hate groups tracked since 2011:
— White Nationalist: 5
— Neo-Nazi: 5
— General Hate: 4
— Racist Skinhead: 2
— Neo-Völkisch: 1
— Ku Klux Klan: 1
— Christian Identity: 1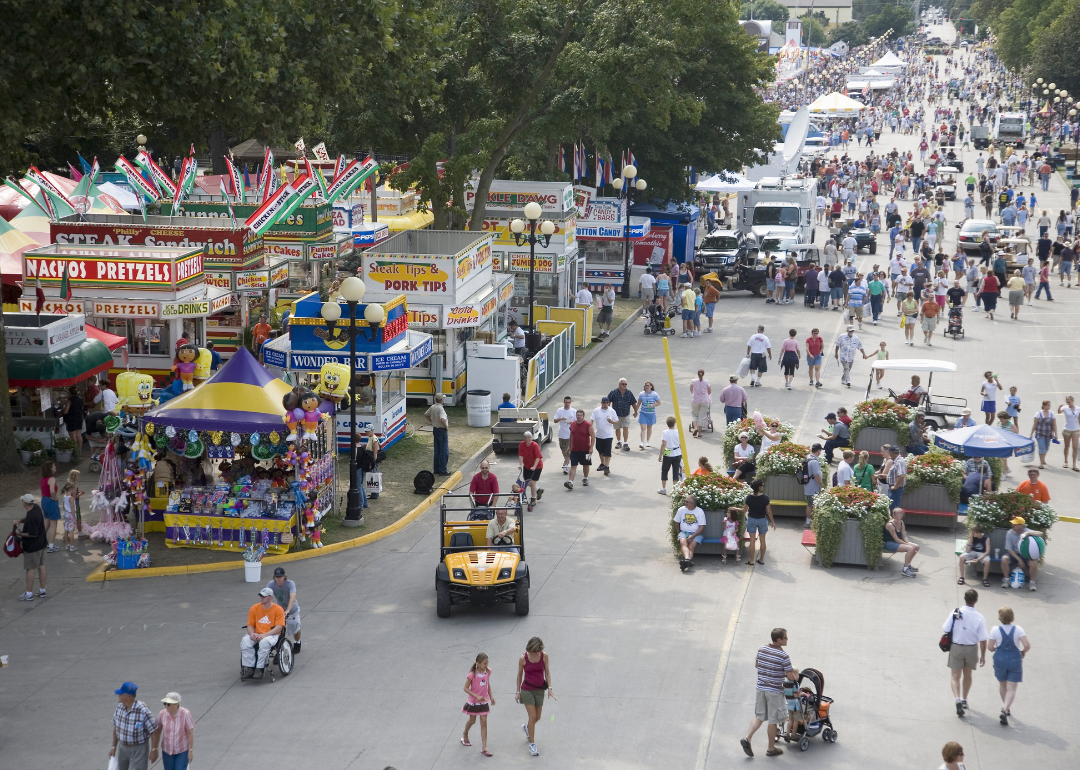 Joe Sohm/Visions of America // Getty Images
#48. Iowa
– Hate groups per million residents in 2021: 0.63
– Total hate groups tracked in 2021: 2
– Unique hate groups tracked since 2011:
— Racist Skinhead: 5
— Ku Klux Klan: 5
— Neo-Nazi: 4
— General Hate: 2
— White Nationalist: 1
— Other: 1
— Neo-Völkisch: 1
— Anti-Muslim: 1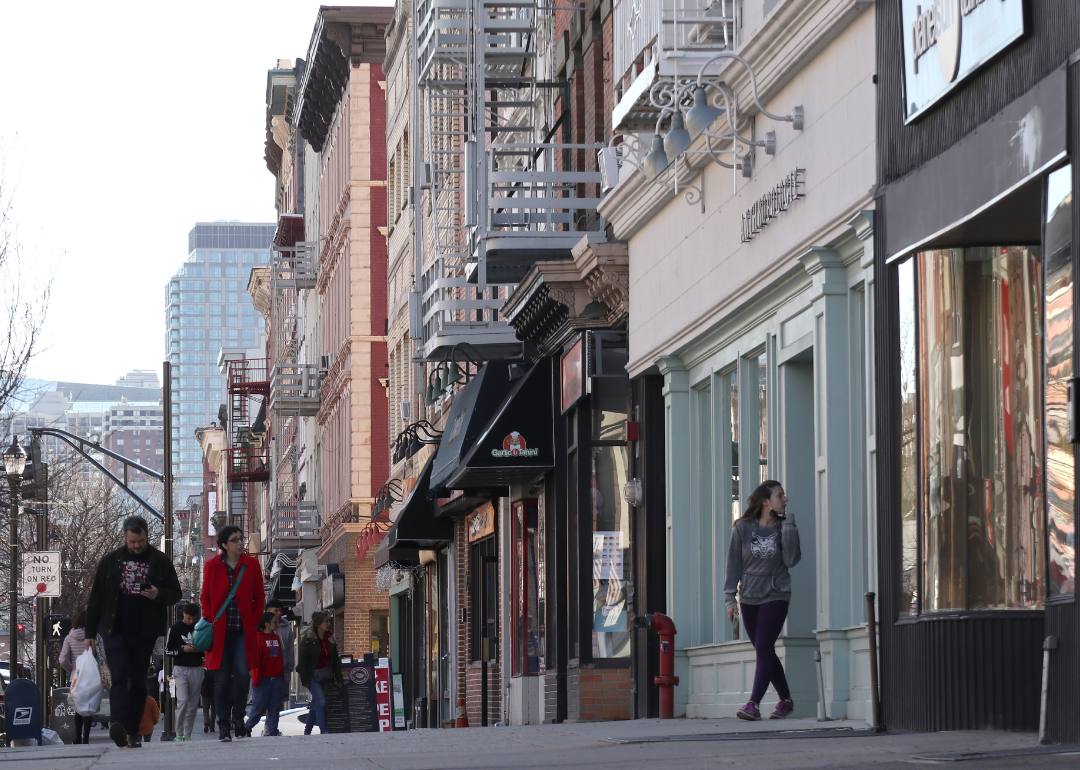 Gary Hershorn // Getty Images
#47. New Jersey
– Hate groups per million residents in 2021: 1.29
– Total hate groups tracked in 2021: 12
– Unique hate groups tracked since 2011:
— White Nationalist: 11
— Racist Skinhead: 11
— Other: 9
— Neo-Nazi: 9
— General Hate: 6
— Ku Klux Klan: 4
— Hate Music: 3
— Antisemitism: 1
You may also like: States with the most Confederate memorials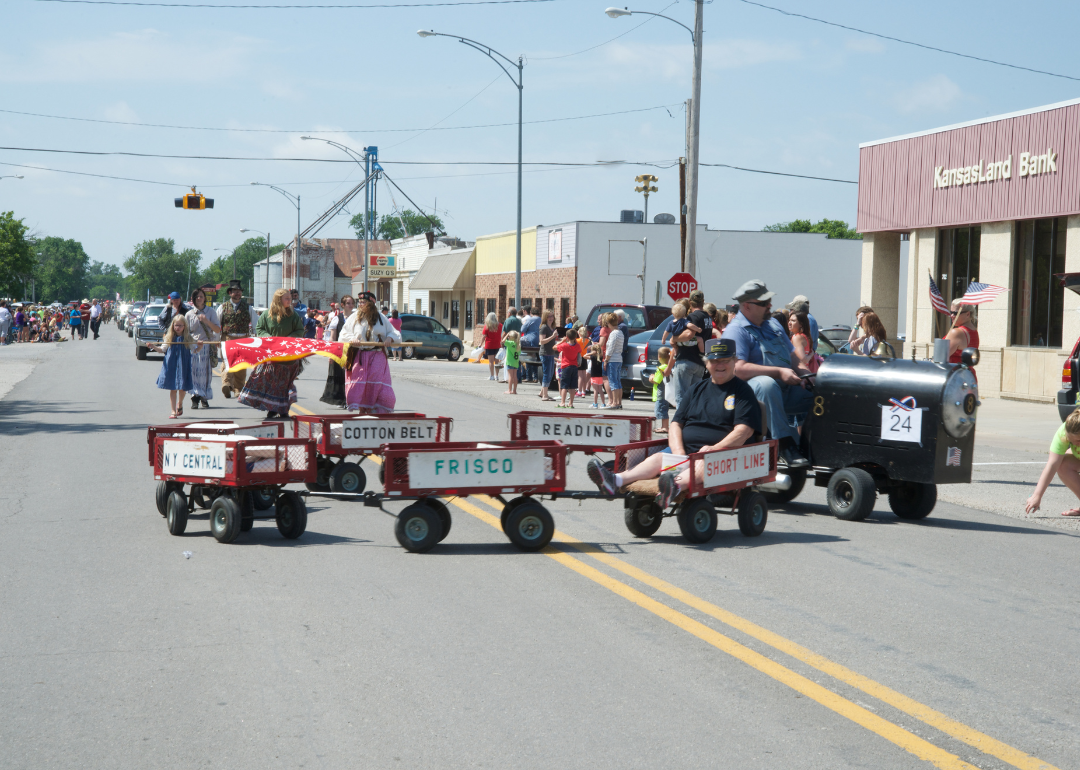 Mark Reinstein // Getty Images
#46. Kansas
– Hate groups per million residents in 2021: 1.36
– Total hate groups tracked in 2021: 4
– Unique hate groups tracked since 2011:
— Neo-Nazi: 4
— White Nationalist: 3
— Racist Skinhead: 2
— Other: 2
— General Hate: 2
— Neo-Völkisch: 1
— Ku Klux Klan: 1
— Anti-Muslim: 1
— Anti-LGBTQ: 1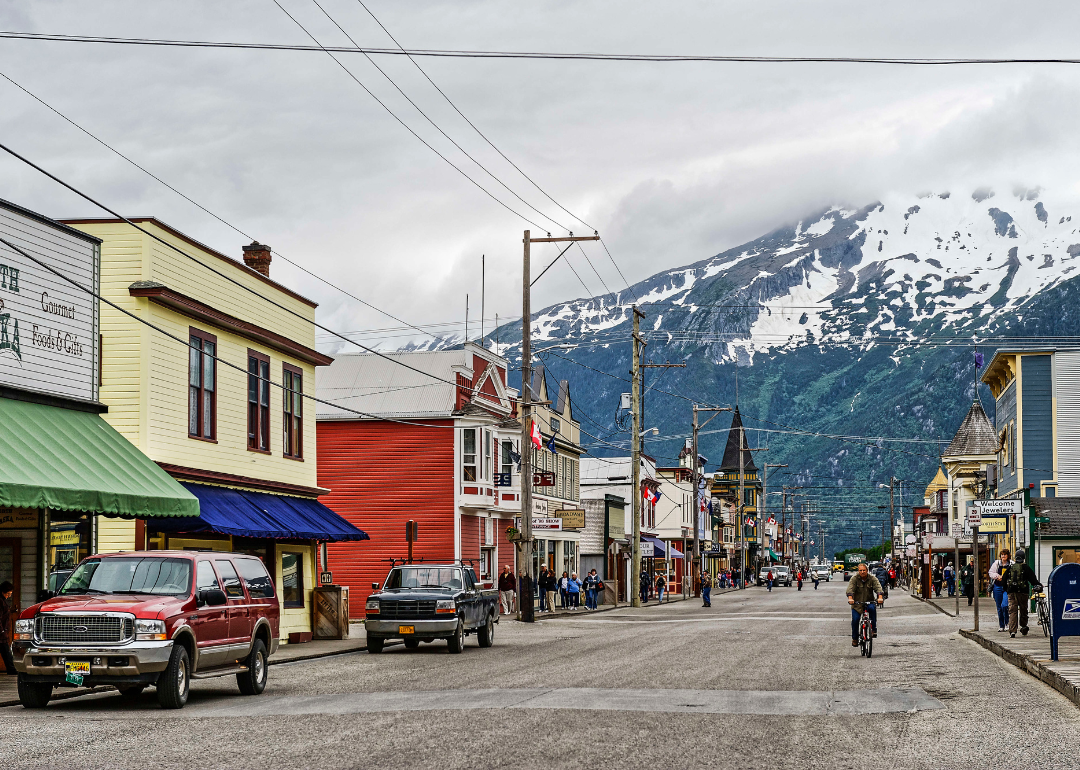 John Greim // Getty Images
#45. Alaska
– Hate groups per million residents in 2021: 1.36
– Total hate groups tracked in 2021: 1
– Unique hate groups tracked since 2011:
— General Hate: 4
— White Nationalist: 2
— Neo-Nazi: 2
— Racist Skinhead: 1
— Neo-Völkisch: 1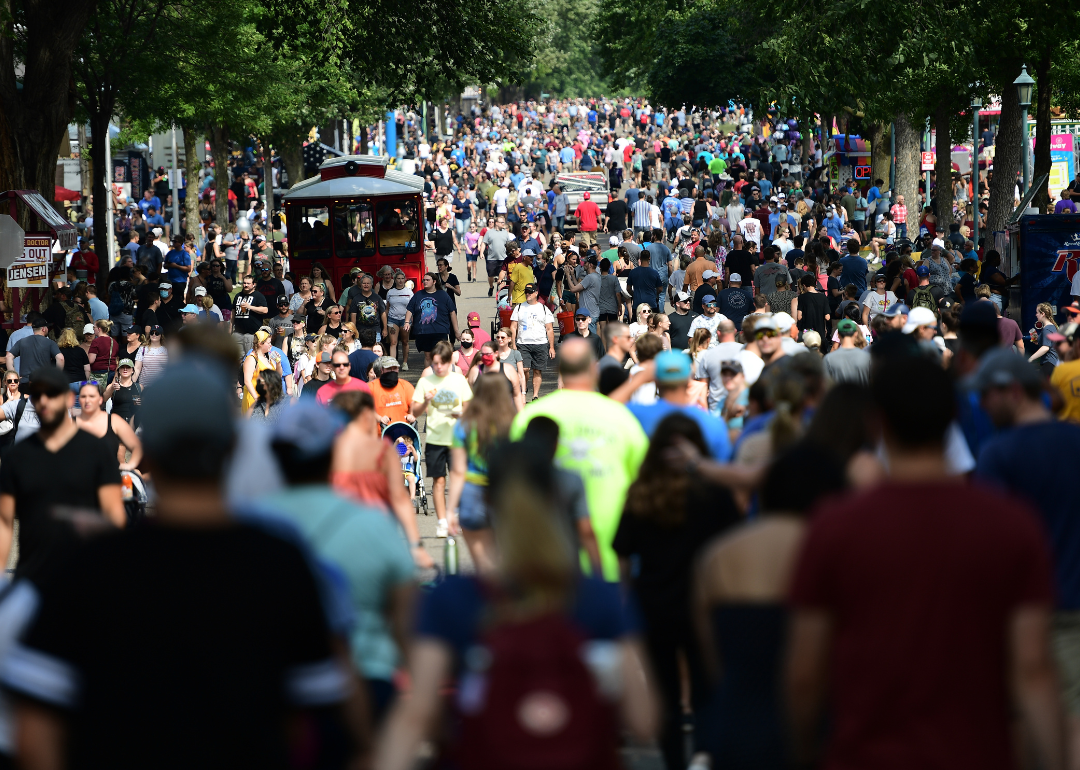 MediaNews Group/St. Paul Pioneer Press // Getty Images
#44. Minnesota
– Hate groups per million residents in 2021: 1.58
– Total hate groups tracked in 2021: 9
– Unique hate groups tracked since 2011:
— White Nationalist: 8
— Neo-Nazi: 6
— General Hate: 6
— Racist Skinhead: 5
— Radical Traditional Catholicism: 3
— Neo-Völkisch: 3
— Ku Klux Klan: 3
— Other: 2
— Christian Identity: 2
— Anti-Muslim: 2
— Anti-LGBTQ: 2
— Hate Music: 1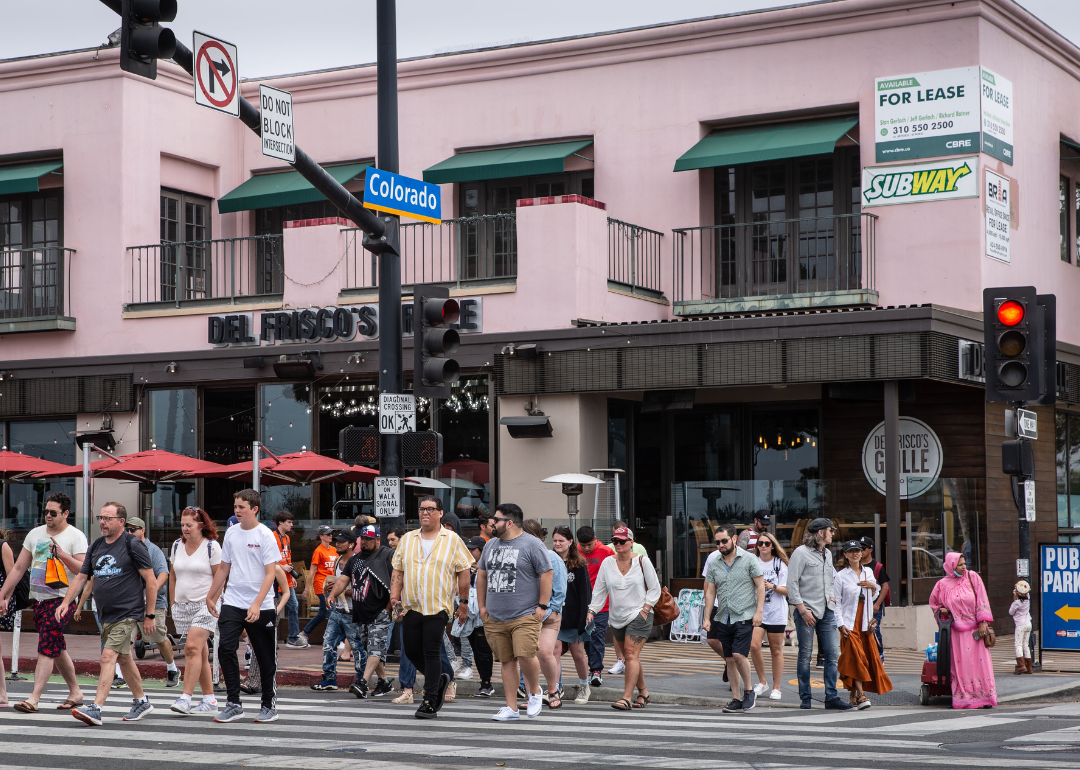 George Rose // Getty Images
#43. California
– Hate groups per million residents in 2021: 1.66
– Total hate groups tracked in 2021: 65
– Unique hate groups tracked since 2011:
— White Nationalist: 32
— General Hate: 31
— Racist Skinhead: 26
— Neo-Nazi: 22
— Anti-Muslim: 16
— Other: 14
— Anti-LGBTQ: 9
— Ku Klux Klan: 7
— Anti-Immigrant: 7
— Holocaust Denial: 6
— Hate Music: 6
— Neo-Völkisch: 4
— Antisemitism: 4
— Radical Traditional Catholicism: 2
— Neo-Confederate: 1
— Christian Identity: 1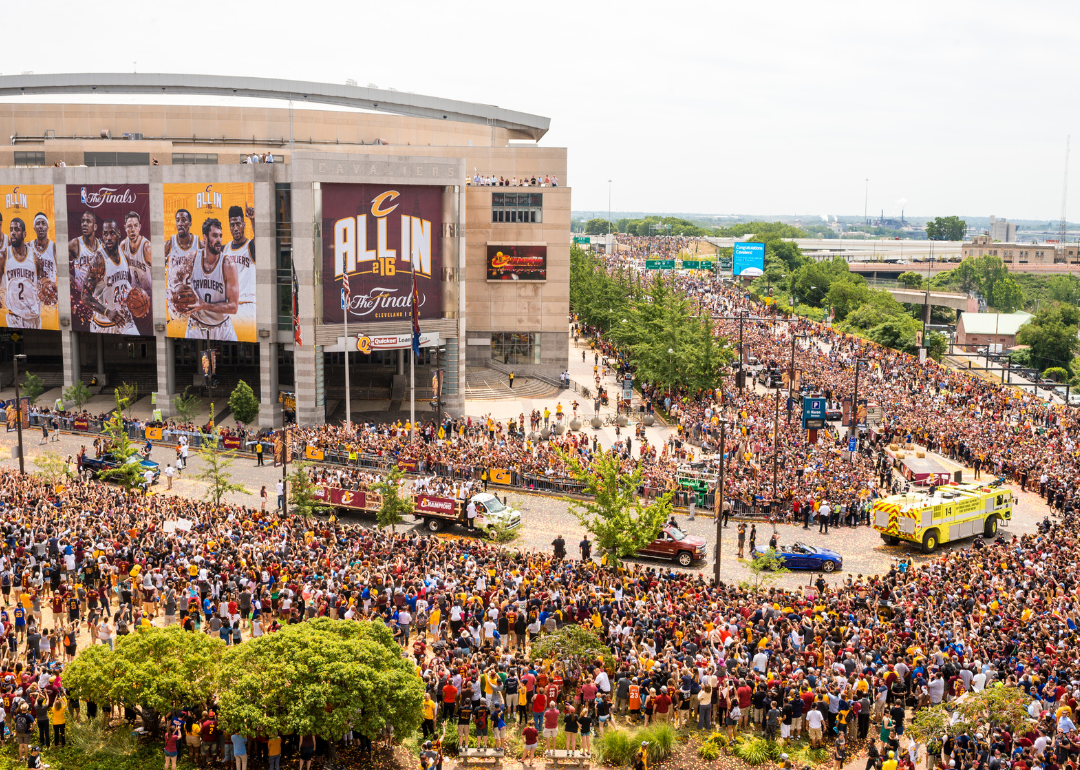 Angelo Merendino // Getty Images
#42. Ohio
– Hate groups per million residents in 2021: 1.70
– Total hate groups tracked in 2021: 20
– Unique hate groups tracked since 2011:
— Ku Klux Klan: 25
— Neo-Nazi: 18
— White Nationalist: 14
— General Hate: 12
— Racist Skinhead: 9
— Other: 9
— Anti-LGBTQ: 6
— Christian Identity: 5
— Hate Music: 4
— Anti-Muslim: 3
— Radical Traditional Catholicism: 1
— Neo-Völkisch: 1
— Antisemitism: 1
You may also like: History of the NRA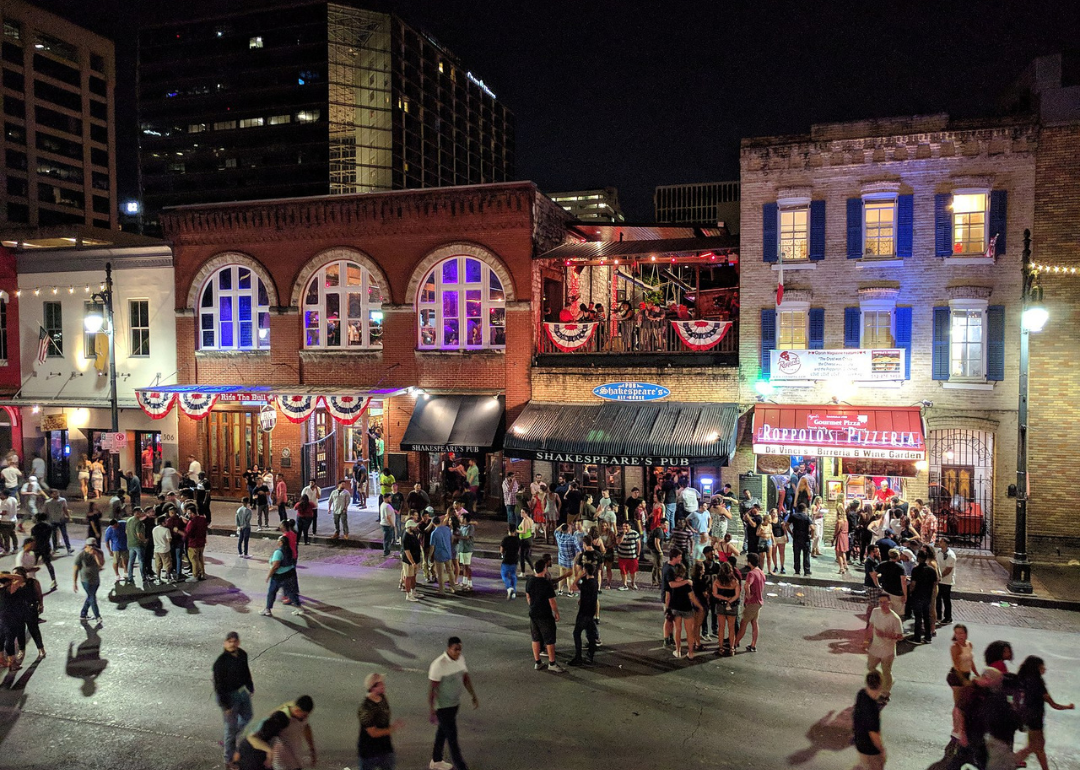 Kevin Payravi // Wikimedia Commons
#41. Texas
– Hate groups per million residents in 2021: 1.76
– Total hate groups tracked in 2021: 52
– Unique hate groups tracked since 2011:
— Ku Klux Klan: 31
— Neo-Nazi: 28
— General Hate: 24
— White Nationalist: 21
— Racist Skinhead: 12
— Other: 12
— Anti-Muslim: 7
— Anti-LGBTQ: 7
— Neo-Völkisch: 5
— Christian Identity: 5
— Anti-Immigrant: 5
— Neo-Confederate: 3
— Hate Music: 3
— Radical Traditional Catholicism: 2
— Antisemitism: 2
— Male Supremacy: 1
— Holocaust Denial: 1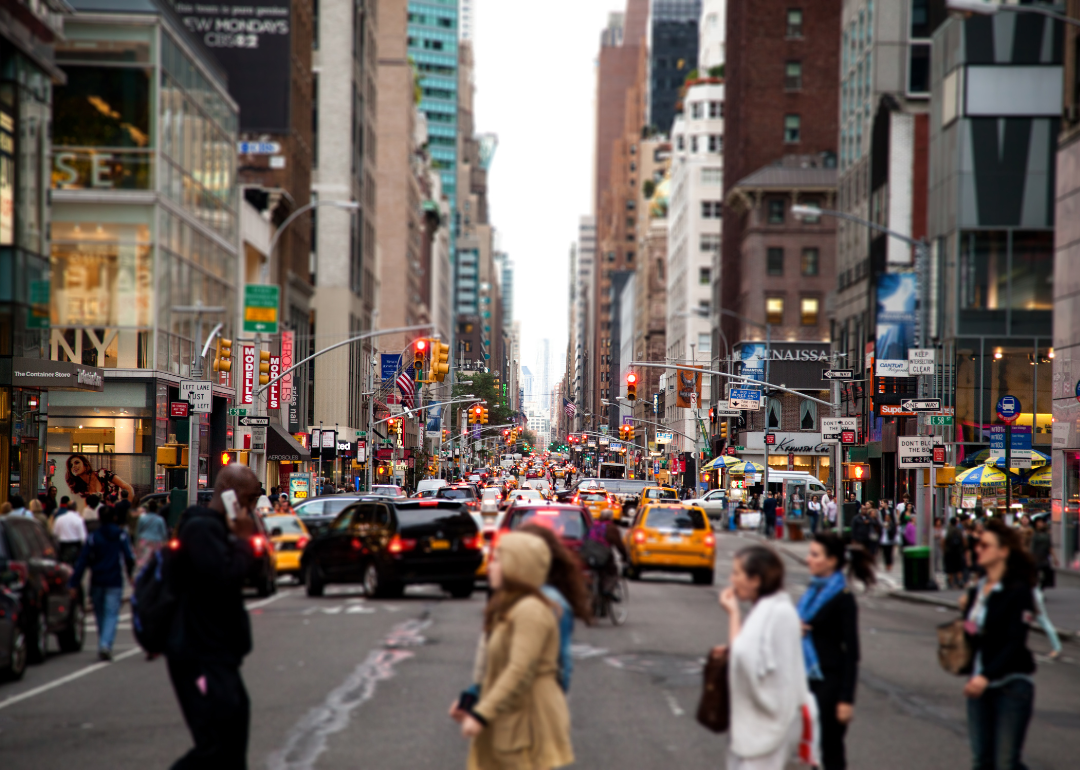 Canva
#40. New York
– Hate groups per million residents in 2021: 1.76
– Total hate groups tracked in 2021: 35
– Unique hate groups tracked since 2011:
— White Nationalist: 23
— Other: 20
— General Hate: 18
— Anti-Muslim: 15
— Neo-Nazi: 14
— Ku Klux Klan: 8
— Anti-LGBTQ: 8
— Racist Skinhead: 6
— Radical Traditional Catholicism: 5
— Neo-Völkisch: 3
— Holocaust Denial: 2
— Hate Music: 2
— Antisemitism: 1
— Anti-Immigrant: 1
Baltimore Heritage // Wikimedia Commons
#39. Maryland
– Hate groups per million residents in 2021: 1.78
– Total hate groups tracked in 2021: 11
– Unique hate groups tracked since 2011:
— White Nationalist: 12
— Other: 12
— General Hate: 11
— Neo-Nazi: 9
— Ku Klux Klan: 9
— Racist Skinhead: 4
— Neo-Confederate: 2
— Anti-Muslim: 2
— Radical Traditional Catholicism: 1
— Holocaust Denial: 1
— Hate Music: 1
— Antisemitism: 1
— Anti-LGBTQ: 1
— Anti-Immigrant: 1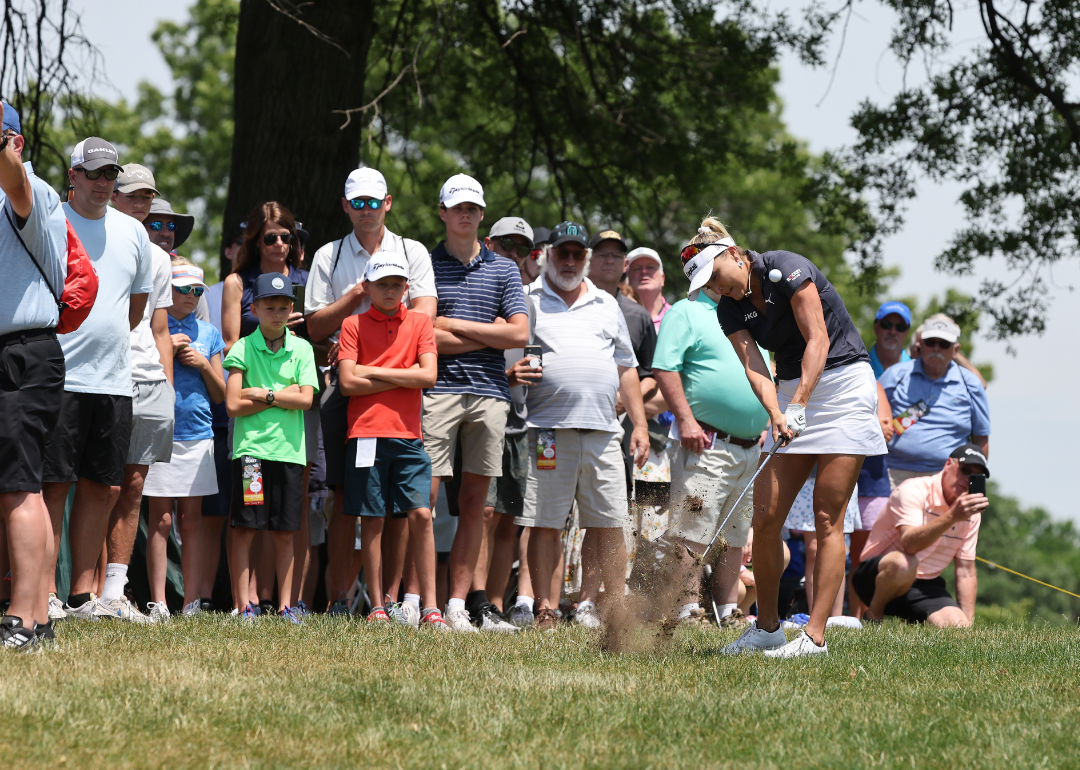 Rey Del Rio // Getty Images
#38. Michigan
– Hate groups per million residents in 2021: 1.79
– Total hate groups tracked in 2021: 18
– Unique hate groups tracked since 2011:
— White Nationalist: 16
— Neo-Nazi: 15
— General Hate: 12
— Other: 10
— Ku Klux Klan: 10
— Racist Skinhead: 8
— Anti-Muslim: 6
— Christian Identity: 3
— Anti-LGBTQ: 3
— Neo-Völkisch: 1
— Holocaust Denial: 1
— Hate Music: 1
— Antisemitism: 1
— Anti-Immigrant: 1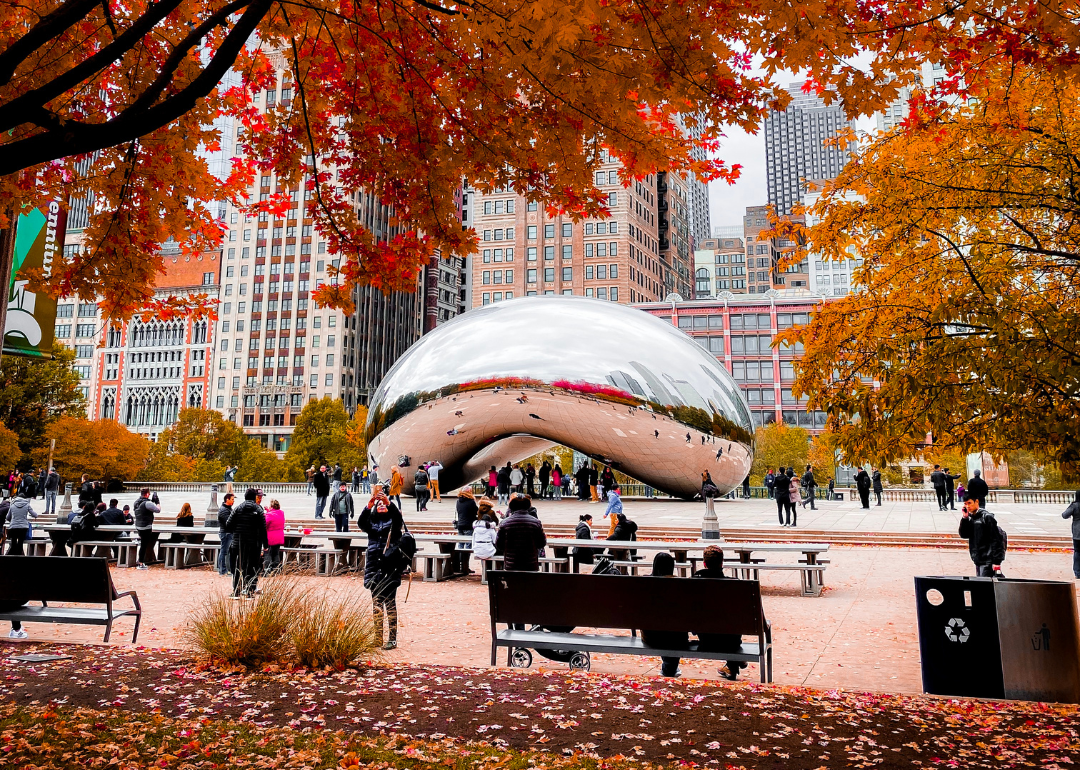 Canva
#37. Illinois
– Hate groups per million residents in 2021: 1.82
– Total hate groups tracked in 2021: 23
– Unique hate groups tracked since 2011:
— White Nationalist: 15
— Neo-Nazi: 15
— Racist Skinhead: 14
— Other: 14
— Ku Klux Klan: 13
— General Hate: 12
— Anti-LGBTQ: 5
— Christian Identity: 3
— Hate Music: 2
— Anti-Muslim: 2
— Neo-Völkisch: 1
— Antisemitism: 1
You may also like: 50 facts about guns in America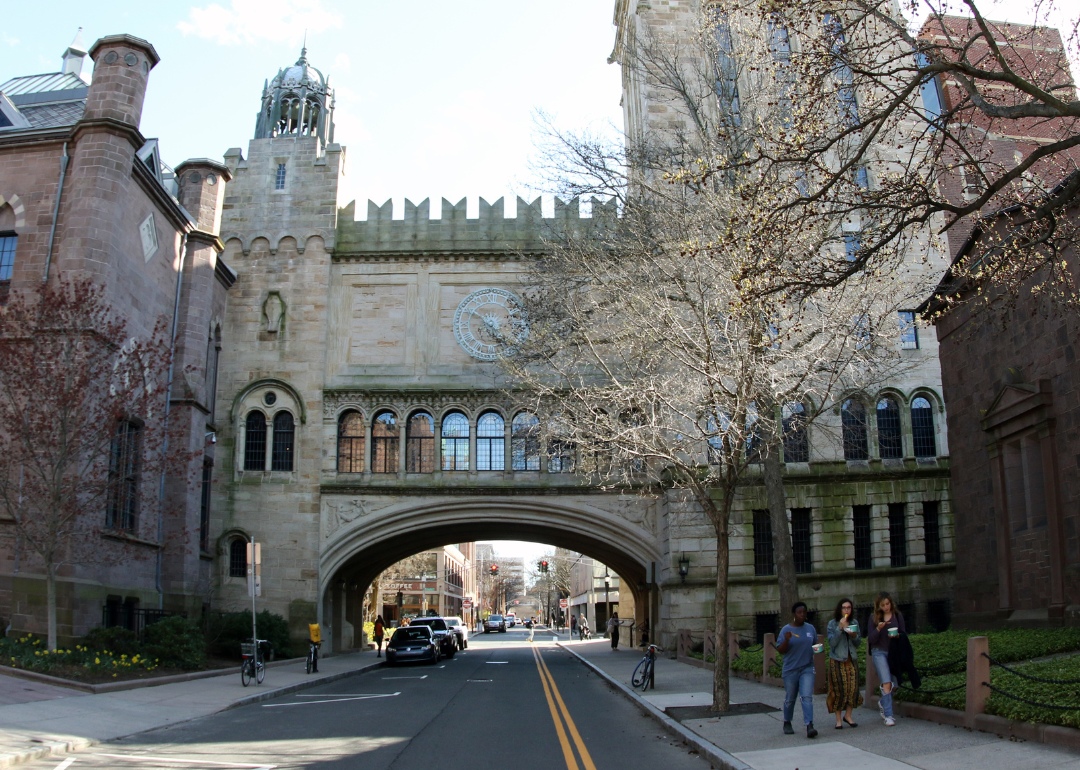 The Washington Post // Getty Images
#36. Connecticut
– Hate groups per million residents in 2021: 1.94
– Total hate groups tracked in 2021: 7
– Unique hate groups tracked since 2011:
— White Nationalist: 7
— Neo-Nazi: 7
— Other: 6
— General Hate: 5
— Ku Klux Klan: 3
— Racist Skinhead: 1
— Anti-Muslim: 1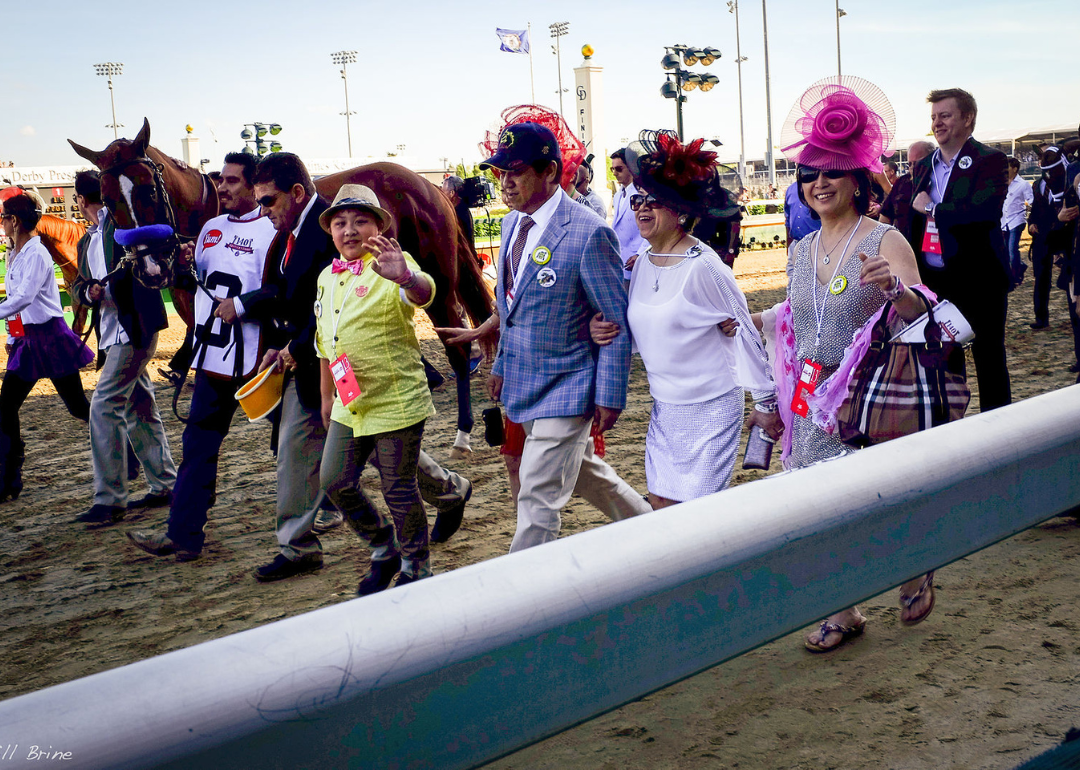 Bill Brine // Wikimedia Commons
#35. Kentucky
– Hate groups per million residents in 2021: 2.00
– Total hate groups tracked in 2021: 9
– Unique hate groups tracked since 2011:
— Ku Klux Klan: 15
— Neo-Nazi: 9
— White Nationalist: 6
— Other: 6
— General Hate: 5
— Racist Skinhead: 4
— Neo-Confederate: 2
— Christian Identity: 2
— Neo-Völkisch: 1
— Hate Music: 1
— Antisemitism: 1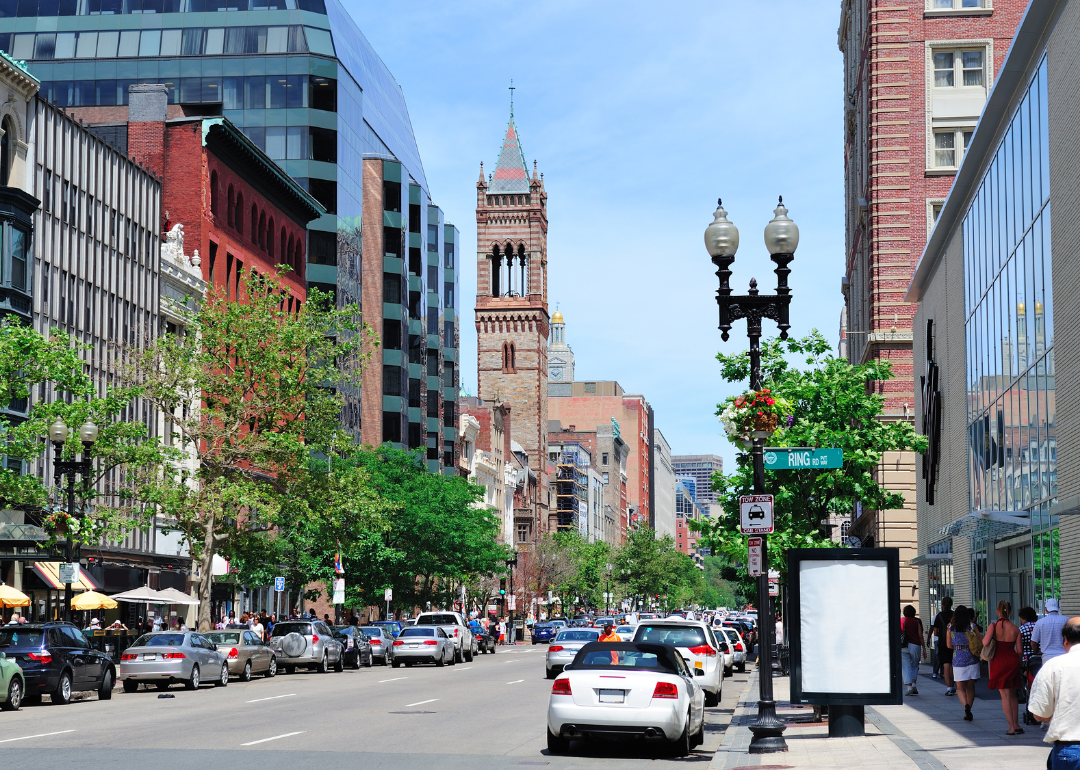 Canva
#34. Massachusetts
– Hate groups per million residents in 2021: 2.00
– Total hate groups tracked in 2021: 14
– Unique hate groups tracked since 2011:
— White Nationalist: 13
— Neo-Nazi: 8
— General Hate: 6
— Other: 5
— Racist Skinhead: 3
— Anti-LGBTQ: 3
— Neo-Völkisch: 2
— Radical Traditional Catholicism: 1
— Ku Klux Klan: 1
— Antisemitism: 1
— Anti-Muslim: 1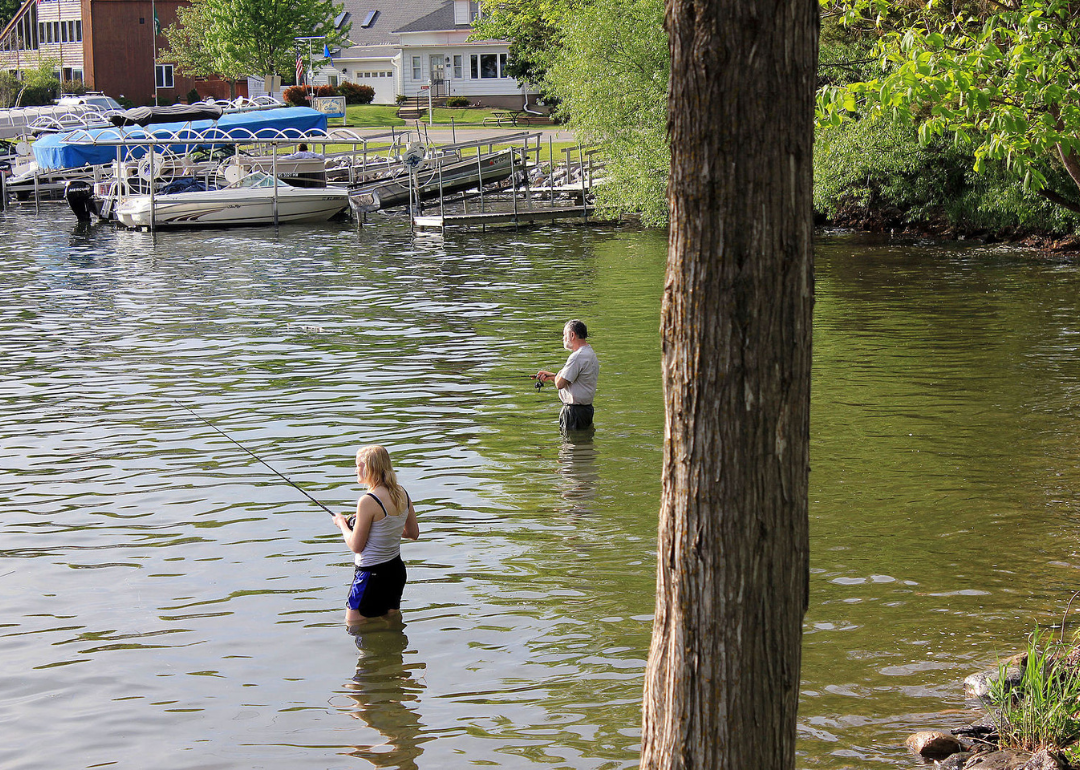 Yinan Chen // Wikimedia Commons
#33. Wisconsin
– Hate groups per million residents in 2021: 2.04
– Total hate groups tracked in 2021: 12
– Unique hate groups tracked since 2011:
— Neo-Nazi: 12
— White Nationalist: 10
— General Hate: 5
— Racist Skinhead: 4
— Other: 4
— Neo-Völkisch: 4
— Hate Music: 2
— Anti-Muslim: 2
— Ku Klux Klan: 1
— Christian Identity: 1
— Antisemitism: 1
— Anti-LGBTQ: 1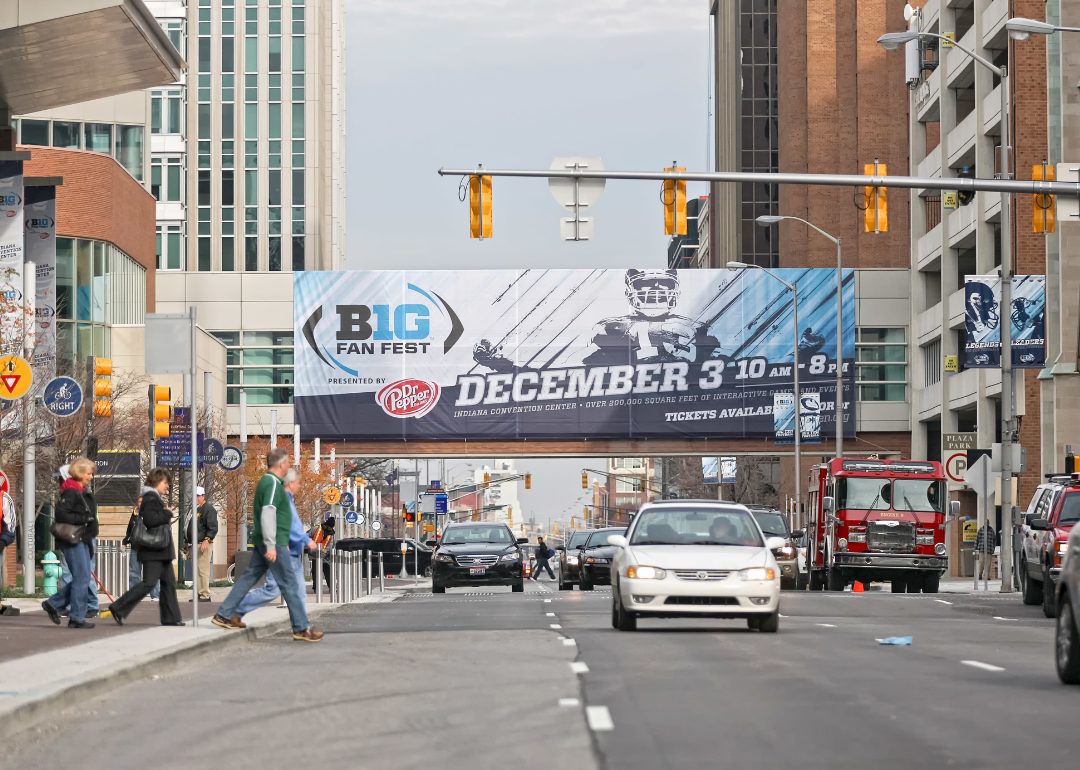 The Washington Post // Getty Images
#32. Indiana
– Hate groups per million residents in 2021: 2.06
– Total hate groups tracked in 2021: 14
– Unique hate groups tracked since 2011:
— White Nationalist: 20
— Ku Klux Klan: 18
— Neo-Nazi: 10
— Racist Skinhead: 9
— General Hate: 7
— Other: 4
— Neo-Völkisch: 4
— Christian Identity: 3
— Anti-Muslim: 2
— Anti-LGBTQ: 2
— Radical Traditional Catholicism: 1
— Neo-Confederate: 1
— Antisemitism: 1
You may also like: States with the most conservatives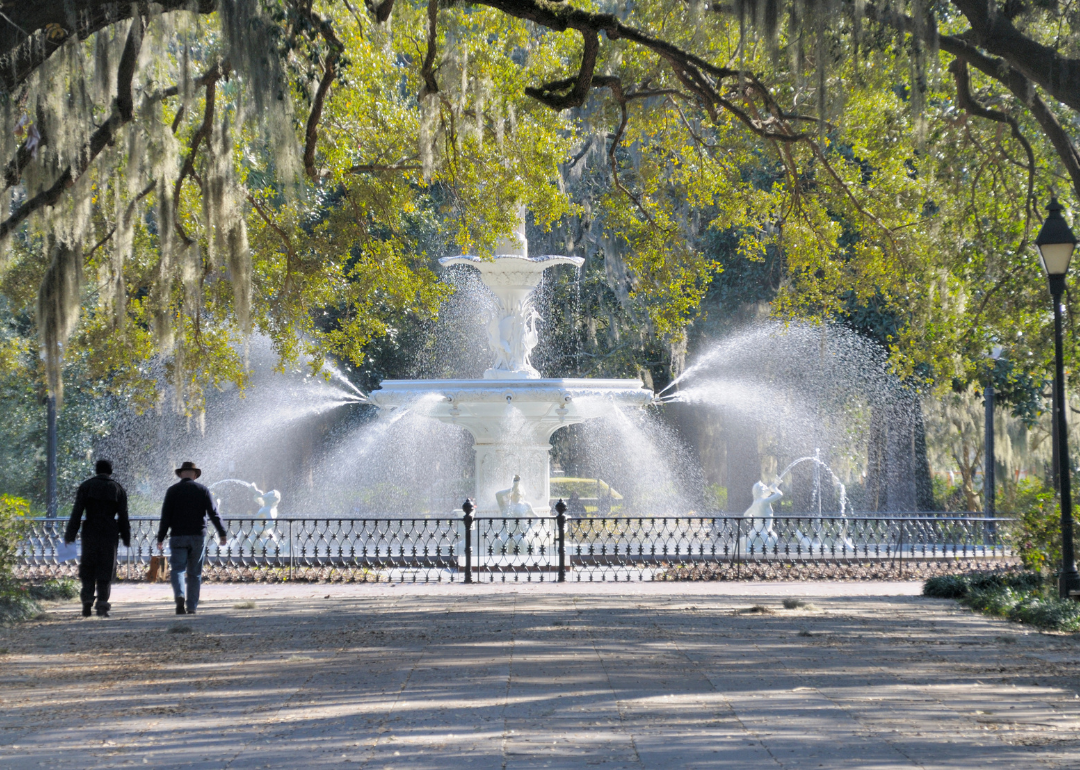 Canva
#31. Georgia
– Hate groups per million residents in 2021: 2.22
– Total hate groups tracked in 2021: 24
– Unique hate groups tracked since 2011:
— General Hate: 22
— Other: 21
— White Nationalist: 20
— Ku Klux Klan: 19
— Neo-Nazi: 17
— Racist Skinhead: 6
— Neo-Confederate: 4
— Anti-Muslim: 4
— Anti-LGBTQ: 3
— Christian Identity: 2
— Anti-Immigrant: 2
— Neo-Völkisch: 1
— Antisemitism: 1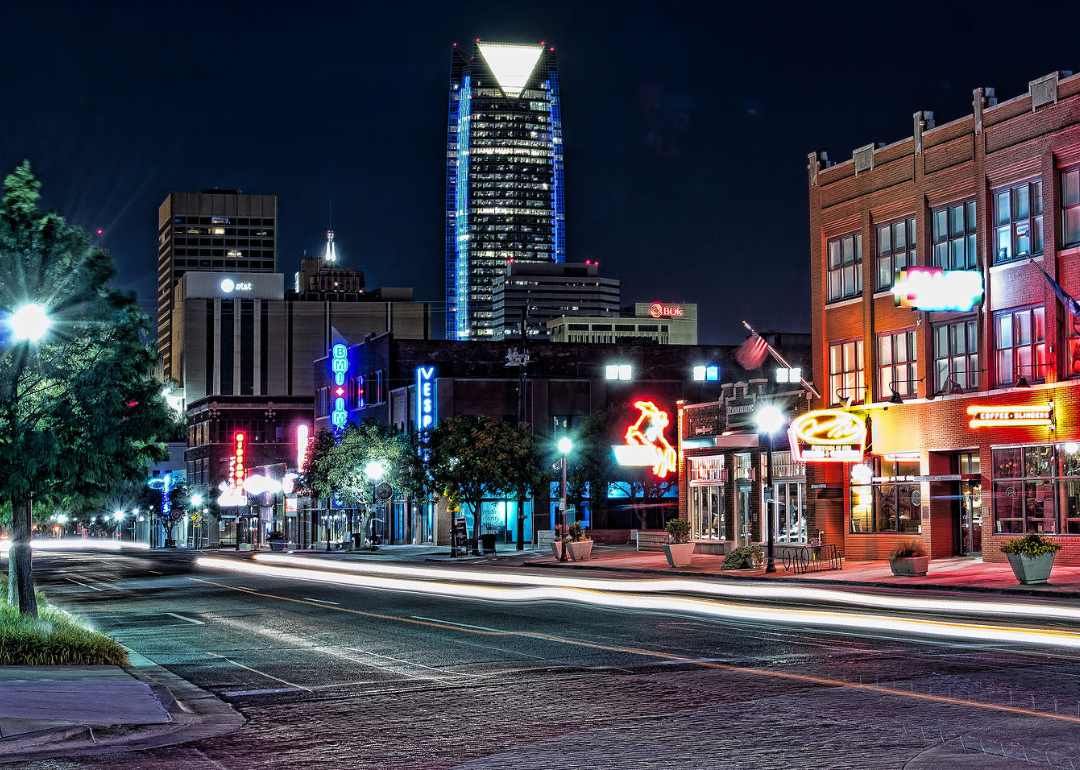 katsrcool // Wikimedia Commons
#30. Oklahoma
– Hate groups per million residents in 2021: 2.26
– Total hate groups tracked in 2021: 9
– Unique hate groups tracked since 2011:
— Other: 9
— Ku Klux Klan: 9
— Neo-Nazi: 7
— Racist Skinhead: 6
— General Hate: 5
— White Nationalist: 4
— Neo-Confederate: 2
— Anti-LGBTQ: 2
— Christian Identity: 1
— Antisemitism: 1
— Anti-Muslim: 1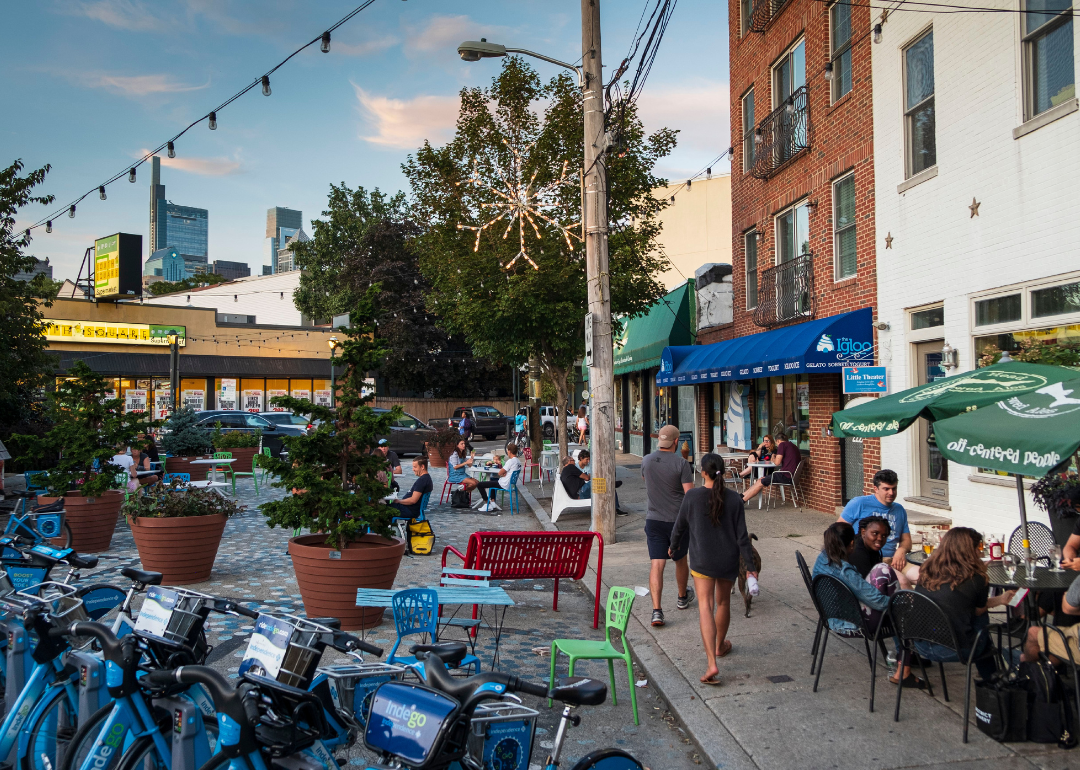 UCG // Getty Images
#29. Pennsylvania
– Hate groups per million residents in 2021: 2.31
– Total hate groups tracked in 2021: 30
– Unique hate groups tracked since 2011:
— White Nationalist: 20
— Neo-Nazi: 18
— Racist Skinhead: 17
— Ku Klux Klan: 16
— General Hate: 15
— Other: 11
— Hate Music: 6
— Anti-Muslim: 6
— Radical Traditional Catholicism: 5
— Neo-Völkisch: 3
— Antisemitism: 2
— Holocaust Denial: 1
— Christian Identity: 1
— Anti-LGBTQ: 1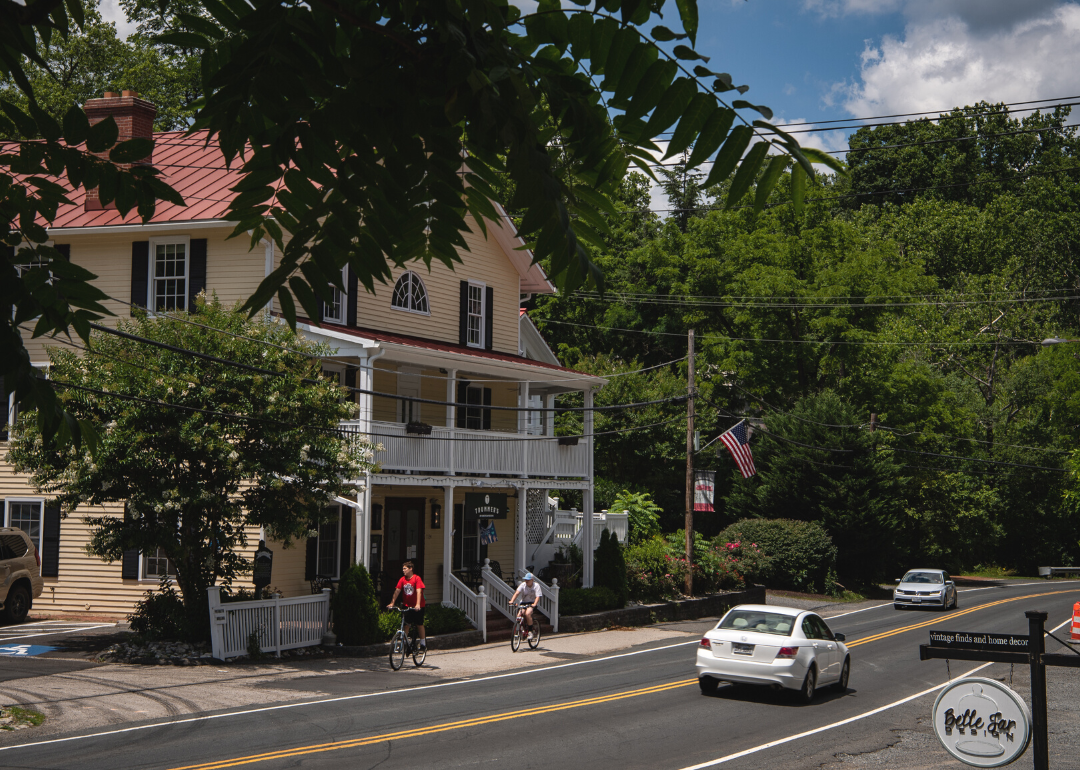 The Washington Post // Getty Images
#28. Virginia
– Hate groups per million residents in 2021: 2.31
– Total hate groups tracked in 2021: 20
– Unique hate groups tracked since 2011:
— White Nationalist: 28
— Ku Klux Klan: 17
— Neo-Nazi: 16
— Racist Skinhead: 11
— General Hate: 9
— Other: 7
— Anti-Muslim: 6
— Neo-Confederate: 3
— Radical Traditional Catholicism: 2
— Neo-Völkisch: 2
— Anti-LGBTQ: 2
— Anti-Immigrant: 2
— Male Supremacy: 1
— Hate Music: 1
— Christian Identity: 1
— Antisemitism: 1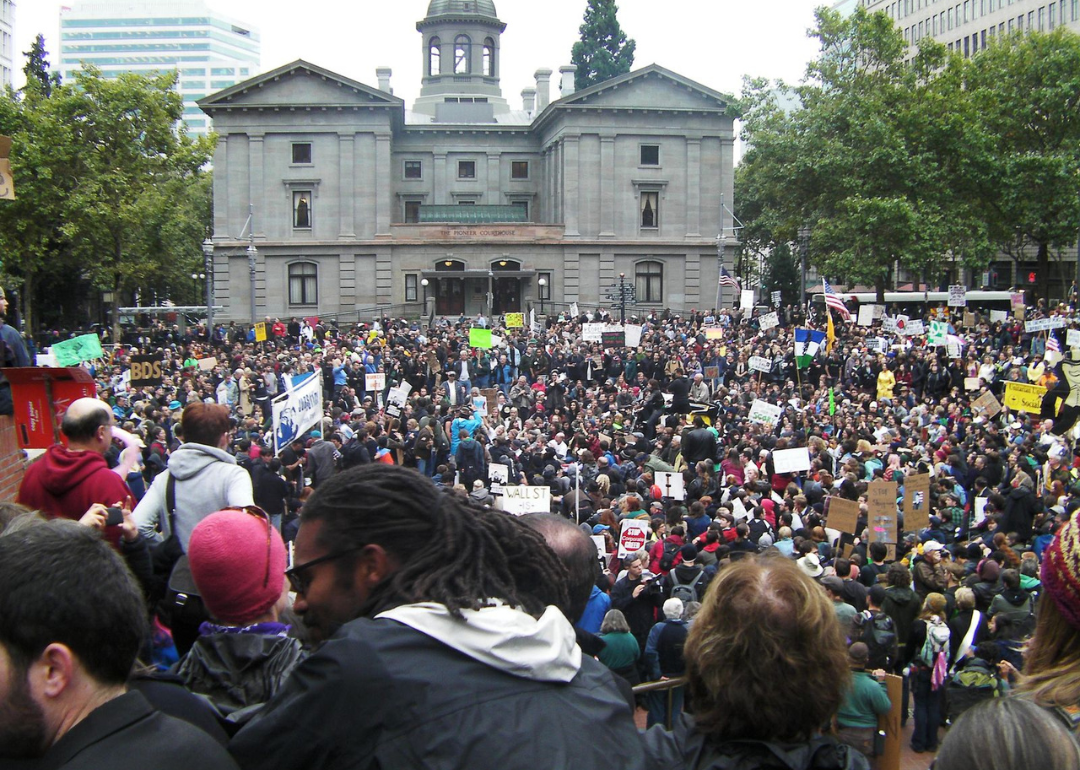 Davydog // Wikimedia Commons
#27. Oregon
– Hate groups per million residents in 2021: 2.36
– Total hate groups tracked in 2021: 10
– Unique hate groups tracked since 2011:
— White Nationalist: 13
— Neo-Nazi: 9
— Racist Skinhead: 7
— Other: 7
— General Hate: 7
— Neo-Völkisch: 2
— Ku Klux Klan: 2
— Hate Music: 2
— Christian Identity: 2
— Anti-Muslim: 1
— Anti-LGBTQ: 1
— Anti-Immigrant: 1
You may also like: Voter demographics of every state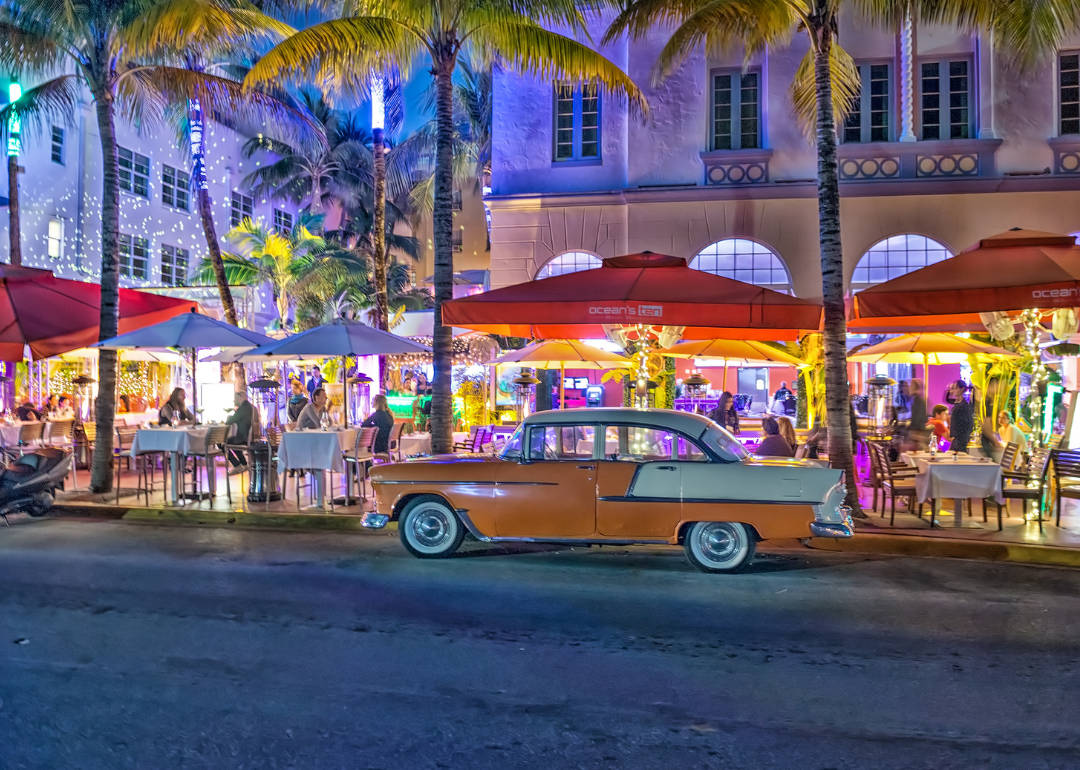 Canva
#26. Florida
– Hate groups per million residents in 2021: 2.43
– Total hate groups tracked in 2021: 53
– Unique hate groups tracked since 2011:
— White Nationalist: 21
— Ku Klux Klan: 20
— General Hate: 20
— Neo-Nazi: 19
— Racist Skinhead: 18
— Other: 15
— Anti-Muslim: 10
— Anti-LGBTQ: 6
— Neo-Völkisch: 3
— Neo-Confederate: 3
— Christian Identity: 3
— Radical Traditional Catholicism: 2
— Anti-Immigrant: 2
— Holocaust Denial: 1
— Antisemitism: 1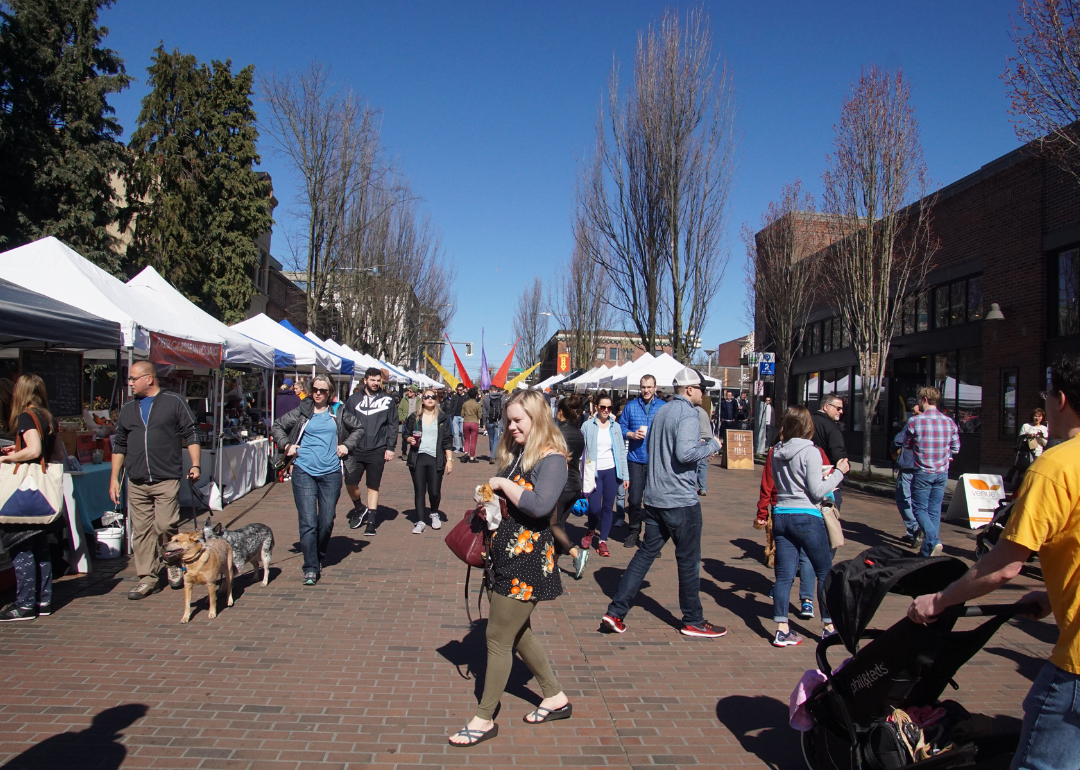 Canva
#25. Washington
– Hate groups per million residents in 2021: 2.46
– Total hate groups tracked in 2021: 19
– Unique hate groups tracked since 2011:
— Neo-Nazi: 14
— White Nationalist: 13
— Racist Skinhead: 8
— Other: 8
— General Hate: 6
— Anti-Muslim: 4
— Anti-LGBTQ: 4
— Neo-Völkisch: 3
— Ku Klux Klan: 3
— Christian Identity: 3
— Radical Traditional Catholicism: 1
— Anti-Immigrant: 1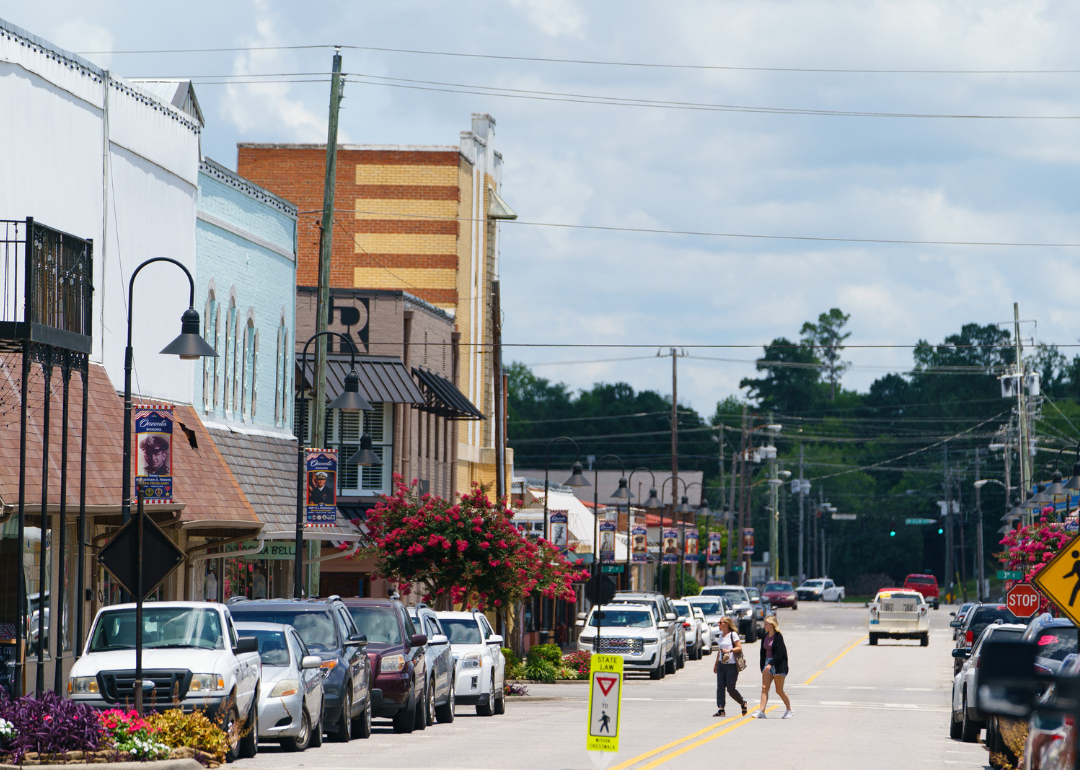 ELIJAH NOUVELAGE // Getty Images
#24. Alabama
– Hate groups per million residents in 2021: 2.58
– Total hate groups tracked in 2021: 13
– Unique hate groups tracked since 2011:
— Ku Klux Klan: 23
— Neo-Nazi: 10
— White Nationalist: 6
— Other: 6
— General Hate: 6
— Neo-Confederate: 3
— Racist Skinhead: 2
— Neo-Völkisch: 2
— Christian Identity: 2
— Antisemitism: 1
— Anti-LGBTQ: 1
— Anti-Immigrant: 1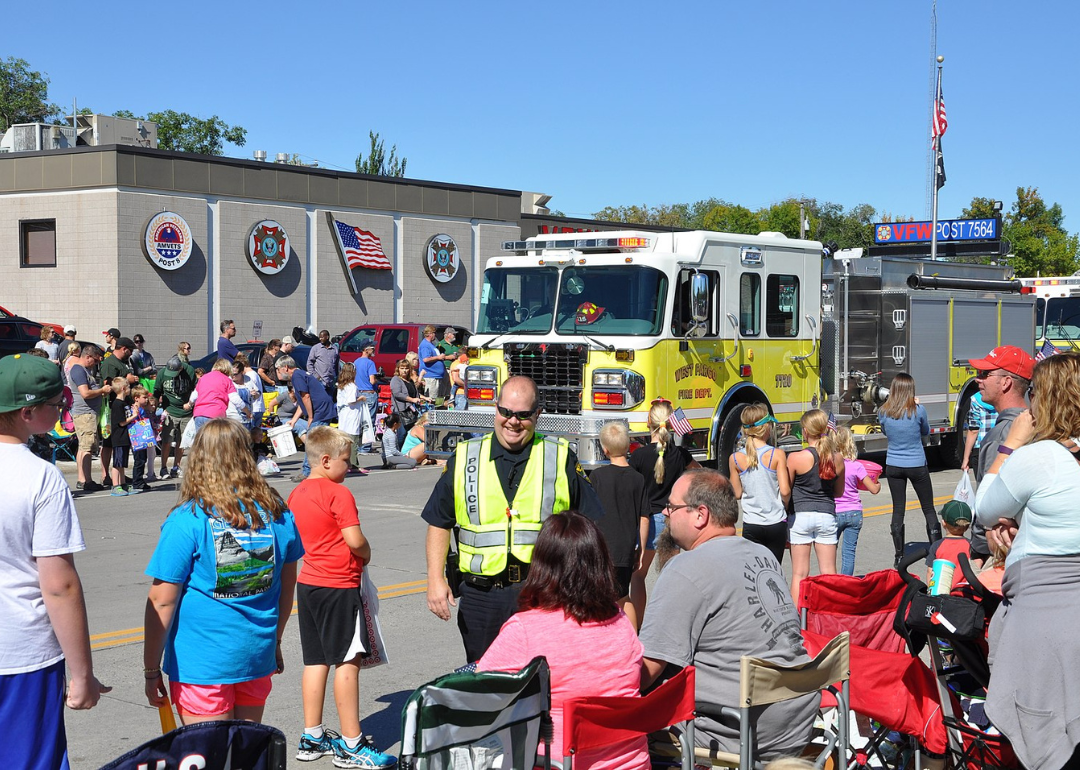 Carrie Scarr // Wikimedia Commons
#23. North Dakota
– Hate groups per million residents in 2021: 2.58
– Total hate groups tracked in 2021: 2
– Unique hate groups tracked since 2011:
— White Nationalist: 2
— Neo-Völkisch: 2
— Neo-Nazi: 2
— Racist Skinhead: 1
— General Hate: 1
— Christian Identity: 1
— Anti-Muslim: 1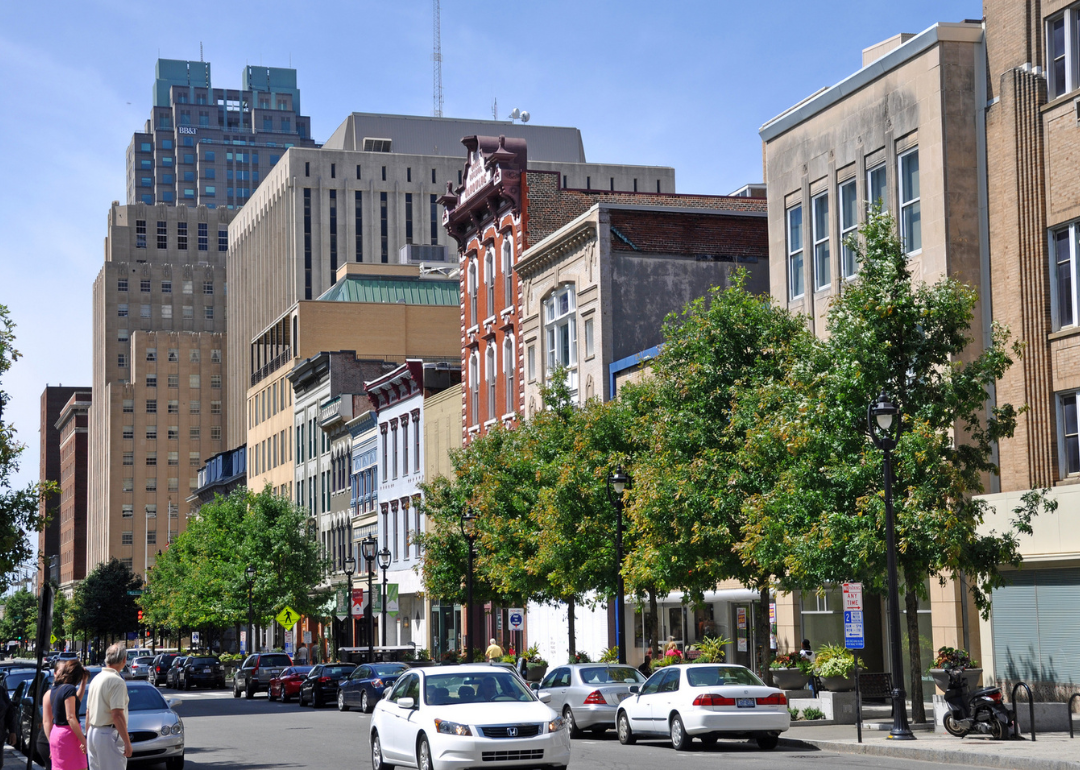 Bz3rk // Wikimedia Commons
#22. North Carolina
– Hate groups per million residents in 2021: 2.65
– Total hate groups tracked in 2021: 28
– Unique hate groups tracked since 2011:
— Ku Klux Klan: 21
— Other: 14
— General Hate: 12
— Neo-Nazi: 11
— Racist Skinhead: 10
— White Nationalist: 9
— Neo-Confederate: 7
— Anti-Muslim: 6
— Anti-Immigrant: 2
— Neo-Völkisch: 1
— Hate Music: 1
— Antisemitism: 1
— Anti-LGBTQ: 1
You may also like: Experts rank the best US presidents of all time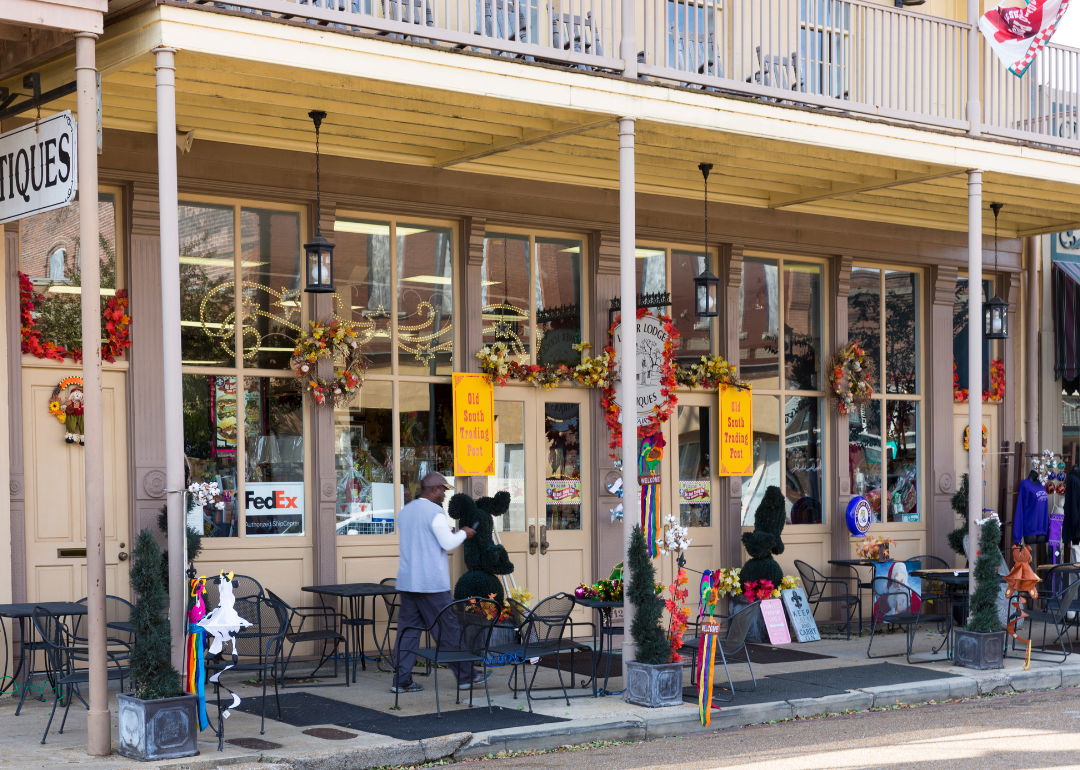 Tim Graham // Getty Images
#21. Mississippi
– Hate groups per million residents in 2021: 2.71
– Total hate groups tracked in 2021: 8
– Unique hate groups tracked since 2011:
— Ku Klux Klan: 20
— White Nationalist: 10
— Other: 6
— Neo-Nazi: 6
— Racist Skinhead: 4
— Neo-Confederate: 4
— General Hate: 4
— Neo-Völkisch: 1
— Anti-LGBTQ: 1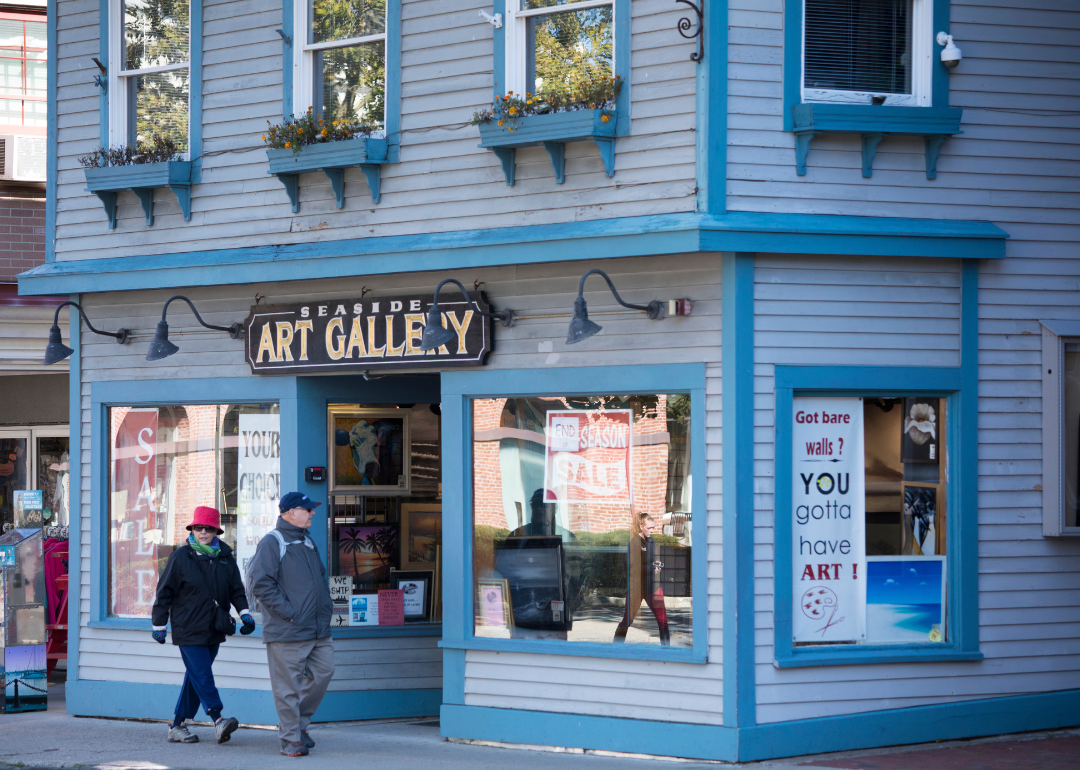 Tim Graham // Getty Images
#20. Rhode Island
– Hate groups per million residents in 2021: 2.74
– Total hate groups tracked in 2021: 3
– Unique hate groups tracked since 2011:
— Neo-Nazi: 4
— Ku Klux Klan: 3
— White Nationalist: 2
— General Hate: 2
— Racist Skinhead: 1
— Neo-Völkisch: 1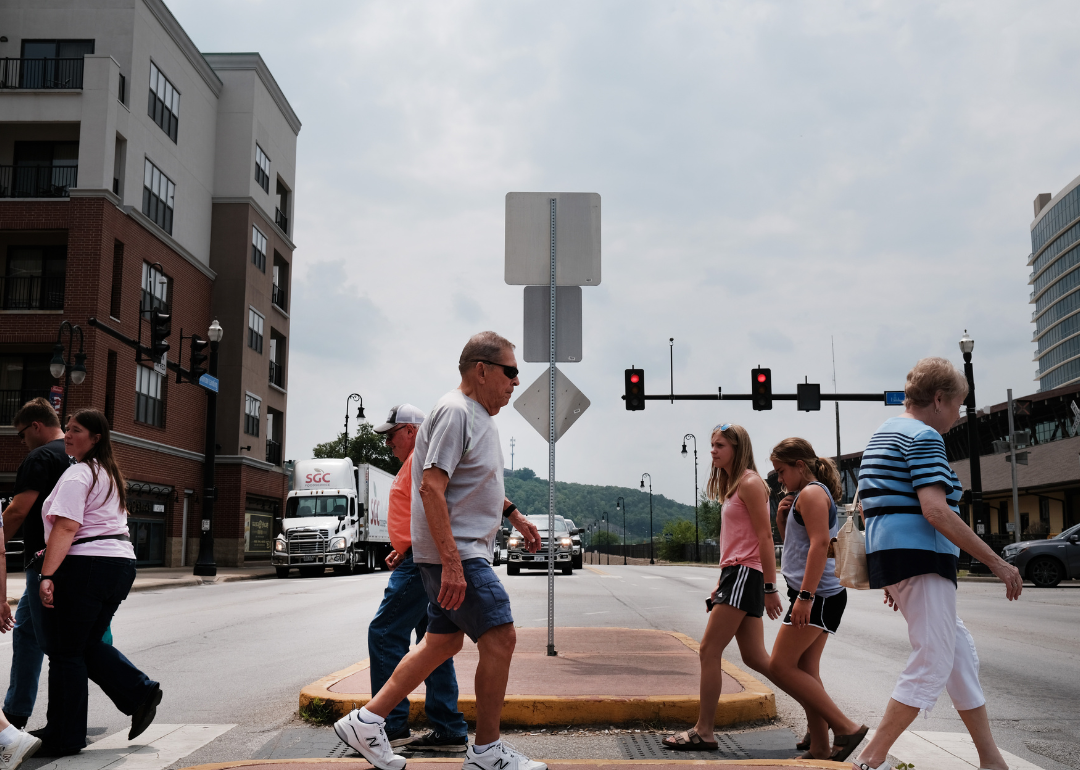 Spencer Platt // Getty Images
#19. Missouri
– Hate groups per million residents in 2021: 2.76
– Total hate groups tracked in 2021: 17
– Unique hate groups tracked since 2011:
— Ku Klux Klan: 11
— White Nationalist: 10
— Neo-Nazi: 10
— General Hate: 10
— Racist Skinhead: 8
— Other: 8
— Christian Identity: 5
— Anti-Muslim: 5
— Neo-Confederate: 2
— Neo-Völkisch: 1
— Antisemitism: 1
— Anti-LGBTQ: 1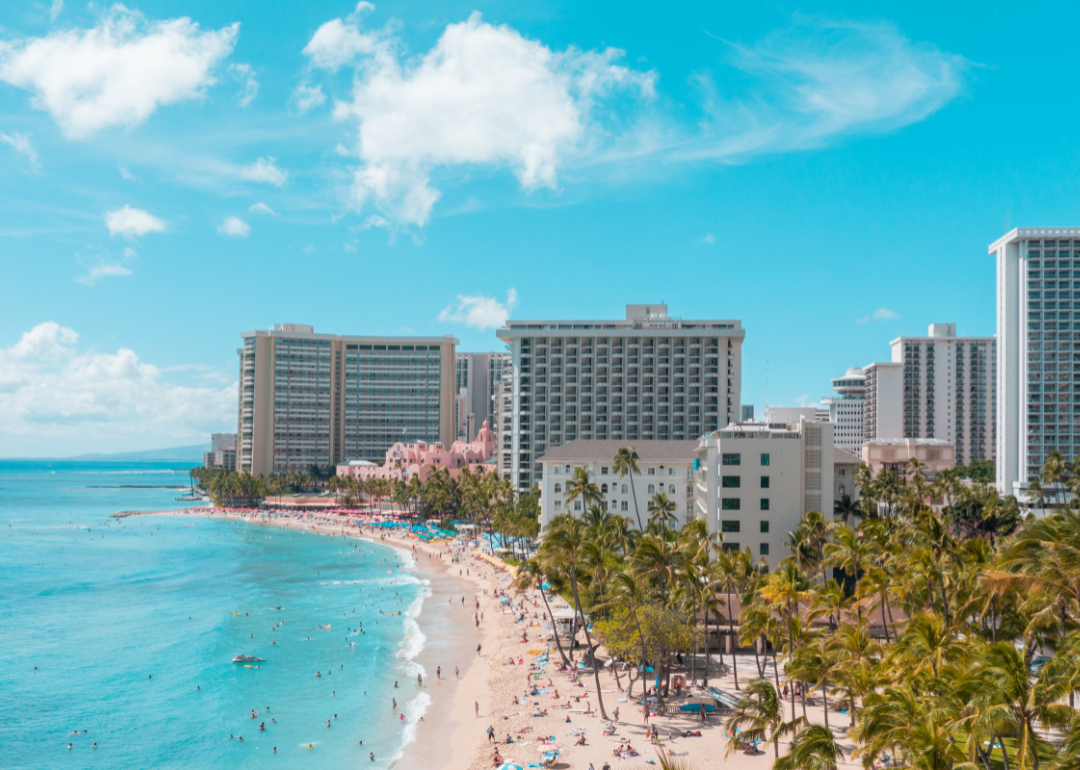 Canva
#18. Hawaii
– Hate groups per million residents in 2021: 2.77
– Total hate groups tracked in 2021: 4
– Unique hate groups tracked since 2011:
— Other: 3
— General Hate: 3
— White Nationalist: 1
— Anti-LGBTQ: 1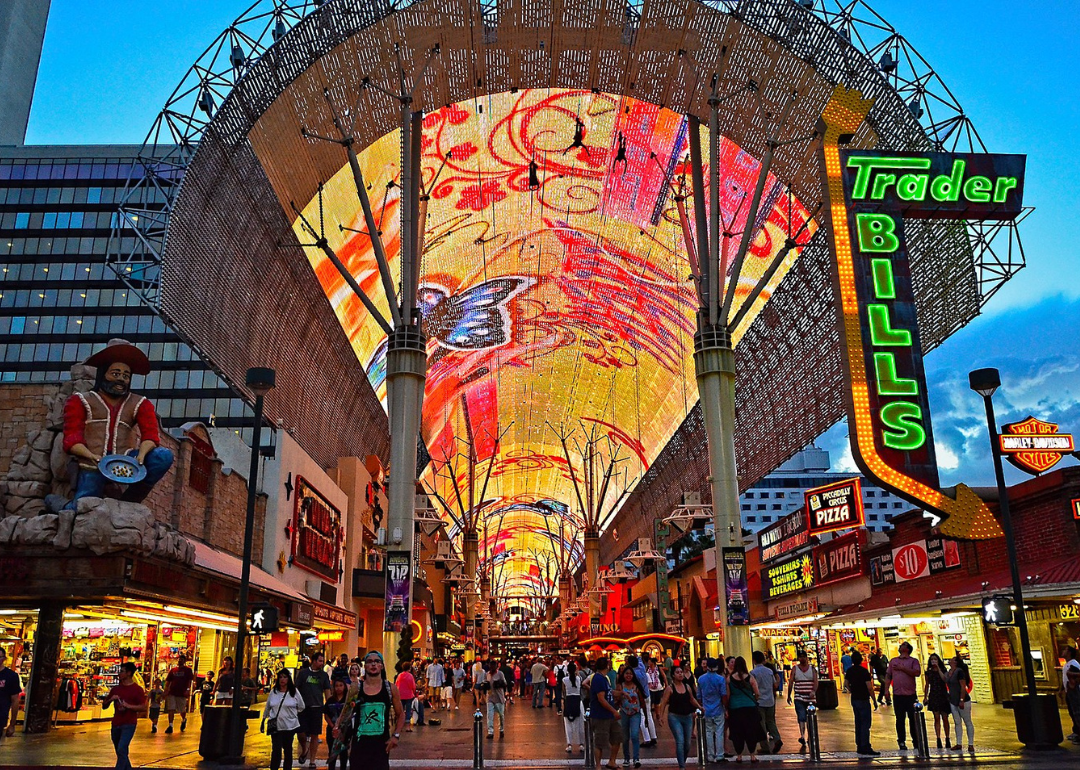 Tomás Del Coro // Wikimedia Commons
#17. Nevada
– Hate groups per million residents in 2021: 2.86
– Total hate groups tracked in 2021: 9
– Unique hate groups tracked since 2011:
— Neo-Nazi: 11
— White Nationalist: 10
— General Hate: 8
— Other: 4
— Racist Skinhead: 2
— Ku Klux Klan: 2
— Anti-Muslim: 2
— Anti-LGBTQ: 2
— Neo-Völkisch: 1
— Christian Identity: 1
You may also like: Here's how much legislation in each state restricts or protects trans youth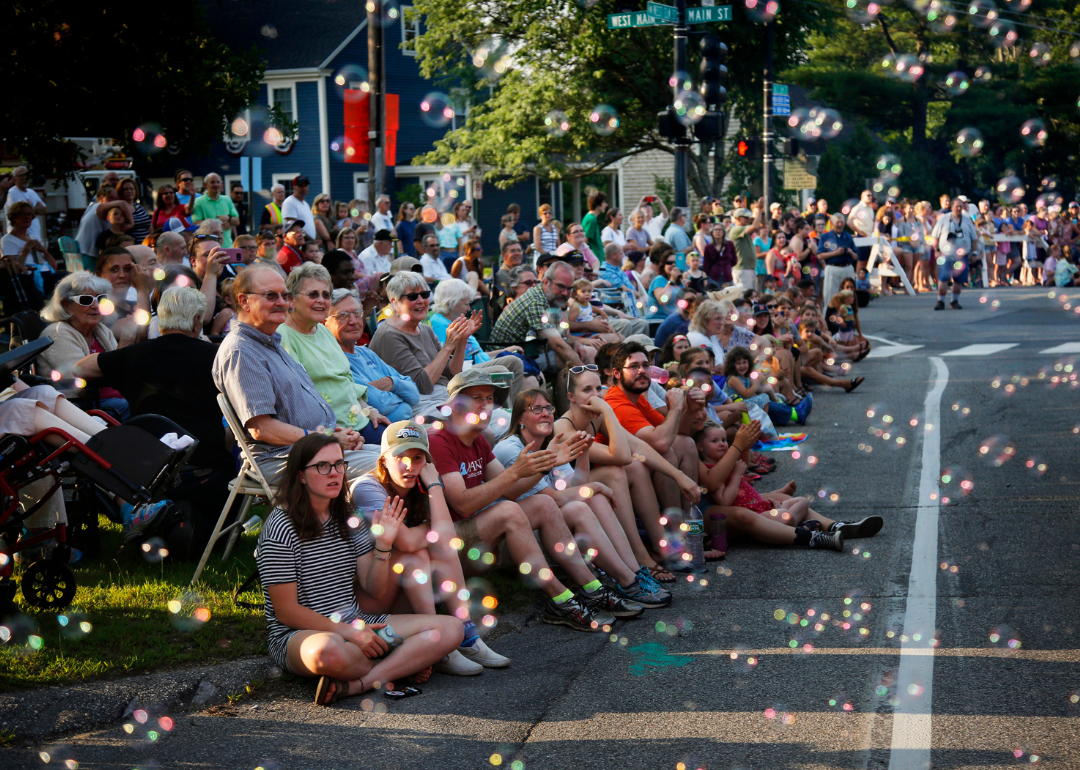 Portland Press Herald // Getty Images
#16. Maine
– Hate groups per million residents in 2021: 2.91
– Total hate groups tracked in 2021: 4
– Unique hate groups tracked since 2011:
— Neo-Nazi: 6
— White Nationalist: 5
— Racist Skinhead: 3
— Ku Klux Klan: 3
— General Hate: 1
— Anti-Muslim: 1
— Anti-LGBTQ: 1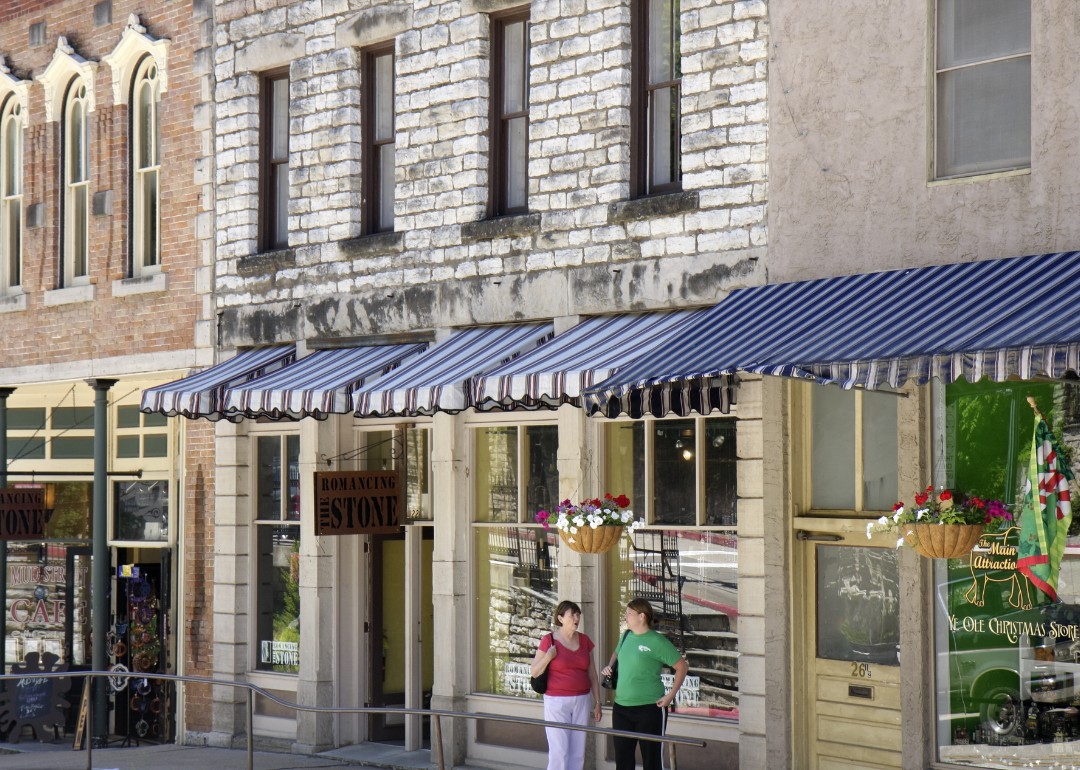 Jeff Greenberg // Getty Images
#15. Arkansas
– Hate groups per million residents in 2021: 2.97
– Total hate groups tracked in 2021: 9
– Unique hate groups tracked since 2011:
— Ku Klux Klan: 13
— Neo-Nazi: 11
— General Hate: 8
— White Nationalist: 5
— Other: 5
— Christian Identity: 5
— Racist Skinhead: 4
— Hate Music: 4
— Neo-Confederate: 2
— Antisemitism: 1
— Anti-Muslim: 1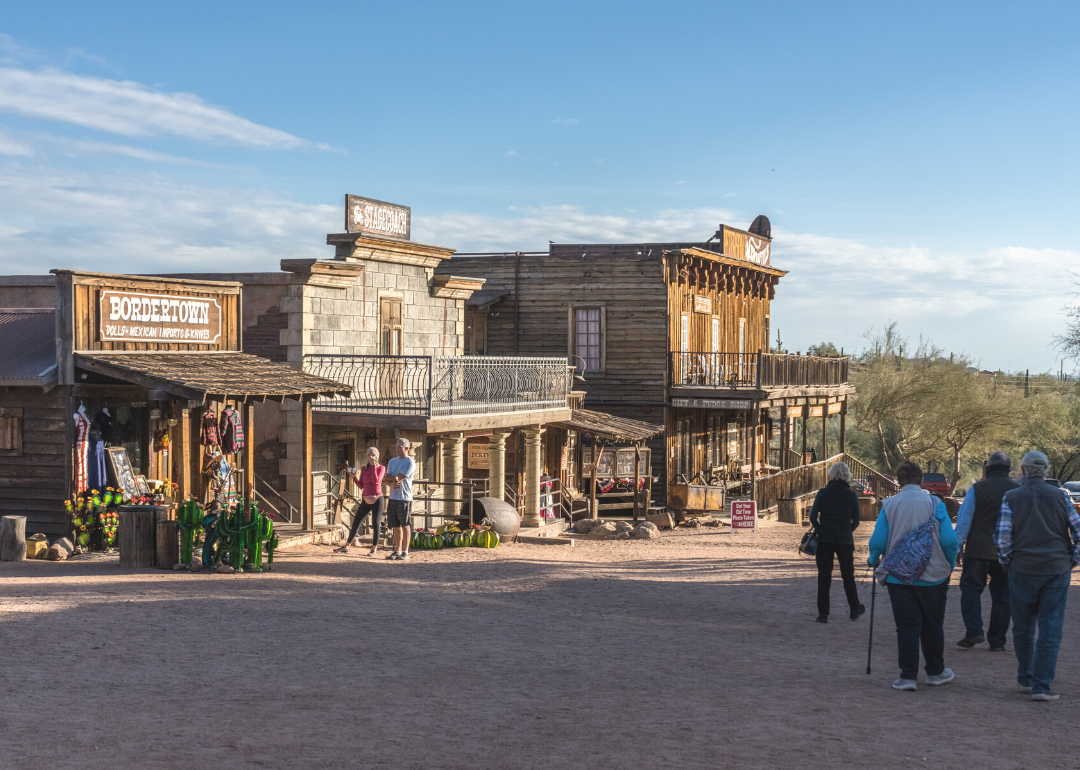 VW Pics // Getty Images
#14. Arizona
– Hate groups per million residents in 2021: 3.02
– Total hate groups tracked in 2021: 22
– Unique hate groups tracked since 2011:
— White Nationalist: 18
— General Hate: 13
— Racist Skinhead: 12
— Neo-Nazi: 11
— Ku Klux Klan: 5
— Other: 4
— Neo-Völkisch: 4
— Anti-LGBTQ: 4
— Anti-Immigrant: 4
— Anti-Muslim: 3
— Hate Music: 1
— Christian Identity: 1
— Antisemitism: 1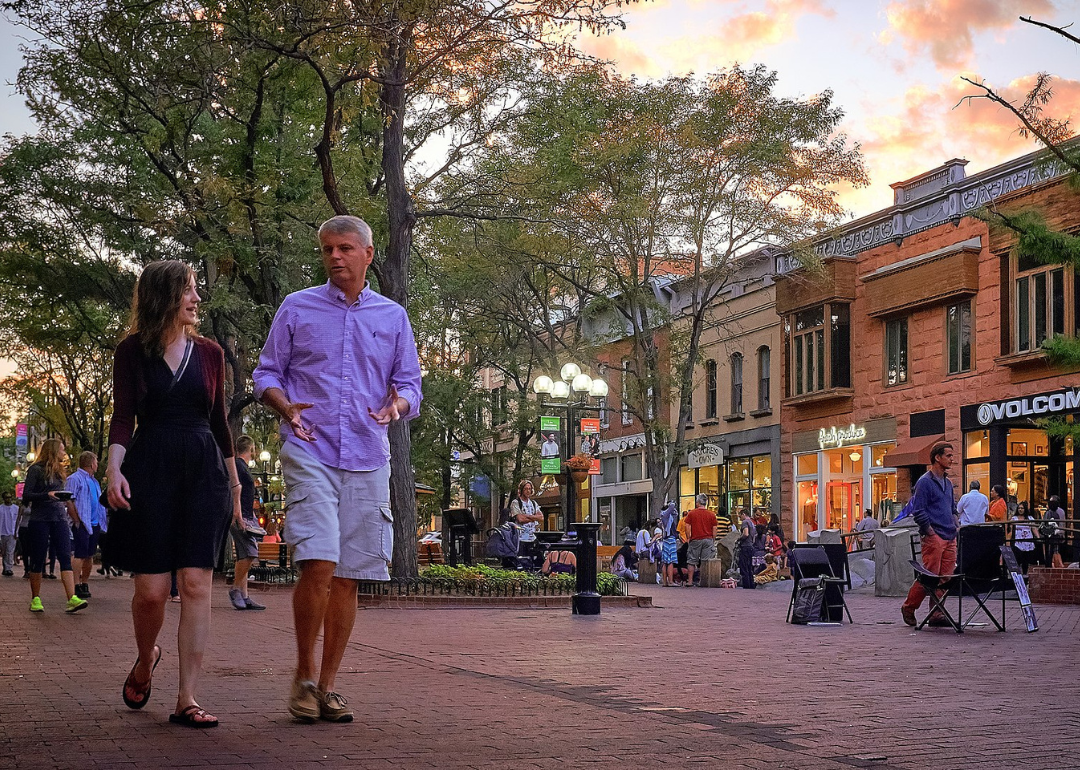 Pedro Szekely // Wikimedia Commons
#13. Colorado
– Hate groups per million residents in 2021: 3.10
– Total hate groups tracked in 2021: 18
– Unique hate groups tracked since 2011:
— Neo-Nazi: 10
— General Hate: 10
— White Nationalist: 9
— Anti-LGBTQ: 9
— Racist Skinhead: 6
— Other: 6
— Anti-Muslim: 5
— Ku Klux Klan: 4
— Neo-Völkisch: 2
— Anti-Immigrant: 2
— Hate Music: 1
— Christian Identity: 1
— Antisemitism: 1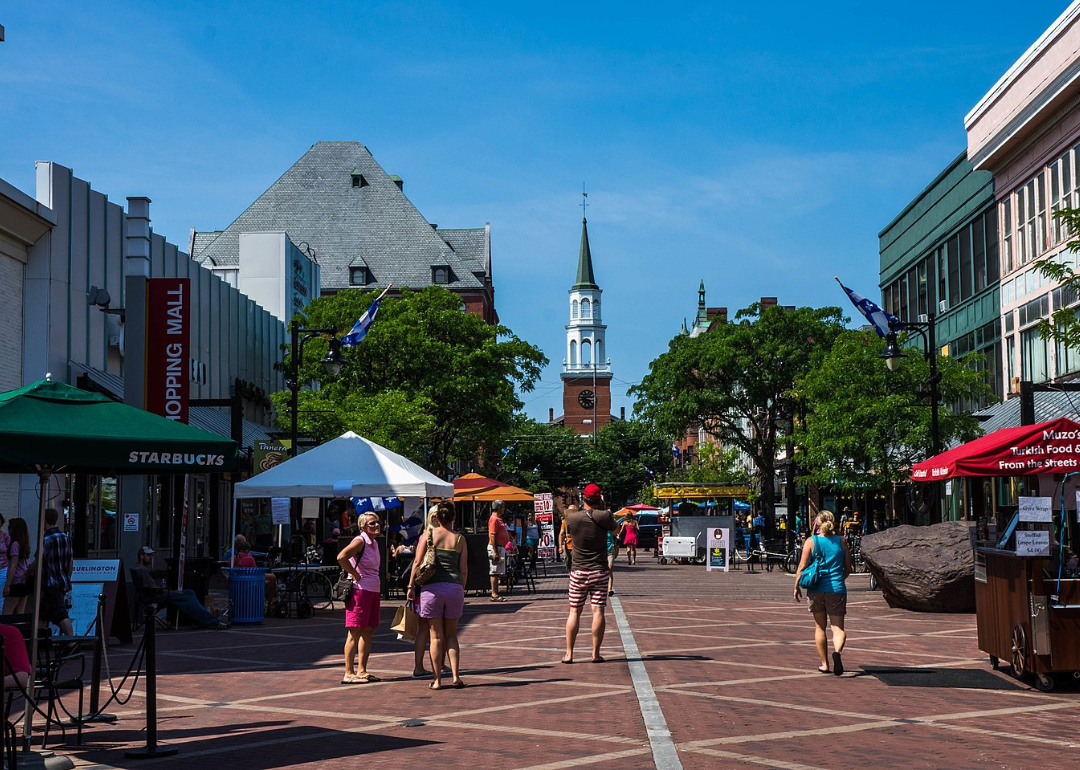 Michelle Maria // Wikimedia Commons
#12. Vermont
– Hate groups per million residents in 2021: 3.10
– Total hate groups tracked in 2021: 2
– Unique hate groups tracked since 2011:
— Neo-Nazi: 6
— White Nationalist: 3
— Ku Klux Klan: 2
— Racist Skinhead: 1
You may also like: States that pay their politicians the most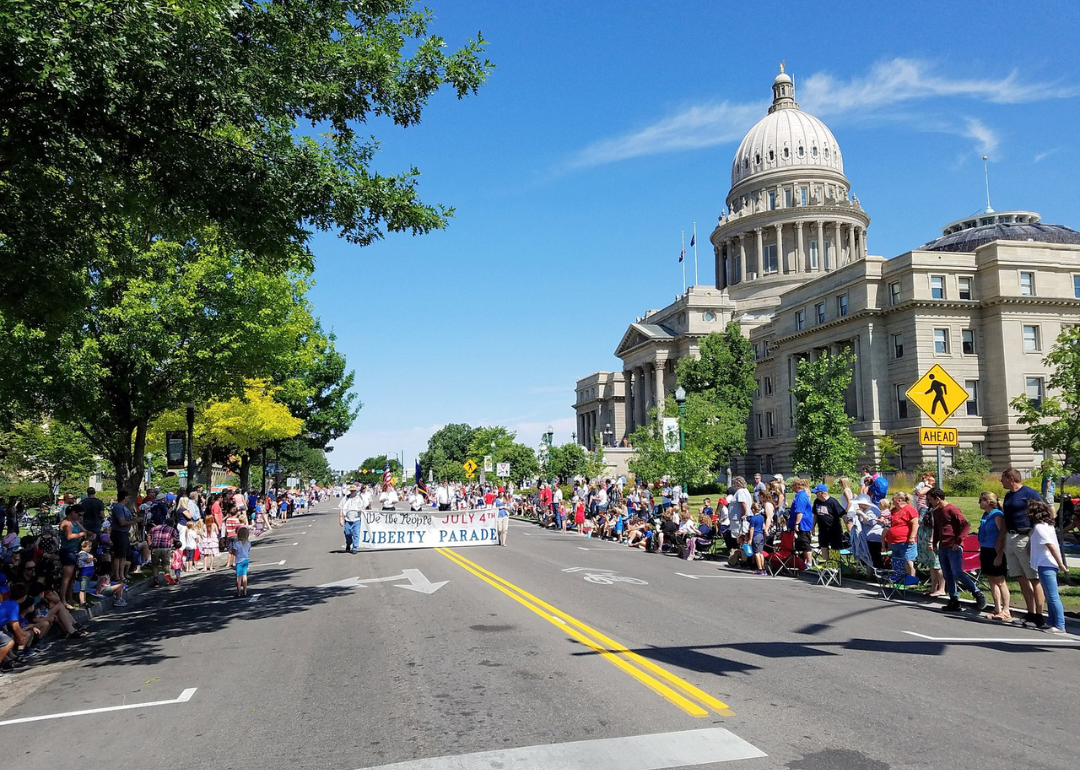 Tamanoeconomico // Wikimedia Commons
#11. Idaho
– Hate groups per million residents in 2021: 3.16
– Total hate groups tracked in 2021: 6
– Unique hate groups tracked since 2011:
— White Nationalist: 9
— General Hate: 7
— Anti-Muslim: 6
— Neo-Nazi: 5
— Racist Skinhead: 3
— Holocaust Denial: 3
— Christian Identity: 3
— Ku Klux Klan: 2
— Neo-Völkisch: 1
— Neo-Confederate: 1
— Antisemitism: 1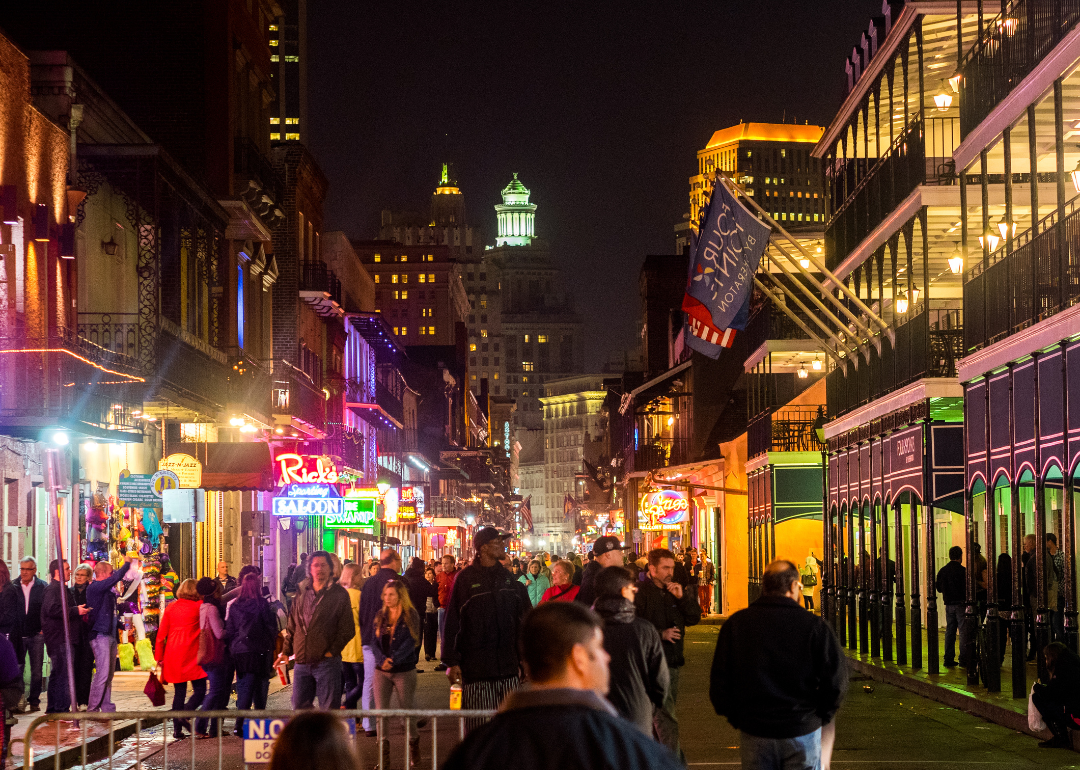 Canva
#10. Louisiana
– Hate groups per million residents in 2021: 3.24
– Total hate groups tracked in 2021: 15
– Unique hate groups tracked since 2011:
— Ku Klux Klan: 11
— White Nationalist: 10
— Neo-Nazi: 10
— General Hate: 8
— Other: 6
— Neo-Confederate: 3
— Racist Skinhead: 2
— Christian Identity: 2
— Anti-LGBTQ: 2
— Antisemitism: 1
— Anti-Muslim: 1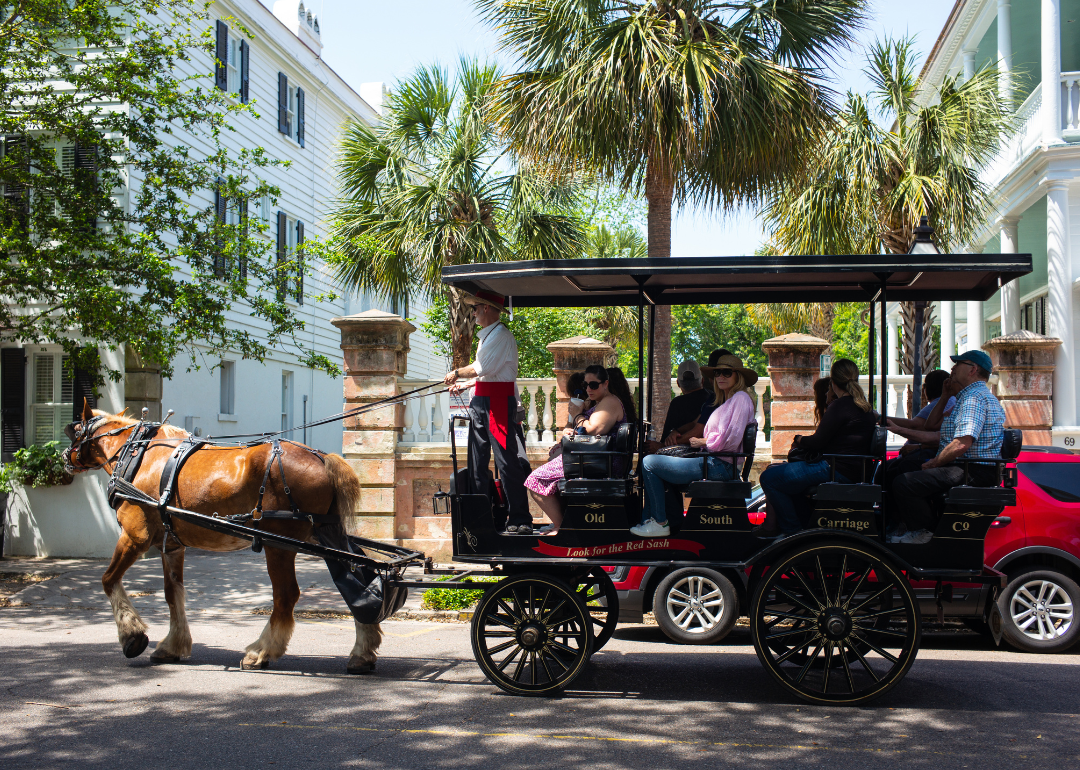 Robert Nickelsberg // Getty Images
#9. South Carolina
– Hate groups per million residents in 2021: 3.28
– Total hate groups tracked in 2021: 17
– Unique hate groups tracked since 2011:
— Ku Klux Klan: 14
— White Nationalist: 13
— General Hate: 10
— Neo-Nazi: 9
— Neo-Confederate: 9
— Other: 4
— Racist Skinhead: 3
— Neo-Völkisch: 2
— Antisemitism: 1
— Anti-Muslim: 1
— Anti-LGBTQ: 1
— Anti-Immigrant: 1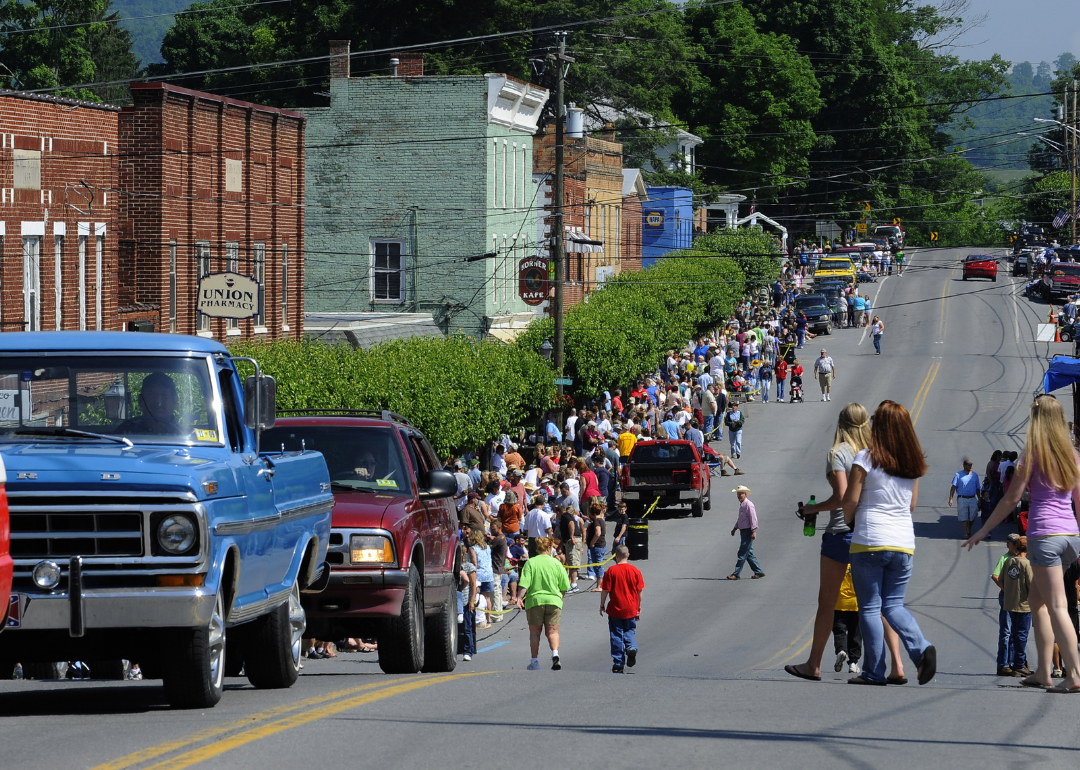 The Washington Post // Getty Images
#8. West Virginia
– Hate groups per million residents in 2021: 3.37
– Total hate groups tracked in 2021: 6
– Unique hate groups tracked since 2011:
— Ku Klux Klan: 9
— White Nationalist: 8
— Neo-Nazi: 8
— General Hate: 3
— Racist Skinhead: 2
— Anti-LGBTQ: 2
— Other: 1
— Neo-Völkisch: 1
— Neo-Confederate: 1
— Hate Music: 1
— Anti-Muslim: 1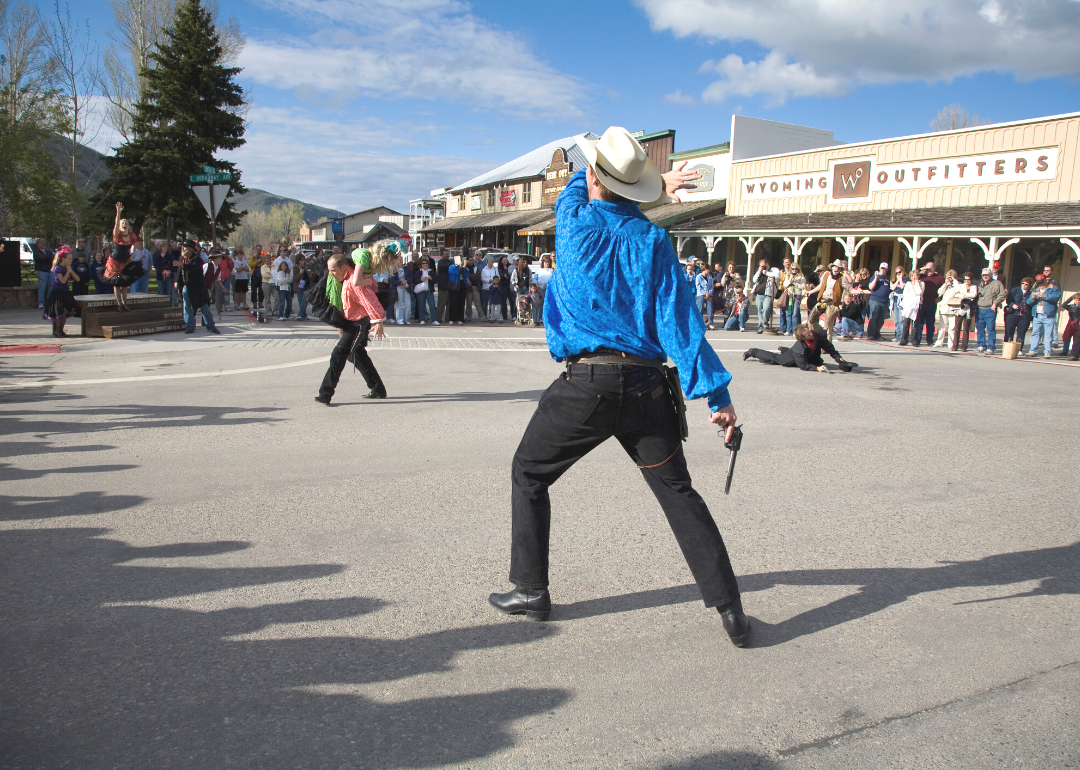 Planet One Images // Getty Images
#7. Wyoming
– Hate groups per million residents in 2021: 3.46
– Total hate groups tracked in 2021: 2
– Unique hate groups tracked since 2011:
— Neo-Nazi: 4
— White Nationalist: 3
— Neo-Völkisch: 1
— Anti-LGBTQ: 1
You may also like: Youngest and oldest presidents in US history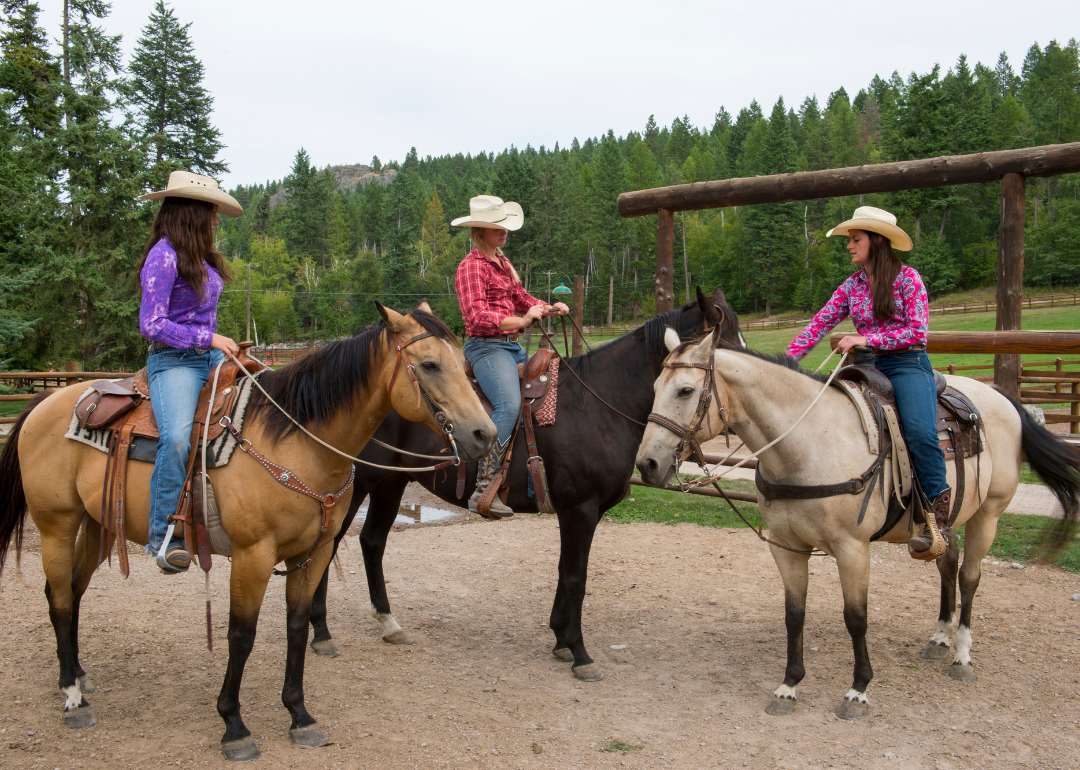 Wolfgang Kaehler // Getty Images
#6. Montana
– Hate groups per million residents in 2021: 3.62
– Total hate groups tracked in 2021: 4
– Unique hate groups tracked since 2011:
— White Nationalist: 9
— Neo-Nazi: 4
— Anti-Muslim: 3
— Ku Klux Klan: 2
— Racist Skinhead: 1
— Hate Music: 1
— General Hate: 1
— Christian Identity: 1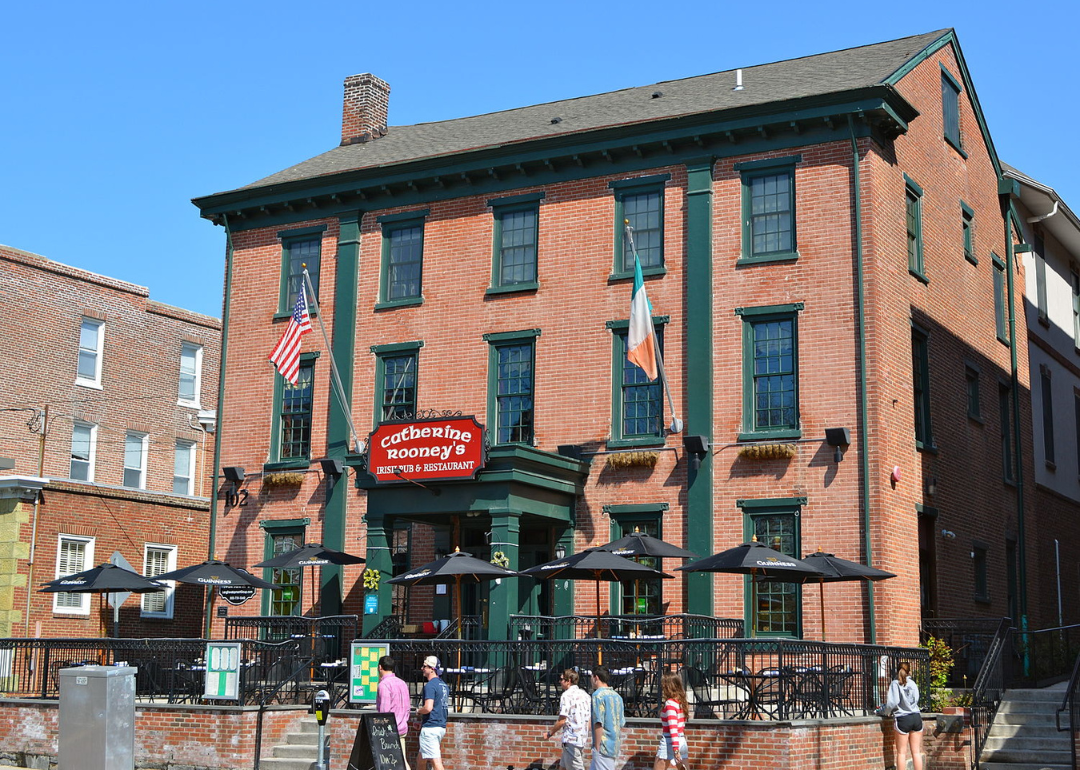 Smallbones // Wikimedia Commons
#5. Delaware
– Hate groups per million residents in 2021: 3.99
– Total hate groups tracked in 2021: 4
– Unique hate groups tracked since 2011:
— Ku Klux Klan: 4
— Neo-Nazi: 3
— White Nationalist: 2
— Other: 2
— General Hate: 2
— Hate Music: 1
— Antisemitism: 1
— Anti-Muslim: 1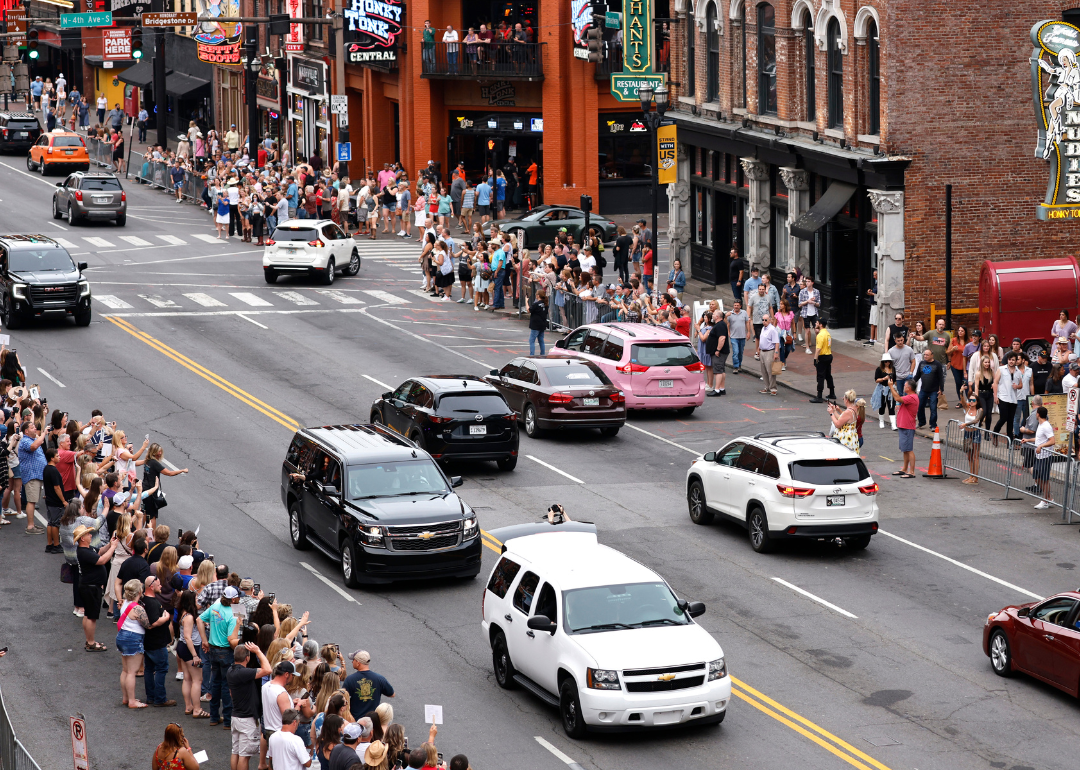 Brett Carlsen // Getty Images
#4. Tennessee
– Hate groups per million residents in 2021: 4.01
– Total hate groups tracked in 2021: 28
– Unique hate groups tracked since 2011:
— Ku Klux Klan: 26
— White Nationalist: 18
— Neo-Nazi: 18
— General Hate: 11
— Anti-Muslim: 11
— Racist Skinhead: 9
— Other: 7
— Neo-Confederate: 6
— Neo-Völkisch: 5
— Christian Identity: 3
— Anti-LGBTQ: 2
— Antisemitism: 1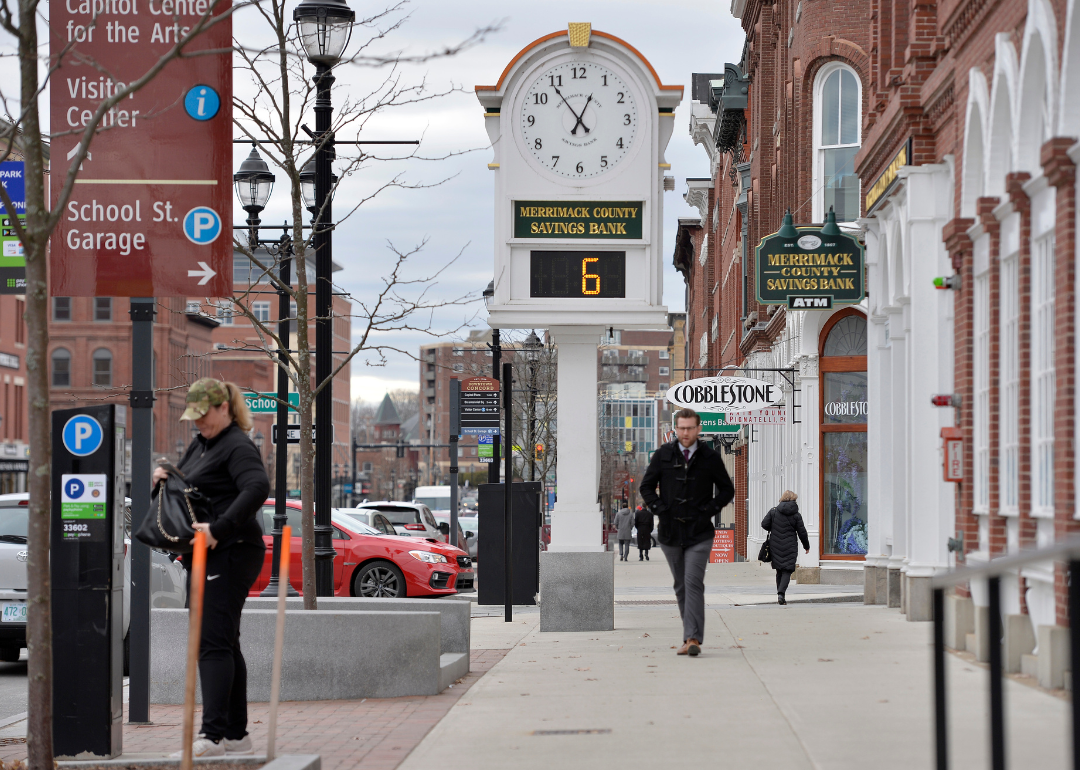 JOSEPH PREZIOSO // Getty Images
#3. New Hampshire
– Hate groups per million residents in 2021: 4.32
– Total hate groups tracked in 2021: 6
– Unique hate groups tracked since 2011:
— Neo-Nazi: 8
— White Nationalist: 4
— Anti-Muslim: 4
— Racist Skinhead: 3
— Radical Traditional Catholicism: 2
— Ku Klux Klan: 2
— General Hate: 2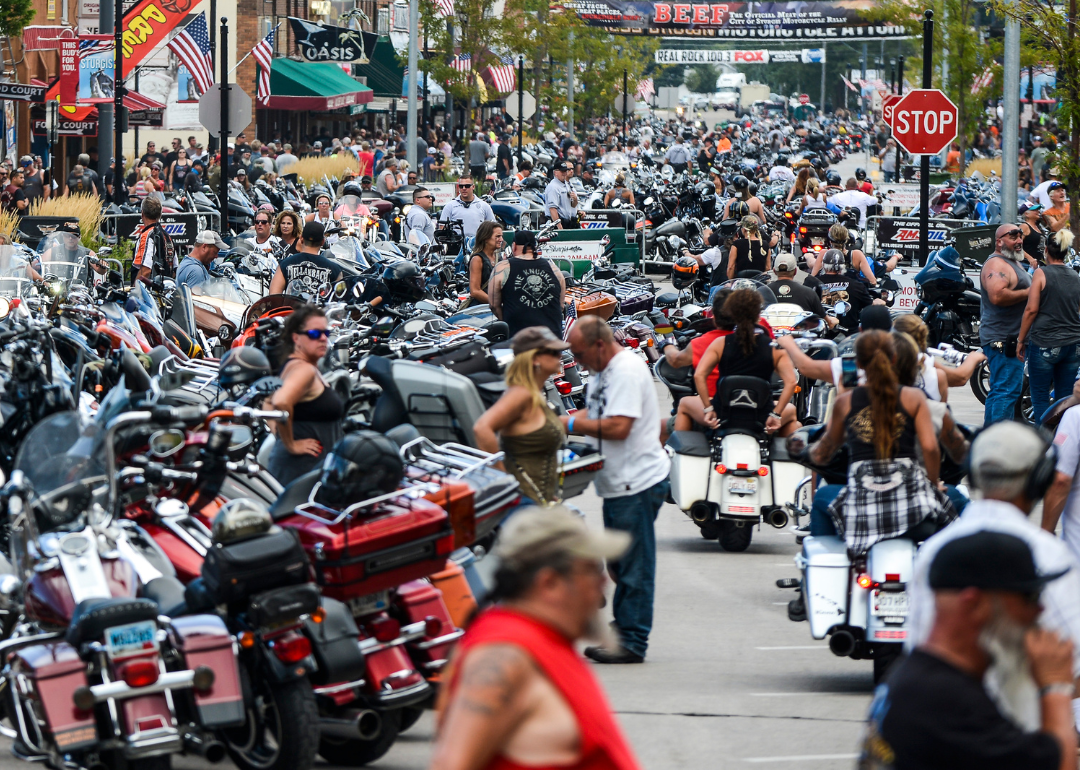 Michael Ciaglo // Getty Images
#2. South Dakota
– Hate groups per million residents in 2021: 4.47
– Total hate groups tracked in 2021: 4
– Unique hate groups tracked since 2011:
— Neo-Nazi: 5
— White Nationalist: 4
— Ku Klux Klan: 4
— General Hate: 4
— Racist Skinhead: 2
— Anti-Muslim: 2
You may also like: Every Supreme Court justice of the past 50 years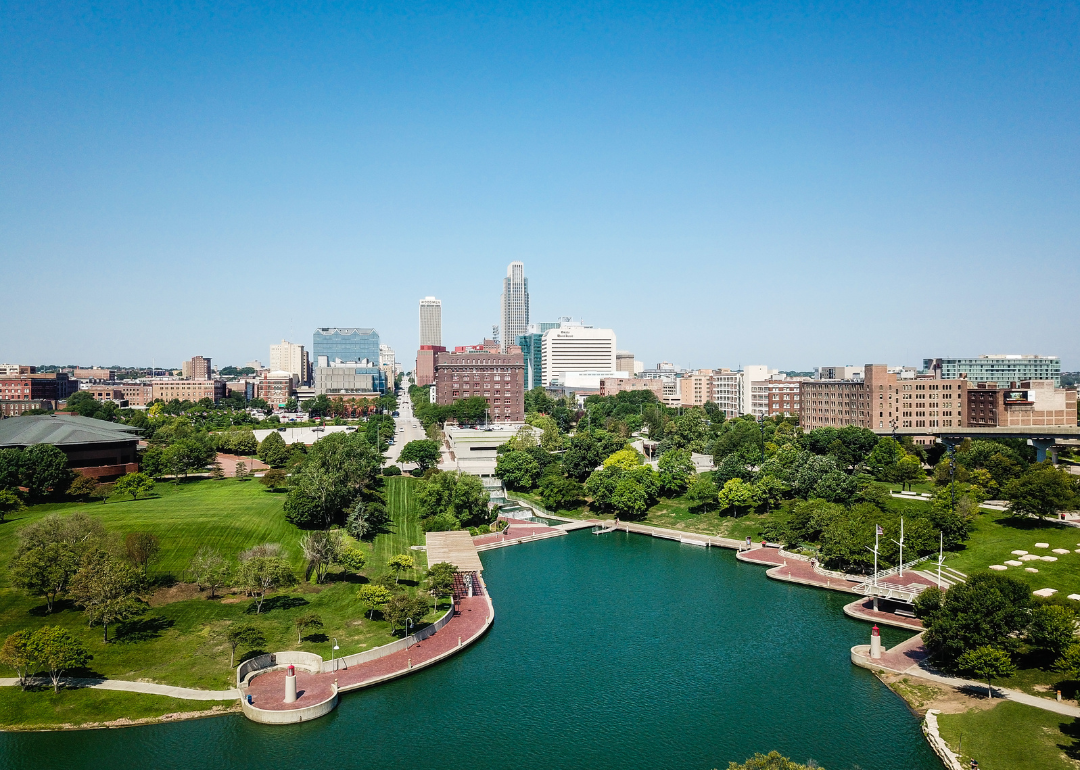 Canva
#1. Nebraska
– Hate groups per million residents in 2021: 4.58
– Total hate groups tracked in 2021: 9
– Unique hate groups tracked since 2011:
— Neo-Nazi: 7
— Racist Skinhead: 5
— White Nationalist: 3
— Other: 3
— General Hate: 2
— Christian Identity: 2
— Ku Klux Klan: 1
— Hate Music: 1
— Anti-Muslim: 1
More Stacker National