Notorious RBG: The story of a remarkable life
Published 2:00 pm Thursday, January 5, 2023

Nikki Kahn/The Washington Post via Getty Images
Notorious RBG: The story of a remarkable life
Ruth Bader Ginsburg is widely considered one of the most significant women's rights advocates in the United States. A pioneering feminist judge and legal scholar, her long life was marked by noteworthy accomplishments, including those personal to her and for women globally. Ginsburg was born in an era when women had few opportunities to advance in their careers, much less ascend to the heights she did when she was nominated and confirmed to the United States Supreme Court.
Indeed, Ginsburg was one of few women in the 1950s to attend elite law schools—Harvard and Columbia universities—and managed to graduate at the top of her classes. Despite this accomplishment, gender biases made it difficult for her to find work. Still, doors would open for Ginsburg throughout the years, becoming a famed legal defender and women's rights champion before advancing to the Supreme Court.
When Ginsburg passed in September 2020, the world responded with an outpouring of grief and homages celebrating her inspiring legacy and invaluable influence on jurisprudence and the progress of gender equality. The tradition of remembering her contributions has continued long after her death; in 2023, Ginsburg will be the second Supreme Court associate justice to receive a solo postage stamp issue, just as Thurgood Marshall had in 2003.
To celebrate her remembrance and enduring influence, Stacker compiled a timeline of the most significant dates in the inspiring life of Ruth Bader Ginsburg, using public records, news articles, and primary sources.
You may also like: Bette Davis: The life story you may not know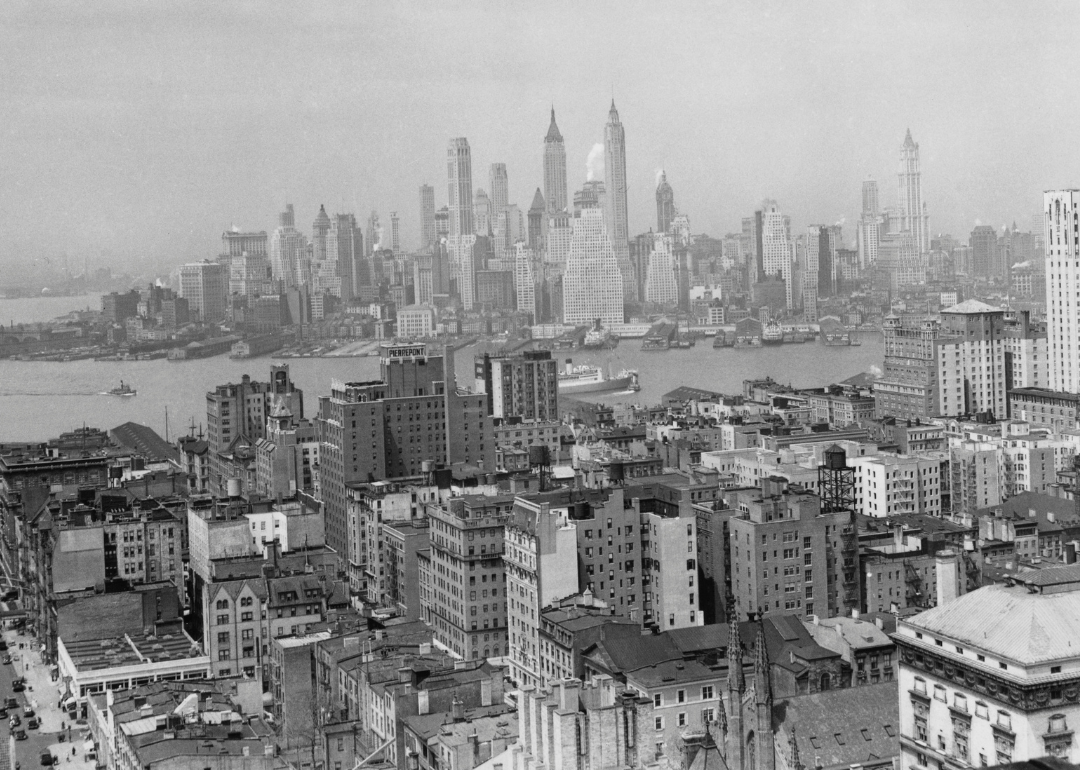 Bettmann Archive // Getty Images
1933: Born in Brooklyn
On March 15, 1933, Joan Ruth Bader was born in Brooklyn, New York, in the middle of the Great Depression. Ginsburg's father, Nathan, was a furrier, and her mother, Celia, worked in a garment factory.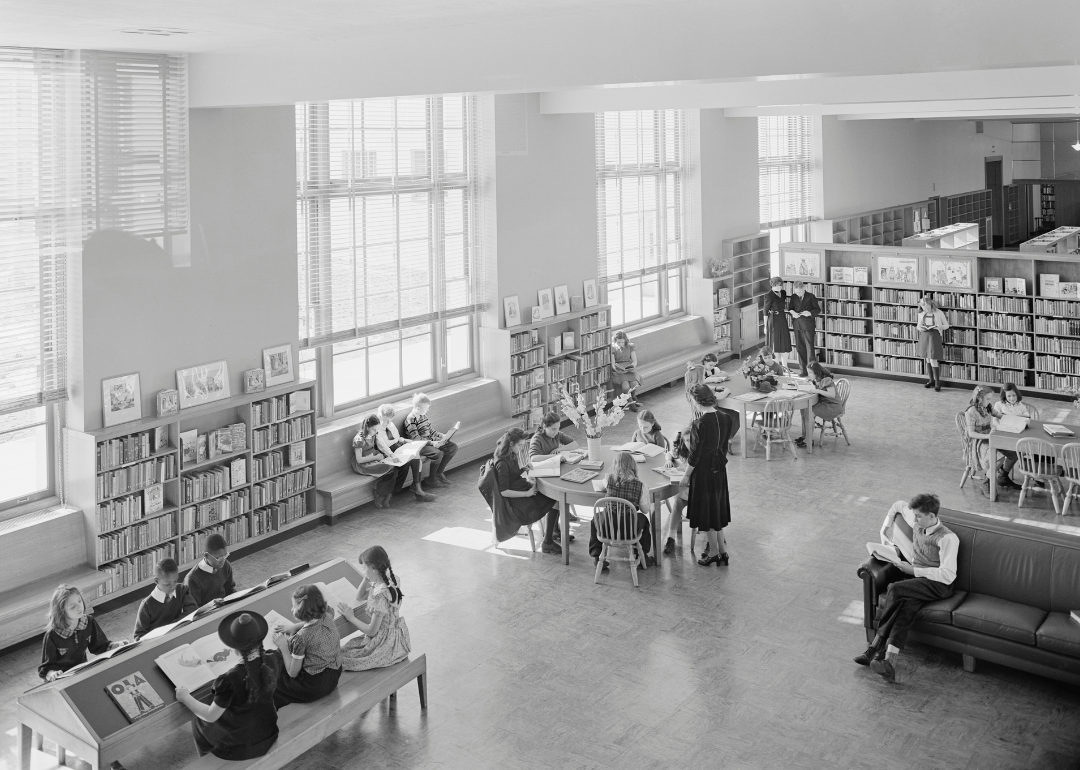 Universal History Archive/Universal Images Group via Getty Images
1950: A model student
Joan Ruth Bader excelled in school, thanks in part to the dedication of her mother, who asked her teachers to simply call her "Ruth," as there were too many girls named "Joan" in her classes. (She also wanted her daughter to stand out among others.) Bader was an exemplary student, but her mother sadly did not live to see the first milestone in her daughter's life of achievement. Bader's mother died the day before her high school graduation.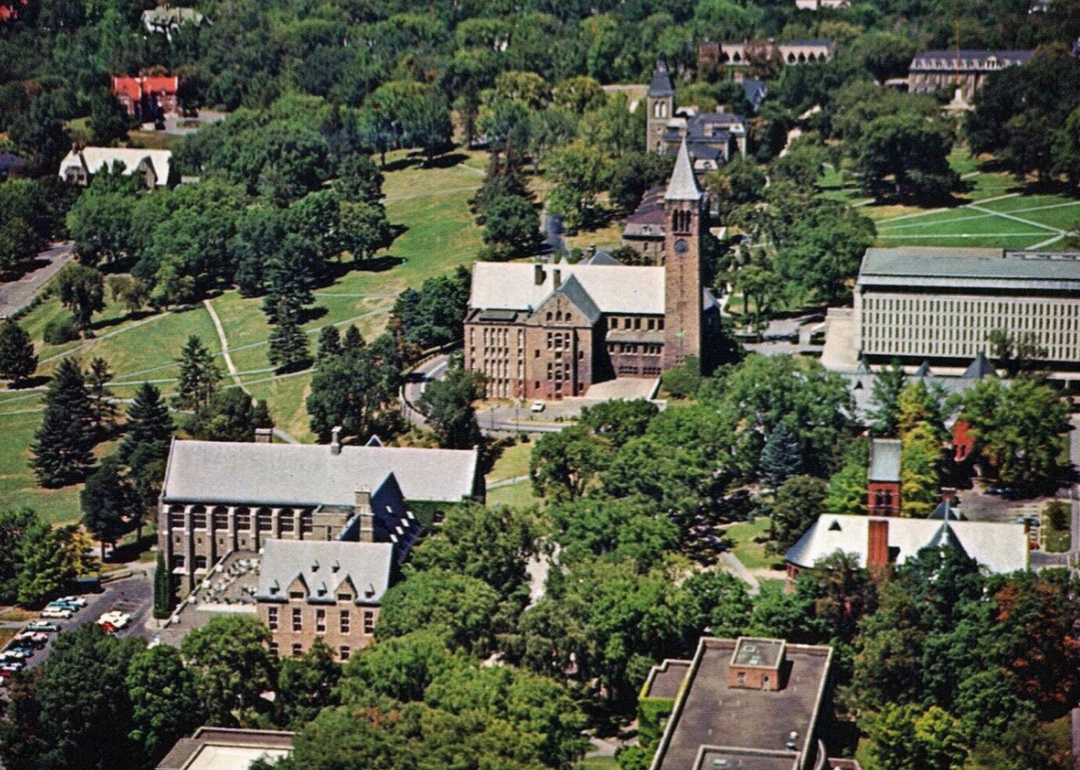 Colourpicture Publishers, Boston // Wikimedia Commons
1954: Graduating from Cornell
Bader attended Cornell University as an undergraduate. She received a bachelor's degree in government and graduated at the top of her class in 1954.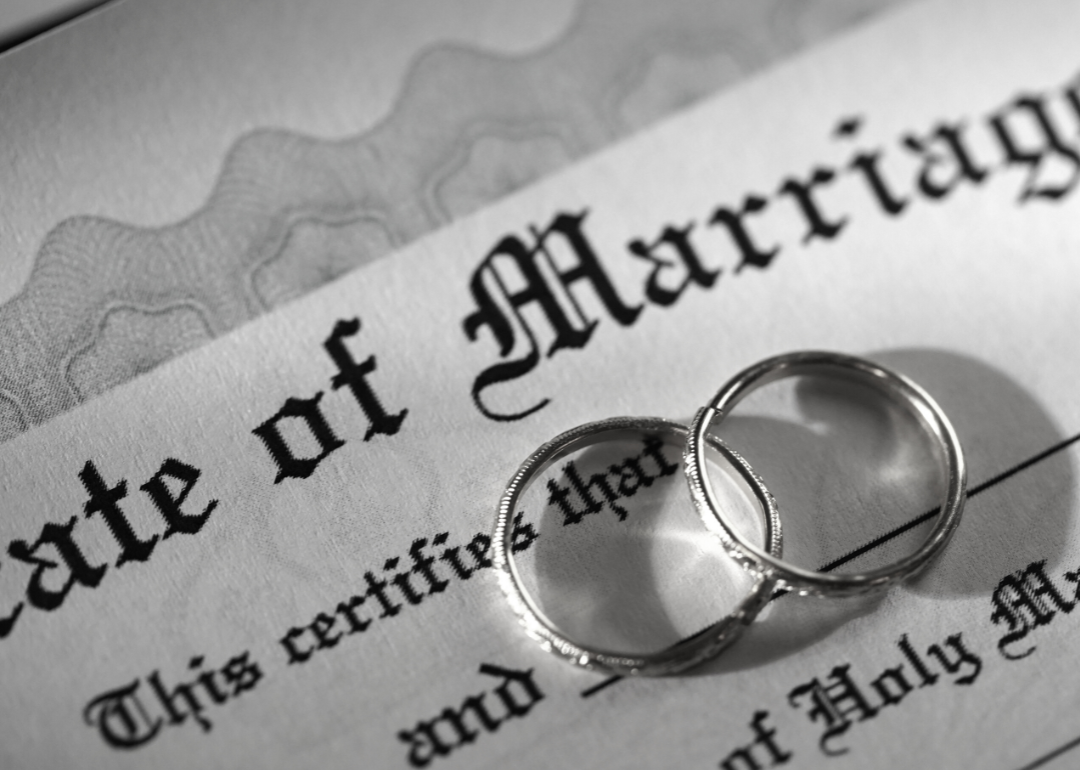 Canva
1954: Marriage to Martin
The same year Bader graduated from Cornell, she also marked off another significant life milestone. That same year, she married Martin "Marty" Ginsburg, a tax attorney she'd met at the university. After taking his last name, she officially became Ruth Bader Ginsburg.
Canva
1955: Starting a family
The year after graduating college and getting married, Ginsburg had her first child, Jane. That same year, her husband was drafted into two years of military service, marking a year of major changes within the Ginsburgs' home and family life.
You may also like: Popular child stars from the year you were born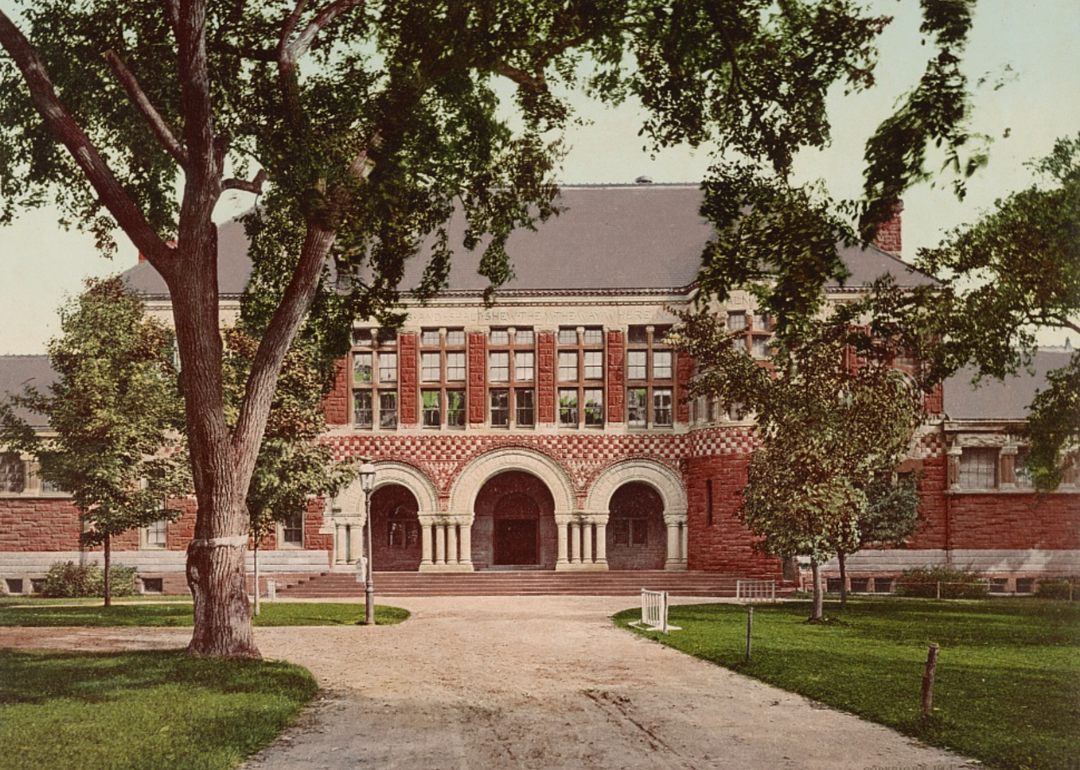 Detroit Publishing Company // Library of Congress
1956: Harvard Law School
In 1956, Ginsburg began her first year at Harvard Law School. There, she excelled academically but also faced personal adversity. Her husband was diagnosed with testicular cancer. Ginsburg supported her husband throughout his treatment, continued attending law school, and remained at the top of her class.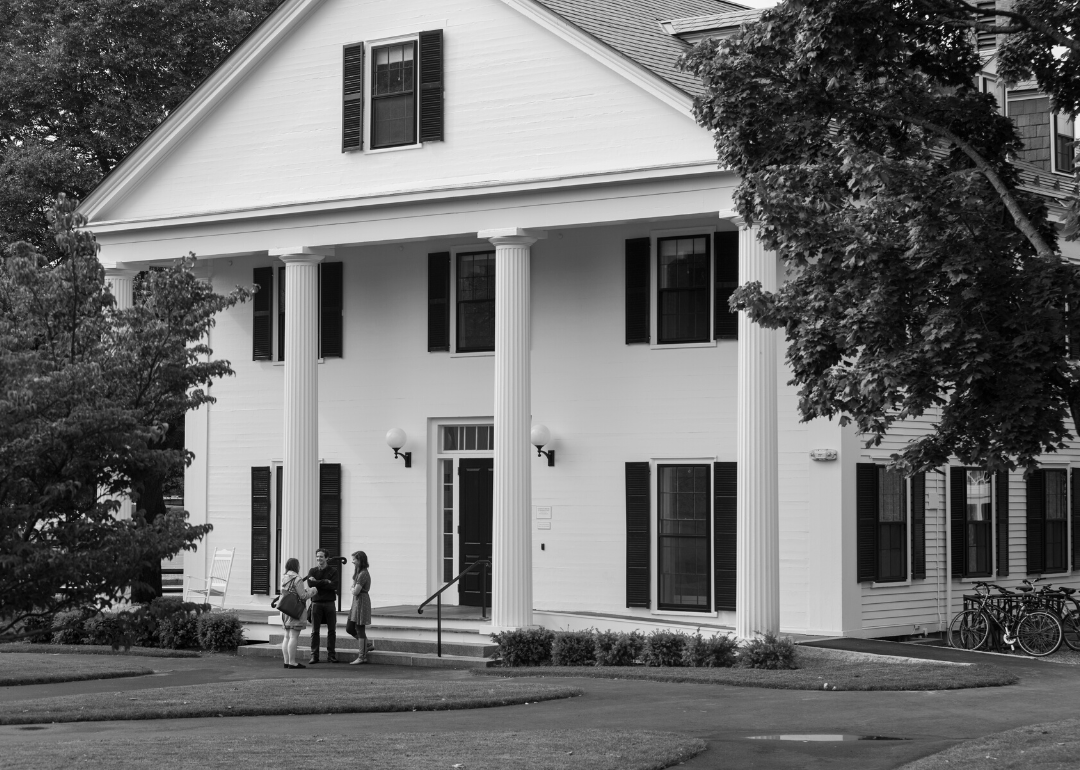 Brooks Kraft LLC/Corbis via Getty Images
1957: The Harvard Law Review
Ginsburg was one of nine women in her 500-person class at Harvard Law School. Despite being the first woman on the Harvard Law Review and continually being at the top of her class, she faced gender-based discrimination at Harvard. One professor even reprimanded her for taking the place of a male applicant.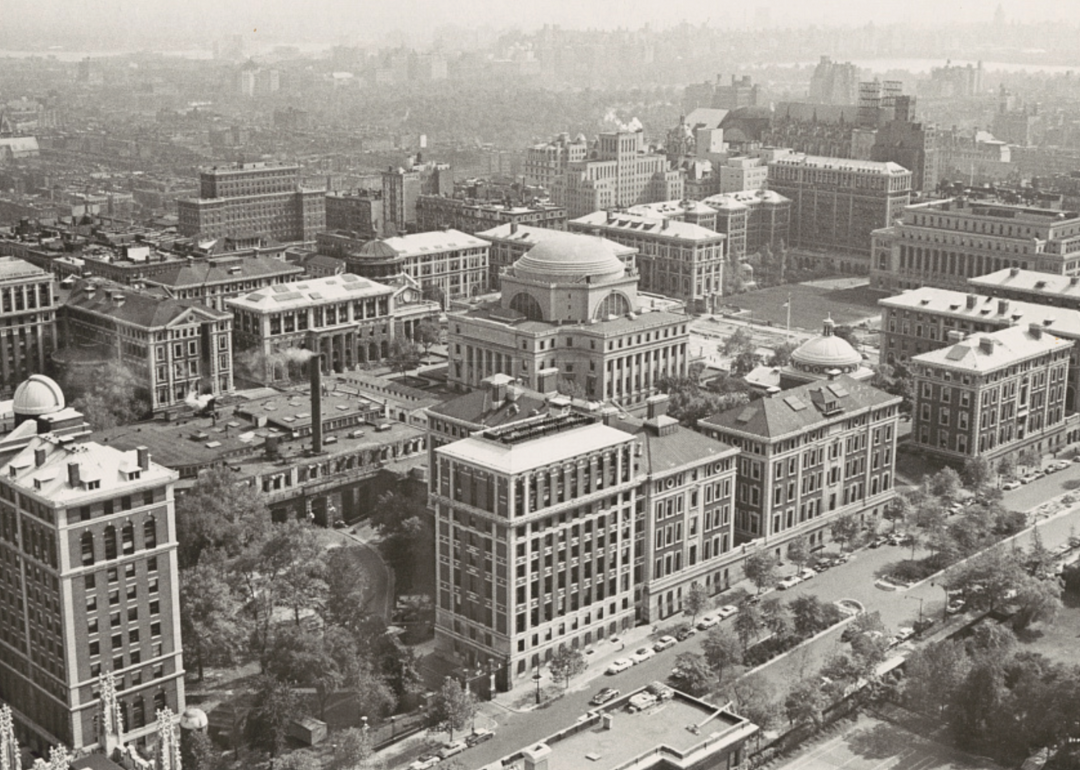 Anthony Angel // Library of Congress
1958: Transfer to Columbia
Despite her success at Harvard, Ginsburg transferred to Columbia University for her final year of law school. Her husband had graduated from Harvard and moved to New York for work; Ginsburg followed him there, and thus Columbia, to keep the family intact.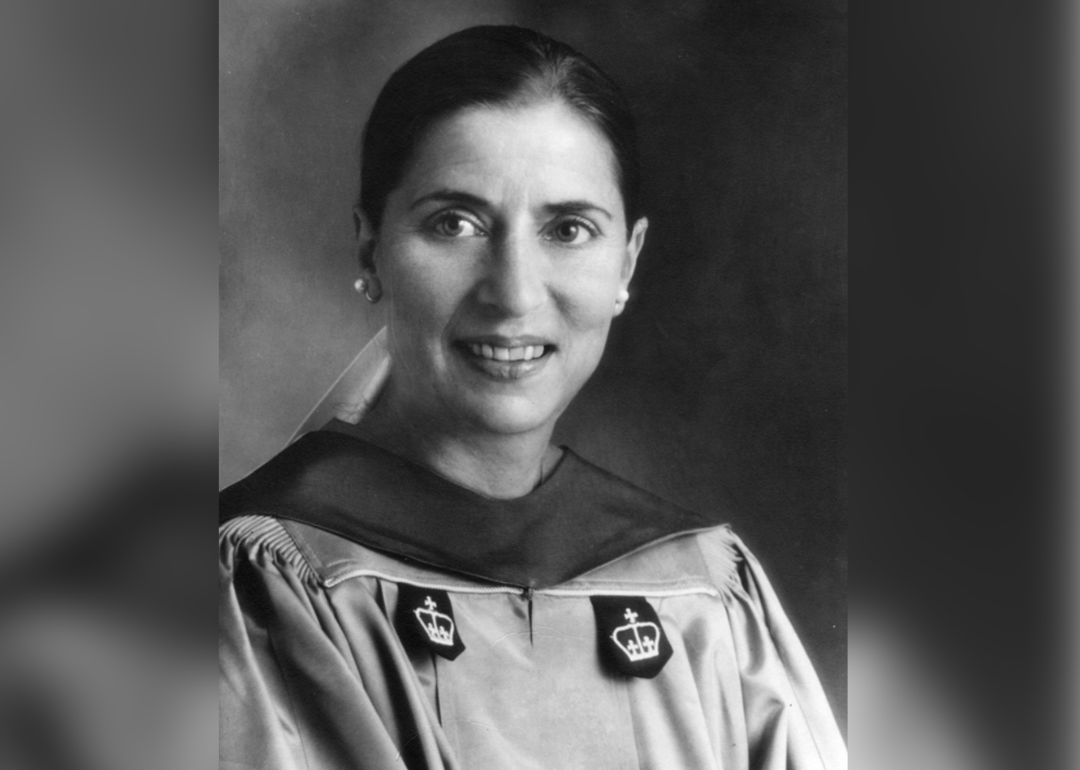 Columbia University // Wikimedia Commons
1959: A first Job
Ginsburg began her law career as a law clerk to a judge in the Southern District of New York after graduating from Columbia in 1959. Despite graduating at the top of her class, she still had difficulty finding a job due to discrimination. It wasn't until a Columbia professor refused to recommend any other students that Ginsburg got her opportunity to clerk with District Judge Edmund L. Palmieri.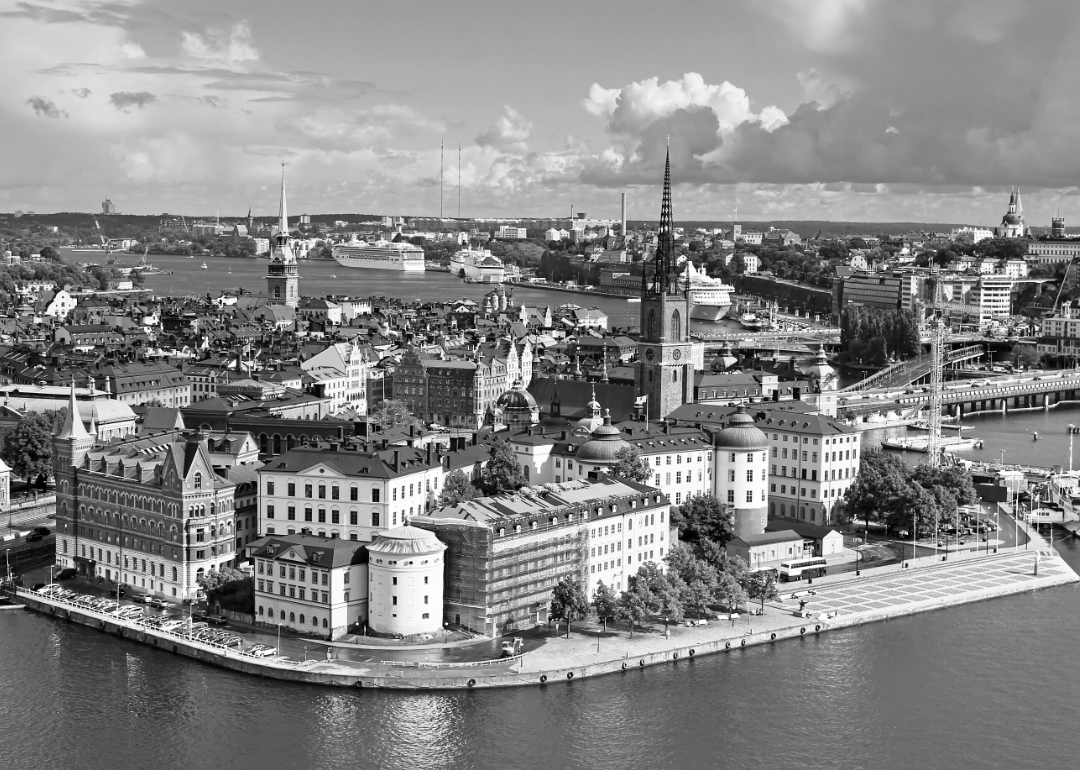 Canva
1960s: Time in Sweden
After her clerkship ended, Ginsburg was offered jobs at law firms at a lower salary than her male counterparts. Instead of taking such a position, she pursued her passion for civil procedure, which led her to the Columbia Project on International Civil Procedure and sent her to Sweden to research her book on Swedish civil procedure practices.
You may also like: Most famous actor born the same year as you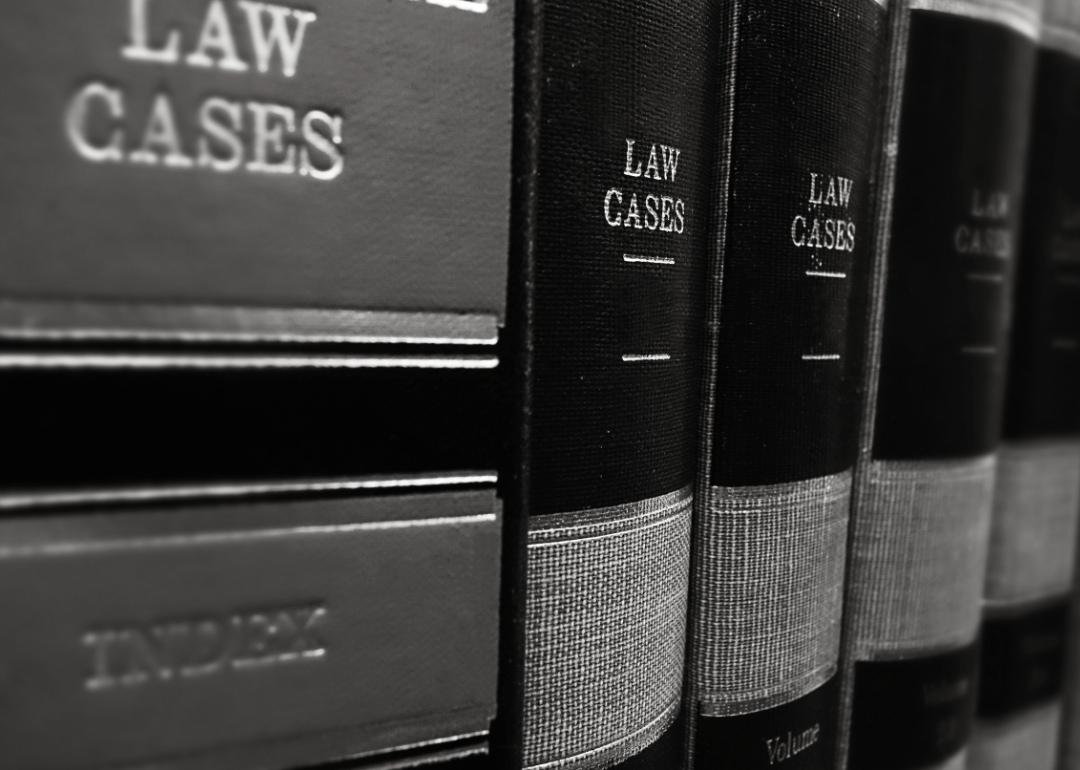 Canva
1963: First-time professor
Upon her return to the United States, Ginsburg accepted her first professorship at Rutgers University. She was one of two female law professors at the university. During this time, she gave birth to a second child, a son named James, in 1965. She continued to work at Rutgers as a professor until 1972, when she began teaching at Columbia University.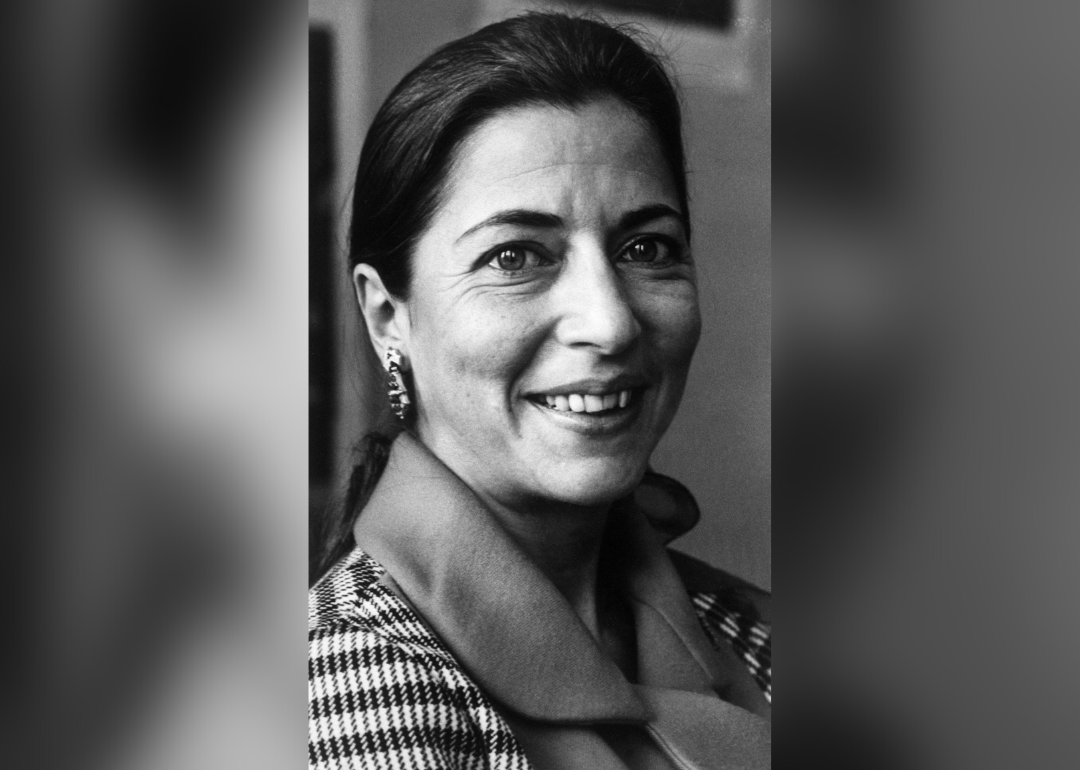 Bettmann // Getty Images
1970s: The Women's Rights Project
In the 1970s, Ginsburg began working on the Women's Rights Project at the American Civil Liberties Union. In this capacity, she worked on landmark cases establishing current legal prohibitions against sex discrimination in the United States. Ginsburg believed that working with an organization of the ACLU's breadth and stature would lend legitimacy to women's rights causes.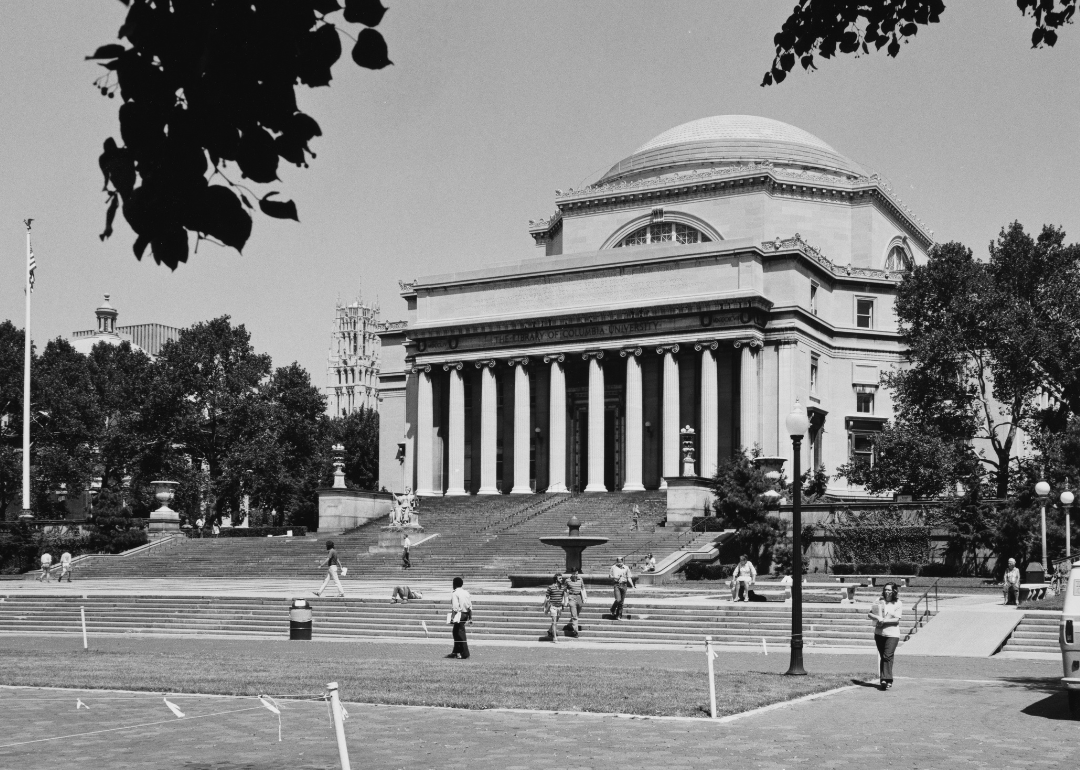 Edmund Vincent Gillon/Museum of the City of New York // Getty Images
1972: Teaching at Columbia
Ginsburg accepted a teaching position at Columbia University in 1972. While teaching at Columbia, Ginsburg argued no fewer than six successful cases before the Supreme Court.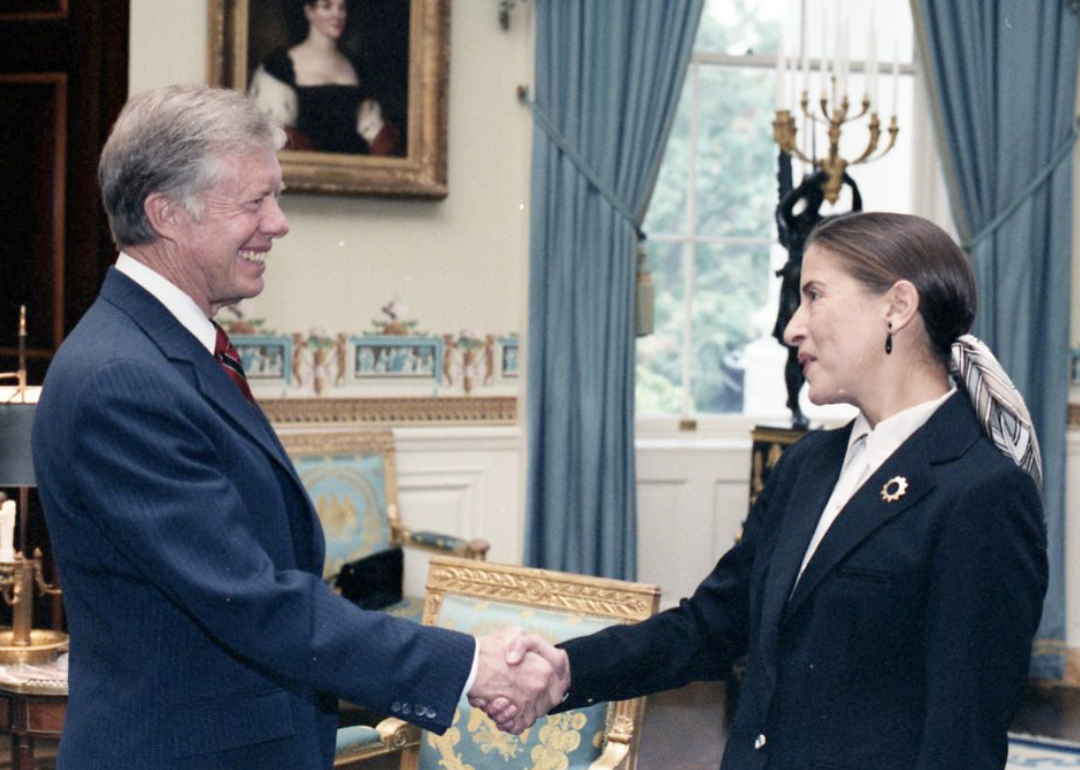 White House Staff Photographers // US National Archives
1980: A presidential nomination
In 1980, President Jimmy Carter nominated Ginsburg for a position on the Court of Appeals for the District of Columbia Circuit. She served in this position on the court for 13 years.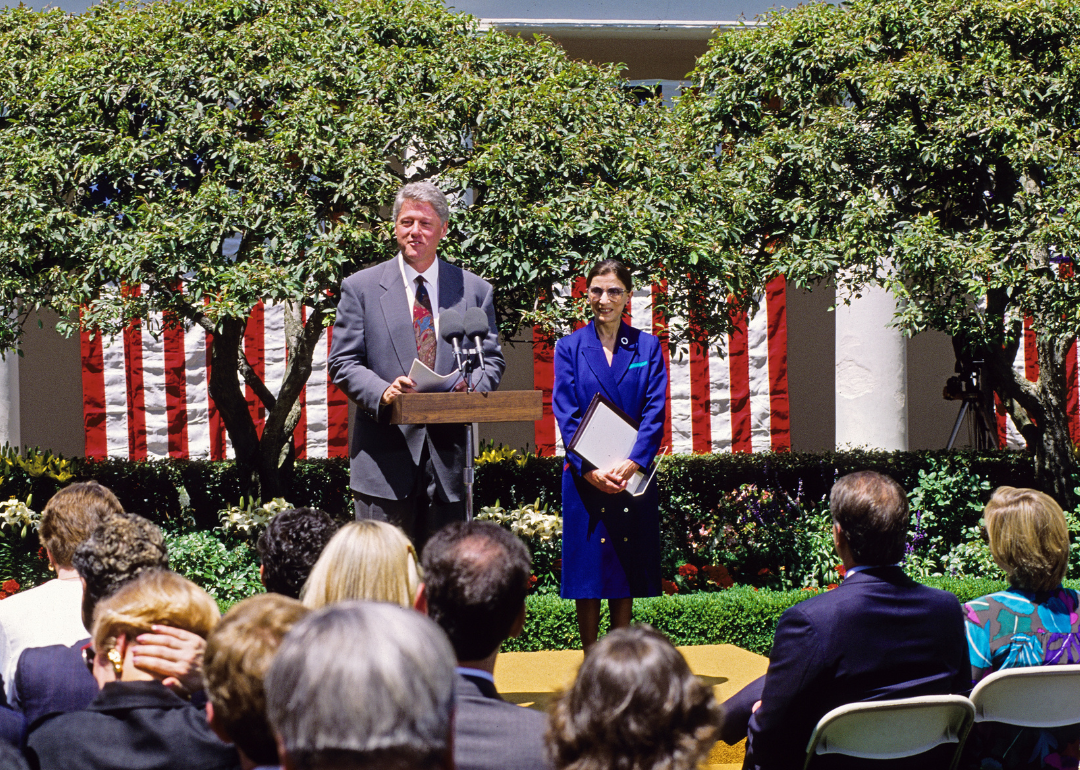 Ron Sachs/CNP // Getty Images
1993: Ascension to the Supreme Court
President Bill Clinton nominated Ginsburg to serve as the 107th associate justice in the Supreme Court of the United States in 1993. She was confirmed by a 96-3 vote in the Senate, an overwhelming majority, and became the second woman ever to serve in the court.
You may also like: 30 stars who hit their stride late in life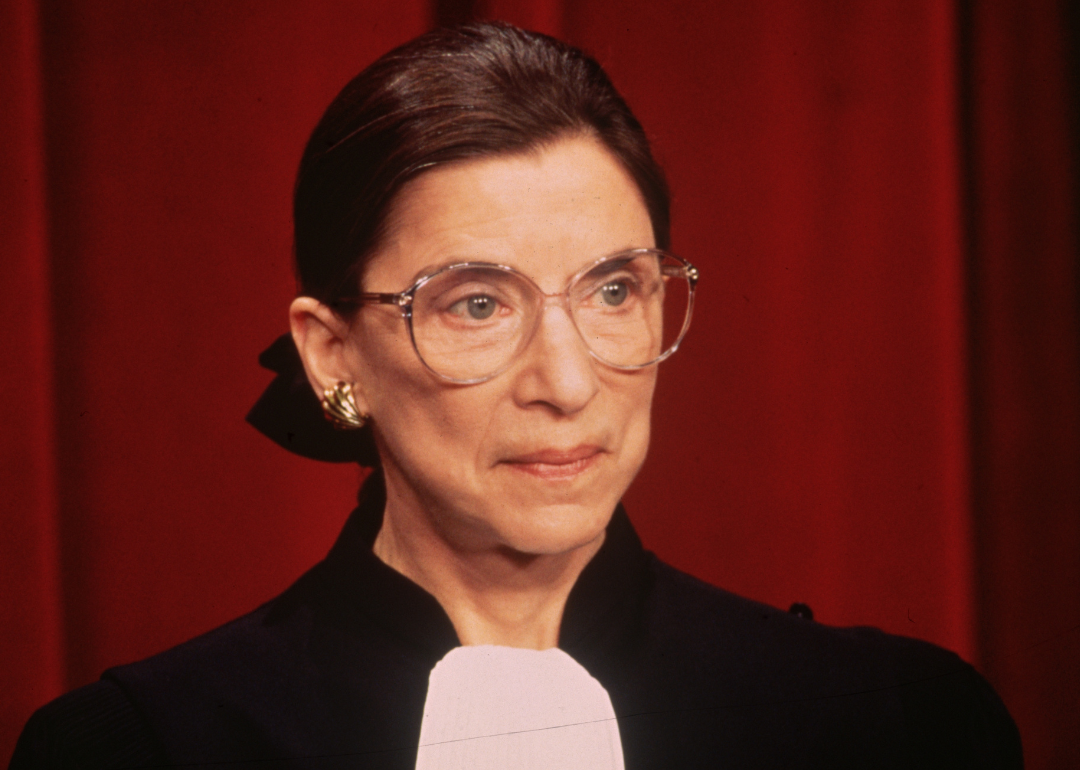 Ron Sachs/Consolidated News Pictures // Getty Images
1996: The United States v. Virginia
Ginsburg was a strong advocate for gender equality in the Supreme Court. One of her first major gender-based cases was United States v. Virginia. The case maintained that eligible women could not be refused entry to the Virginia Military Institute, which, by the end of 1996, became the last public college or university for men only in the country.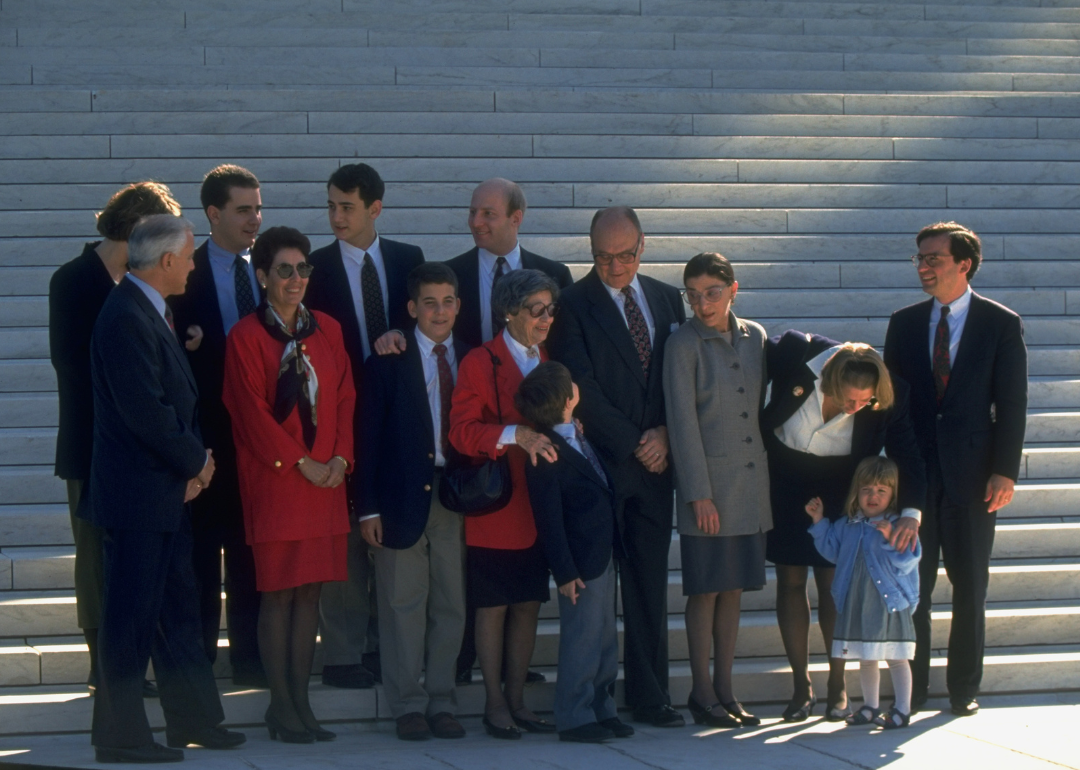 Diana Walker // Getty Images
1990s: Fitness as a way of life
Ginsburg was dedicated to physical fitness throughout her time on the court, particularly weightlifting. She worked with a trainer at the court's gym and could famously bench press more than her male colleague, Justice Stephen Breyer.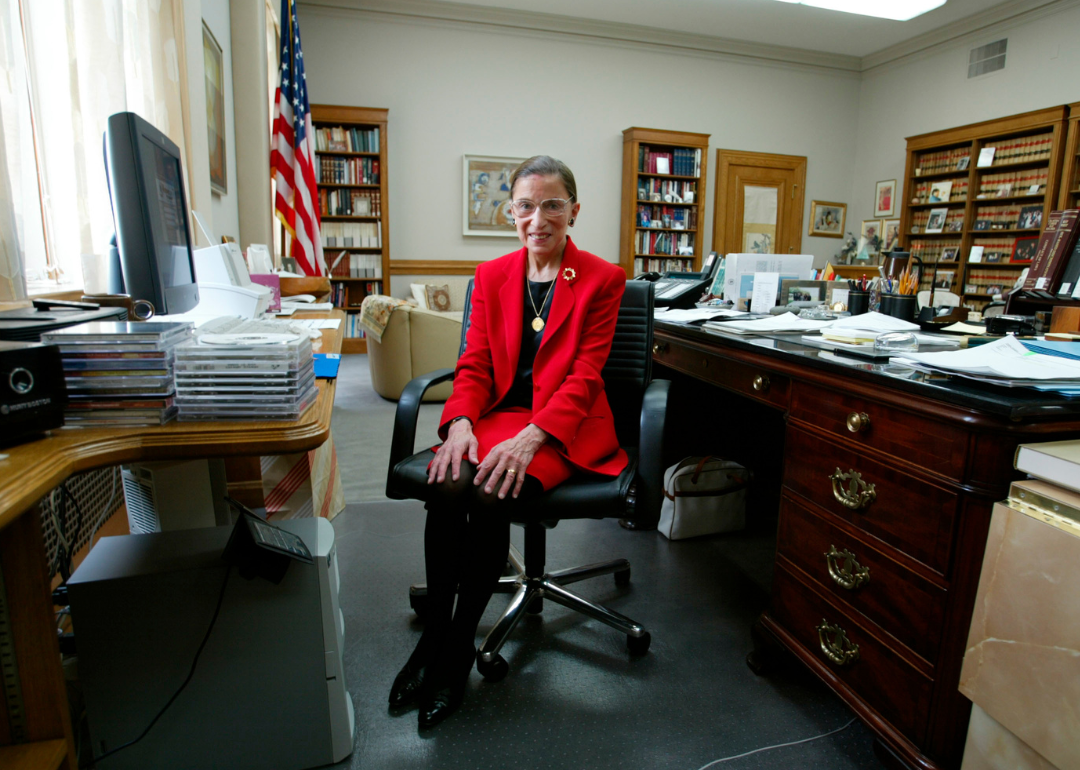 David Hume Kennerly // Getty Images
1999: Olmstead v. LC
In 1999, Ginsburg wrote the majority opinion in a case that would have major implications for the rights of Americans with disabilities. The case held that the rights of two women had been violated. They had been involuntarily committed and held in a state-run Georgia hospital. The case set a major precedent for expanding and upholding the rights of disabled Americans, including those with mental illness.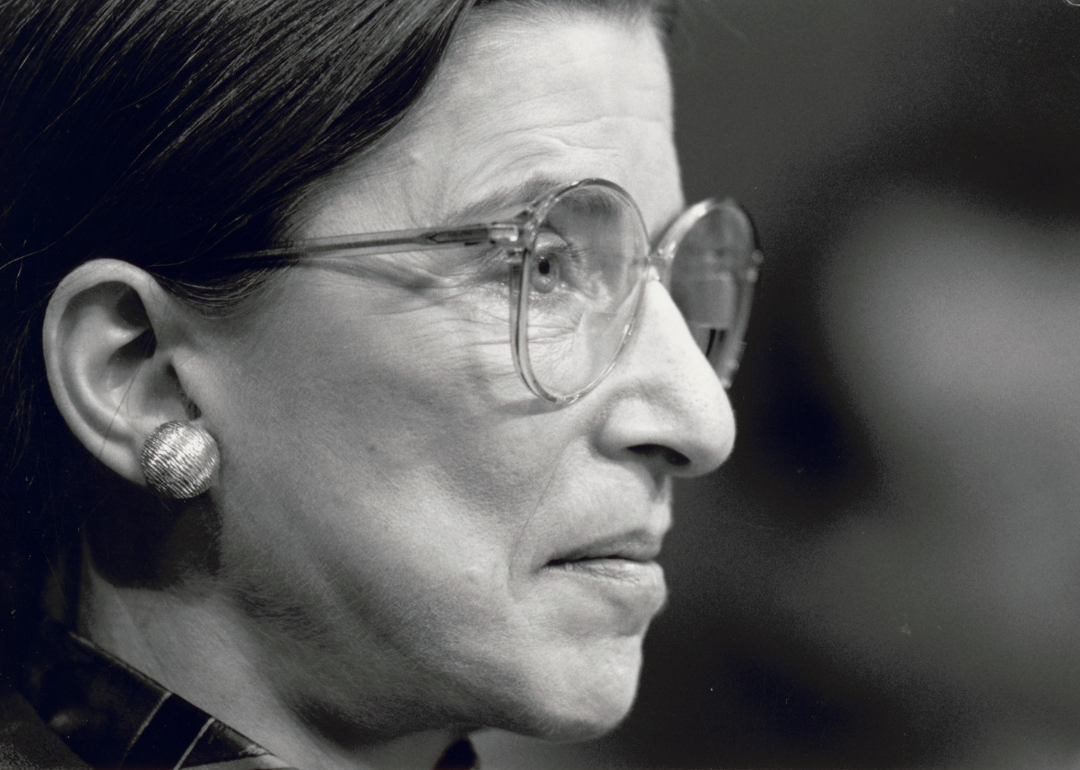 Michael R Jenkins/Congressional Quarterly/PhotoQuest/Getty Images
1999: A sobering diagnosis
In 1999, Ginsburg was being treated for an abdominal infection when she received alarming news: She had colon cancer. She underwent chemotherapy and radiation therapy and went into remission.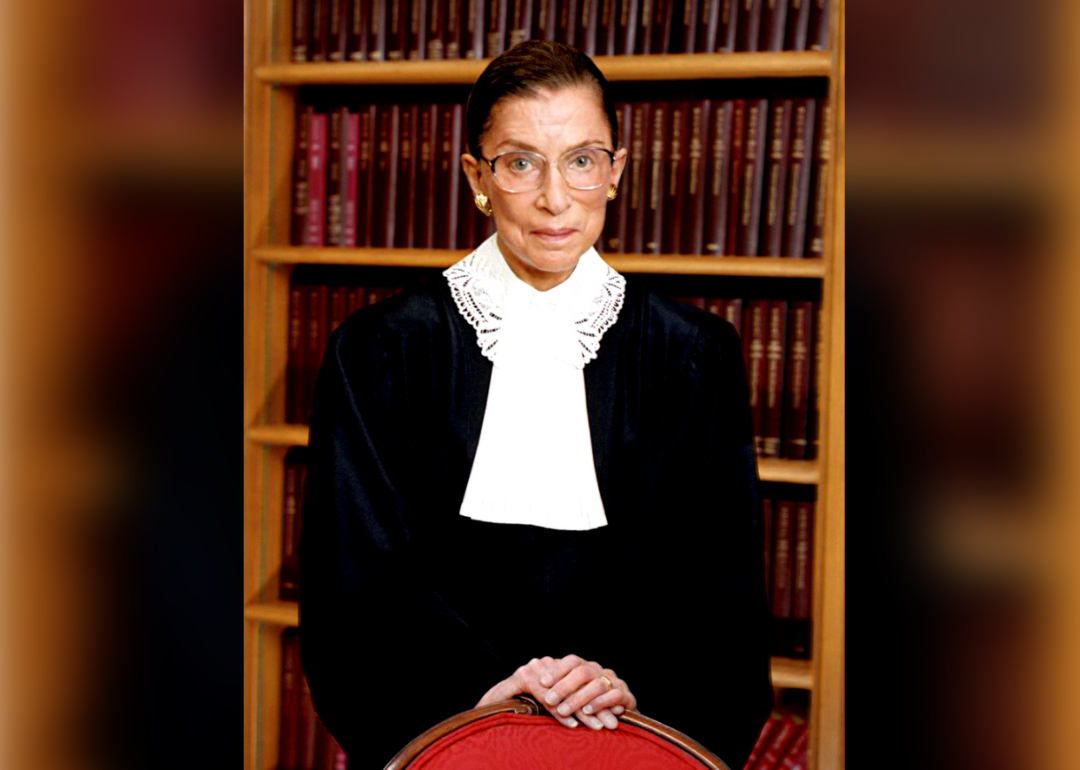 Steve Petteway // Wikimedia Commons
2002: A major award
In 2002, Ginsburg was inducted into the National Women's Hall of Fame. The ceremony occurred at a particularly resonant location—Seneca Falls, New York, the site of the first women's rights convention in the United States in 1848. That convention ignited the suffragette movement, which led to the right to vote for women with the ratification of the 19th amendment in 1920.
You may also like: Highest-grossing actors under the age of 30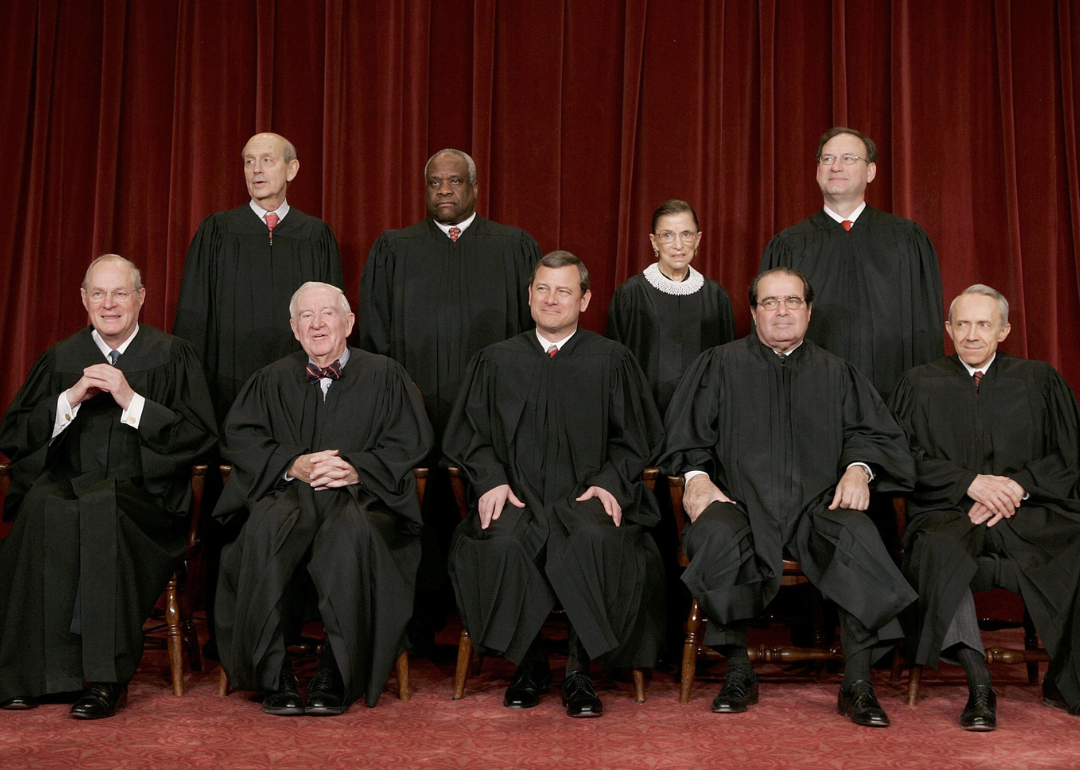 Mark Wilson // Getty Images
2007: Ledbetter v. Goodyear Tire & Rubber Company
In 2007, Ginsburg wrote a famous dissent in Ledbetter v. Goodyear Tire & Rubber Company. The case was brought up by a woman who claimed gender discrimination by her employer at a tire establishment after learning she was being paid less to perform the same work as the men at the company. Although the case was decided in favor of Goodyear, Ginsburg translated her dissent into lay language to ensure the public could fully grasp her argument favoring wage equality, and her cause received widespread support.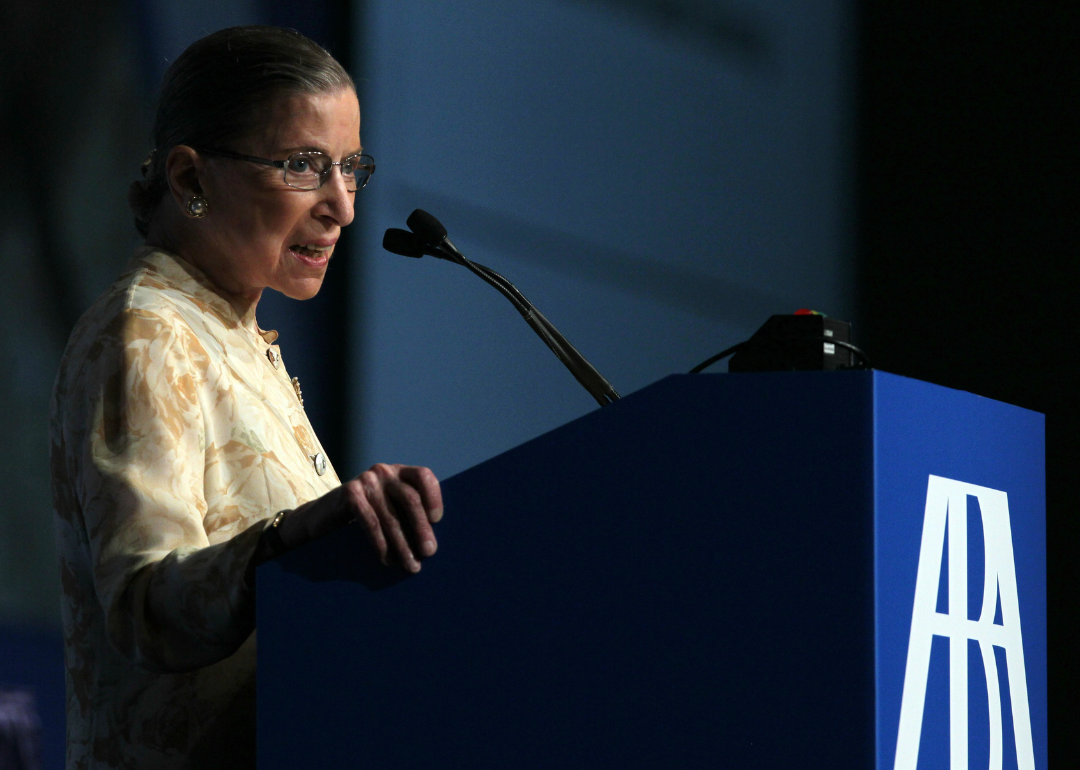 Justin Sullivan // Getty Images
2010: An Illness and a medal
The same year she was treated for pancreatic cancer, Ruth was also given a significant award in recognition of her accomplishments. The American Bar Association gave her its highest honor, the ABA Medal, in recognition of her years of excellence and service in the law. This was also the year she lost her beloved husband, Marty, to cancer after 56 years of marriage.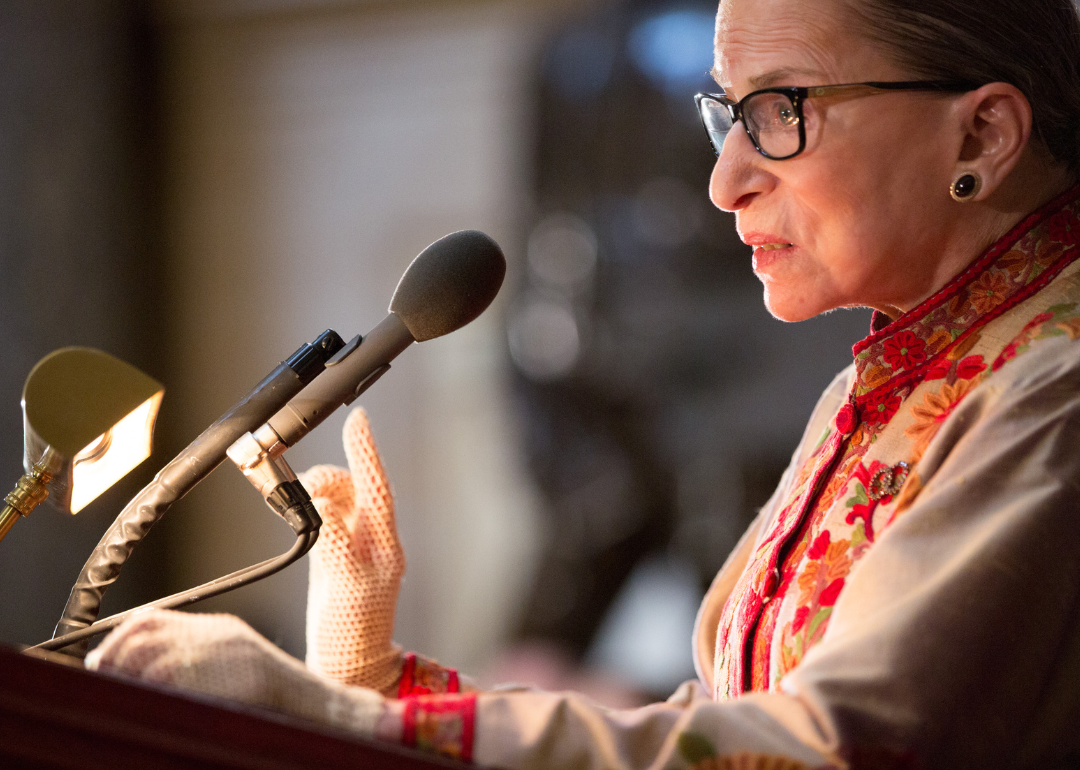 Allison Shelley // Getty Images
2015: Obergefell v. Hodges
This landmark 2015 case established the right to same-gender marriages in the United States. Not only was Ginsburg in the majority in this case, but she was also outspoken in her beliefs surrounding it. Such public commentary is rare for a Supreme Court justice, and many believe her vocal support of marriage rights for all, regardless of gender identity, impacted public opinion.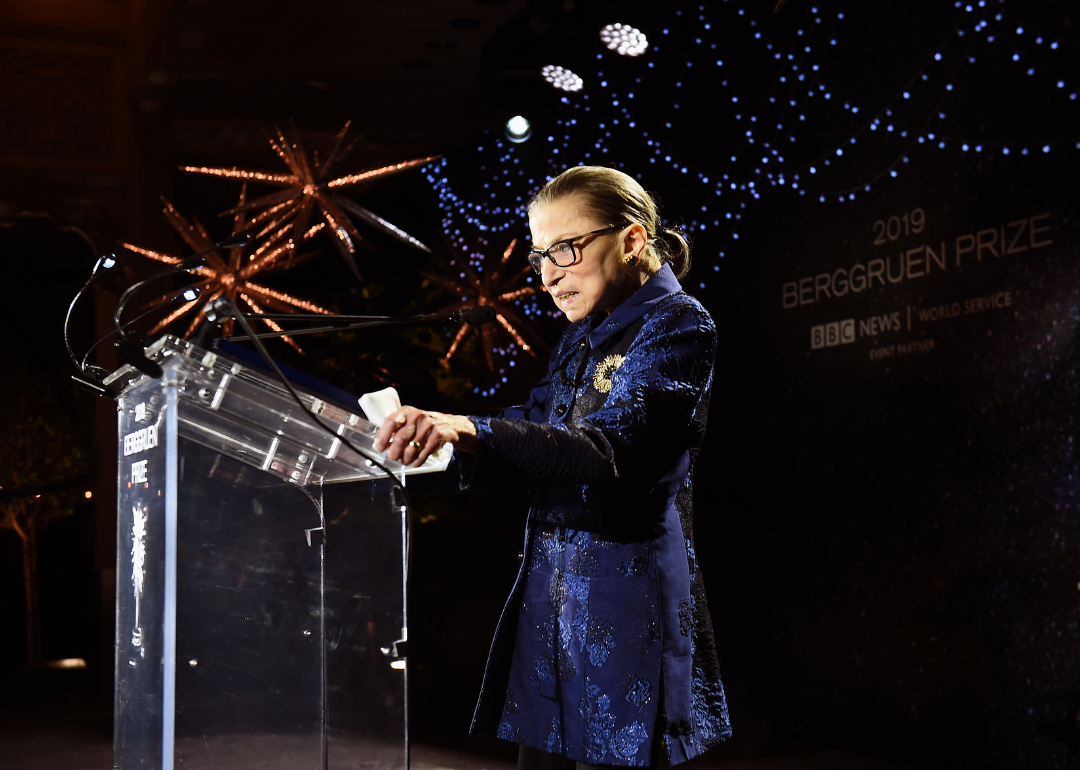 Ilya S. Savenok // Getty Images for Berggruen Institute
2019: $1M to charity
In 2019, Ginsburg won an award from the Berggruen Institute that came with a significant cash prize: $1 million to the charity of Ginsburg's choice. She donated her prize to five dozen organizations that supported her personal causes, including the American Bar Foundation.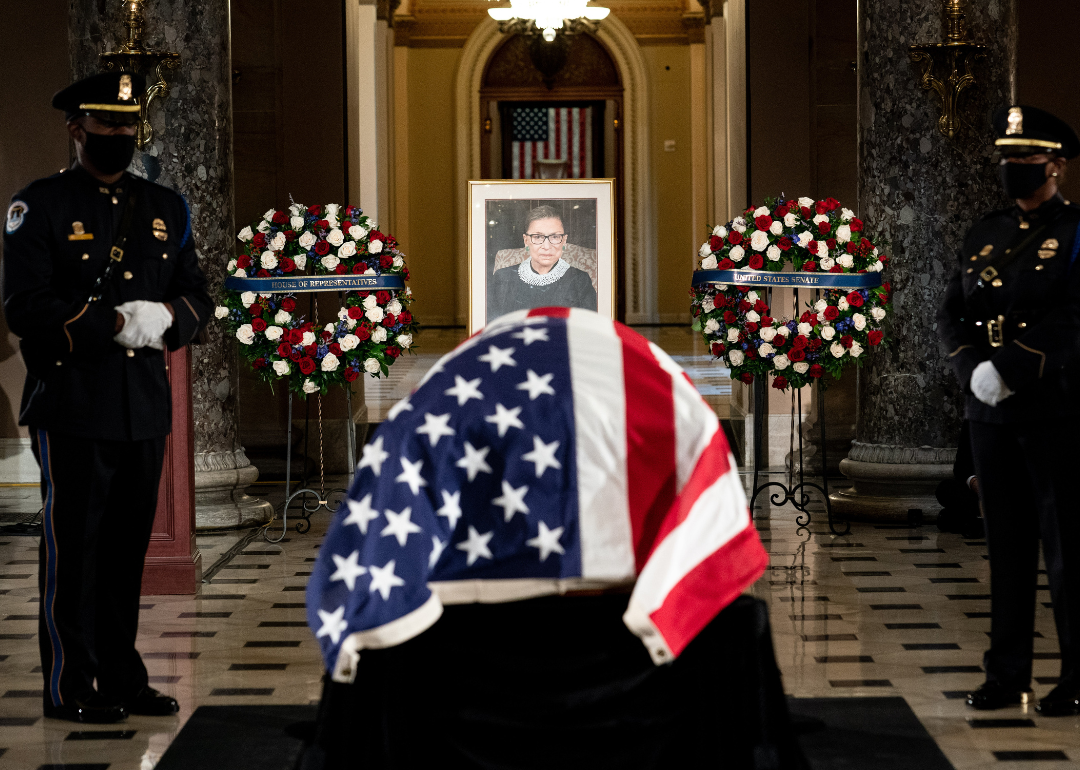 Erin Schaff-Pool // Getty Images
Sept. 2020: Pancreatic cancer returns and death
Sadly, Ginsburg's pancreatic cancer returned in 2020. She died on Sept. 18, 2020. Her death was met with an outpouring of heartache and tributes as millions worldwide mourned Ginsburg's memory and lifelong dedication to advancing gender parity.
You may also like: Celebrities you might not know are LGTBQ+
More Stacker National