Bikeable neighborhoods in not-so-bike-friendly cities
Published 4:30 pm Tuesday, January 17, 2023

Chetty Thomas // Shutterstock
Bikeable neighborhoods in not-so-bike-friendly cities
COVID-19 restrictions, which kept workers and students alike at home and severely hampered mobility for those dependent on public transit, prompted many Americans to dust off the bicycles in their garages or buy new ones as a way of getting out of their homes, exercising, and reducing stress levels while adhering to social distancing guidances. Others took up walking as a means of exercise and exploration. This resulted in people discovering—in ways they perhaps had never realized before—just how bikeable and walkable their neighborhoods really were.
Despite inner-city infrastructure development traditionally adopting a mixture of public transportation and vehicle-use roadways, many cities have begun to prioritize dedicated bicycle lanes and safety measures to offer better mobility options and quality of life. Cycling infrastructure investments to increase the safety and security of bike-lane networks in cities like Austin, Texas; New Orleans; and Portland, Oregon, have grown exponentially in recent years. The League of American Bicyclists found that, since 2005, there has been a 46% increase nationwide in bike commuters, and the cities where bike commuting has risen the most—Seattle, Washington D.C., and the aforementioned Portland and New Orleans being just a few examples—are also among those cities making the greatest investments in growing and securing their bike networks.
Of course, within any given city, some areas are more bike-friendly than others.
Velotric drew on data from WalkScore to rank U.S. neighborhoods that are far more bikeable than the cities they're part of might suggest. The analysis was limited to 10 U.S. cities and to avoid duplicates, only the highest-scoring neighborhood from a city was included. Walk and transit scores relative to these neighborhoods and their cities are also included. The Bike Score methodology accounted for several factors, among them the preponderance of bike lanes and road connectivity as well as the existence of hills and other topographic features.
Some patterns emerged: Most are old neighborhoods. Several are on the National Register of Historic Places. A few are very close to university campuses, where many students rely on bikes for transportation, and most are near—or simply are—downtown. In all cases, the following bike havens are rich in culture and rife with things to do and sights to see, all easily accessible on two wheels.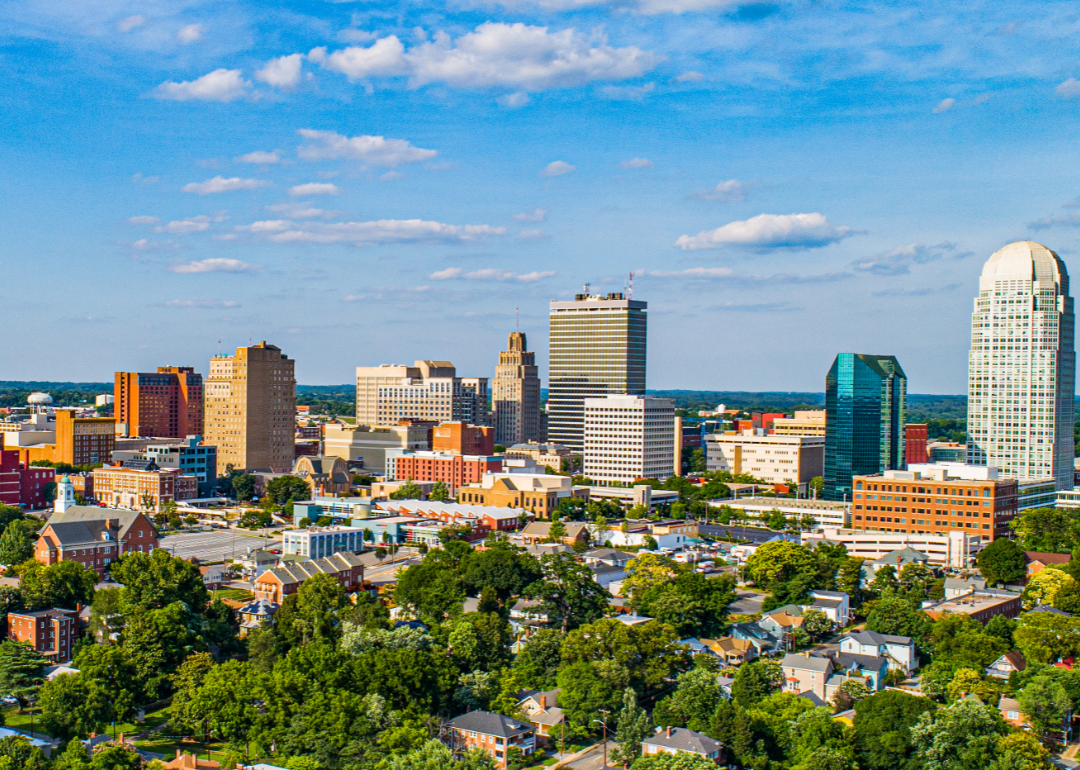 Canva
#10. Downtown (Winston-Salem, North Carolina)
– Neighborhood bike score: 73 (43.8 points greater than Winston-Salem)
– Neighborhood walk score: 79 (56.5 points greater)
– Neighborhood transit score: Not available
While not as big as San Diego, Winston-Salem—home to several colleges and universities—is a large enough city as a whole that most residents prefer to have cars, and car commuting is the norm. However, the downtown neighborhood has prioritized bike-friendliness by adding bike racks in public places and onto public transportation, adding bike lanes to streets, and improving nonstreet routes—like the popular Long Branch Trail—called greenways. Visitors who would like to explore the city on two wheels can rent a bike through the city's bike share program, which has 22 stations located throughout the downtown area. Old Salem's historic streets, myriad shops and restaurants, museums, and even the Black Mountain Chocolate Bar are all accessible by bike.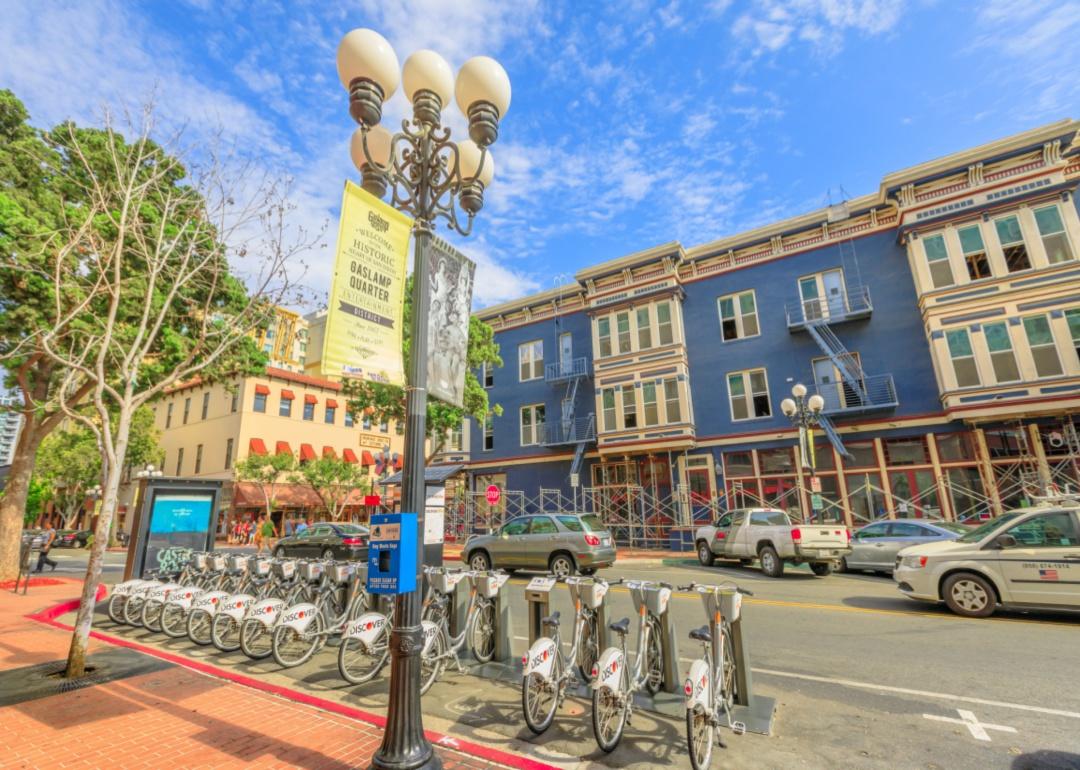 Benny Marty // Shutterstock
#9. Gaslamp (San Diego, California)
– Neighborhood bike score: 87 (44 points greater than San Diego)
– Neighborhood walk score: 97 (43.7 points greater)
– Neighborhood transit score: 81 (43.7 points greater)
San Diego calls to mind surfers pedaling to the beach on cruiser bikes, but this beach city is also a big city–America's eighth most populous at nearly 1.4 million—and not as bike-friendly as you might think. Fortunately, the Gaslamp Quarter, in the very heart of San Diego, is an exception. For $20, you can rent a basic hybrid bike for four hours to explore the Quarter; another $10 gets you one all day. You can also rent a high-end road bike or e-bike and cruise the 6 miles north along the waterfront from the Quarter to Liberty Public Market. Many of the beautifully restored 19th-century Victorians in the historic district have been turned into lively restaurants and other businesses. The neighborhood serves as a shopping and dining destination by day and a hotel and nightlife district lit by—yes—gas lamps after dark.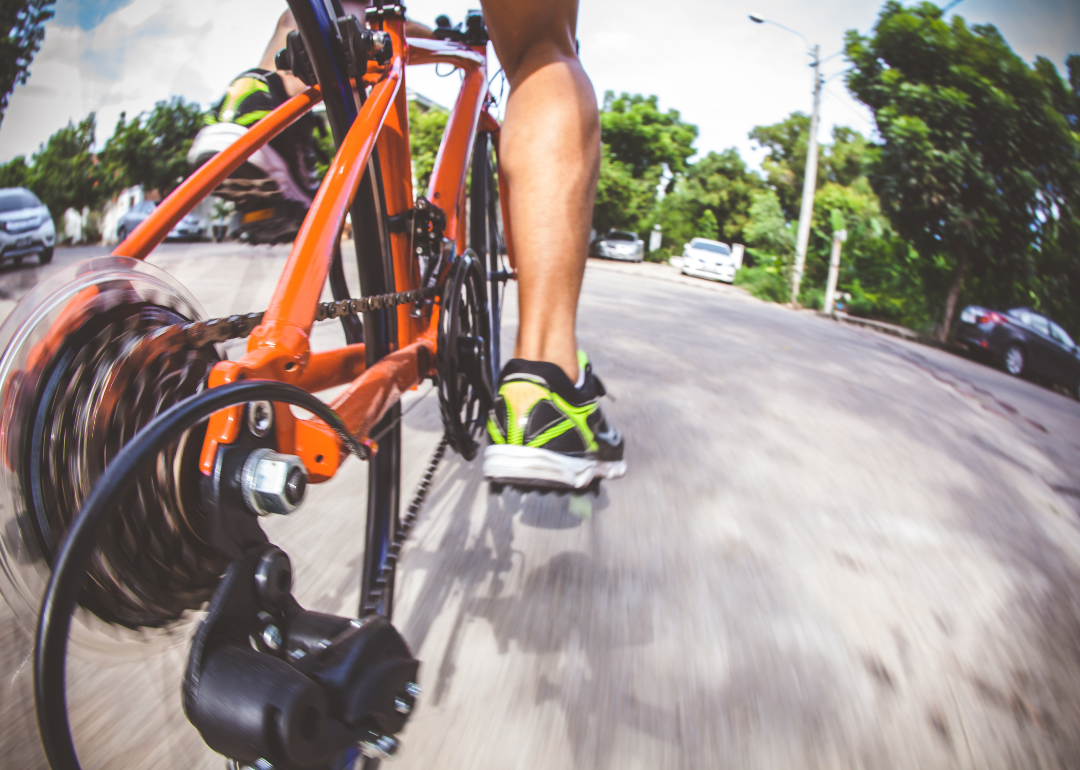 Canva
#8. Cabbagetown (Atlanta, Georgia)
– Neighborhood bike score: 87 (45.3 points greater than Atlanta)
– Neighborhood walk score: 83 (35.3 points greater)
– Neighborhood transit score: 61 (17.3 points greater)
Whether Cabbagetown got its name from the cabbages residents who once lived there grew in their yards or the time a cabbage truck reportedly spilled its load on a street corner, the neighborhood doesn't deserve the goofy name. The historic district east of downtown Atlanta has much to offer today. A lively art scene has taken hold, fueled by the conversion of a sprawling 19th-century cotton mill into Fulton Cotton Mill Lofts—quite possibly the largest collection of residential artists' lofts in America. Street art adorns walls leading to the Krog Street Tunnel, which connects the district with the Inman Park neighborhood. Restaurants in the district, notably the popular Carroll Street Cafe, serve up plenty of cuisine choices and evening entertainment. The neighborhood can easily be toured on two wheels; bike and e-bike rentals are available at the Atlanta Bicycle Barn located nearby.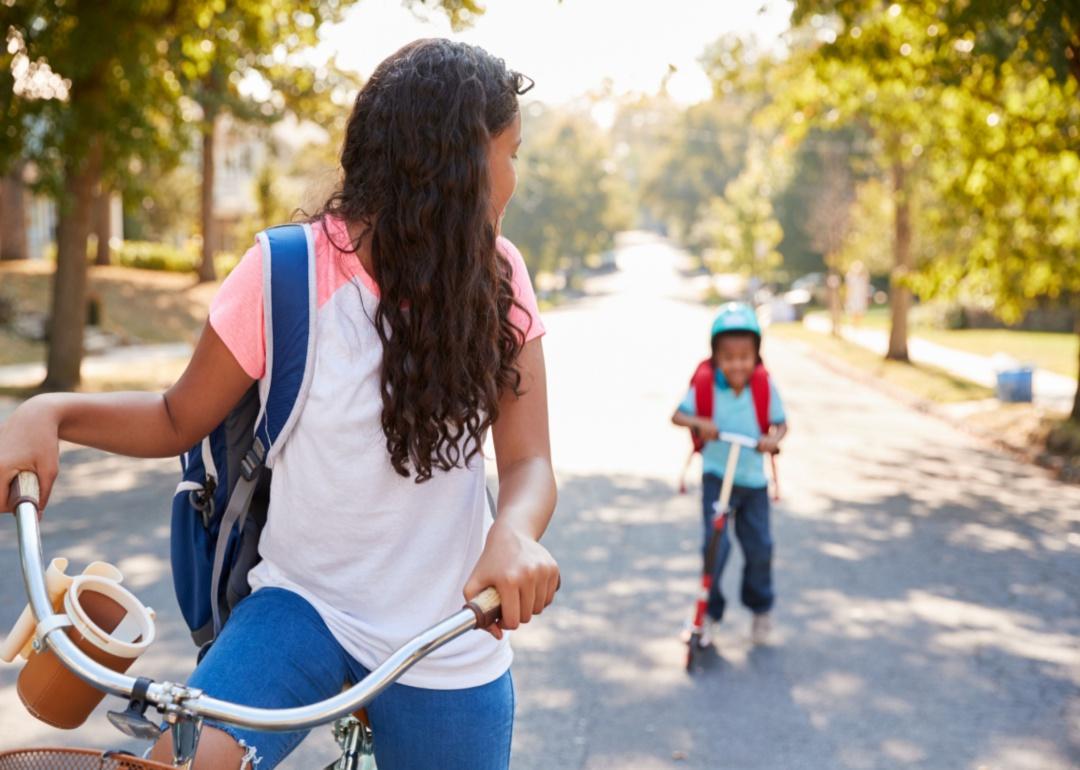 Monkey Business Images // Shutterstock
#7. Fairmount (Fort Worth, Texas)
– Neighborhood bike score: 84 (45.4 points greater than Fort Worth)
– Neighborhood walk score: 67 (32.1 points greater)
– Neighborhood transit score: 41 (19.4 points greater)
It's not always easy living in a National Historic District because of the restrictions placed on homeowners wanting to remodel, but the owners of historic homes in Fort Worth's Fairmount National Historic District take great pride in them. In fact, pride of ownership runs so deep in Fairmount that "Yard of the Month" is an honor that neighbors covet. Located 2 miles south of downtown, the district features dozens of historic houses in architectural styles that range from Prairie-style and Dutch Revival to Craftsman and Queen Anne. The quiet district is quite bikeable, unlike many car-centric Texas cities. It's also quite affordable—the median home price is $416,000, steep by Fort Worth standards but a steal for admirers of historic homes. More than 4 in 5 homes in the district were built before 1940, making it one of the most concentratedly historic U.S. neighborhoods.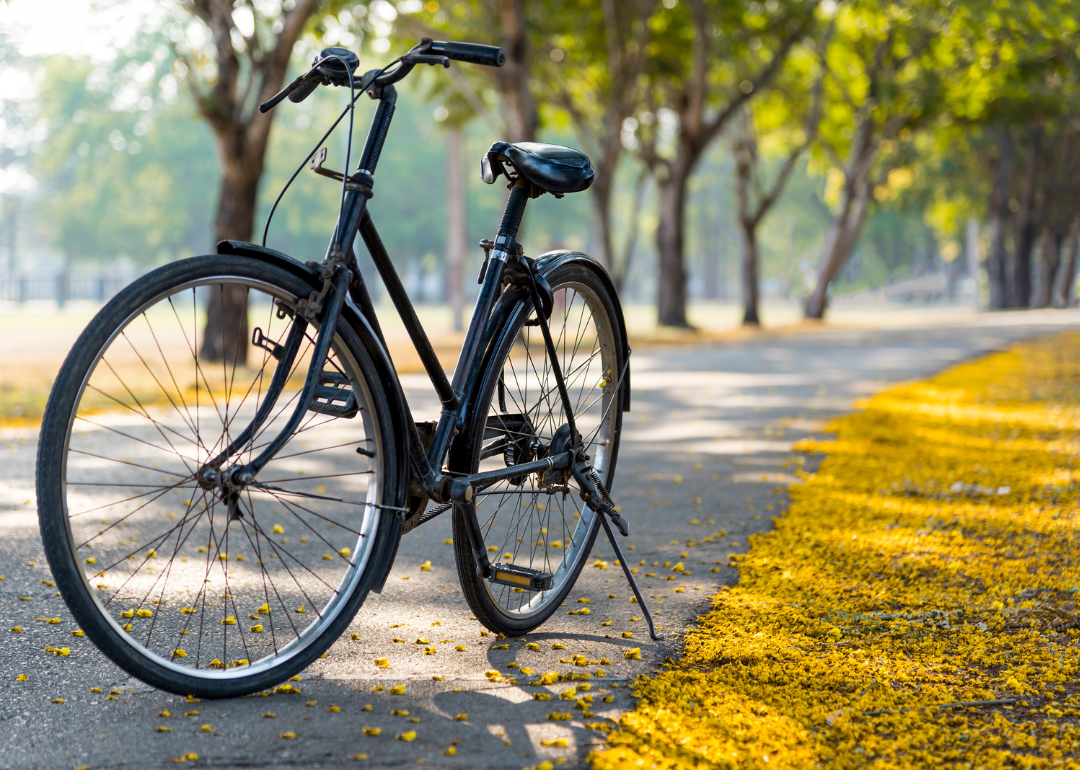 Canva
#6. College Park (Raleigh, North Carolina)
– Neighborhood bike score: 85 (45.7 points greater than Raleigh)
– Neighborhood walk score: 60 (28.7 points greater)
– Neighborhood transit score: 47 (17.6 points greater)
Raleigh's College Park neighborhood (sometimes called East College Park) is named for the 105-acre Saint Augustine's University campus, which straddles its border. Saint Augustine's is a historically Black private Christian college that opened just after the Civil War to train newly emancipated African American teachers. The neighborhood is somewhat pricey ($514,000 median home price) and getting pricier (17.6% increase year over year). Recent street and sidewalk paving in the district make it even more bike- and pedestrian-friendly than in the past. A bike lane on East Jones Street leads cyclists to downtown Raleigh, only a few blocks away, or riders can follow any number of greenway paths or country road loops that tour the city.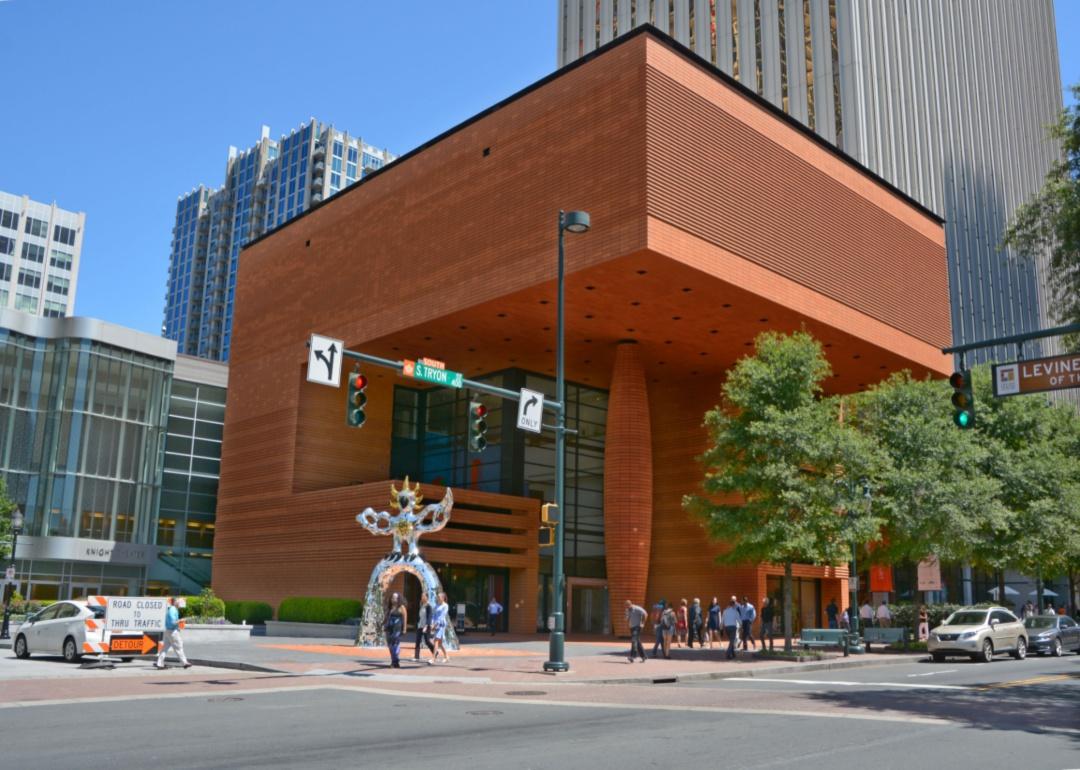 meunierd // Shutterstock
#5. Third Ward (Charlotte, North Carolina)
– Neighborhood bike score: 77 (45.7 points greater than Charlotte)
– Neighborhood walk score: 72 (45.6 points greater)
– Neighborhood transit score: 67 (39.6 points greater)
The average home price of $281,000 in Charlotte's Third Ward is certainly reasonable when you consider it has enough going for it to earn an A+ grade and rank #6 among 163 Charlotte neighborhoods, according to Niche. About 4 in 5 residents have a college degree, and the average household income is just over $93,000. Located just northeast of downtown Charlotte, the district encompasses one of the city's largest public parks, Frazier Park. Walking paths meander through the park, and the Irwin Creek Greenway path leads walkers and cyclists downtown. Restaurants serving everything from Irish to Turkish fare, as well as two museums (Bechtler Museum and Mint Museum), give residents and visitors plenty to eat and admire.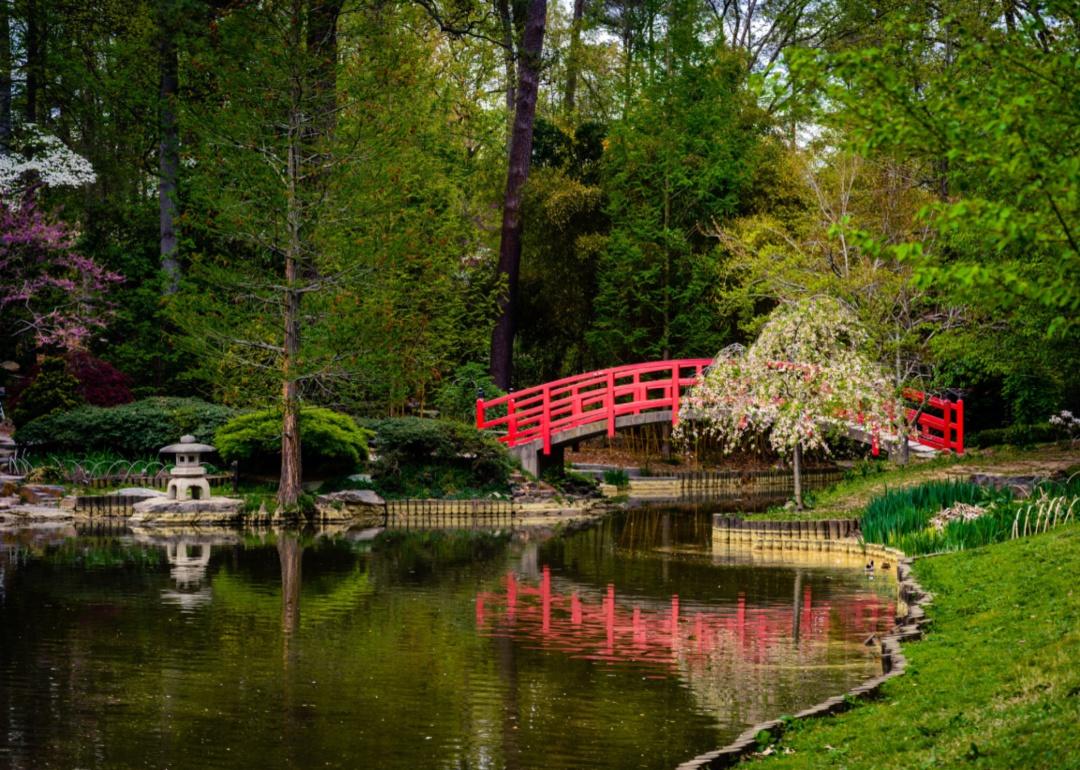 CeGe // Shutterstock
#4. Old West Durham (Durham, North Carolina)
– Neighborhood bike score: 85 (47.4 points greater than Durham)
– Neighborhood walk score: 80 (49.7 points greater)
– Neighborhood transit score: 51 (23.5 points greater)
The welcoming message fronting the Old West Durham Neighborhood Association website says it all: "Our neighborhood remains a collection of quiet, tree-lined streets where the front porch is still used for visiting with neighbors." That can be said of many neighborhoods, especially in the South, but not so much in tech hubs like Durham. The city's top bike shop, Durham Cycles, is found in this historic neighborhood and rents hybrid and mountain bikes and e-bikes on which riders can explore the nearby Duke University campus or head south for 22 miles on the multi-use American Tobacco Trail. Or you can stick to the Old West neighborhood, whose motto is: "Diversity, Harmony, Community."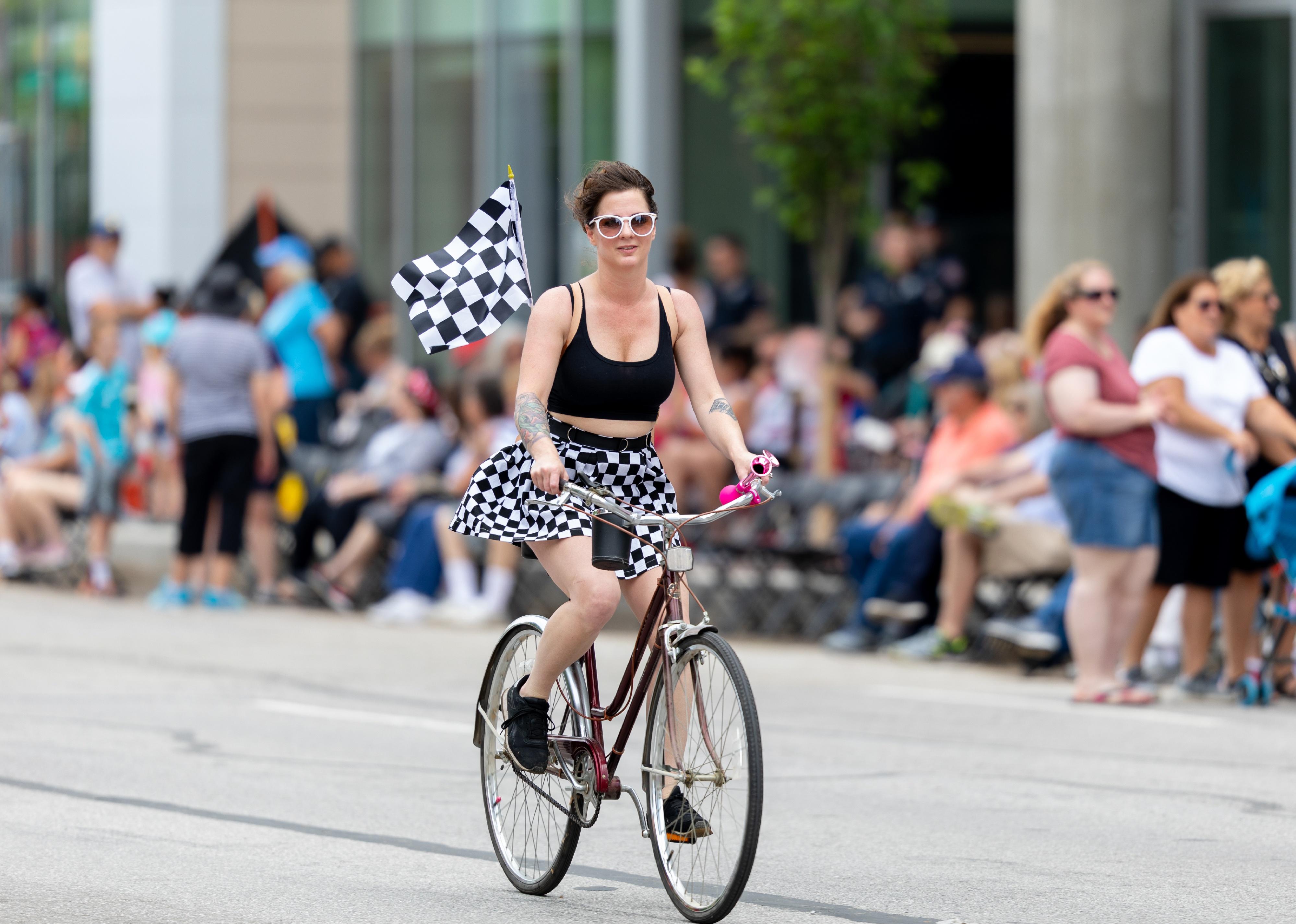 Roberto Galan // Shutterstock
#3. Downtown (Indianapolis, Indiana)
– Neighborhood bike score: 91 (48.2 points greater than Indianapolis)
– Neighborhood walk score: 81 (50 points greater)
– Neighborhood transit score: 59 (34.1 points greater)
Downtown areas are usually not very bikeable, but downtown Indianapolis is an exception. Downtown Indy has been a leader among U.S. city-based organizations in promoting downtown housing to ensure a safe and lively urban core—and the stats that prove it's working: over 25,000 downtown residents (including many Indiana University–Purdue University Indianapolis students), a 97% occupancy rate, median home prices that have soared to $431,000 (single-family homes) and $317,000 (condos), and a crime rate that has dropped for three consecutive years.
If that's not enough to show why it's so attractive to residents and visiting out-of-towners, there are also 440 restaurants and bars, 8,500 hotel rooms, and for outdoor lovers, more than 340 acres of green space. Bike-share rides and Lime scooters are available throughout the downtown area. Residents and visitors can stop by one of the 50 Pacers Bikeshare stations or rent an e-bike or hybrid bike at Wheel Fun Rentals to follow the Indianapolis Cultural Trail.
aceshot1 // Shutterstock
#2. Necko (Columbus, Ohio)
– Neighborhood bike score: 96 (48.3 points greater than Columbus)
– Neighborhood walk score: 71 (29.8 points greater)
– Neighborhood transit score: 52 (21.8 points greater)
Columbus is best known as a university town, and the Necko neighborhood is right next to The Ohio State University and its 61,000-strong on-campus student body. No wonder then that more than half of residents are students. The presence of all those students contributes to making it more bikeable, walkable, and generally safer than most Columbus neighborhoods. Its proximity to the campus inspires more than a third of residents to walk to work or school, and the neighborhood's number of bike commuters is in the 96th percentile. The best way to check out the area is to rent a CoGo bike (only $2.25 per ride or $8 per day) from one of the Necko district's Neil Avenue CoGo stations.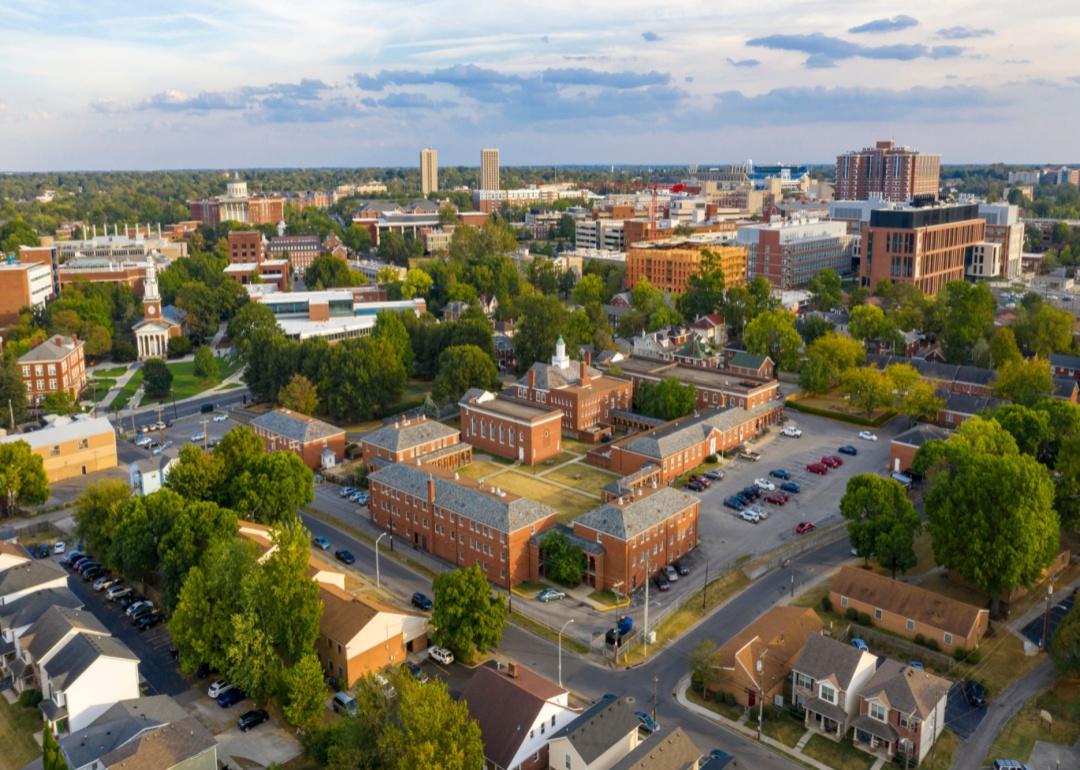 Real Window Creative // Shutterstock
#1. Columbia Heights (Lexington-Fayette, Kentucky)
– Neighborhood bike score: 96 (50.3 points greater than Lexington-Fayette)
– Neighborhood walk score: 87 (52.7 points greater)
– Neighborhood transit score: 76 (49.4 points greater)
The University of Kentucky is right next to the Columbia Heights neighborhood, and Woodland Park (the #1 park in Lexington) is only a block away. Home prices in the neighborhood average around $240,000 and a population density of 12,400 residents per square mile keeps the Heights bustling for residents, students, and visitors alike. More than a third of the neighborhood's residents are students, many of whom bike to campus, and even nonstudents can take advantage of the cultural offerings at the university. Anyone seeking evidence that this is a close-knit community need look no further than the Oct. 23, 2022, Facebook community page post by the Columbia Heights Neighborhood, which assured residents that a missing dog was alive and well and safely in the hands of Animal Control awaiting a reunion with its owner.
This story originally appeared on Velotric and was produced and
distributed in partnership with Stacker Studio.