6 natural cleaning products you can make at home
Published 5:30 pm Monday, January 30, 2023

Canva
6 natural cleaning products you can make at home
After COVID-19 disrupted supply chain issues worldwide, many consumers sought creative ways to keep their homes clean. Consumers who experimented with homemade cleaners not only saved a trip to the store, but also saved money and enjoyed environmental benefits.
Of course, now that we're recovering from the pandemic, it's still a great time to try out homemade cleaners. Many commercial cleaning products contain volatile compounds that degrade the environment when they end up in the surrounding air and water. Additionally, containers for these products come in plastic packaging—just 8% of which is recycled.
Knowing what each household material does can help you understand exactly what to grab to tackle mold on surfaces or a clogged drain. The Rounds has compiled a list of do-it-yourself cleaning products that can easily be made at home with everyday products from your pantry.
Making at-home cleaning solutions starts with understanding the natural properties of everyday items like baking soda, white vinegar, lemon, olive oil, soap nuts, castile soap, and essential oils. Baking soda, for instance, breaks down minerals in grease, absorbs odors, and is a mild abrasive, while vinegar's acidity combats stains and grime.
When making at-home cleaning solutions, only mix what's needed for a specific job since some DIY cleaning products may have a short shelf life and lose potency. For any cleaning solutions you store, use clean, unused containers and keep them away from pets, children, and food products. Label the containers with the date you mixed the product and the ingredients used. And always be sure to first test surfaces with a small amount of the cleaner you've mixed to be sure it won't cause any harm to finishes.
Keep reading for instructions on how to make six natural cleaning products at home.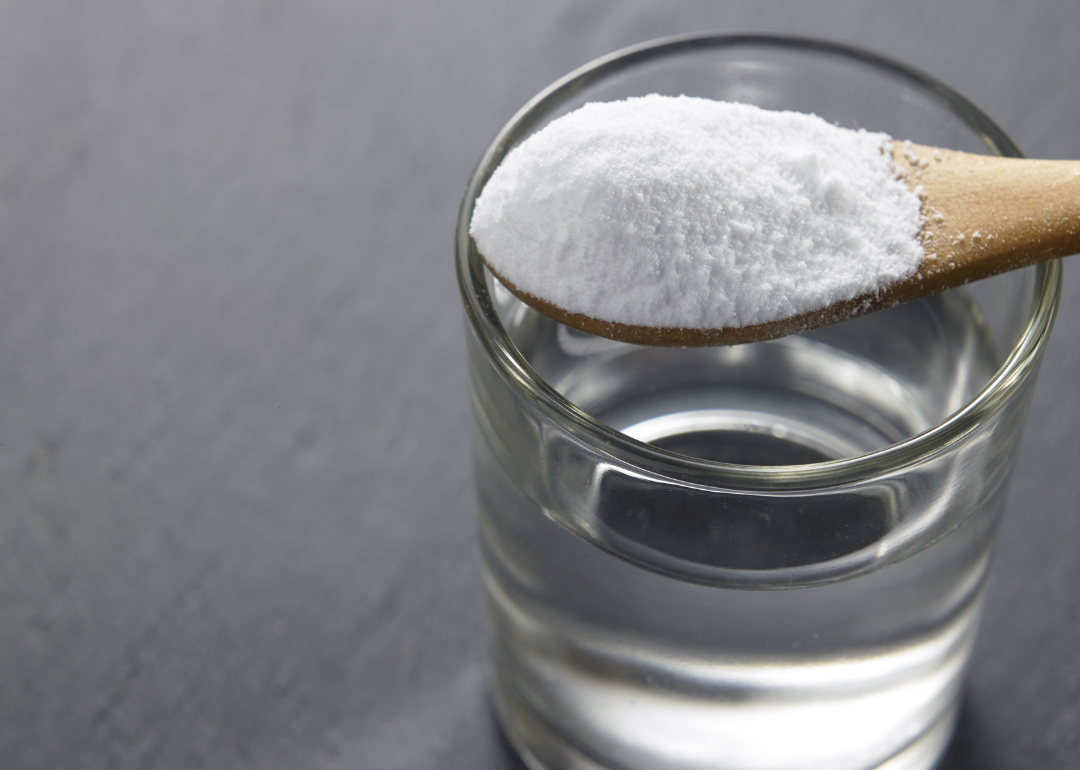 focal point // Shutterstock
Kitchen cleaner and deodorizer
Ingredients:
– 4 T. baking soda
– 1 qt. warm water
Baking soda is invaluable for making surfaces shine and absorbing bad smells.
The substance is also a natural buffer, removing dried and stuck materials while still being gentle enough not to scratch surfaces. Baking soda can be used on any appliance or surface in the kitchen. Mix the baking soda and water until a paste forms. Rub onto dirty spots with a sponge or cloth, then rinse.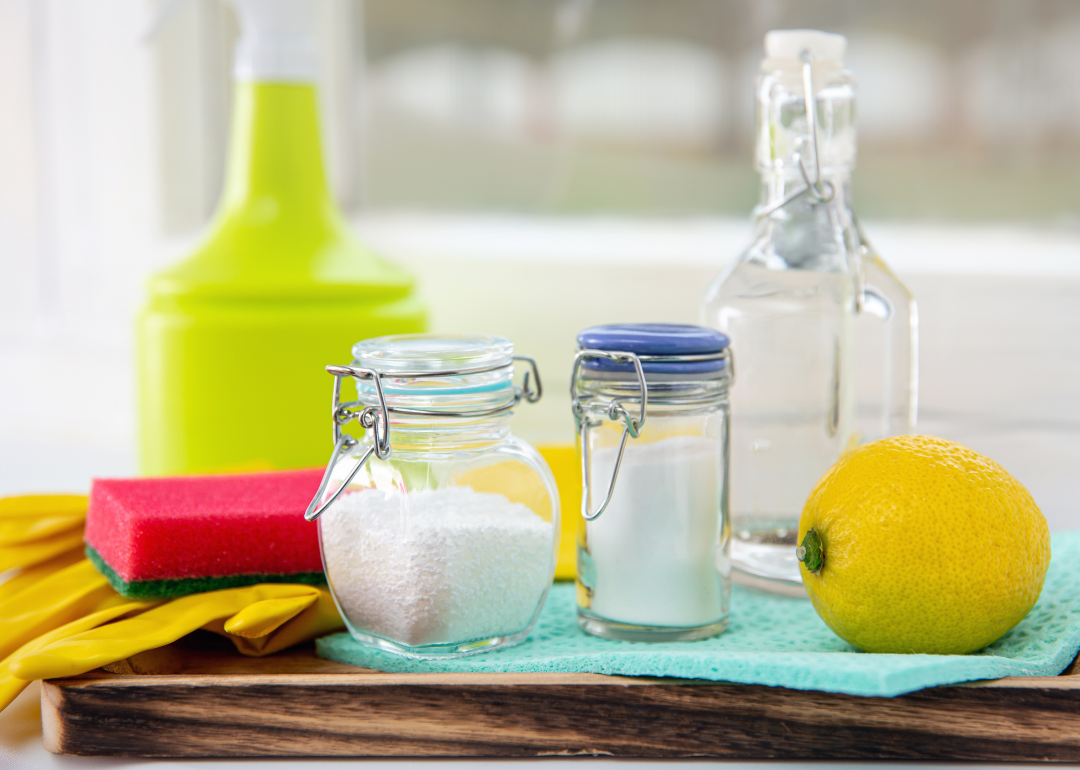 FotoHelin // Shutterstock
Heavy-duty scrub
Ingredients:
– 1/2 lemon
– 1/2 c. borax powder
Borax is particularly adept at removing rust that forms in the bathroom and kitchen. Although this recipe is most useful for hard surfaces like tubs, sinks, and counters, borax can also be used for carpets, to clean floors, and even in gardens.
For the scrub, mix borax powder and juice from the lemon with water and apply to spots with a sponge. Alternatively, you can cut the lemon in half and dip one of the halves directly into the borax and use it to scrub. Wait a few minutes before rinsing.
Note that borax has low toxicity levels, which can cause skin irritation, so avoid using too much. Never use borax in personal care products, kids' toys such as slime or near food and pets.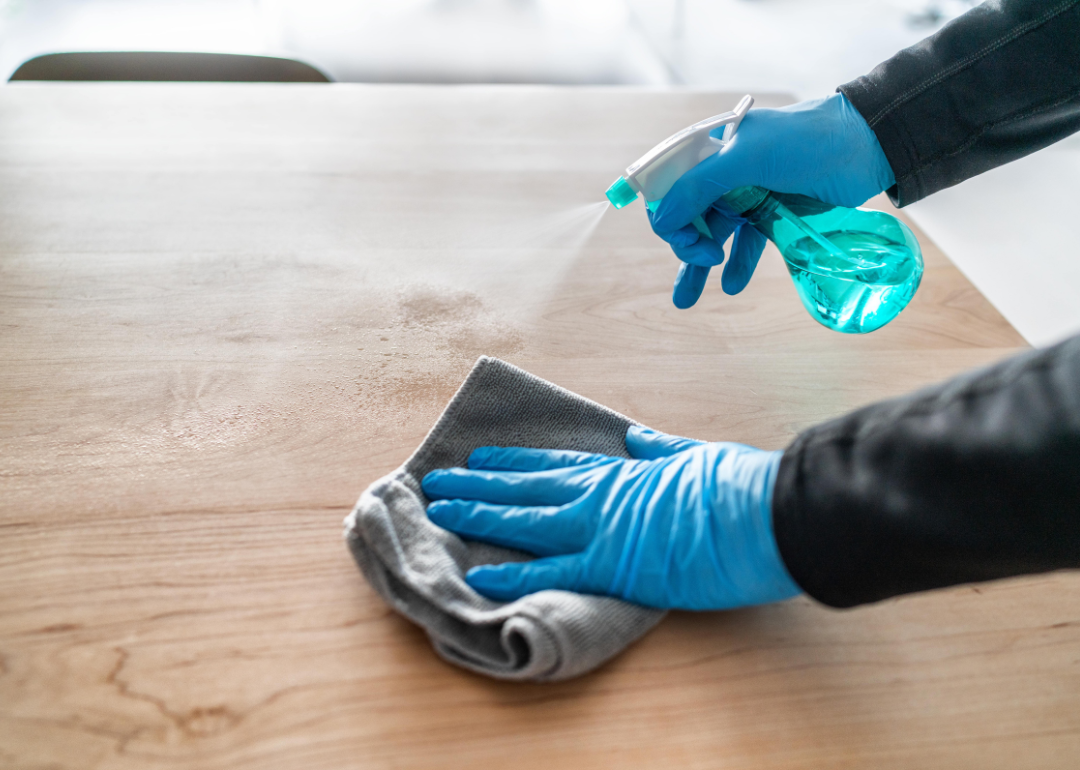 Maridav // Shutterstock
Wood cleaner
Ingredients:
– 1/2 c. lemon juice (roughly four lemons' worth)
– 1/4 c. water
– 1/2 tsp. liquid soap or detergent
– A few drops of olive oil
Though only added in small amounts, olive oil adds powerful natural shine and moisture to wood. Liquid detergent or soap cleans out grime, while lemon juice adds a pleasant smell. You can also swap out lemon juice with vinegar, allowing you to make more of the solution and store it for future use.
To use this cleaner, mix all ingredients, then use a sponge to apply it to wood surfaces. Before whipping up this recipe, consider the type of wood you're cleaning: Oil and wax finishes require a gentle scrub, while hard finishes are more durable.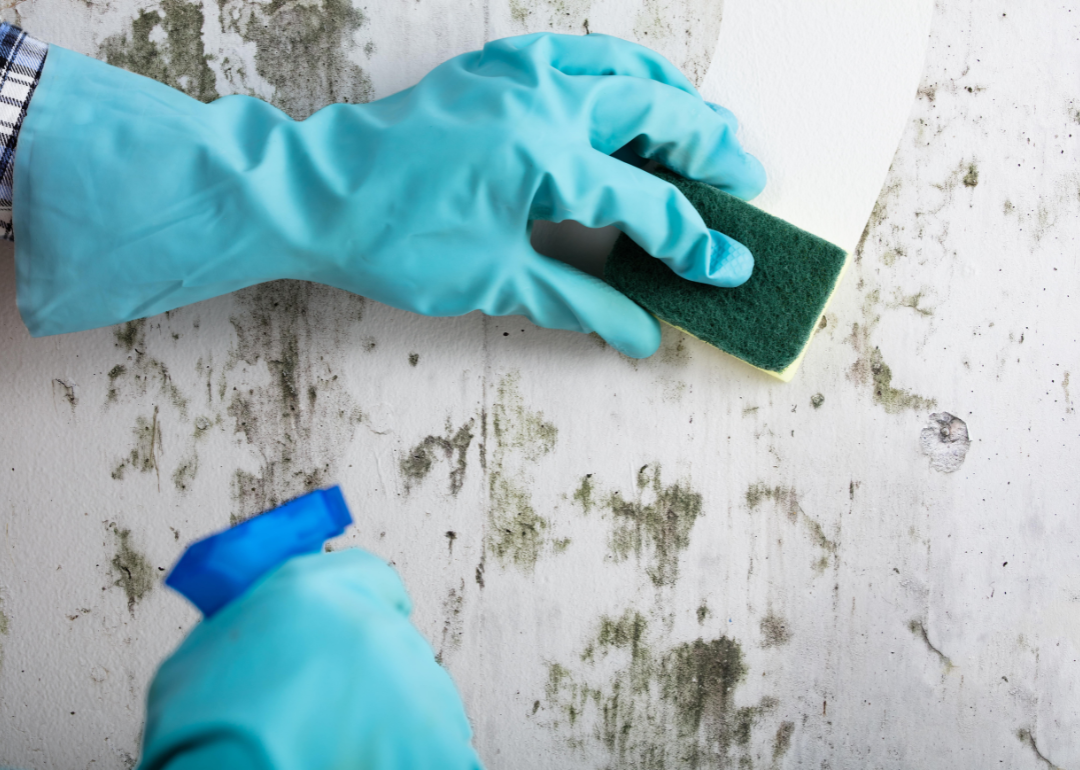 Andrey_Popov // Shutterstock
Mold remover
Ingredients:
– 2 c. water
– 2 tsp. tea tree oil
– 1/4 c. baking soda
– 24-ounce spray bottle
Creating this cleaner is easy: Add the ingredients to the spray bottle and shake well.
Getting rid of mold is a matter of killing the growth rather than just scrubbing it off. Baking soda and tea tree oil are both antimicrobial, meaning they will naturally eat away the spores.
After combining the baking soda and oil with the water, use it to spray down the mold-affected area. Allow the solution to sit for 24 hours, then mix an additional 1/4 cup of baking soda with the solution to form a paste. Slather some on top of the area being cleaned, rub with a sponge or brush, then rinse.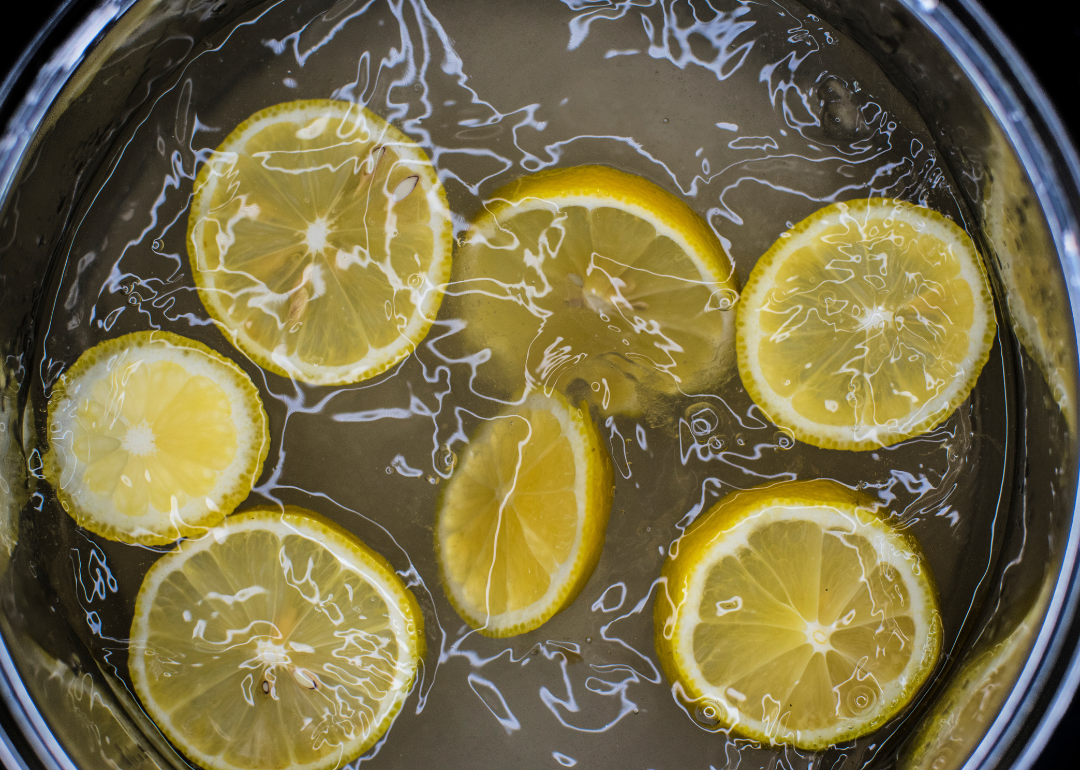 Photointoto // Shutterstock
Air freshener
Ingredients:
– 2-3 oranges, lemons, and/or limes, sliced
– Handful of fresh herbs (basil, rosemary, or lavender)
– 2-4 cinnamon sticks
– 1 tsp. whole cloves
Combine all the ingredients in a small pot, filling with water until three-fourths full, cover, and boil. When boiling begins, remove the lid, bring the pot down to a simmer, and let the scents travel through the air. Remember never to leave a simmering pot unattended. Add small amounts of water as the mixture simmers.
Preserve the excess for a few more uses by storing it in an airtight container and repeating the boiling and simmering process. To maximize the effectiveness of this recipe, use fresh fruits and herbs, and choose longer-lasting picks, such as citrus and woody herbs.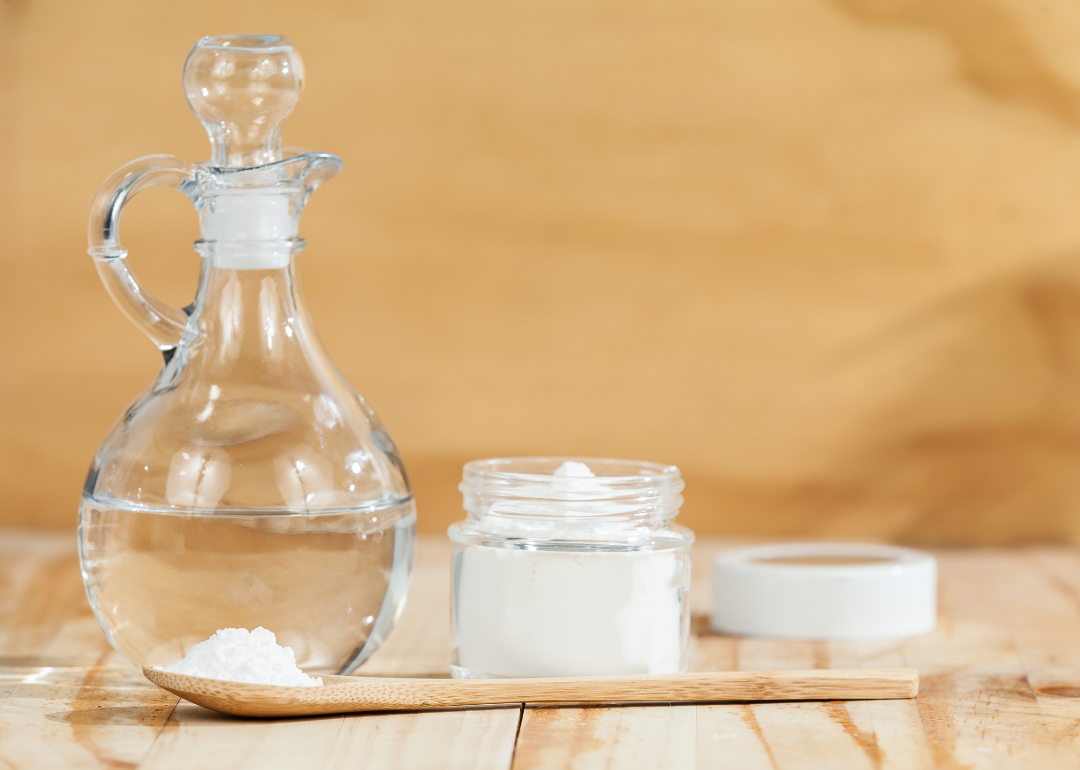 gcafotografia // Shutterstock
Drain cleaner
Ingredients:
– Baking soda
– White vinegar
Only two ingredients are needed to clear drains with an at-home solution. No prior preparation is necessary—just pour some baking soda down the drain, followed by the vinegar. The ingredients naturally react together to break down dirt and grease.
After 15 minutes, pour hot water down the drain to wash away excess soda and vinegar. Not only will buildup be removed, but the drain will also be disinfected and deodorized. If the drain continues to work slowly afterward, repeat the process with the combo one or two more times to eradicate stubborn materials.
This story originally appeared on The Rounds and was produced and
distributed in partnership with Stacker Studio.
More Stacker National