Where could pro sports expand next? 12 cities that are ripe for new teams
Published 3:30 pm Monday, January 30, 2023

The Image Party // Shutterstock
Where could pro sports expand next? 12 cities that are ripe for new teams
As long as major sports leagues have been around, so have talks of expansion. Over the years, MLB grew from 16 to 30 teams; the NFL went from 14 to 32; the NBA expanded from 11 to 30; the NHL jumped from six to 32; and most recently, MLS blossomed from 10 to 29 clubs.
Throughout history, teams have also relocated cities, resulting in major markets like Los Angeles and New York possessing more than one major league team in the same sport, while other large markets like Seattle getting robbed of a team they treasured (RIP SuperSonics). Based on Census Bureau data and further analysis, all 15 of the largest metropolitan statistical areas host teams from at least four of the five major leagues, 10 of which feature at least one team from all five leagues.
While talks of NFL expansion seem to be mostly speculation, and NBA commissioner Adam Silver has all but halted discussions of more teams, the NHL and MLS have been growing exponentially, most recently adding the Seattle Kraken (NHL in 2021), Charlotte FC (MLS in 2022), and St. Louis FC (MLS in 2023), with more yet to come.
OLBG compiled a list of 12 potential expansion cities for major sports leagues in North America using Census Bureau population data of major metropolitan statistical areas and government data from Canada and Mexico. Metro areas include the urban core and its surrounding towns and suburbs. The city's history with MLB, MLS, NBA, NHL, and NFL teams and its location compared to other cities with major sports teams were also considered. Cities with the possibility of an already existing franchise relocating there were considered a city with "expansion" potential. Cities are sorted from smallest to largest based on the 2021 population.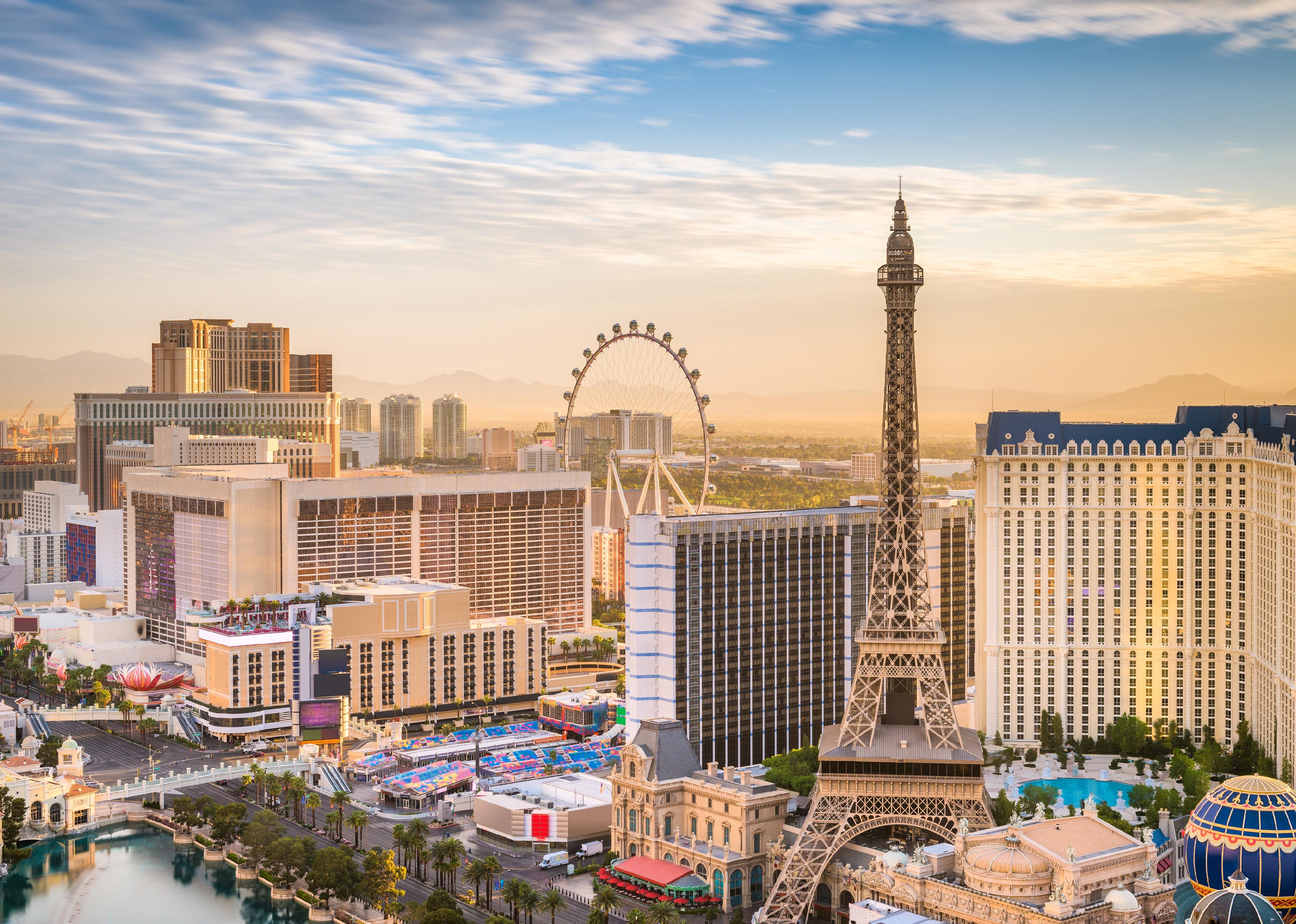 Sean Pavone // Shutterstock
Las Vegas
– Population: 2.29 million
– Current teams: Raiders (NFL), Golden Knights (NHL)
– Leagues with expansion potential: MLB, MLS, NBA
In the past five years, Las Vegas went from having no pro teams to acquiring the Golden Knights as part of an NHL expansion in 2017 and the Raiders moving from Oakland, California, in 2020. Those aren't the only teams Sin City hopes will soon call home. There have been talks that Oakland's MLB team, the Athletics, are eyeing a move to Vegas if they can't agree with the city of Oakland to build a new ballpark. The town is also vying for MLS' 30th team, to be announced in 2023.
Vegas is also a sought-after home for a new NBA team (one LeBron James said he'd like to own), which makes sense considering the Summer League is played there every year; however, commissioner Adam Silver has made it clear that expansion won't happen any time soon, saying: "At some point, this league invariably will expand, but it's not at this moment that we are discussing it. But one of the factors in expanding is the potential dilution of talent."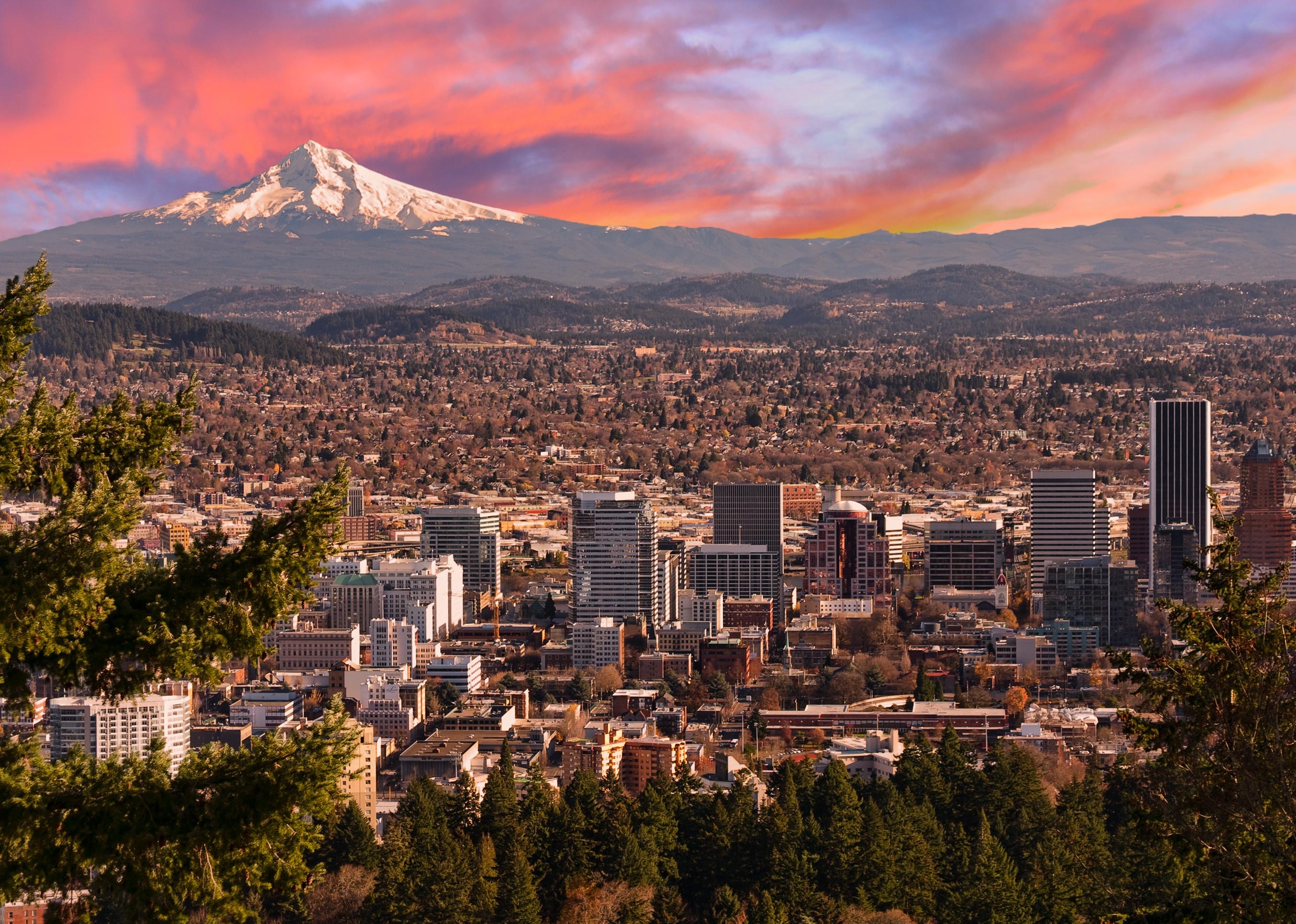 Josemaria Toscano // Shutterstock
Portland, Oregon
– Population: 2.51 million
– Current teams: Timbers (MLS), Trail Blazers (NBA)
– Leagues with expansion potential: MLB, NHL
Anyone who's ever been to a Timbers or Trail Blazers home game knows Portland is dedicated to its sports teams. It shows in the electric atmosphere that ignites Providence Park, where the Timbers play, and the Moda Center, which is home to the Blazers.
The City of Roses hopes to expand its pro-team market with an MLB team (Portland possesses a rich baseball history despite never having an MLB team). In 2017, NFL star Russell Wilson and his wife, Ciara, got together with some of the city's brightest minds to form the Portland Diamond Project—a group dedicated to bringing Major League Baseball to Portland. Portland has proposed numerous sites for a potential ballpark, and commissioner Rob Manfred has expressed interest in expanding the league from 30 to 32 teams; however, he's made it clear that won't happen until stadium issues have been resolved with two current teams: The Oakland A's and Tampa Bay Rays.
There's also been buzz about Portland acquiring an NHL team.
f11photo // Shutterstock
San Antonio
– Population: 2.60 million
– Current teams: Spurs (NBA)
– Leagues with expansion potential: MLB, NFL
The Spurs are the jewel of San Antonio (thanks partly to the team winning the NBA championship five times since 1999), so it would make sense for the city to push for more pro teams. A recent study argued that Alamo City is most deserving of an NFL expansion team because of its population and the potential for riveting rivalries with the Dallas Cowboys and Houston Texans. It's also important to note that the city hosted the New Orleans Saints after Hurricane Katrina devastated the city in 2005. Its usable land and bilingual community make San Antonio a viable option for an MLB team too. But for now, the city is happy with its minor league team, the Missions.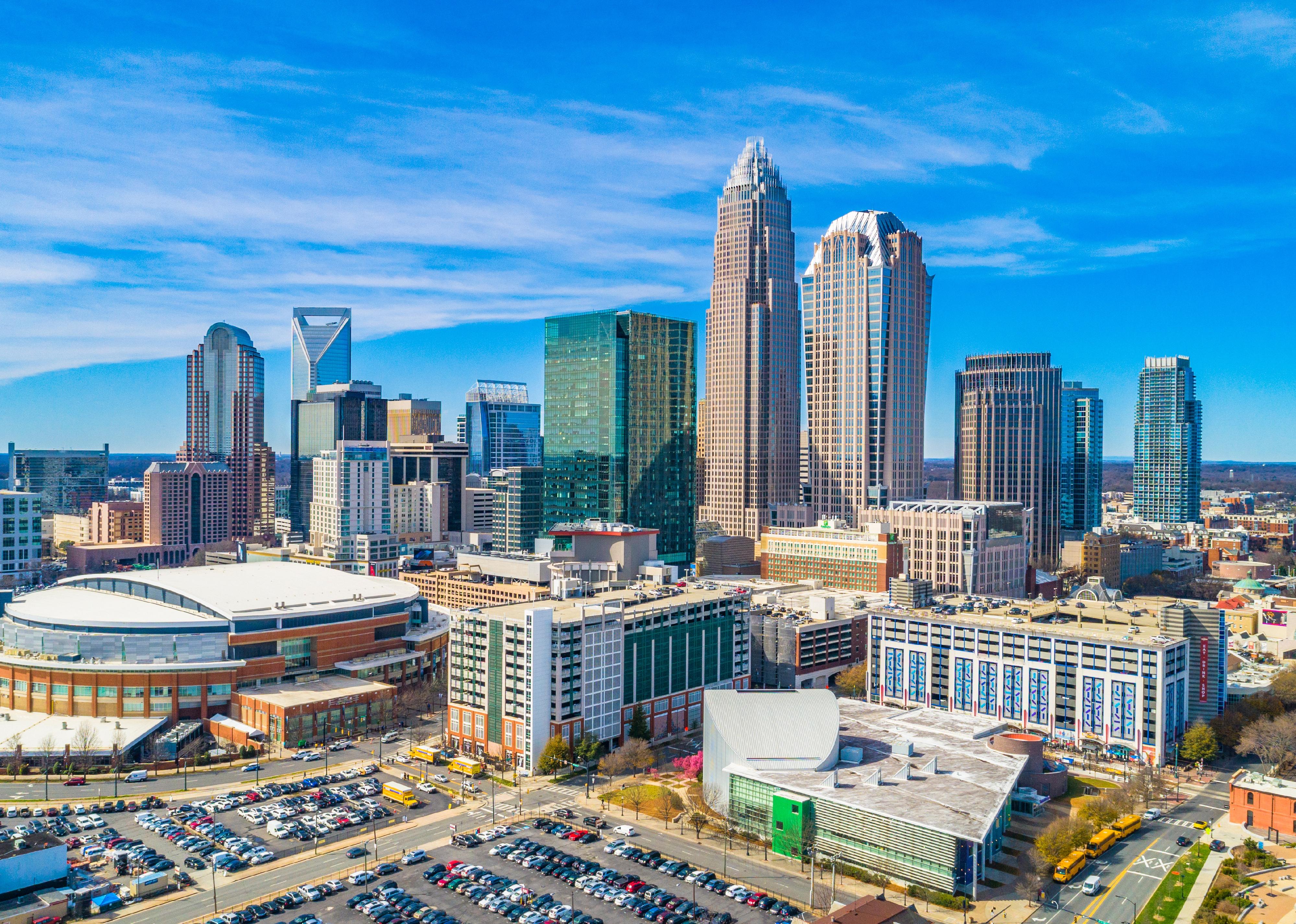 Kevin Ruck // Shutterstock
Charlotte, North Carolina
– Population: 2.70 million
– Current teams: Charlotte FC (MLS), Hornets (NBA), Panthers (NFL)
– Leagues with expansion potential: MLB
Charlotte FC played its inaugural season in 2022, which put Charlotte in a unique position: It's the only U.S. city with an MLS, NBA, and NFL team—but no MLB team. Rick Curti hopes to change that.
The media consultant started a grassroots campaign to push baseball to Queen City and even has a name picked out: the Charlotte Bats. Though Charlotte is considered a smaller market, it's one of the fastest-growing cities in America, and Curti thinks the recent addition of an MLS team helps support the argument that it's ready for a Major League Baseball team.
MLB commissioner Rob Manfred has also said "Charlotte's a possibility" for an expansion team in recent years; however, Mayor Pro Tem Julie Eiselt has admitted she hasn't heard any discussions about bringing an MLB team to the city.
As for the NHL, Charlotte acquiring a team is unlikely since the Hurricanes are in nearby Raleigh.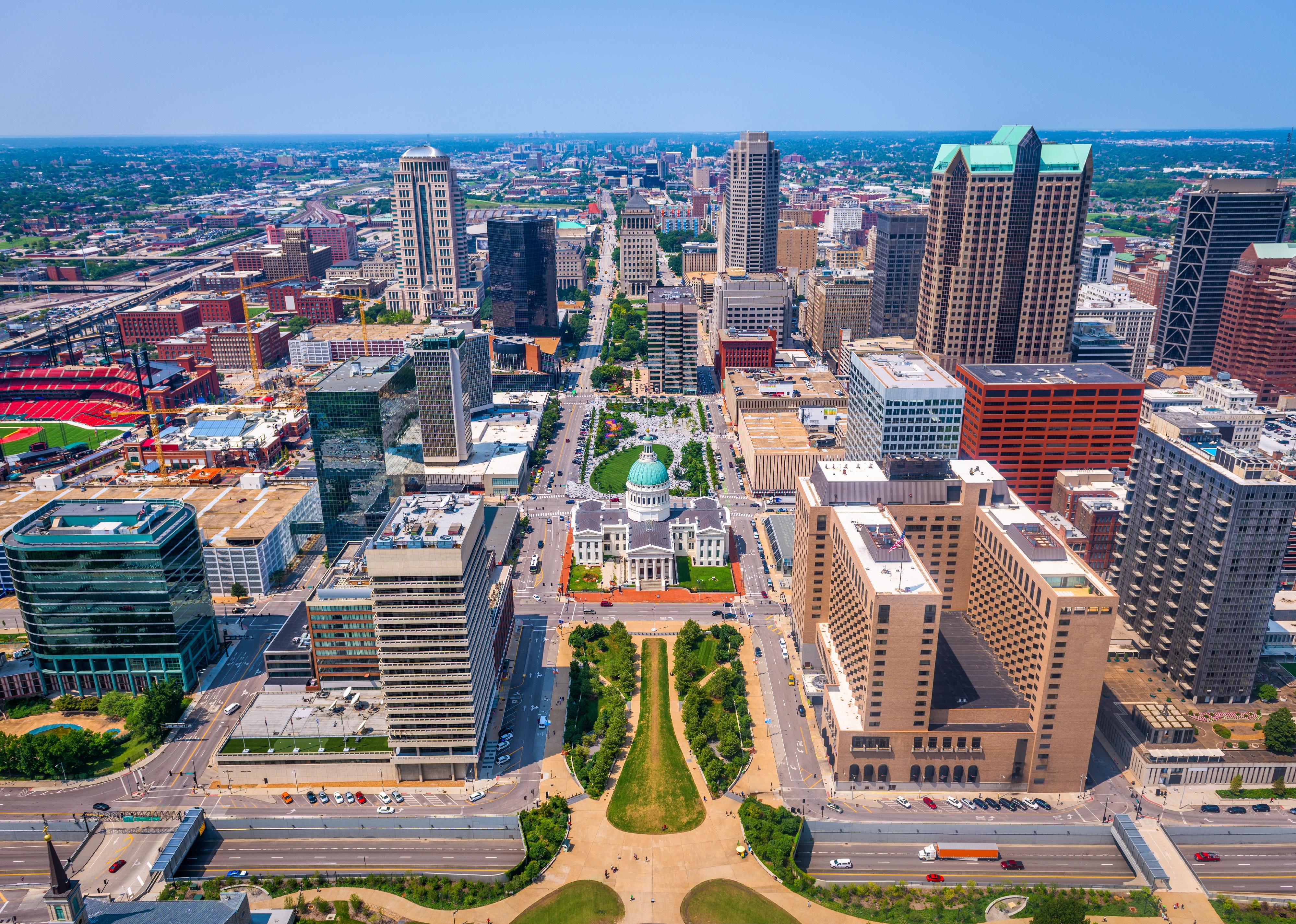 Sean Pavone // Shutterstock
St. Louis
– Population: 2.81 million
– Current teams: Cardinals (MLB), St. Louis FC (MLS), Blues (NHL)
– Leagues with expansion potential: NBA, NFL
There may not be any public efforts to bring the NBA to St. Louis, but the Gateway to the West makes sense for an expansion team. There's already an arena in the city—the Enterprise Center, where the Blues play—and St. Louis was home to two NBA teams in the past. During the 1949-50 season, there was the St. Louis Bombers, and later the Hawks experienced a longer tenure. They played in St. Louis from 1955-1968 before migrating to Atlanta and even brought a championship to the city in 1958.
St. Louis' history with the NFL is similar. The Cardinals played in the city from 1960-1987 but then relocated to the Phoenix area. Later, the Rams called St. Louis home from 1995-2015 before heading west to Los Angeles. The Rams' move was frustrating for St. Louis, and the city sued owner Stan Kroenke for breaking the league's relocation rules, but the NFL still allowed it to happen. Though no official talks of a football team coming back to St. Louis have happened, the city would be more than happy to have one.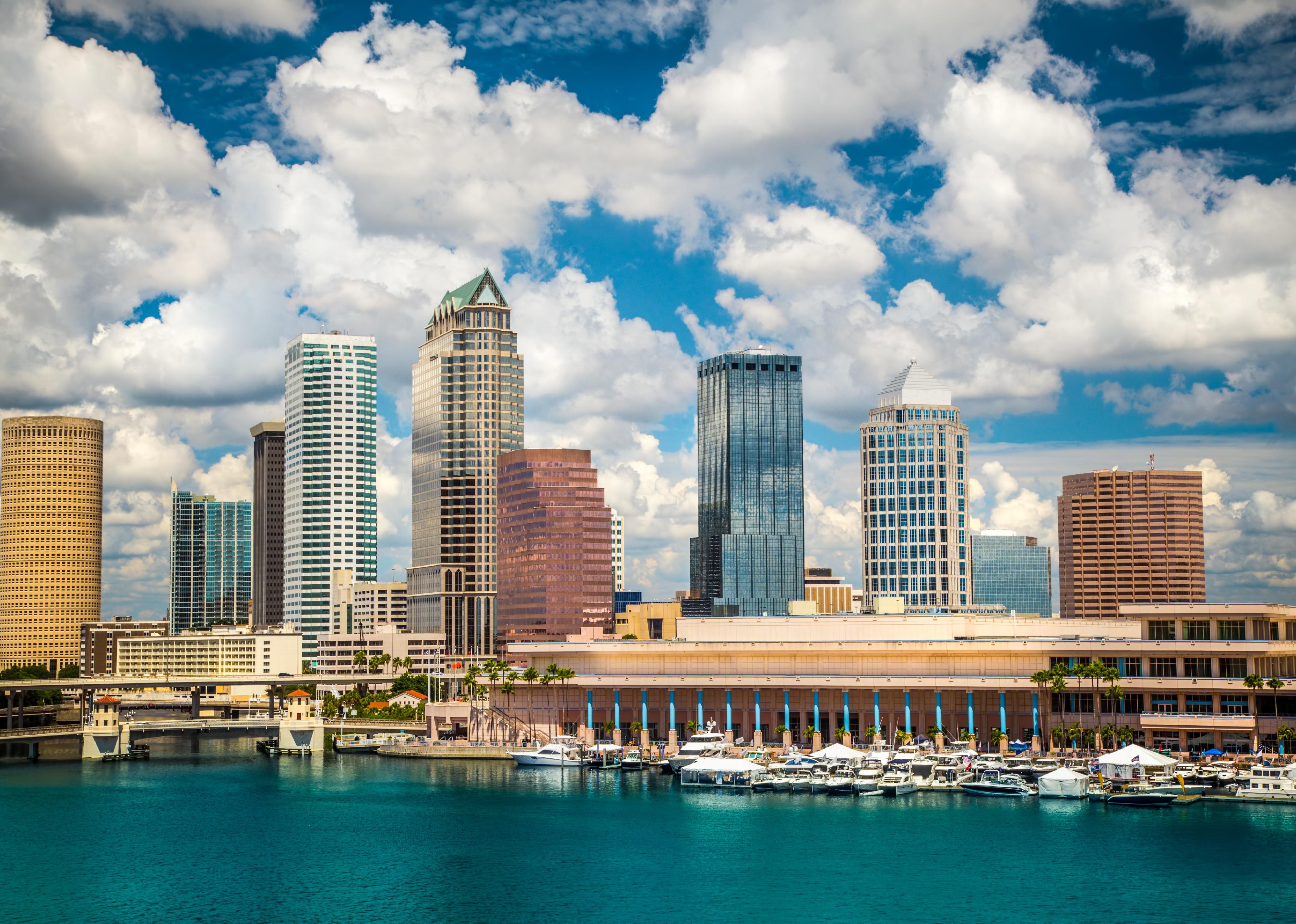 littlenySTOCK // Shutterstock
Tampa, Florida
– Population: 3.22 million
– Current teams: Rays (MLB), Buccaneers (NFL), Lightning (NHL)
– Leagues with expansion potential: NBA
Tampa is still riding the high of back-to-back Stanley Cup wins in 2020 and 2021, paired with a Super Bowl title in 2021 (not to mention a World Series appearance in 2020), but its current sports teams' successes might not be enough to bring the NBA to the city.
In 2021, the Toronto Raptors temporarily relocated to The Big Guava due to COVID-19 restrictions. Mayor Jane Castor has said she'd "love to have an NBA" team in Tampa; however, the Orlando Magic might make that difficult. Right now, the nearby city owns the rights to the Tampa Bay market, and its proximity is a concern.
As for MLS, Tampa was home to the Mutiny from 1996-2001. After several years of success, revenue and attendance began to drop, and the league decided to fold both the Mutiny and Miami Fusion ahead of the 2002 season.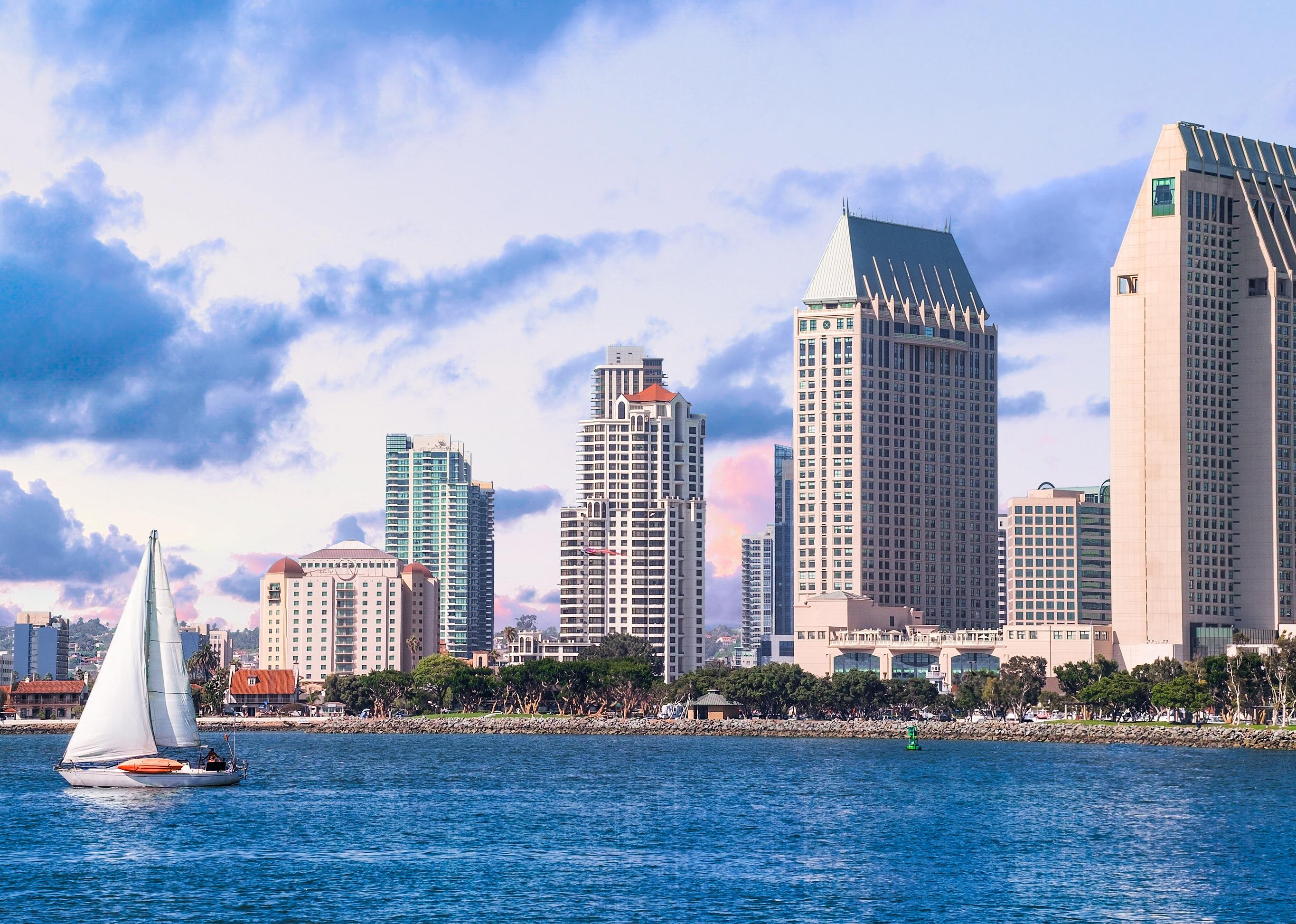 Dancestrokes // Shutterstock
San Diego
– Population: 3.29 million
– Current teams: Padres (MLB)
– Leagues with expansion potential: MLS
San Diego loves its Padres, but the city has yet to have luck in the pro sports arena. It all began in 1984 when the city's NBA team, the Clippers, moved to Los Angeles. Thirty-seven years later, its NFL team followed suit when the Chargers relocated to LA in 2017.
That said, America's Finest City is a serious contender for Major League Soccer's upcoming expansion.
"I'm a big believer in San Diego," MLS commissioner Don Garber said in November 2022. "I think there's a view that San Diego, it's too nice there and people are out surfing and hanging out at the beach and I just don't buy it. I think San Diego's a great sports market, it's a gateway city."
The MLS plans to have more information about where its 30th team will reside "sometime in the first half" of 2023.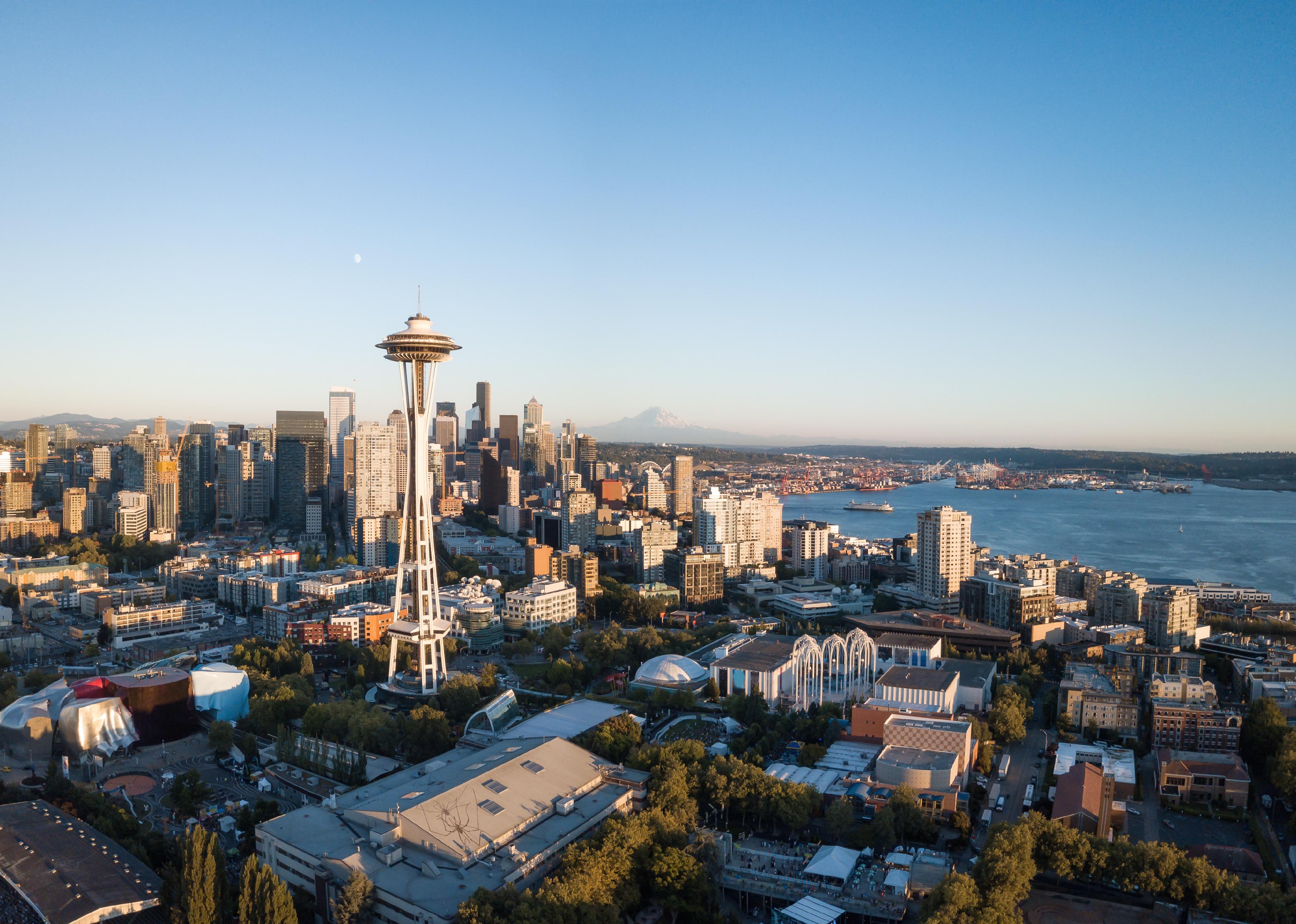 EB Adventure Photography // Shutterstock
Seattle
– Population: 4.01 million
– Current teams: Mariners (MLB), Sounders (MLS), Seahawks (NFL), Kraken (NHL)
– Leagues with expansion potential: NBA
The Seattle community is still bitter about the SuperSonics relocating to Oklahoma City, where they became the Thunder in 2008. The city could not find public funding for a new arena, and it's the largest metro area without an NBA team.
The Emerald City has been lobbying for a pro basketball team since losing the one it had, and the Kraken owners have already expressed interest in purchasing a team. Former Sonics coach George Karl believes fans could "probably could sell out three years of basketball in one day," and with the opening of the Climate Pledge Arena, the team would have somewhere to play too.
With all the pieces there, it seems it's only a matter of time before the NBA returns to Seattle.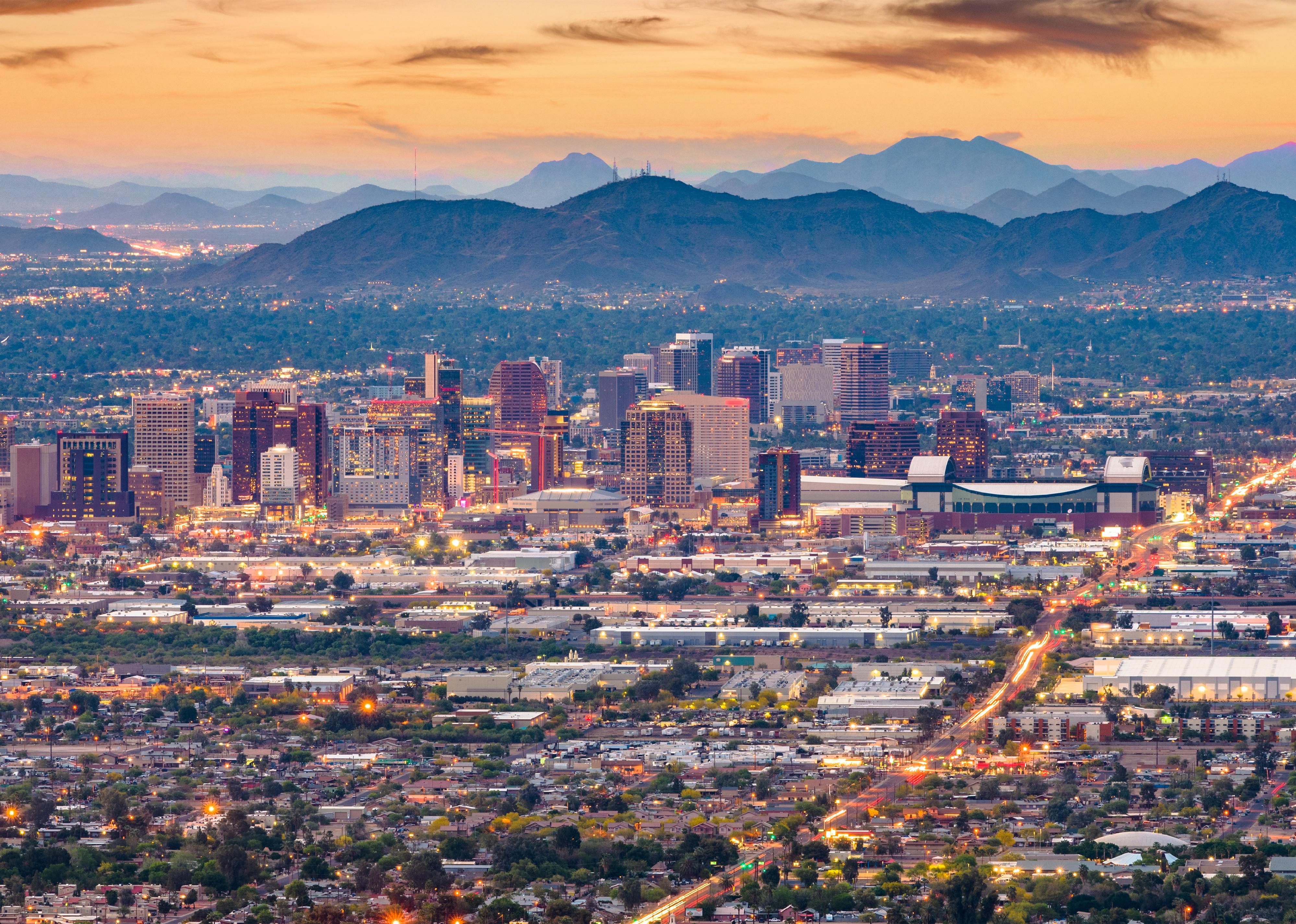 Sean Pavone // Shutterstock
Phoenix
– Population: 4.95 million
– Current teams: Diamondbacks (MLB), Suns (NBA), Cardinals (NFL), Coyotes (NHL)
– Leagues with expansion potential: MLS
With a population nearing 5 million, Phoenix is the fifth-largest city in the U.S. It's also the largest media market without an MLS team. The Valley of the Sun is home to a second-division team, the Phoenix Rising, which is ranked in the top five in United Soccer League attendance and recently built a new 10,000-seat stadium.
So why hasn't it happened yet? And why are Las Vegas and San Diego frontrunners for the league's 30th team? Commissioner Don Garber says it mostly concerns the weather since the MLS season runs through the summer. Though Vegas and Phoenix are both scorching in July and August, the former has reportedly committed to building an indoor stadium while the latter has not.
"Temperature being what it is, that would be what I would say would have to happen in order for Phoenix to be a great first-division team in Major League Soccer," Garber has said in the past.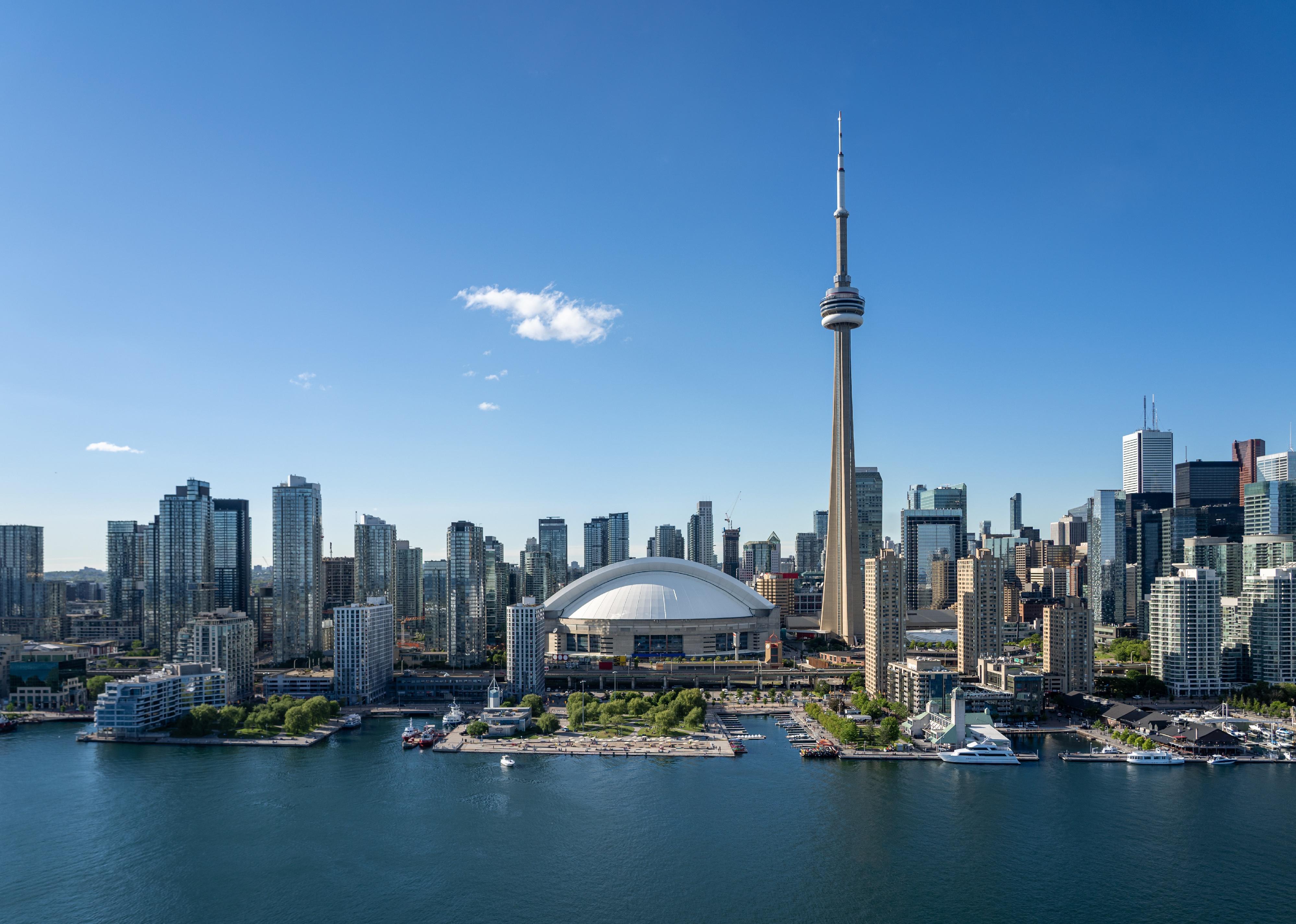 Artem Zavarzin // Shutterstock
Toronto
– Population: 6.20 million
– Current teams: Blue Jays (MLB), Toronto FC (MLS), Raptors (NBA), Maple Leafs (NHL)
– Leagues with expansion potential: NFL
NFL games are nothing new for Toronto. The Canadian hub hosted its first in 1959 when the Chicago Cardinals played the city's Canadian Football League team, the Argonauts. In more recent history, the Buffalo Bills played a regular season home game at Toronto's Rogers Centre every year between 2008-2013.
Considering Toronto is one of the largest cities in North America and already has an MLB, MLS, NBA, and NHL presence, it only makes sense for The Six to acquire an NFL team. In 2021, NFL insider Benjamin Allbright revealed that team owners discussed the potential of a four-city expansion, with Toronto listed as one of the frontrunners.
While the city patiently waits for an NFL team, the Greater Toronto Area has been discussed as a destination for a second NHL team for years, namely in southern Ontario.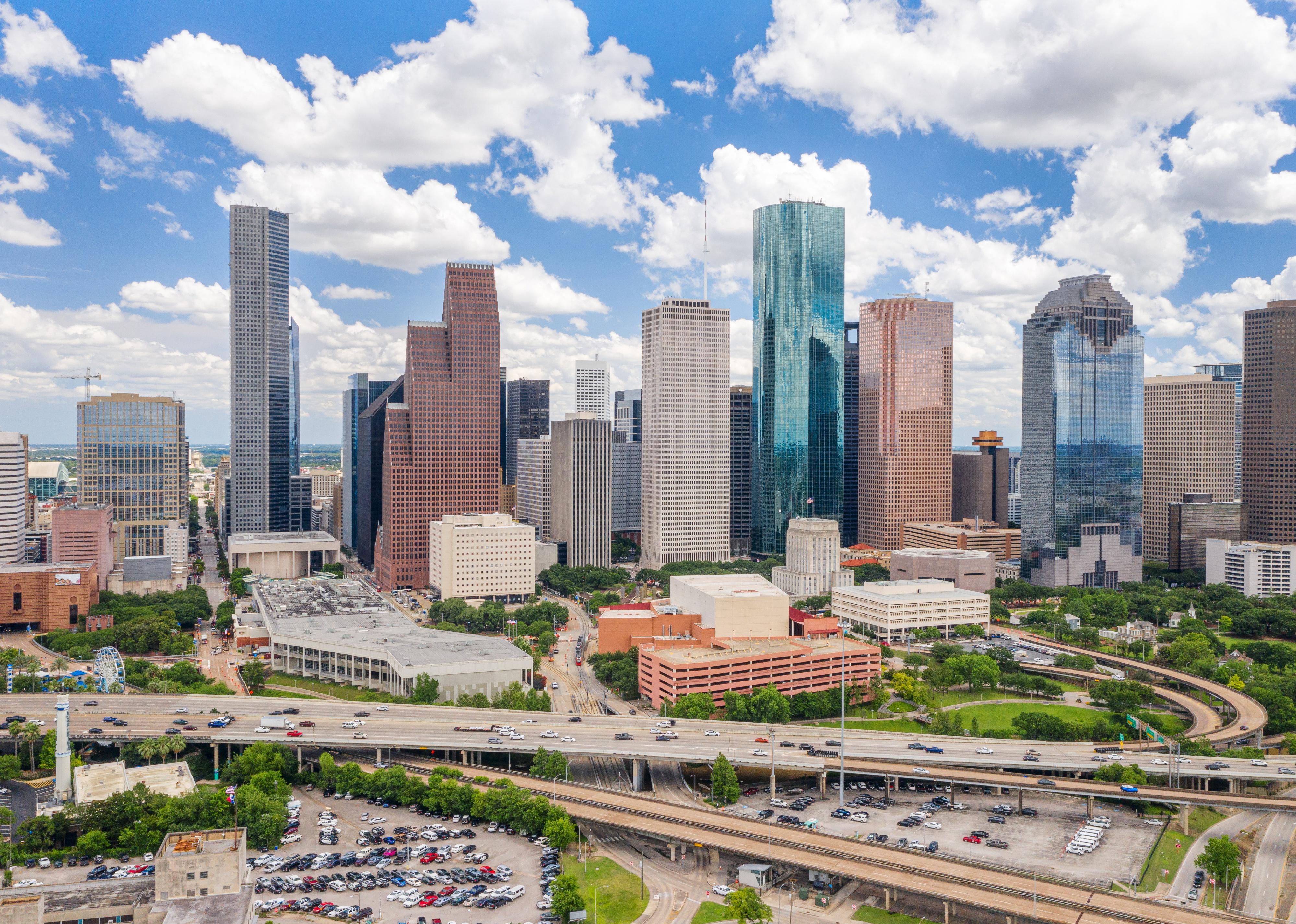 Iktotchi // Shutterstock
Houston
– Population: 7.21 million
– Current teams: Astros (MLB), Dynamo (MLS), Rockets (NBA), Texans (NFL)
– Leagues with expansion potential: NHL
Houston is home to four of the five major sports, and the community is hungry to host an NHL team too. As it stands, H-Town is the largest market without a professional hockey team. Though any information is purely speculation for now, the city's hockey fans are holding out hope that the Arizona Coyotes could relocate to Houston after the city of Glendale declined to renew their lease at Gila River Arena. However, talks about the team moving to Tempe are also underway. For now, fans can share their thoughts and keep up on any new updates through the NHL to Houston Twitter feed.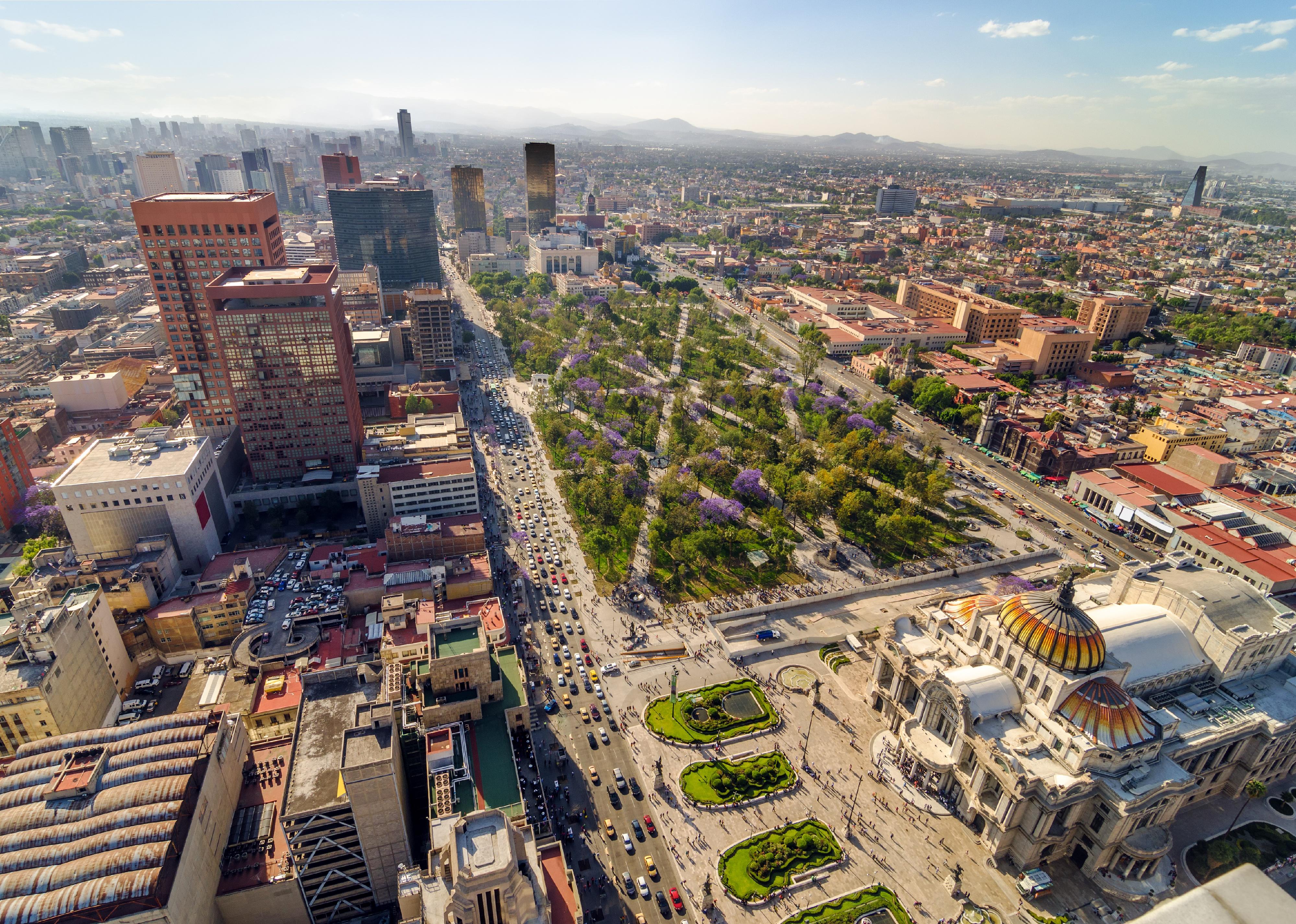 Jess Kraft // Shutterstock
Mexico City
– Population: 9.21 million
– Current teams: None
– Leagues with expansion potential: NBA, NFL
The NFL has been hosting games in Mexico City since 2005, when the Arizona Cardinals played the San Francisco 49ers. After an 11-year gap, American football came back to Mexico's capital, and games were played in 2016, 2017, and 2019 before taking a two-year hiatus because of the COVID-19 pandemic.
In 2022, the teams that started it all faced off again, and buzz regarding Mexico City acquiring its own NFL team picked up again. The league has a reported market share of more than 20 million in Mexico. That, paired with its proximity to the U.S., makes it the perfect place to start international expansion.
The same can be said for the NBA. To date, 31 games have been played in Mexico City, and during the 2021-22 season, the league added a G League team, the Mexico City Capitanes, to the North American metropolis. While commissioner Adam Silver has been hesitant to discuss expansion plans, he made a case for Mexico City acquiring a team during a press conference in December 2022.
"There's no doubt we will be looking seriously at Mexico City over time," he revealed, noting that the city is "doing all the things necessary to demonstrate to the league that ultimately we may be [in a] position to house an NBA team here."
This story originally appeared on OLBG and was produced and
distributed in partnership with Stacker Studio.
More Stacker National