5 charts that showcase the US rental market in 2023
Published 9:30 pm Tuesday, January 31, 2023

Canva
5 charts that showcase the US rental market in 2023
The rental market in the U.S. has been on a roller coaster over the past two years, soaring to new highs in rents and plummeting to new lows in terms of vacancies.
About 44 million people rent their homes, according to 2021 Census data. They choose to rent for various reasons, including having more flexibility with a lease, not having to pay for maintenance or property taxes, and needing to save up for a down payment on a house.
As the COVID-19 pandemic has slowed, the rental market has skyrocketed due to high demand and low supply. In 2022, the year-over-year median rent saw an 18% increase nationwide. The median monthly rent in the 50 largest metros hit a high of $1,781 in July 2022.
While the rental market cooled in the third quarter of 2022, it remains competitive. Median asking rents declined to $1,712 in November 2022, and rent growth has slowed to 3.4%. The number of vacant rental units has increased to 6%, below the historical average of 7.3%.
Rentlodex examined data from the first half of 2022 from the Census Bureau's American Housing Survey and the Bureau of Labor Statistics to break down the U.S. rental market in five charts.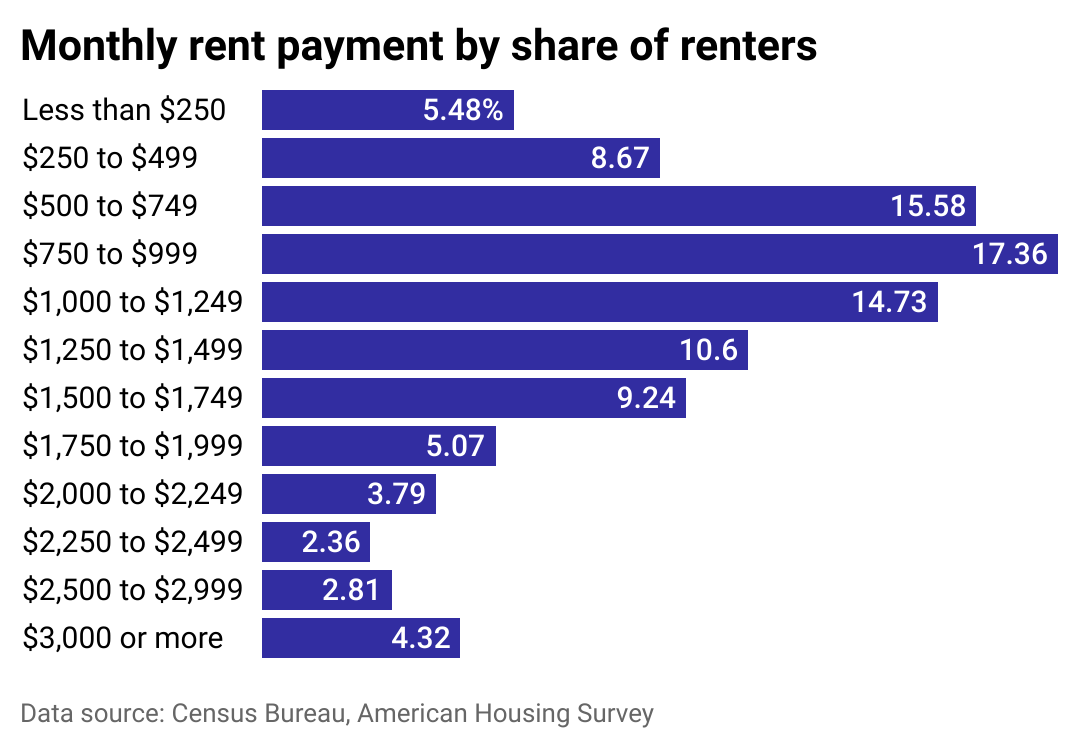 Rentlodex
How much Americans are paying for rent
– Median rent: $1,015
Location, location, location. Real estate's mantra extends to the rental market, as places where people want to live command higher rents. When remote working took off during the pandemic, cities such as New York experienced an exodus of renters, but people are moving back. The surge in demand is causing rents to climb, with the median rent in Manhattan hitting $4,033 in November 2022.
Adding to demand nationwide are those who have been priced out of the housing market. Median rents could go up as much as 6.3% in 2023 due to these would-be homeowners not leaving their rental situations.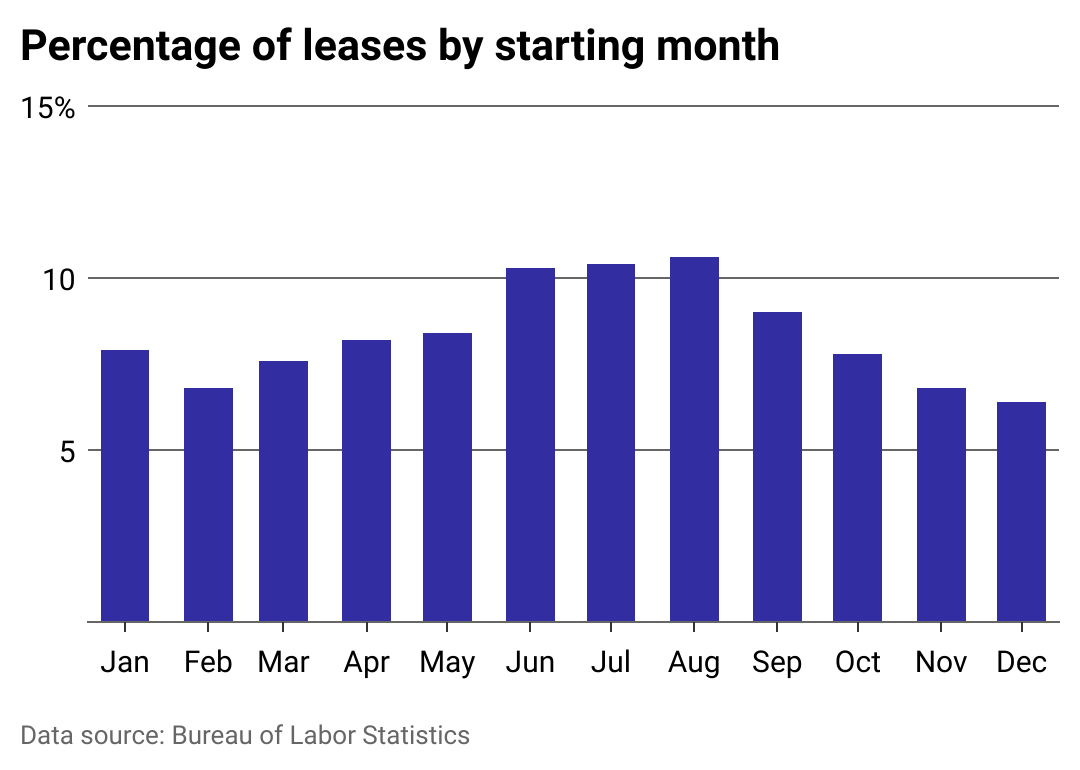 Rentlodex
Summer months are the most common for new leases
For many, summer is the optimal time to start a lease—and not just because summer weather can make moving easier. For starters, families with children find it easier to move during summer vacation from school because it's less disruptive to learning. Students in college may have new leases starting at the beginning of the school year. Those graduating from college may leave their college apartments because they found a job away from school.
Because so many people move during this time, renters have more options—but they also have more competition. Leases that start in the summer often command higher prices than in off-peak months.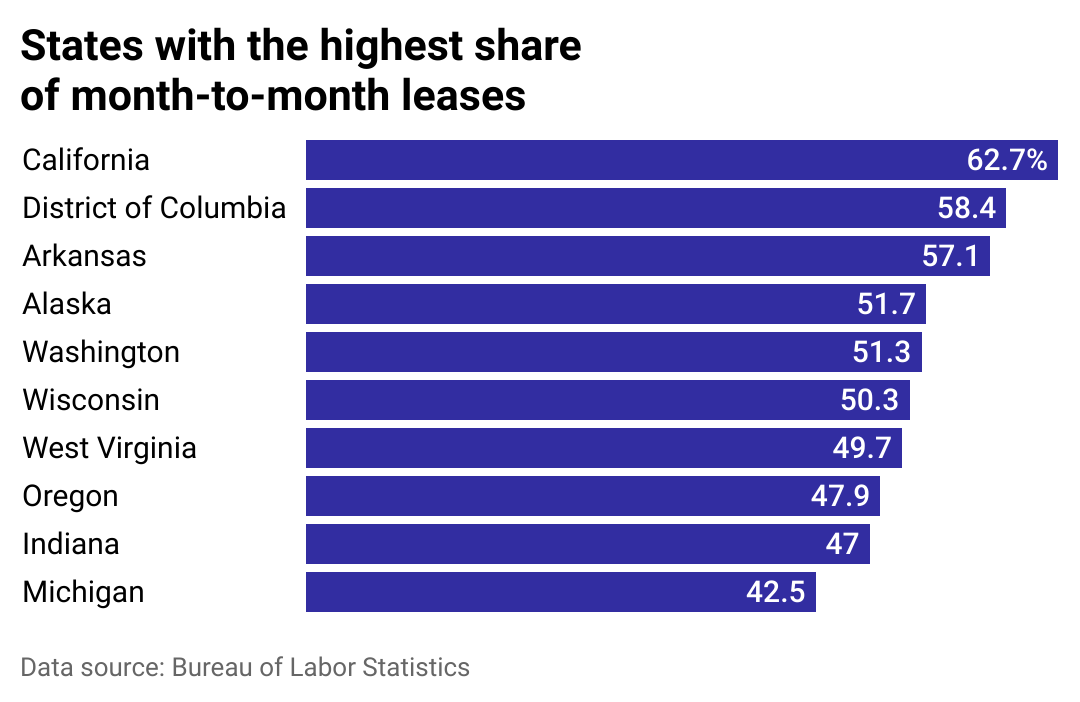 Rentlodex
Where month-to-month leases are most common
The longer a renter lives in a unit, the more likely they will transition from a 12-month lease to a month-to-month lease. Almost 92% of new tenants signed 12-month leases, according to the BLS. As they continued to renew those leases, they were often able to negotiate the flexibility of a month-to-month contract. Just over half of tenants who lived in their unit for five years or more were in a month-to-month lease. Month-to-month leases are also more prominent in locations with higher rents.
The pandemic has encouraged more flexibility in the rental market as some landlords created more flexible lease terms that were shorter and longer than 12 months to increase lease renewals.

Rentlodex
New tenants are more likely to have rents increase
Keeping the same tenants year-to-year makes life a lot easier for landlords, so they tend not to increase rents for existing tenants as much as they would for new tenants. However, if a landlord is trying to fill a vacancy, that's an opportunity to reset the lease at a price the market will bear.
Many California cities are enacting measures to ensure that rents don't skyrocket beyond what existing tenants can pay. The state's Tenant Protection Act of 2019 stipulates that an annual rent increase on eligible properties maxes out at 10% or 5% plus the cost of living, whichever is lower. Many cities and towns across the state have implemented more stringent rent caps. This law doesn't apply when a unit is vacant, which allows landlords to increase rents when looking for new tenants.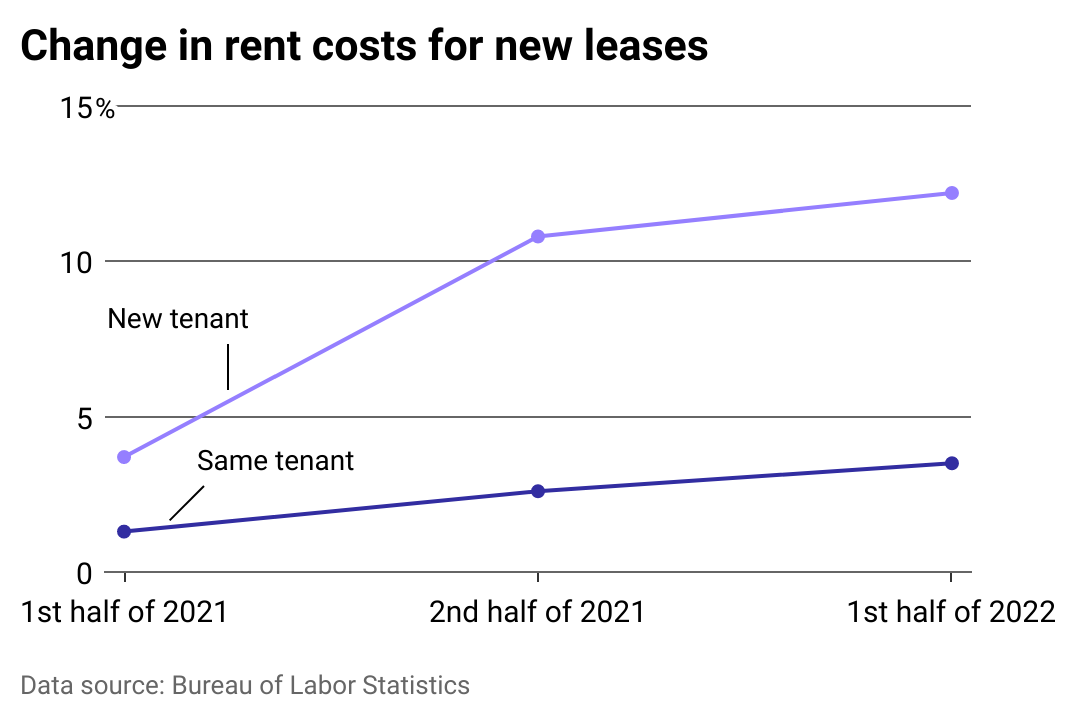 Rentlodex
New tenants see biggest rent increases
Rents have risen at a faster pace for all types of tenants over the past year for many reasons. Those who moved back in with their parents or had roommates at the beginning of the pandemic are moving out independently. About 4 in 5 new households formed since 2020 consisted of people who lived alone. Some who normally would buy houses have been priced out of the market and are continuing to rent.
A nationwide housing shortage has tightened supply levels—rental vacancy rates hit 5.6% in the fourth quarter of 2021, a level not seen since 1984. That rate has improved slightly in 2022, sitting at 6.0% in the third quarter, which has slowed the pace of cost increases.
This story originally appeared on Rentlodex and was produced and
distributed in partnership with Stacker Studio.
More Stacker National