10 states where inflation is hitting the hardest
Published 9:45 pm Wednesday, February 1, 2023

kitzcorner // Shutterstock
10 states where inflation is hitting the hardest
Everyday expenses—including gasoline, groceries, rent, transportation and utility bills—are growing at a pace not seen in decades, and 2 in 5 Americans are having a hard time making ends meet, according to U.S. Census data.
Experian examined data from the Census Bureau's Household Pulse Survey to evaluate which states had the largest share of adults who had difficulty paying for typical household expenses at the start of November 2022. In the event of a tie, the state with the higher number of people struggling was ranked higher in this list.
The Household Pulse Survey has been used to measure the impact of the COVID-19 pandemic on U.S. households since April 2020. The survey asks Americans about a range of pandemic-related issues including vaccination status, physical and mental health, and their ability meet their financial obligations. As of the date this analysis was written, the survey's most recent collection period ended on Nov. 14, 2022.
An above-average percentage of Americans in 16 states, many where residents make below the U.S. per capita income, reported they struggled to afford their usual bills in November.
Though inflation has slowed, the Federal Reserve has indicated it will continue raising interest rates to combat it. By November, prices rose 7.1% over the same month in 2021, meaning the cost of all goods and services continues to increase at more than three times the speed it typically does. The main drivers of that inflation are energy and food costs, according to the Census Bureau.
And there's reason to believe it might remain difficult for some Americans to comfortably afford regular expenses.
In September, Federal Reserve Chair Jerome Powell indicated that by raising interest rates, the central bank hoped to halt inflation by creating an economic environment in which wage growth slows and Americans spend less. Policymakers believe consumer spending is a major factor contributing to the current rise in the prices of goods and services.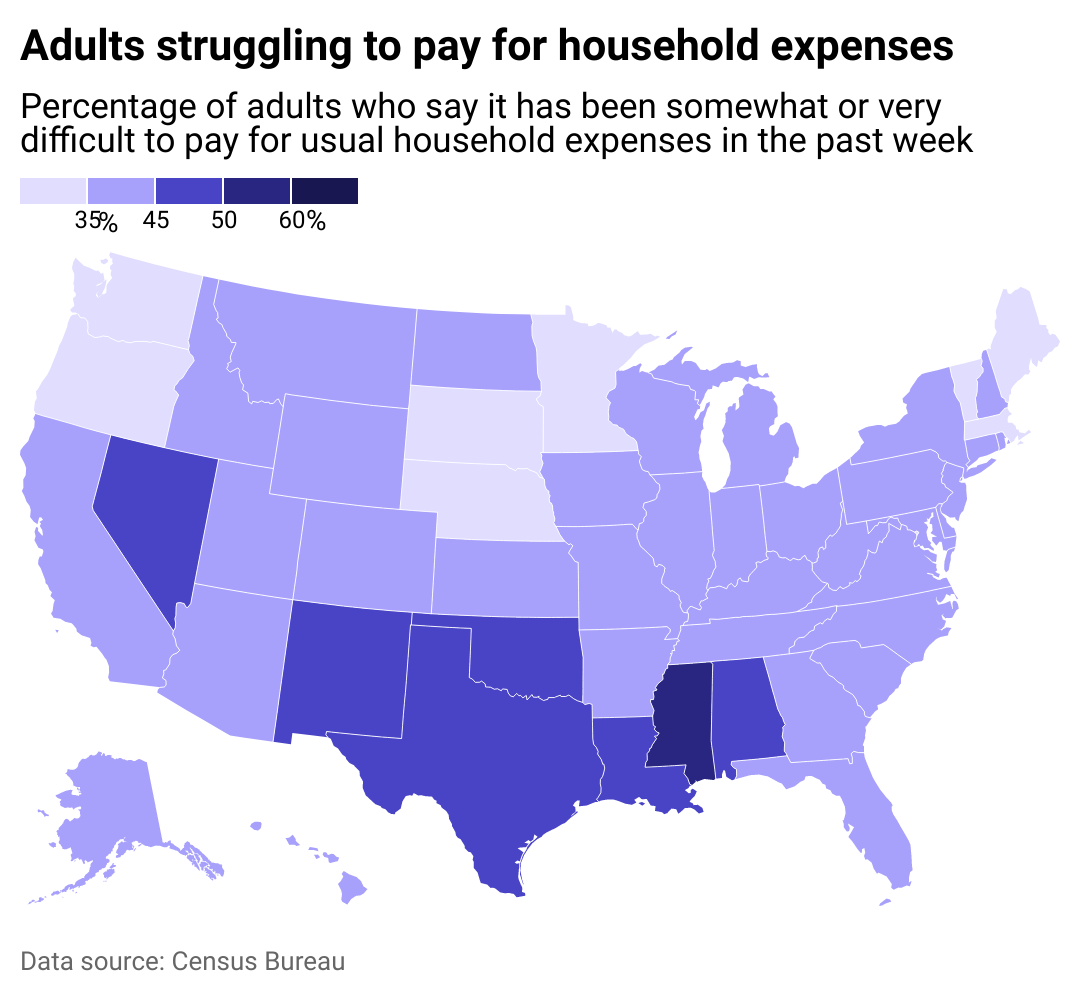 Experian
National outlook: Southern states are among those struggling the most
More Americans living in Southern states, including Mississippi, Alabama, Louisiana, and Texas, as well as Nevada and New Mexico, struggled to afford regular expenses the most, according to the Census Bureau's latest survey.
Consumers in the Washington, D.C., Oregon, Nebraska, and Minnesota showed the most resilience in their ability to afford rising costs than anywhere else.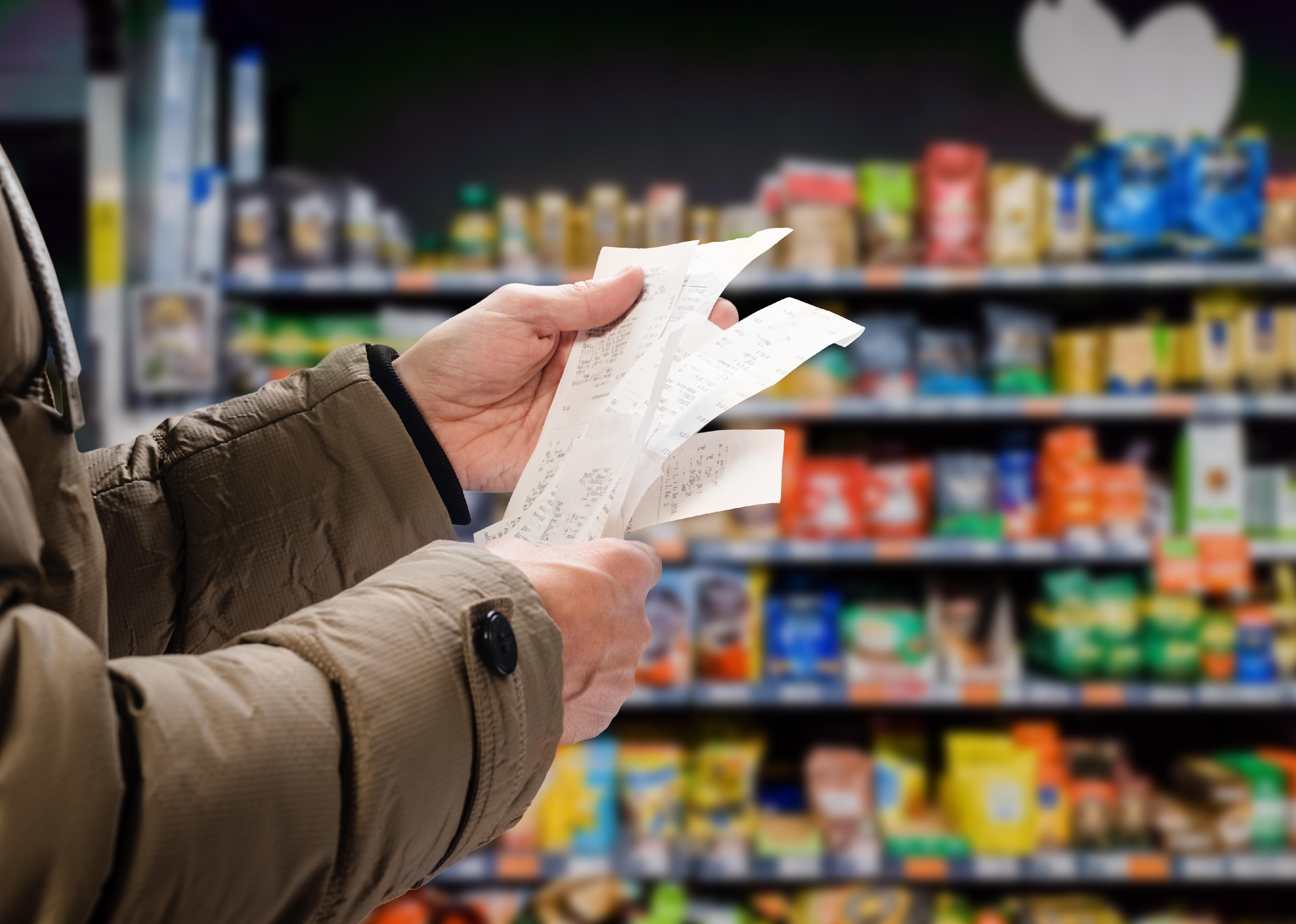 Denys Kurbatov // Shutterstock
#10. Connecticut
-Percent of adults struggling to pay household expenses: 43.3% 
In Connecticut, 43.3% of adults reported experiencing difficulty paying for regular household expenses. Though the state's $85,198 per capita income in the state is 30% higher than the national figure, it stayed mostly flat between the third quarter (Q3) of 2021 and Q3 2022, according to the Bureau of Economic Analysis (BEA). Wages for Connecticut residents have not risen enough to keep up with the inflation rate for all goods and services, which has topped 6.4% for the region over the past year.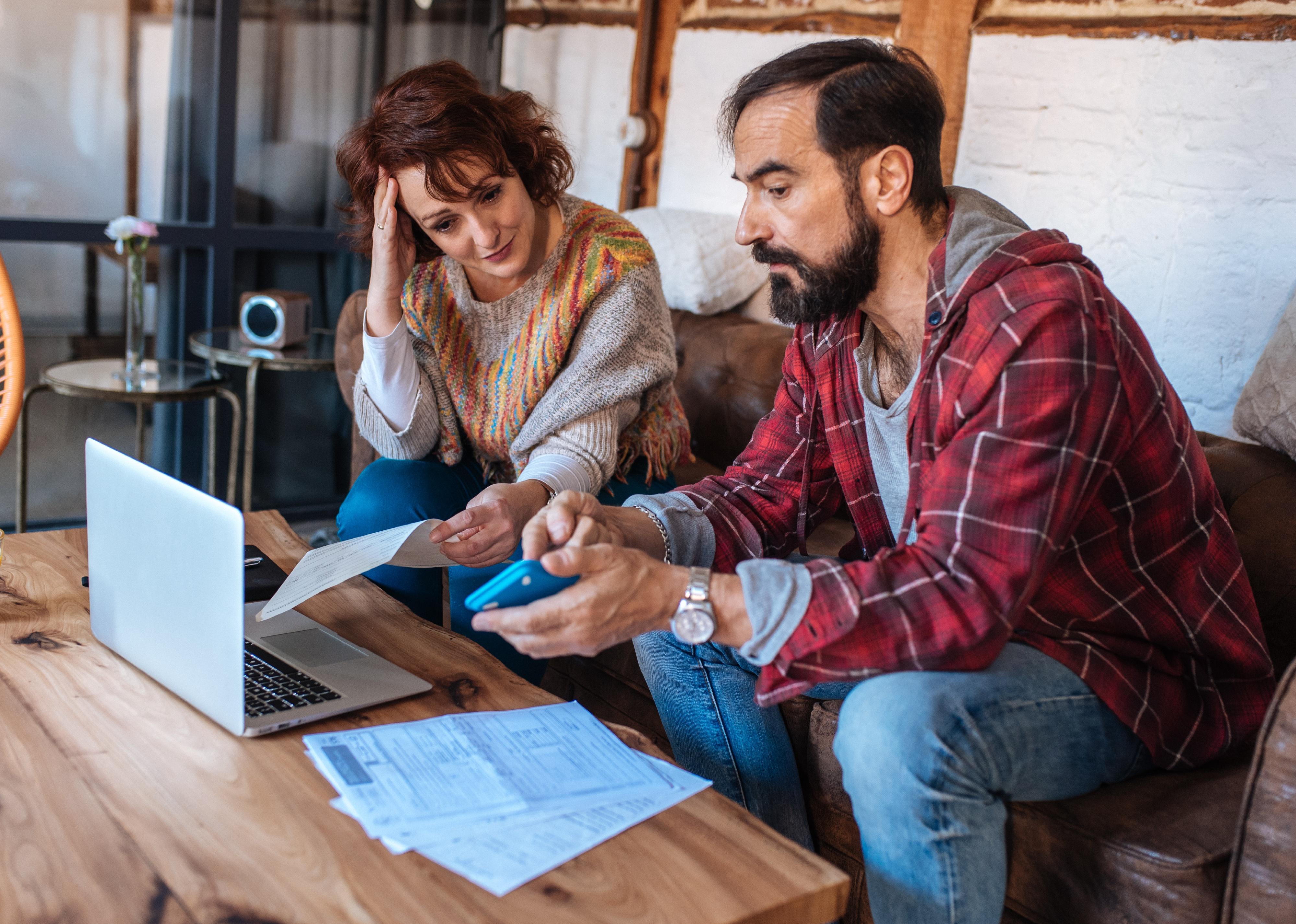 David Prado Perucha // Shutterstock
#9. Florida
-Percent of adults struggling to pay household expenses: 44.1%
In Florida, 44.1% of residents reported struggling to afford household expenses in August. The Miami-Fort Lauderdale-West Palm Beach area, the largest metropolitan area in the state, has seen inflation rates that exceed the national rate. In October, the Miami metro area saw the cost of all goods and services increase from the same period last year to 10.1%, while the overall country's rate dropped somewhat year over year.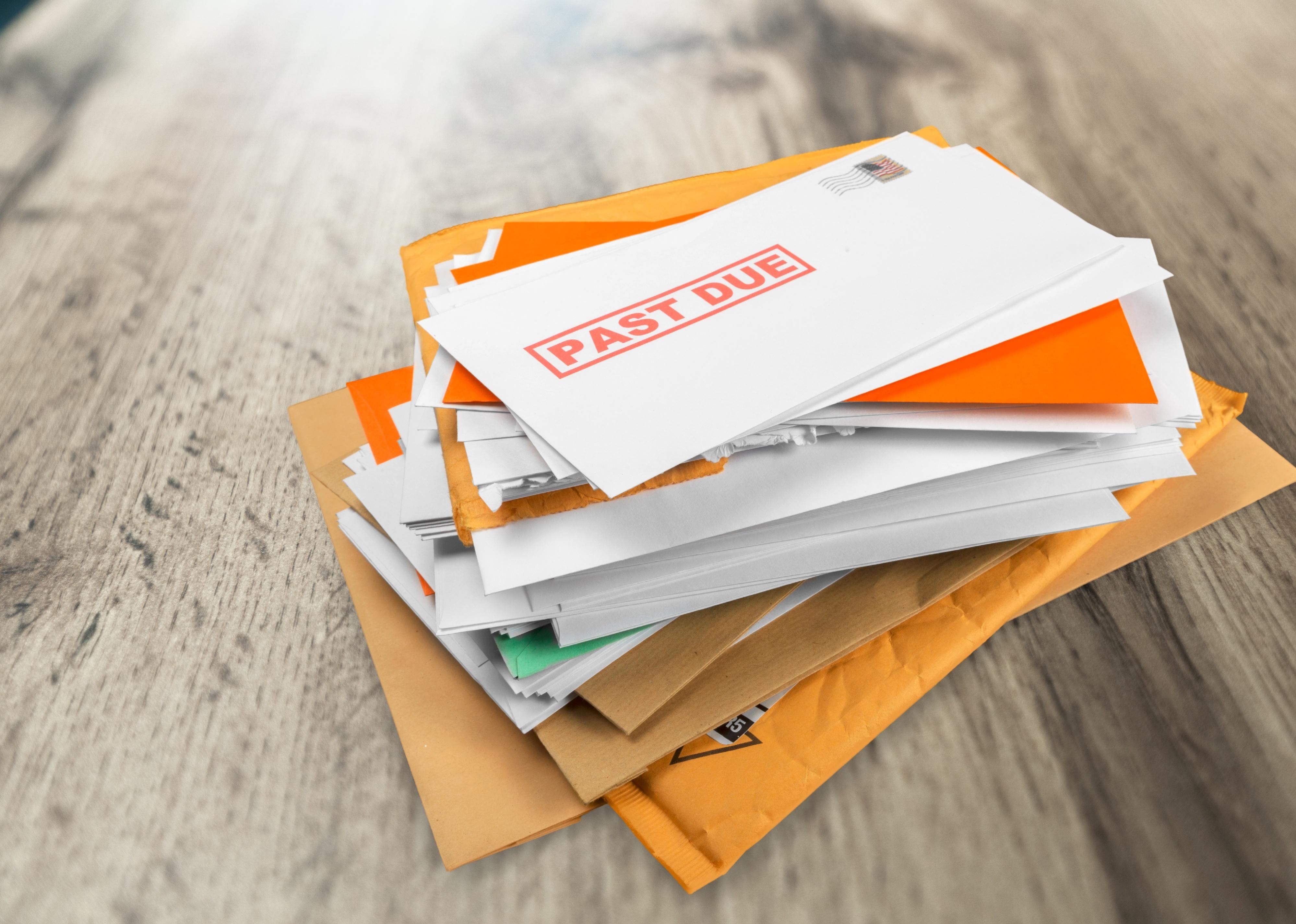 Billion Photos // Shutterstock
#8. Arkansas
-Percent of adults struggling to pay household expenses: 44.8% 
In Arkansas, where the per capita personal income is $51,240 per year, food banks and pantries are seeing an uptick in visitors seeking help. Inflation has pushed a contingent of Americans "over the edge," the CEO of one food bank in the state said.
In November, Arkansas had an average employment rate of 3.7%, or about 49.4 million residents who were not part of its labor force. And as the state population has grown, a housing shortage has driven prices up. Those higher prices have pushed residents into rental units, driving up the median monthly rent to more than $1,300—an increase of more than 20% year over year.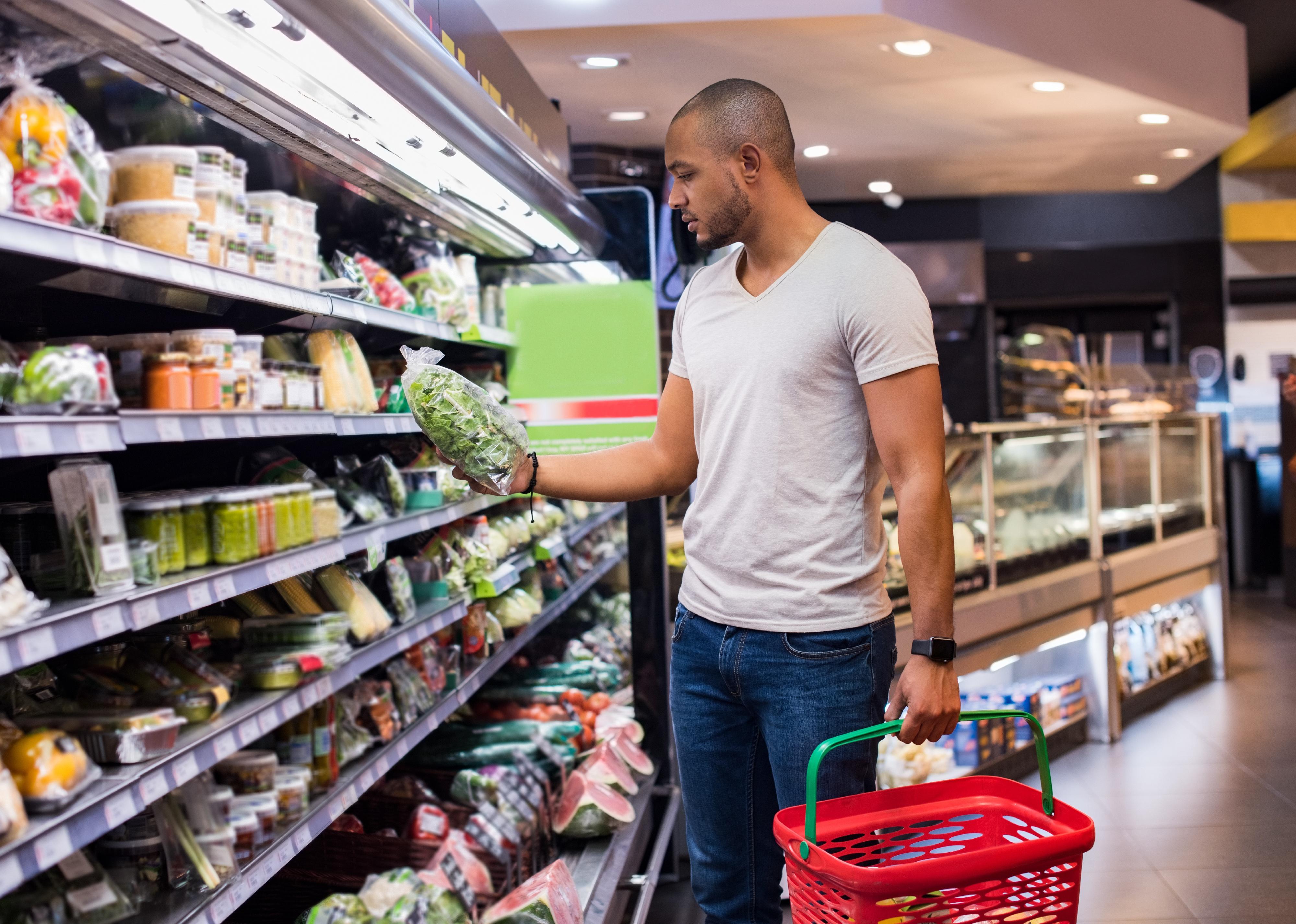 Rido // Shutterstock
#7. Texas
-Percent of adults struggling to pay household expenses: 45.3%
Almost half of Texas adults reported at least some difficulty paying for typical household expenses in November as the state comes off of a period of increased consumer spending. Texas was one of the first states to lift occupancy restrictions and mask mandates for businesses and public gatherings during the pandemic.
Texans' purchasing power can be seen in the historical 26% surge in tax revenues collected by the state through August of this year, according to the state's comptroller. At the same time, residents are footing the bill for years of underinvestment in power grid reliability, which has translated into energy bills this summer that are more than 70% higher than the year before, the Dallas Morning News reported.
As one of the most populous states, it has received a large amount of government stimulus since 2020. The state used it to support historically massive public assistance programs to help residents afford housing and utilities. A number of its programs began running out of already-appropriated funds and closed earlier this year.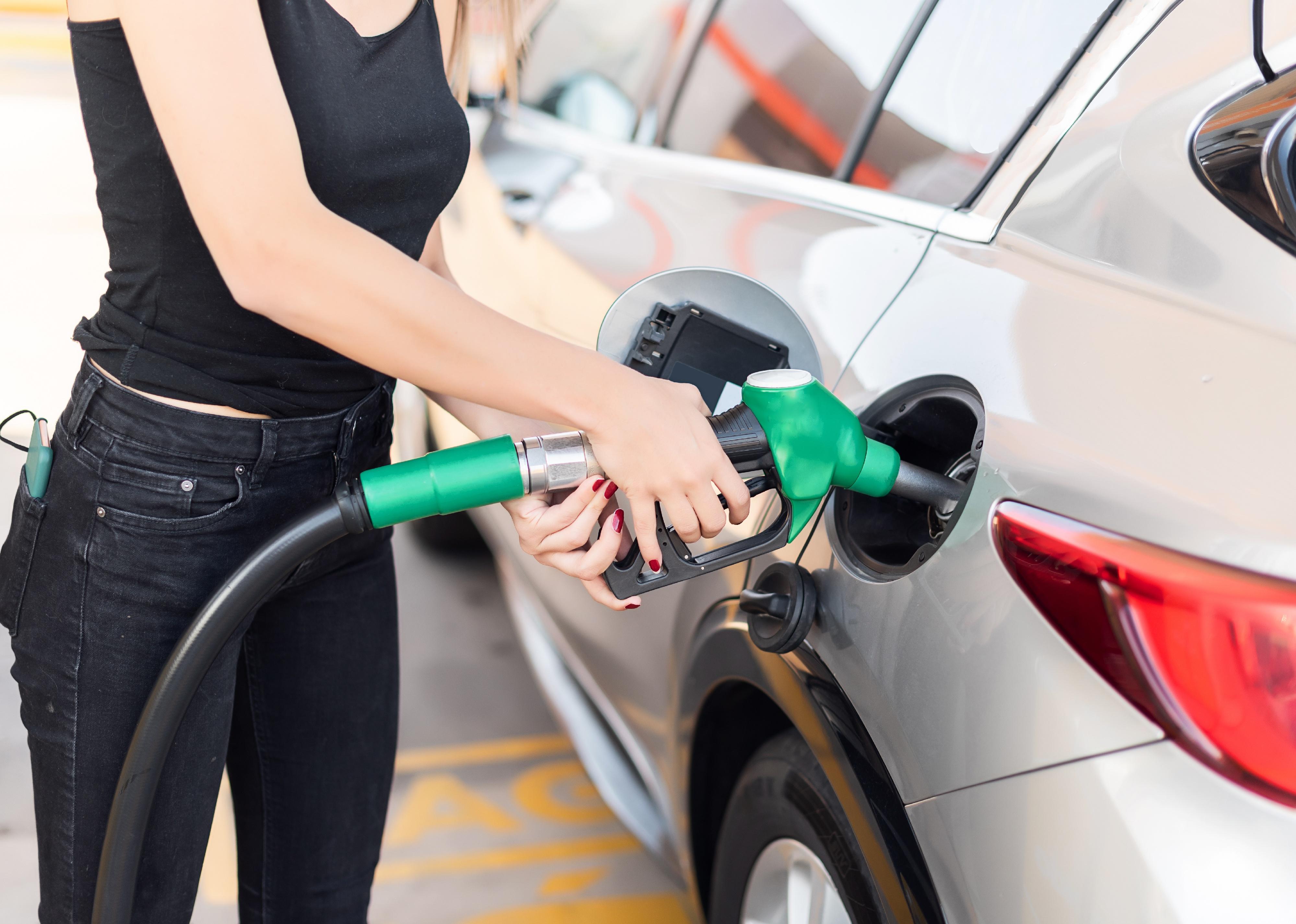 Fran Rodriguez Fotografia // Shutterstock
#6. New Mexico
-Percent of adults struggling to pay household expenses: 46.1%
New Mexico's per capita income is $52,227 per year, which falls behind the Southwest region's $60,324 per capita income. It's also lowest among its Southwestern neighbors. In November, the state had an unemployment rate of 4.1%, with more than 38 million people off payrolls.
Inflation in the Mountain West region was 8.3% in November, the highest compared to other areas of the country. To help residents combat rising prices in 2022, the state issued up to $1,500 through economic stimulus checks.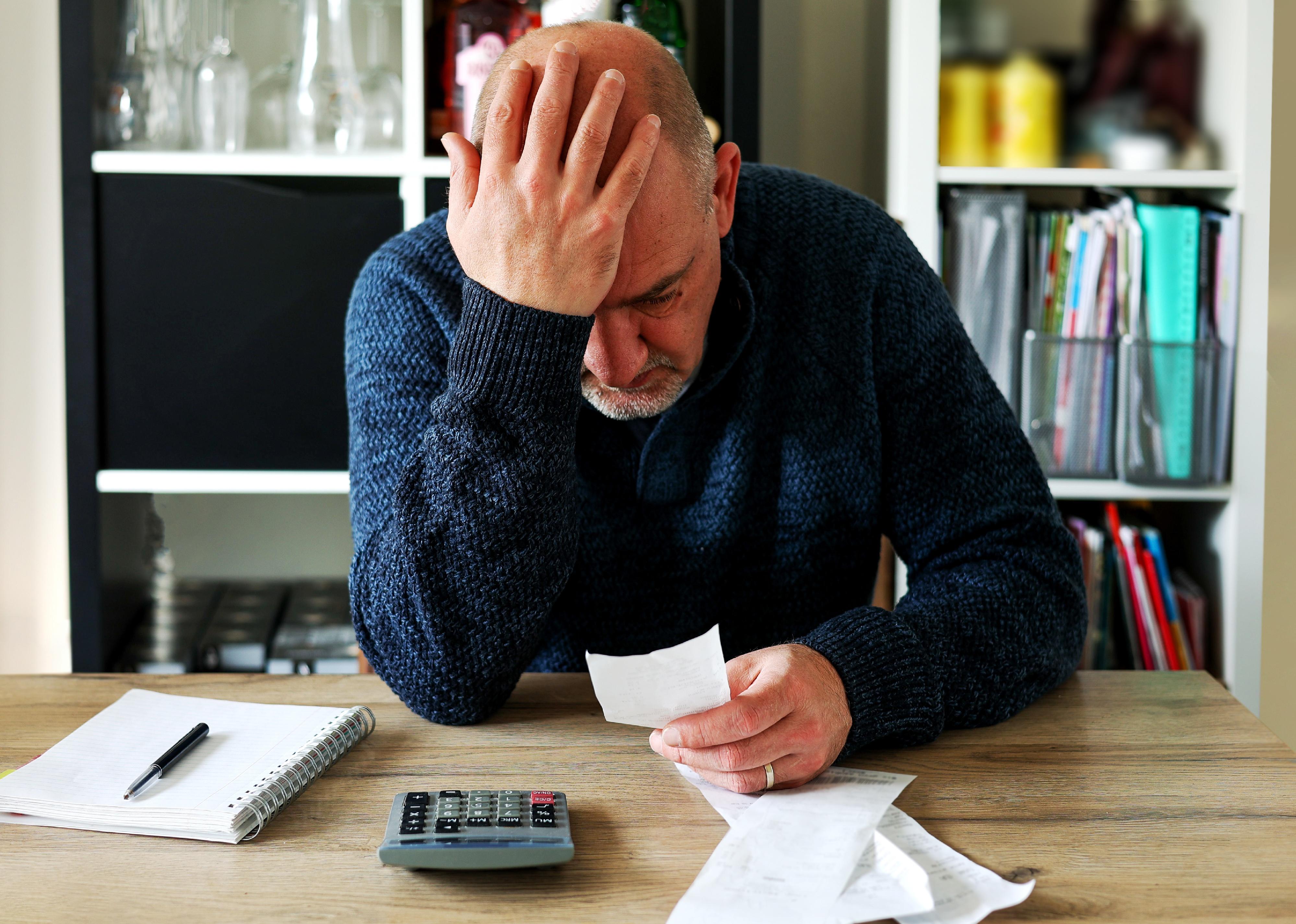 SrideeStudio // Shutterstock
#5. Alabama
-Percent of adults struggling to pay household expenses: 46.3%
Increased living costs across the country create a pinch for workers whose wages aren't growing nearly as fast. Still, that pinch is likely more acute in states like Alabama, where individuals' incomes were already below the U.S. overall per capita income. In Alabama, the per capita personal income was $50,762 annually—$14,874 less compared with the overall U.S. per capita income.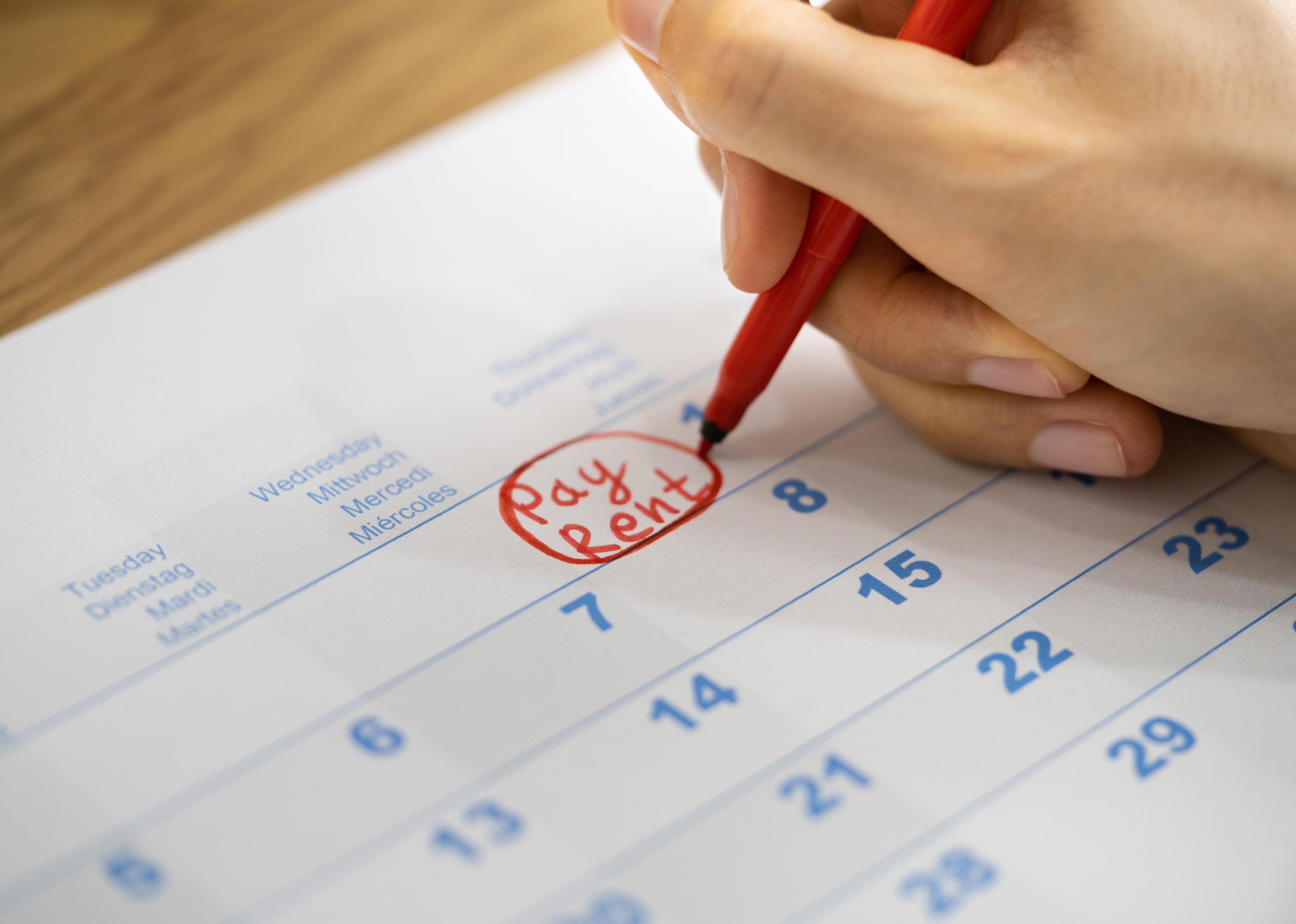 Andrey_Popov // Shutterstock
#4. Nevada
-Percent of adults struggling to pay household expenses: 46.7%
Nevada's tourism and leisure industries were hit hard after the onset of the pandemic, with social distancing guidelines keeping visitors—and their spending dollars—away from casinos, hotels, and tourist attractions. However, by July 2022, Gov. Steve Sisolak announced that Nevada had added more jobs to its workforce than had disappeared with COVID-19. As of November, the state has since experienced a slowdown in job growth and clocks in with 4.8% unemployment rate, which is 1.1% above the national average. 
In Q1 2021, the state per capita income was $62,321, which has since declined. It inched up to $61,506 in November, a per capita income still below the beginning of 2021—and a change that falls far behind the region's 8.3% inflation rate.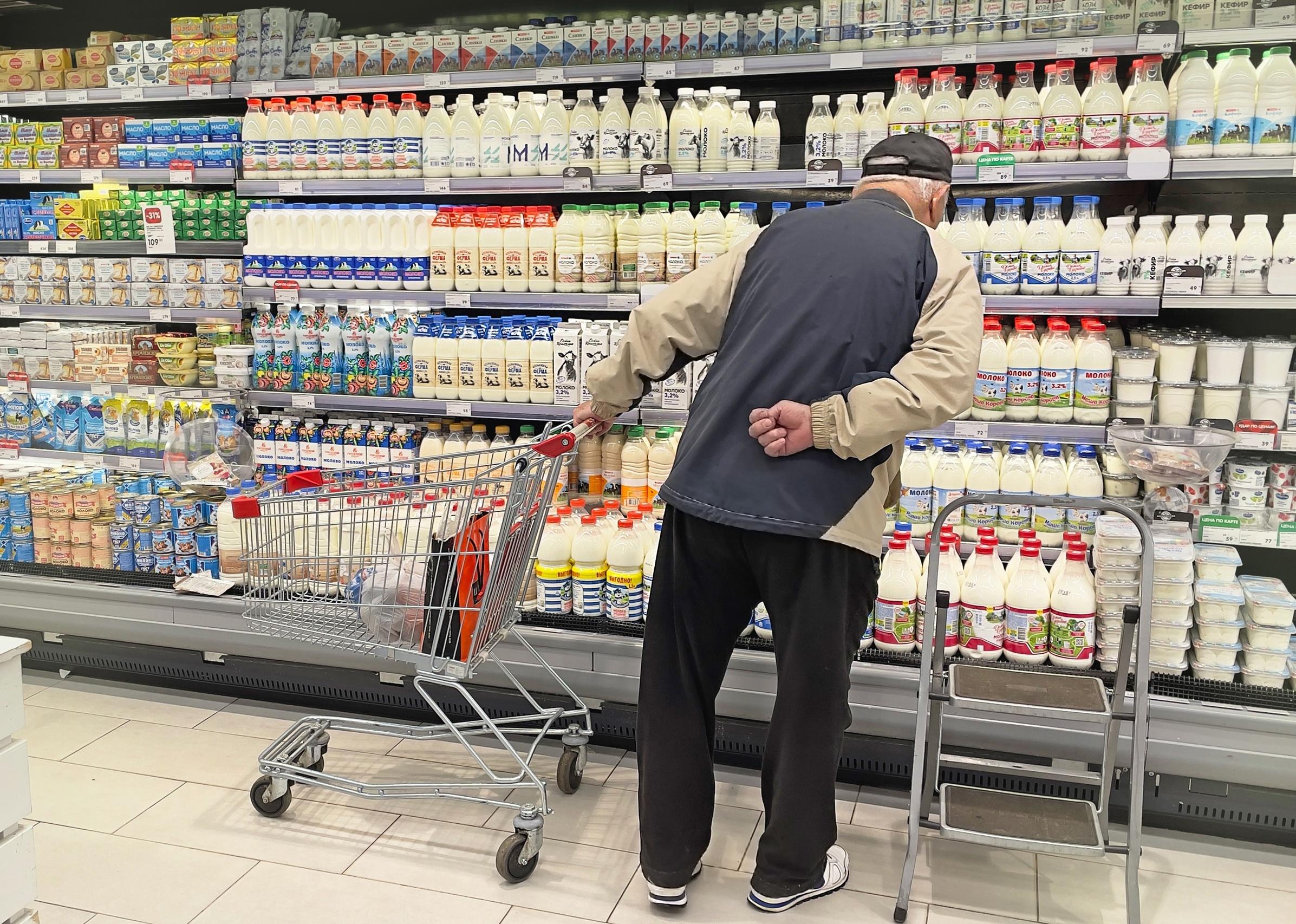 Oxana A // Shutterstock
#3. Oklahoma
-Percent of adults struggling to pay household expenses: 47.5%
As with other states where residents struggle most to afford household expenses, the per capita income in Oklahoma—$55,260—falls below that of the overall U.S. workforce. The state also suffered increased costs of living due to a shortage of affordable housing and out-of-state investors. In 2022, Oklahomans saw a jump in energy prices of more than 30% and food costs of more than 9%—highs not seen in 40 years.
The Regional Food Bank of Oklahoma also reported an increase in demand for its services from residents across the state—an uptick it started seeing climb in the spring, the group told Oklahoma news station KFOR-TV.
Kaspars Grinvalds // Shutterstock
#2. Louisiana
-Percent of adults struggling to pay household expenses: 49.1%
Nearly half of adults in Louisiana struggled to afford regular household expenses in August, per the latest Census Bureau data. While median home prices in the state started cooling in June, it seems like almost everything else is more expensive. In New Orleans, food bank Culture Aid NOLA reported that for the first time this summer, it had to turn people away and enforce food limits due to increasing demand and supply chain shortages. Wages have not kept up with rising prices, and even for those who received raises in the last 12 months, the region's 7.4% inflation rate has likely completely flattened out bumps in paychecks.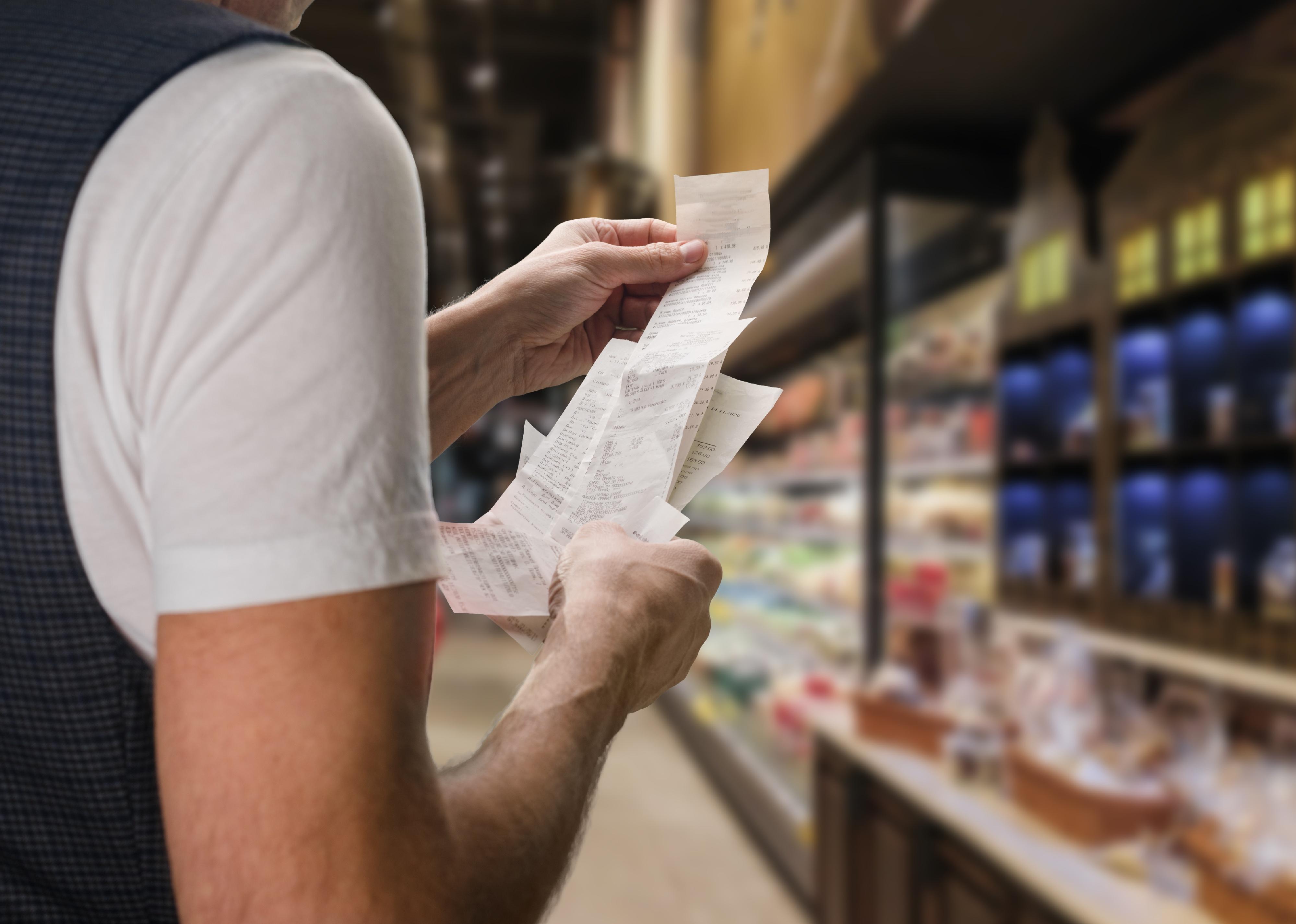 Denys Kurbatov // Shutterstock
#1. Mississippi
-Percent of adults struggling to pay household expenses: 50.5%
Half of Mississippi residents struggled to afford usual household expenses in the current inflationary environment in November.
Residents here have increased banking activity in recent years, as evidenced by the surge in money flowing through banks in the form of direct deposits, wages, pandemic aid relief and other banking activity. The Mississippi Bankers Association reported that it had seen 15 years' worth of typical growth in money coming into the bank in just the past three years, thanks to pandemic-era stimulus funding.
There are groups in the state working to better understand why Mississippi has a below-average percentage of residents working or looking for work as businesses struggle to staff up.
This story originally appeared on Experian and was produced and
distributed in partnership with Stacker Studio.
More Stacker National