5 stats to know when comparing online-only colleges
Published 8:45 pm Wednesday, February 1, 2023

Dean Drobot // Shutterstock
5 stats to know when comparing online-only colleges
Technological difficulties. Difficulty engaging students. Professors struggling to adapt to online teaching formats. The COVID-19 pandemic wrought havoc on classrooms across the country and worldwide, introducing many people to online learning with mixed and often unsatisfactory results.
Not all schools were left scrambling to adapt to the times, however. For online-only colleges, the transition to virtual school was not a transition at all: It was already a well-functioning reality. At online colleges and universities, faculty are trained in specifically online instruction, lesson plans are created to fit the format, and students are equipped to succeed in a virtual environment.
Since the University of Phoenix offered the first-ever online college program in 1989, millions of students had enrolled in online college courses and degree programs before the onset of the pandemic. These schools gained popularity due to their flexibility around class times, geographical locale, and part- or full-time commitment.
EDsmart cited 2020 data from the Department of Education's College Scorecard to review five factors to consider when evaluating online post-secondary schools. Statistics in the analysis were calculated from the 53 schools the Department of Education identified as online-only. Other colleges offer online learning programs in addition to campus-based degrees, but those are not included in the analysis.
Online colleges and universities have often been confused with massive open online courses, or MOOCs, such as edX, which enroll hundreds of thousands of students but do not award degrees, souring public opinion for accredited, online-only colleges in the process. On the contrary, many online-only colleges offer specialized programs and even accept transferable credits. Selecting the right online college, including its enrollment size and types of degrees offered, is a process much like choosing any other traditional, in-person school.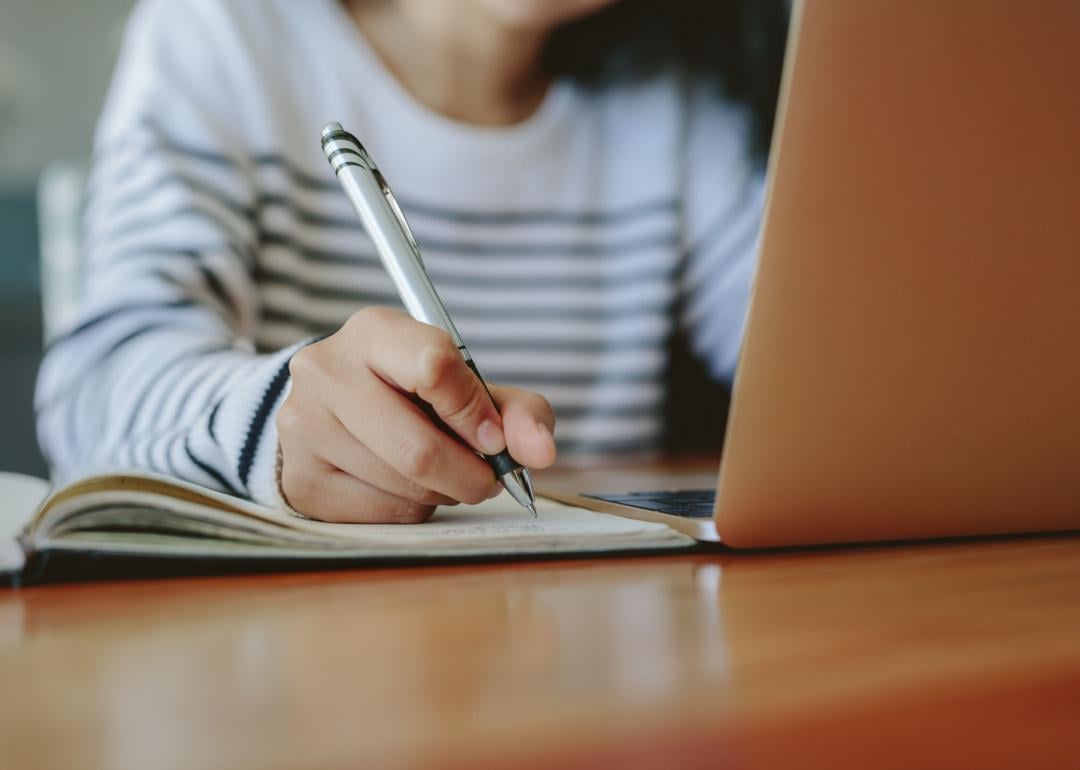 Jacob Lund // Shutterstock
School size
One common assumption about online-only colleges is that they have massive class sizes and impersonal learning experiences, often with little opportunity for interactivity comparable to traditional, in-person environments. While many online colleges do have huge student bodies—Western Governors University's enrollment exceeds 100,000 students, for example—most are relatively small or medium in size.
The average student population among all colleges in the U.S. ranges from 5,000 to 15,000, according to College Scorecard data, while the average enrollment for online colleges is just under 6,500 students. In fact, many online colleges have far fewer than 6,500 students: The average is swelled by much larger institutions, with the median online college enrollment of around 600 students.
Ultimately, the size of the student body is less important than another number if you're looking for a more personalized, interactive learning experience: the student-faculty ratio. Education research suggests the optimal class size for online learning is between 12 and 20 students, allowing everyone to participate and receive feedback from the professor. 2018 research from the National Center for Education Statistics found the national average student-to-faculty ratio is 14 to 1: a worthwhile factor to consider when comparing online colleges.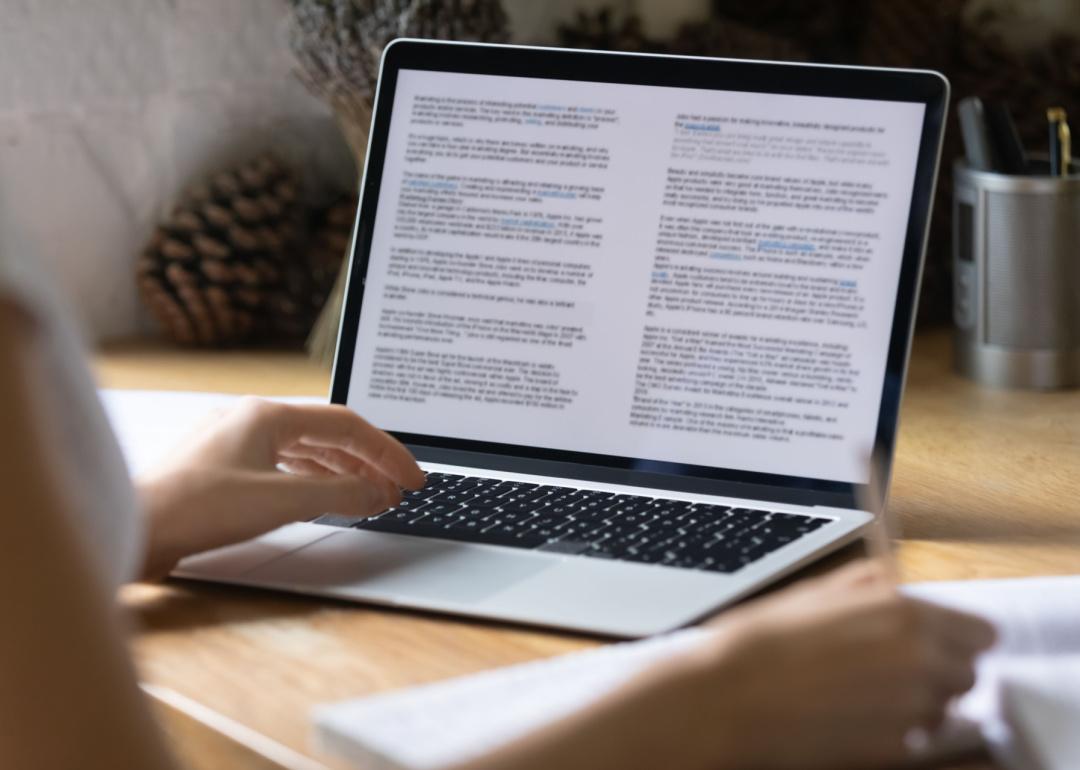 fizkes // Shutterstock
Degrees available
Another consideration when picking an online college is what types of degrees are awarded. Most online-only colleges and universities give out bachelor's degrees (66%) and graduate degrees (73.5%), while fewer colleges offer associate degrees and certificates (15% and 11.3%, respectively).
Choosing what kind of degree to pursue depends on your current degree standing, how much additional schooling you want to go through, and what type of job or career you plan to get post-college. The type of degree you have can also impact your overall earnings after school: Higher degrees often make for higher earning potential, with master's degree holders earning $20,000-plus on average annually than those with associate degrees.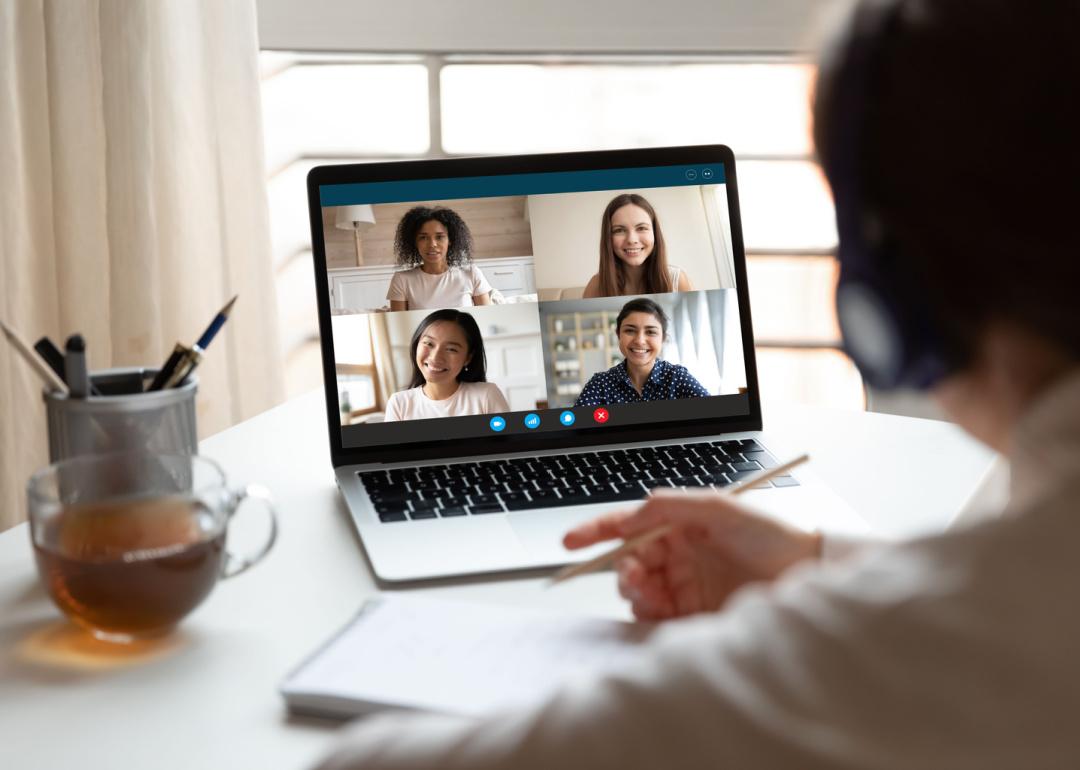 fizkes // Shutterstock
Retention rates for full- and part-time students
A college's retention rate—or how many students choose to return to the same school year after year—can offer insights into students' satisfaction and how academically and personally supported they feel. Past research has found that retention rates are lower at online-only schools than in-person schools, often because online schooling can require more self-discipline and dedication to maintain engagement with the course material.
Retention rates can also vary between full- and part-time students. Retention among full-time students is typically much higher than for part-time students, according to a 2017 report from the National Student Clearinghouse Research Center, both for in-person and online-only institutions. At online schools, full-time students have an average retention rate of 58.7%, while part-timers return to their schools less than half the time (46.3%).
Part-time students on average make up more than half of undergraduates and certificate students who attend online-only schools. Many opt to attend school part-time while working full-time jobs, taking care of children or family, or because of its affordability, while online courses offer even more flexibility in terms of location and time.
All of these external factors can impede part-time students' retention rates and the likelihood of graduating, making these statistics particularly helpful indicators to be aware of.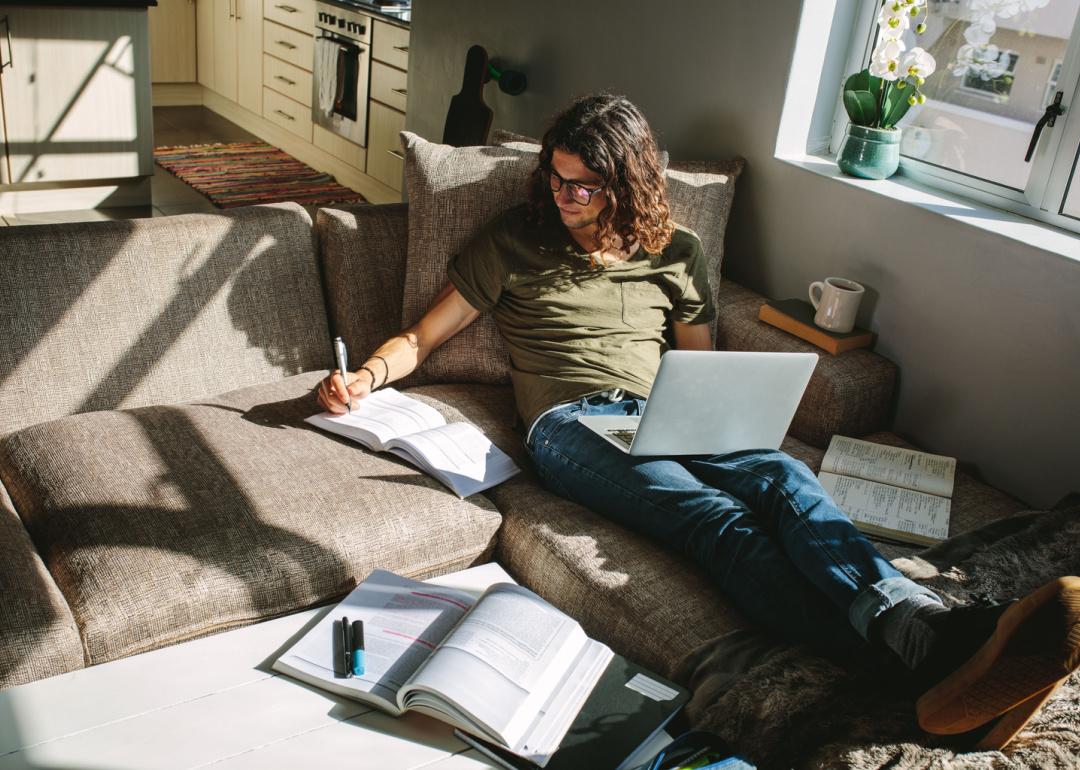 Jacob Lund // Shutterstock
Cost
Online courses can be significantly more cost-effective than traditional, in-person programs. Students acquiring a four-year degree online save an average of $36,595 over their in-person counterparts, according to the Education Data Initiative. College Scorecard data indicates that the average cost of attending online-only college was about $21,000 per year but that students actually paid an average of $16,200 after aid. Factoring in other opportunities such as in-state tuition and scholarships, it could be even less expensive.
While online colleges represent a more affordable alternative to in-person school, it is important to consider that much of the high price tag of in-person school comes from living expenses such as room and board and other on-campus resources and amenities. Online students will certainly save on expensive dorm lodging and meal plans—but they'll also have to take care of these needs separately and factor them into their budgeting.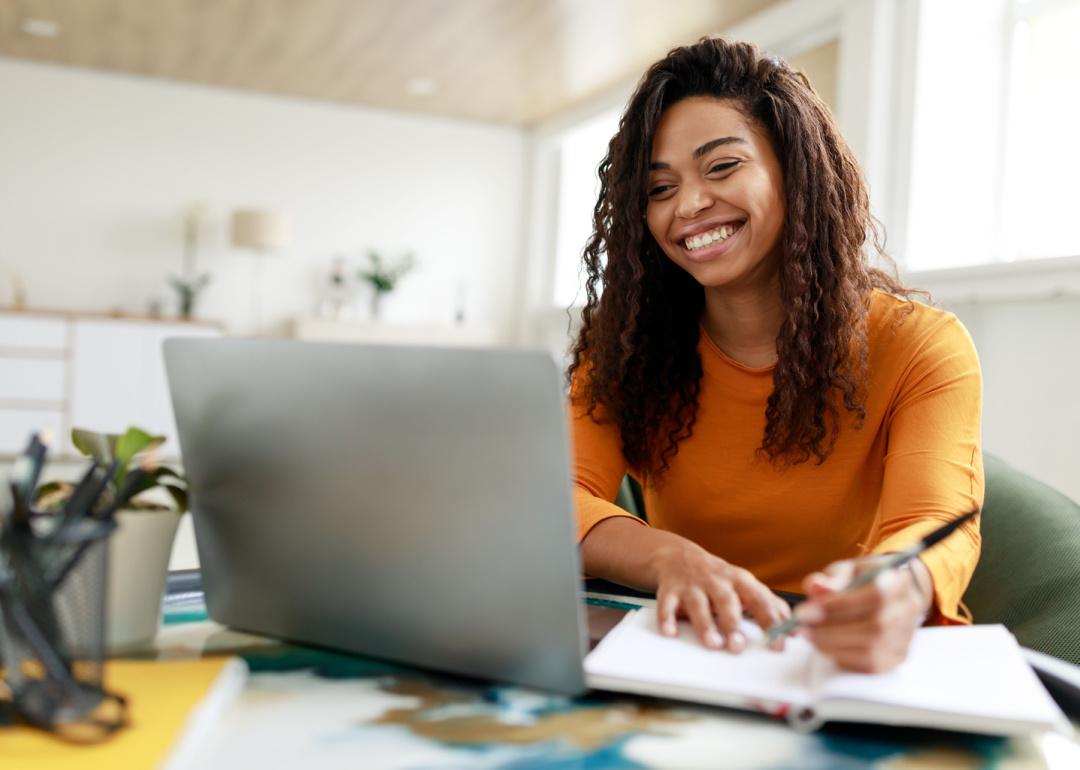 Prostock-studio // Shutterstock
Nontraditional student population
Online colleges are particularly popular among nontraditional students, who make up roughly 80.8% of enrollment, according to College Scorecard data from 2019.
These students—which include military veterans and single parents—are defined as (mostly undergraduate) students who come back to education after a hiatus or a career pivot. They are typically older than the average college student, or have responsibilities outside of their schooling such as child care or demanding work schedules that can make pursuing a degree more difficult.
COVID-19 directly created a massive expansion in the number of nontraditional students by adding stressors such as caring for sick family members, decreasing financial security, and keeping more people living at home. Students of color, low-income students, and those without reliable internet access were hit hardest by the extra burdens introduced by the pandemic.
A 2021 study published in Adult Education Quarterly also found that existing, nontraditional students were disproportionately negatively affected by the pandemic, reporting poor mental health and increased stressors but demonstrating more resilience when dealing with difficult circumstances because of increased age and experience.
This story originally appeared on EDsmart and was produced and
distributed in partnership with Stacker Studio.
More Stacker National