How cashless spending has grown since 2015
Published 8:45 pm Thursday, February 2, 2023

Stokkete // Shutterstock
How cashless spending has grown since 2015
Digital payment trends that had been steadily developing for a decade or more kicked into high gear when the COVID-19 pandemic accelerated the widespread adoption of cashless payments.
In March 2020, consumers pulled back discretionary spending across the board. Instead of live events and travel, for instance, Americans widely opted instead to spend money on groceries, home goods and digital entertainment. The mismatch of demand and supply caused the first of several pandemic-induced shock waves through global supply chains as retailers scrambled to keep up with the surge in online shopping for everything from living room furniture to hand sanitizer.
In 2020, Americans using cashless payments sent and received more than $7 trillion in credit and debit card payments and $62 trillion through automated clearing house transfers. ACH transfers, which include electronic cash transfer services like paycheck direct deposits, Zelle, and Venmo, had the highest rate of adoption among cashless payment types over the year.
Experian examined data from the Federal Reserve's Payments Study to see how cashless spending changed in 2020 and how spending habits evolved in the years leading up to the pandemic. The data is broken down into the number of transactions in multiple spending categories for cashless spending in-person and remotely, as well as spending on e-commerce versus spending over the phone or by mail. It does not break out data on so-called "buy now, pay later" installment plans that have risen in popularity in recent years.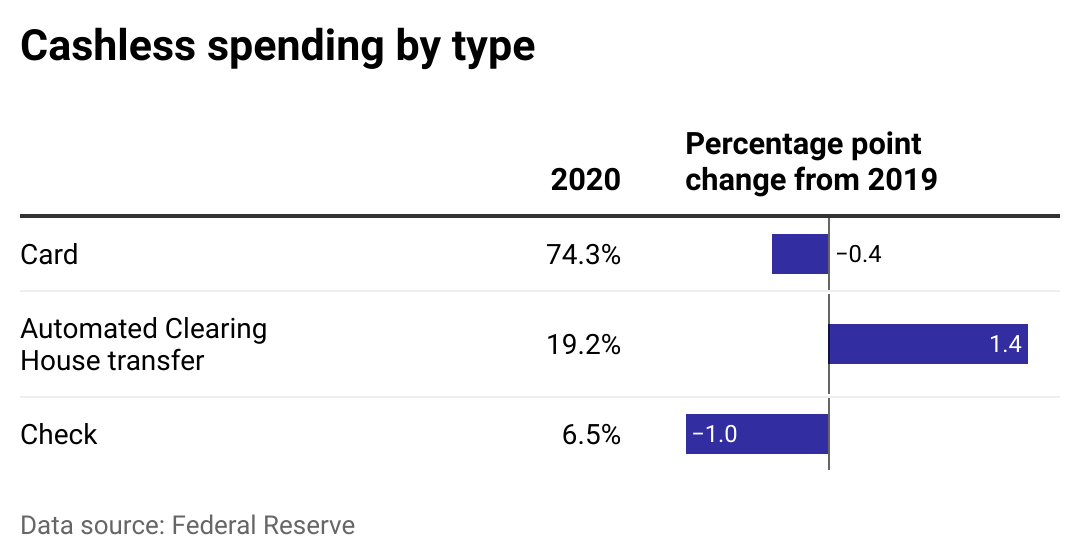 Nicola Katie // Shutterstock
Share of cashless transactions by type in 2020
In 2020, stay-at-home guidelines and social distancing recommendations kept many Americans away from stores. While the way people shopped may have changed—many headed online—the way they purchased was almost the same. Credit and debit cards accounted for 3 in 4 purchases, a rate that was relatively unchanged from the prior year.
Fewer people used paper checks in 2020, a continuation of a yearslong trend that may have been accelerated further by social-distancing efforts. Sending and receiving money through ACH services like direct deposits, Venmo, or Paypal was the only form of payment that saw significant growth among consumers, reaching nearly 1 in 5 payments made—the most popular form of cashless payment after credit cards.
In 2020, ACH also saw an increase in usage as it was used by the government to transfer economic impact payments, or stimulus payments, to American consumers after the onset of COVID-19 pandemic.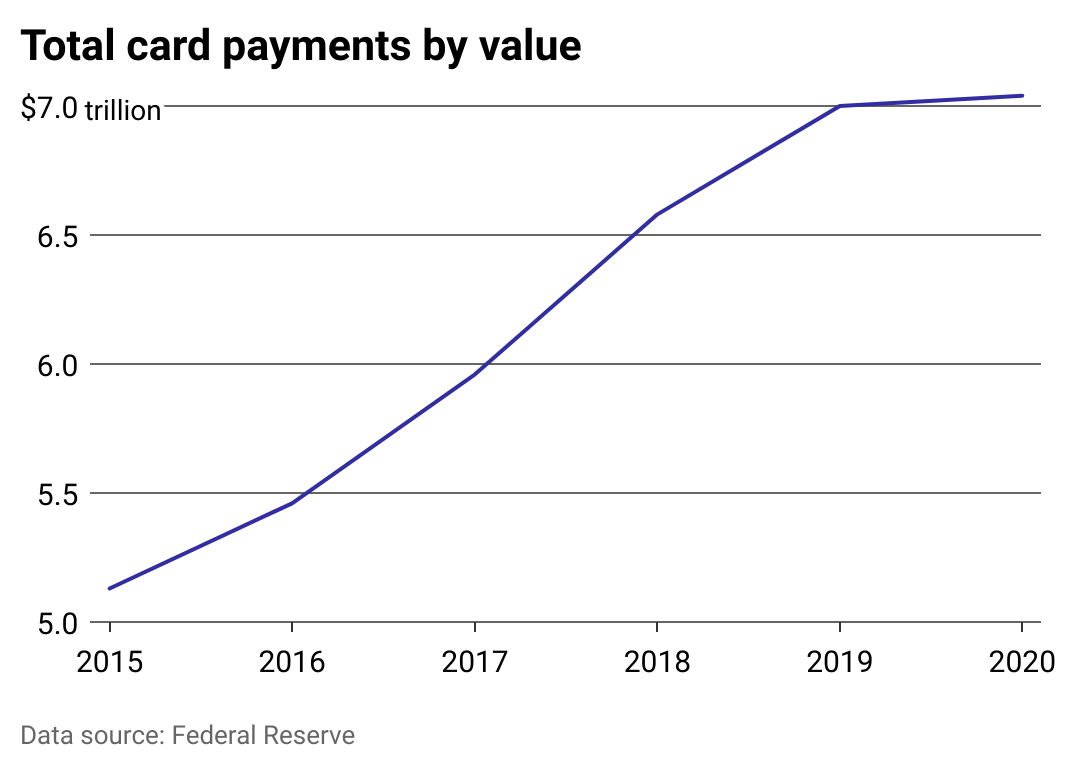 Experian
Card use among consumers continues to climb
Even as spending on credit cards saw slower growth in 2020, Americans spent the previous five years using their debit and credit cards for more and more purchases. As card payments increased over this period, interest rates on credit cards remained relatively low compared to historic levels. For most of the 2010s, the average bank-issued credit card carried a rate of around 13%, according to the Federal Reserve. That interest rate climbed to an average of 15% in the first quarter (Q1) of 2020 and has climbed even higher since: above 18% in August 2022.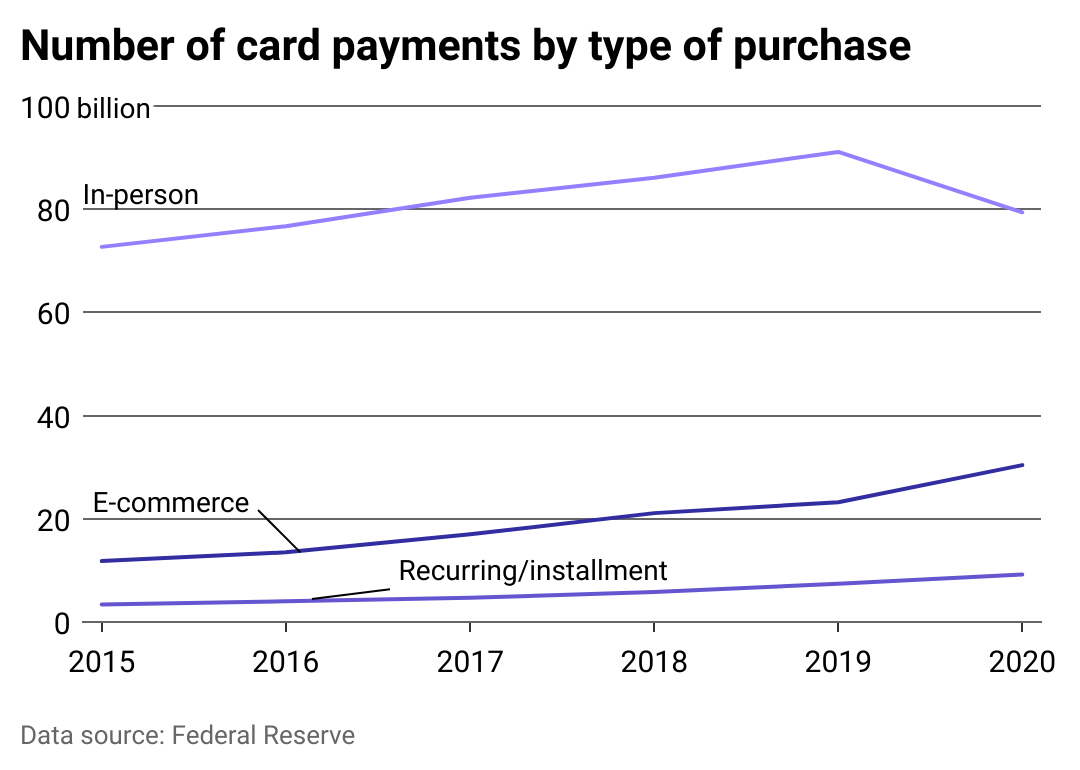 Experian
Total card payments dip slightly in 2020
Consumers swiped their debit and credit cards at fewer registers in 2020 as the pandemic kept shoppers away from brick-and-mortar stores. Overall card spending dropped by nearly $3 billion compared with 2019. However, much of that jolt to in-person spending on credit cards was offset by Americans' use of credit cards for online and other remote purchases.

Experian
Transaction amount varies by how consumers pay
In 2020, consumers tended to spend more when purchasing something over the phone or through the mail—which the Federal Reserve tracks as a single category. The average in-person purchase with a credit card in 2020 was $40, enough to snag a basket of items at the grocery store. Consumers spent more than that on average when paying through an e-commerce website, recurring autopay bills or payment installments, or some other remote shopping experience not specifically tracked by the Fed.
In-person shopping in which a consumer swipes a card or hands it to a cashier is considered "contact." Contactless purchases are also counted as in-person sales, but refer to transactions when consumers use the tap-to-pay technology on their card or smartphone.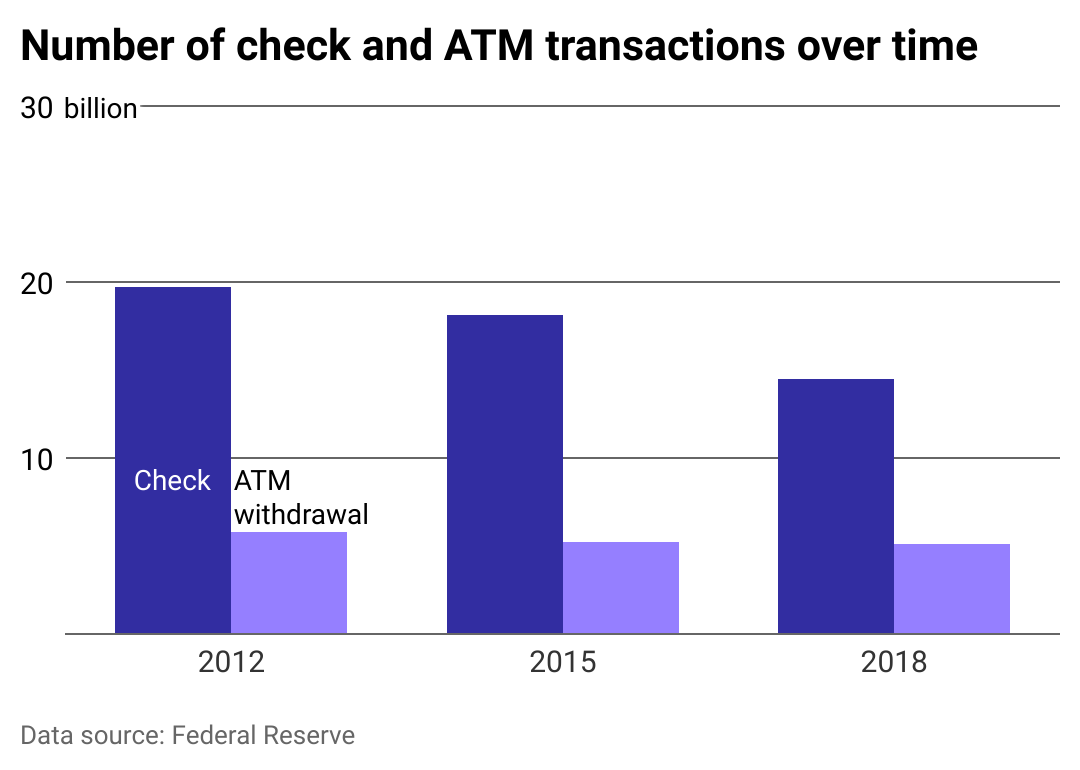 Experian
Cash isn't always king
Long before the pandemic caused consumers to think twice about handling cash and checks, these types of transactions were already on the decline. Paper check usage has been dropping steadily since at least 2000. Meanwhile, ATM withdrawals, which provide a clue to how often consumers are using cash, have more or less stagnated according to the Federal Reserve.
Global data suggests that cashless payments have been gaining a foothold around the world. The World Bank, which has tracked financial inclusion since 2011, found that digital payment activity has grown steadily over the past few years. Adults that sent or received digital payments in developing economies increased from 35% in 2014 to 57% in 2021. As of 2021, 2 in 3 adults globally received or sent money digitally.
More than 1 in 3 adults in those countries used digital payments for the first time because of the pandemic, according to the World Bank 2021 Global Findex. Nongovernmental organizations, including the Bill & Melinda Gates Foundation, have long said that giving people access to digital banking and cashless payment options helps them use more financial services that can build wealth and economic stability.
This story originally appeared on Experian and was produced and
distributed in partnership with Stacker Studio.
More Stacker National