How much casino sportsbook writers make in the states where they are the most common
Published 2:30 pm Friday, February 10, 2023

Kaspars Grinvalds // Shutterstock
How much casino sportsbook writers make in the states where they are the most common
When it comes to taking risks and judging their odds, people have relied on their calculating abilities for survival for millennia. It's no surprise that when the stakes of losing are considerably lower—say, for games of chance—humans have been drawn to try their luck.
Today, gambling provides key revenue for many states' budgets, and is a highly regulated industry. One fast-growing sector is sports betting, which really took off in the U.S. with horse racing in the 19th century. U.S. gamblers legally bet more than $4.3 billion on sports in 2021, according to Statista. Nevada—more specifically, Las Vegas—is home to some of the most famous sportsbooks, like Frank "Lefty" Rosenthal's Stardust casino, which opened in 1976.
Book writers or bookmakers, often called ticket writers, and gambling assistants conduct or manage gambling at sports events and other occasions or venues. Gambling assistants help with games such as keno and bingo. The term "book writer" goes back to when gamblers calculated and recorded odds on paper. In the digital world, the most commonly encountered bookmakers are professionals in gambling and other industries, which are now often online.
Oddsmakers often work on commission as they set odds, accept and place bets, and pay the winners. Their role is to maintain balance so the number of people betting on a win or a loss stays within a manageable range.
Gambling is legal in some form in 48 states and Washington D.C. It's illegal in Utah and Hawaii, though the latter allows poker games in private residences. Nationwide, 7,340 people work as sportsbook writers and gambling assistants in the U.S., with an average wage of around $14 an hour or $29,110 a year.
OLBG used data from the Bureau of Labor Statistics to visualize how much casino sportsbook writers make, which states have the most jobs, and the industries where these workers are more in demand and better paid.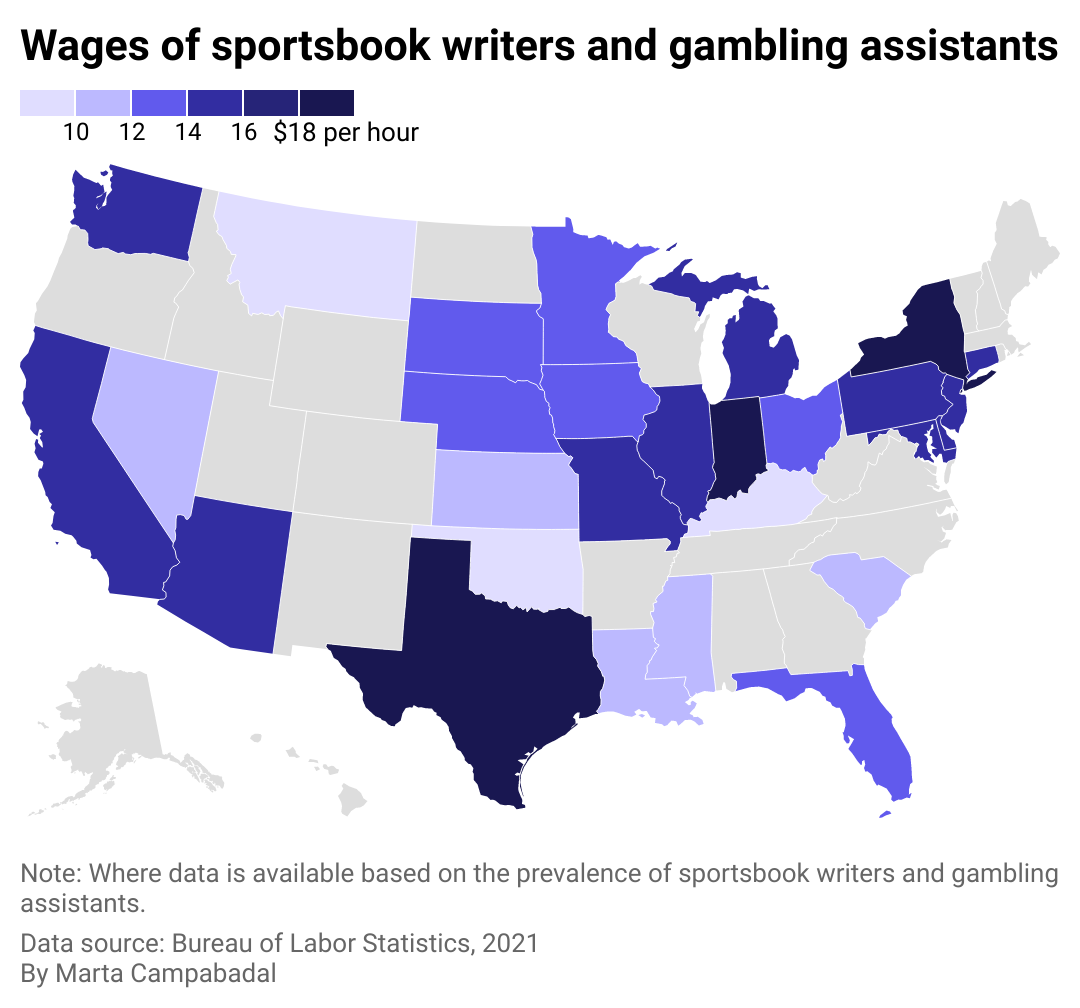 OLBG
How much sports book writers make varies greatly by state
The Bureau of Labor Statistics has data on pay rates for 28 of the 50 states. Wage rates in states where data is available vary widely.
In Texas, New York, and Indiana, gambling professionals earn significantly more than those doing the same work in other states. The metropolitan areas where sportsbook writers and gambling assistants earn the most are New York, which includes Newark and Jersey, San Francisco (including Oakland and Hayward), and Chicago, which includes Naperville and Elgin. The nonmetropolitan area where these professionals earn more is southern Nebraska.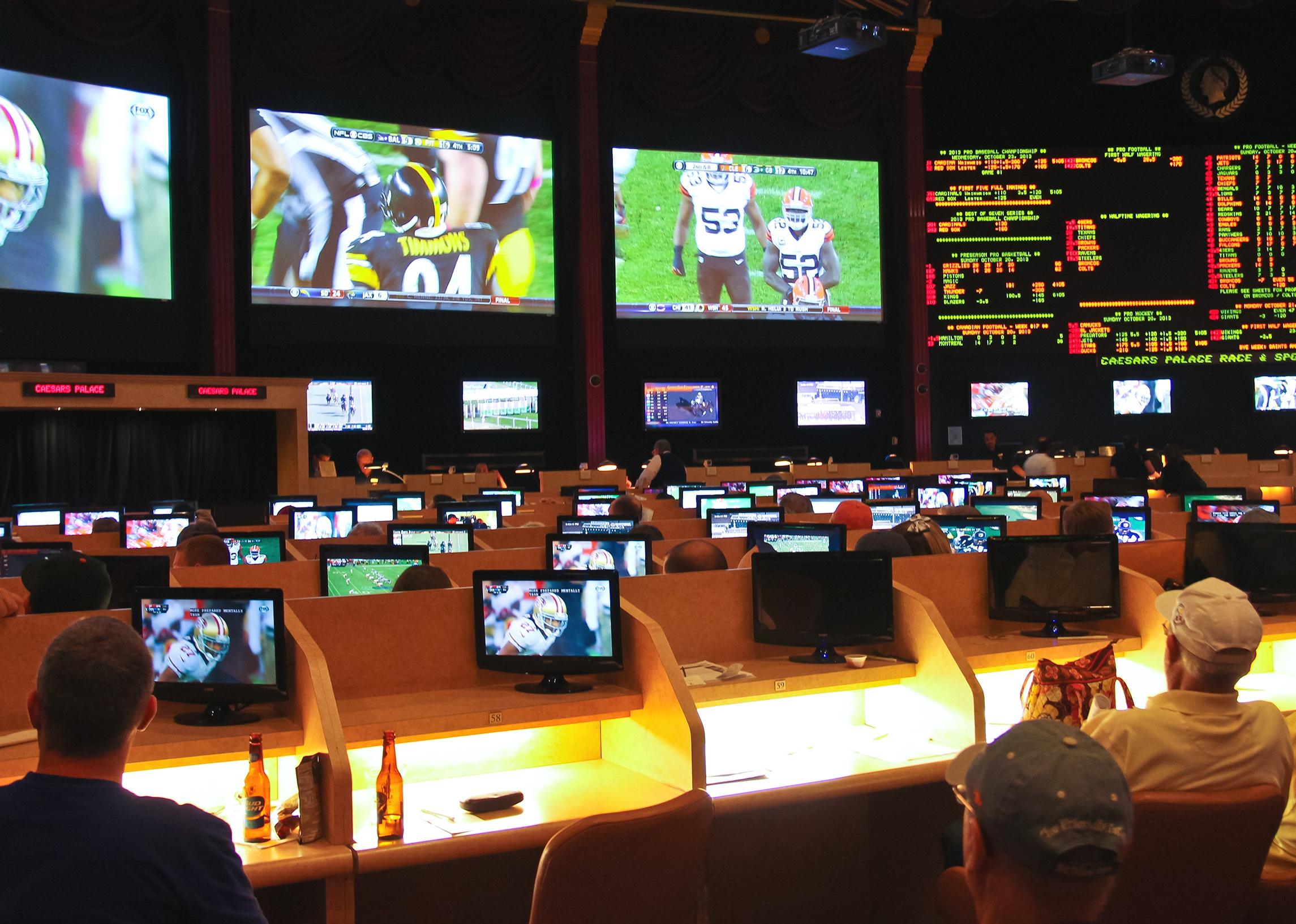 Nick_Nick // Shutterstock
Utah and Hawaii lead the country with the strictest gambling restrictions
Gambling wasn't always regulated by law, but now every state has laws governing it. They have varying restrictions, ranging from the total ban enshrined in Utah's state constitution to the more permissive laws allowing state lotteries, casinos, and sports betting. In recent decades, Native American tribes have opened casinos on their land, which is not subject to state laws—and in some cases, have state permission to run casinos on non-tribal land.
There has also been an explosion in online gambling, which requires specific legal restrictions. So far, just West Virginia, Nevada, Michigan, Pennsylvania, Delaware, and New Jersey allow it.
States' minimum legal gambling ages vary but tend to be between 18 and 21.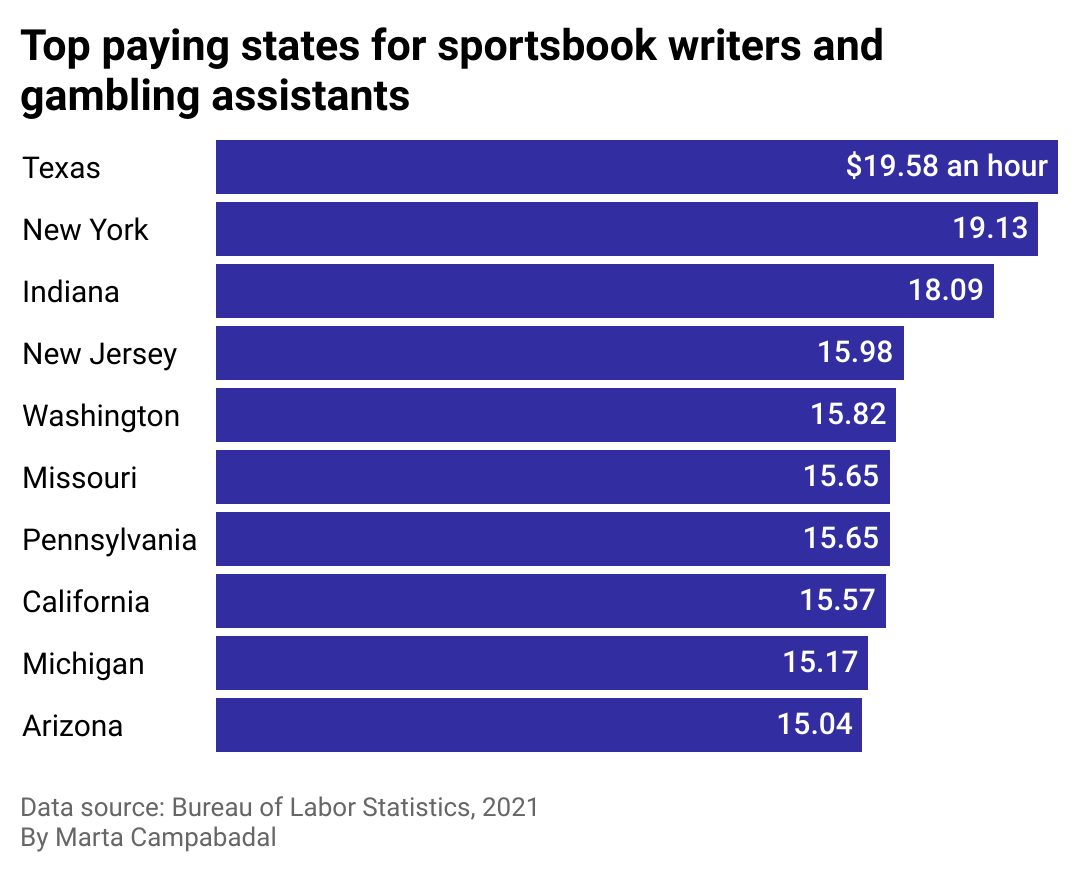 OLBG
Sportsbook writers tend to earn much more than the minimum state wage
Sportsbook writers in Texas, New York, and Indiana make the most money per hour on average. In Texas, they make an average hourly rate of nearly three times the state's minimum wage. Indiana ticket writers make 2.5 times the minimum wage. New York's minimum wage is higher, so the margin ticket writers make beyond that is less.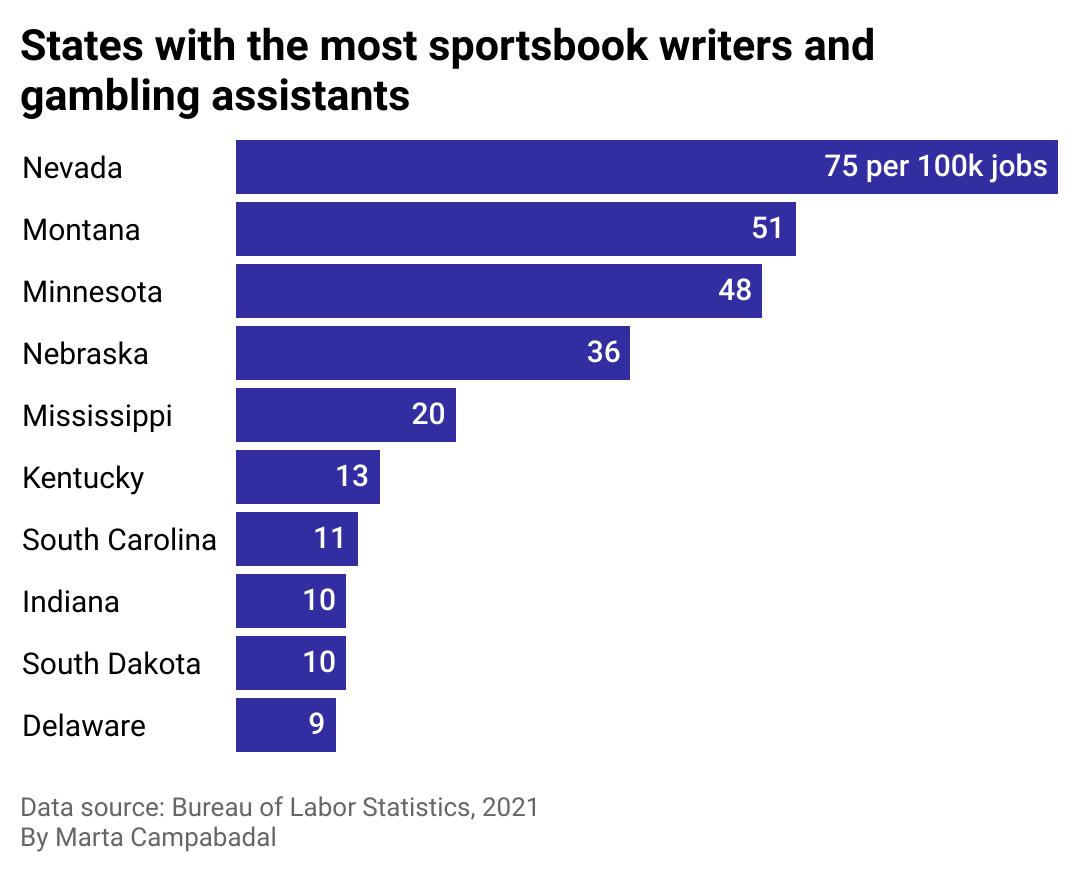 OLBG
Nevada has the most sportsbook writers by far
It's not surprising that Nevada has the highest proportion of ticket writers and gambling assistant jobs in the country. There are nearly 200 different sports betting locations in the state, according to the Nevada Gaming Control Board.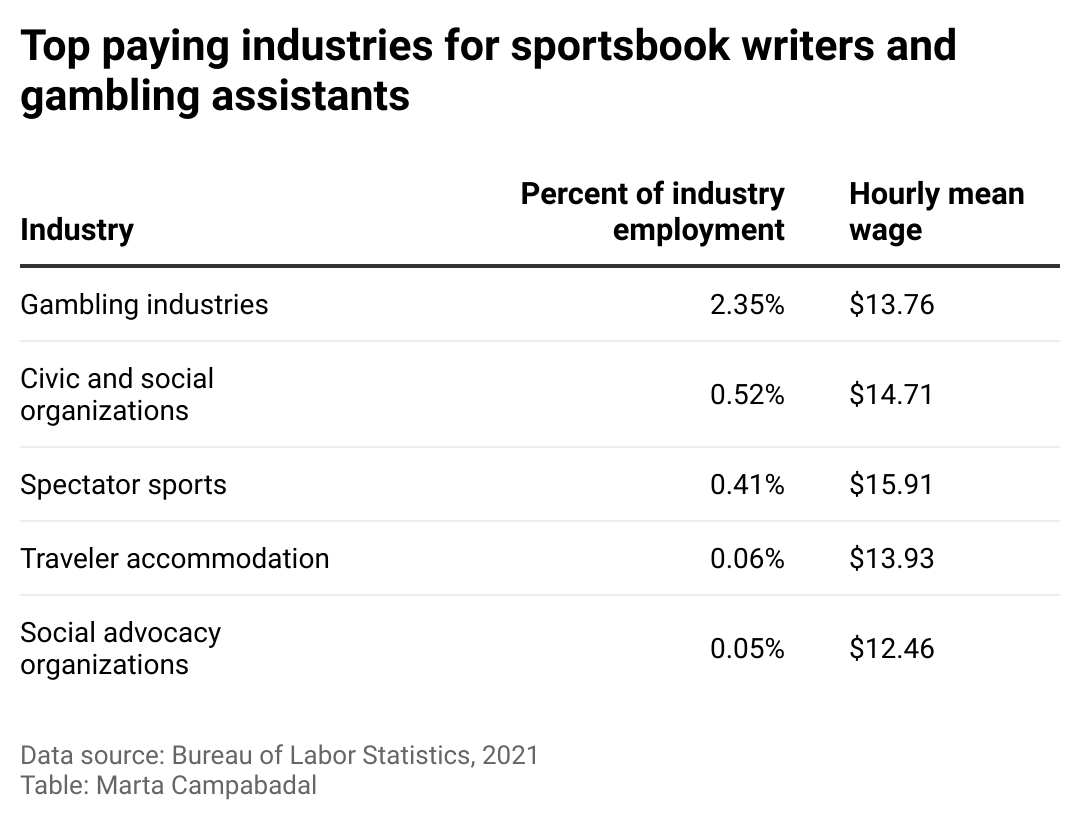 OLBG
Gambling isn't the only industry for sportsbook writers
Most gambling professionals work in the gambling industry and the sports industry, but they work in other industries too. For instance, civic and social organizations that use bingo as entertainment or fundraisers may employ professionals to run those operations.
The highest average salary for gambling professionals is in the spectator sports industry, at $33,100 per year, followed by civic and social organizations, at $30,590 per year.
This story originally appeared on OLBG and was produced and
distributed in partnership with Stacker Studio.