20 of the richest people who ran for president
Published 6:00 pm Tuesday, February 14, 2023

Chip Somodevilla // Getty Images
20 of the richest people who ran for president
The 2020 presidential and congressional elections were America's most expensive campaign cycles to date. With the 2022 midterms also setting a record for midterm spending, the future of American politics continues to look more costly than ever. Presidents Day provides an opportunity to look at how wealth has played into the campaigns of past presidential candidates.
Stacker compiled a list of 20 of the richest presidential candidates of all time, using data from the Forbes Real-Time Billionaires list, CelebrityNetWorth.com, and Business Insider.
It's worth noting that most presidential candidates have a degree of wealth far beyond that of the everyday American—and indeed, most U.S. federal politicians in general are many times richer than their constituents. But the presidential candidates on this list, both victors and losers, are some real standouts.
Presidential candidates on this list are ordered by their most recently reported net wealth. For candidates no longer living, that number is typically their net worth at their time of death, adjusted to current dollars.
You may also like: Most expensive military weapons and programs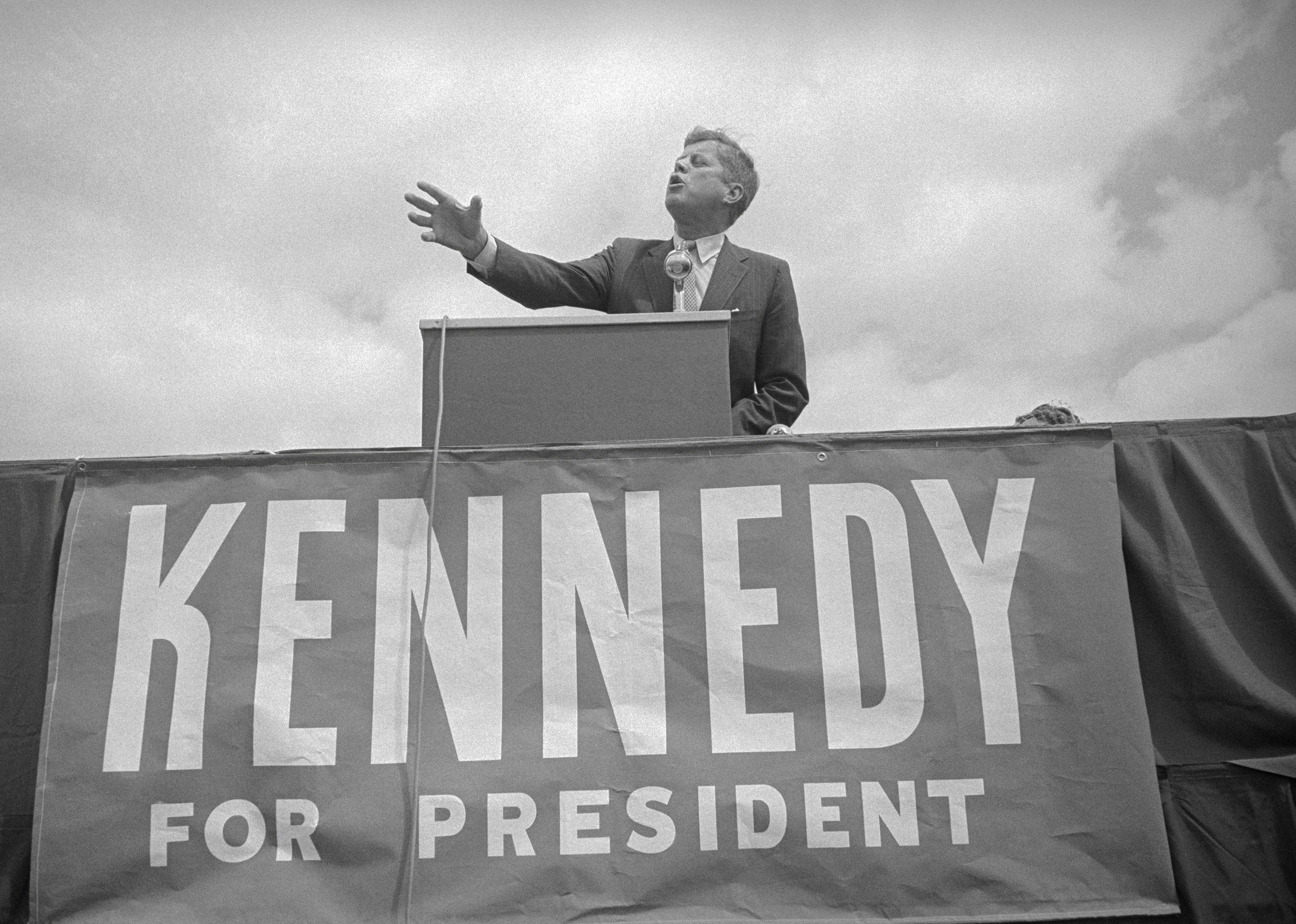 Bettmann/Contributor // Getty Images
John F. Kennedy
– Net worth: $100 million (Had he lived, Kennedy likely would have become worth $1 billion in current dollars by inheriting a family fortune.)
– Year(s) ran: 1960 (won)
– Party: Democratic
Both JFK's personal wealth and his political career were funded by the immense wealth of the Kennedy family. His father Joseph Kennedy, whose own father Patrick Kennedy had found success as a whiskey importer and casino owner, became one of the 15 richest people in America through two primary means—buying a failing Hollywood studio in the 1920s and turning around the business, and shorting the stock market just before the 1929 crash that set off the Great Depression. Though his net worth at the time of his death was $100 million in today's money, had JFK lived into his later life he would have inherited the equivalent of roughly $1 billion.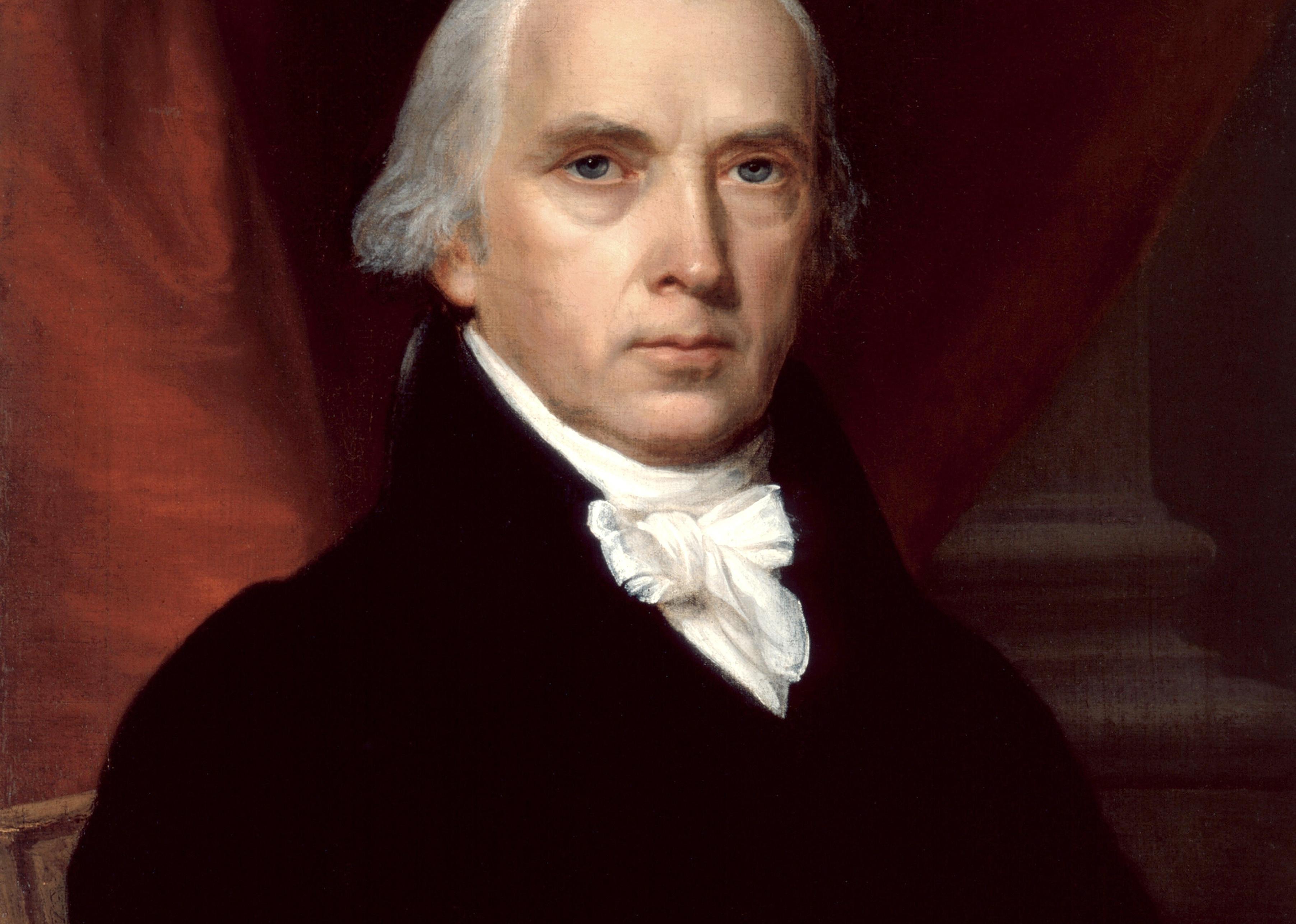 GraphicaArtis // Getty Images
James Madison
– Net worth: $101 million
– Year(s) ran: 1808, 1812 (won)
– Party: Democratic-Republican
America's fourth president acquired his wealth primarily through inheritance, profits from slavery, and land ownership. His father, James Madison Sr., had acquired wealth through the same means and passed along a hefty inheritance as well as 5,000 acres of plantation to his son in 1801, eight years before Madison's presidency. At Montpelier, Madison enslaved roughly 100 people over the course of running his plantation, which focused primarily on tobacco.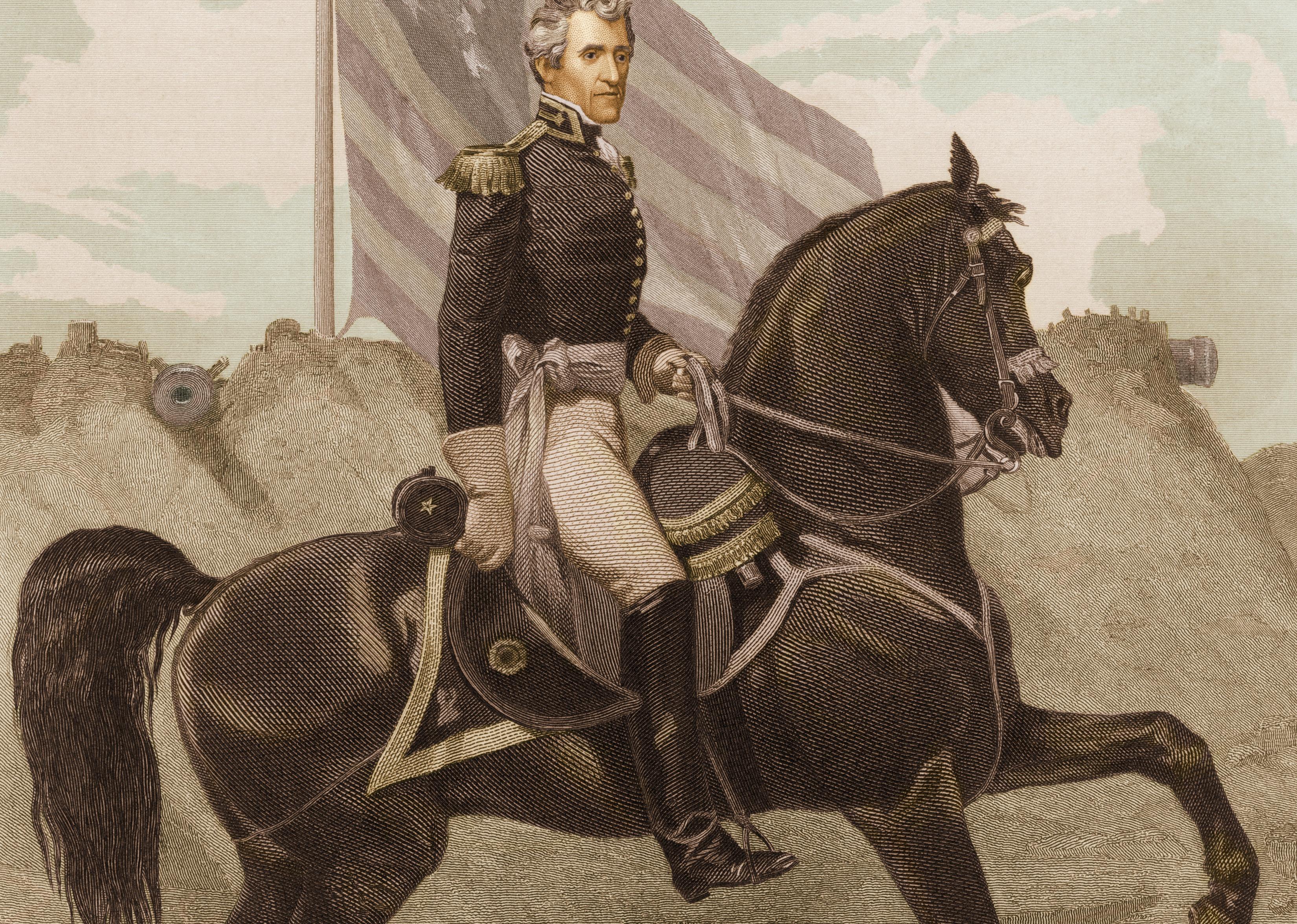 Stock Montage // Getty Images
Andrew Jackson
– Net worth: $119 million
– Year(s) ran: 1824, 1828 (won)
– Party: Democratic
Born into poverty, Jackson developed his initial wealth and reputation through a law practice in Tennessee, which owed its success to rapid land grabs occurring during that time. However, the vast majority of Jackson's wealth came from his marriage to his wife Rachel, whose inheritance was built by her father Colonel John Donelson, a co-founder of the city of Nashville. Using this wealth, Jackson built an estate and plantation on 1,050 acres of land, from which he would derive most of his income. Jackson enslaved nearly 100 people just before his presidency, and 150 people at the time of his death.
Steve Liss // Getty Images
Bill Clinton
– Net worth: $120 million (Combined with wife, Hillary Clinton)
– Year(s) ran: 1992, 1996 (won)
– Party: Democratic
Bill Clinton's fortune was built primarily after his presidency—upon exiting office in 2001, the Clintons carried with them between $6 million and $12 million in legal fees and debt incurred during the Monica Lewinsky scandal, much of which was eventually covered by a legal defense fund. But from 2001 to 2011 alone, Bill earned over $100 million from speaking engagements, and nearly $35 million from his book deals. Bill's net worth is a combined net worth with his wife Hillary Rodham Clinton. To date, combined, they have earned over $250 million from speaking engagements, consulting, and book deals.
Drew Angerer // Getty Images
Hillary Clinton
– Net worth: $120 Million (Combined with husband, Bill Clinton)
– Year(s) ran: 2008, 2016 (lost)
– Party: Democratic
As Bill and Hillary Clinton's net worth is combined, it follows that she would be next on the list. In the years before Bill's presidency, he never earned over $35,000 in salary. Hillary was the primary earner during the pre-White House era, earning a salary of $110,000 from her corporate and legal work, and $1 million from her book "It Takes a Village." The years between Bill's presidency and Hillary's 2016 presidential run set the Clintons up with a net worth of over $100 million. And in the handful of years since Hillary's defeat, the Clintons have continued to add to their wealth.
You may also like: Political cartoons from the last 100 years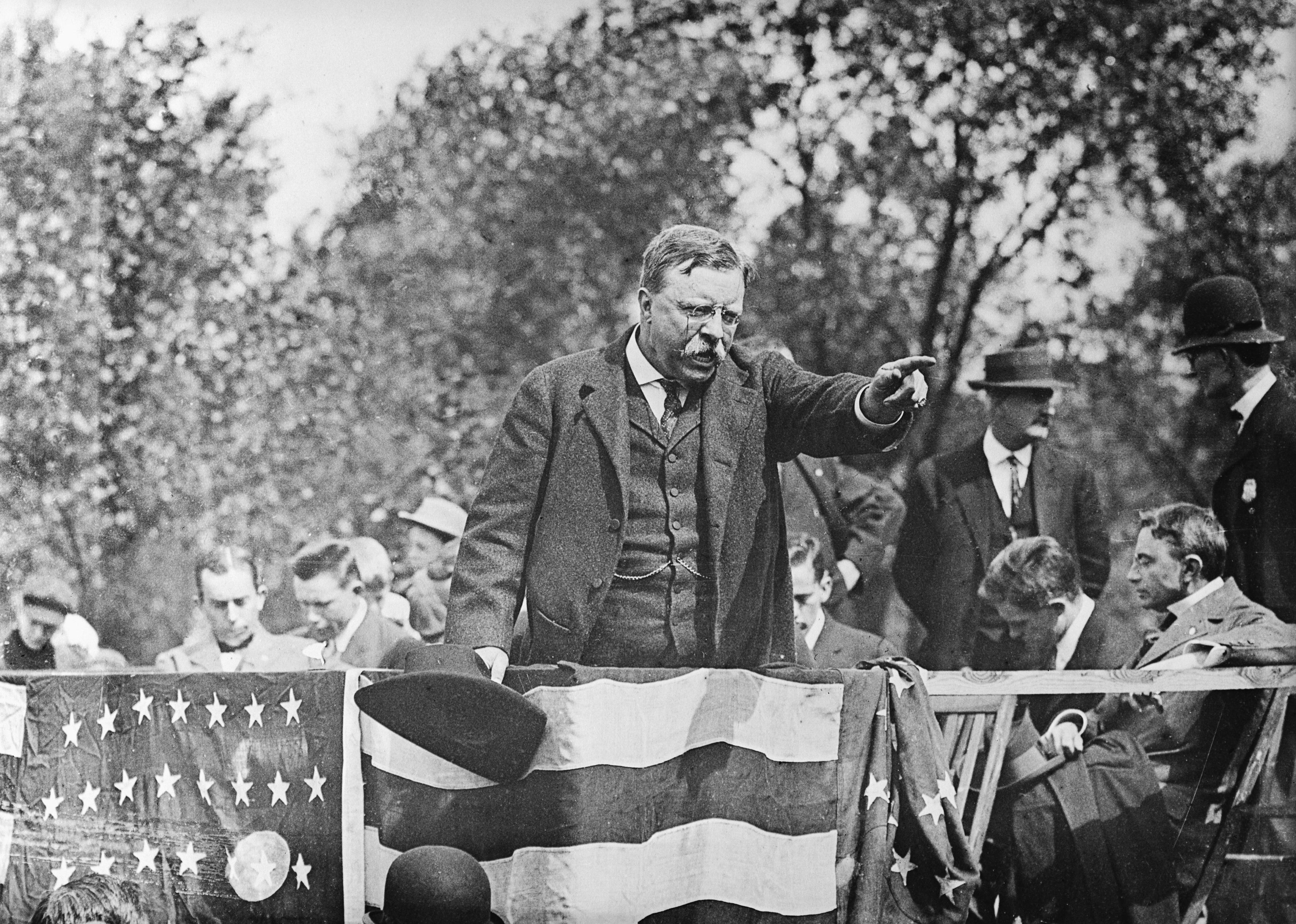 Bettmann/Contributor // Getty Images
Theodore Roosevelt
– Net worth: $125 million
– Year(s) ran: 1904 (won), 1912 (lost)
– Party: Republican
The Roosevelts are one of America's original family dynasties, stretching back to the early 1600s—and the wealth accumulated by that family over generations was available to Theodore Roosevelt throughout his life. What's more, his mother Martha Bulloch came from a wealthy plantation family that enslaved people, providing an additional source of intergenerational wealth. While Roosevelt experienced a few financial setbacks before his presidency, his wealth remained consistent and available to him before, during, and after his time in office.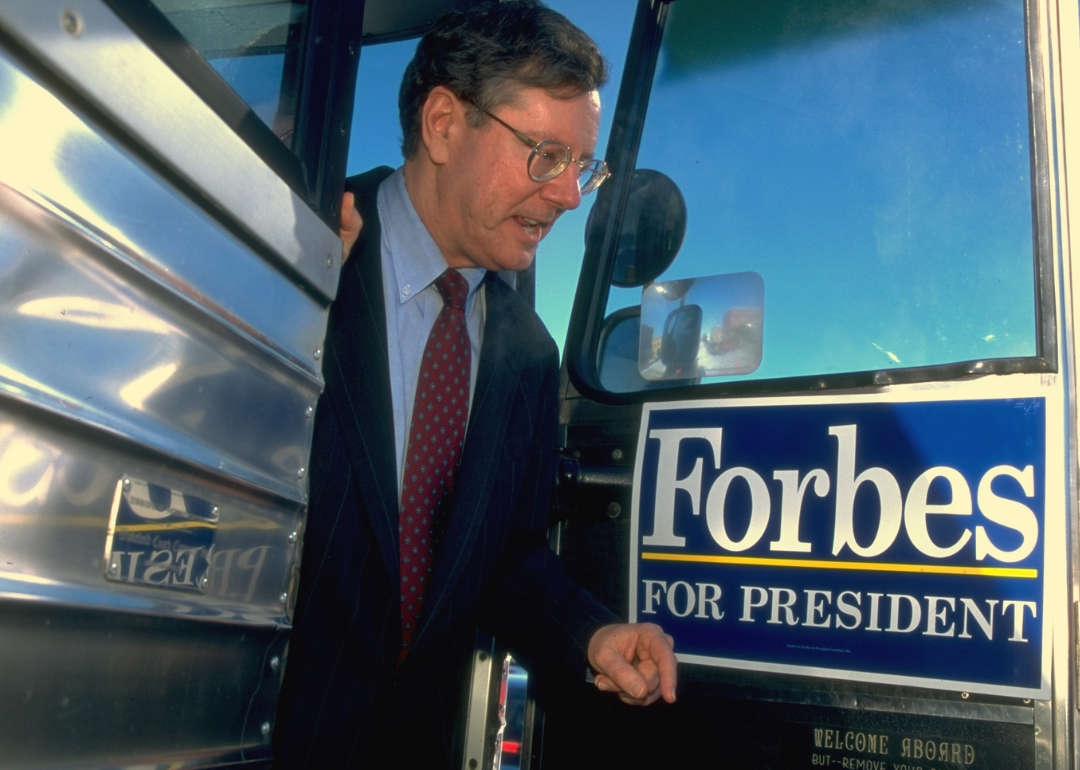 Steve Liss // Getty Images
Steve Forbes
– Net worth: $200 million
– Year(s) ran: 1996, 2000 (lost)
– Party: Republican
Better known for his role as the former editor-in-chief of Forbes, a magazine founded by his grandfather, Steve Forbes twice lost the Republican nomination for president, in 1996 and 2000, spending $69 million of his own money on the attempts. At the time of his run in 1996, Fortune estimated his wealth to be $440 million—which is over $800 million in today's money. Much of his wealth was inherited from his family, but some was tied up in the valuation of the magazine, and accordingly, Forbes' net worth has declined over time from its peak.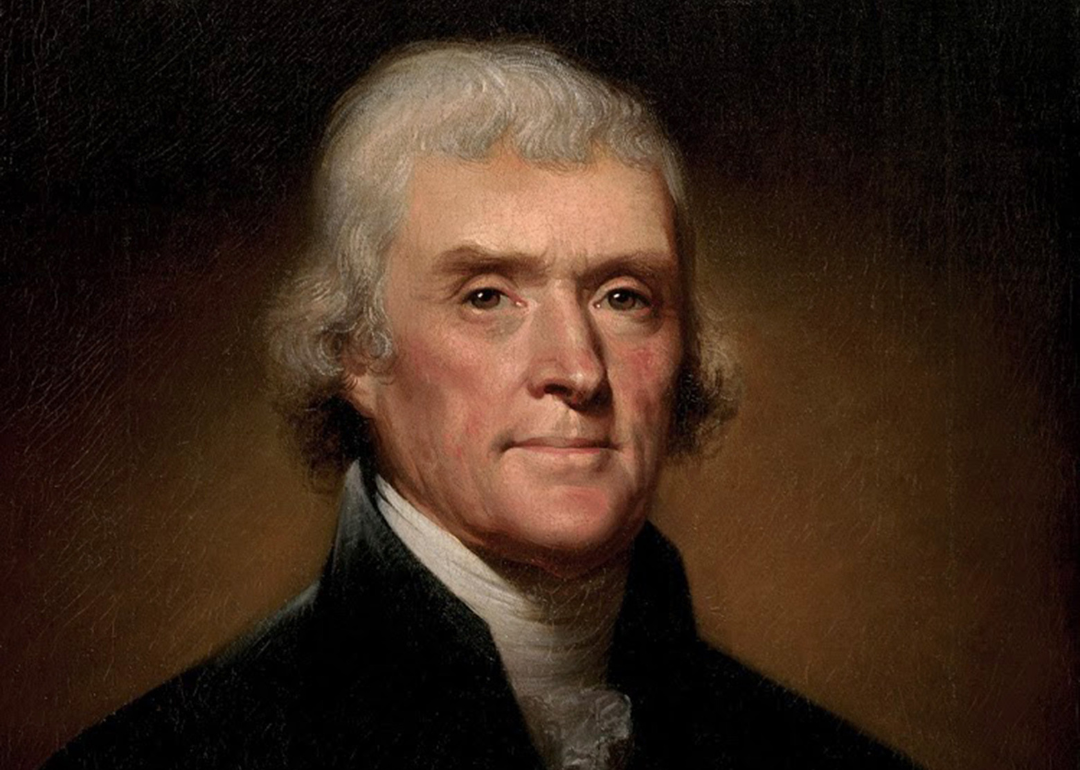 US National Archives/Donaldson Collection/Contributor // Getty Images
Thomas Jefferson
– Net worth: $212 million
– Year(s) ran: 1796 (lost), 1800 (won), 1804 (won)
– Party: Democratic-Republican
Jefferson, like many of America's early presidents, received the bulk of his wealth through an inheritance that had been built off the backs of enslaved people. The 5,000 acres of plantation land that Jefferson received in 1757 were his primary source of income, though following his presidency, Jefferson squandered much of that wealth. Upon his death in 1826, he had incurred debts of roughly $2 million in today's money, and his relatives were forced to sell the family's land to repay it.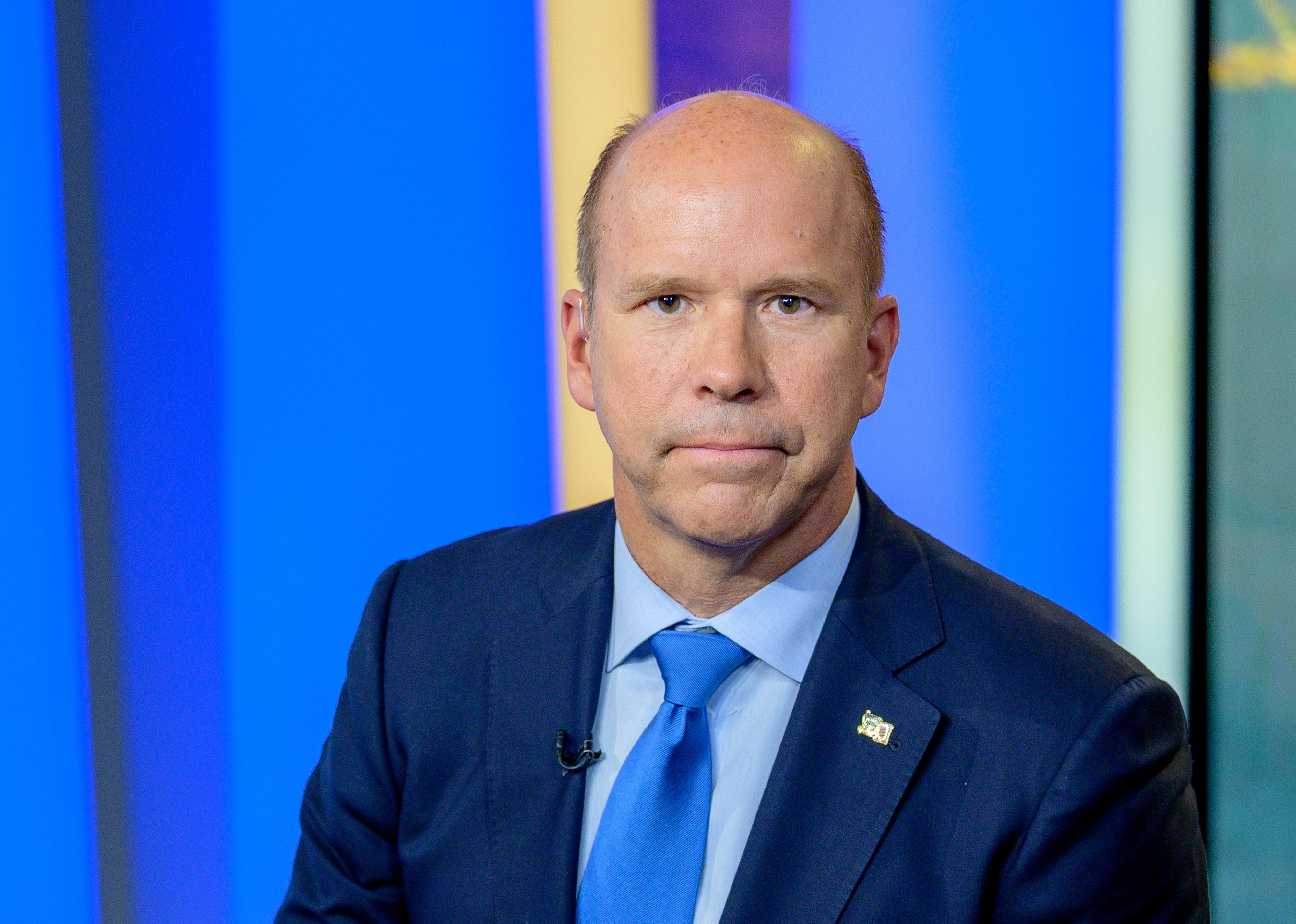 Roy Rochlin // Getty Images
John Delaney
– Net worth: $230 million
– Year(s) ran: 2020 (lost)
– Party: Democratic
Before being elected to the Maryland House of Representatives in 2012, Delaney made his fortune through the founding of two successful financial companies, Health Care Financial Partners and Capital Source. When Delaney attempted to capture the Democratic nomination in 2020, his campaign was self-financed to the tune of $15 million. Delaney's use of his personal finances even included trying to drum up new donations by pledging to donate $2 to charity for each new donor contribution, up to 100,000 new donors.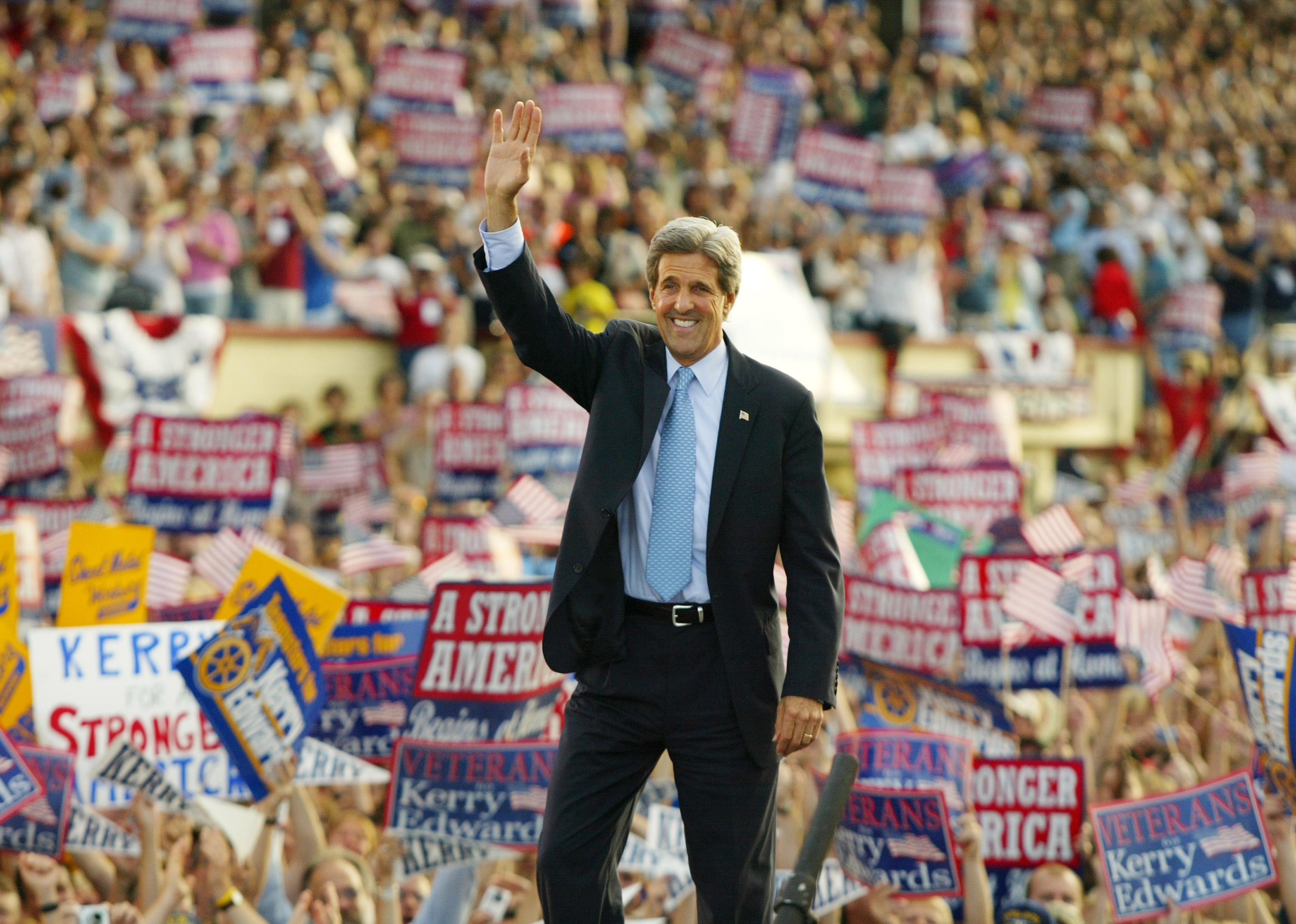 Richard Schultz // Getty Images
John Kerry
– Net worth: $250 million
– Year(s) ran: 2004 (lost)
– Party: Democratic
John Kerry was born into the kind of wealthy family that set him up well in life, but wouldn't have normally landed him on this list. His marriage to Teresa Heinz, heiress to the Heinz ketchup fortune, however, elevated Kerry's net worth beyond that of most presidential candidates. When Kerry married Teresa in 1995, he was independently worth a few million. By the time of his 2004 presidential loss, he was one of the wealthiest presidential candidates in history.
You may also like: The history of voting in the United States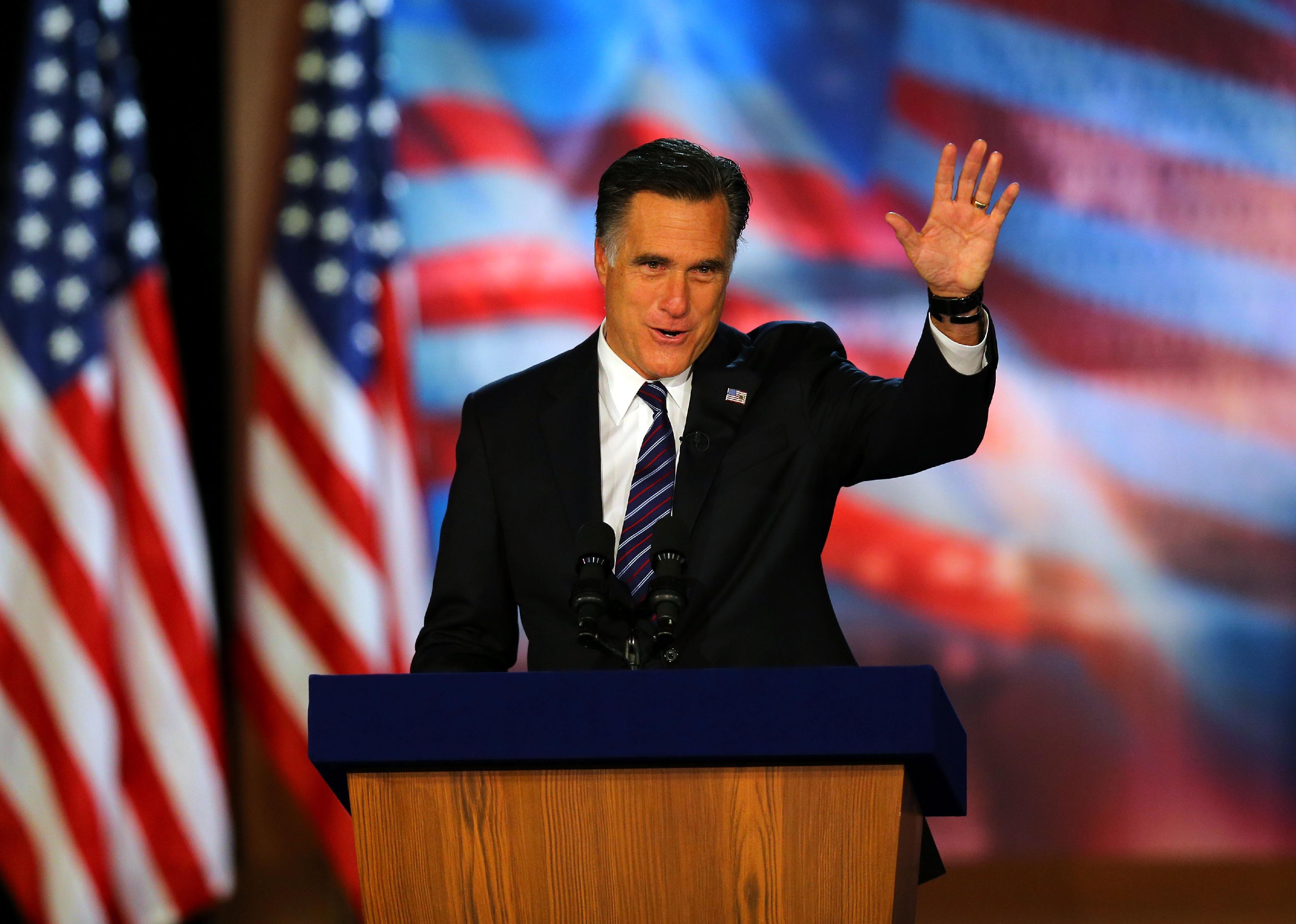 Joe Raedle // Getty Images
Mitt Romney
– Net worth: $300 million
– Year(s) ran: 2008, 2012 (lost)
– Party: Republican
Mitt Romney's considerable resources developed out of a successful business career in the 1970s and 1980s. In 1984 he formed Bain Capital, and through leveraged buyouts the company was able to accrue over $4 billion, hundreds of millions of which was paid out to Romney. During his failed 2008 presidential run, Romney poured $44 million—approximately $60 million today—of his own money into his campaign. During his 2012 run, that number dropped to just $75,000.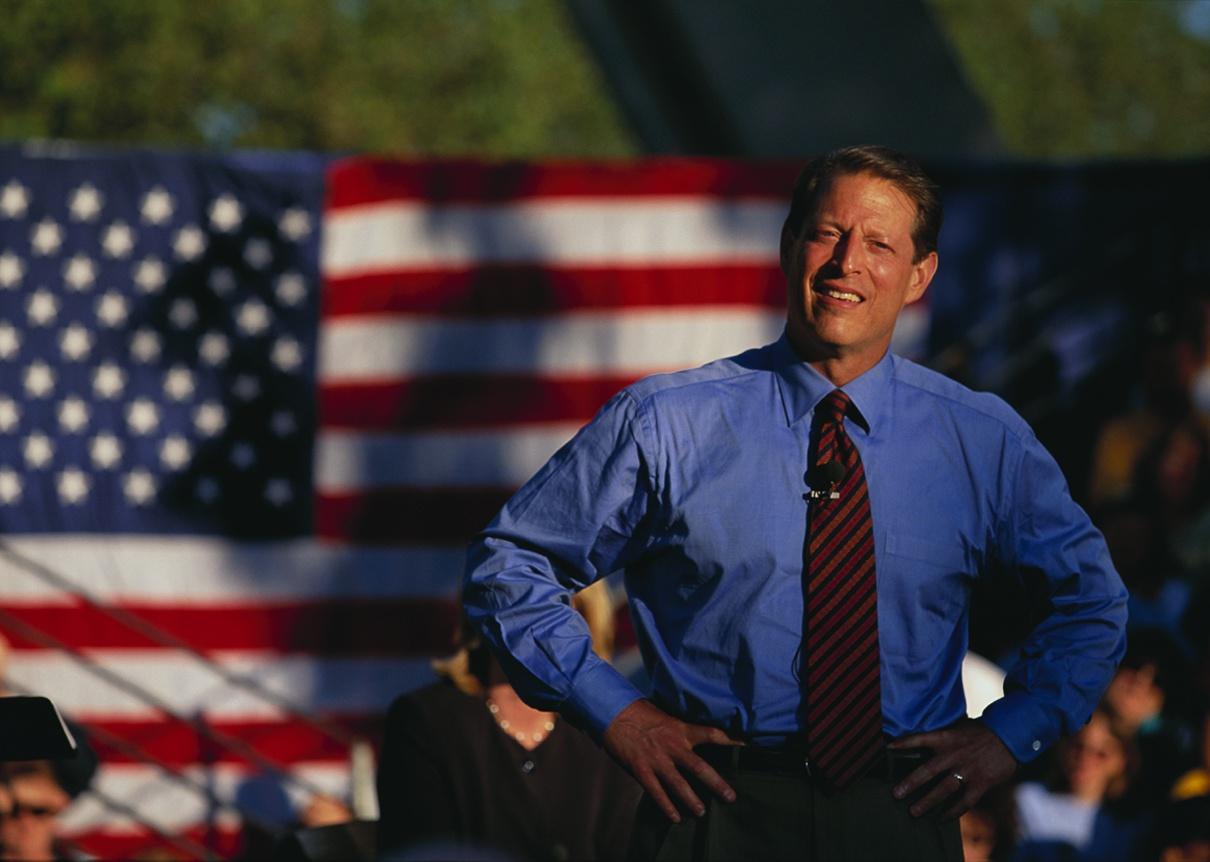 Brooks Kraft LLC/Sygma // Getty Images
Al Gore
– Net worth: $300 million
– Year(s) ran: 2000 (lost)
– Party: Democratic
Those that remember Al Gore as an influential environmental advocate may be surprised to see him so high on this list. Indeed, during Gore's presidential run, he was worth between $1.4 million and $2.5 million. Gore's colossal wealth came after his failed 2000 presidential bid, and involved his pivot to media entrepreneurship, and his founding of Current TV network in 2004. After selling the network in 2012, and exercising stock options at Apple he'd earned by serving on its board, Gore walked away with over $200 million, a fortune to which he has continued to add.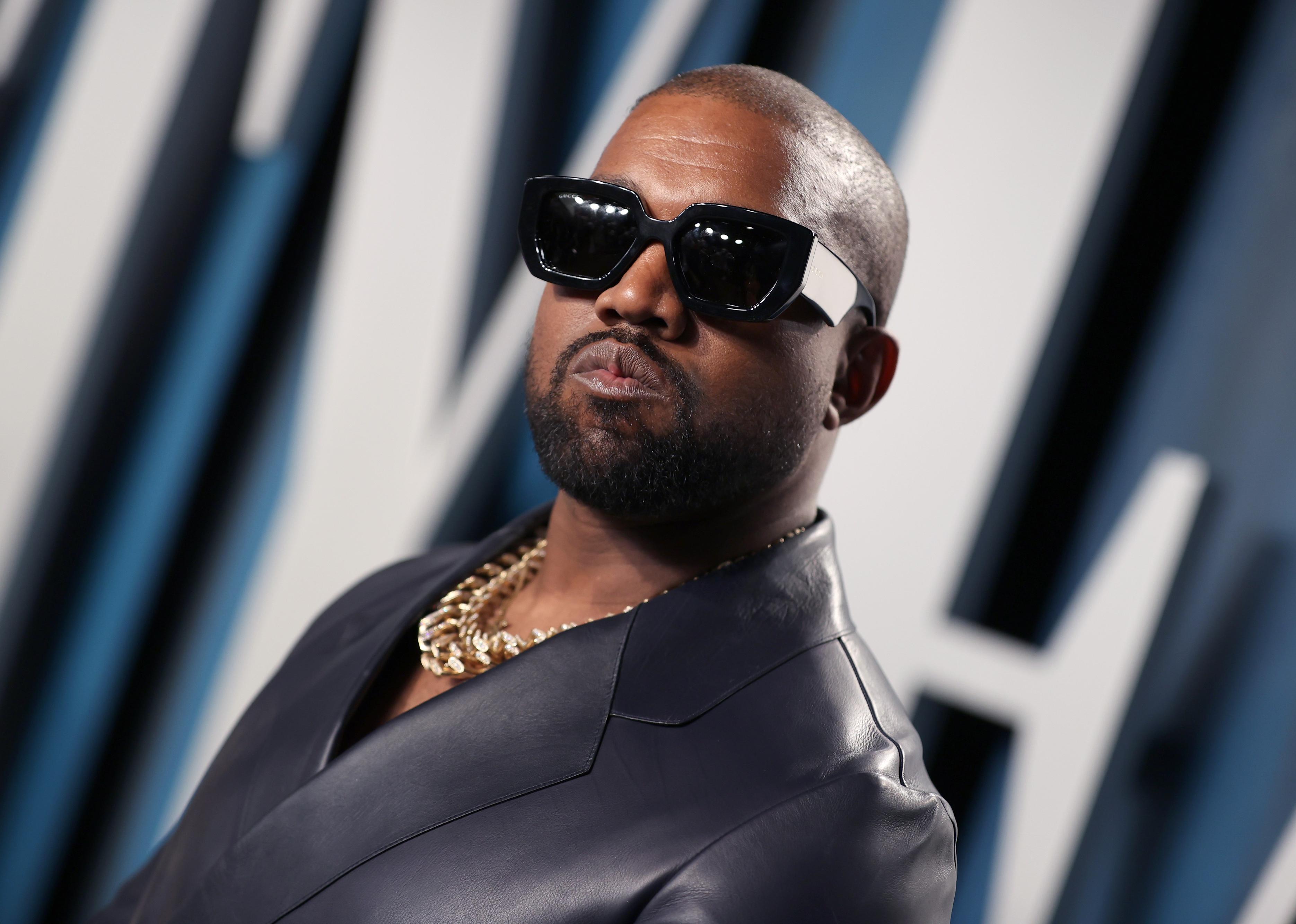 Rich Fury/VF20/Getty Images for Vanity Fair // Getty Images
Kanye West
– Net worth: $400 Million
– Year(s) ran: 2020 (lost)
– Party: Independent
If Kanye West's 2020 presidential run barely registers as a blip anymore—given the rapper's hateful and antisemitic rants—then perhaps you will not be surprised that it was ill-fated from the very beginning. In order to finance the run, West deployed the vast fortune he earned through a combination of his music catalog, his streetwear brand, and real estate assets. Spending $14.5 million of his wealth on the campaign earned him roughly 70,000 votes, a dismal showing that might repeat itself, as West has announced a 2024 campaign.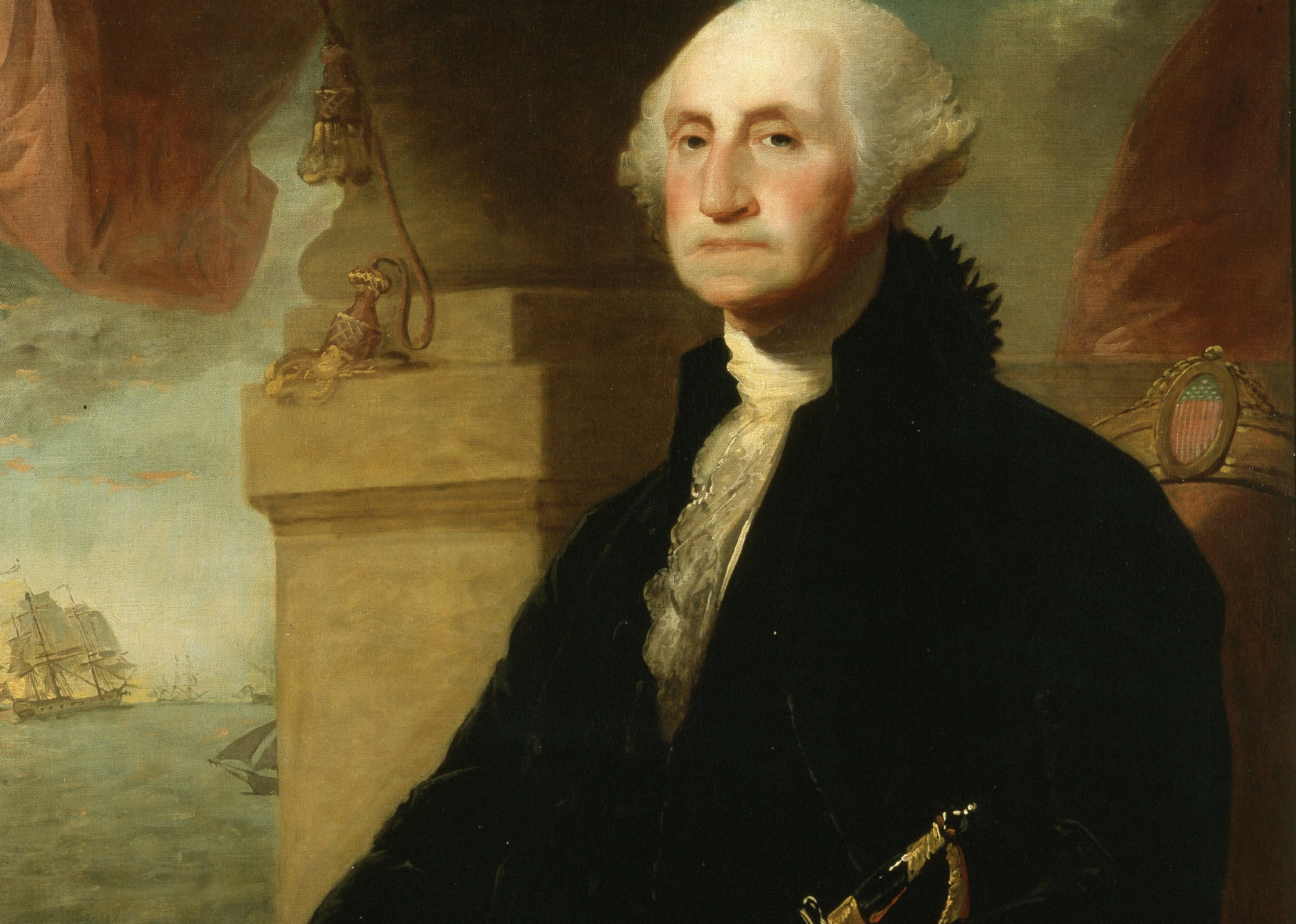 Smith Collection/Gado // Getty Images
George Washington
– Net worth: $525 million
– Year(s) ran: 1789 (won)
– Party: Independent
America's first president was also its second wealthiest. From humble beginnings, Washington amassed his wealth through the farming of his 8,000-acre property and enslavement of 123 people. Further wealth arrived from his wife Martha's inheritance and involvement in slavery, making Washington vastly wealthy by the time he assumed office. Moreover, Washington received a salary of $25,000 during his presidency, over $800,000 in today's money—a sum that accounted for 2% of the country's budget at the time.
Qamar Sibtain/The India Today Group via Getty Images // Getty Images
Jon Huntsman Jr.
– Net worth: $950 million
– Year(s) ran: 2012 (lost)
– Party: Republican
During his 2012 campaign, John Huntsman Jr. was worth nearly $70 million—money that was earned primarily by his billionaire father, John Huntsman Sr., who founded the Huntsman Corp., a chemical manufacturing firm, in the 1970s. Huntsman Jr. had to "prime the pump" of his own campaign with $2 million of his own money to keep his presidential run afloat, but it didn't make a significant dent in his finances. Since that run, Huntsman Jr.'s wealth has ballooned, a result of the inheritance he received from his father's passing in 2018.
You may also like: States with the most liberals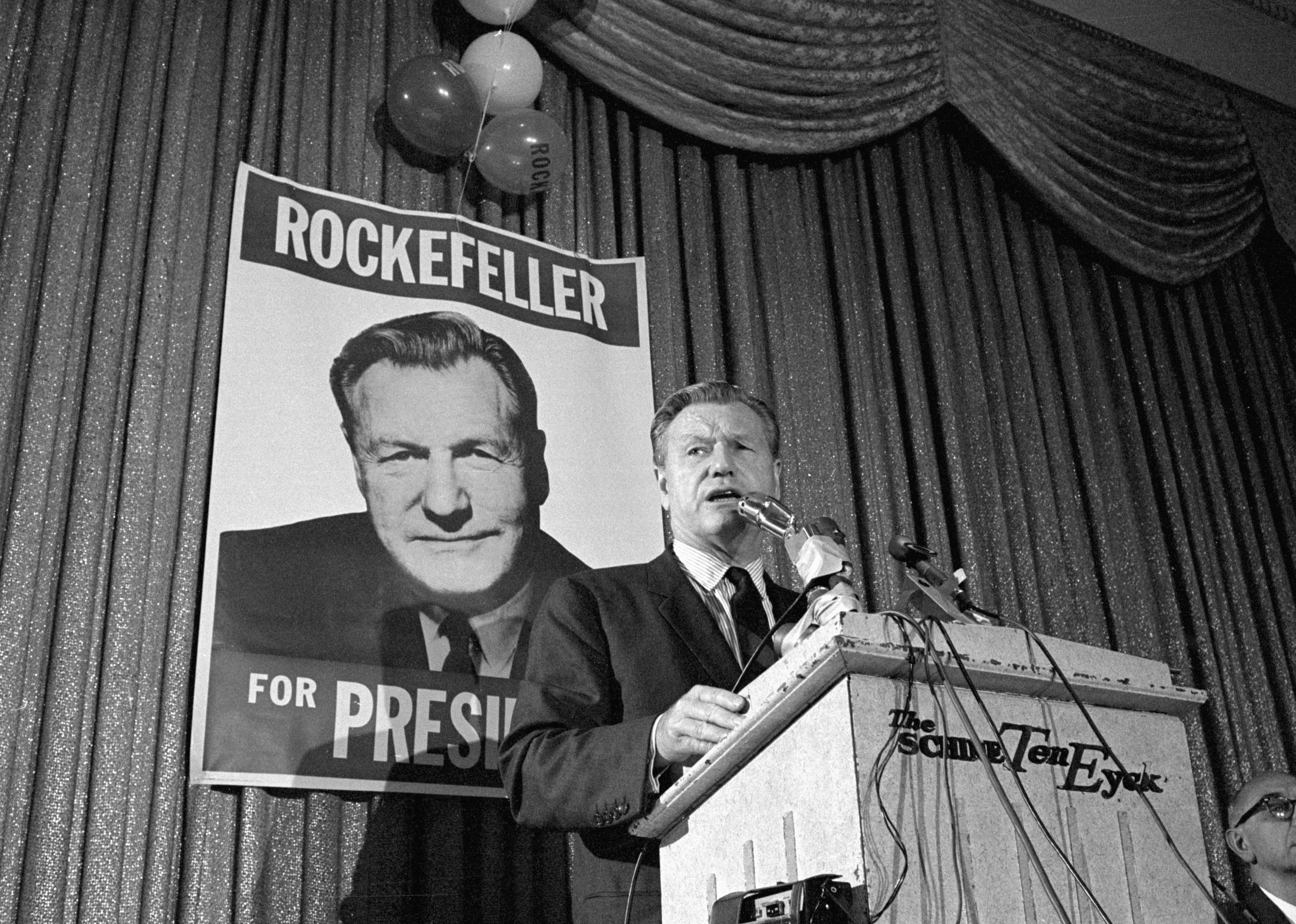 Bettmann/Contributor // Getty Images
Nelson Rockefeller
– Net worth: $1.1 billion
– Year(s) ran: 1960, 1964, 1968 (lost)
– Party: Republican
Sporting the last name and inheritance of one of America's richest familial dynasties, Nelson Rockefeller attempted to capture the Republican nomination for president three times, failing each time. His grandfather John D. Rockefeller co-founded Standard Oil—a company that would make him the richest man in American history, and would provide Nelson with ample resources to pursue business and public-service experience. Nelson went on to serve 14 years as governor of New York, and three years as vice president of the United States—having been appointed to the role by Gerald Ford in 1974, rather than elected on a ballot.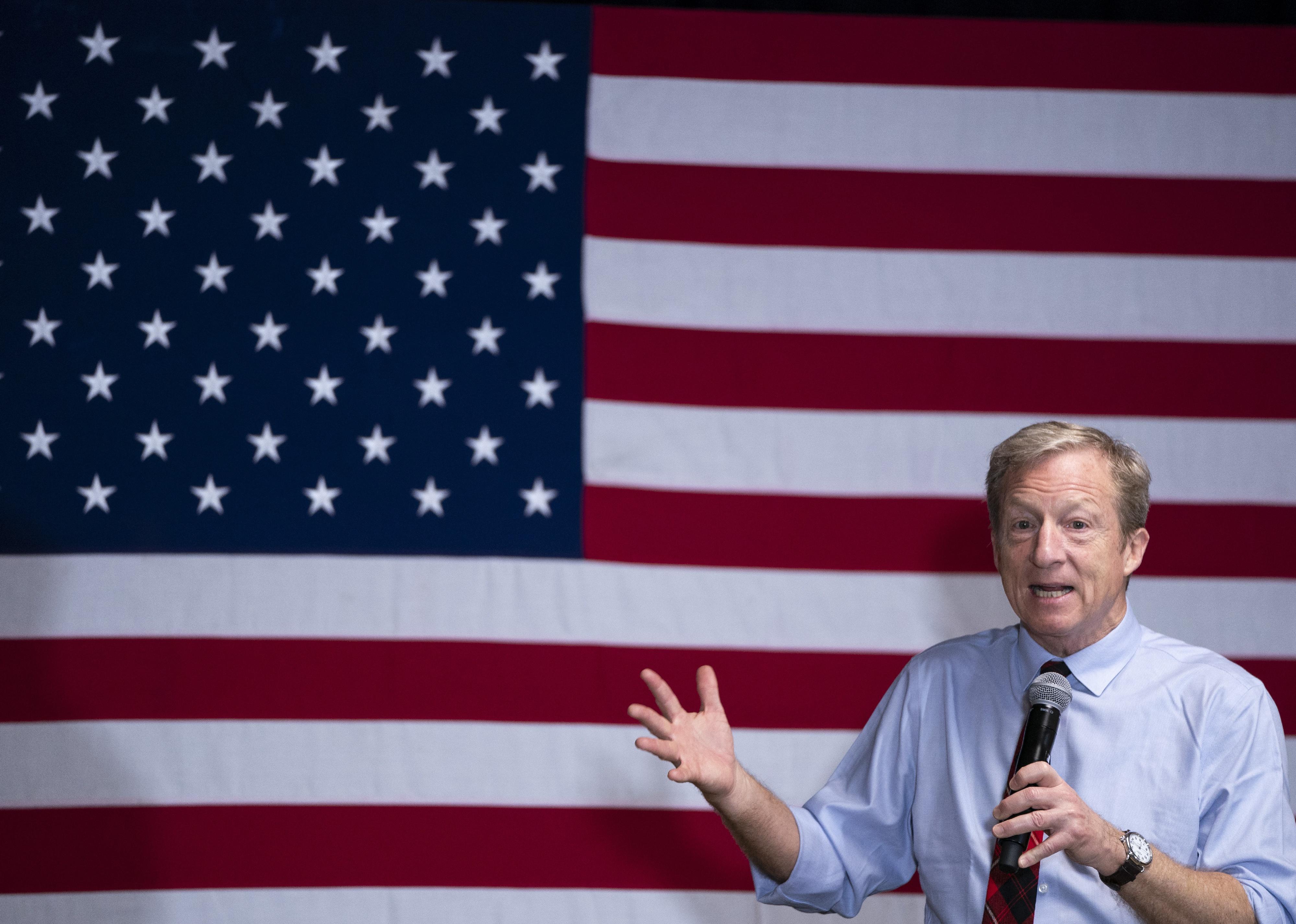 Drew Angerer // Getty Images
Tom Steyer
– Net worth: $1.6 billion
– Year(s) ran: 2020 (lost)
– Party: Democratic
Tom Steyer's massive fortune came from 26 years of running Farallon Capital, a hedge fund he founded in 1986 to enormous success. Though many of his profits were made from oil companies, Steyer would go on to spend over $300 million on his own campaign, which focused on environmental issues and the motivation to unseat then-incumbent President Donald Trump. Those efforts, however, netted him little success, and he dropped out only eight months after launching his campaign.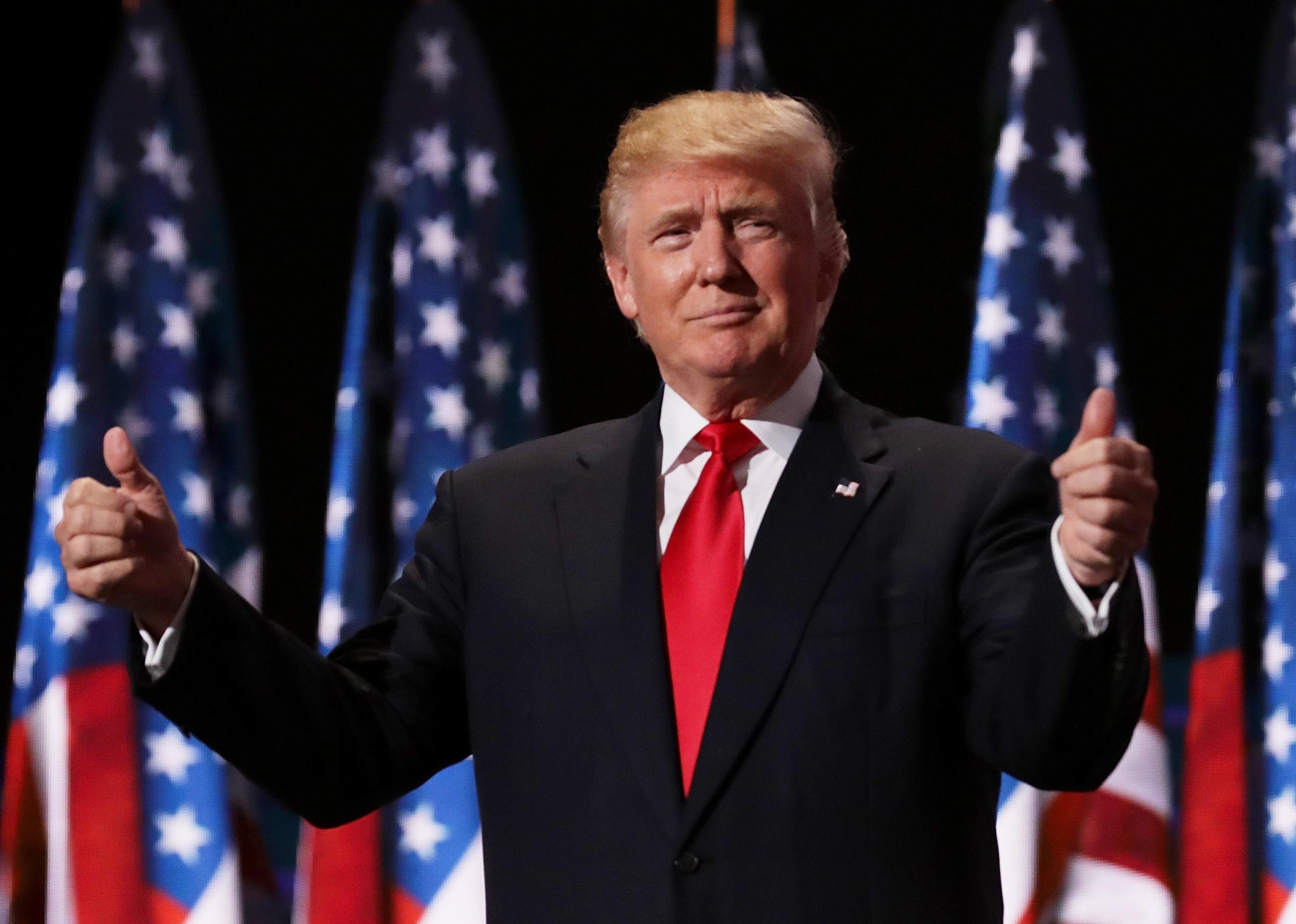 Chip Somodevilla // Getty Images
Donald Trump
– Net worth: $3.2 billion
– Year(s) ran: 2016 (won), 2020 (lost)
– Party: Republican
Always the elephant in the room, Donald Trump currently ranks at #912 on the Forbes Real-Time Billionaire List. Though his business ventures have spread far and wide, Trump's wealth derives primarily from his New York City real estate holdings. He spent $66 million of his own money on his 2016 campaign. Many investigative journalists have delved into the sources of Trump's wealth, and how significantly he was helped along by his millionaire father Fred Trump and clever tax attorneys. Suffice it to say that Donald, like many other presidential candidates on this list, didn't get to where he is on his own.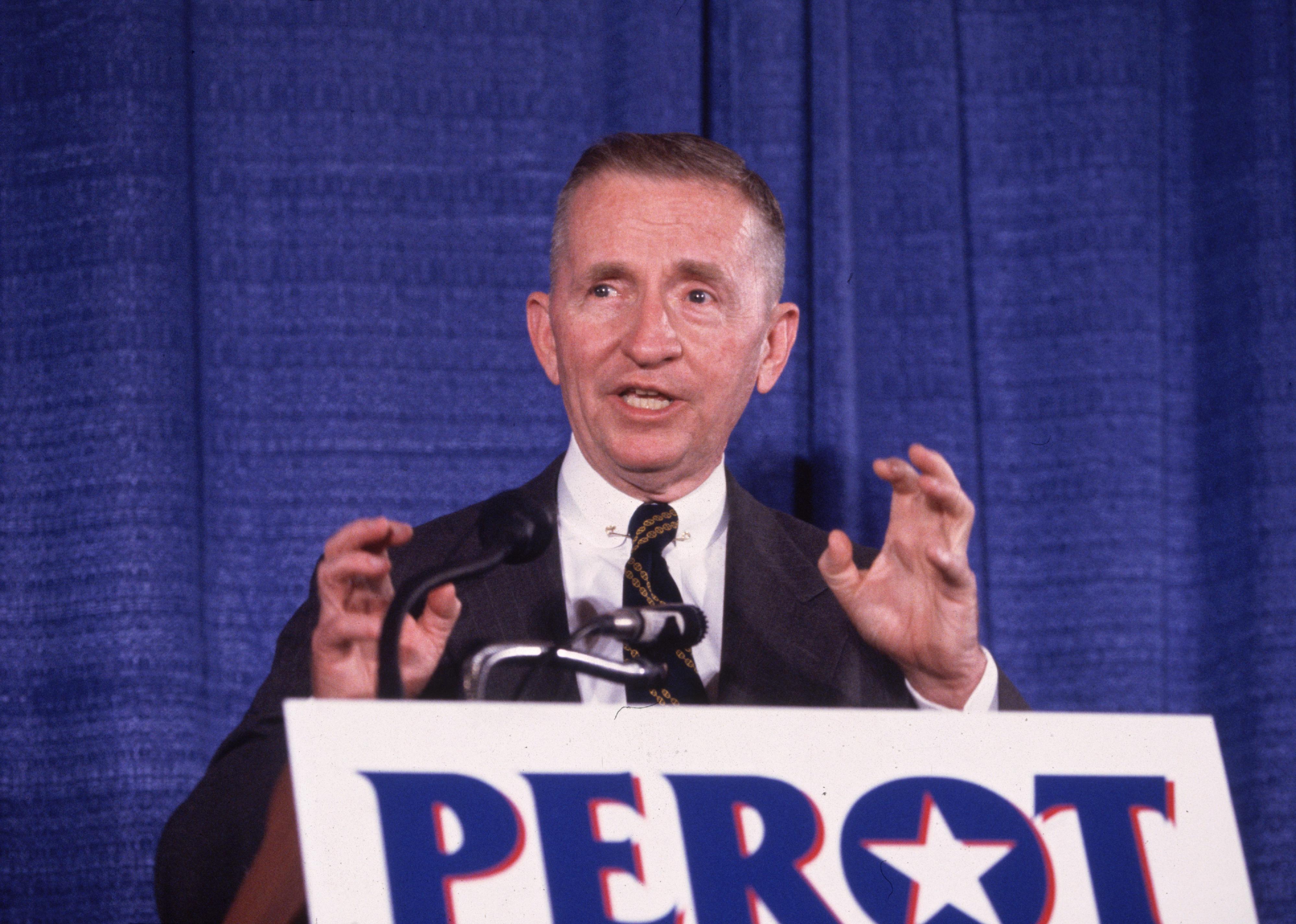 Arnold Sachs/Consolidated News Pictures // Getty Images
Ross Perot
– Net worth: $3.8 billion
– Year(s) ran: 1992, 1996 (lost)
– Party: Independent, Reform, Republican
Coming in second place, Ross Perot made his money in the early stages of the computer business, starting out at IBM before founding his own company, Electronic Data Systems, in 1962, which he then sold to General Motors in 1986 for $1.5 billion. Both of his presidential runs he self-financed, and in 1992 he pulled in 19% of the popular vote. His campaigns included half-hour civic infomercials, intending to illustrate his plans for the nation and explain his views to the American people.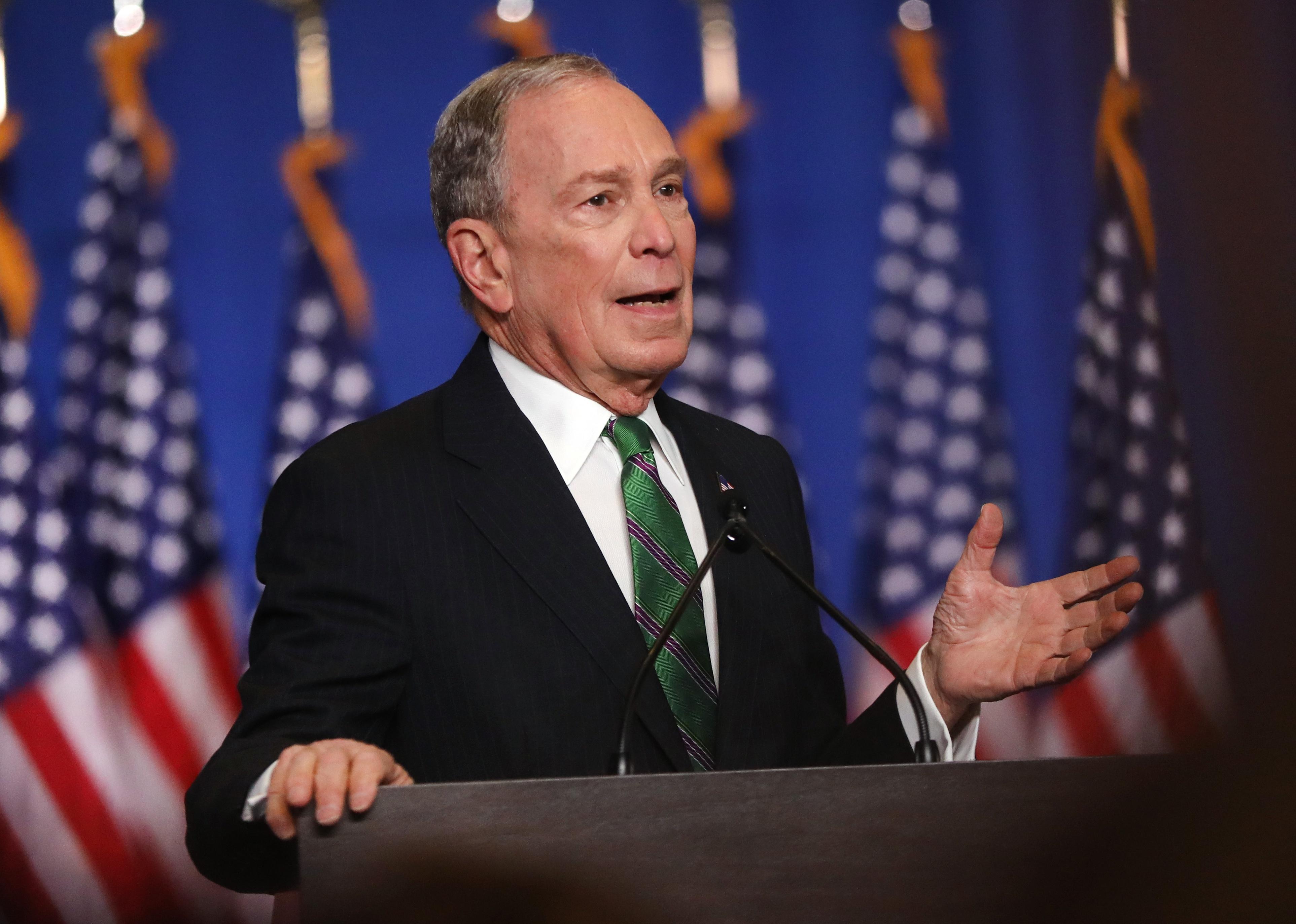 Spencer Platt // Getty Images
Michael Bloomberg
– Net worth: $76.8 billion
– Year(s) ran: 2020 (lost)
– Party: Democratic, Independent, Republican
Currently ranking as the 14th wealthiest person in the world, Michael Bloomberg is also the wealthiest person to ever run for U.S. president. Starting out with an entry-level Wall Street job in 1966, Bloomberg went on to co-found the media and financial information company Bloomberg LP, which has an estimated revenue of $12 billion, and of which Bloomberg has 88% ownership. Bloomberg spent more than $1 billion in just over three months on his failed 2020 presidential campaign—more money than any candidate in history.
You may also like: States with the most conservatives
More Stacker National