Nearly 119 million watched Rihanna's Super Bowl halftime show—here's how that really compares to past performances
Published 4:00 pm Wednesday, February 15, 2023

Mike Coppola // Getty Images
Nearly 119 million watched Rihanna's Super Bowl halftime show—here's how that really compares to past performances
Rihanna's Super Bowl halftime show Sunday dazzled in more ways than one.
For starters, the Barbados-born singer became the first performer to take the Super Bowl halftime stage pregnant—a fact she hinted at in an interview before the show.
Next up are the viewership numbers. Rihanna's performance, which included plenty of her most popular bops such as "Only Girl (In the World)" and "Umbrella," was seen by 118.7 million viewers across linear television and streaming, according to figures released Monday by Fox.
Fox noted in its release that Rihanna's show drew the highest number of viewers since Katy Perry's 2015 performance (which featured the awkward dancing of the famous Left Shark), becoming the second most-watched Super Bowl halftime show on record with 118.7 million viewers. The network neglected to mention Perry's exact total; however, other news outlets have reported that Perry's performance pulled 121 million viewers. Stacker combined Fox's released data with other Nielsen data compiled via news reports and press releases to gauge the viewership of Super Bowl halftime shows since 2011, the earliest year with readily available figures.
So, then, how does Rihanna's performance stack up to past halftime shows—at least ranked according to television viewership? Let's dig in.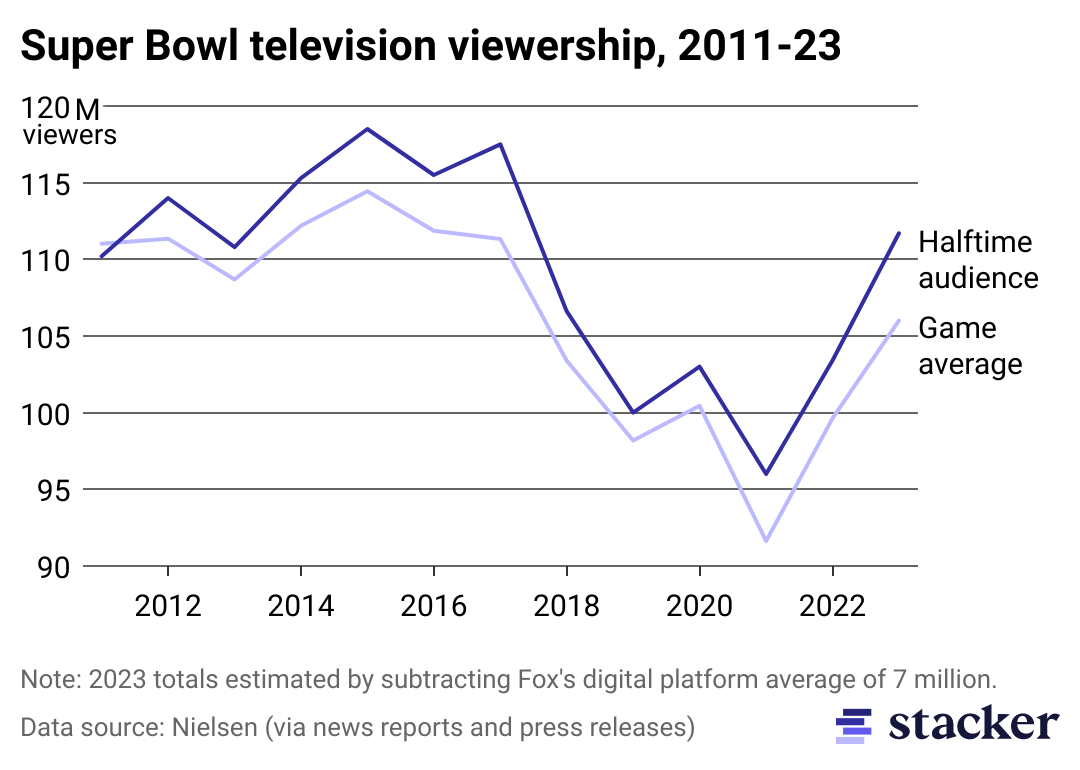 Stacker // Jared Beilby
Rihanna helped bring Super Bowl viewership out of a dip
The biggest takeaway from Rihanna's performance—and the game as a whole—is that it was a return to form.
After Lady Gaga performed at Super Bowl LI in 2017 (where the New England Patriots staged the improbable 28-3 comeback over the Atlanta Falcons to win 34-28 in overtime), television viewership for the halftime show and the game dwindled. The numbers reached a low point in 2021, when an average of 91.6 million tuned into the game and around 96 million saw the Weeknd get lost in a fun house maze. The 2021 game was ultimately a 15-year low.
Of course, those are linear television figures, which don't capture streaming totals. Streaming has been steadily on the rise since the New York Giants' second victory over the Patriots in 2012 became the first Super Bowl with an online streaming option. This year reached a new high with an average of 7 million streams. However, past streaming totals don't capture the halftime show's viewership for earlier Super Bowls. This data also doesn't factor in co-viewing from multiple devices.
Regardless of the angle, Rihanna crushed it. With 118.7 million viewers tuning in for her performance across television and streaming, the self-made billionaire set a new benchmark for the halftime show. Even if you subtract this year's 7 million streaming figure from 118.7 million, Rihanna's show marks one of the strongest-performing halftime shows since 2017. But the raw numbers don't tell the full story.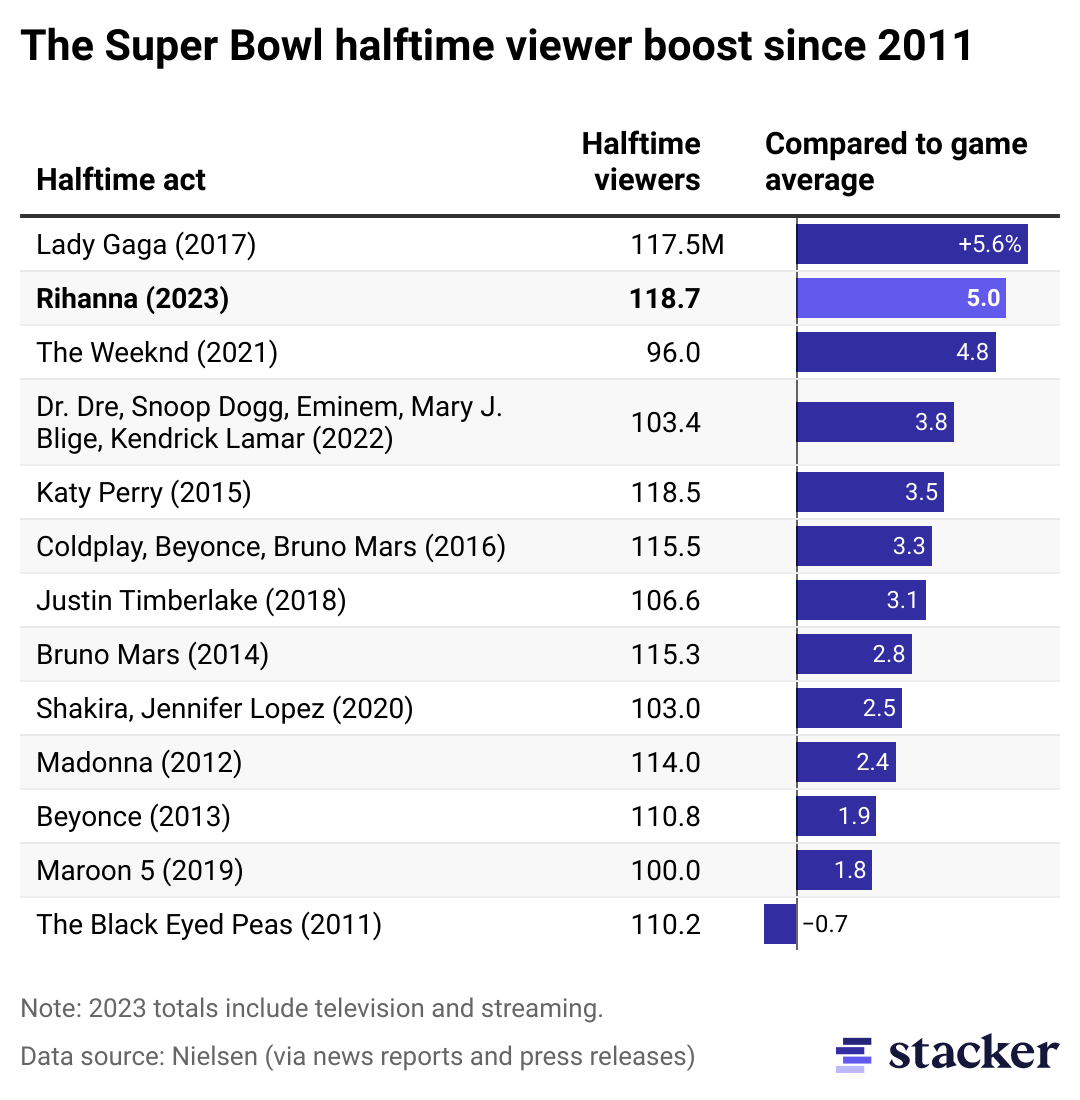 Stacker // Jared Beilby
When accounting for the average number of viewers across the whole game, Rihanna still pulled impressive figures
Halftime show viewership strongly correlates to the number of overall viewers the game averages (see the first visual in this story). This makes it difficult to compare the value of raw halftime figures year-to-year. Instead, a better metric is to take the halftime show audience and divide its difference by the game's overall average. This (usually) generates a growth figure that makes comparing shows from various years easier, which is especially important when networks are changing how they incorporate streaming data into their viewership totals.
Calculated this way, Rihanna's show still dominates. Her halftime performance drew in 5% more viewers than the Kansas City Chiefs and Philadelphia Eagles averaged throughout the game. That is the second-highest figure since the earliest data available in 2011, trailing only the 5.6% bump Lady Gaga scored in 2015.
It's also worth noting that, on average, the halftime show draws 3.1% more viewers than the rest of the game. Rihanna bested that average by a solid 65%, meaning her appearance at the Super Bowl had well beyond the impact of a normal halftime show.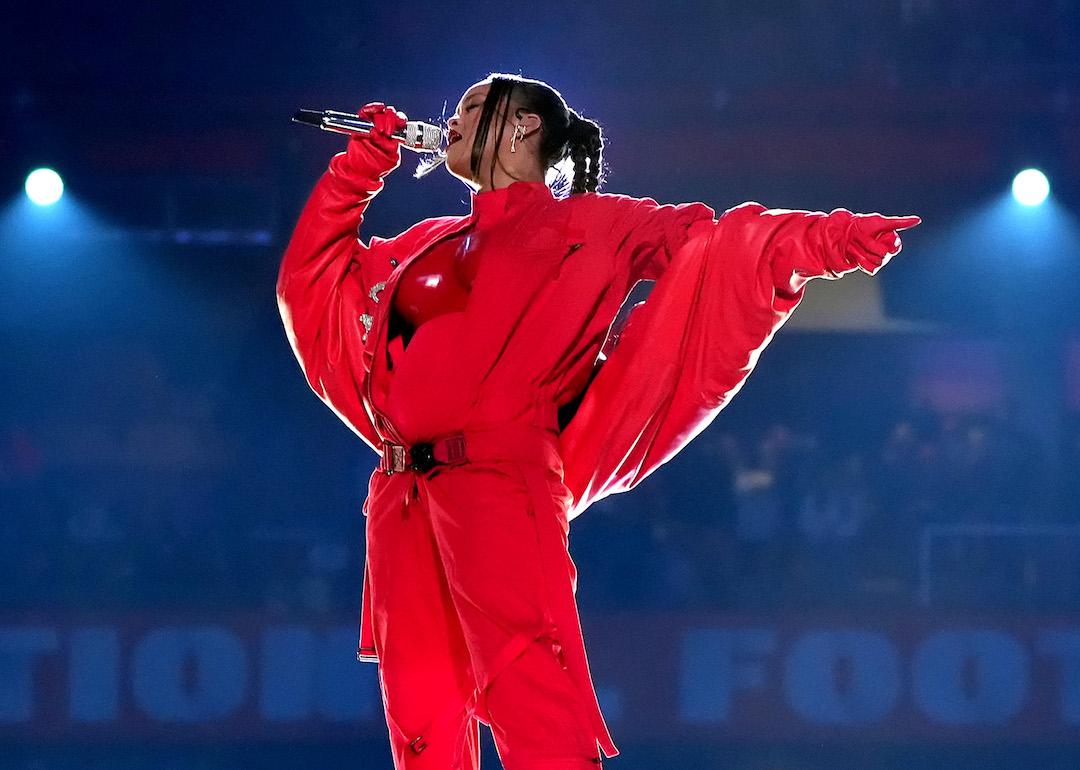 Kevin Mazur // Getty Images
What does this all mean for Rihanna?
The lofty numbers are a feather in the cap for Rihanna's career. But what does she gain from her performance?
The NFL will certainly benefit in future Big Games—ads this year cost a record $7 million per 30-second spot. The increased viewership totals from Sunday's broadcast will drive that number higher in the future.
However, the NFL doesn't pay Super Bowl halftime performers. This means Rihanna isn't generating direct revenue despite engaging more viewers than most previous halftime performers.
Instead, she'll get a boost in other ways. Rumors are swirling that Apple—which stole the halftime show sponsorship from Pepsi for a reported $50 million—is paying Rihanna millions to participate in a behind-the-scenes documentary about the Super Bowl halftime show. On top of that, Rihanna's Savage x Fenty clothing line dropped a football-themed collection last month, and she teamed up with Mitchell & Ness to produce Super Bowl-themed merch.
So, even if Rihanna isn't getting direct compensation from the NFL for her record-smashing performance, the hype generated from the halftime show will help line her pocketbook in other ways. Plus, wowing nearly 119 million people isn't bad, no matter how you slice it.
More Stacker National