More than 11% of Americans may not be receiving the mental health care they need, data shows
Published 9:00 pm Tuesday, February 21, 2023

Chinnapong // Shutterstock
More than 11% of Americans may not be receiving the mental health care they need, data shows
In the United States, mental health support is more accessible than ever thanks to the expansion of telemedicine. Still, a survey of almost 54,000 Americans found that more than 1 in 10 respondents don't receive the help they need. The barriers some people face in obtaining appropriate mental health care are overt—they're financial, geographic, and socioeconomic. For others, their barriers are invisible, burdened by stigma and discrimination.
Despite greater access to support, albeit unequal access, America is facing a mental health crisis. Even in the best-case scenario, in which every American who needs support seeks it out, the U.S. health care system is overburned, understaffed, and unable to meet that demand.
While the onset of the COVID-19 pandemic led to increased clinical depression and anxiety among Americans, reported cases and related symptoms decreased from peak pandemic levels as lockdowns and other restrictions eased. Those continuing to suffer from a lack of support today are historically marginalized communities like LGBTQ+ people and rural communities, or segments of the population assumed not to be at risk of mental illness, including young adults and children.
In December 2021, the U.S. surgeon general issued a public health advisory to specifically address the youth mental health crisis, citing a 40% increase in feelings of sadness and hopelessness among adolescents over the last decade. In 2022, the Preventive Service Task Force—an independent, volunteer panel of medical experts—recommended screening all children between the ages of 8-18 for anxiety. Nearly 8% of children and adolescents between the ages of 3 and 17 presented with an anxiety disorder, according to the 2020 National Survey of Children's Health, released in 2021.
States of loneliness, anxiety, or hopelessness are, of course, not uniquely manifestations of youth. The World Health Organization found a 25% increase in anxiety and depression across the globe amid the restrictions brought on by the pandemic. A study conducted by insurance provider Cigna found that, post-pandemic, nearly 3 in 5 adult respondents (58%) actively experience loneliness; these findings are not far removed from the estimated 61% of adults that reported the same feelings before COVID-19's onset. Further research published in October 2021 in the Lancet suggests that depression now affects about 1 in every 3 American adults.
To find out more about how adult populations are being affected, Sana cited data from the Census Household Pulse Survey weighted by the Centers for Disease Control and Prevention to examine trends in who reports receiving the mental health care they need. The data used in this story was collected between April and May 2022. Although more recent surveys are available, they have not yet been processed to consider weighted sample sizes.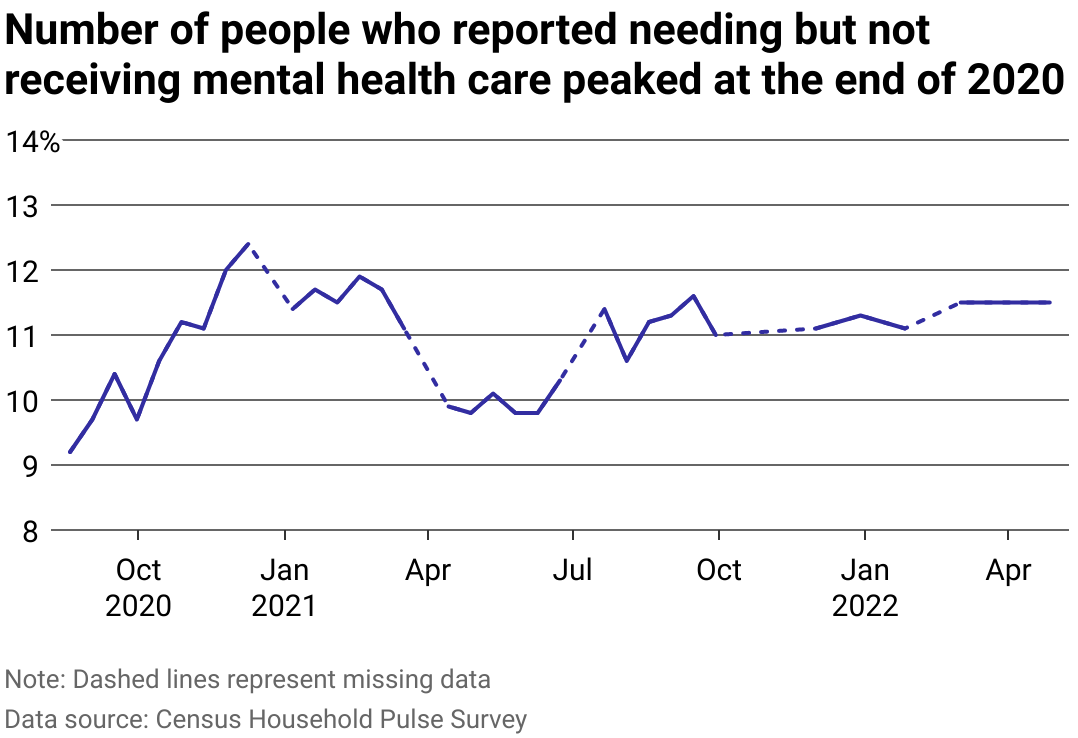 Sana
US average
Although a significant portion of the U.S. population is not currently receiving the mental health care they require, there have been blips of progress in recent years. The percentage of people seeking treatment during the pandemic increased from 19.2% to 21.6%, according to the CDC. But this increase in sought-after treatment was likely not happening across all demographics. When viewed through a racial lens, discrepancies between mental health care needs and treatment received highlight the significant cultural barriers many Americans face.
A further dissection of Census Household Pulse Survey data found that a greater percentage of Black and Hispanic or Latino Americans needed therapy but did not receive it. Hispanic/Latino culture is a broad, diverse community comprised of many languages and origins; both language and economic disparity can be barriers to gaining treatment. Moreover, Hispanic/Latino individuals diagnosed with mental illness may face cultural stigma within their communities. Many in Black communities have reported that mental health, particularly mental illness, can be viewed as something that should be discussed and dealt with privately. One factor contributing to this is a distrust of the medical establishment as a whole, stemming, in part, from a longstanding history of misdiagnosis and preferential consideration afforded to white, generally more affluent, patients.
As for Asian Americans and Pacific Islanders, the CHPS found that even though more of these individuals received treatment than did not, overall they represented less than half of those people seeking treatment in either the Black or Hispanic/Latino communities. AAPI is, like Hispanic/Latino, a very widespread designation. Social pressure and negative stigma are significant barriers for AAPI people to even seek therapy, let alone secure it.
Such attitudes among minority communities coalesce into even larger, more damaging stigmas that prevent people from getting the professional help they require. Finding a mental health professional who understands and can adapt treatment to one's culture can be limiting, if not impossible, for some people.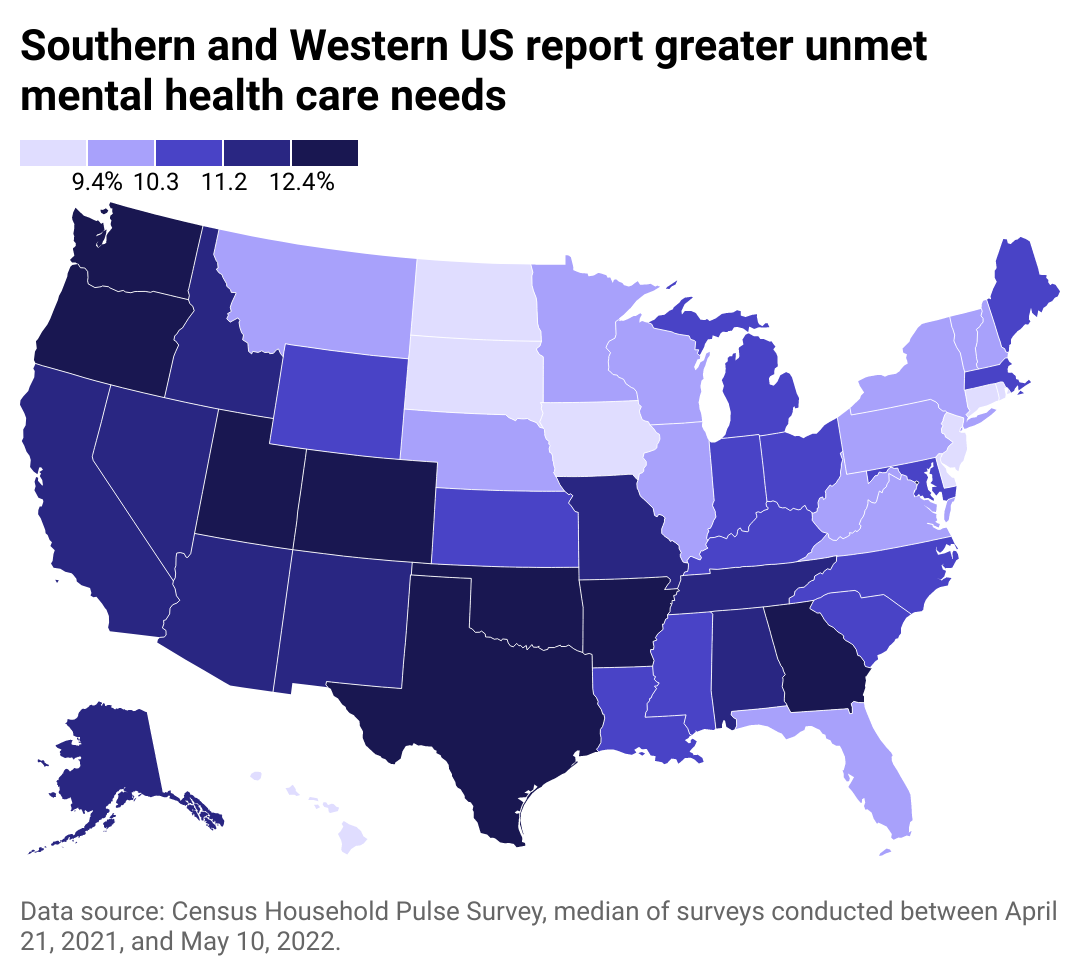 Sana
Differences across states
The U.S. is contending with a shortage of mental health care professionals. More than 3 in 4 U.S. counties don't have a mental health care provider, and patients face wait times of weeks or even months. Western and Southern states are among those with the greatest number of health care professional shortage areas, which are designated based on the number of mental health professionals relative to the population. To be considered a mental health care shortage area, the population-to-provider ratio must be at least 30,000 to 1 or 20,000 to 1 in high-needs communities. More than 4 in 5 rural counties in the U.S. lack adequate mental health care service compared to 36% of more populated metropolitan regions.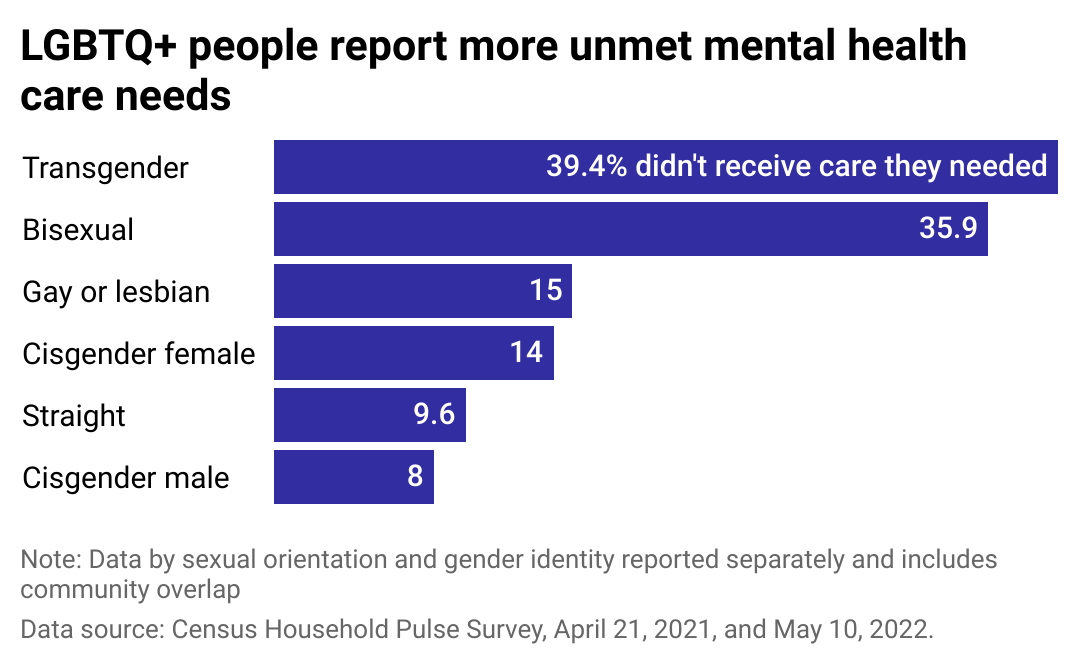 Sana
LGBTQ+ people
LGBTQ+ people report discrimination as a primary reason for not seeking necessary mental and physical health care. Reports of discrimination and its adverse effects are often highest among transgender individuals.
Three in 5 transgender people report facing discrimination in their personal or professional lives—about twice the rate of the whole surveyed LGBTQ population—according to a 2020 study from the Center for American Progress. While 15% of LGBTQ+ people reported postponing medical care, including mental health care, to avoid discrimination, transgender Americans postpone at twice that rate. LGBTQ+ people face not only discrimination but a lack of access to professionals who are knowledgeable about LGBTQ+ issues.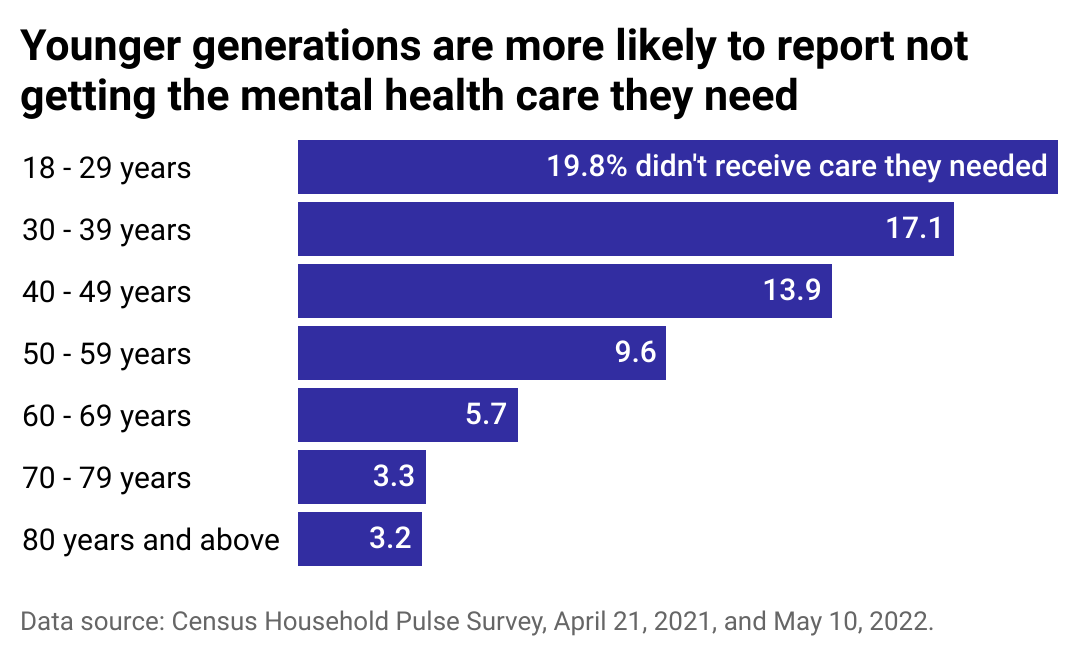 Sana
Younger generations
Young adults ages 18-29 were more likely than any other age group to experience high levels of psychological distress, according to a Pew Research Center analysis of CDC survey data collected between March 2020 and September 2022. Research has shown they are also the loneliest age group, with more than 3 in 5 (61%) saying they feel lonely frequently or all of the time. Loneliness can lead to serious physical and mental health issues, including depression, anxiety, substance use, and heart disease. And yet, they are the least likely to receive appropriate mental health care. Apathy is one of the biggest barriers young people face when accessing mental health care in the U.S.
Respondents who are older members of Gen Z—a cohort that ranges between the ages of 11 and 26—are less likely than older generations to maintain their health proactively, according to a 2022 McKinsey survey. They were the generation least motivated to improve their health and the least comfortable talking about behavioral health with professionals, all while being more likely than any other generation to have a behavioral-health condition, depression, and anxiety. Cost is another major barrier younger generations face when seeking mental health support, with roughly 1 in 4 Gen Z respondents saying they could not afford mental health services.
This story originally appeared on Sana and was produced and
distributed in partnership with Stacker Studio.
More Stacker National