Homeowners reach for equity credit lines over refinancing as interest rates climb
Published 4:15 pm Wednesday, February 22, 2023

tokar // Shutterstock
Homeowners reach for equity credit lines over refinancing as interest rates climb
As inflation and rising interest rate concerns moved to the front of Americans' minds, the hot trend of mortgage refinancing cooled and gave way to a growing tendency of homeowners to take out home equity loans.
Experian examined origination data from the third quarter (Q3) of 2022 for home equity lines of credit (HELOCs) and refinance loans to see how lending activity has changed since the Federal Reserve began raising interest rates in March 2022.
When the COVID-19 pandemic first hit the U.S. in March 2020, the Federal Reserve quickly slashed interest rates in order to lessen the cost of borrowing money. The intended goal was to head off a deep recession by keeping people spending and the economy moving.
A historically low federal funds rate of nearly 0% gave lenders room to lower interest rates on loans. That included refinancing loans, which are used when a homeowner replaces their current mortgage with a new mortgage—typically one with more favorable terms. Refinancing a mortgage can be done with the existing or new lender, and typically entails paying one-time fees and closing costs.
Nearly 1 in 4 homeowners in the U.S. refinanced their mortgage in 2021, according to a May 2022 report from the Federal Reserve. That's a higher rate than in 2020, which saw 1 in 5 homeowners refinance. Households with at least six-figure incomes were almost twice as likely than those making under $50,000 to have refinanced their mortgage in 2021, according to the Fed. 
After the Federal Reserve began raising interest rates in March 2022, homebuying activity slowed tremendously, falling for the last 11 months of 2022, according to Zillow. Experian data from Q3 2022—the most recent data available—found that refinancing activity also slowed, falling by 93% nationwide in the first nine months of 2022.
At the same time, a jump in home equity value provided a substantial boost to existing homeowners, who saw their property values remain near pandemic peaks in the first half of 2022, giving them substantial equity against which to take out loans. The Federal Reserve estimates housing wealth in the U.S.—measured by home equity value—increased by almost $9 trillion from the start of 2020 through Q3 2022.
In many areas of the country, especially in the West, the overheated home prices are starting to cool, and home values in some markets actually fell in Q3 2022. Home prices may drop as much as 15% to 20% in 2023 in the worst-case scenarios projected by the Federal Reserve Bank of Dallas.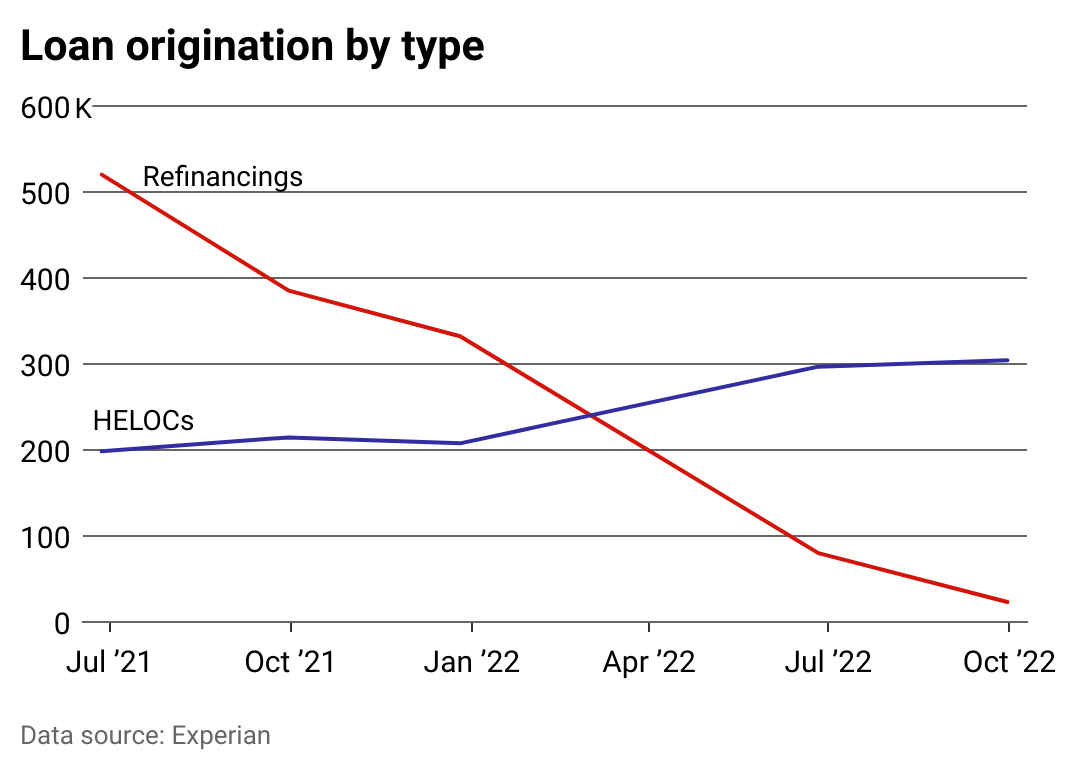 Experian
HELOCs rise, refinancing falls during the same period
Mortgage refinancing activity in the first nine months of 2022 was down, especially across the West, where home prices spiked since the pandemic began. (Thank investors, remote work trends, and low interest rates). In the same span of time, the number of home equity loans taken out by homeowners rose by about 48%, according to Experian data.
A HELOC allows homeowners to take out a line of credit using their home as collateral. The total amount a homeowner can borrow with a HELOC is based on the value of the home, the amount of equity the homeowner has as well as a host of other factors such as the owners' credit score.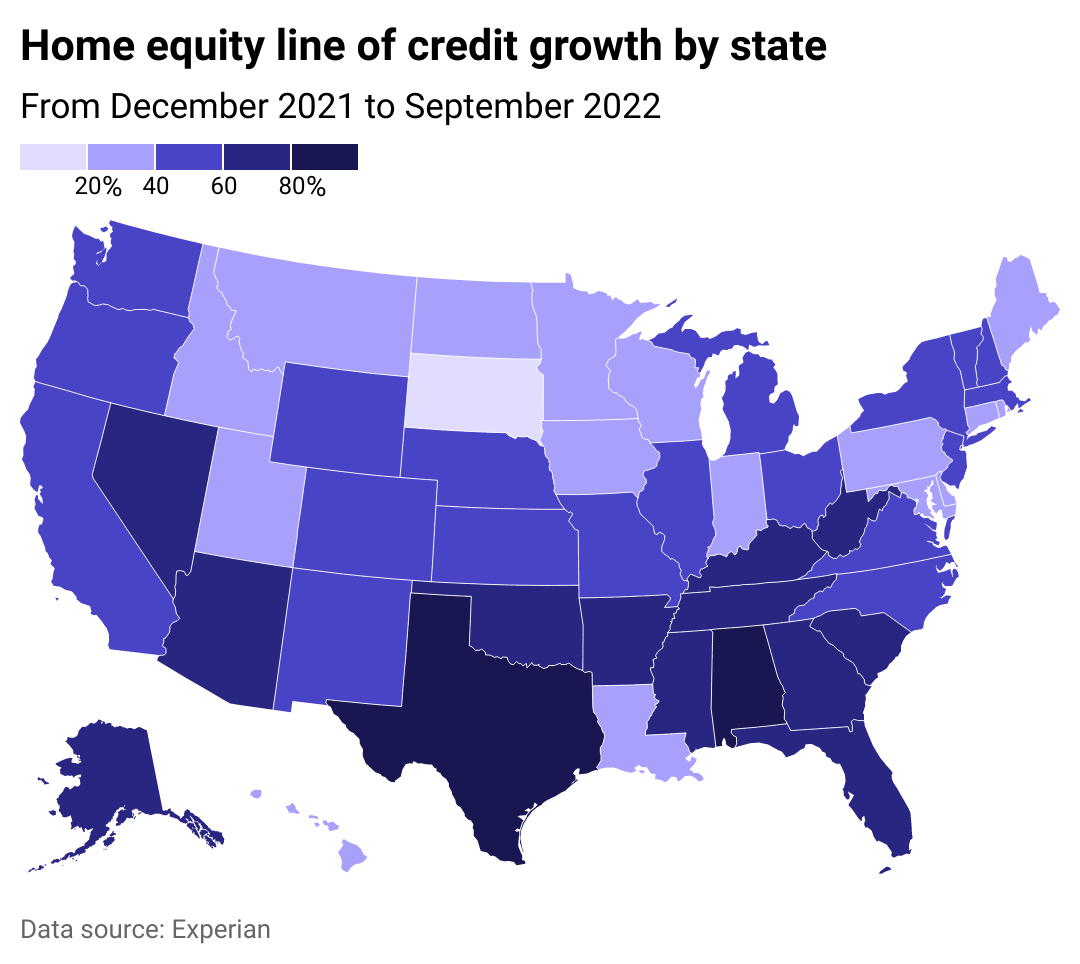 Experian
Home equity borrowing on the rise in every state
Alabama and Texas led the nation for the most growth in HELOCs since interest rates began rising. Two of the country's most populous states—Florida and Texas—saw at least 70% growth in HELOCs over the same period. South Dakota and Washington, D.C., had the lowest increases in HELOCs with only 13% growth, followed by Utah and Hawaii, with 20% growth each.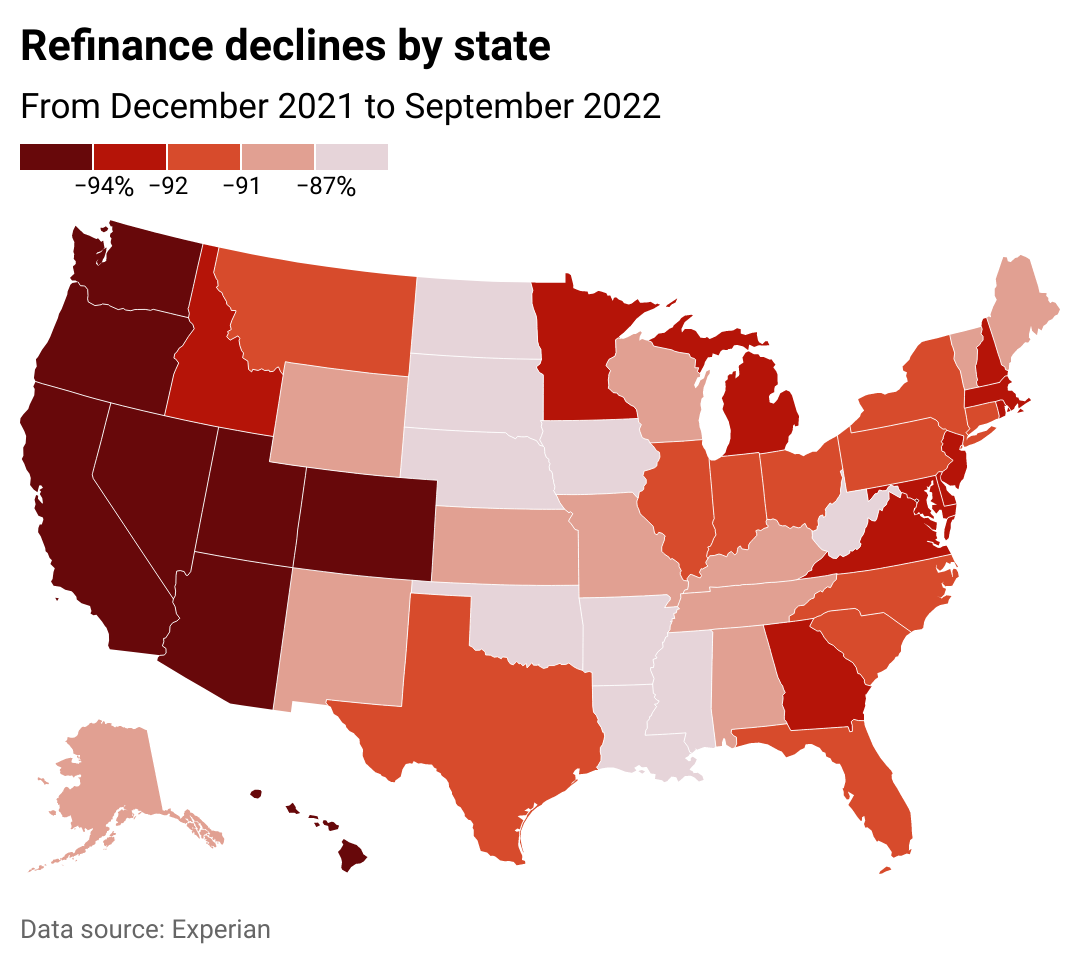 Experian
Refis drop off most in Western states
Refinancing activity cooled fastest in the first half of the year in Western states, particularly California, Nevada, Arizona, and Idaho. The states where fewer homeowners refinanced were also some of the hottest housing markets after the onset of the pandemic.
In 2020, a Phoenix home, for example, had a median sale price of under $350,000, according to data from Redfin. By the time the Fed began raising interest rates in 2022, a home in Phoenix sold for a median price of more than $450,000, a record gain in value over such a short period for the desert city.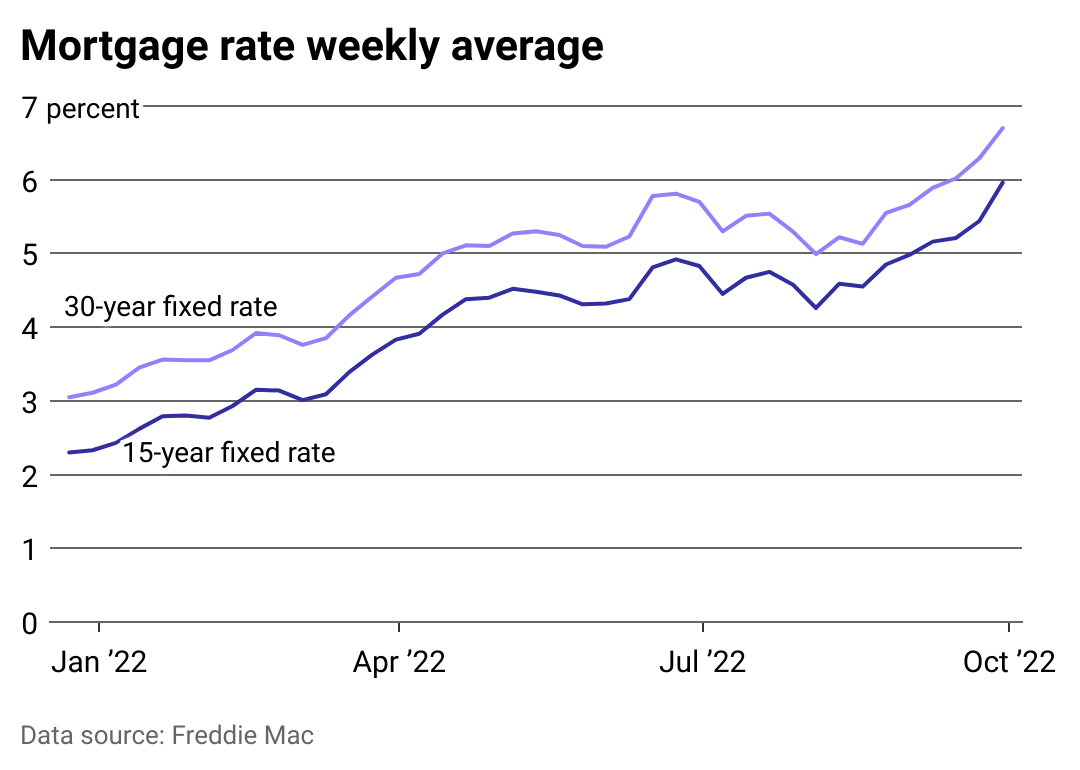 Experian
Mortgage rates nearly double
By September 2022, the average rates for 30- and 15-year fixed-rate mortgages doubled since rate hikes began in spring 2022. As those rates have increased, so too has the number of Americans tapping HELOCs.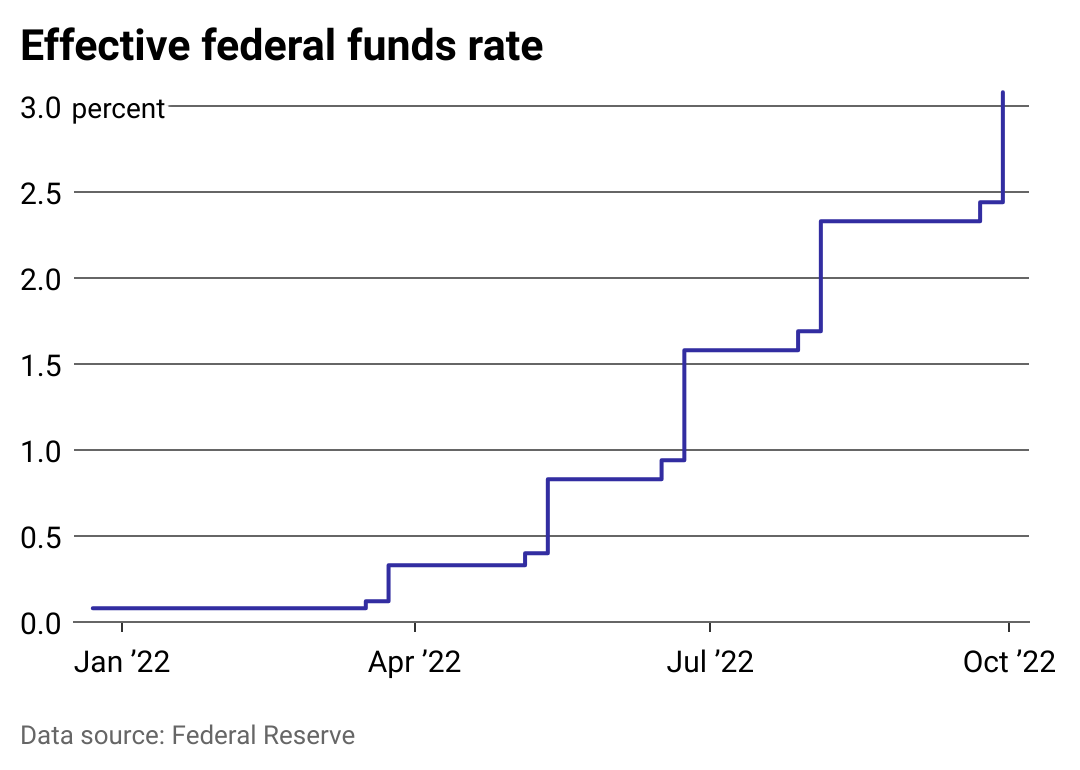 Experian
Interest rate hikes expected to continue
The Federal Reserve hiked rates seven times in 2022, most recently on Feb. 1, with more expected to come in 2023.
The increasing federal funds rate has an effect on all forms of lending, including credit cards—another popular place for consumers to turn when in need of cash. Average credit card APRs are approaching 20%, which is much higher than typical interest rates carried on a HELOC, and comes with more limitations. But there is a significant downside: Borrowing money with your home as collateral means that if you fail to keep up with payments, it won't just hurt your credit score but could result in your home's foreclosure.
This story originally appeared on Experian and was produced and
distributed in partnership with Stacker Studio.
More Stacker National