Best big cities for retirees in America
Published 3:30 pm Thursday, February 23, 2023

Canva
Best big cities for retirees in America
Retirees approach their golden years in countless ways—some may prefer a rural and quiet small town, a spot near the water, or a retirement community in a warm place. Others may want a big city with plenty of exciting activities seniors can participate in whenever their heart desires. Aside from things to do, retirees must consider the weather, housing costs, transportation, and health care, all of which significantly affect the aging population.
Stacker looked at data (released in 2022) from Niche's Best Cities to Retire report, which graded each geographic retiree location from A through D. The grades factor in "weather, crime rates, residents 65 and older, housing costs, and access to amenities such as restaurants, golf courses, exercise facilities, and doctors, in an attempt to measure the appeal of an area for retirement." Only cities with populations over 250,000 were considered.
Provision Living, an owner of senior residential communities, surveyed 2,000 Americans and reported up to 52% of Americans ponder retirement four or more times weekly—and baby boomers' dream age to retire is 64, while millennials' is 56. The survey broke down the ideal retirement day by the hour. It found it entails seven to eight hours of sleep, one to two hours of watching a streaming service or television, one to two hours of dining out, two to three hours of socializing, three to four hours of leisure, and two to three hours spent doing hobbies.
Most of the top 10 best big cities to retire to are in warm-weather climates, from the beaches of Florida to the dry heat of the Southwest. San Francisco, which claimed a high spot on the list, is a great retirement spot if money is not an issue—but average home values top $1 million. Down the California coast below Los Angeles, Irvine was the list's safest city for violent crime for the 13th straight year.
Read on to find out the best big cities for retirees.
You may also like: Youngest billionaires in America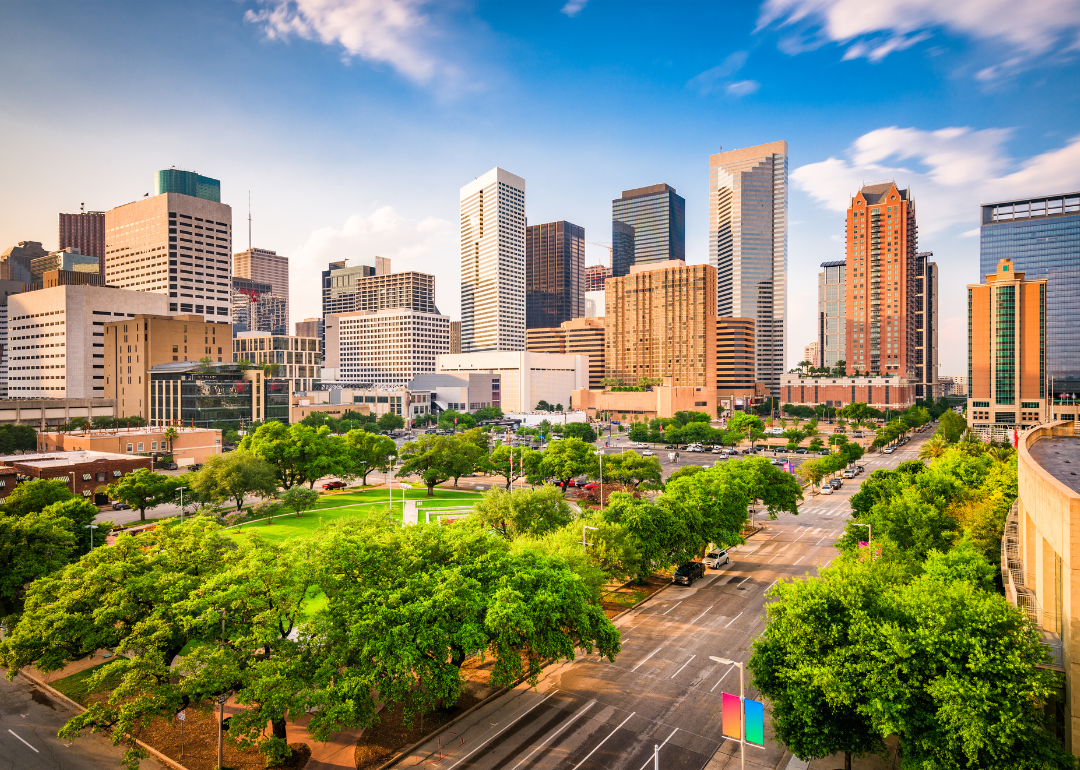 Canva
#50. Houston
– Population: 2,293,288
The Space City's affordability makes it an attractive spot for seniors to spend their golden years, with house prices far below the national average. The city's Museum District offers entertainment for everyone, with a zoo, aquarium, multiple museums, and plenty of restaurants. The crime rate and sweltering conditions are drawbacks to the area, but health care is among the best in the nation, with three hospitals landing on Becker's Healthcare 2020 ranking of "100 great hospitals in America" list.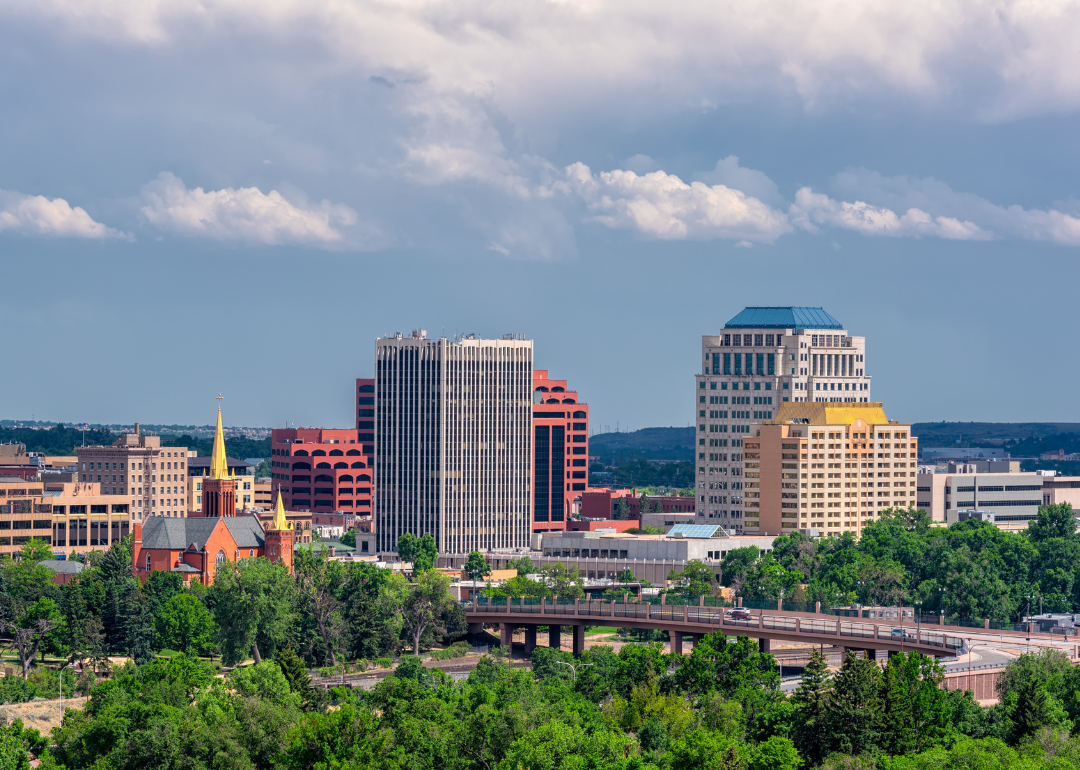 Canva
#49. Colorado Springs, Colorado
– Population: 475,282
Built as a resort spot, Colorado Springs today draws retirees with its breathtaking scenery and abundant opportunities for cultural and outdoor activities. The second-largest city in Colorado, Colorado Springs sits below Pikes Peak, which rises more than 14,000 feet above the city.
Active seniors can enjoy biking, hiking, and rafting. An outing on the Royal Gorge Route Railroad, the state's oldest streamliner train, travels through the Colorado Rockies, offering such fun events as Murder Mystery Dinners and Mother's Day Brunch.
The U.S. Air Force Academy, North American Aerospace Defense Command, and Fort Carson are all nearby. It is also home to the U.S. Olympic and Paralympic Training Center and the U.S. Olympic and Paralympic Museum. Colorado tax laws exclude some pension income, a plus for retirees, and UCHealth Memorial Hospital Central is a Level I trauma center and a comprehensive stroke center.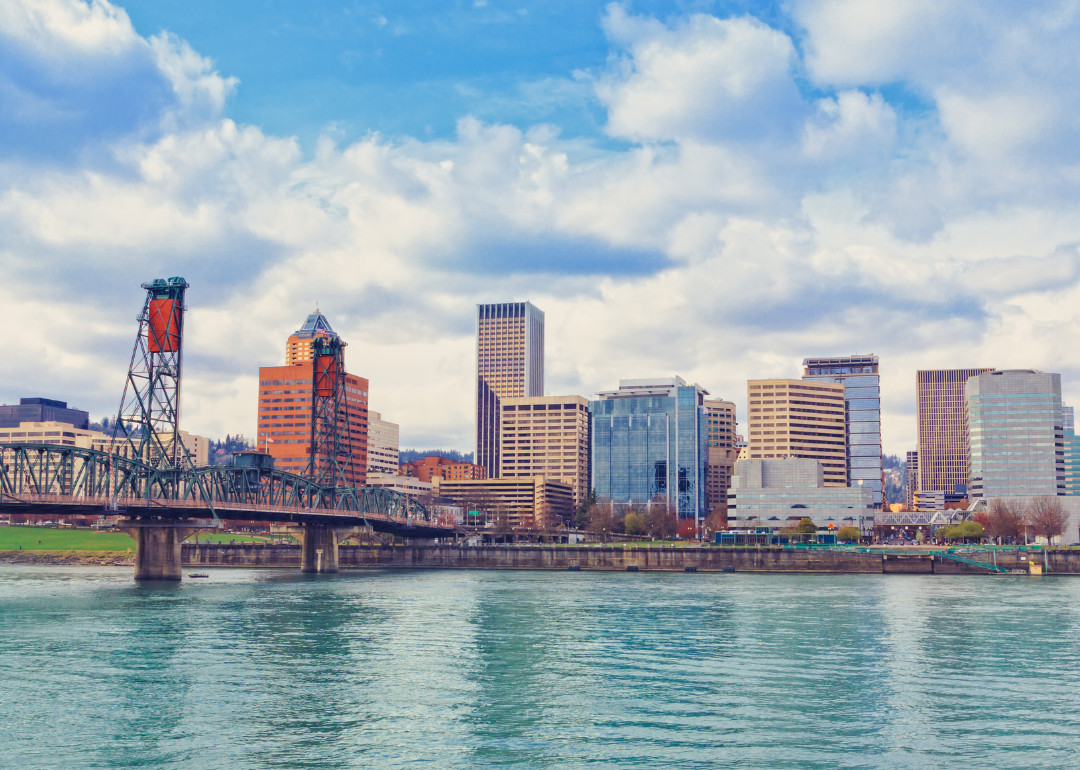 Canva
#48. Portland, Oregon
– Population: 647,176
Portland is popular with retirees, with about 13.3% of its population 65 and over as of 2022. Oregon does tax pension income and does not allow deductions on income from retirement accounts, but it has no sales taxes. The city's downtown is highly walkable, with the Portland Art Museum close to Pioneer Courthouse Square, the urban park at the city's center. Among one group of 40 major cities, Portland ranked 21st in per capita crime, according to the Major Cities Chiefs Association.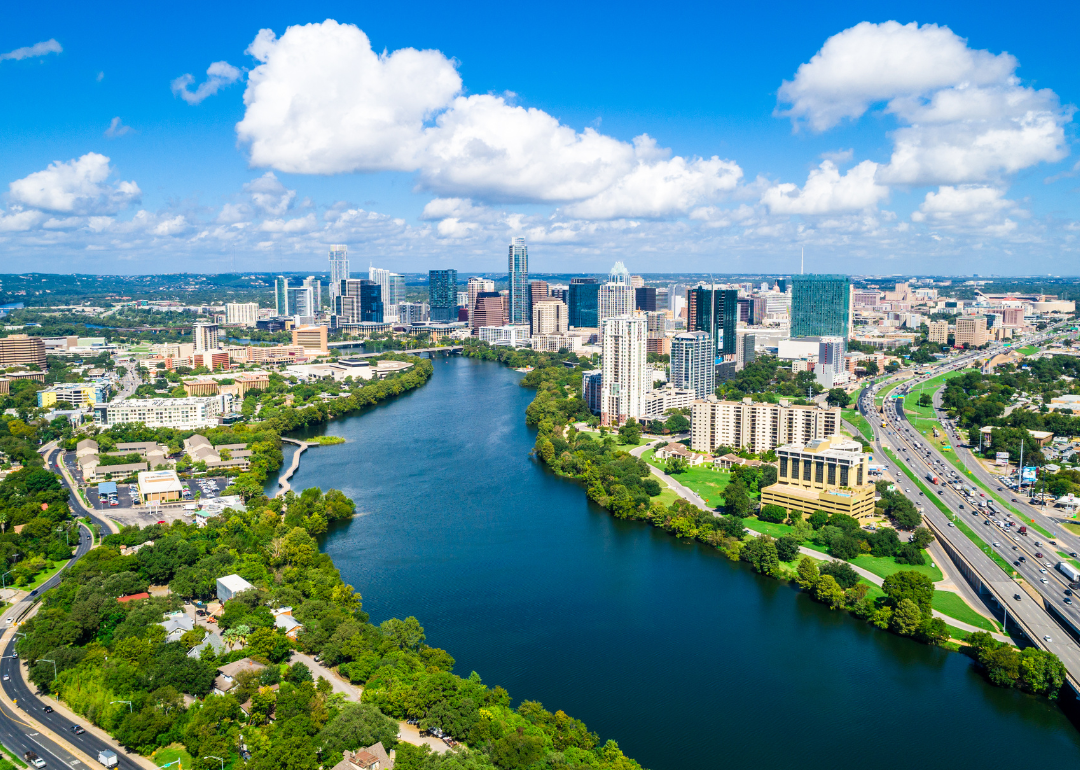 Canva
#47. Austin, Texas
– Population: 944,658
Generally speaking, Texas is a tax-friendly state for retirees: Income from Social Security is not taxed, nor are retirement account withdrawals or public and private pensions. Austin, in particular, is known for its live music, nightlife scene, and restaurants.
For those more interested in spending their time in nature, retirees can choose from a wide variety of activities such as golf, cycling, and hiking, or taking a leisurely dip in Zilker Park's Barton Springs Pool, which is fed from underground springs and has an average temperature of 68 to 70 degrees.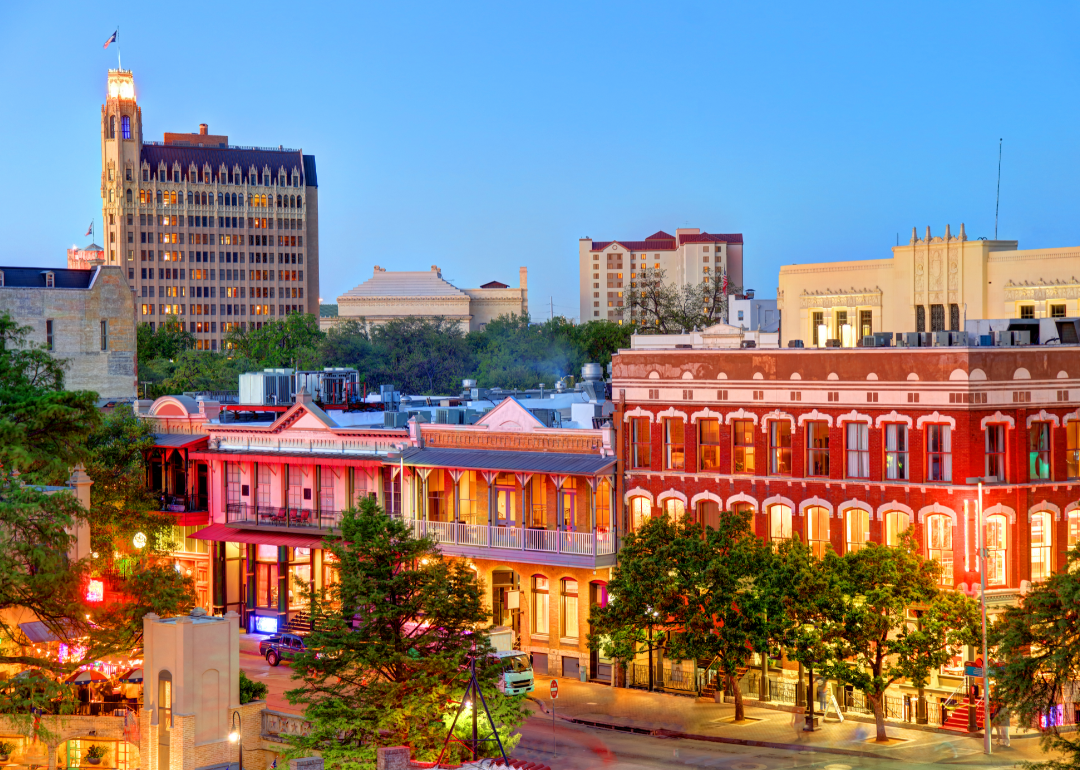 Canva
#46. San Antonio
– Population: 1,434,540
The famed Riverwalk, with miles of shops, restaurants, and theaters, is an excellent spot for retirees searching for a more relaxing, vibrant nightlife. Rich in history, the Alamo is one of many local museums, and a low cost of living provides the expendable income to enjoy the sights regularly. Housing and rent prices are well below the national average, as is violent crime in the Mission City.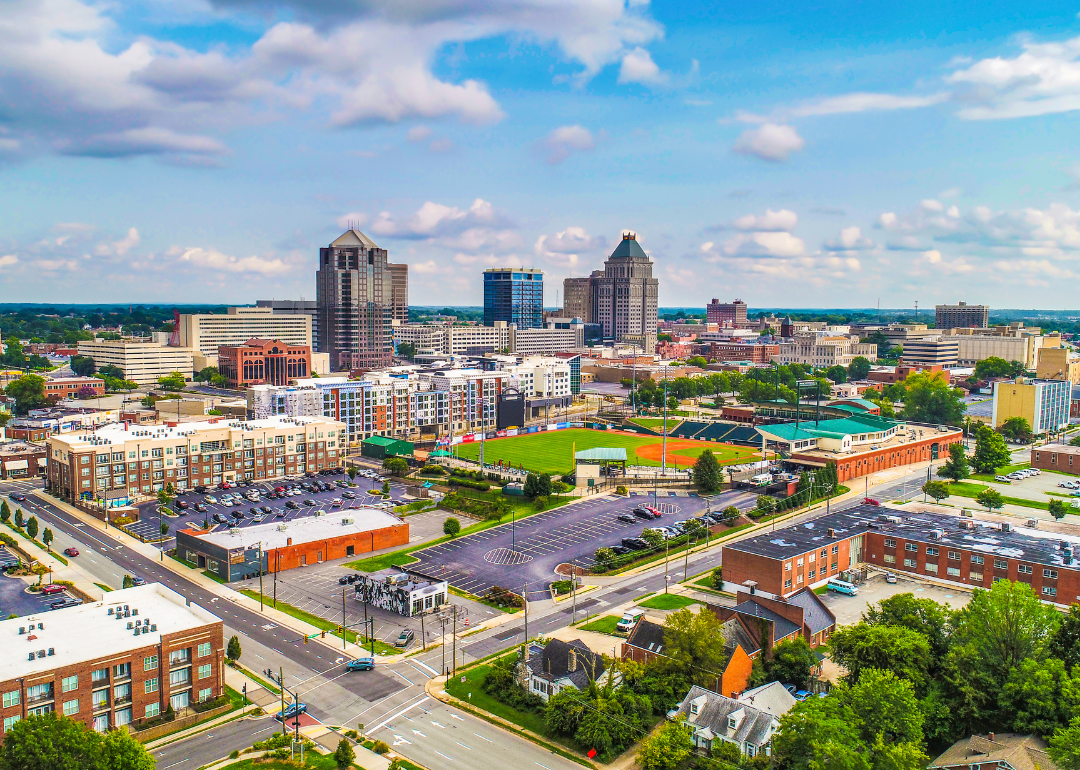 Canva
#45. Greensboro, North Carolina
– Population: 295,483
An affordable living cost and a downtown boasting many dining and entertainment venues make Greensboro a great place for retirees. The Greensboro Aquatic Center and the many local recreation centers with senior programs offer ways to keep active. Sales tax is close to the national average in North Carolina, and the state doesn't tax Social Security benefits.
Canva
#44. Irving, Texas
– Population: 254,184
Irving has a variety of housing and diverse neighborhoods, some particularly suited to retirees. Las Colinas, for example, is a walkable 12,000-acre development with a city feel and is accessible to the Dallas Area Rapid Transit light rail system. Las Colinas offers a mix of residences and offices, with cultural activities nearby.
The Irving Arts Center puts on more than 20 exhibitions each year as well as live music and theater performances. The University of Dallas and North Lake College both have campuses in the area, as does the Las Colinas Medical Center, and Lake Carolyn offers paddle boats and gondola rides.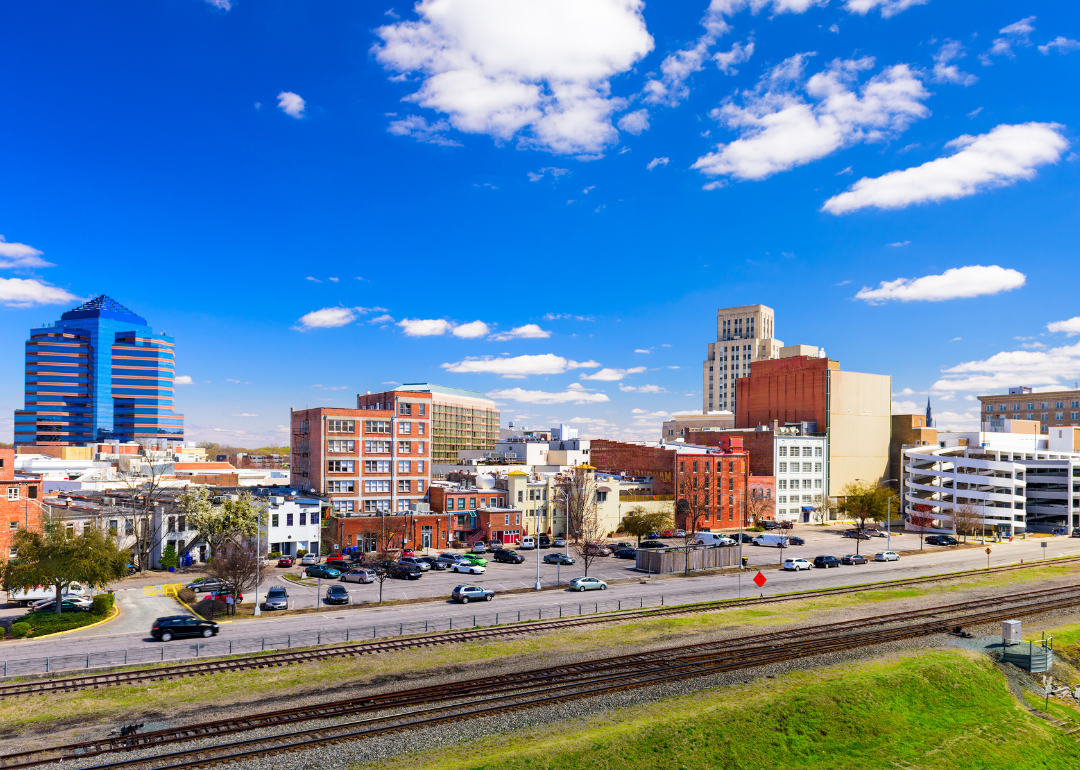 Canva
#43. Durham, North Carolina
– Population: 279,106
Durham is home to pedigreed hospitals like Duke University Medical Center, and the area's temperate climate is ideal for seniors. The annual average temperature is 60 degrees Fahrenheit and there's little chance of snow.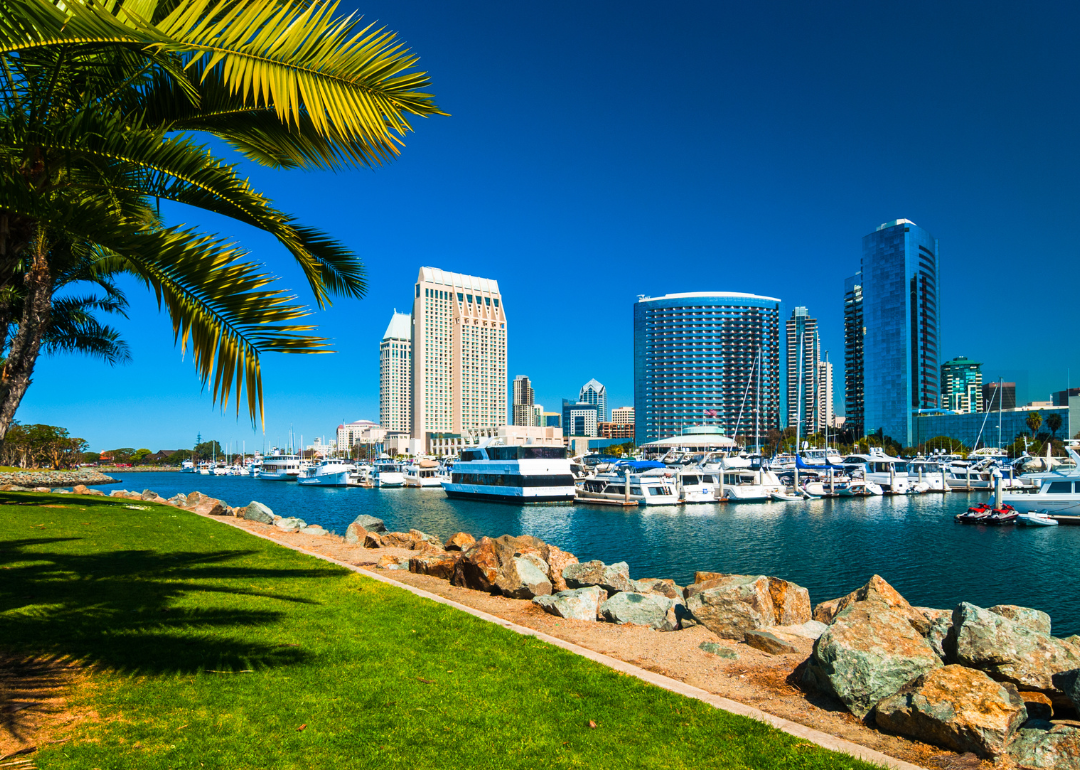 Canva
#42. San Diego
– Population: 1,385,398
"America's Finest City" is an excellent place for seniors to settle down due to mild temperatures year-round, plus beaches and plenty of other outdoor activities for retirees and their families. However, one reason many may not retire here is the high cost of living, which is well above the national average and unaffordable for many seniors.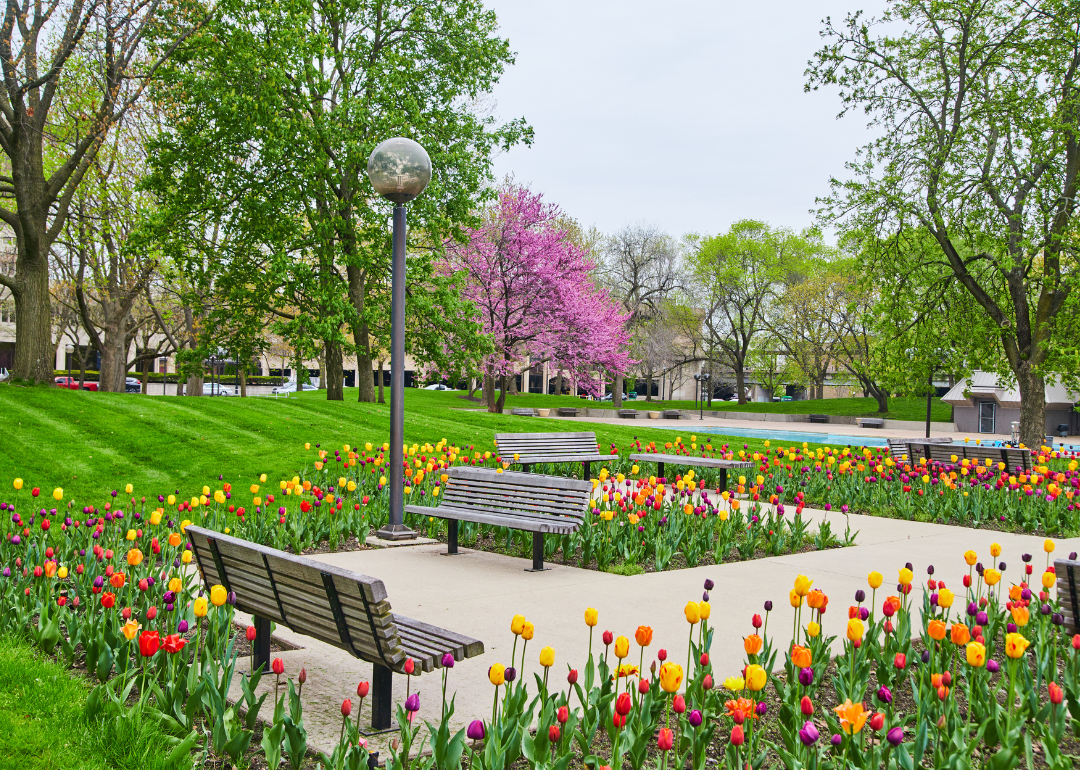 Canva
#41. Fort Wayne, Indiana
– Population: 262,676
The meager cost of living and quiet neighborhoods make Fort Wayne a friendly place for seniors settling down. The median home value in the midsize metropolitan area is $130,700, well below the national average of $244,900. Niche gives Fort Wayne's diversity an A and nightlife an A-minus, but only grades crime and safety at a C.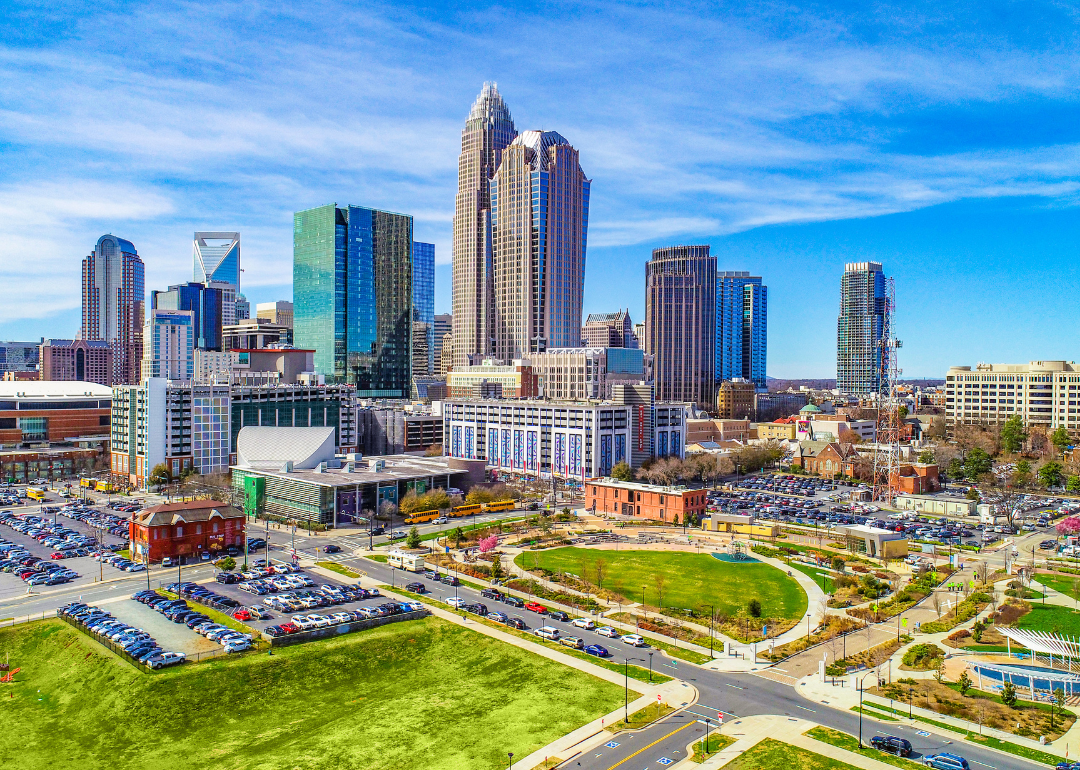 Canva
#40. Charlotte, North Carolina
– Population: 864,871
Niche considers Charlotte one of the "most diverse" cities in the country. Though the median home value and rent in Charlotte are both slightly above the national average, the successful professional sports teams, famous breweries, and almost 40 miles of greenway trails make it worth it for the hundreds of thousands of retirees settled here.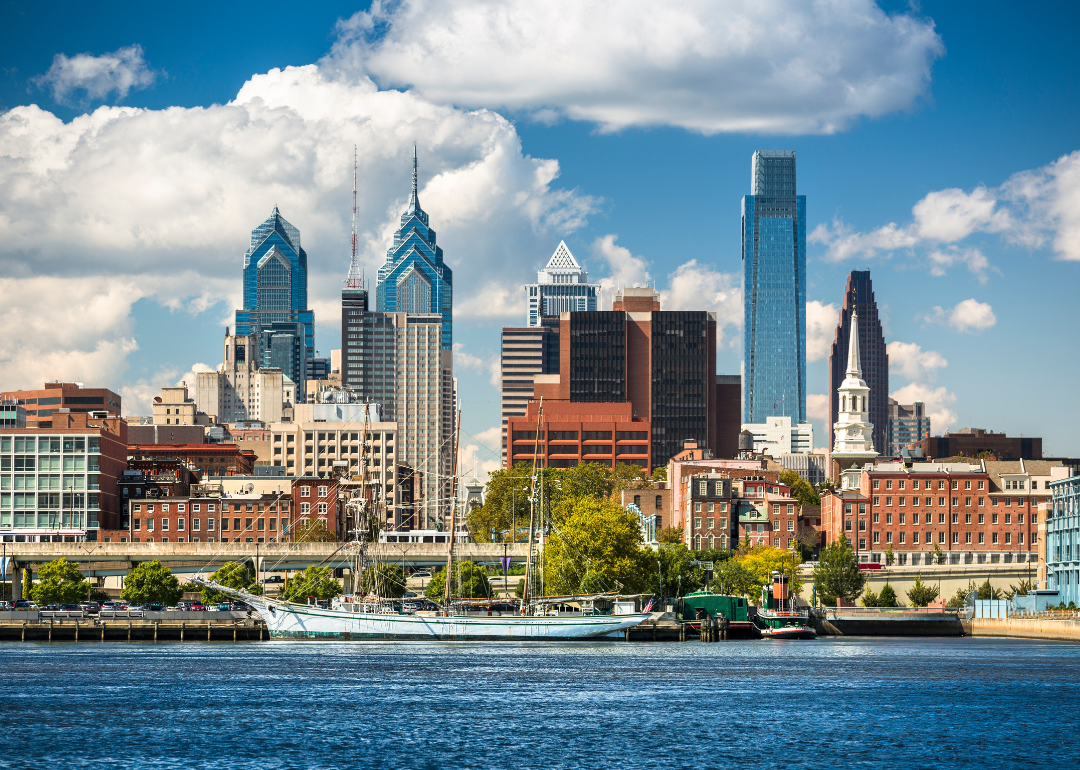 Canva
#39. Philadelphia
– Population: 1,596,865
A diverse and vibrant city, Niche also ranked Philadelphia #34 on its list of 2022 Best Cities for Outdoor Activities in America. People 65 and over make up 13.7% of the city's population, and though it doesn't have the best crime ranking, it ranks as one of the most walkable in the country.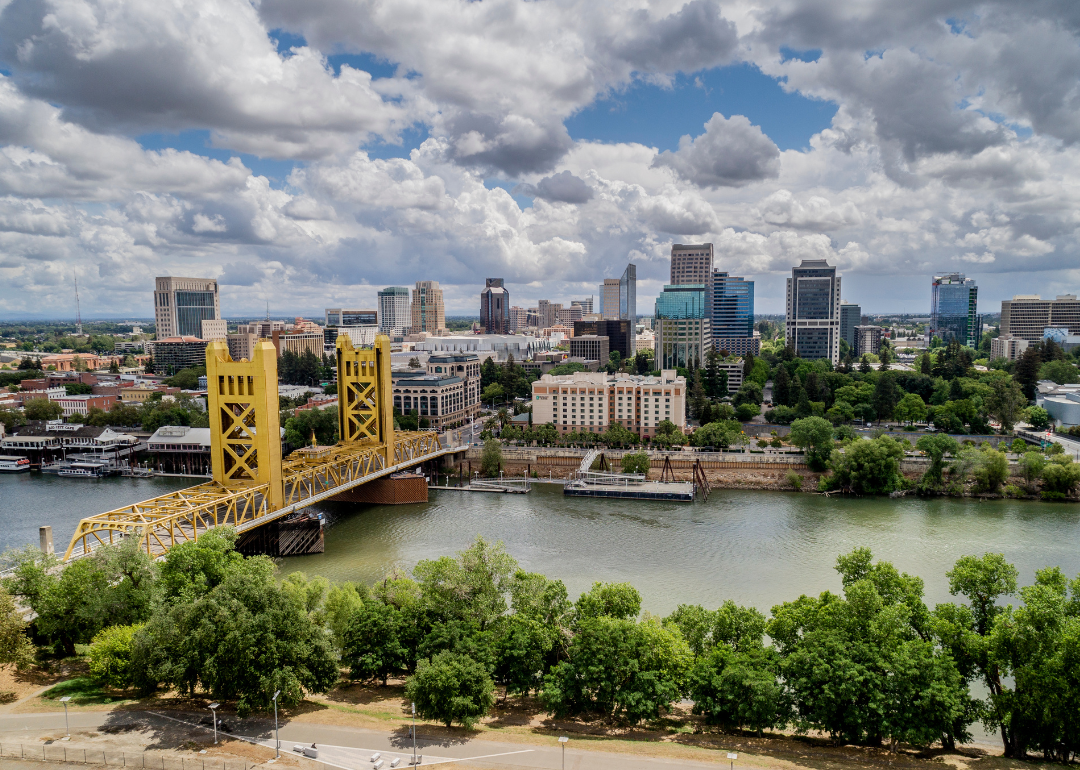 Canva
#38. Sacramento, California
– Population: 518,605
Jazz festivals, museums, and zoos are just a few attractions that draw the aging population to California's capital, which was once home to the Gold Rush and the Pony Express. Given high scores for both ethnic and economic diversity by Niche, Sacramento's hot climate welcomes seniors with mild winters.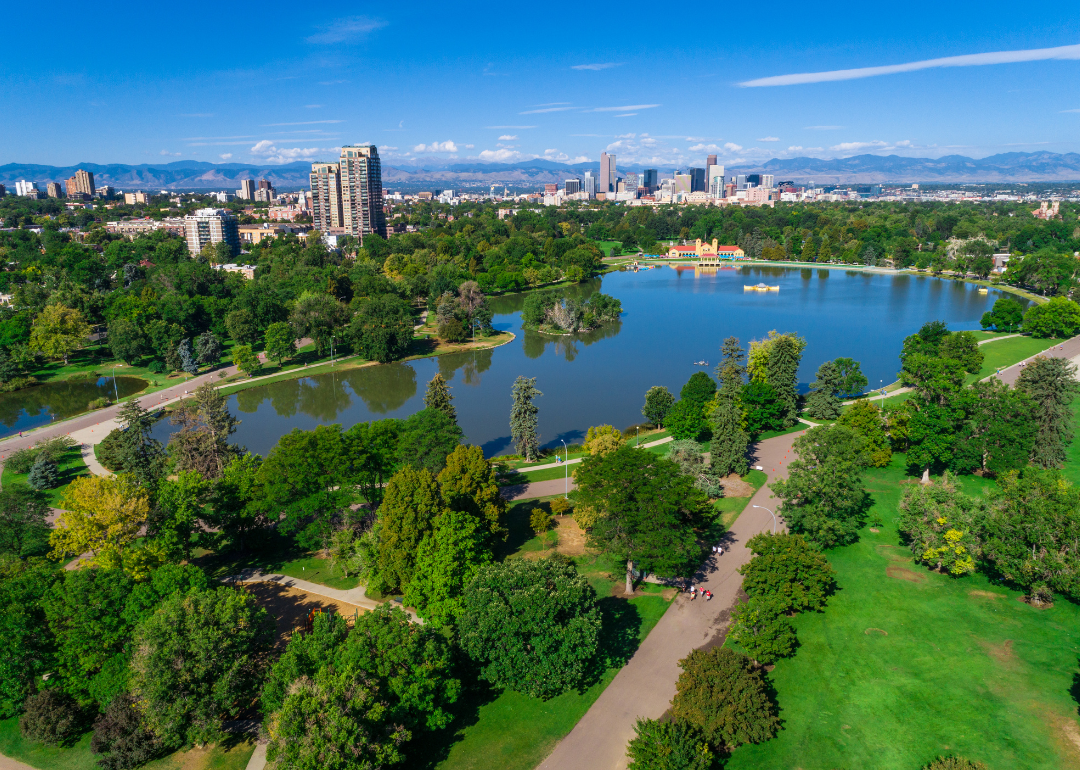 Canva
#37. Denver
– Population: 706,799
Along with being 37th out of 50 for the best big city for retirement, Denver ranked 22nd nationally in both Niche's "Healthiest Places to Live" and "Healthiest City in America" rankings. Denver offers an urban lifestyle with close proximity to nature for seniors who love the great outdoors.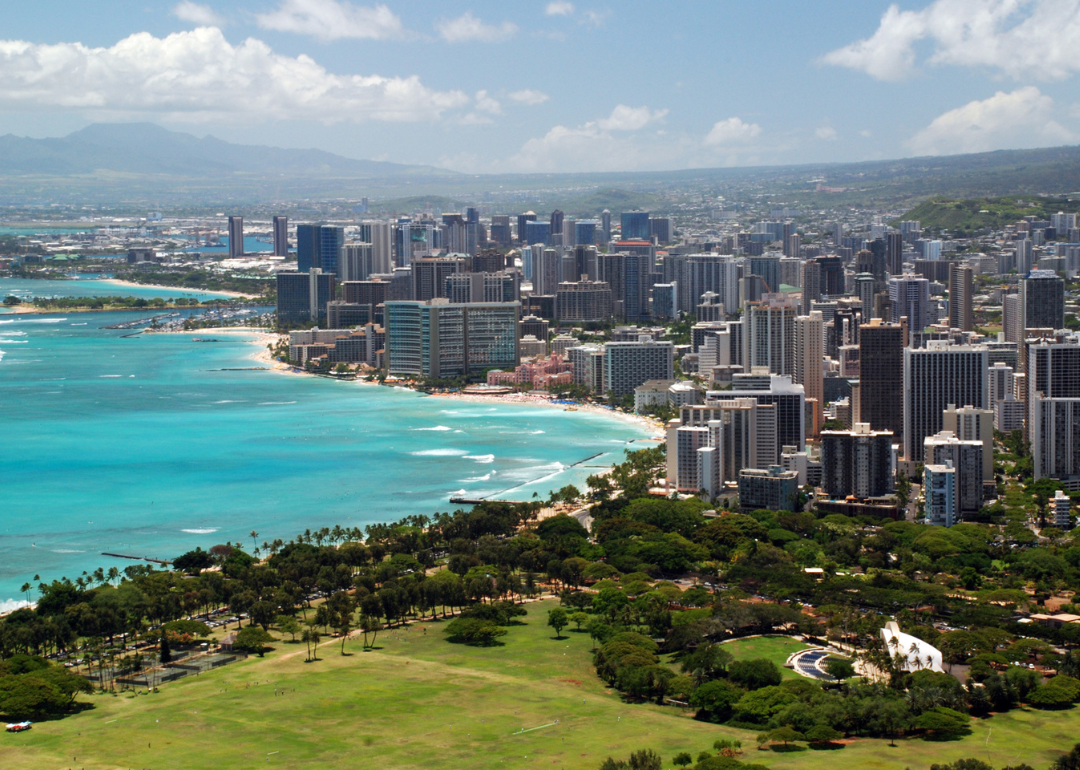 Canva
#36. Honolulu
– Population: 406,004
The lone city outside the mainland U.S. on this list, Niche gives Hawaii's largest city a high score for nightlife, diversity, weather, and health and fitness. Just shy of one-fifth of the population is 65 years and older. Seniors will enjoy the stunning beaches, volcanoes, and wide range of shops and restaurants in Waikiki. That beauty comes with the highest cost of living in the nation: Newsweek once called Honolulu the place where "toilet paper costs more than anywhere else in the world."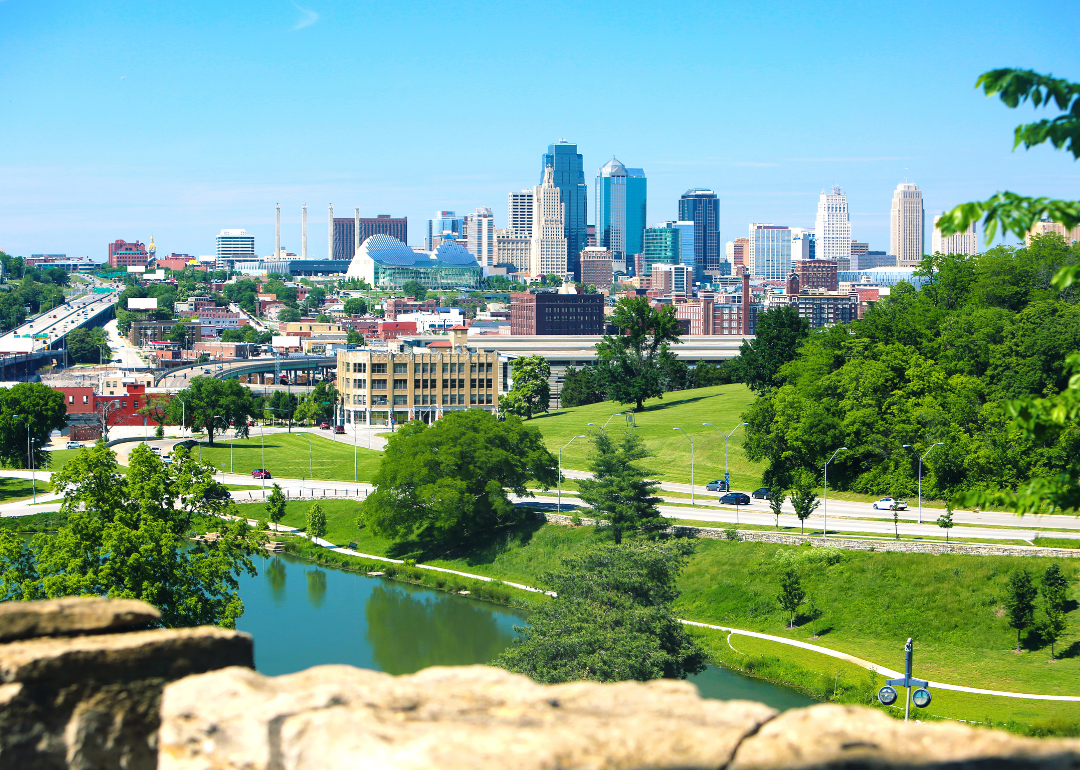 Canva
#35. Kansas City, Missouri
– Population: 502,597
Missouri's largest city, Kansas City boasts multiple activities for seniors, with a low cost of living that keeps the aging population in-state while many more retire to the area. Niche reports some of the most economical real estate for retirees in the area, with the median home value at $175,400—way under the $244,900 national average. Niche also gives the city high scores for diversity and nightlife.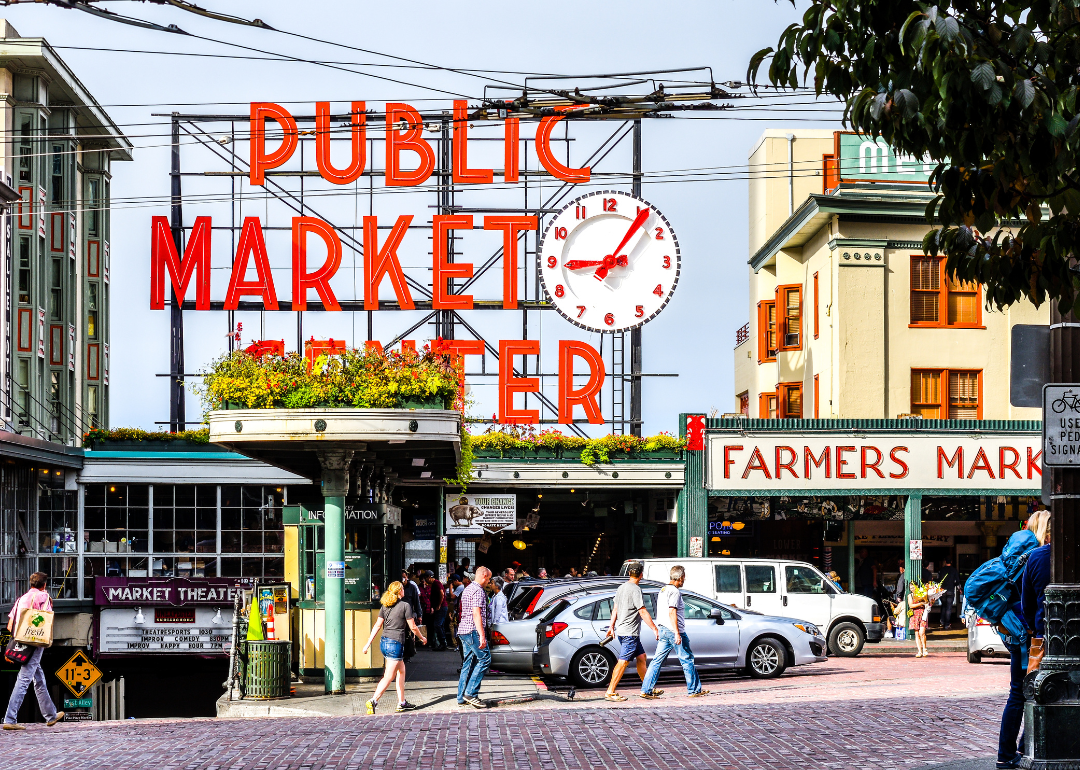 Canva
#34. Seattle
– Population: 726,054
Cleaner air and water, high quality of life, proximity to Canada, and the multicultural food scene are just some reasons for seniors to settle in Seattle. Though owning and renting property in the Emerald City is expensive, attractions like the Space Needle and the Museum of Pop Culture, and the dozens of nature-driven activities, make up for it for most seniors.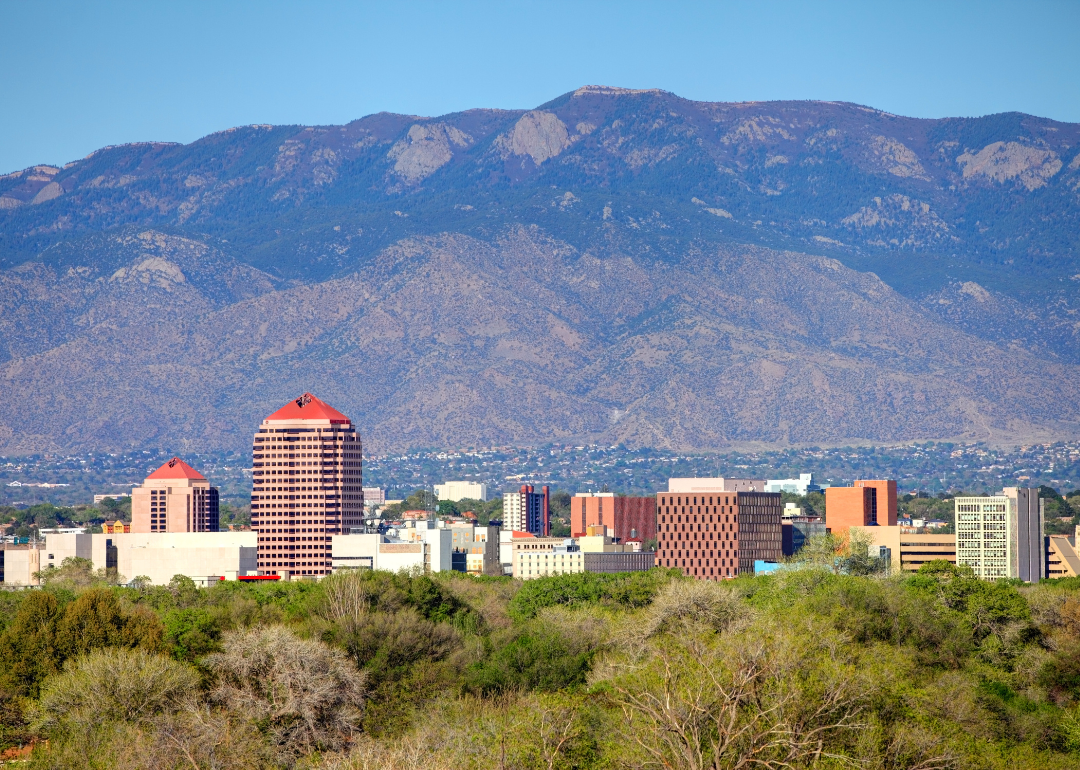 Canva
#33. Albuquerque, New Mexico
– Population: 562,336
Steeped in Native American culture, New Mexico's largest city features an array of museums and hosts the largest hot-air balloon festival in the world. The nearby Sandia Mountains provide hiking and camping year-round. Albuquerque also offers the country's longest aerial tramway to Sandia Peak.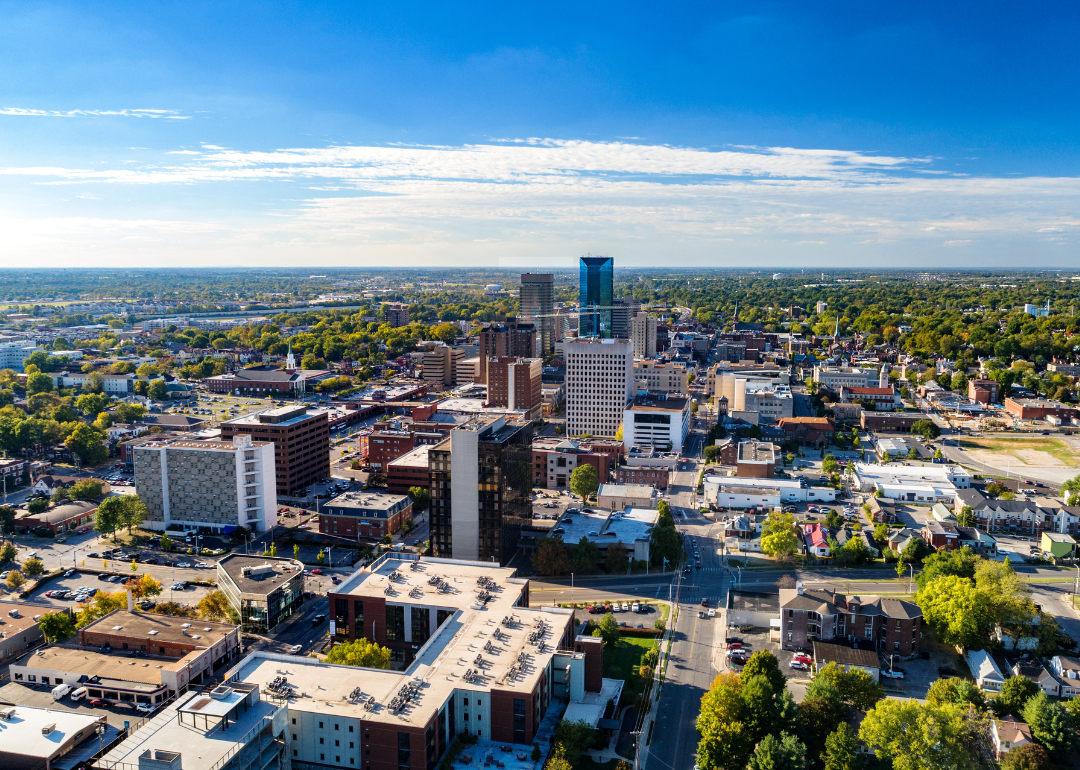 Canva
#32. Lexington, Kentucky
– Population: 321,354
Personal finance news forecaster Kiplinger reports the heart of the bluegrass country is a great place to retire for health purposes, with five-star hospital Baptist Health Lexington in town. Additionally, the area has a well-below national average median home price of $216,800, and average rent of $967.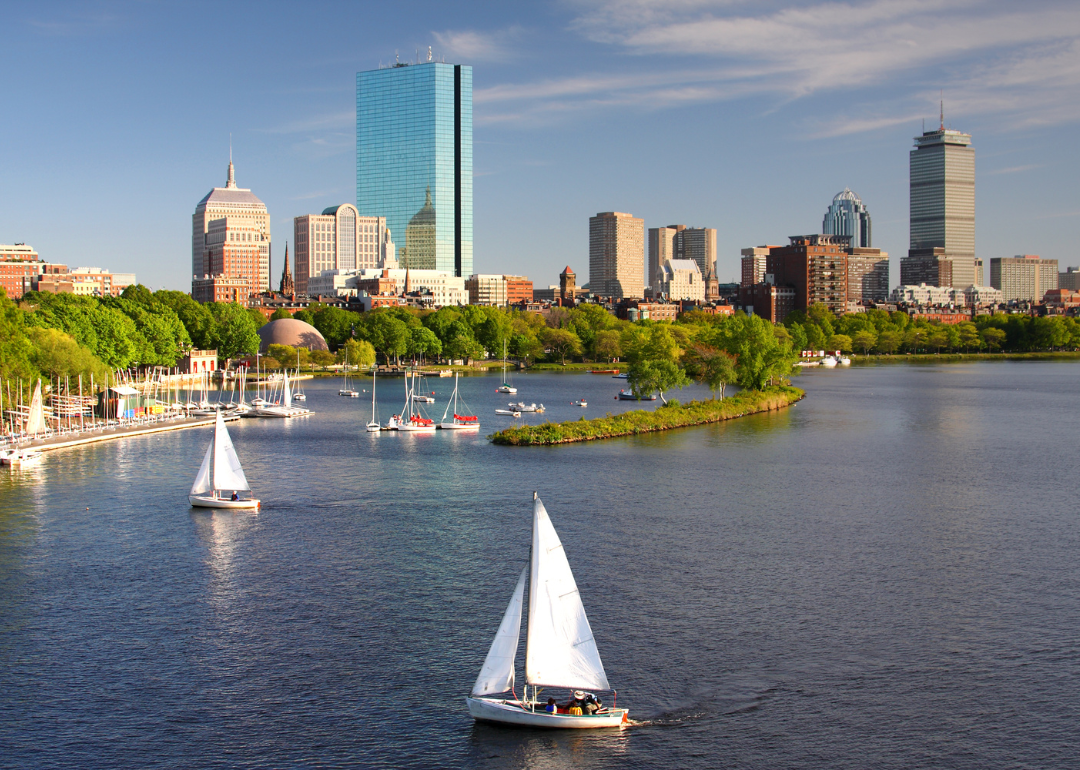 Canva
#31. Boston
– Population: 672,814
Highs and lows highlight Boston's allure for retirees. While the average home value is well over double the rest of the nation, and the local median rent is a cool $600 above the national average, the area's vast nightlife and outdoor options make it an attractive spot. Boston is host to some of the world's top hospitals and was ranked third in the nation for walkable large cities by Walk Score, meaning transportation costs can be kept low to offset the cost of living.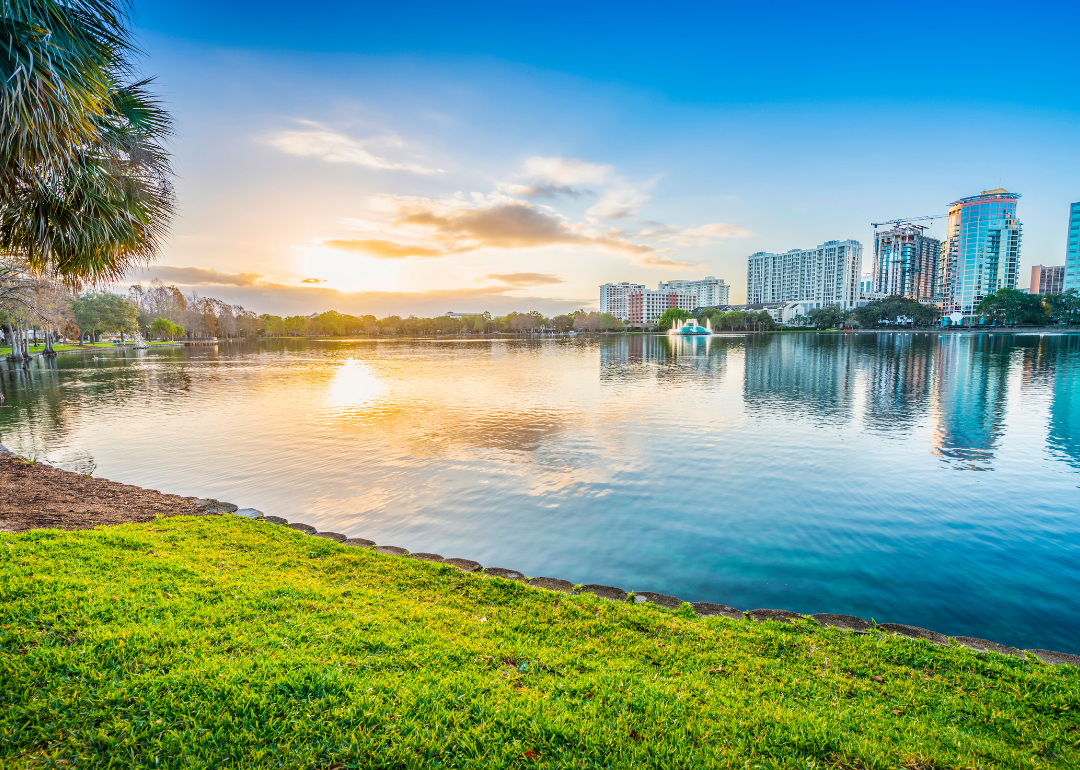 Canva
#30. Orlando, Florida
– Population: 302,968
Mickey Mouse and warm weather welcome seniors to an area with dozens of adult communities to choose from. Golfing in Orlando is prime for retirees looking to spend their afternoons on the green playing on professionally designed courses.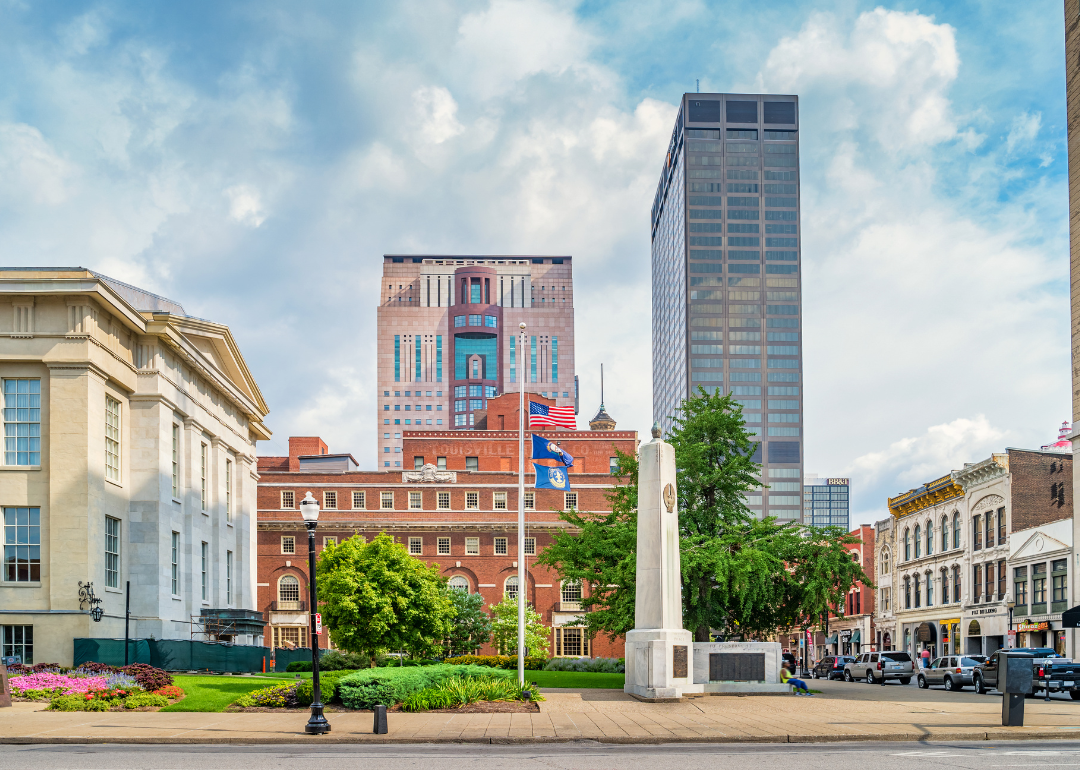 Canva
#29. Louisville, Kentucky
– Population: 630,260
Home to the Kentucky Derby, Louisville touts horse tracks, city life, and acres of green grass for seniors who want to settle in the Midwestern city located on the Ohio River. Like its neighbor Indiana, the low cost of living does not secure safety, as it rates a C-minus for crime and safety by Niche. However, the A-minus for the array of outdoor and indoor activities in the city offsets that negative; it was ranked the 41st most fun city in America by WalletHub in 2022.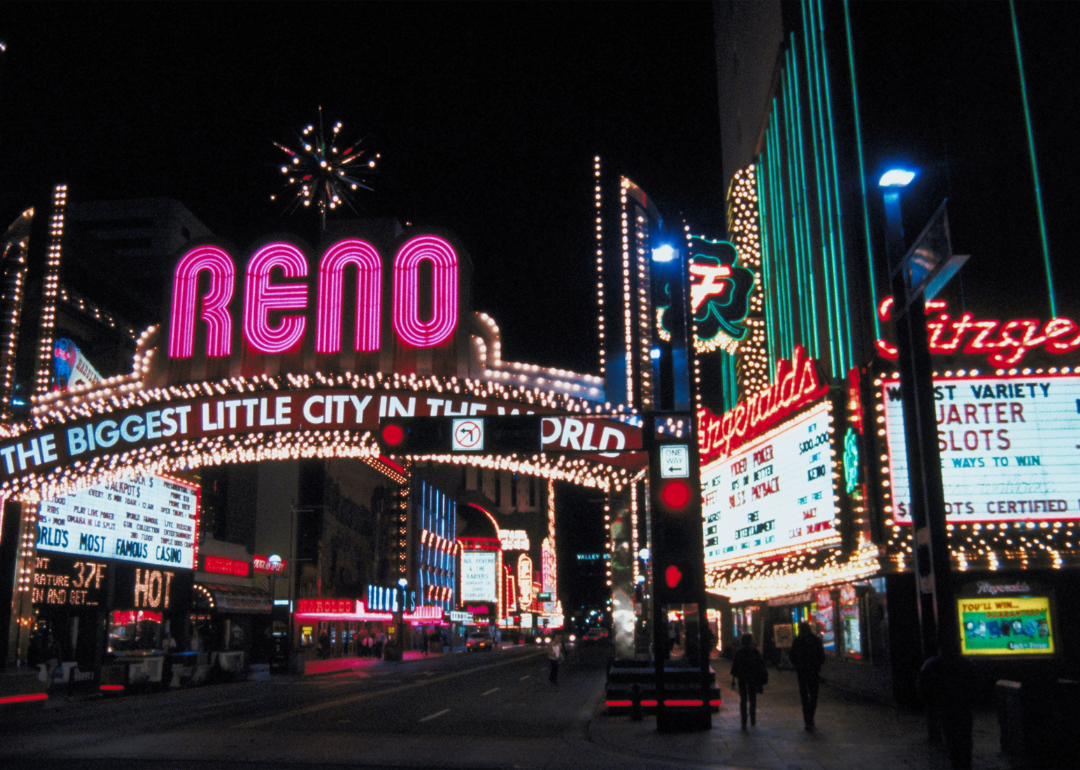 Canva
#28. Reno, Nevada
– Population: 259,913
The largest city in northern Nevada, Reno lies on the eastern slope of the Sierra Nevada Mountains in a high desert near Lake Tahoe. Its weather is spectacular, with more than 300 days of sunshine yearly. Biking, fishing, camping, and other outdoor activities are all available. Nevada does not tax Social Security benefits, withdrawals from retirement accounts, or public or private pensions, and it has no state income tax.
Canva
#27. Raleigh, North Carolina
– Population: 462,219
The capital of North Carolina offers seniors plenty to do, including attending a play at any of the area colleges, or eating and shopping downtown. Niche's overall grade of A-plus for the area and the only slightly above-average cost of living make the town suitable for seniors.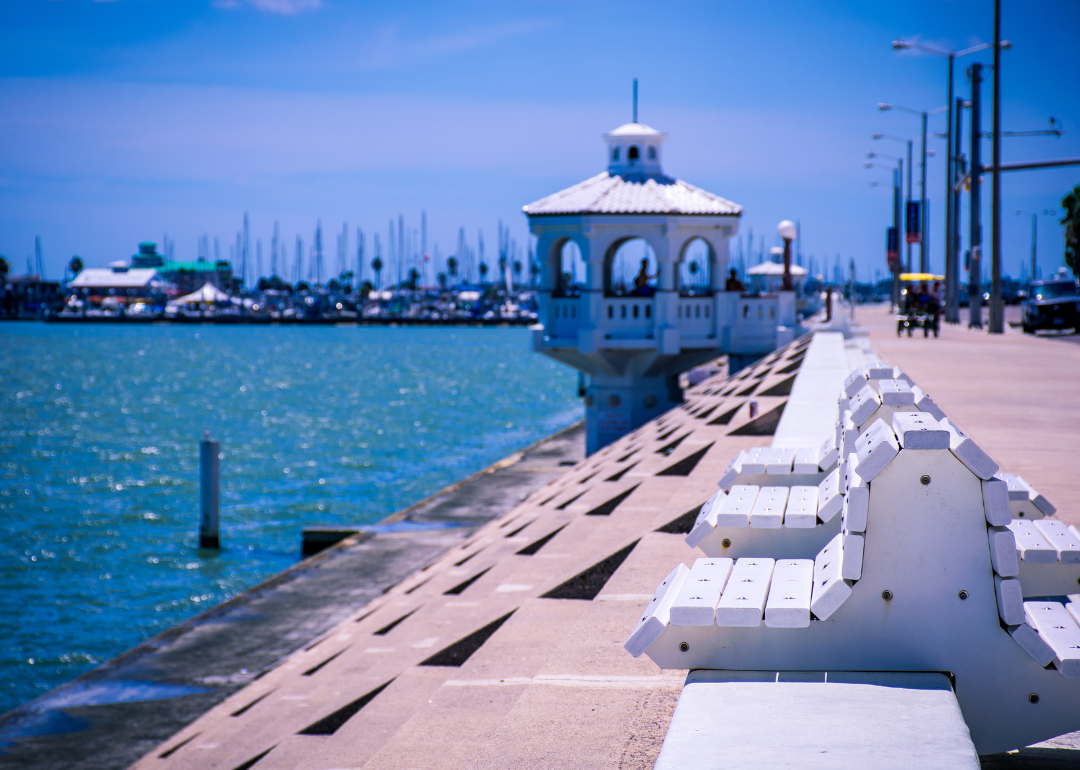 Canva
#26. Corpus Christi, Texas
– Population: 318,168
Corpus Christi's cost of living is cheaper than the national average, making the Texas coastline town appealing to seniors on a budget. Downtown, the city offers museums, galleries, and hundreds of restaurants. Along the shore, both bird-watching and hiking are popular among seniors.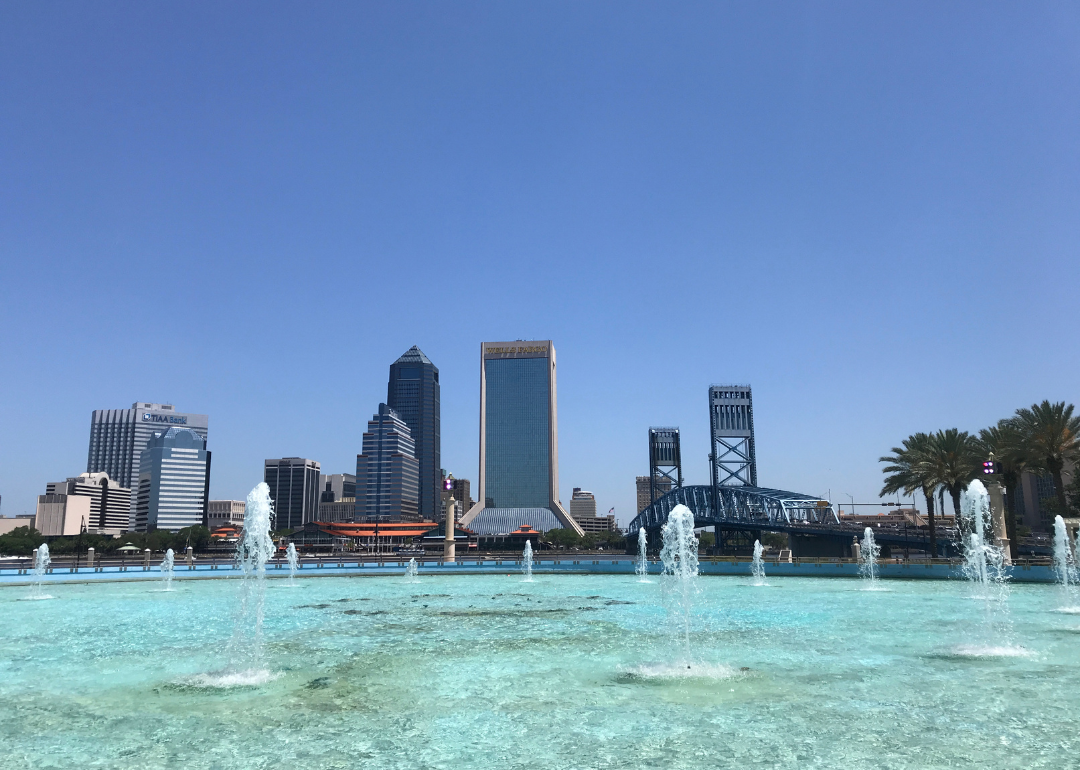 Canva
#25. Jacksonville, Florida
– Population: 937,690
The northern Florida city of Jacksonville touts top-of-the-line golf courses and warm weather year-round, making it a top spot for retirees. The low cost of living is one of many pros for seniors to settle, and parks, big-league sports, and museums are a few more. As for cons, traffic sprawl and the threat of hurricanes steers some seniors clear away from the Atlantic coast town.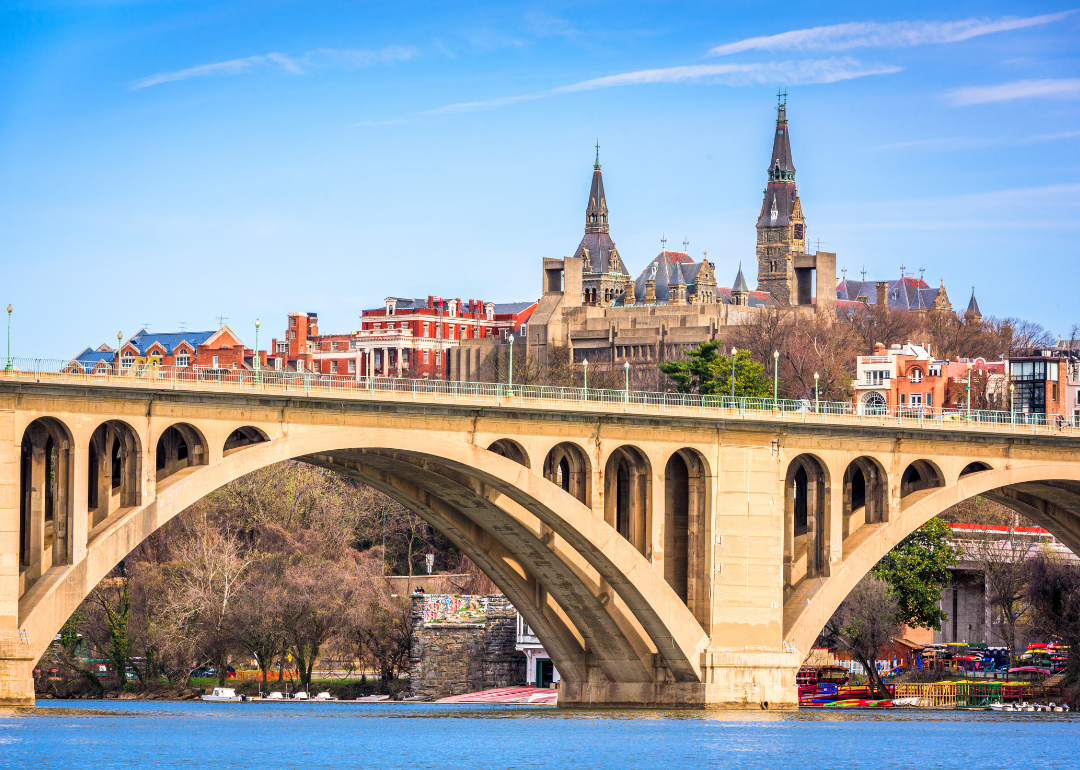 Canva
#24. Washington DC
– Population: 683,154
The city may seem like an odd choice for retirees, but with some of the best museums in the country, like the Smithsonians and the incomparable John F. Kennedy Center for the Performing Arts, Washington D.C., offers entertainment and culture. Public transport offers easy and convenient travel and a senior discount. The area has access to some of the country's best hospitals and three airports, though the high cost of living may be a drawback to more economically minded seniors.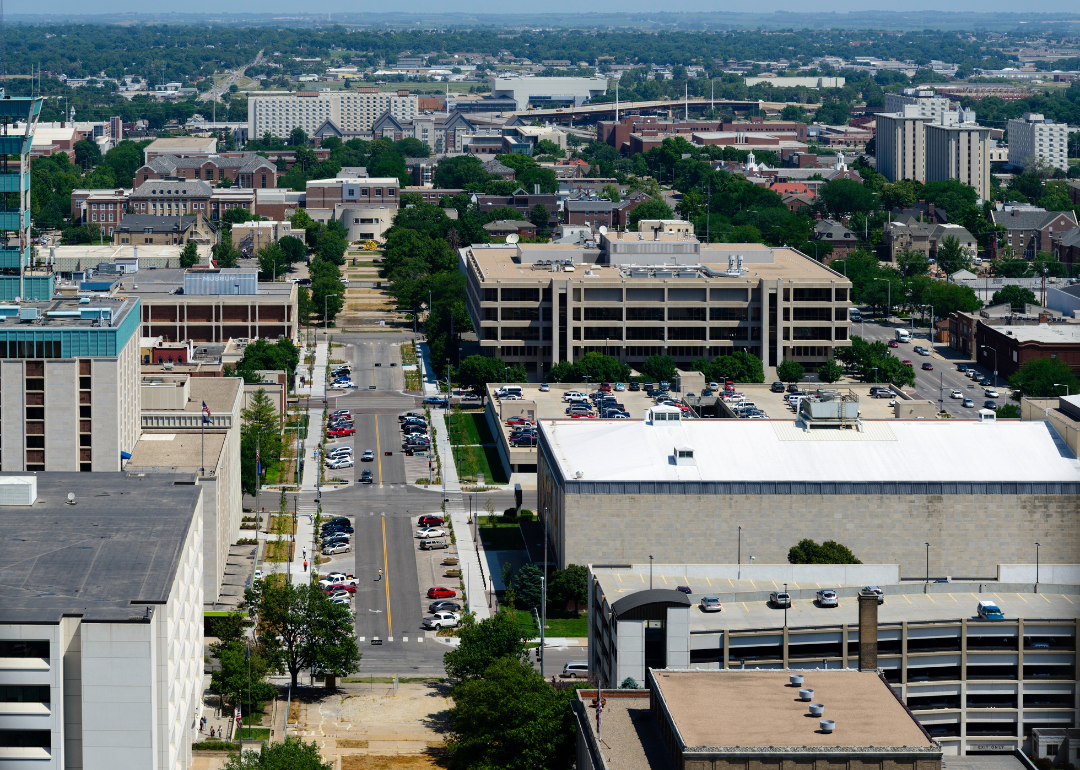 Canva
#23. Lincoln, Nebraska
– Population: 289,136
Lincoln's low cost of living and Niche's A grade for nightlife and A-minus for diversity make this Nebraska city a nice place to settle down for seniors. With 134 miles of trails, 132 parks, nine public pools, five public golf courses, and six recreation centers, active seniors will have plenty to keep them busy in Lincoln.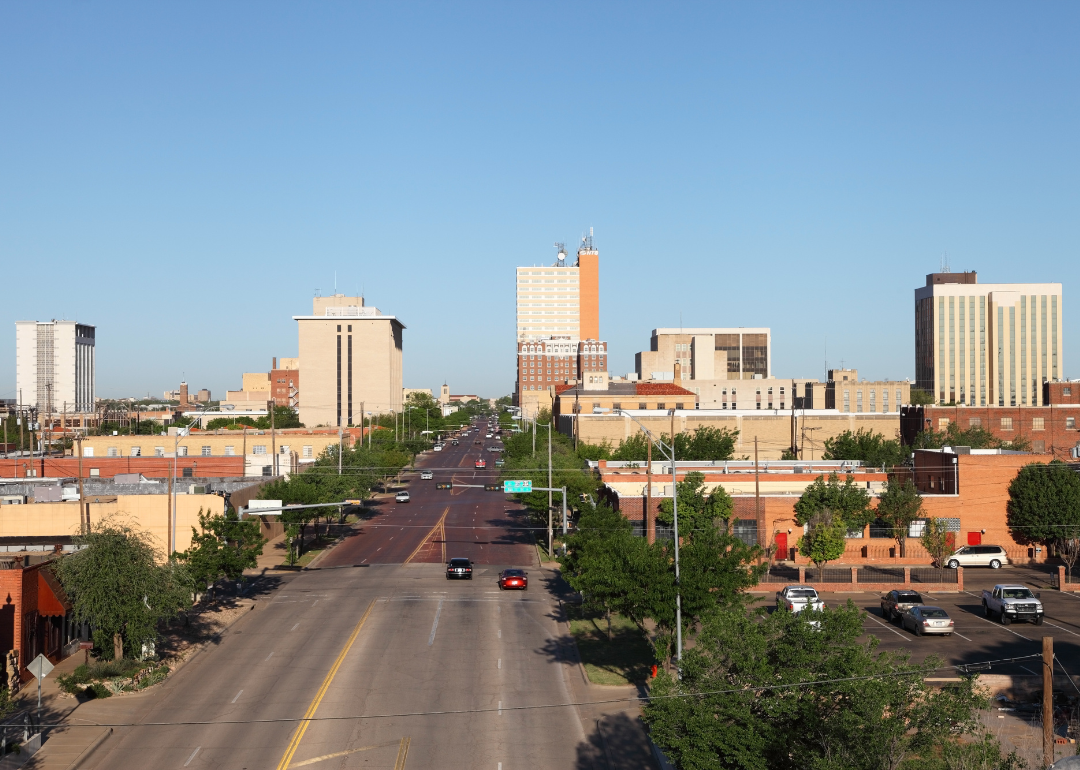 Canva
#22. Lubbock, Texas
– Population: 255,537
One of the cities to make Niche's list of Lowest Cost of Living in America, coming in 52nd nationwide, the city offers access to a university and several medical centers. Its Southern hospitality and friendly and eclectic vibe make it easy to see why seniors love Lubbock.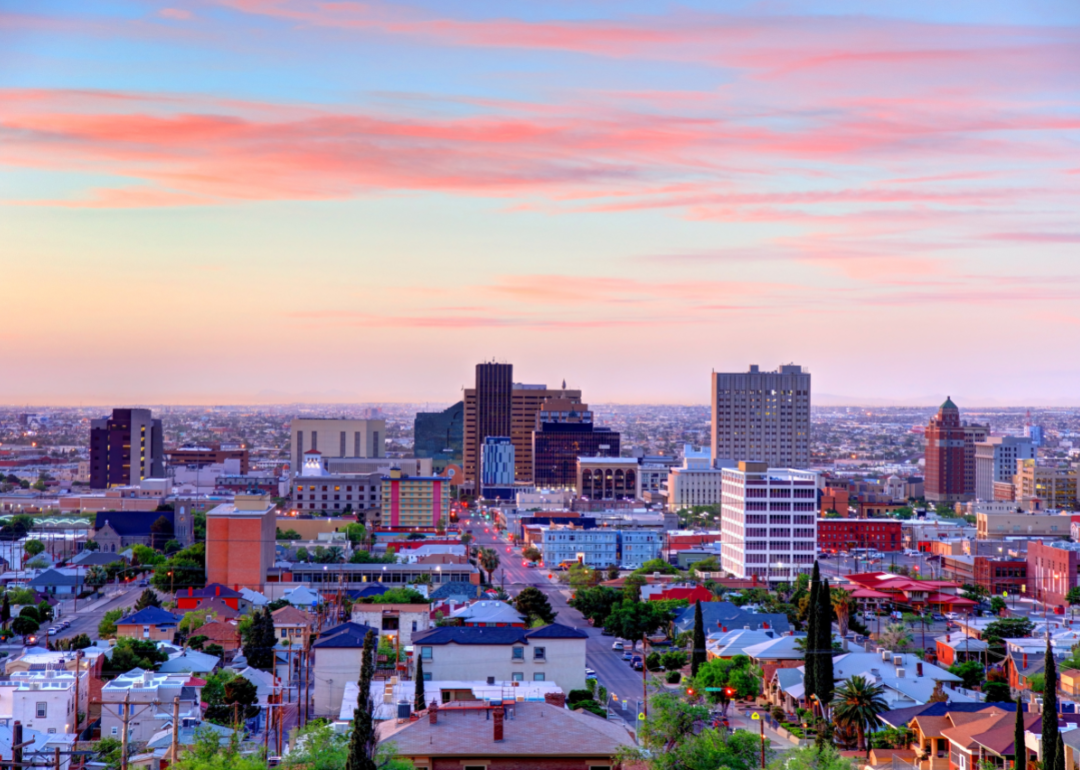 Canva
#21. El Paso, Texas
– Population: 676,395
U.S. News & World Report ranks El Paso the 106th best place to retire, noting it is much more than steakhouses and cowboy hats. Seniors here see a median home value of $137,600, more than $100,000 below the national average. Less spending on housing means more to enjoy the Sun City, which sees a little less than 300 days of sunshine annually, enabling seniors to enjoy the plethora of parks, the tramway, and other outdoor activities in the area.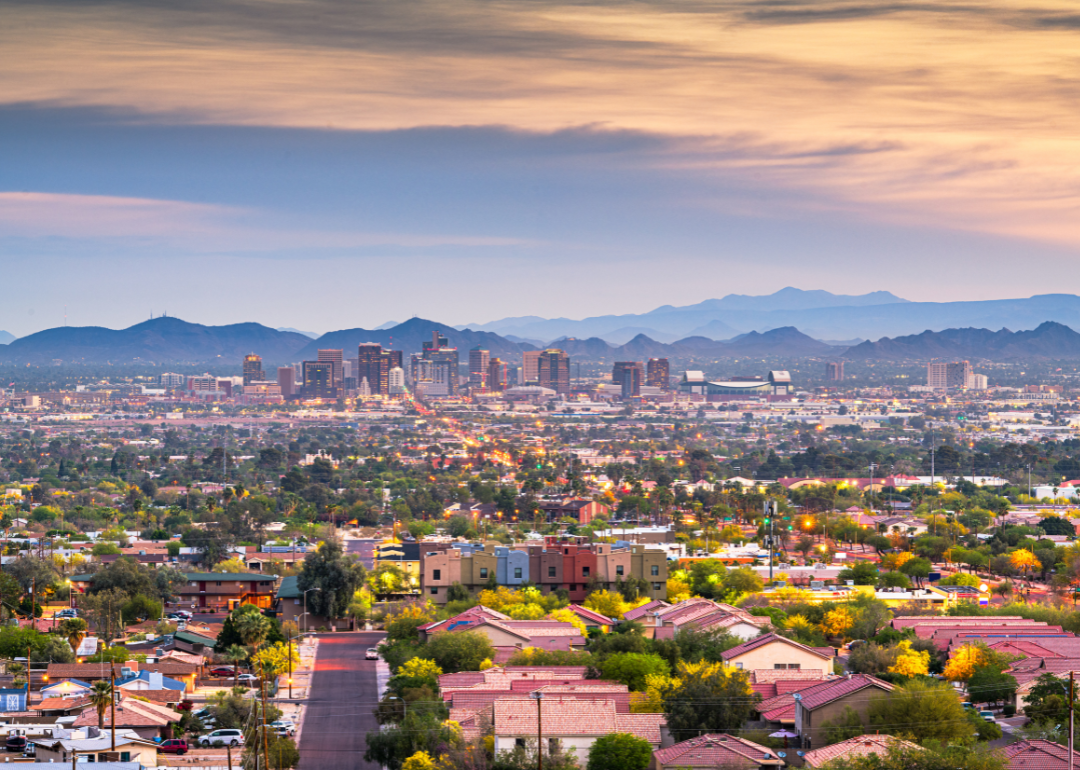 Canva
#20. Phoenix
– Population: 1,591,119
Seniors retiring in Phoenix can look forward to a lower cost of living, great weather, outdoor recreation options, golf, and entertainment. Add in Niche's A-plus grade for diversity and A-minus for nightlife, and there are plenty of reasons so many baby boomers are calling Arizona home for good.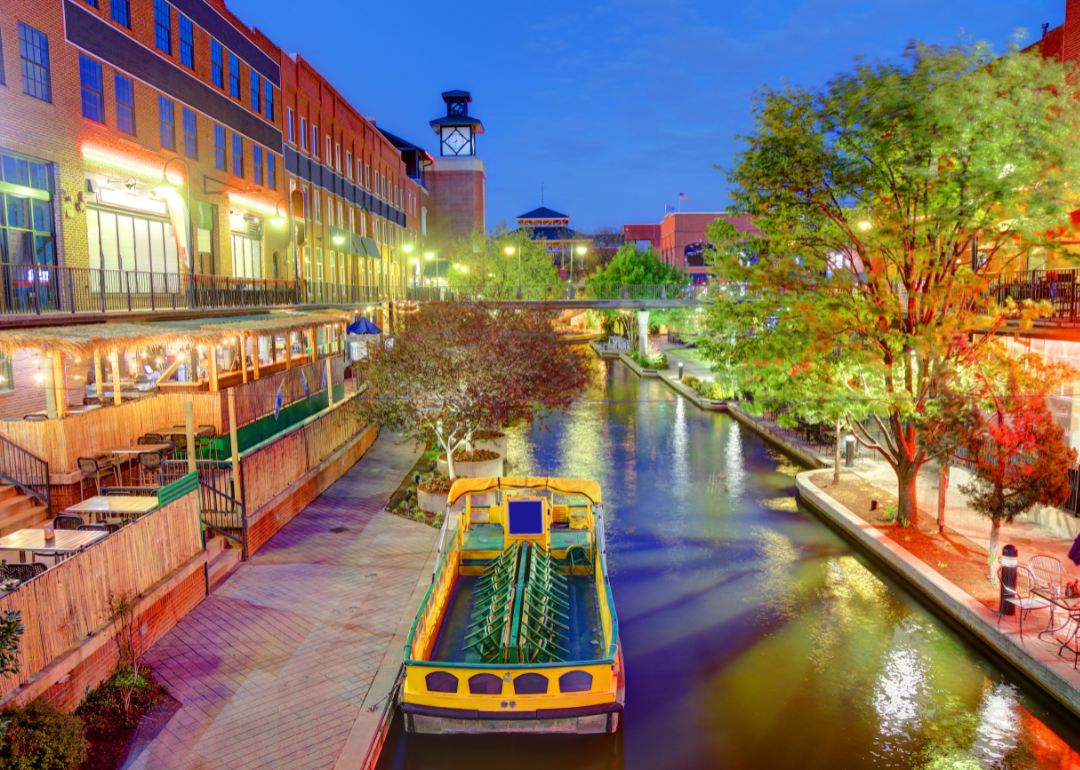 Canva
#19. Oklahoma City
– Population: 673,183
Retirees looking for a tax-friendly state could consider Oklahoma, which does not tax Social Security income, and provides deductions on 401(k)s and pensions. The Oklahoma City metro area—which is within a few hundred miles of other major cities such as Wichita, Dallas, and Kansas City, perfect for day trips—is well served by public buses. Retirees interested in cycling around town can take part in the Spokies bike share program.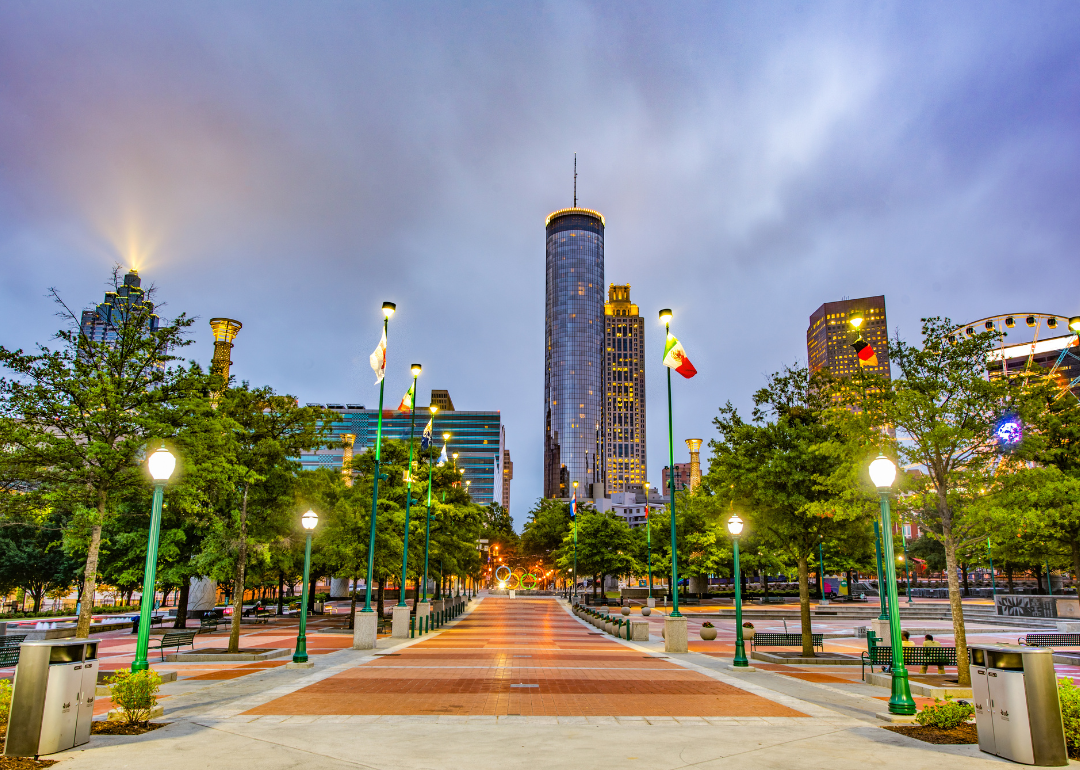 Canva
#18. Atlanta
– Population: 492,204
Tax breaks for retirees and top-notch retirement communities are a couple of reasons the aging population loves Atlanta. As the capital of Georgia, the city offers diverse culture, food, and entertainment. With cycling and pedestrian paths around the city, seniors living here can run errands and exercise simultaneously in the subtropical climate that delivers a true four seasons.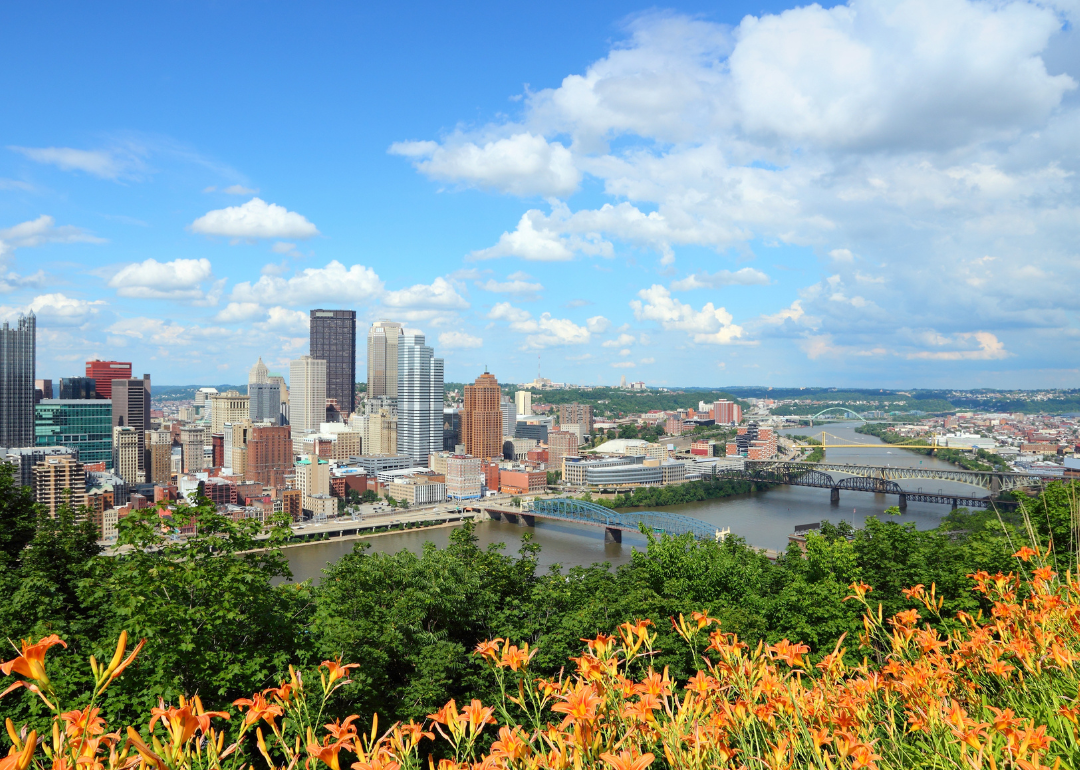 Canva
#17. Pittsburgh
– Population: 303,207
A lower cost of living makes Pittsburgh one of the most affordable cities to retire in, and its lower-than-average crime rate is also attractive. Niche's A and B grades for housing, nightlife, diversity, and family amenities confirm Pittsburgh is good for seniors.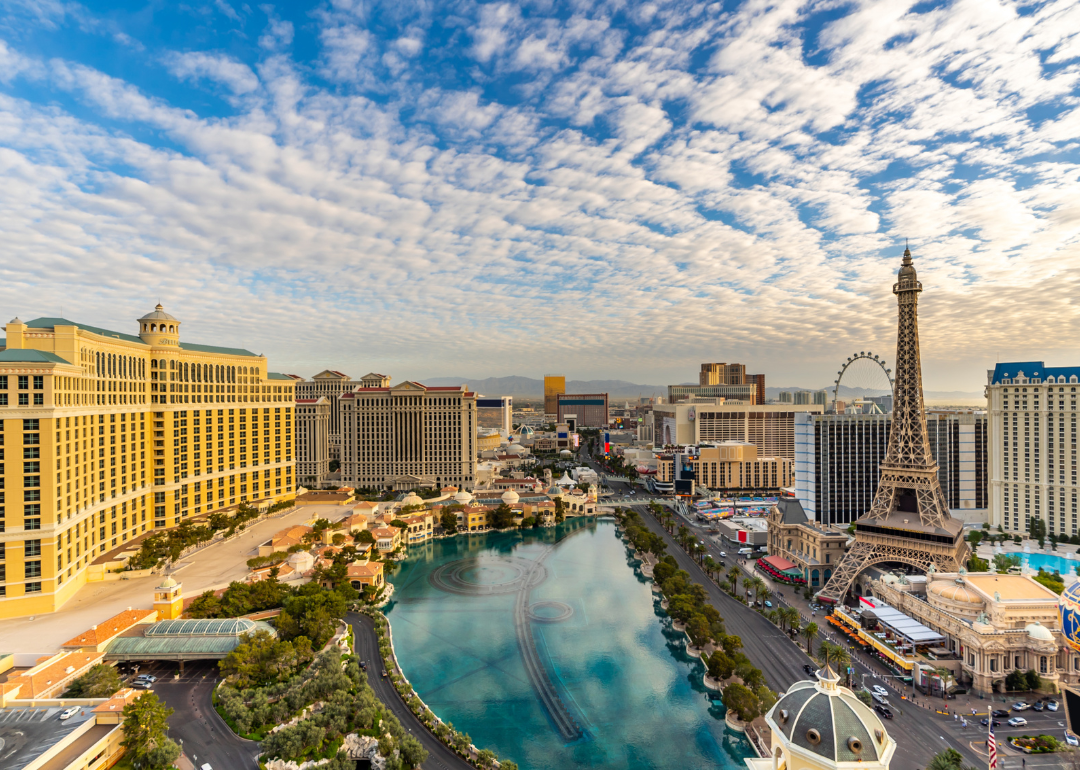 Canva
#16. Las Vegas
– Population: 634,786
Sin City offers plenty of entertainment options for retirees, including its famed casinos, top-notch shows, and an extensive list of restaurants. Despite some triple-digit summer months, Las Vegas' climate is relatively mild the rest of the year, perfect for enjoying the nearby Spring Mountains. The biggest detractor for retirees gambling in Las Vegas is the crime rate, with violent crimes well above the national average.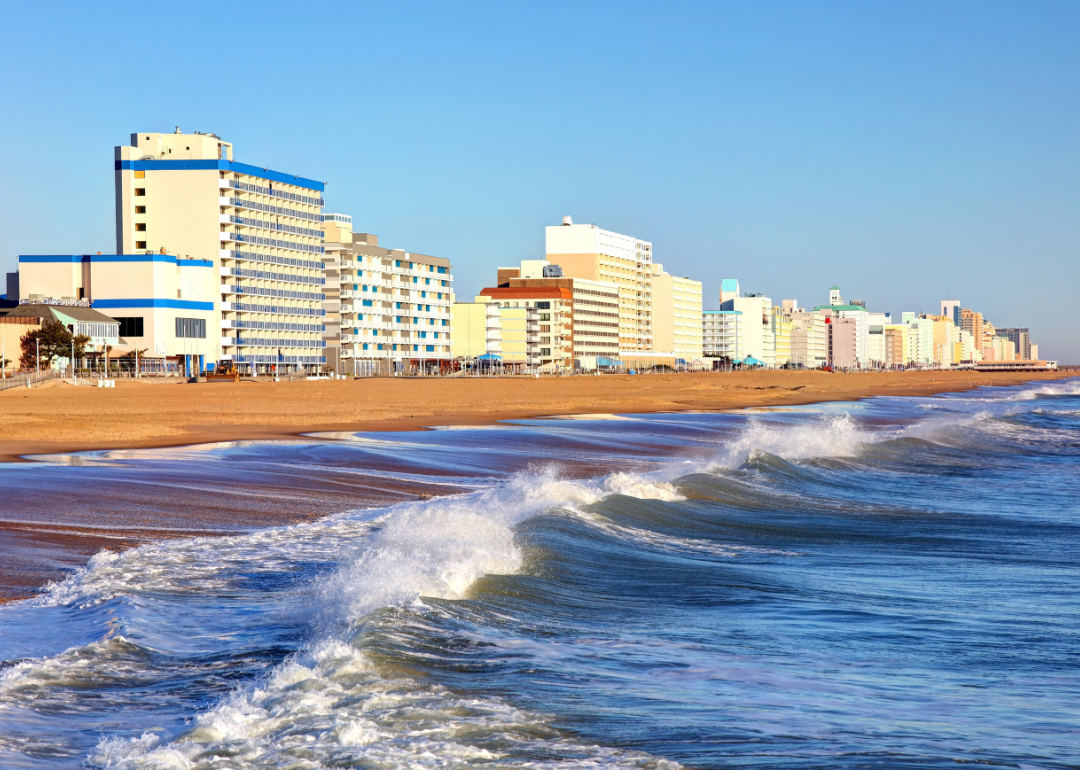 Canva
#15. Virginia Beach, Virginia
– Population: 457,658
Rated a "Top 10 Beach Town for Retirees" by CBS News as far back as 2014, the coastline community has 35 miles of shoreline for seniors to slumber or exercise on. Though the cost of living is slightly above the national average, the tourist town touts a low crime rate and many health care facilities.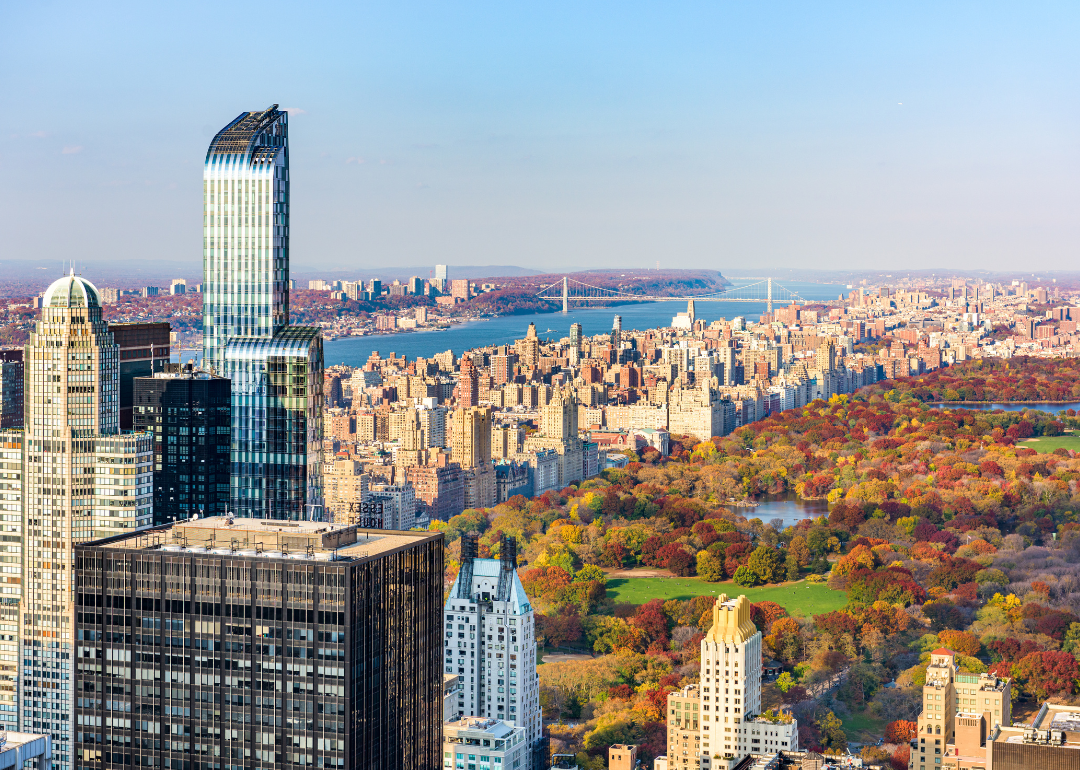 Canva
#14. New York
– Population: 8,736,047
Niche ranks the Big Apple third for best cities for outdoor activities and fourth for most diverse cities in America. New York City can be the perfect location for retirees who don't want a more typical, laid-back retirement.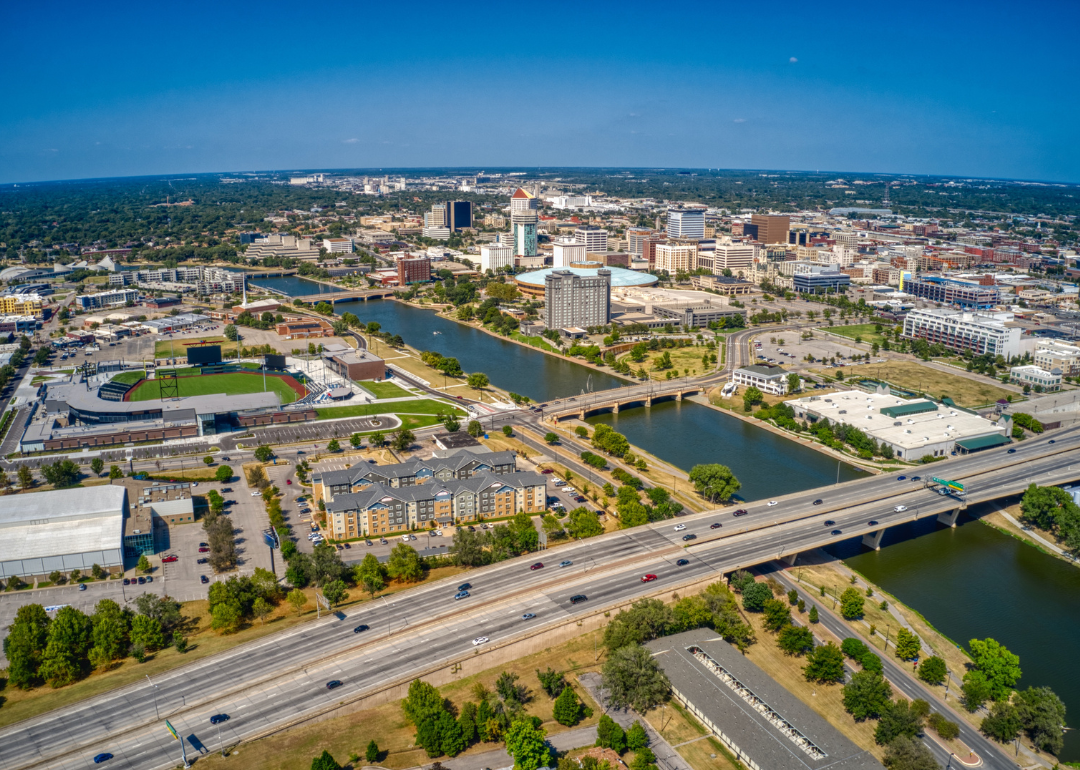 Canva
#13. Wichita, Kansas
– Population: 394,574
Wichita may be a city well-suited for military retirees, with the local McConnell Air Force Base and the Robert J. Dole Veterans Administration Medical Center offering services and amenities for veterans. The city also offers continuing education opportunities, shopping, museums, and festivals to keep seniors active. Niche gave Wichita an A for diversity and an A-minus for nightlife. The median home value is $145,300, well below the national average of $244,900.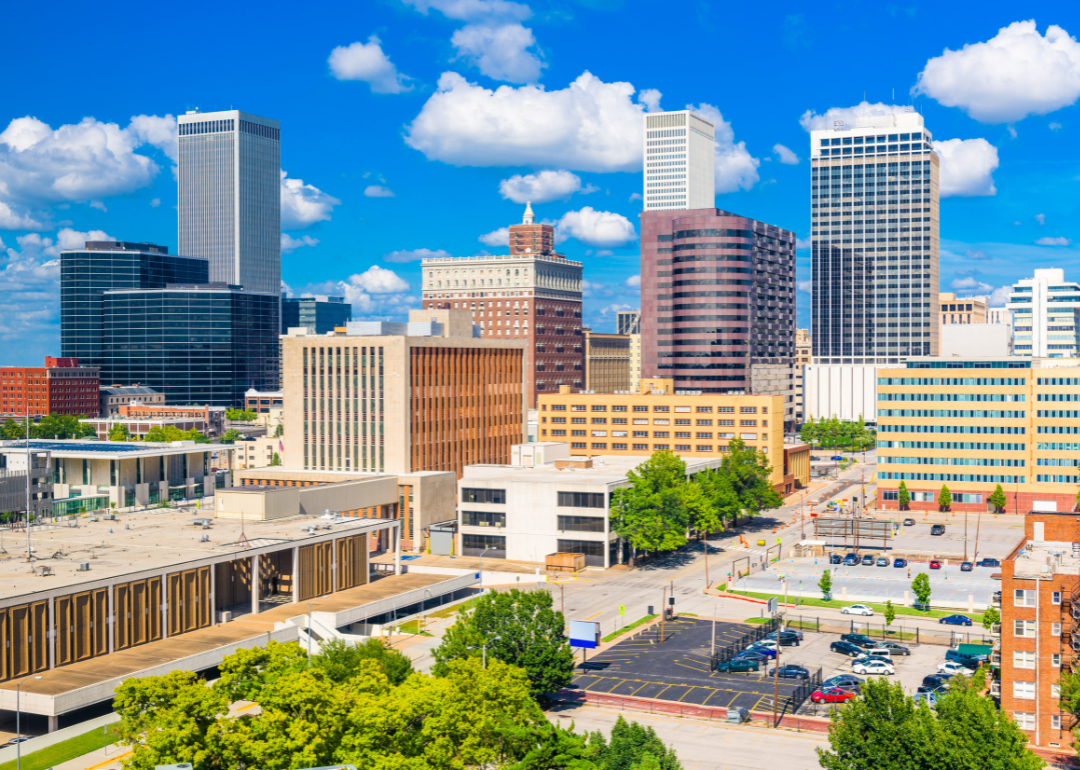 Canva
#12. Tulsa, Oklahoma
– Population: 410,652
Seniors who may be on limited incomes have the tax opportunity to freeze their homes' value in Oklahoma, a state that also does not tax Social Security benefits. The favorable financial reasons, humid subtropical climate, and Niche's overall A-minus grade for Tulsa show why seniors are calling the town home.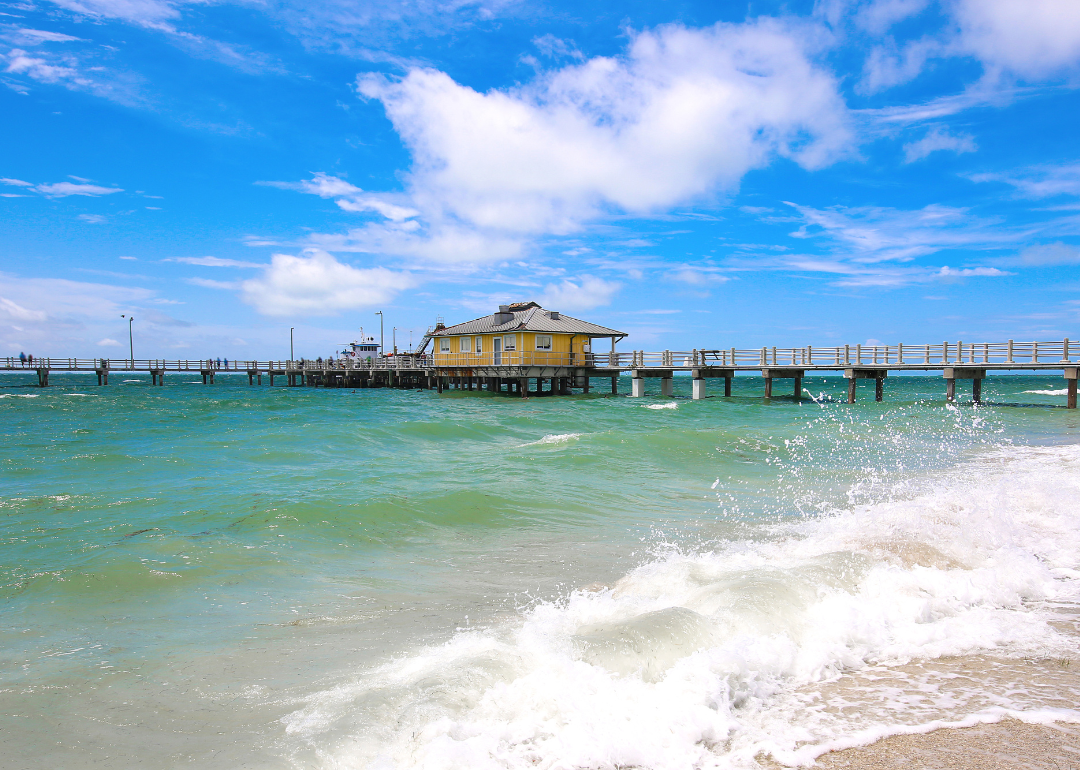 Canva
#11. Tampa, Florida
– Population: 380,476
White sandy beaches and world-class golf courses are among the attractions drawing retirees to the Big Guava. A thriving tourism industry means plenty of restaurants and activities, including the Busch Gardens amusement park, a zoo, an aquarium, and a vibrant downtown arts scene for seniors to enjoy. Monthly rent prices are $86 above the national average, and half of residents rent, but Florida charges no state income tax, helping to offset the cost.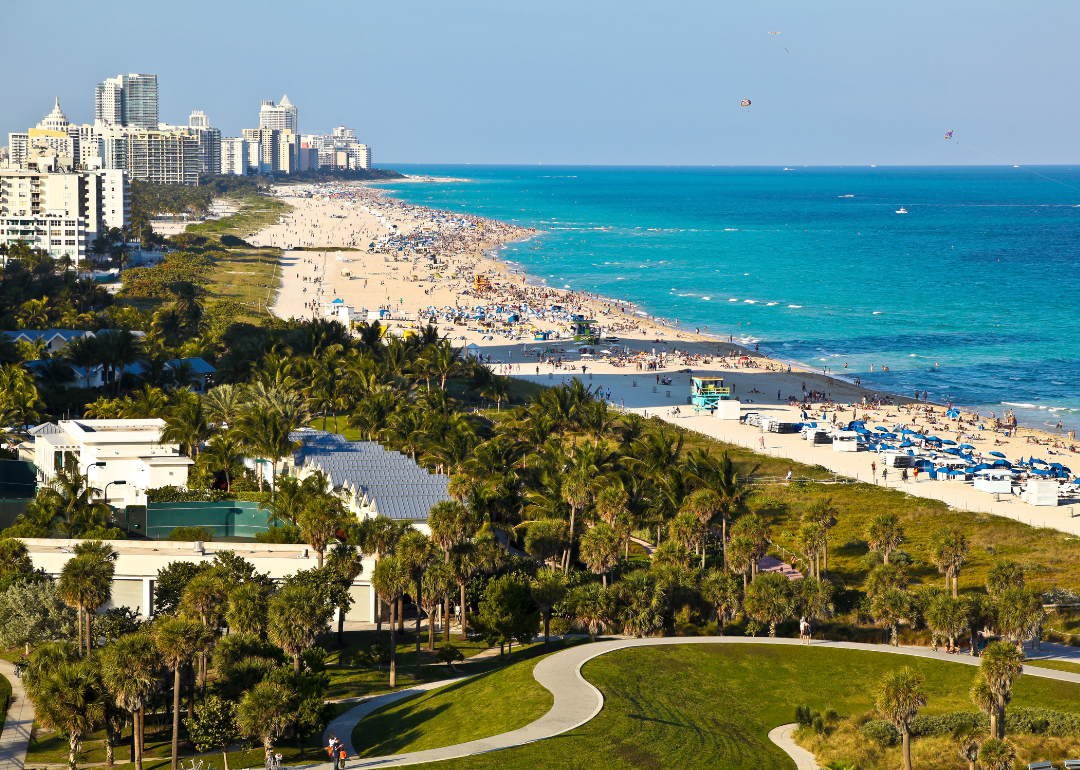 Canva
#10. Miami
– Population: 440,807
The Magic City is an attractive retirement spot thanks to its beautiful weather, world-class golf courses, booming nightlife, and vibrant cultural scene. All those amenities come with a high cost of living and above-average housing prices, but are offset slightly by no income or Social Security taxes in Florida.
Canva
#9. Tucson, Arizona
– Population: 538,167
Attractive housing and rental prices draw seniors to this favorite retirement spot. Additionally, Social Security is not taxed, public pensions qualify for a deduction, and groceries are tax-free. Several museums, and national parks and forests—including Sabino Canyon, offer outdoor activities for those who love the desert.
Canva
#8. Irvine, California
– Population: 297,868
Retirees in Irvine can enjoy the small-town feel of the city, while Los Angeles and San Diego are less than two hours away. Irvine is rated the second-healthiest city in the country, and seniors can certainly feel safe, as KABC reported in 2021 that Irvine "had the lowest rate of violent crime per capita for a city of its size," for the 13th straight year. Retiring in Irvine does come with a steep cost of living, with housing prices more than three times the national average.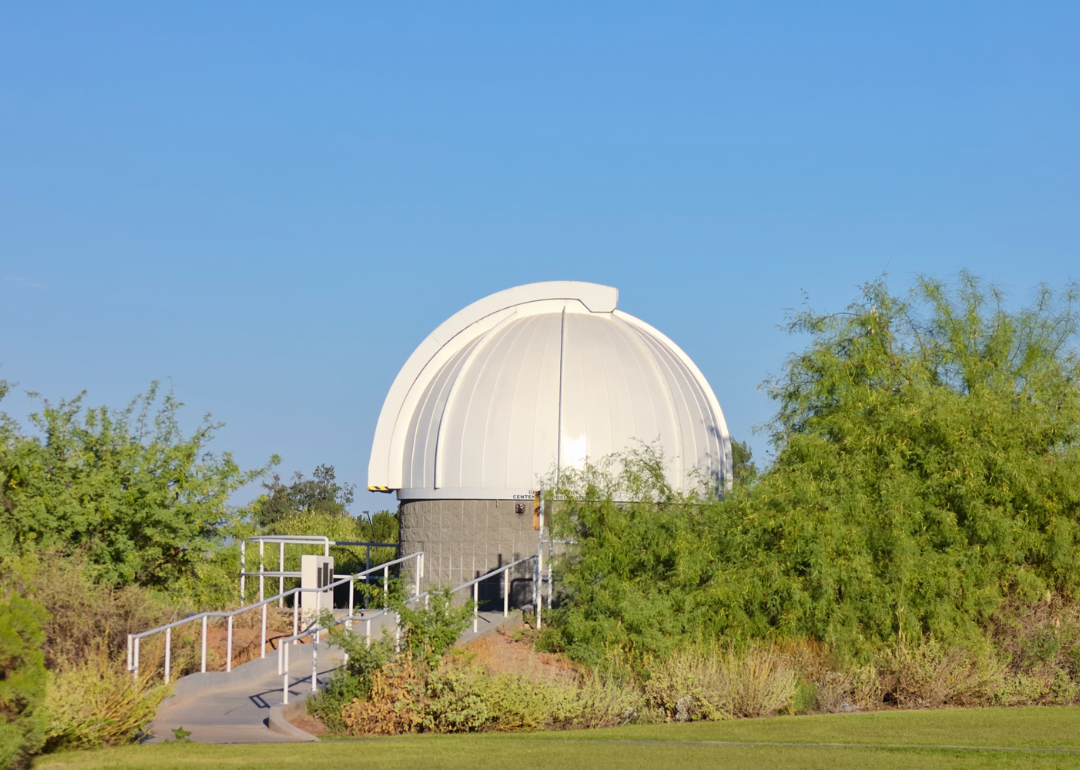 Canva
#7. Gilbert, Arizona
– Population: 262,249
Once a farming community known as the "Hay Capital of the World" until the late 1920s, Gilbert developed around a rail siding on property owned by William Gilbert. Today it is vibrant and affluent, with a low crime rate and a downtown known as the Heritage District. There are more than 30 restaurants, boutiques, shops selling locally made arts and antiques, a theater, and a historical museum. Kiplinger describes Arizona as "Sunshine, sunshine, sunshine—and low taxes." It exempts Social Security benefits from state income taxes as well as up to $2,500 from federal and Arizona government retirement plans. Your military retirement income also is not taxed.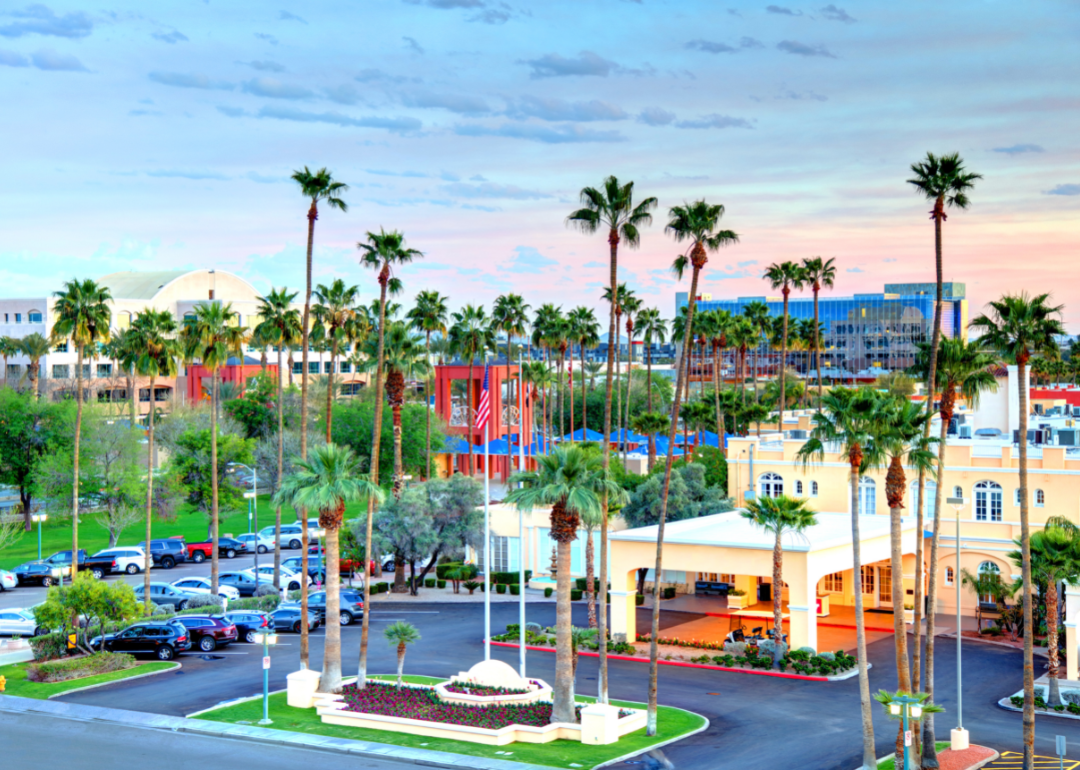 Canva
#6. Chandler, Arizona
– Population: 272,439
Chandler is 6.5 miles from Gilbert, Arizona. It's a middle-class suburb of Phoenix, and like Gilbert, it offers good schools, parks, and activities for both children and seniors. It is part of a fast-growing technology center, with businesses like Northrop Grumman and Raytheon in the area. Banner Health opened Banner Ocotillo Medical Center, a new comprehensive medical center in Chandler. Senior housing is plentiful, including apartments, golf resorts, and other communities.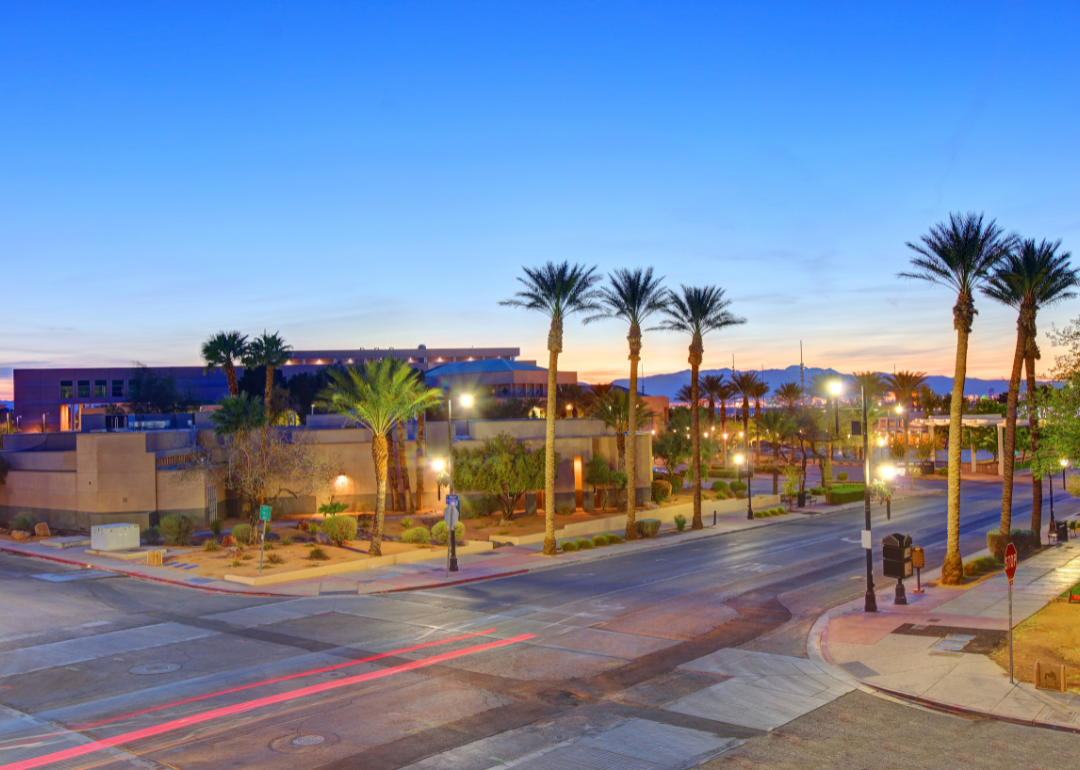 Canva
#5. Henderson, Nevada
– Population: 311,250
As the second largest city in Nevada, after Las Vegas, the hot summer climate of Henderson offers seniors an array of activities to enjoy all year long. Notably walkable, Henderson has dozens of concert venues, casino resorts for active senior nightlife, and many parks, lakes, and mountain loop trails for afternoon excursions. Niche grades Henderson B-plus, highlighting slightly above average median home and rent prices.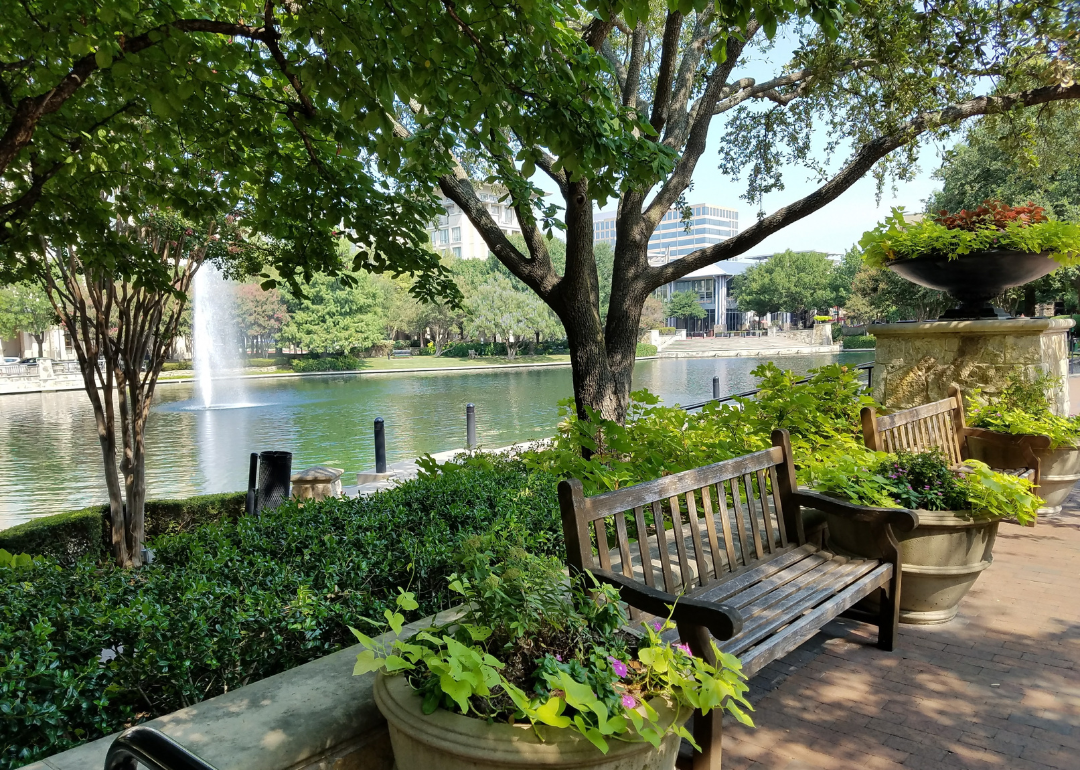 Canva
#4. Plano, Texas
– Population: 282,181
Retirees here enjoy the low cost of living, a low crime rate, and a wide array of activities. Plano, given an overall A-plus grade by Niche, was also rated in the top 10 for Niche's best city and best place to buy a house. Fans of the television show "Dallas" will recognize some landmarks filmed in Plano for the show.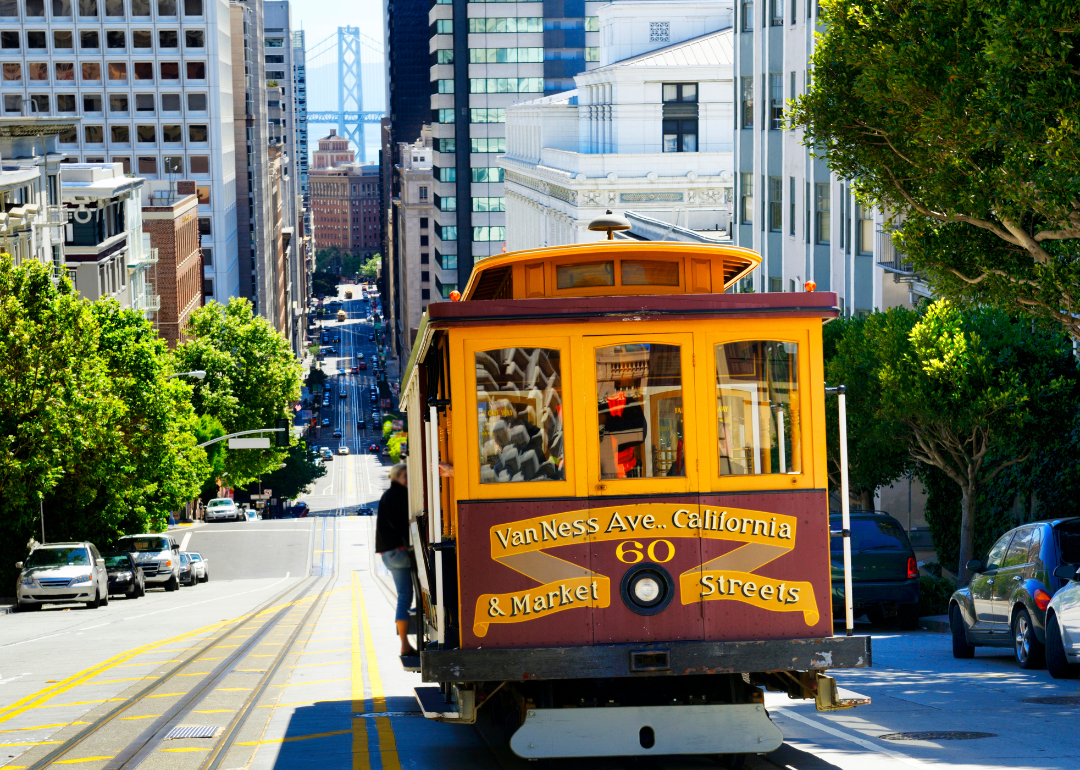 Canva
#3. San Francisco
– Population: 865,933
For seniors who can afford to reside in the Golden Gate City, the countless things to do and see and the warm-summer Mediterranean climate makes it an attractive spot to retire. People craving cultural experiences can check out some of San Francisco's best museums and be proud of the fact that the city was ranked #1 greenest in the country by a WalletHub study.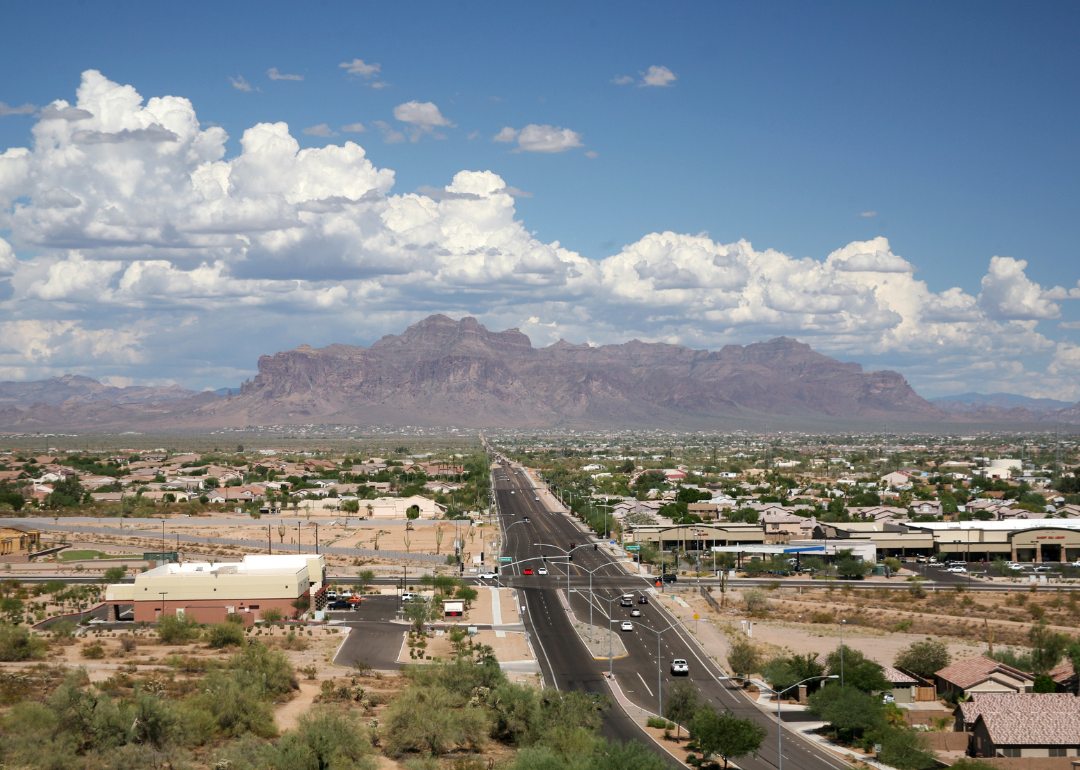 Canva
#2. Mesa, Arizona
– Population: 497,752
Beautiful weather, a low cost of living, and a wide selection of golf courses and outdoor activities make Mesa an attractive spot for seniors. Housing and rent are in line with national averages, while retirees can enjoy some of the best health care in the nation. For art lovers, check out the Mesa Arts Center, with many art classes, a contemporary art museum, and performances throughout the year, including classical music, speakers, and theater.
Canva
#1. St. Petersburg, Florida
– Population: 258,245
As the Sunshine State is the quintessential spot for retirement, so is the Sunshine City, according to Niche. Sun shines nearly every day of the year, and white sandy beaches and world-class golf courses minutes away earn St. Petersburg an A from Niche for outdoor activities. Nearly one-fifth of the population is 55 or over, and 63% of the population owns a home, with values right around the national average.
More Stacker National