Windiest cities in America
Published 7:00 pm Tuesday, February 28, 2023

Joe Tabacca // Shutterstock
Windiest cities in America
In April 1934, the U.S. recorded its highest wind speed ever, a gust of 231 miles per hour at Mount Washington Observatory in New Hampshire. The Mount Washington weather station, situated at the highest point in New England, continues to record high wind speeds, averaging 35.8 miles per hour between 1984 and 2020.
Wind is caused by varying levels of pressure in the Earth's atmosphere. Air pressure is influenced by air temperature and density. And uneven heating caused by Earth's rotation around the sun and on its own axis creates global circulation patterns
Wind patterns also become more pronounced during different seasons. Throughout the Northern Hemisphere's winter, windy jet stream patterns tend to shift further south, but as summer approaches jet streams lift northward. Many cities on the list find themselves in the middle of this transition during spring.
Wind speeds aren't universal across the U.S. Besides seasonal changes, topography also plays a role in which regions are the windiest. Plains states, relatively flat and without natural barriers like mountains, can develop higher wind speeds than other regions. Some of the top cities on the list are also located at high elevations.
Stacker cited data from NOAA to identify the 50 windiest cities in the U.S. Cities are ranked by average wind speed between January 1984 and December 2020. Maximum monthly average wind speeds served as a tiebreaker. Wind speeds are calculated by NOAA 1.5 meters above the surface of the weather station. The analysis is limited to cities with populations of at least 50,000 according to Census 2021 estimates.
Chicago, famously dubbed the Windy City, makes the top 50 list but falls short of the number one spot. Its famous skyline, featuring some of the tallest buildings in the U.S., can intensify winds as gusts flow around skyscrapers and create higher-speed wind channels. The Willis Tower can even sway up to three feet on the top floor during windy days. Combined with the breezes from Lake Michigan, it seems the Windy City has still earned its moniker.
Read on to see the full list and see which cities beat Chicago.
You may also like: 100 cities where summer is starting earlier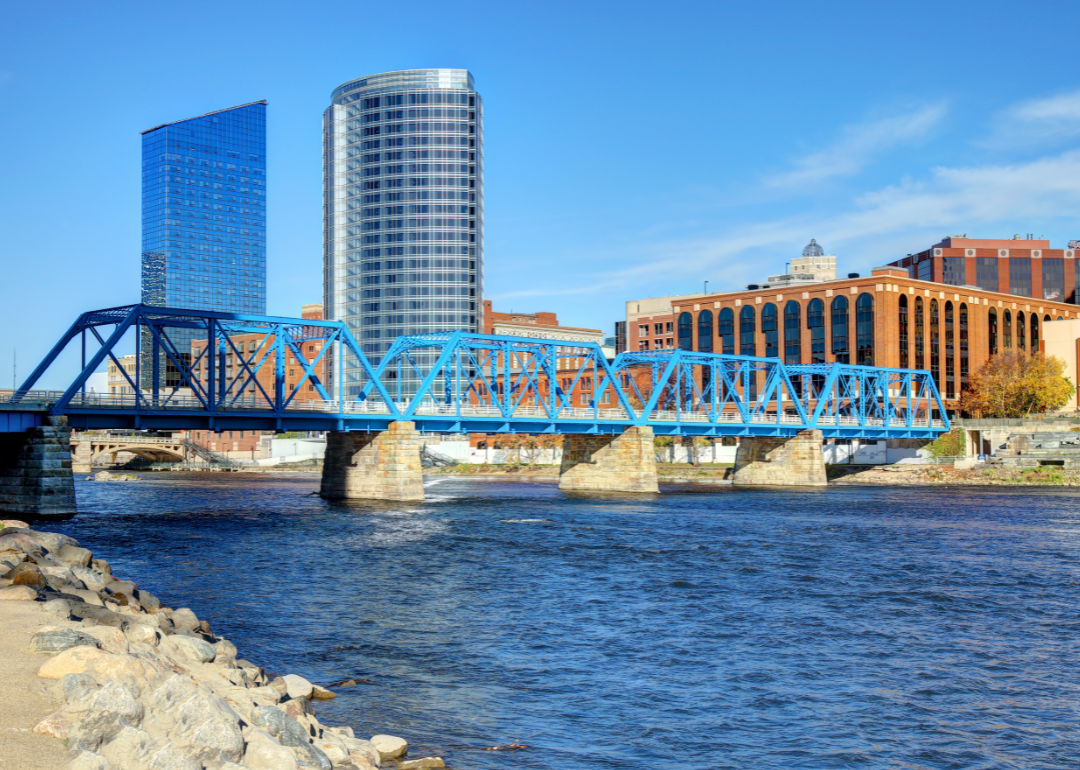 Canva
#50. Grand Rapids, Michigan
– Annual average wind speed: 9.5 miles per hour
– Windiest month: January and April (tie) (10.8 miles per hour on average)
Canva
#49. Bridgeport, Connecticut
– Annual average wind speed: 9.5 miles per hour
– Windiest month: March (10.8 miles per hour on average)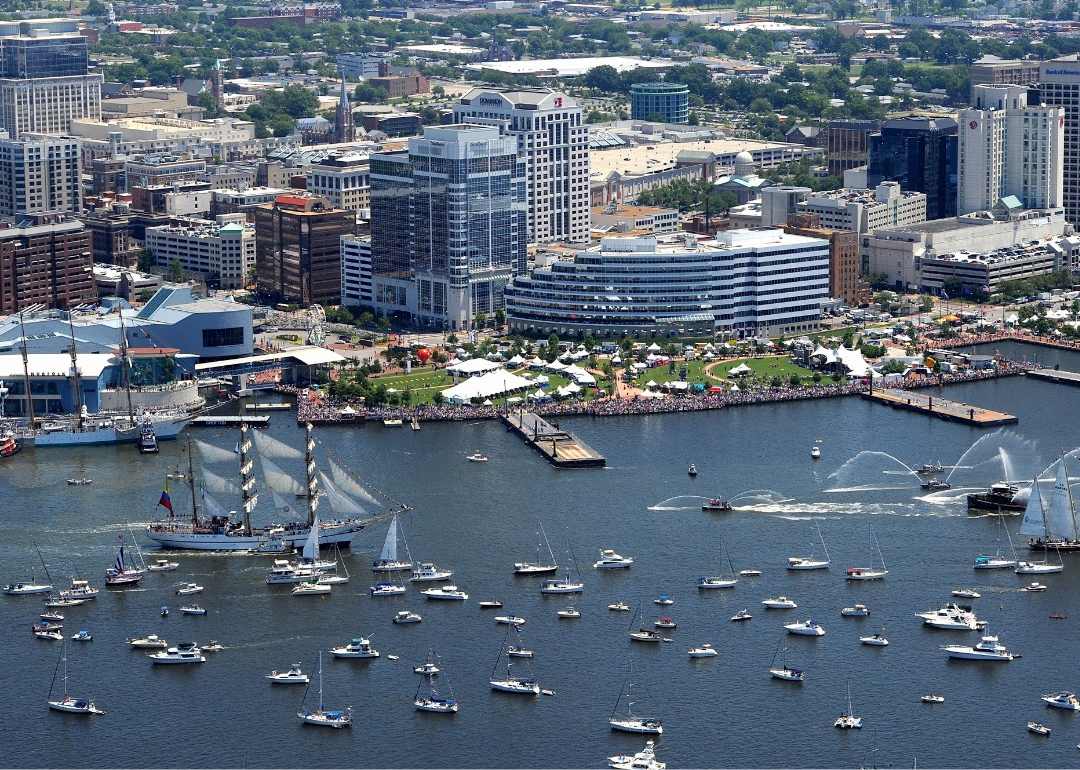 Canva
#48. Norfolk, Virginia
– Annual average wind speed: 9.5 miles per hour
– Windiest month: March and April (tie) (10.9 miles per hour on average)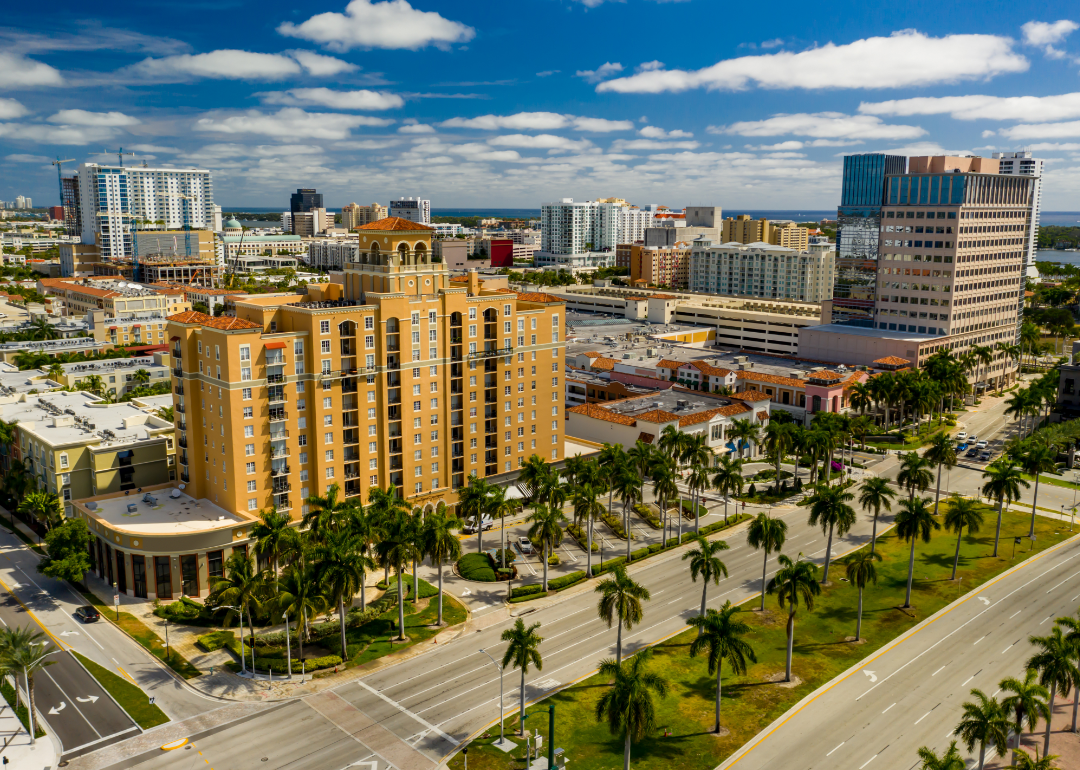 Canva
#47. West Palm Beach, Florida
– Annual average wind speed: 9.5 miles per hour
– Windiest month: March (11 miles per hour on average)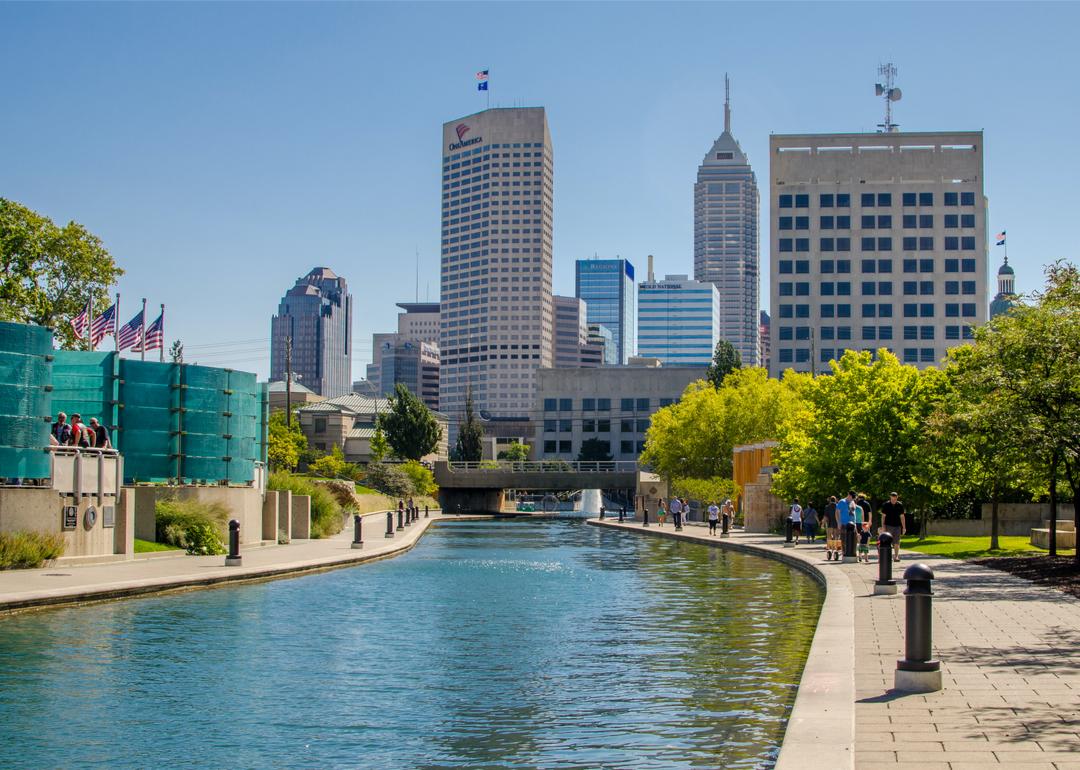 KYPhua // Shutterstock
#46. Indianapolis, Indiana
– Annual average wind speed: 9.5 miles per hour
– Windiest month: March and April (tie) (11.1 miles per hour on average)
You may also like: County with the most severe weather in every state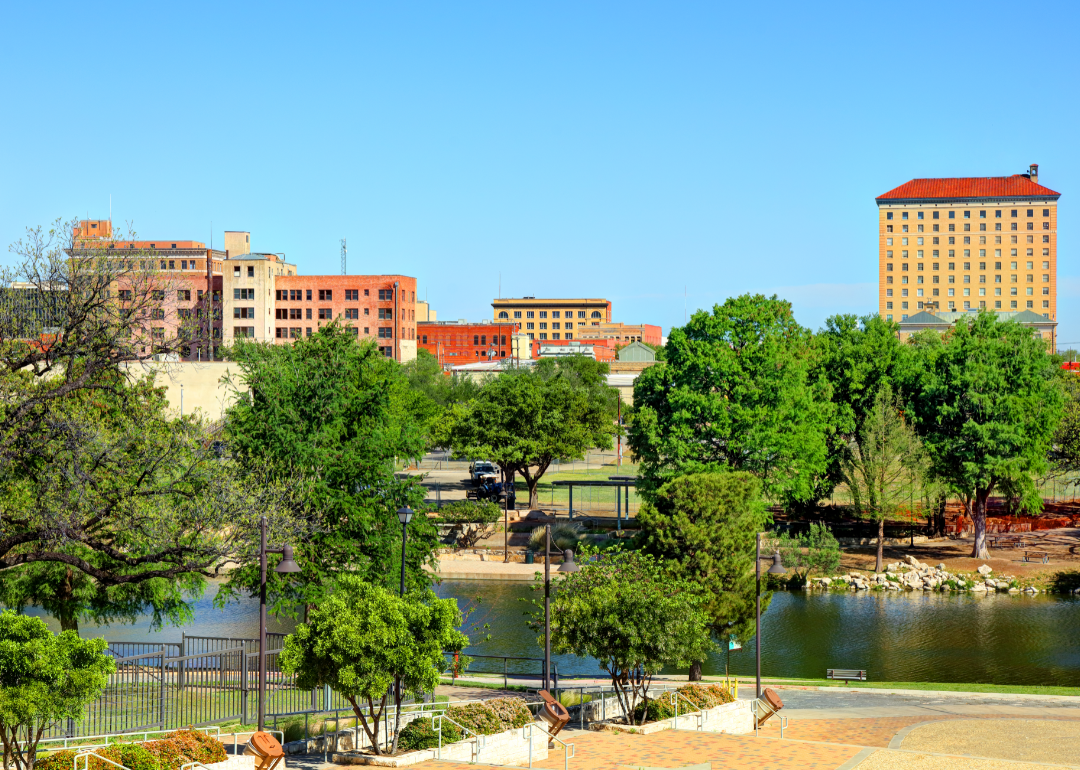 Canva
#45. San Angelo, Texas
– Annual average wind speed: 9.5 miles per hour
– Windiest month: April (11.2 miles per hour on average)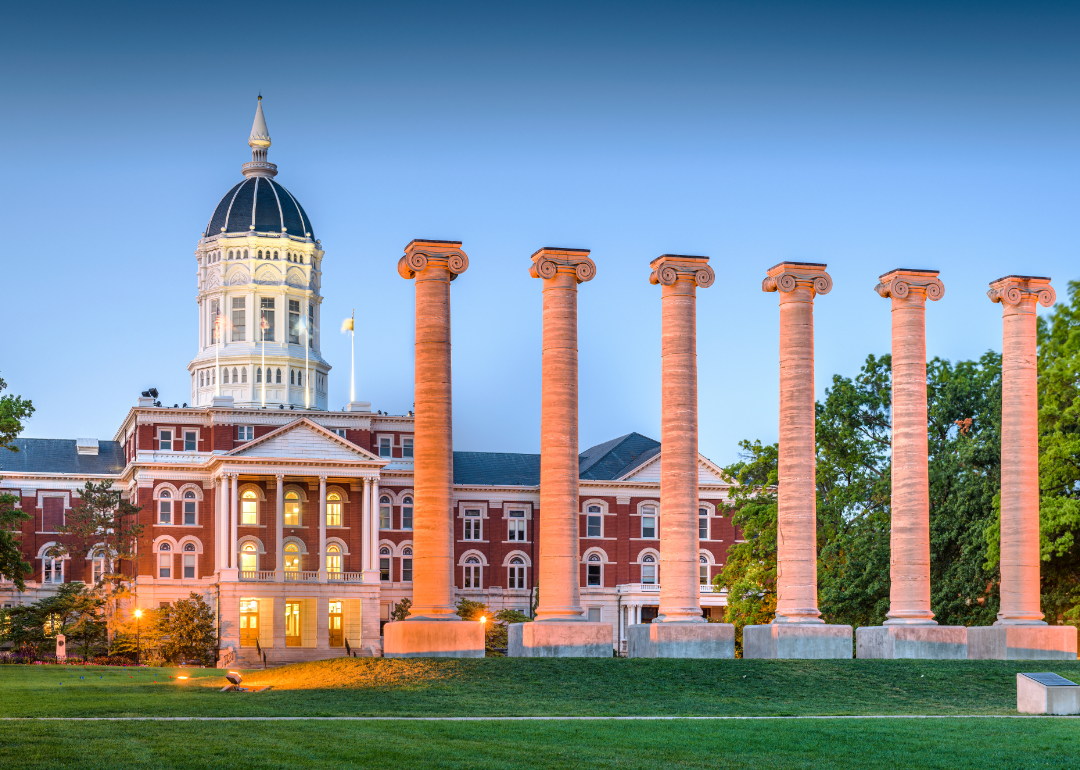 Canva
#44. Columbia, Missouri
– Annual average wind speed: 9.5 miles per hour
– Windiest month: March and April (tie) (11.2 miles per hour on average)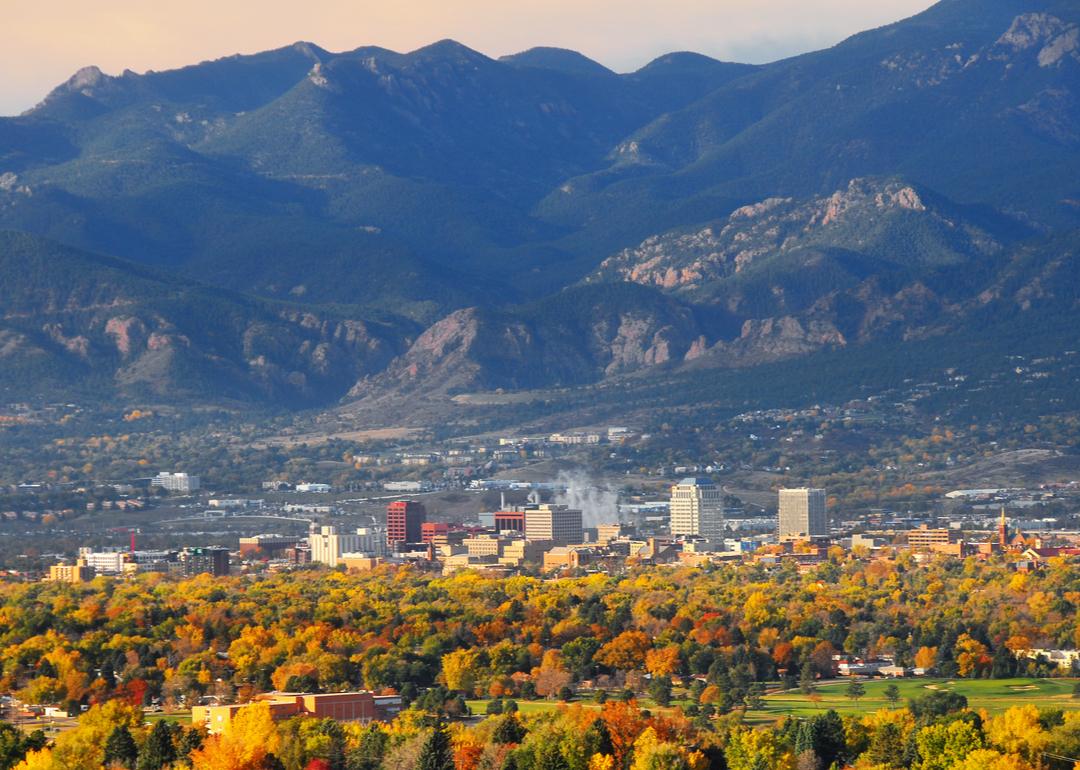 John Hoffman // Shutterstock
#43. Colorado Springs, Colorado
– Annual average wind speed: 9.5 miles per hour
– Windiest month: April (11.4 miles per hour on average)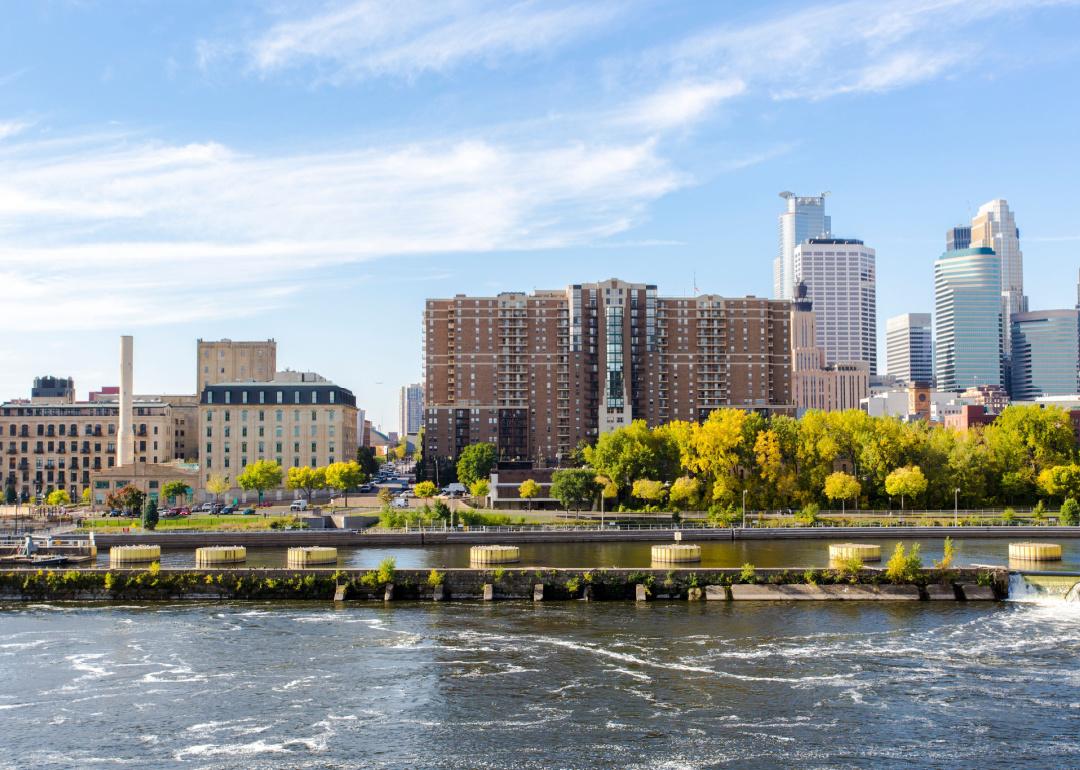 ostreetphotography // Shutterstock
#42. Minneapolis-St.Paul, Minnesota
– Annual average wind speed: 9.6 miles per hour
– Windiest month: April (11.1 miles per hour on average)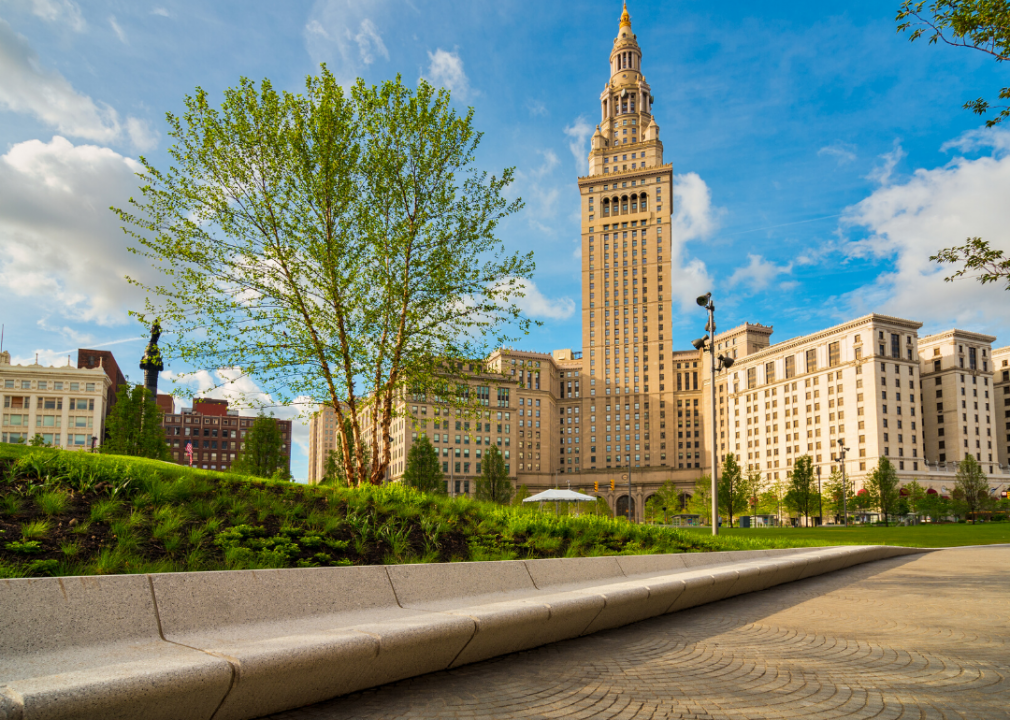 Canva
#41. Cleveland, Ohio
– Annual average wind speed: 9.6 miles per hour
– Windiest month: January (11.4 miles per hour on average)
You may also like: What hurricane season was like the year you were born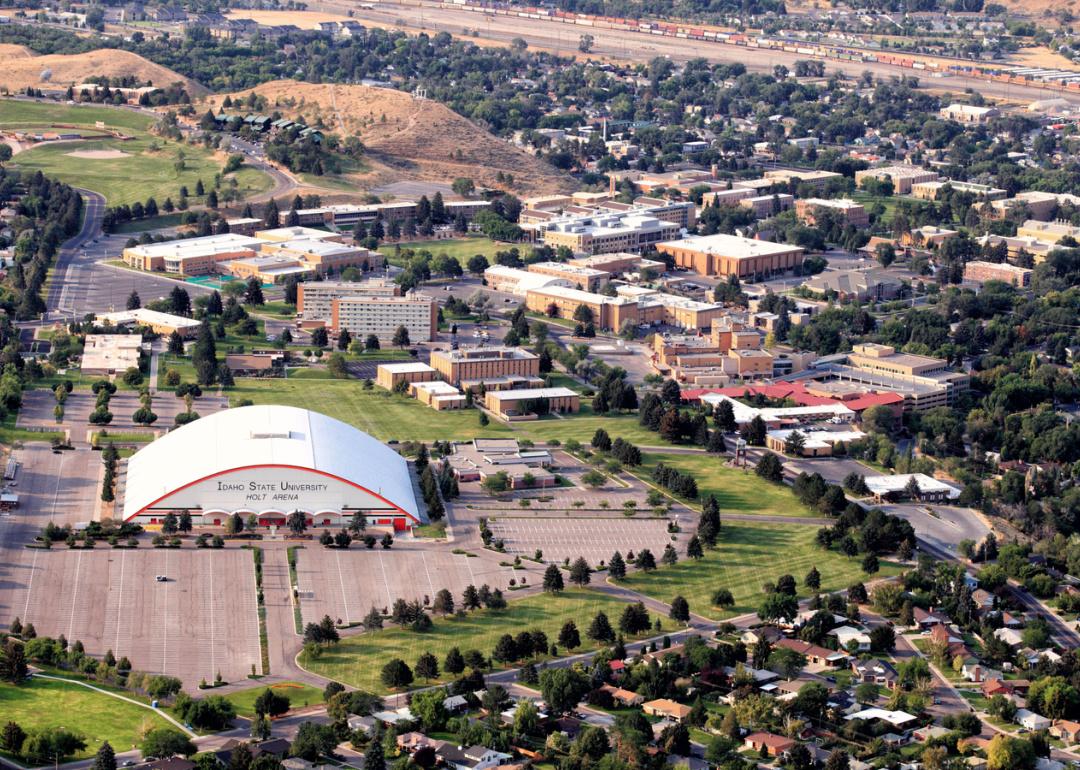 B Brown // Shutterstock
#40. Pocatello, Idaho
– Annual average wind speed: 9.6 miles per hour
– Windiest month: April (11.5 miles per hour on average)
Canva
#39. Newark, New Jersey
– Annual average wind speed: 9.8 miles per hour
– Windiest month: March (11.2 miles per hour on average)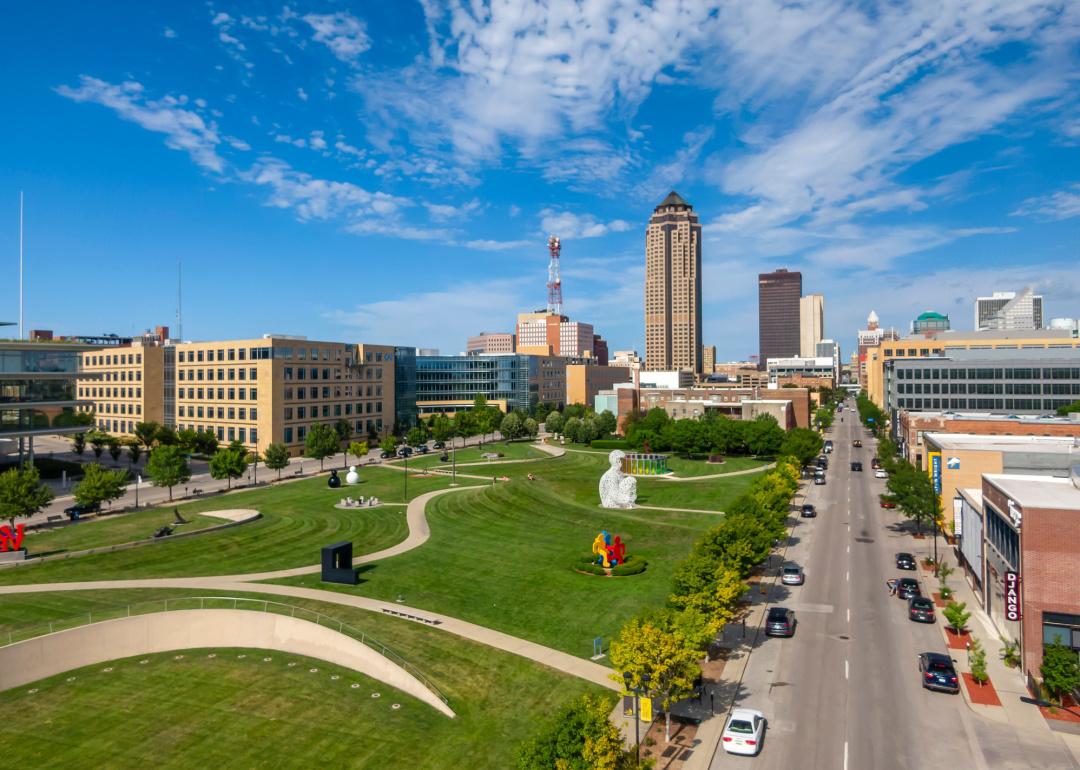 Grindstone Media Group // Shutterstock
#38. Des Moines, Iowa
– Annual average wind speed: 9.8 miles per hour
– Windiest month: April (11.4 miles per hour on average)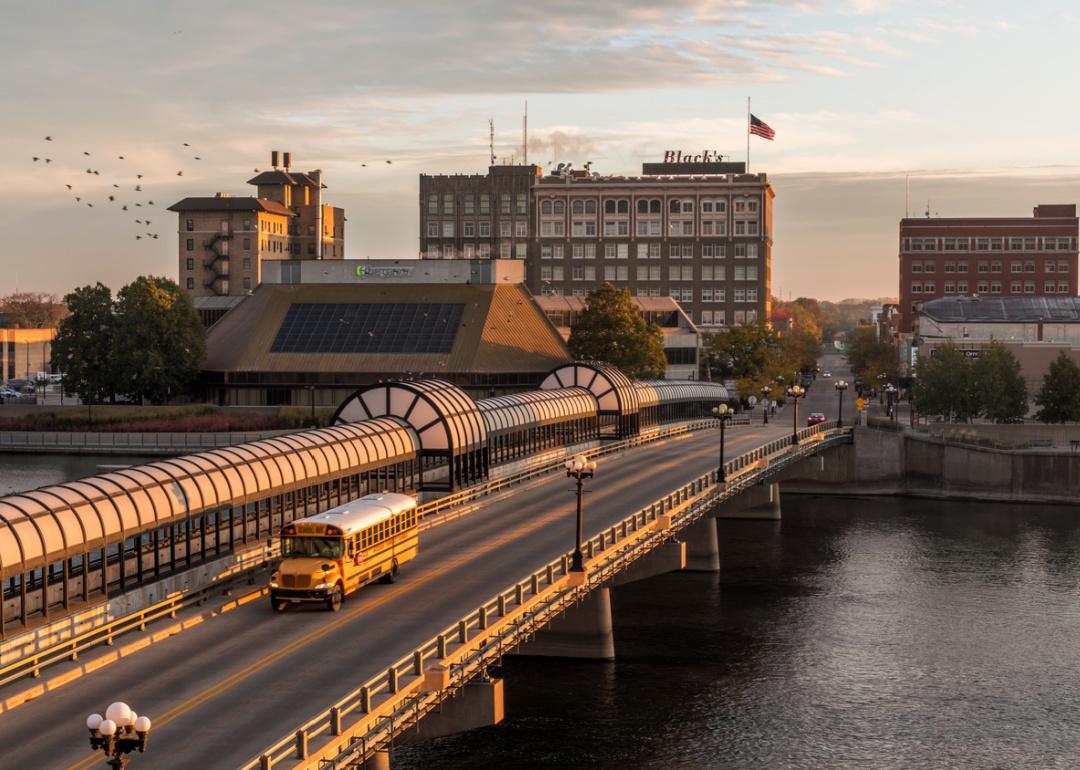 Sam Wagner // Shutterstock
#37. Waterloo, Iowa
– Annual average wind speed: 9.8 miles per hour
– Windiest month: April (11.9 miles per hour on average)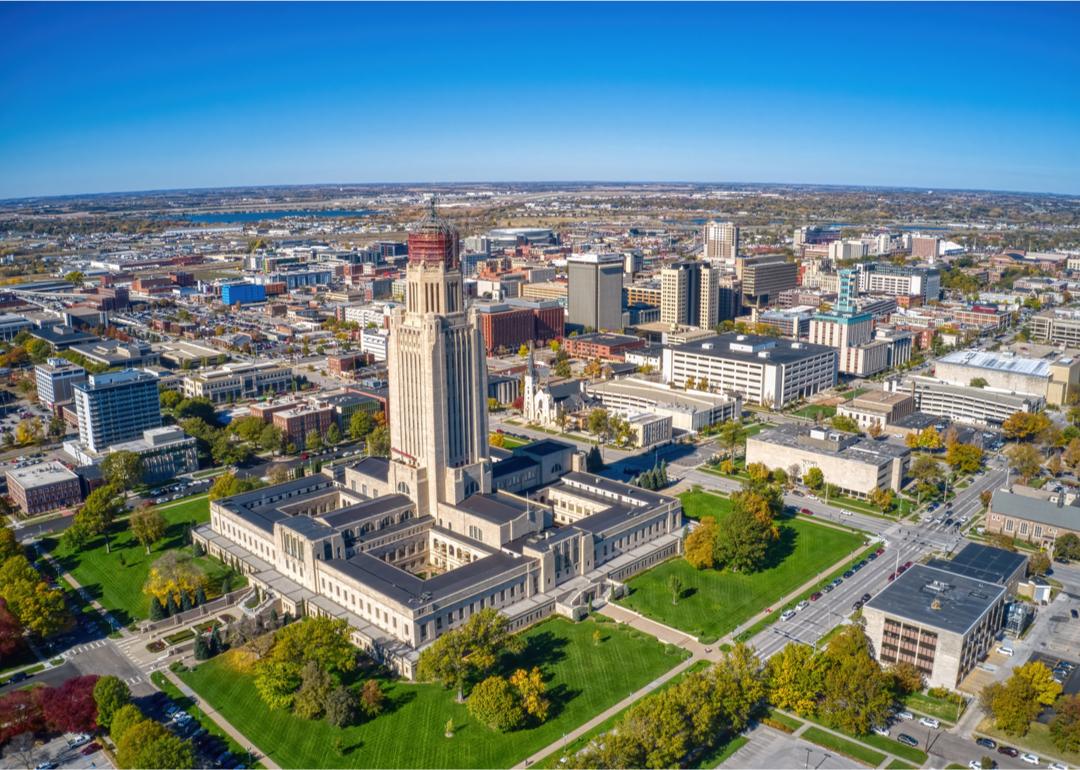 Jacob Boomsma // Shutterstock
#36. Lincoln, Nebraska
– Annual average wind speed: 9.8 miles per hour
– Windiest month: April (12 miles per hour on average)
You may also like: States with the worst droughts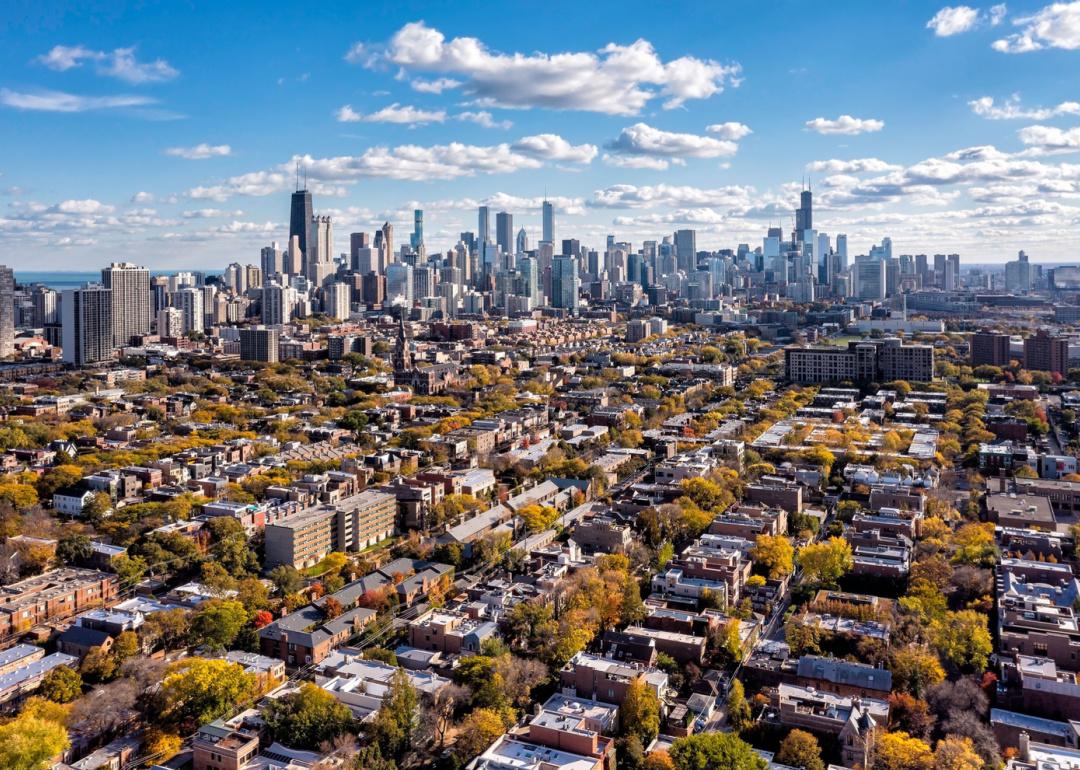 marchello74 // Shutterstock
#35. Chicago, Illinois
– Annual average wind speed: 9.9 miles per hour
– Windiest month: April (11.2 miles per hour on average)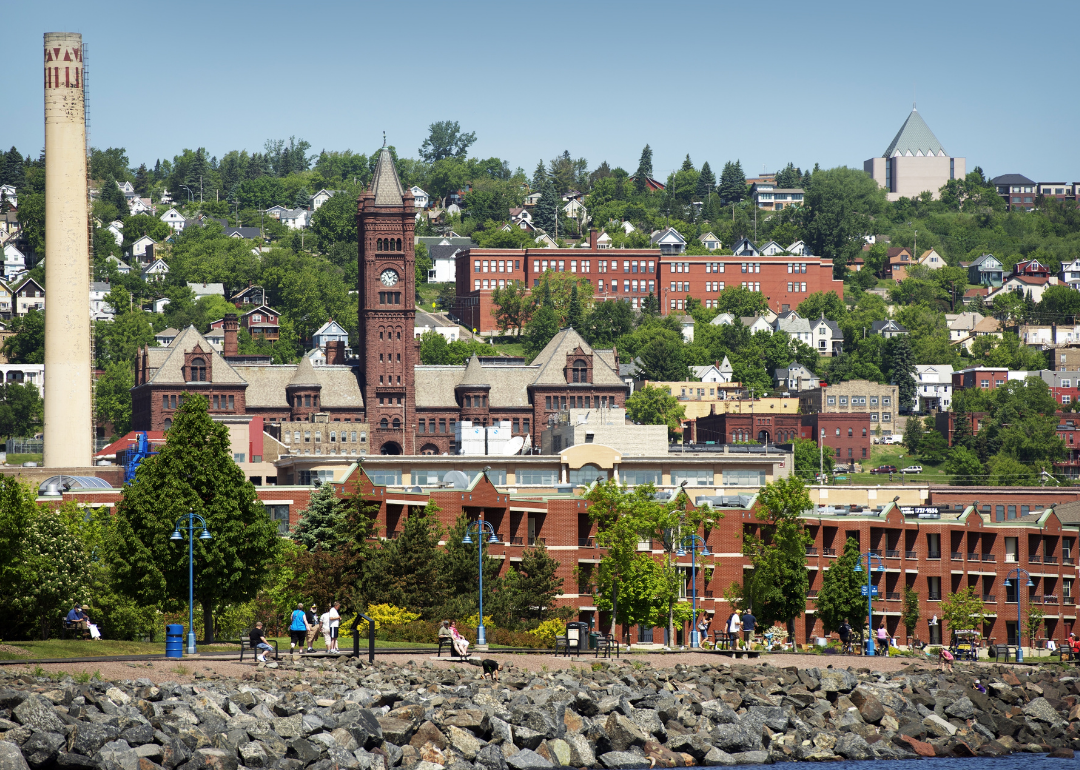 Canva
#34. Duluth, Minnesota
– Annual average wind speed: 10 miles per hour
– Windiest month: April (11.1 miles per hour on average)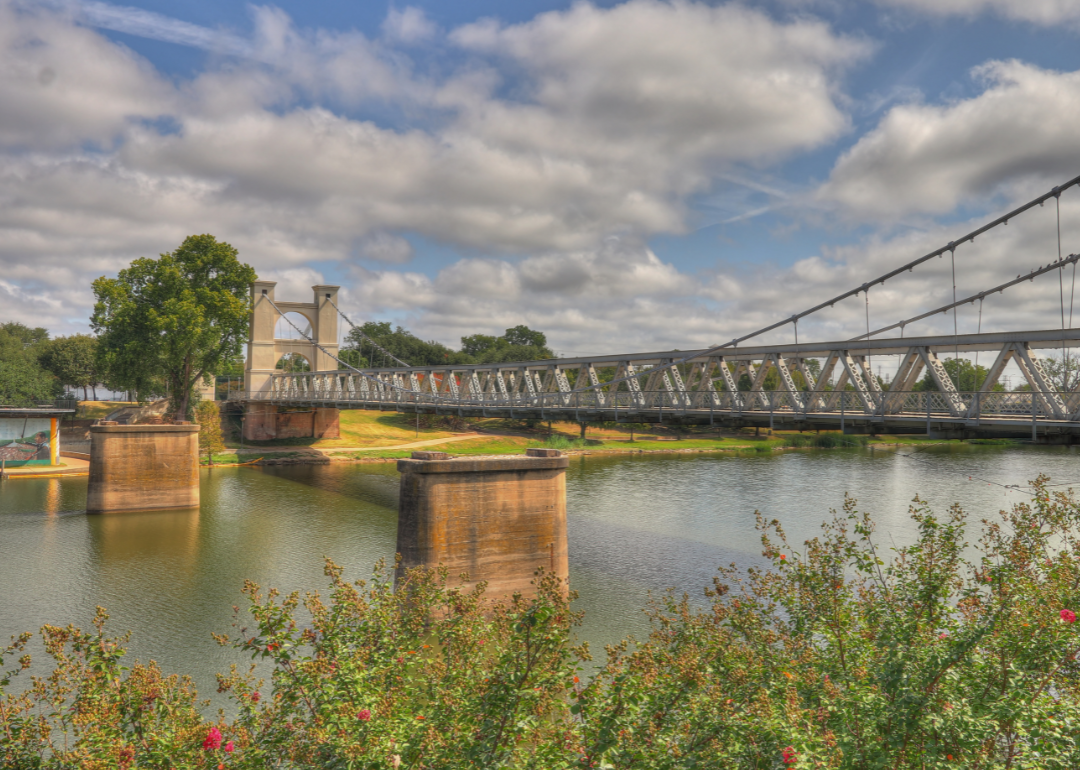 Canva
#33. Waco, Texas
– Annual average wind speed: 10 miles per hour
– Windiest month: March and April (tie) (11.3 miles per hour on average)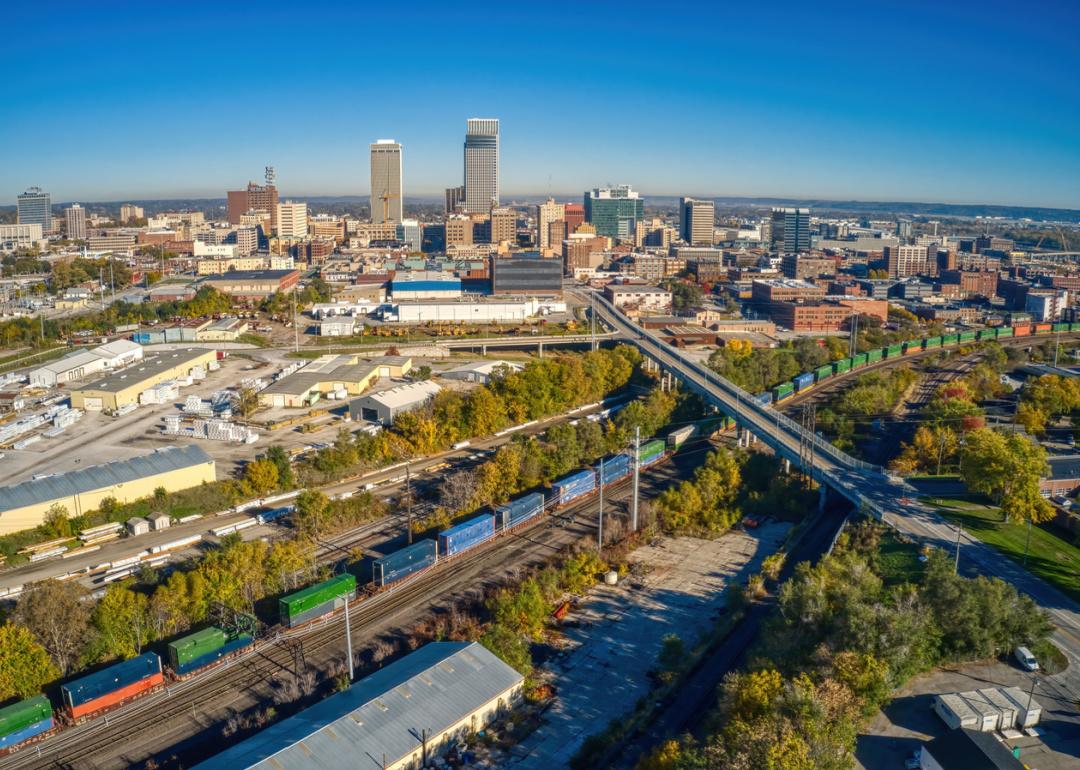 Jacob Boomsma // Shutterstock
#32. Omaha, Nebraska
– Annual average wind speed: 10 miles per hour
– Windiest month: April (11.8 miles per hour on average)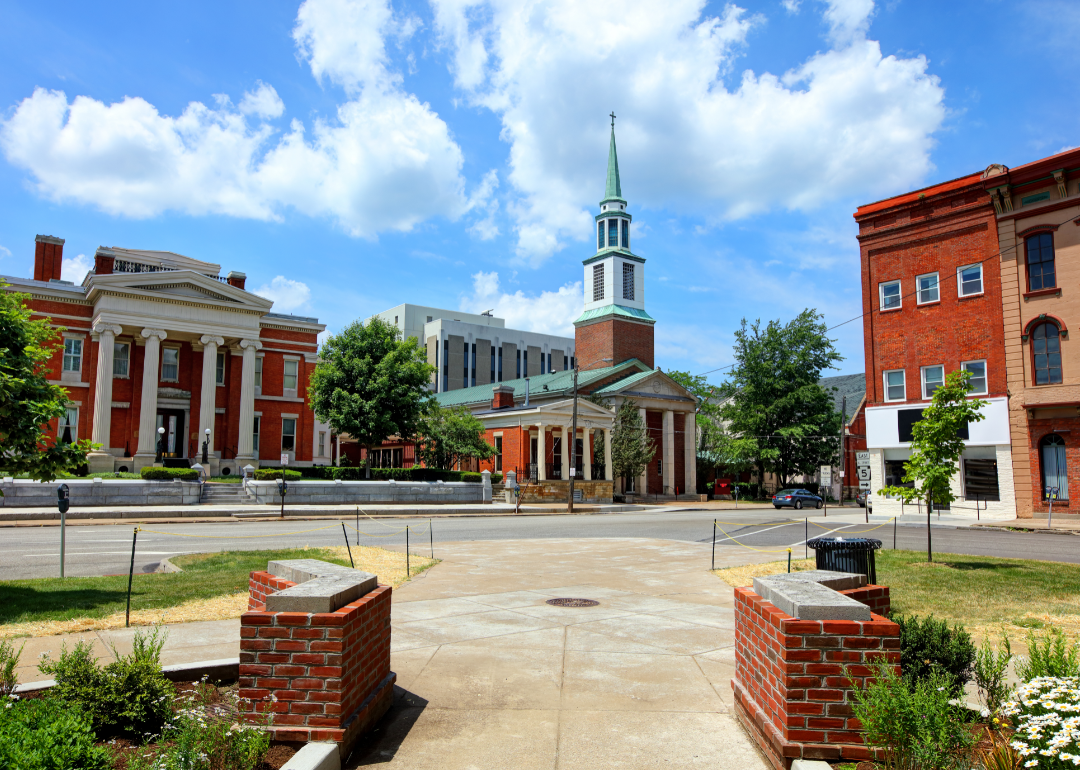 Canva
#31. Erie, Pennsylvania
– Annual average wind speed: 10 miles per hour
– Windiest month: January (12 miles per hour on average)
You may also like: Why does lightning strike? And answers to 50 other weather questions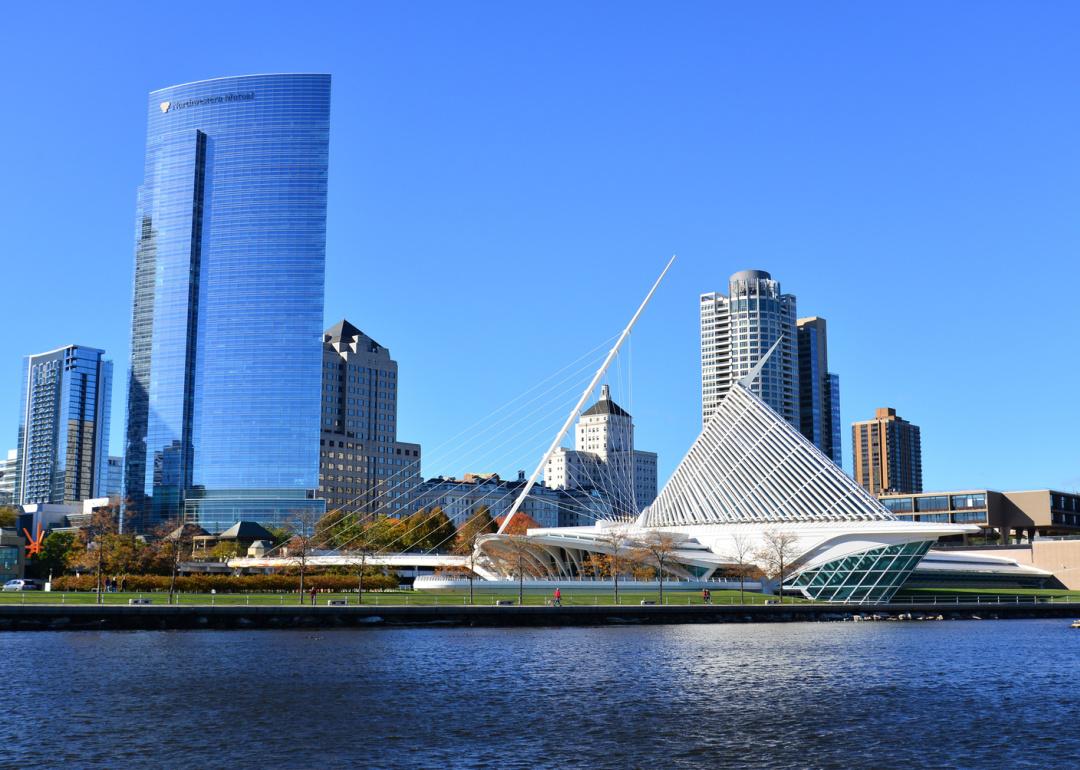 Tony Savino // Shutterstock
#30. Milwaukee, Wisconsin
– Annual average wind speed: 10.1 miles per hour
– Windiest month: April (11.4 miles per hour on average)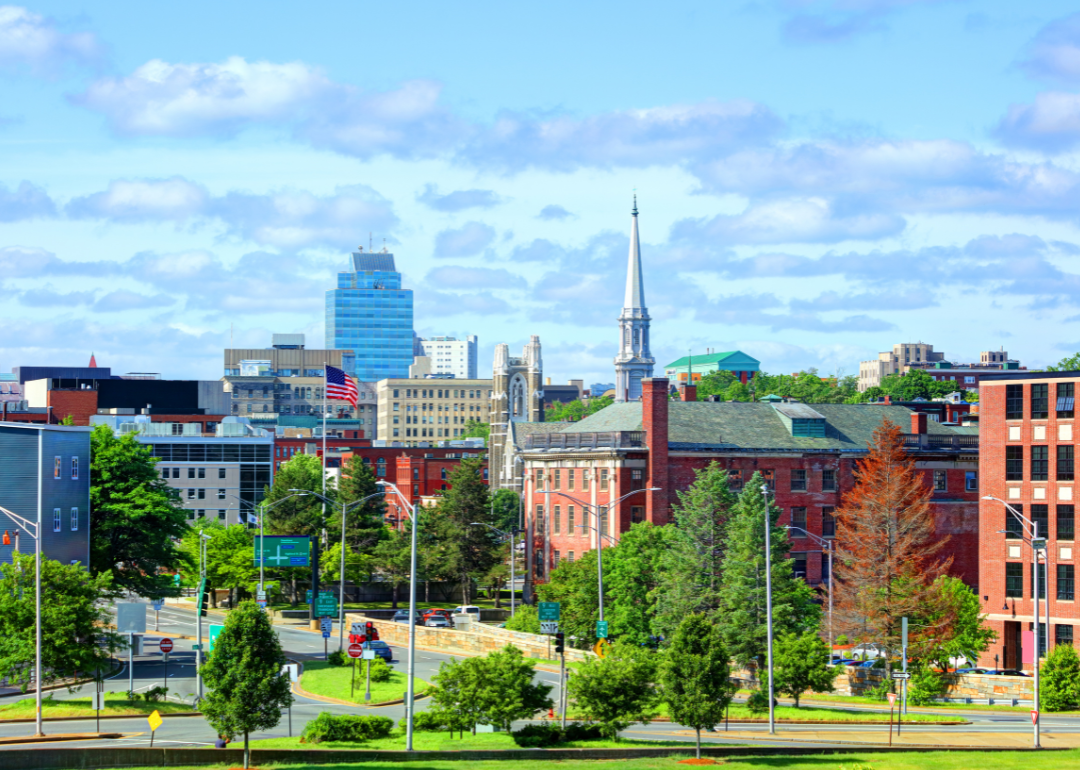 Canva
#29. Worcester, Massachusetts
– Annual average wind speed: 10.2 miles per hour
– Windiest month: February (11.5 miles per hour on average)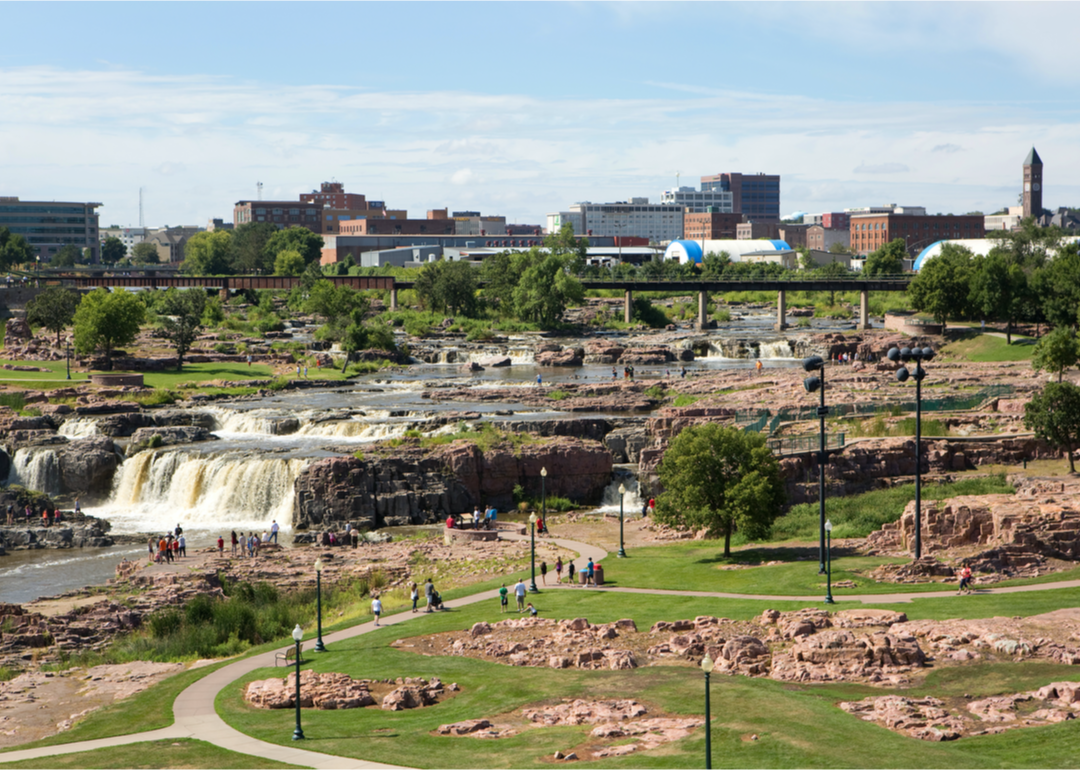 Steven Frame // Shutterstock
#28. Sioux Falls, South Dakota
– Annual average wind speed: 10.2 miles per hour
– Windiest month: April (12 miles per hour on average)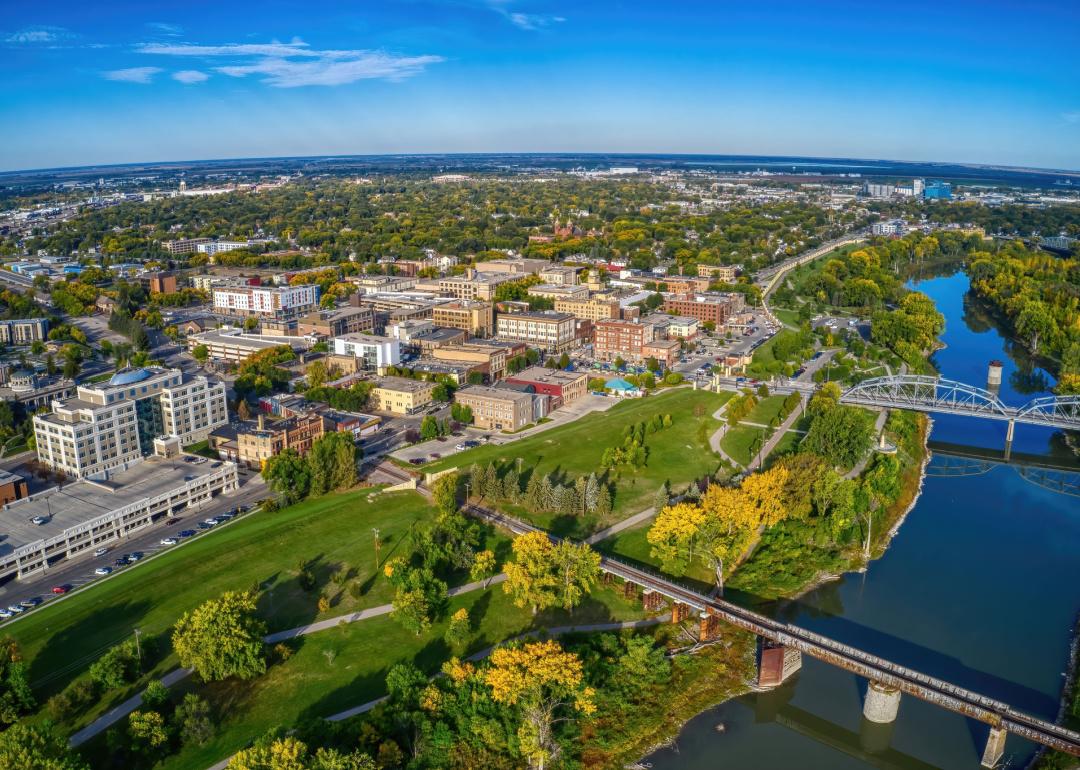 Jacob Boomsma // Shutterstock
#27. Grand Forks, North Dakota
– Annual average wind speed: 10.3 miles per hour
– Windiest month: April (11.3 miles per hour on average)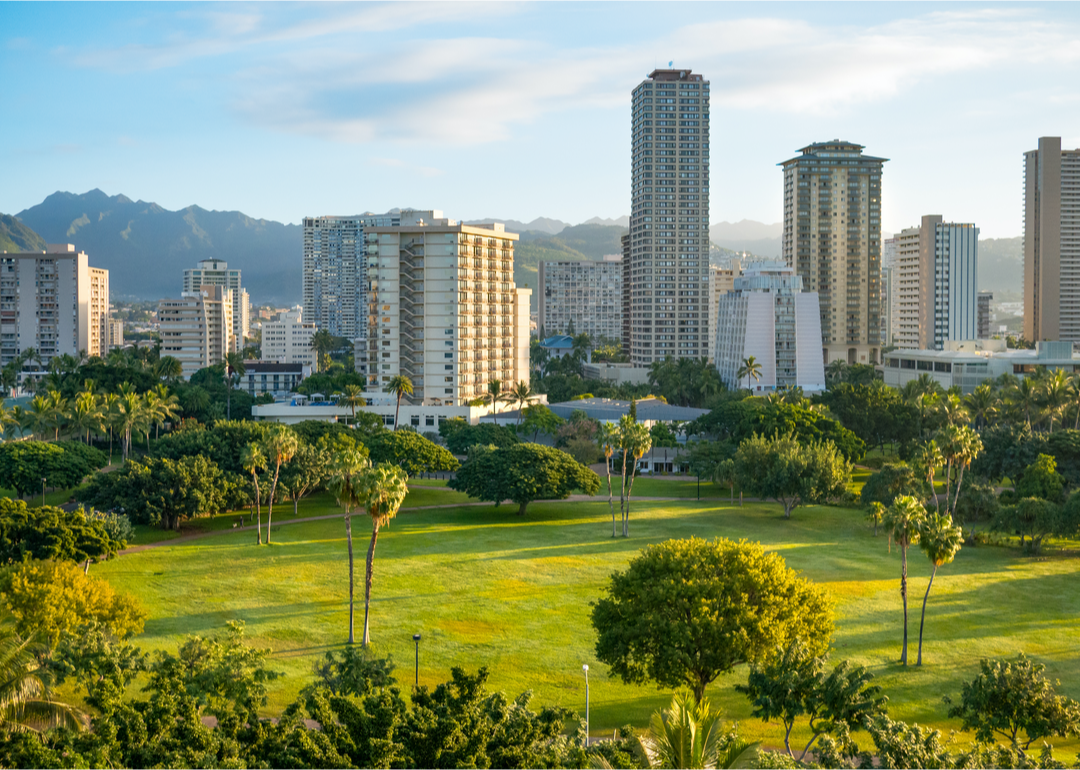 Leigh Trail // Shutterstock
#26. Honolulu, Hawaii
– Annual average wind speed: 10.3 miles per hour
– Windiest month: July (11.9 miles per hour on average)
You may also like: How weather has shaped human history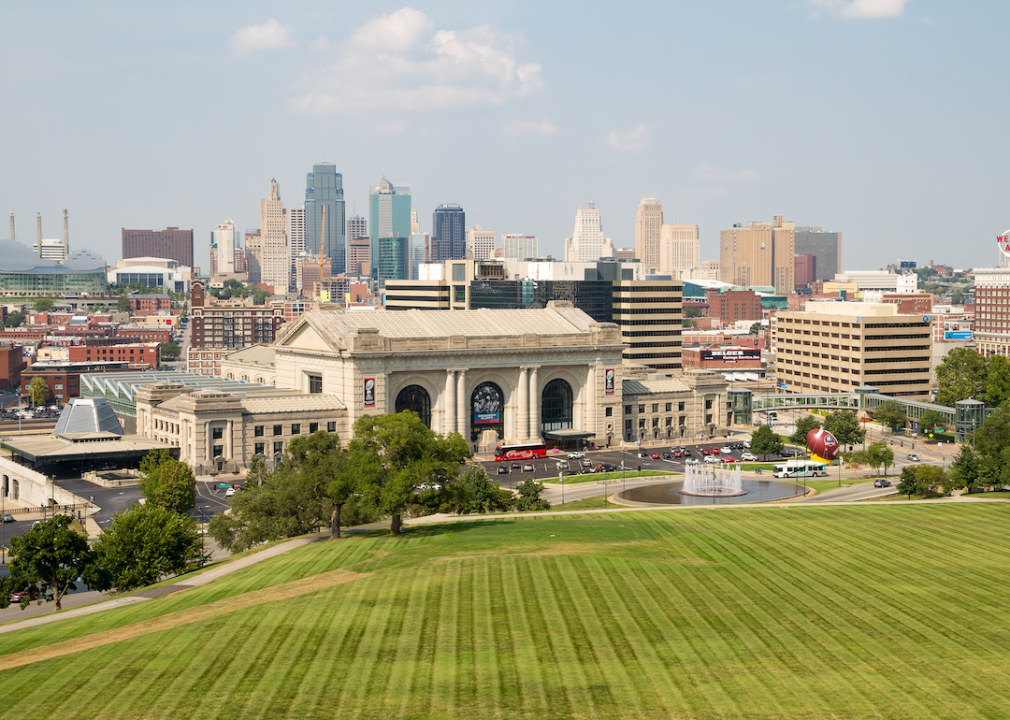 TommyBrison // Shutterstock
#25. Kansas City, Missouri
– Annual average wind speed: 10.3 miles per hour
– Windiest month: April (12.1 miles per hour on average)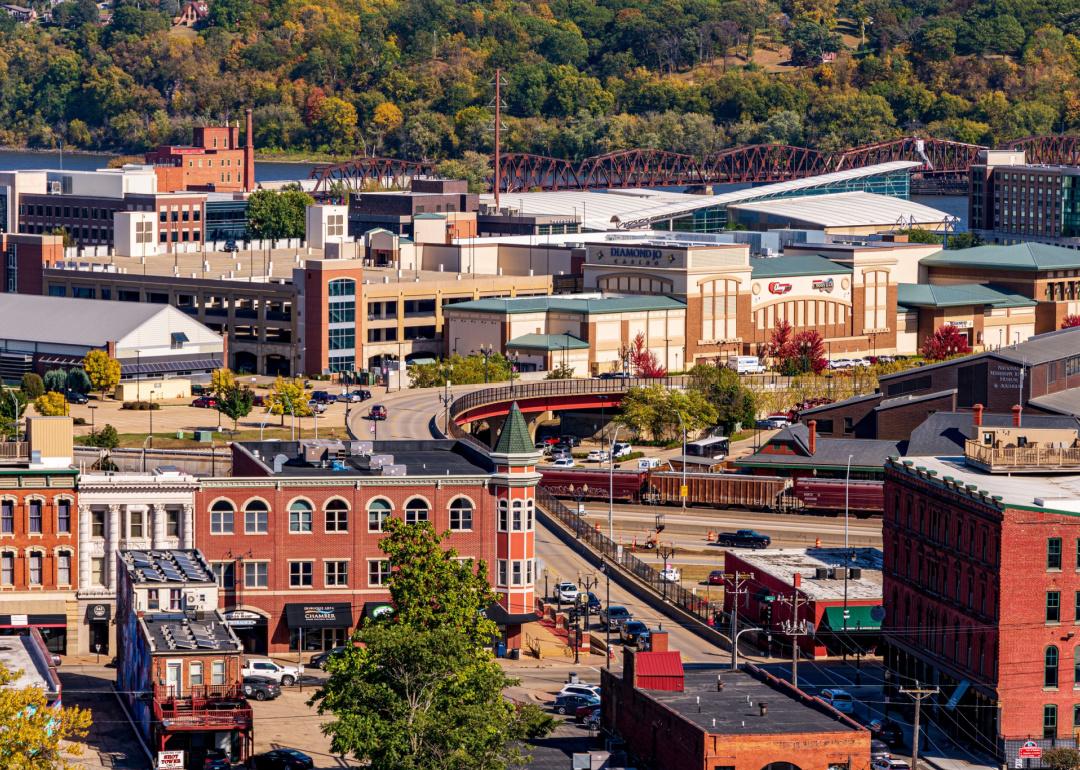 Dawid S Swierczek // Shutterstock
#24. Dubuque, Iowa
– Annual average wind speed: 10.3 miles per hour
– Windiest month: April (12.3 miles per hour on average)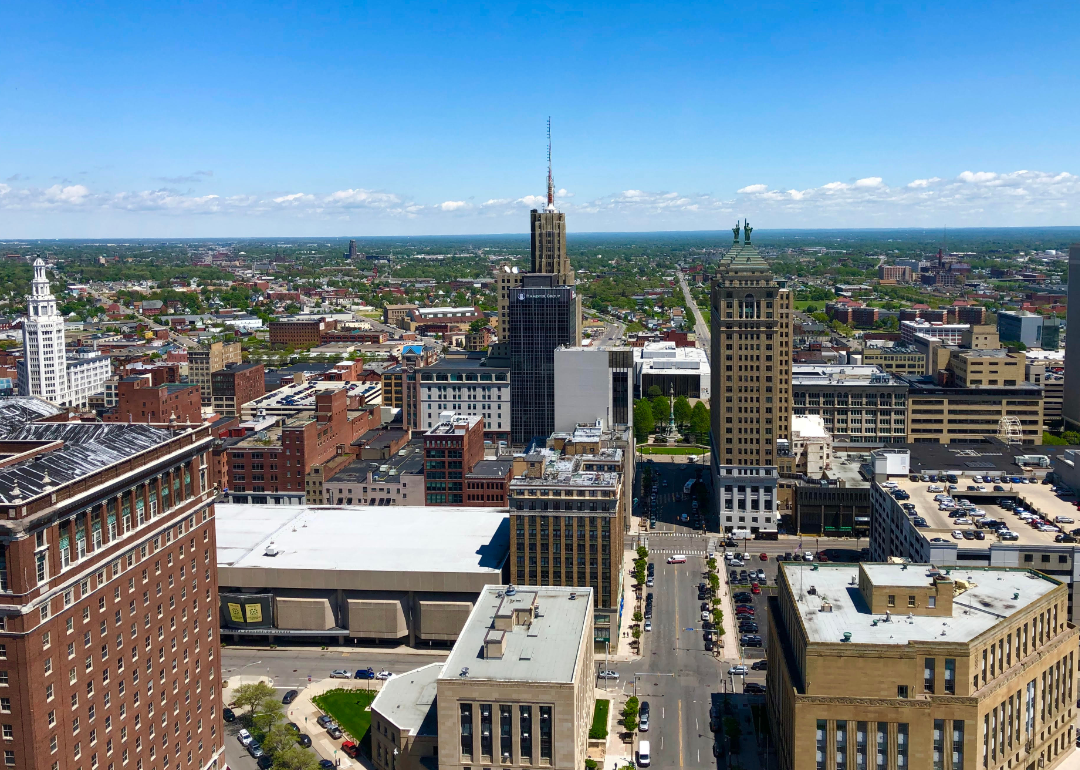 Canva
#23. Buffalo, New York
– Annual average wind speed: 10.3 miles per hour
– Windiest month: January (12.4 miles per hour on average)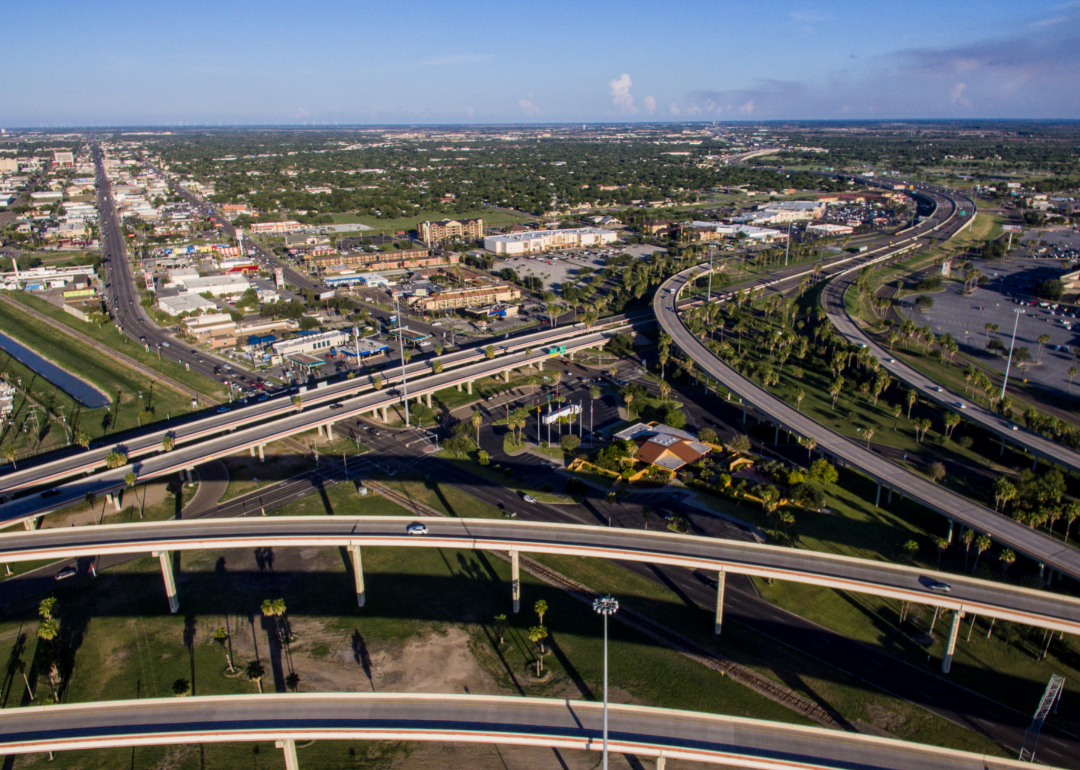 Canva
#22. Brownsville, Texas
– Annual average wind speed: 10.4 miles per hour
– Windiest month: April (12.4 miles per hour on average)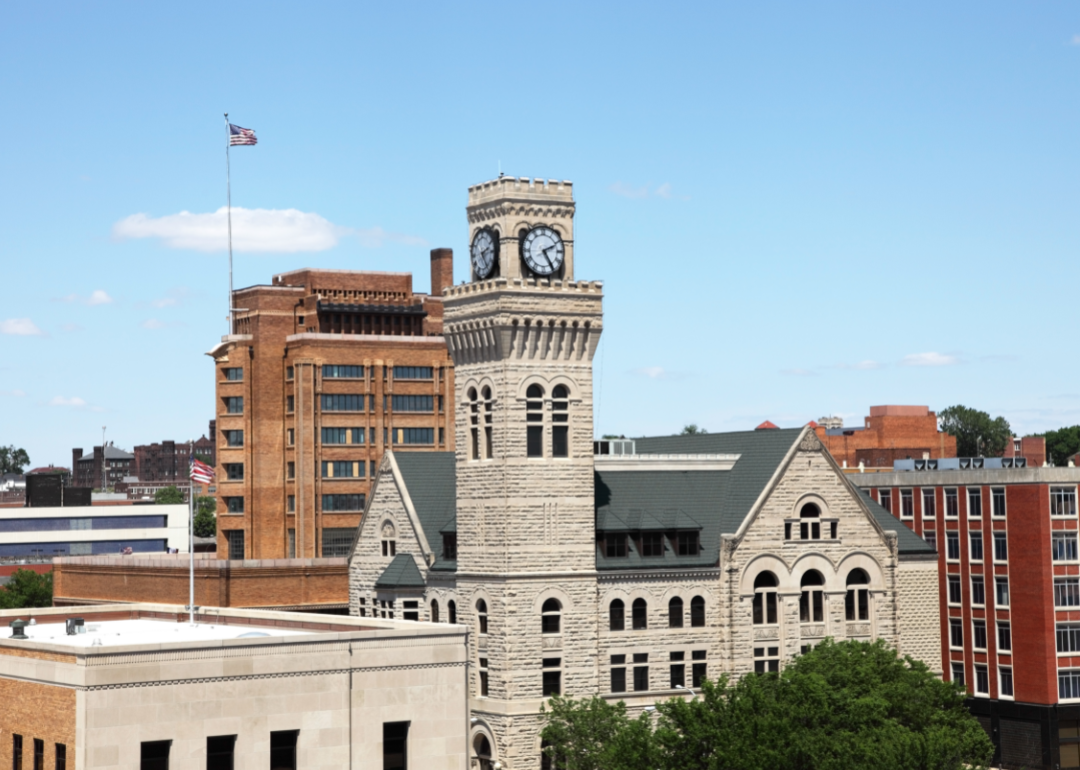 Canva
#21. Sioux City, Iowa
– Annual average wind speed: 10.4 miles per hour
– Windiest month: April (12.4 miles per hour on average)
You may also like: 15 ways to stay cool this summer without AC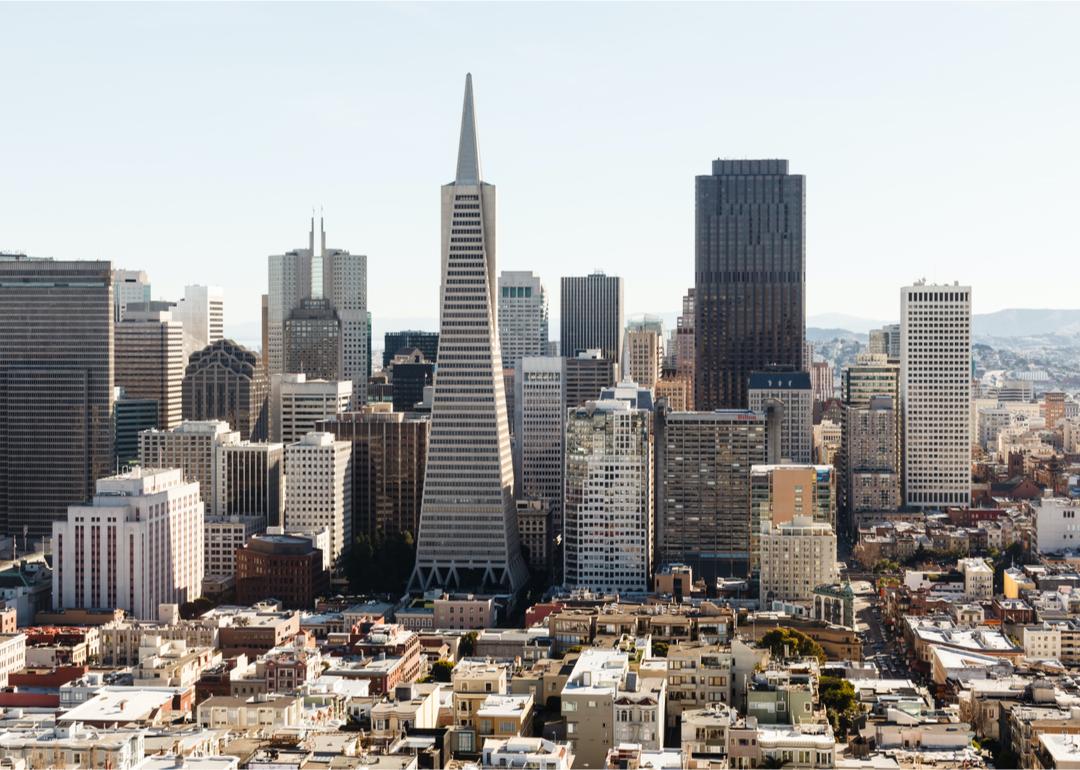 Pete Niesen // Shutterstock
#20. San Francisco, California
– Annual average wind speed: 10.5 miles per hour
– Windiest month: May and June (tie) (13.8 miles per hour on average)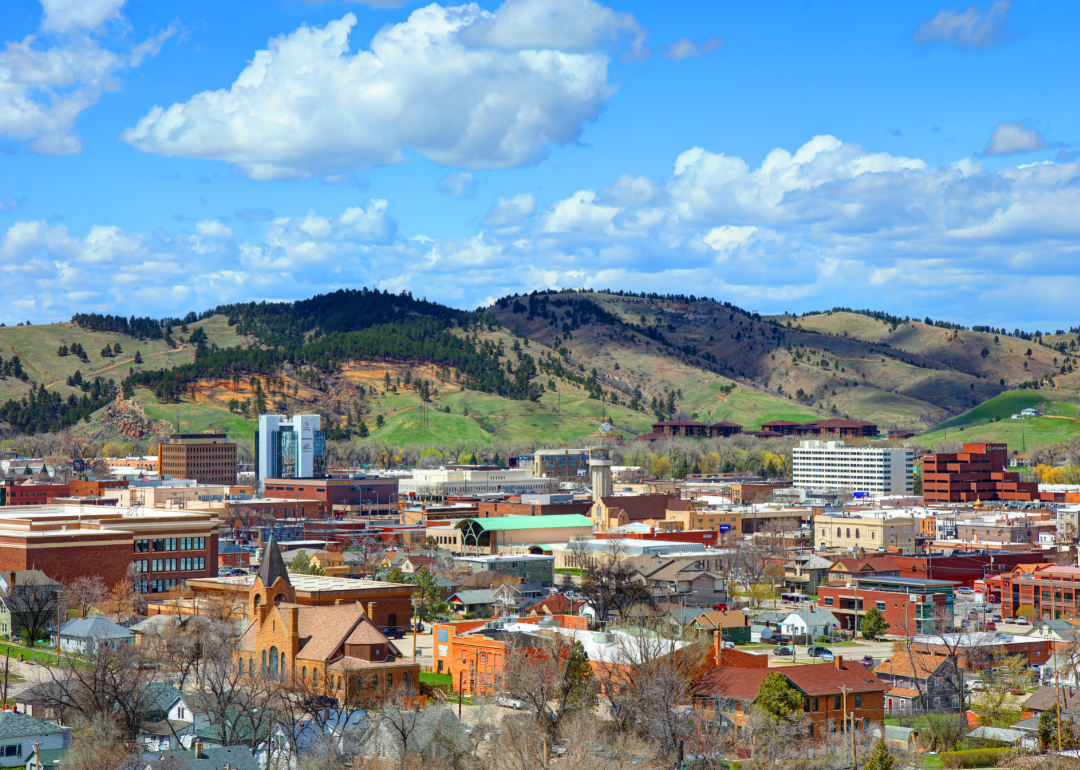 Canva
#19. Rapid City, South Dakota
– Annual average wind speed: 10.6 miles per hour
– Windiest month: April (12.6 miles per hour on average)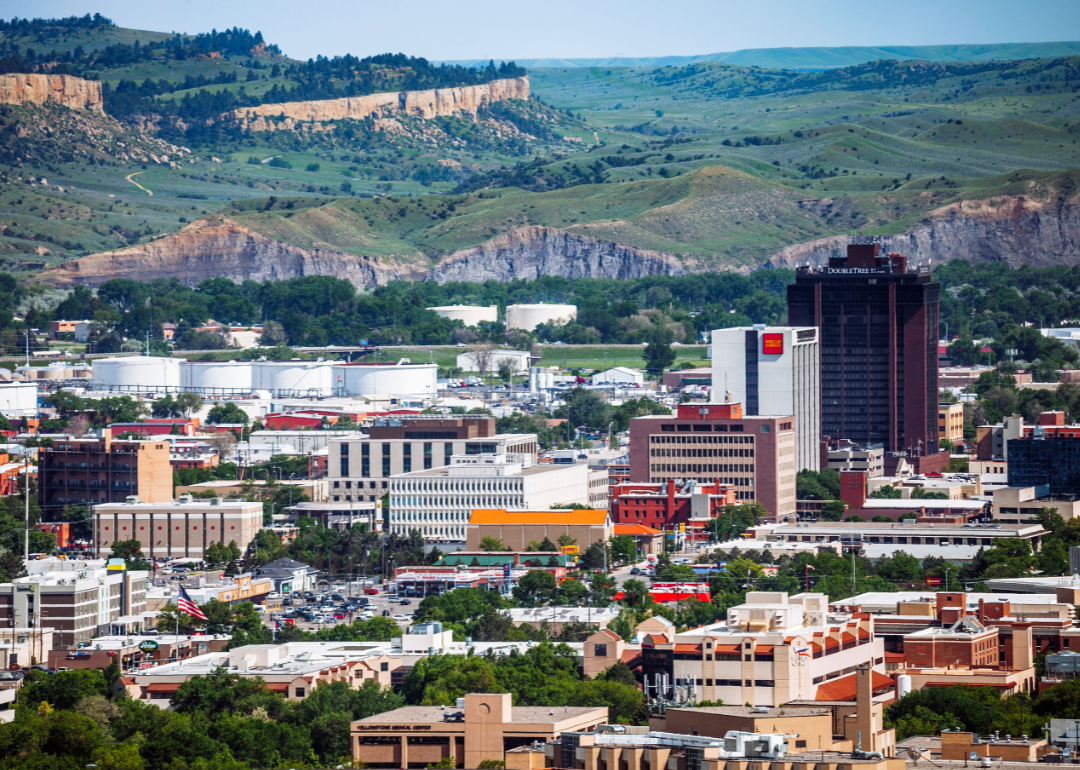 Canva
#18. Billings, Montana
– Annual average wind speed: 10.7 miles per hour
– Windiest month: January (13.4 miles per hour on average)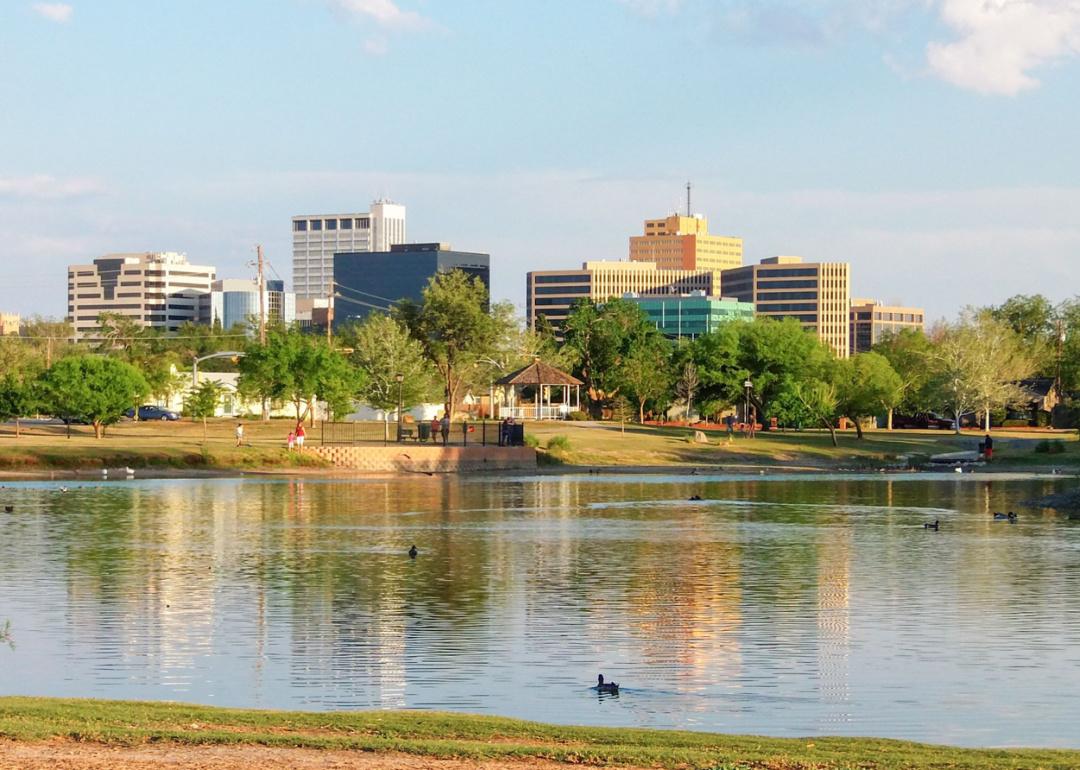 NaturallyKristina // Shutterstock
#17. Midland-Odessa, Texas
– Annual average wind speed: 10.9 miles per hour
– Windiest month: April (12.7 miles per hour on average)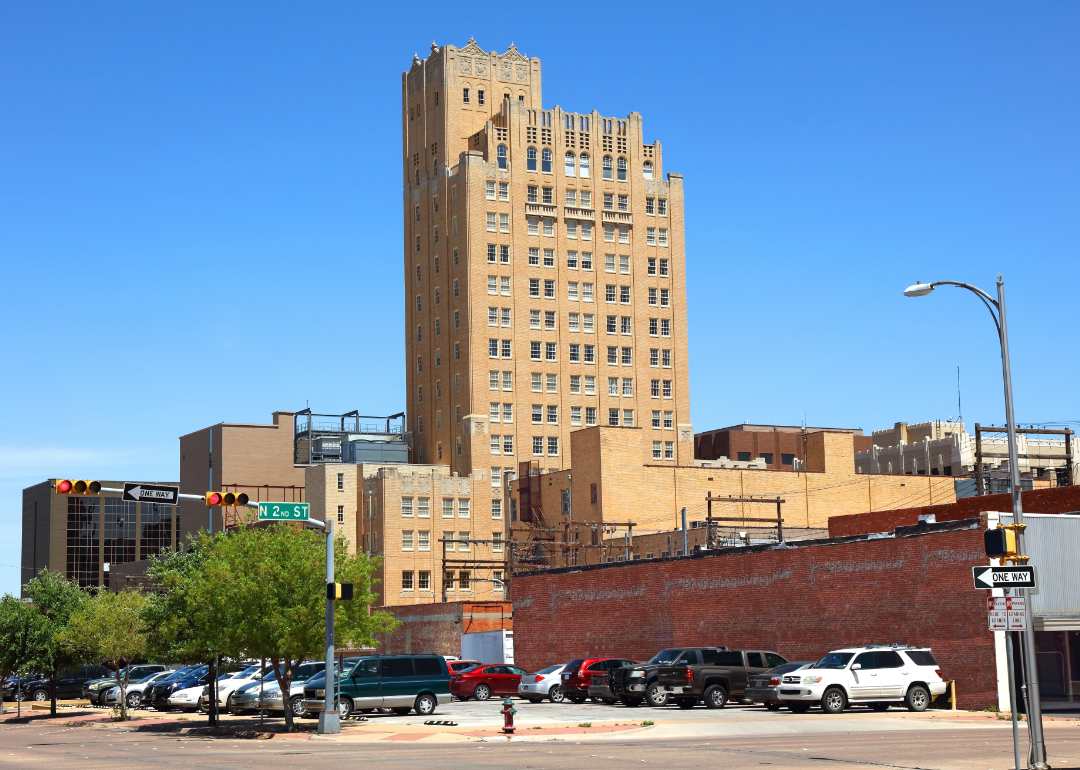 Canva
#16. Abilene, Texas
– Annual average wind speed: 10.9 miles per hour
– Windiest month: April (13 miles per hour on average)
You may also like: States with the most power outages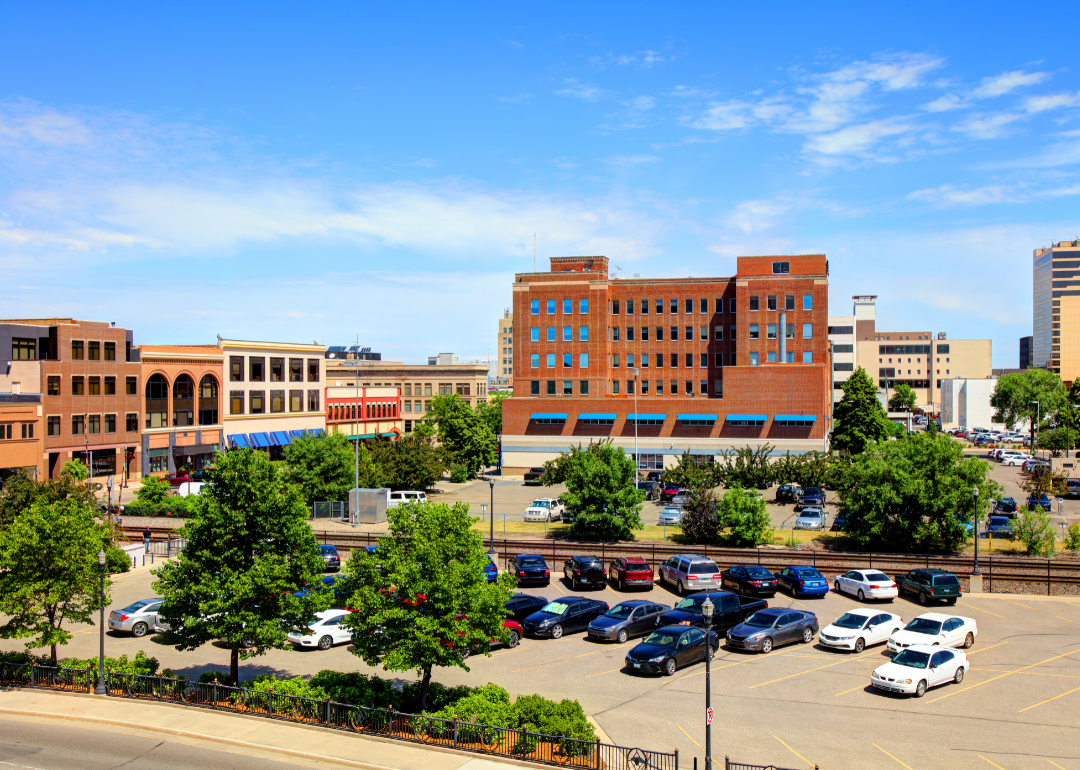 Canva
#15. Fargo, North Dakota
– Annual average wind speed: 11.1 miles per hour
– Windiest month: April (12.3 miles per hour on average)
Jacob Boomsma // Shutterstock
#14. Grand Island, Nebraska
– Annual average wind speed: 11.1 miles per hour
– Windiest month: April (13.4 miles per hour on average)
Canva
#13. Galveston, Texas
– Annual average wind speed: 11.2 miles per hour
– Windiest month: May (12.7 miles per hour on average)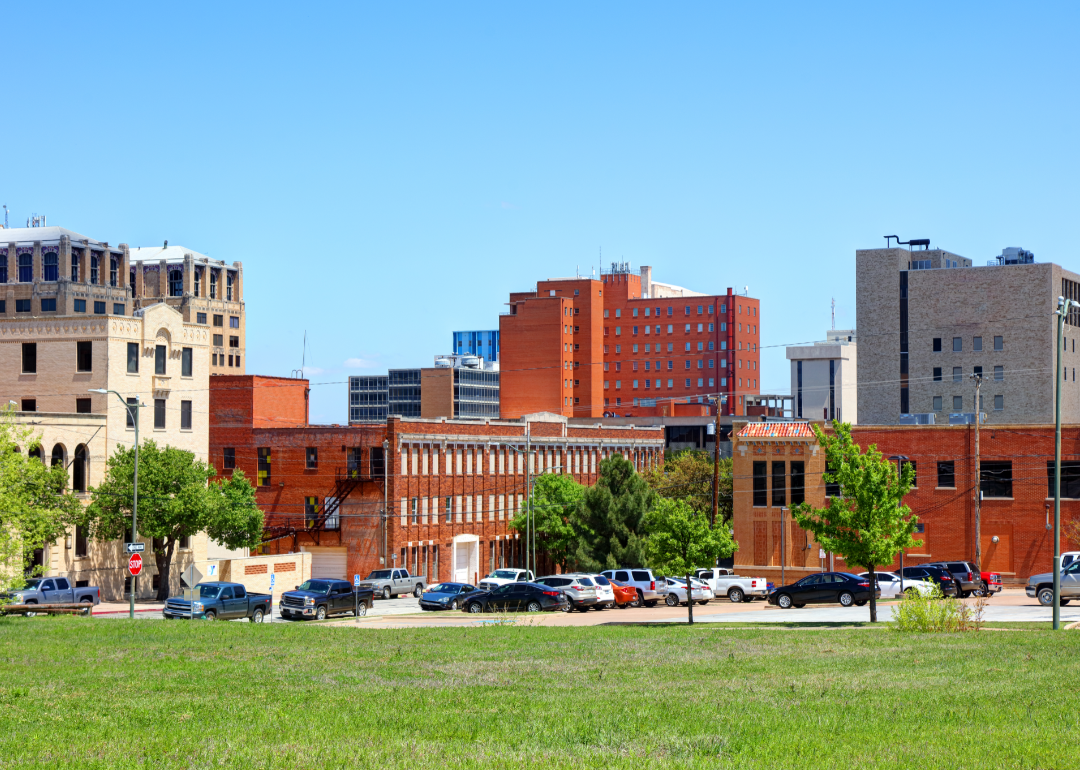 Canva
#12. Wichita Falls, Texas
– Annual average wind speed: 11.2 miles per hour
– Windiest month: April (12.8 miles per hour on average)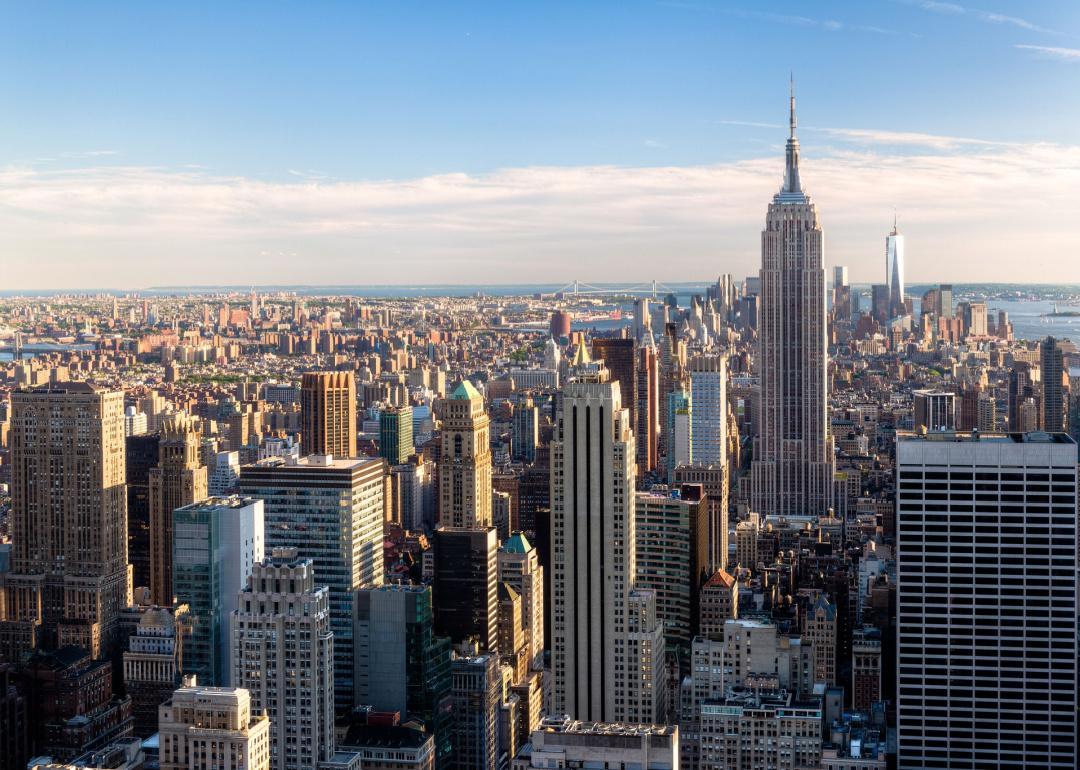 Thiago Leite // Shutterstock
#11. New York, New York
– Annual average wind speed: 11.2 miles per hour
– Windiest month: March (12.9 miles per hour on average)
You may also like: Major cities with the biggest projected water shortages by 2040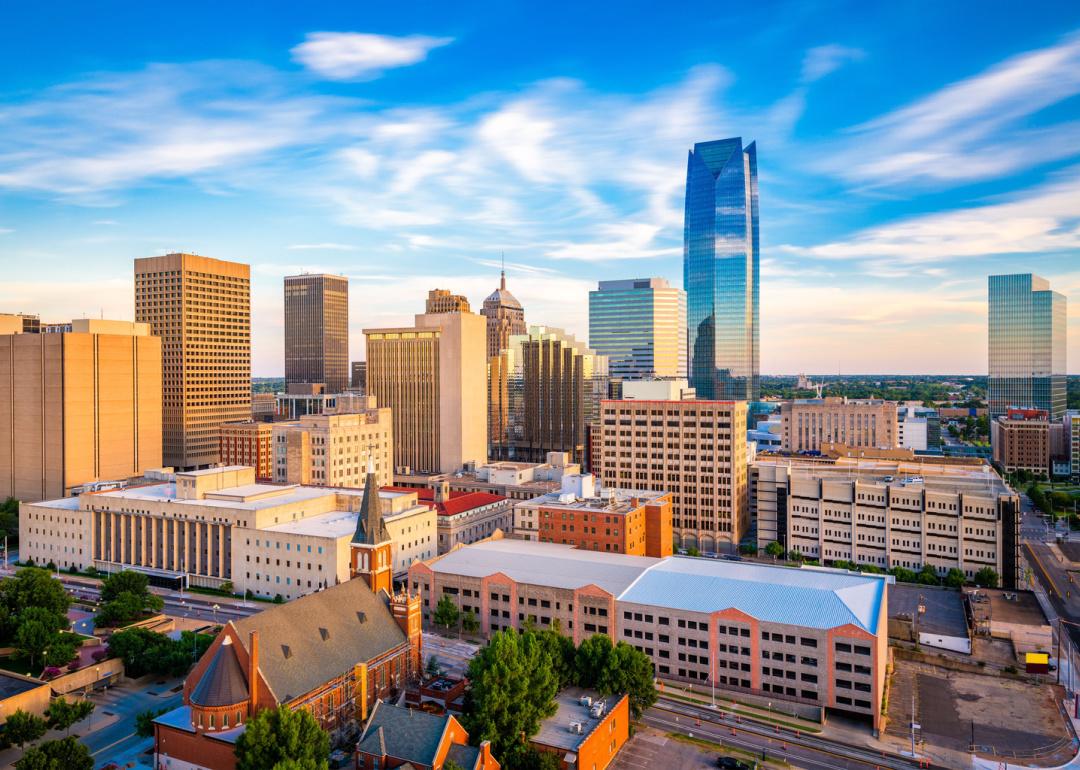 Sean Pavone // Shutterstock
#10. Oklahoma City, Oklahoma
– Annual average wind speed: 11.3 miles per hour
– Windiest month: April (13.3 miles per hour on average)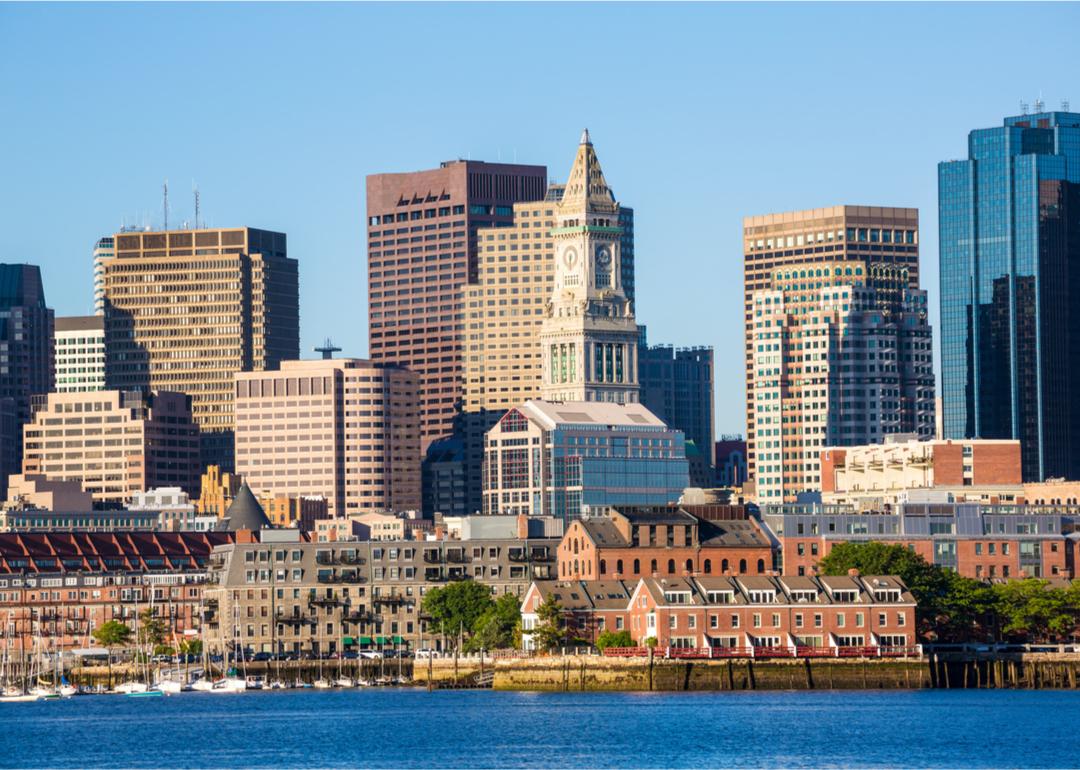 lunamarina // Shutterstock
#9. Boston, Massachusetts
– Annual average wind speed: 11.5 miles per hour
– Windiest month: March (12.8 miles per hour on average)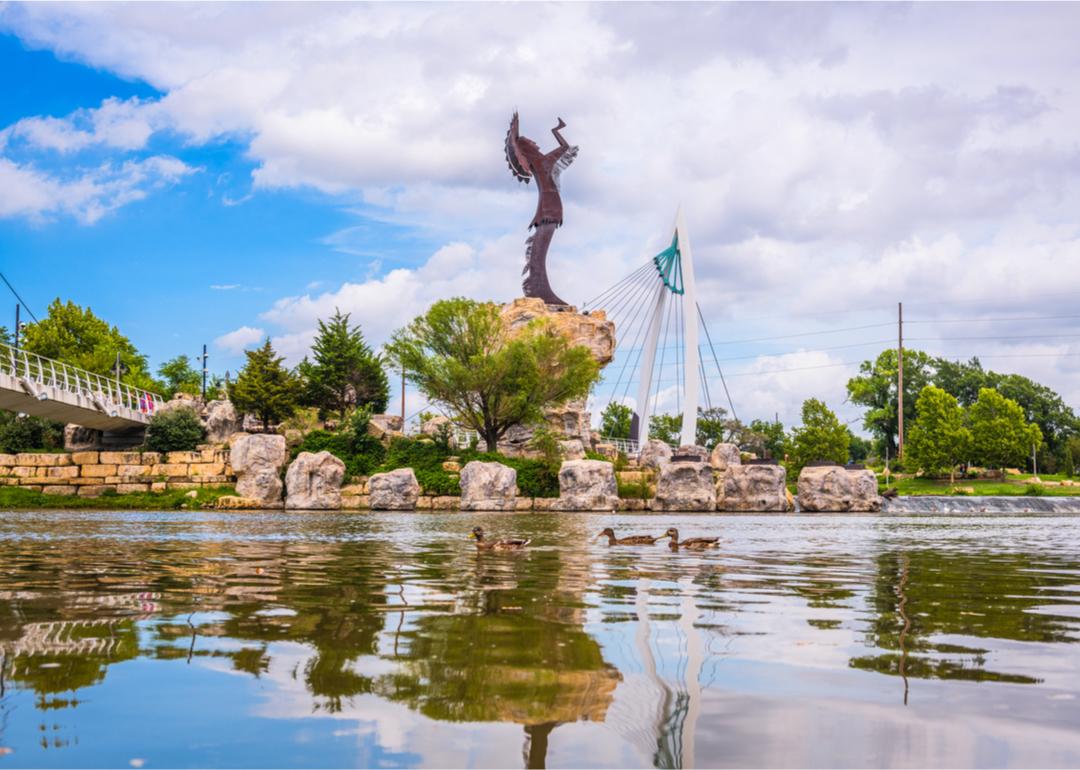 Sean Pavone // Shutterstock
#8. Wichita, Kansas
– Annual average wind speed: 11.5 miles per hour
– Windiest month: April (13.3 miles per hour on average)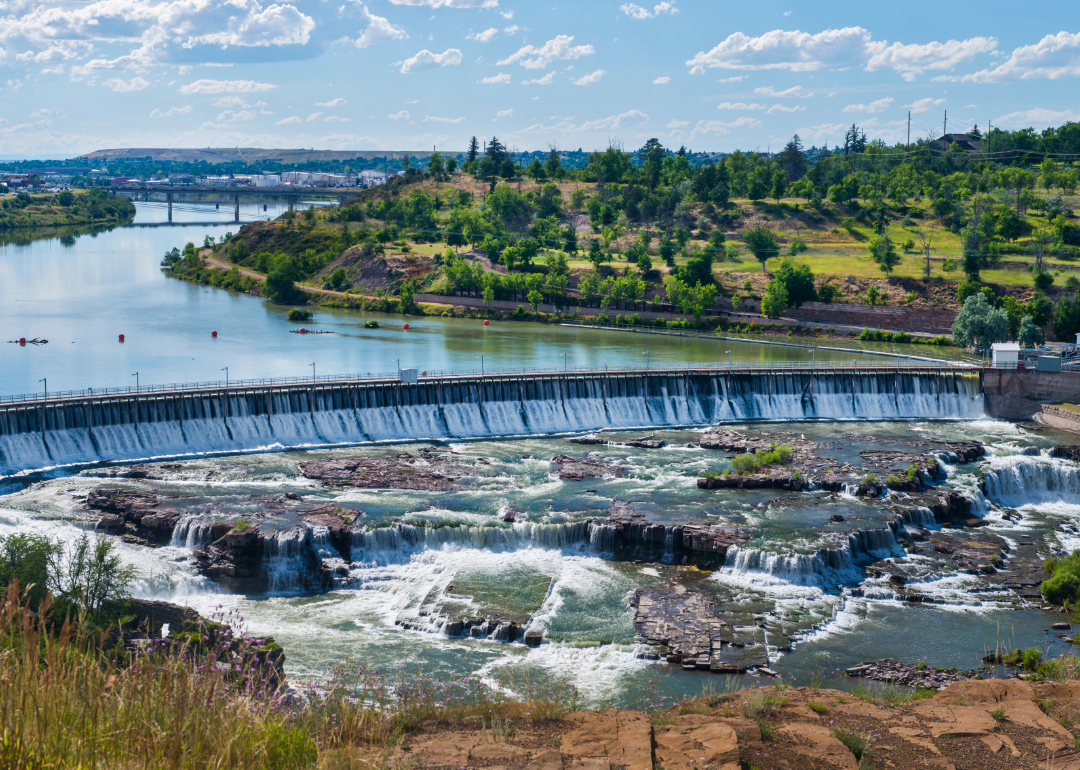 Canva
#7. Great Falls, Montana
– Annual average wind speed: 11.5 miles per hour
– Windiest month: January and December (tie) (14 miles per hour on average)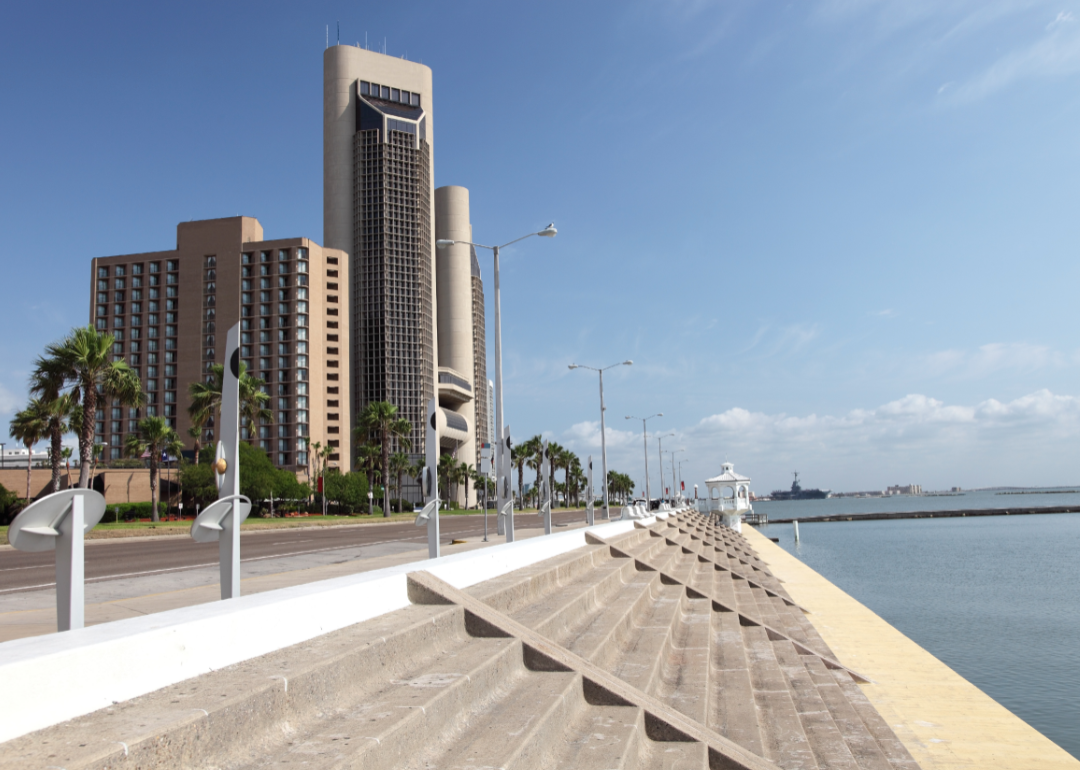 Canva
#6. Corpus Christi, Texas
– Annual average wind speed: 11.7 miles per hour
– Windiest month: April (13.8 miles per hour on average)
You may also like: States with the most severe summer weather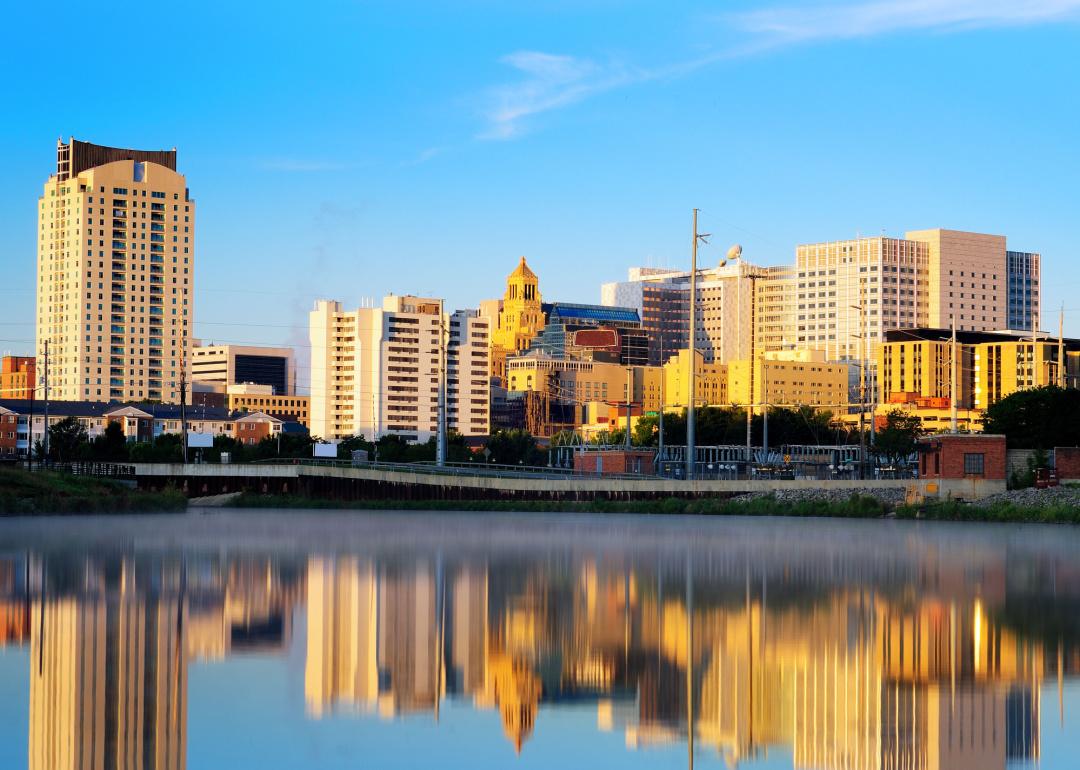 IMG_191 // Shutterstock
#5. Rochester, Minnesota
– Annual average wind speed: 12 miles per hour
– Windiest month: April (13.6 miles per hour on average)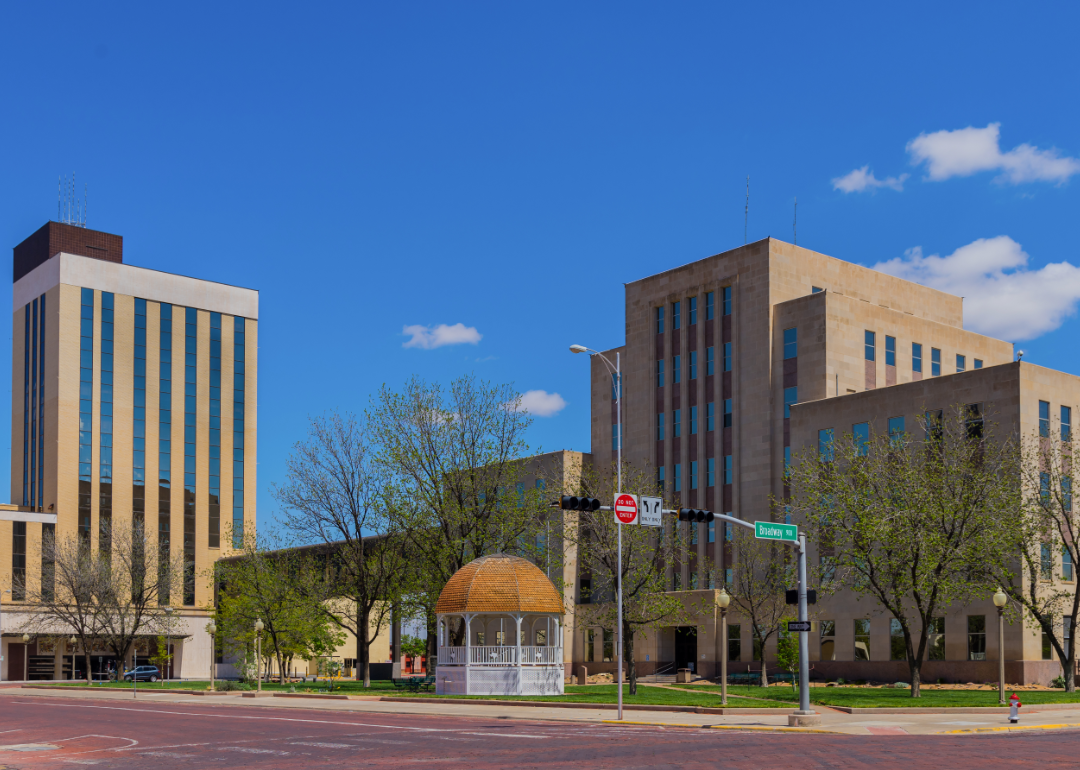 Canva
#4. Lubbock, Texas
– Annual average wind speed: 12 miles per hour
– Windiest month: April (14.3 miles per hour on average)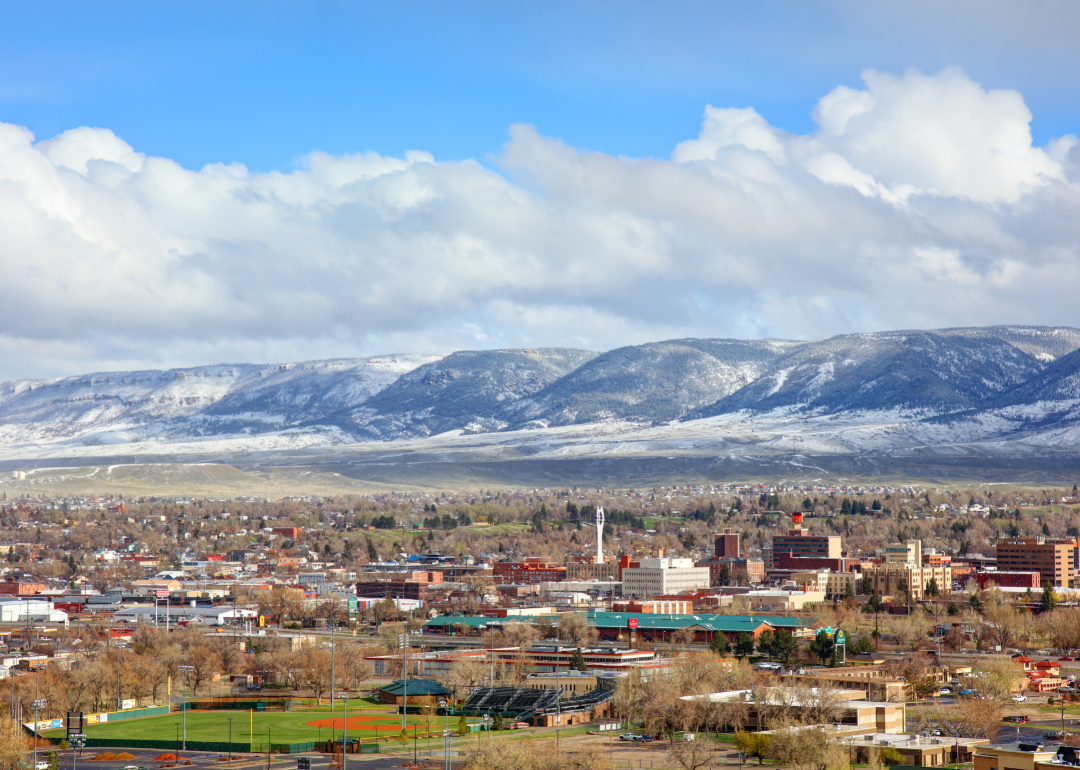 Canva
#3. Casper, Wyoming
– Annual average wind speed: 12 miles per hour
– Windiest month: January (15.5 miles per hour on average)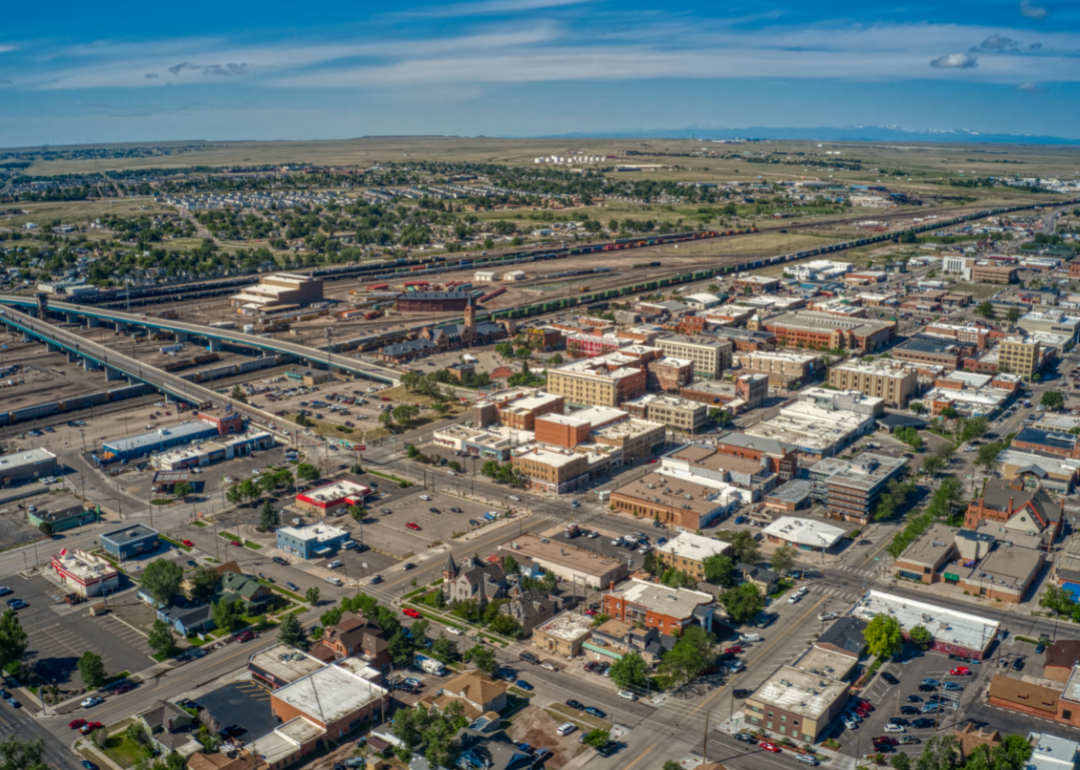 Canva
#2. Cheyenne, Wyoming
– Annual average wind speed: 12.2 miles per hour
– Windiest month: January (14.3 miles per hour on average)
Canva
#1. Amarillo, Texas
– Annual average wind speed: 12.9 miles per hour
– Windiest month: April (14.7 miles per hour on average)
You may also like: What summer weather was like the year you were born
More Stacker National