Despite a growing homeownership rate, Hispanic buyers face barriers
Published 7:05 pm Friday, March 3, 2023

Monkey Business Images // Shutterstock
Despite a growing homeownership rate, Hispanic buyers face barriers
Hispanic people are the fastest-growing group of homeowners in the United States, yet they are more than 1.5 times more likely to be denied a mortgage than white applicants, according to data from the Consumer Financial Protection Bureau.
The reasons behind this are complex, but the most simple one is that Hispanic people and Latinos tend to make less money than any other racial or ethnic group—about 77 cents for every dollar a white person earns, according to the Labor Department. This demographic also tends to live in major metropolitan areas with sky-high housing prices. And as a group, they lack generational wealth that would better prepare them for homeownership.
Foothold Technology examined data from the Census Bureau and Consumer Financial Protection Bureau to visualize how Hispanic homeownership rates have grown over time and the challenges they face in buying a home.
Sixty-three million Hispanic people live in the United States, according to 2021 Census data, making up about 19% of the population, with every state experiencing growth in its Hispanic population over the past decade.
"The growth of the Latino population just generally points to the community being a bigger share of the homeownership market," explained Laura Arce, senior vice president for Economic Initiatives at UnidosUS, a nonprofit Hispanic civil rights and advocacy organization.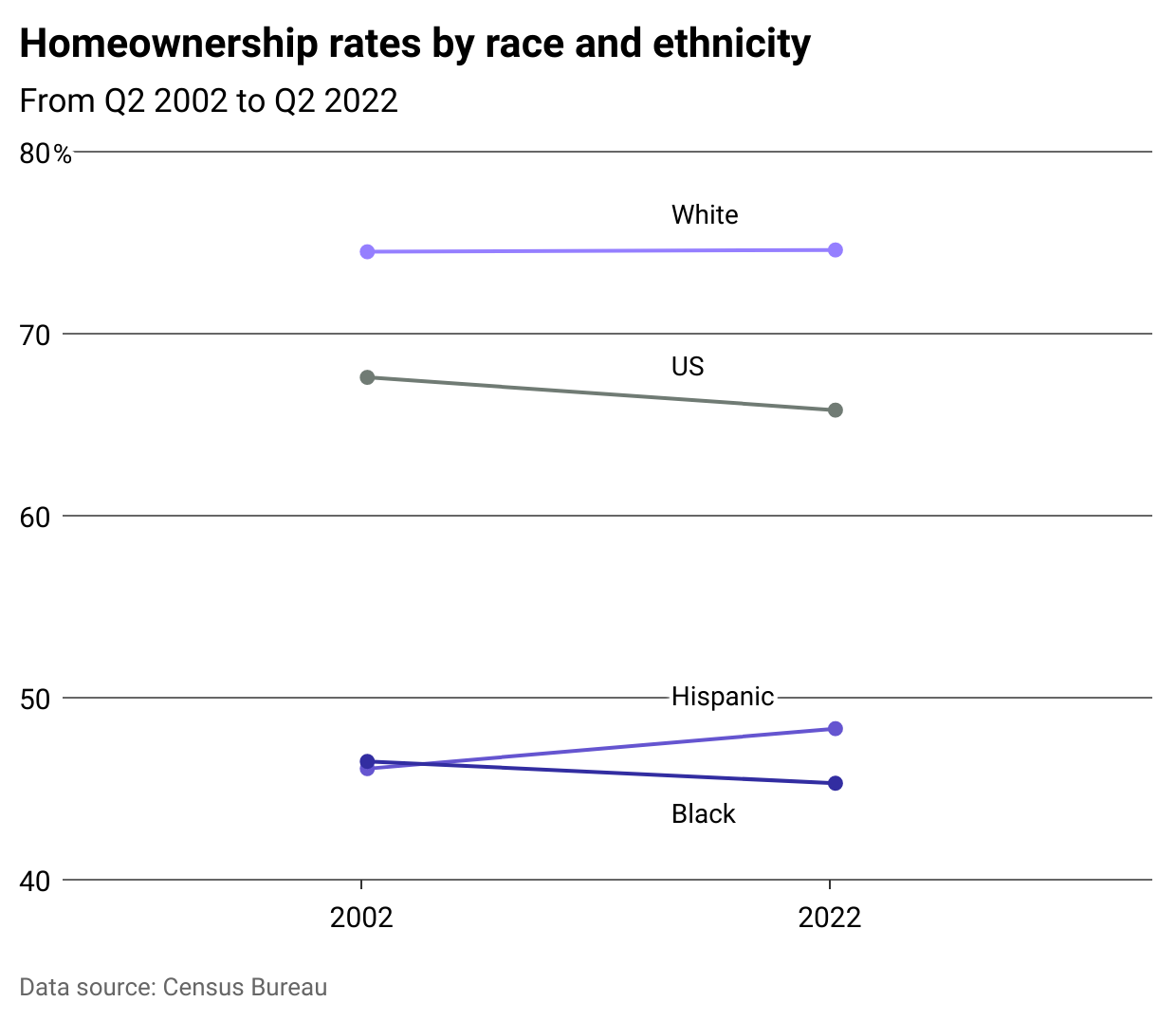 Foothold Technology
Hispanic homeownership rate is trending upward but remains below average
Like Black Americans, Hispanic people face structural barriers when it comes to buying a home. While the Hispanic homeownership rate surpassed that of Black Americans in the early 2000s, reaching 48.3% in the second quarter of 2022, it remains significantly below the U.S. homeownership rate of 65.8%.
Over the next two decades, Hispanic residents are projected to account for 7 in 10 new homeowners, according to the National Association of Hispanic Real Estate Professionals' 2021 State of Hispanic Homeownership Report.
"In the Latino community, for those who aren't homeowners, there's a strong desire to become one," Arce said. "That's one of the initial goals [of immigrants]—to buy a home."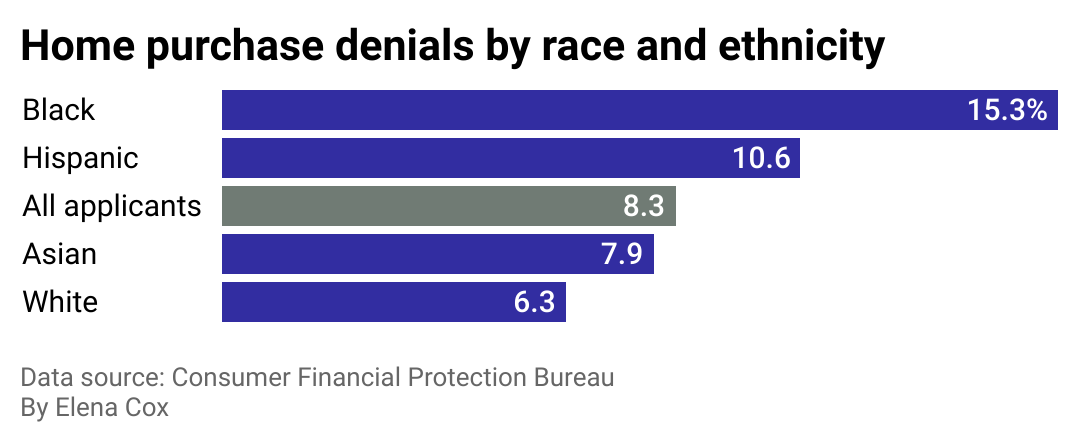 Foothold Technology
Hispanic homebuyers experience high loan denial rates
Buying a home is often seen as a path to building wealth and is woven into the fabric of the American Dream, particularly among immigrants.
However, more than 10% of Hispanic loan applicants were denied a mortgage in 2021, according to data collected by the Consumer Financial Protection Bureau. While some of that may be attributed to overt discrimination—a 2022 report from the National Association of Realtors found 6% of Hispanic homebuyers said they experienced discrimination during the homebuying process—and structural lending practices implemented after the Great Recession have also hurt buyers.
Generally speaking, this demographic tends to live in major metropolitan areas such as Los Angeles or New York, where home prices are higher than in the rest of the country. In January, the median price for a home in the Los Angeles metro area was $884,000—more than double the national median of $400,000—according to Realtor.com. Rent is also more expensive in these places, making it harder for Hispanic residents to save money to buy a home.
"The ability to come up with a downpayment is becoming increasingly important," said Gary Painter, a professor at the Sol Price School of Public Policy at the University of Southern California. "If you're living in a high-cost area, it's quite difficult to come up with a downpayment."
Because Hispanic people tend to live in these high-cost areas and work in lower-wage jobs, they are more likely to have high debt-to-income ratios—the most common reason for mortgage denials overall.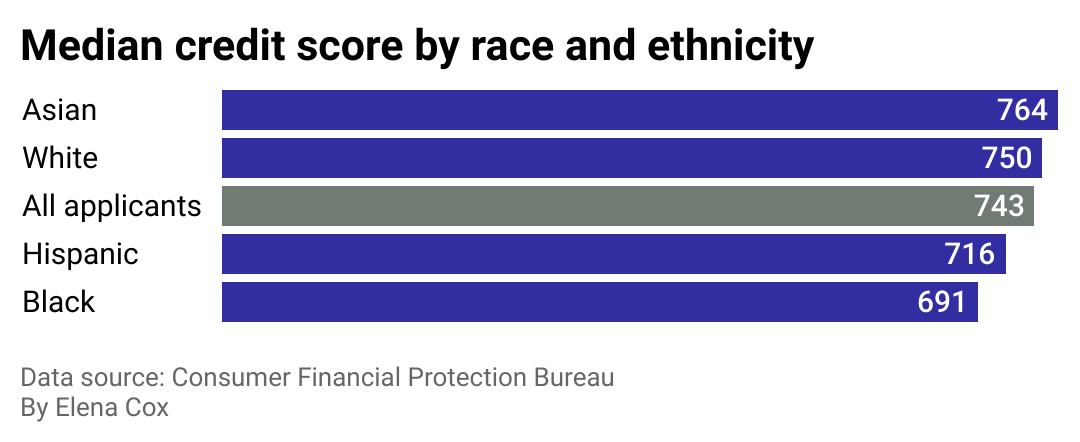 Foothold Technology
Hispanic homebuyers have lower credit scores
In 2021, the median credit score of Hispanic home loan borrowers was 716, compared to 750 for non-Hispanic whites, according to the Consumer Financial Protection Bureau's 2021 Mortgage Market Activity and Trends report.
Lower credit scores, generally due to a lack of access to credit building, combined with a lack of generational wealth and generational knowledge of what it takes to buy a home have also hindered the path to homeownership for many. Another challenge is that many Hispanic people are part of multigenerational households. Buying a home and securing a mortgage as a group can be complicated, especially if one family member has a lower credit score.
Hispanic residents were also disproportionately impacted by the Great Recession, putting them further behind the eight ball in achieving homeownership. Places with higher numbers of Hispanic households, such as Nevada, California, and Florida, saw higher foreclosure rates, which can also impact credit scores.
People who experience foreclosure generally cannot purchase a new home for at least seven years. Not to mention the emotional toll going through foreclosure takes on a family.
"A lot of people felt burned," Arce said. "There was already some distrust of the financial sector, and that validated a lot of concerns and distrust."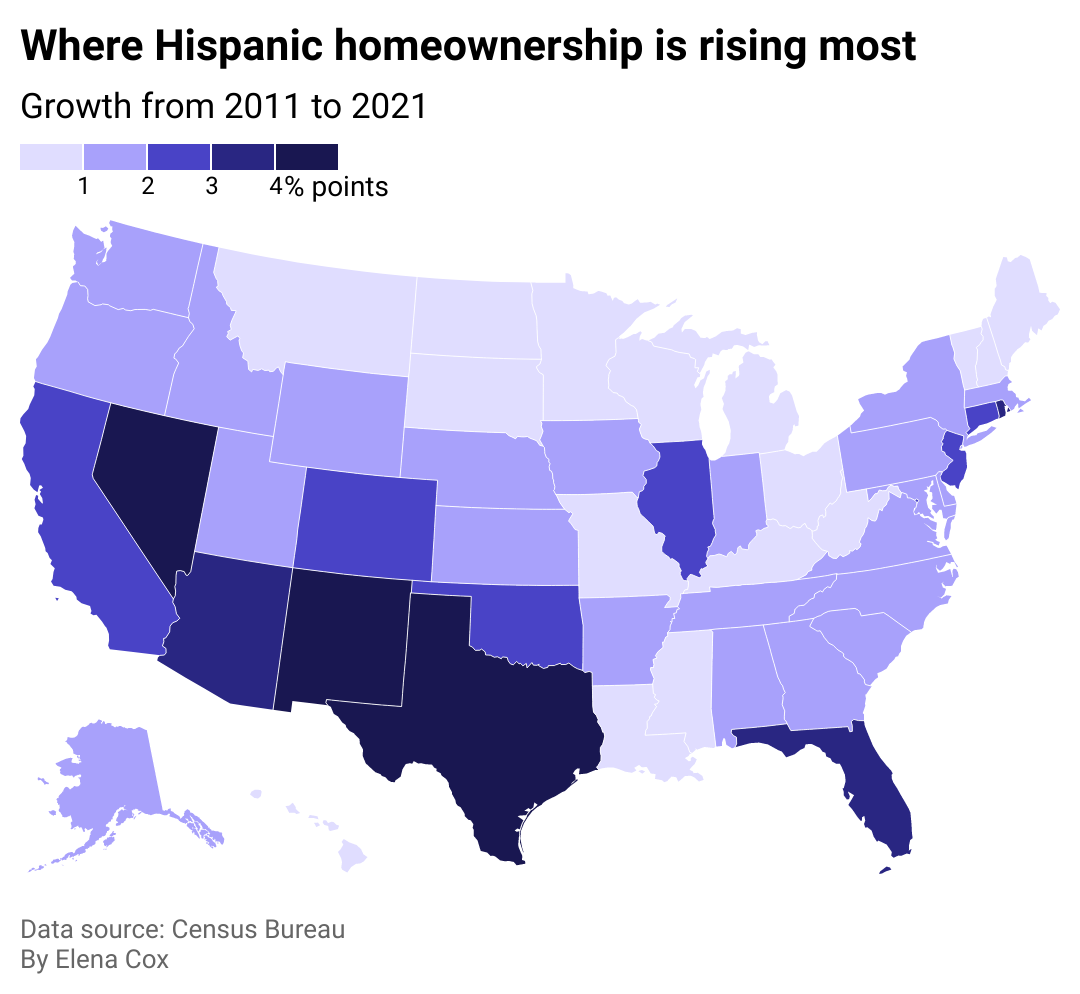 Foothold Technology
Southern states see biggest growth in Hispanic homeownership
States that experienced the largest growth in Hispanic homeownership over the past decade also have large Hispanic populations. But the Sunbelt region, which includes Texas, Florida, Nevada, and New Mexico, is also targeted by institutional investors, creating more competition for homes and driving up home prices.
"I think over time, I would imagine you'll start to see Latinos go to emerging new states," Arce said. "Part of it is the pressure and push of home prices and not being able to have the kind of life they want to have."
Like most Americans, rising home prices and interest rates have made it exponentially harder for Hispanic people to buy a home in the past year. But as the saying goes: A rising tide lifts all boats, and achieving racial equity would benefit the U.S. economy overall.
A 2021 report from researchers at the Federal Reserve Bank of San Francisco found that closing the racial wealth gap would add trillions of dollars to the U.S. gross domestic product gains over a 30-year period.
This story originally appeared on Foothold Technology and was produced and
distributed in partnership with Stacker Studio.
More Stacker National