Guide to different types of bike lanes
Published 9:35 pm Tuesday, March 7, 2023

Ground Picture // Shutterstock
Guide to different types of bike lanes
In urban planning, one topic remains hotly contested: bike lanes. The debate about this highly controversial subject has swirled for decades between cyclists, motorists, and municipalities. Which type of bike lanes are the safest, how much should cities invest in them, and—perhaps most contentiously—do they genuinely keep bikers safe?
Velotric compiled a list of some of the most common types of bike lanes in the U.S. and sorted them by how much separation and protection they provide from vehicles. Discussion around bike lanes has only increased over recent years, as people took up cycling during the COVID-19 pandemic at unprecedented levels. Cities like New York and Seattle have drastically increased bike lane infrastructure over the last few decades, particularly protected bike lanes, which create barriers between cyclists and drivers.
Despite a rise in both bicycles on the road and bike lanes, confusion around how different types of bike lanes work, as well as safety concerns, have continued. And flaws in bike lane design, specifically at intersections, have contributed to high rates of accidents and injuries. While design adaptations like protected intersections and bike boxes can mediate some of the accidents associated with motorist-cyclist proximity in intersections, they are only sometimes a part of urban bike infrastructure.
As bike lanes increasingly become incorporated into street planning in both urban and rural settings, it has become more important than ever from a safety perspective to understand how bikes interact with traffic patterns.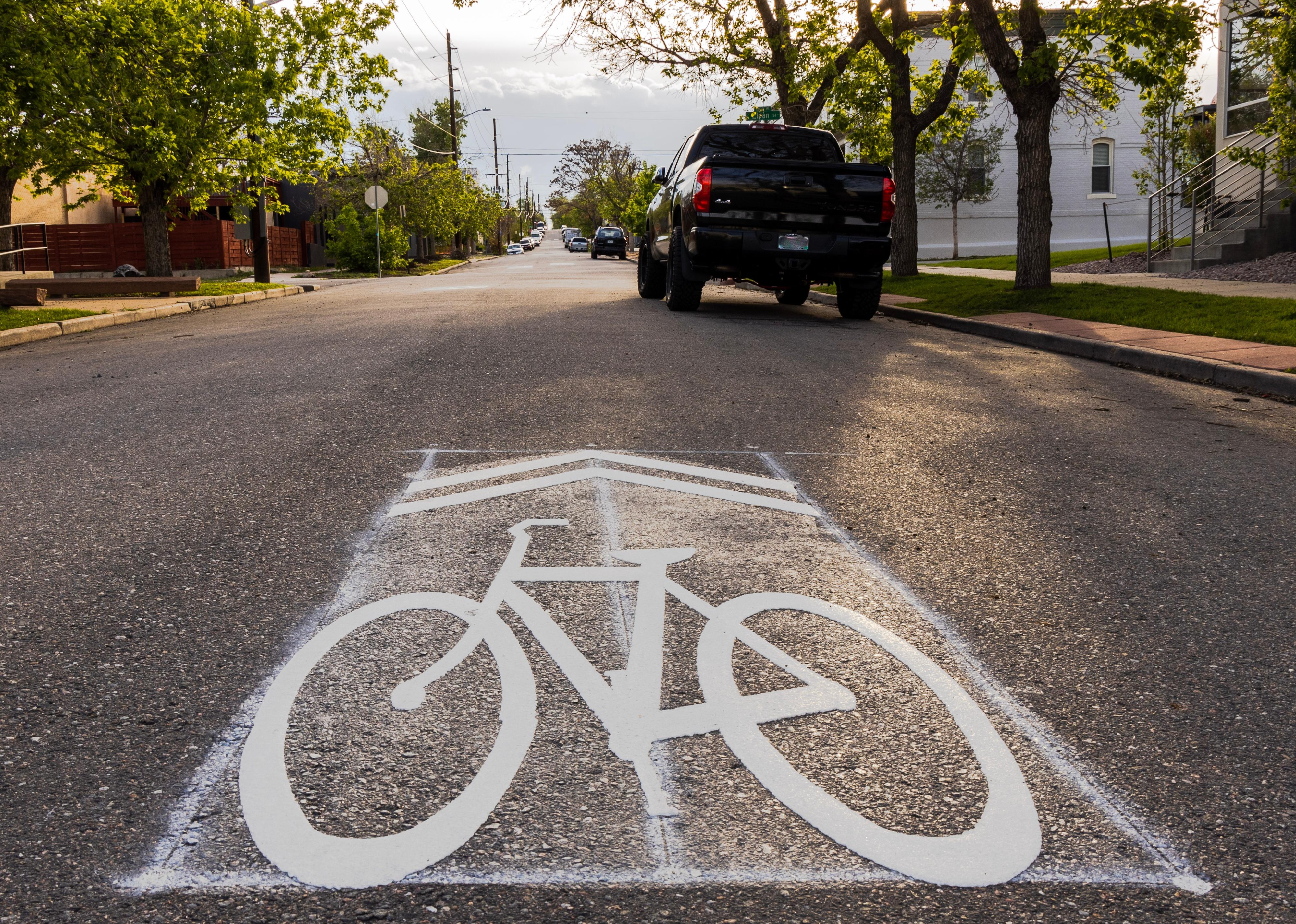 Rob Toftness // Shutterstock
Sharrow
Also known as shared lane markings, sharrows, a portmanteau of "share" and "arrows," are markings painted onto streets where bicycles and cars share the same space. Sharrows appear as a picture of a bike with triangular arrows indicating the direction of traffic. While they offer no protection or separation from vehicles, sharrows are typically used to alert drivers to an increased likelihood of passing bikers and are often present on slower-traffic streets.
While sharrows can help create space and awareness for bicyclists amidst car traffic, the National Association of City Transportation Officials points out that they are not a substitute for designated bike lanes. Despite studies that have called into question their effectiveness in keeping bikers safe, sharrows remain popular because they are cheaper than adding physical bike lanes and do not require infrastructure changes.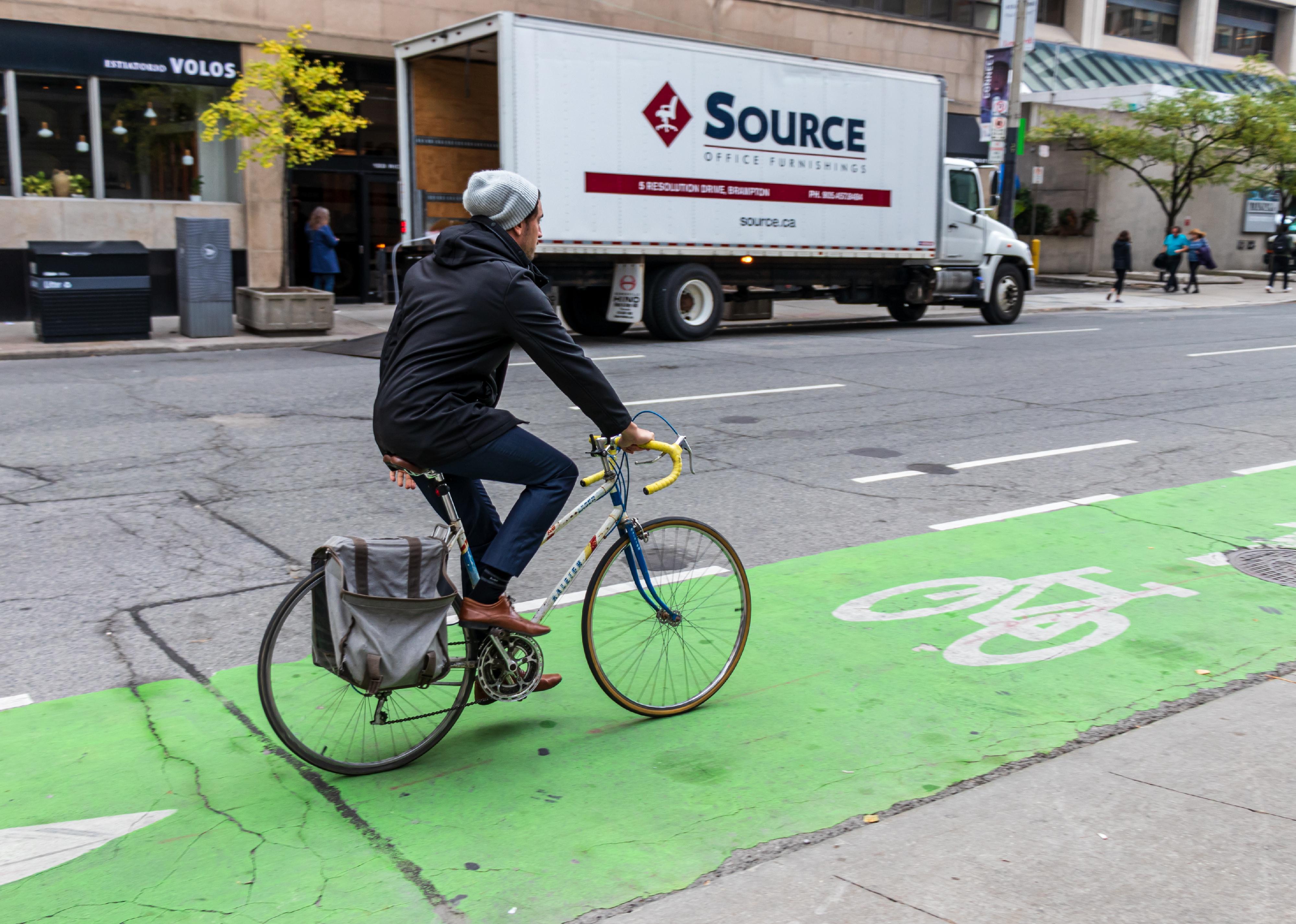 JL IMAGES // Shutterstock
A cyclist rides in a bike lane painted green.
A solid white painted line or a lane filled with bright green paint indicates this type of bike lane. While painted bike lanes are more defined than sharrows and thus offer a more evident designated area for bicyclists in shared roadways, there is inconclusive evidence regarding whether painted bike lanes keep bikers safe.
One 2019 study found the presence of painted bike lanes and parked cars reduced the distance that vehicles left when passing bikers, meaning cars passed cyclists with much less margin for error when bike lanes were in place than when there were no bike lanes.
While counterintuitive, some have attributed this observation to painted bike lanes giving vehicle drivers a false sense of security when passing bikers and therefore exercising less caution when passing than they would without a bike lane. However, a 2021 study by the New York City Department of Transportation found conventional bike lanes reduced the risk of cyclist injury by 32% among study participants, particularly in lower-traffic areas.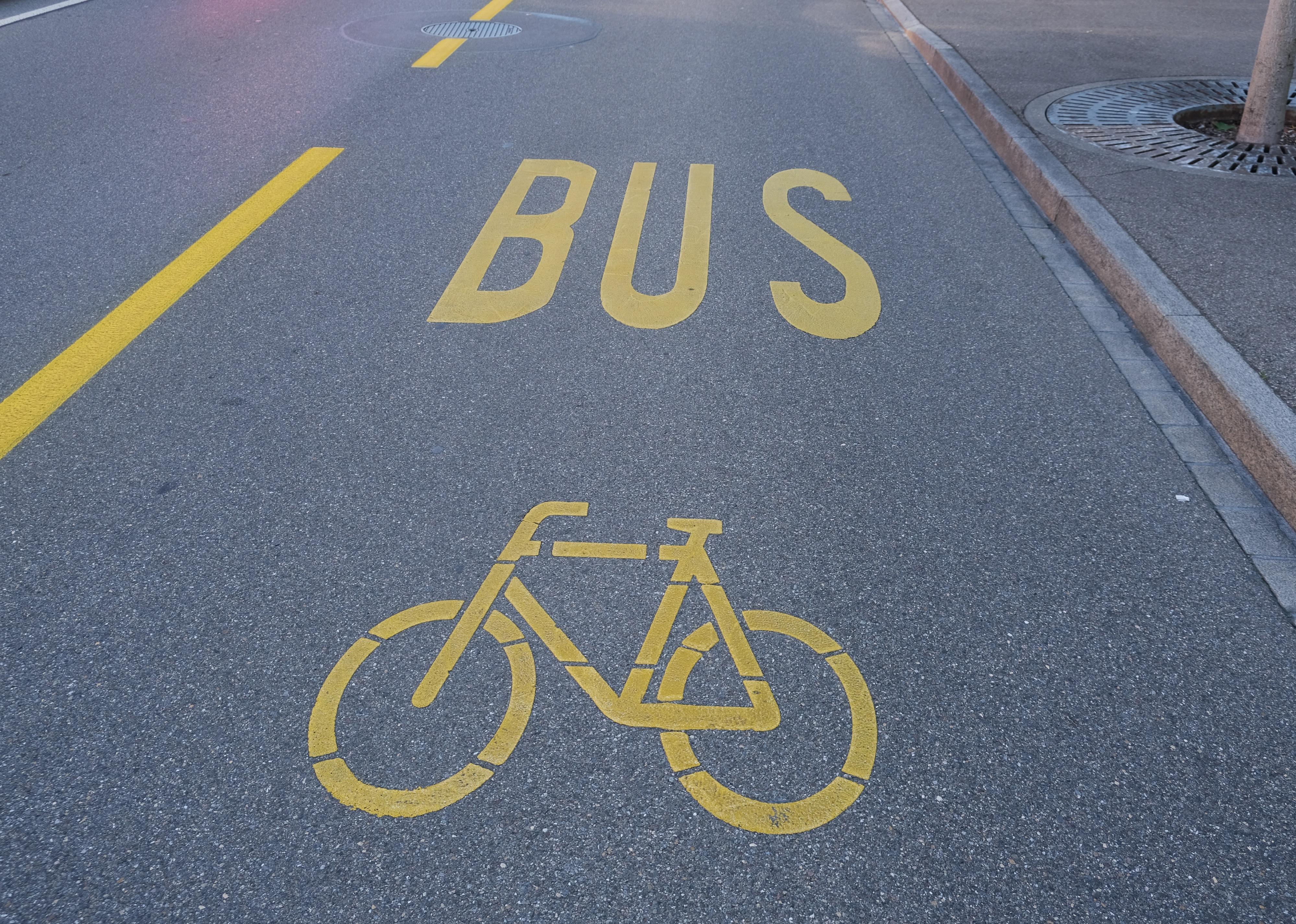 Najmi Arif // Shutterstock
Bus-bike lane
Shared bus-bike lanes, most often found on two-way streets, are designated lanes separating buses from cars. These lanes also accommodate bikes but do not separate buses and bikes from each other. Bus-bike lanes are on the side of the street closest to the curb, where buses can pull over to make stops.
These lanes must be around 15 to 16 feet wide to enable bicycles to pass stopped buses safely. While this bike lane is not as safe as a lane cordoned off from vehicle traffic, it can offer some level of security in cases with a low volume of buses and low speeds.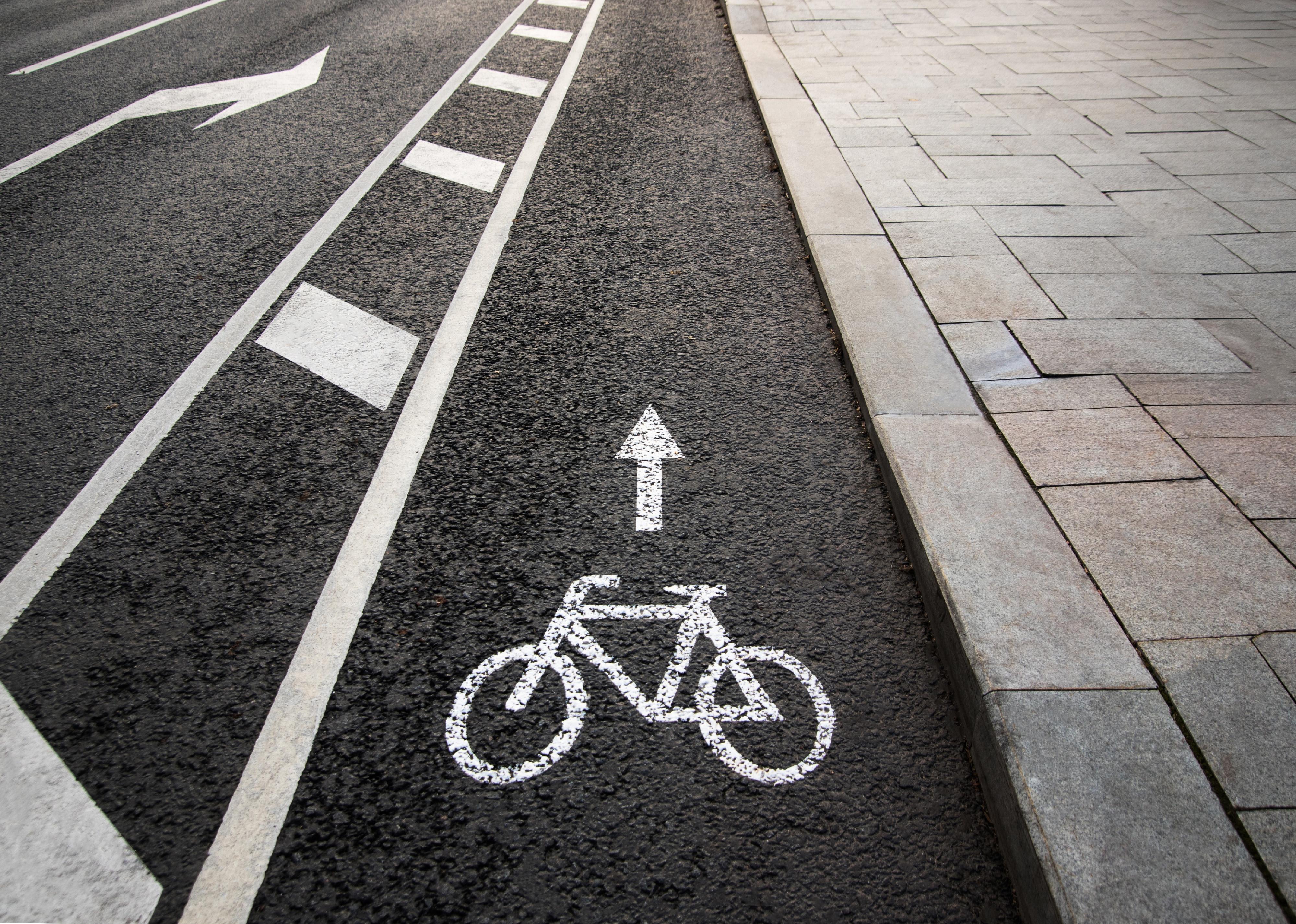 VladFotoMag // Shutterstock
Buffered bike lane
Buffered bike lanes introduce more separation between cars and bicycles with painted buffers between the bike lane and the rest of the roadway. These buffers, marked by stripes, are usually a few feet wide. They alert both drivers and bikers to avoid traveling in the dividing area. This increased distance between vehicles and bikes allows bicyclists to pass each other without entering the flow of traffic and creates safer pathways for cars to overtake bikes.
Buffers also intend to prohibit deliveries and parking that might otherwise impede bicyclists' right-of-way, making bike pathways clearer. These lanes can be helpful in higher-traffic areas or on streets with faster speeds. A 2015 National Institute for Transportation and Communities study found buffers increase bikers' sense of security when riding. One challenge with buffers is that they often disappear in intersections, which means cyclists must rejoin car lanes to make turns.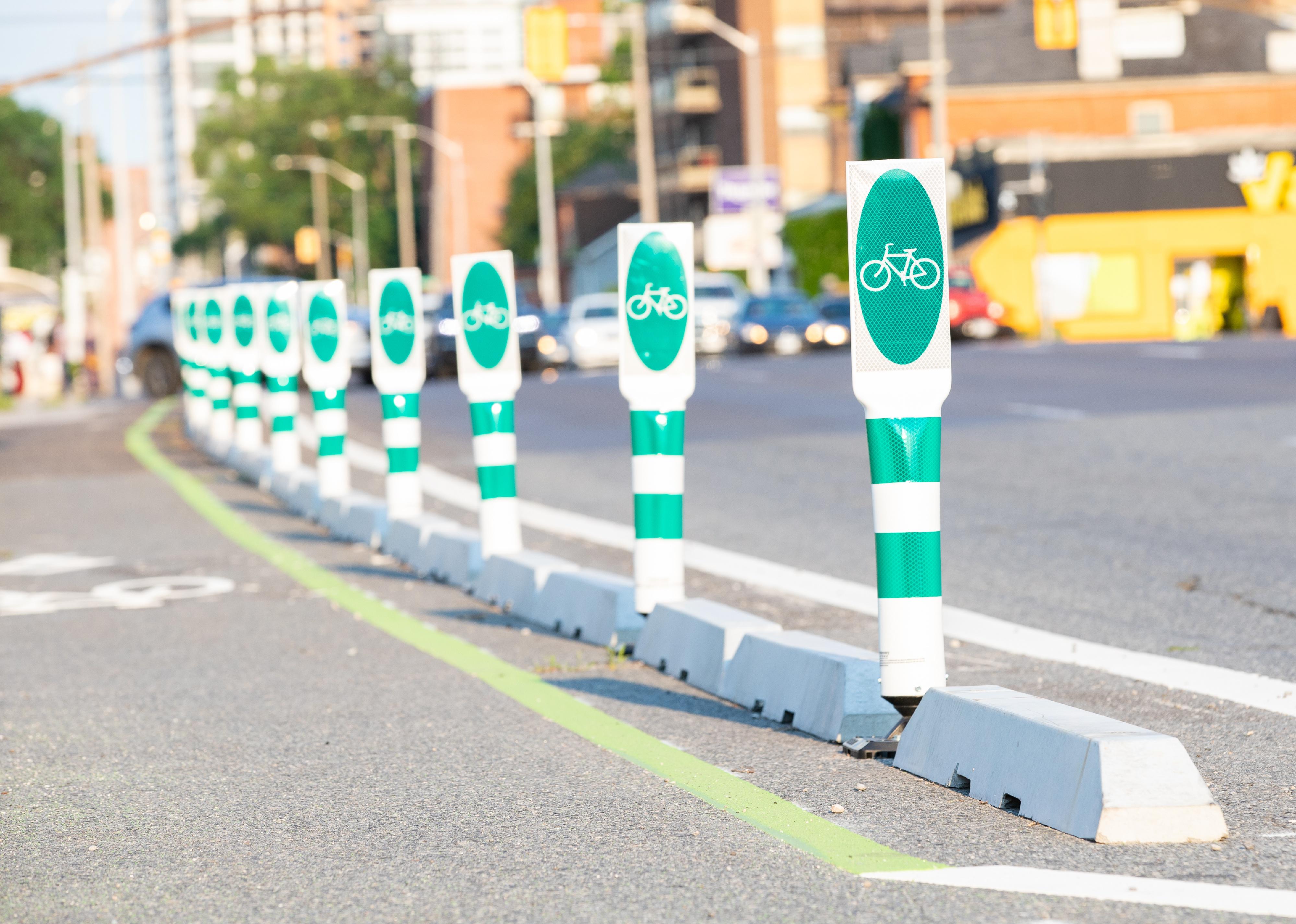 Sevenstock Studio // Shutterstock
Protected bike lane
Widely seen as the "gold standard" of bike lanes, protected bike lanes are separated from the roadway using a physical barrier preventing vehicles from crossing into designated bicycle spaces. These physical barriers can take the form of raised curbs, plastic posts, fences, or even lines of parked cars. Protected bike lanes have had positive effects ranging from decreased injury rates on roadways to increased numbers of people biking rather than driving. They even benefit areas economically.
Safety issues remain, however, even with protected bike lanes in place. Accidents involving collisions between cyclists and motorists frequently occur at intersections, especially when bike lanes are separate from the main roadway, because vehicle drivers don't see bikers and don't know to look for them. While protected bike lanes maintain distance between cars and cyclists, preventing injuries that commonly occur when cars try to pass bikes in the roadway, they do not stop turning vehicles from hitting cyclists.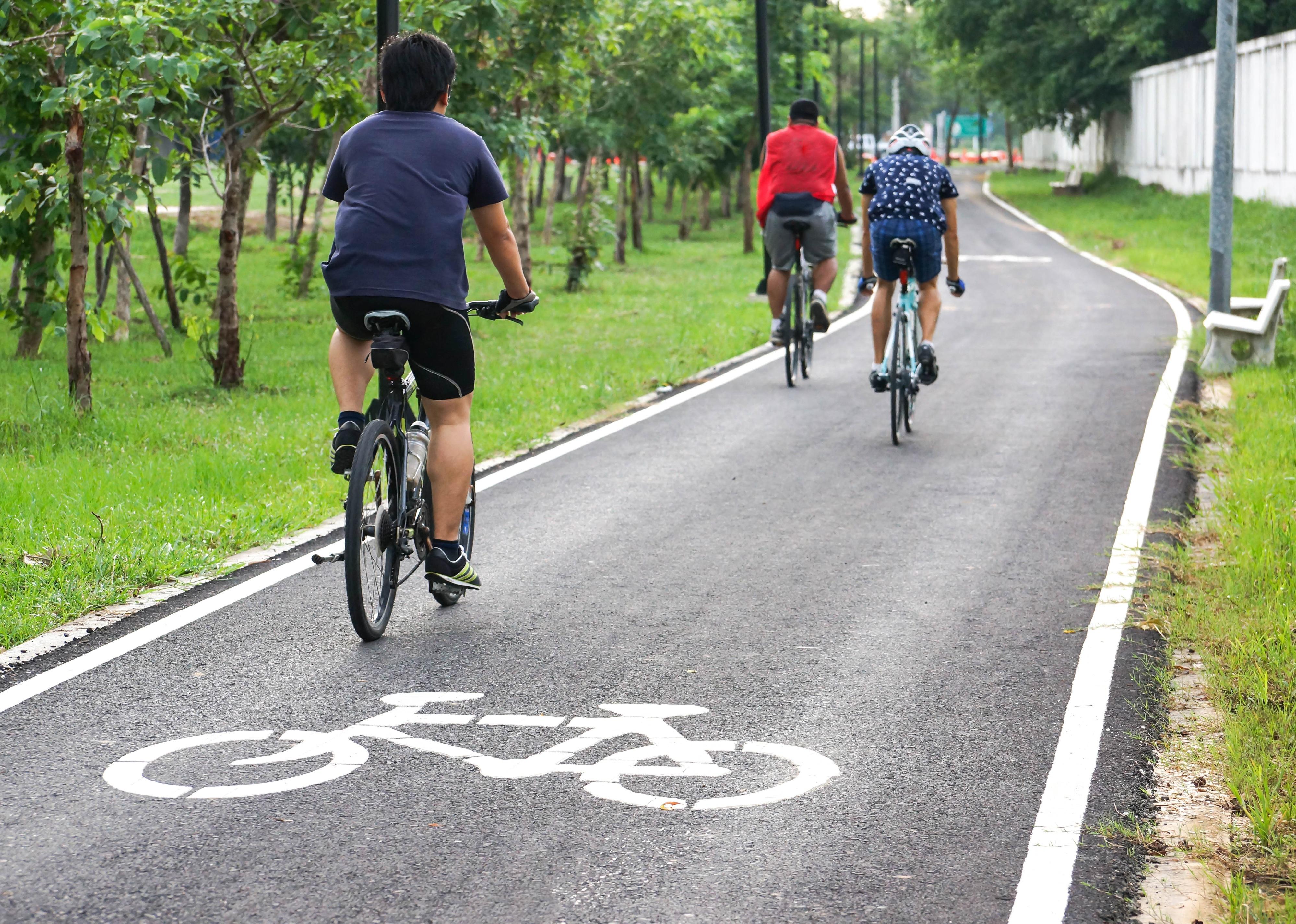 wk1003mike // Shutterstock
Bike path
Bike paths differ from other bike lane types in that they are completely separated from roadways and are designed entirely with cyclists (and pedestrians) in mind. Intended to be a unique route, bike paths in urban areas often take the form of "greenways" and bike and walking trails through parks. Bike paths also crop up in more rural areas and can provide safe and practical routes for cyclists to get around while avoiding the dangers of biking on high-speed highways.
These paths sometimes make use of abandoned infrastructure such as railways or can follow existing pathways formed by rivers. Bike paths are generally safe from motor accidents since they separate bikes from vehicles.
This story originally appeared on Velotric and was produced and
distributed in partnership with Stacker Studio.
More Stacker National