Mortgage lending nosedives, dropping 55% since last year
Published 4:00 pm Thursday, March 9, 2023

Canva
Mortgage lending nosedives, dropping 55% since last year
After a wild couple of years in the housing market, things may finally be starting to cool. 
Fewer people took out mortgages at the end of last year, as sky-high home prices, costly mortgage rates, and consumer inflation limited buying power and caused uncertainty in the market. 
Lenders originated 1.52 million mortgages in the fourth quarter of 2022, down 55% from a year ago to the lowest level since the first quarter of 2014.
Stacker cited data from ATTOM, a property data provider, to show how mortgage lending slumped in the fourth quarter of 2022 and which metropolitan areas were the most affected.
This data considers all types of residential mortgages, including purchase loans, refinances, and home-equity lending. It includes mortgages for single-family homes, condos, town homes, and multifamily properties with four or fewer units.
Overall lending activity decreased from the year before in all but one of the 191 metropolitan areas with a population of 200,000 or more and at least 1,000 total residential mortgages issued in Q4 2022.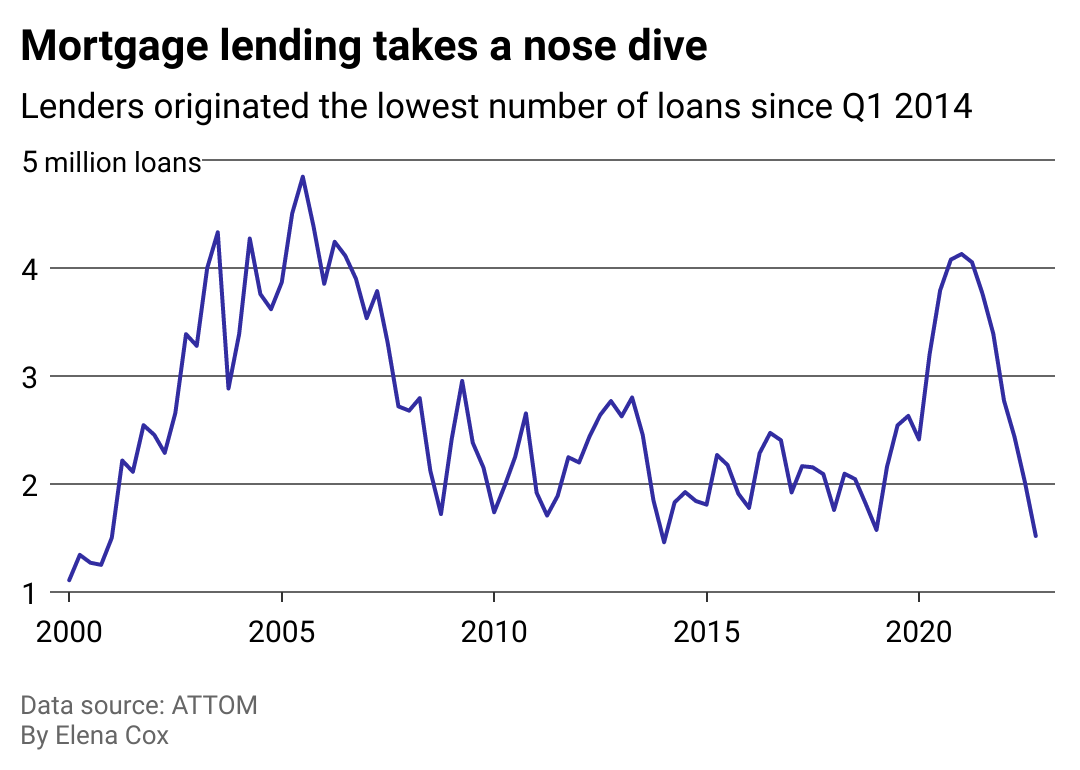 Stacker
Loan originations plummet at the end of 2022
The number of mortgage applications began to increase steadily at the start of the pandemic, peaking at 4.1 million loans at the beginning of 2021. But as home prices continued to rise and mortgage rates doubled from their pandemic lows, the number of people looking for a mortgage decreased rapidly in 2022.
There were 708,739 purchase loans issued in the fourth quarter of 2022, down 45% from the year before. The biggest drop, however, was among those looking to refinance, as rising interest rates made it less desirable for homeowners to remortgage. Home-equity lines of credit, or HELOCs, bucked the trend and increased by nearly a third, as Americans are still tapping into their equity for home improvements or other projects.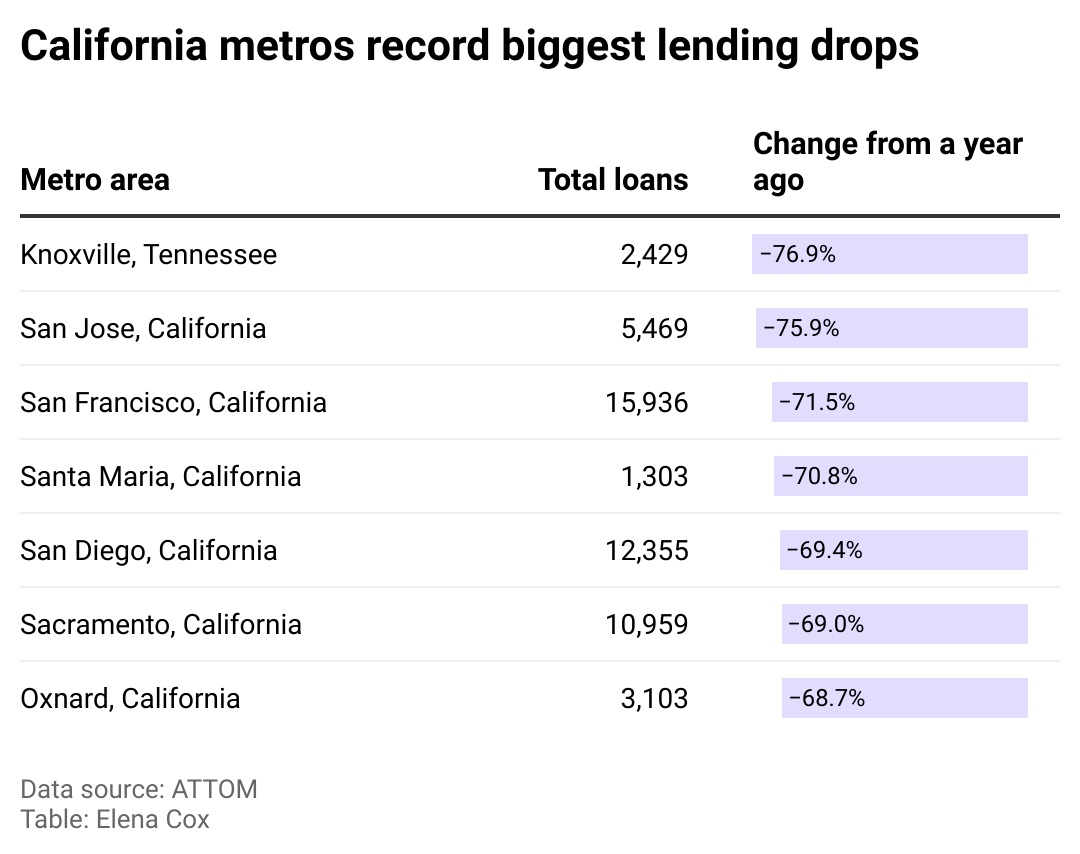 Stacker
California leads the way with biggest mortgage drops
The number of loans issued fell in nearly every metropolitan area measured compared to the year before, with California metros seeing the biggest declines. 
Affordability, or lack thereof, is the main driver of the decrease. 
While home prices decreased slightly in the Golden State in January, they remain among the highest in the country. In San Jose, for example, the median home price was $1.1 million, more than triple the national median of $383,249, according to Redfin data.
Knoxville, Tennesse, which has long been seen as an alternative to the more expensive and trendier Nashville, is also seeing a cost crunch. Median property values have grown by 26.5% over the past 10 years, while income has increased by just 3.6%, according to the Knoxville Area Association of Realtors' annual State of Housing Report.
More Stacker National