Best small towns for retirees in America
Published 6:30 pm Thursday, March 16, 2023

Monkey Business Images // Shutterstock
Best small towns for retirees in America
Many American retirees are looking to age in place, while others who have bid adieu to the workplace are seeking new locales. With no shortage of choices, how do they decide?
Some ways to narrow down the list include moving closer to grandkids or settling in a vacation spot that has generated family memories over the years. Folks who get the blues from high taxes and cold weather can find plenty of tax-friendly, warmer places to establish new roots. Those who want to stay active with outdoor recreation or playing golf have their pick of communities near manicured club courses and the great outdoors.
Big cities have advantages, as do small towns with safe streets and quiet neighborhoods. Some of the best choices are idyllic suburbs—like Piermont, New York, and Shenandoah, Texas—just minutes away from the business bustle and cultural attractions of big cities. As always, Florida tends to dominate retirement hotspot lists with its year-round warm weather and pristine beaches.
To help retirees considering a move, Stacker referenced Niche's 2022 Best Places to Retire study to find 30 American small towns with the best retirement options. To be included, each town on this list had to have 5,000 residents or fewer.
Read on to see where you might want to go.
You may also like: 10 hacks to make any room in your home look bigger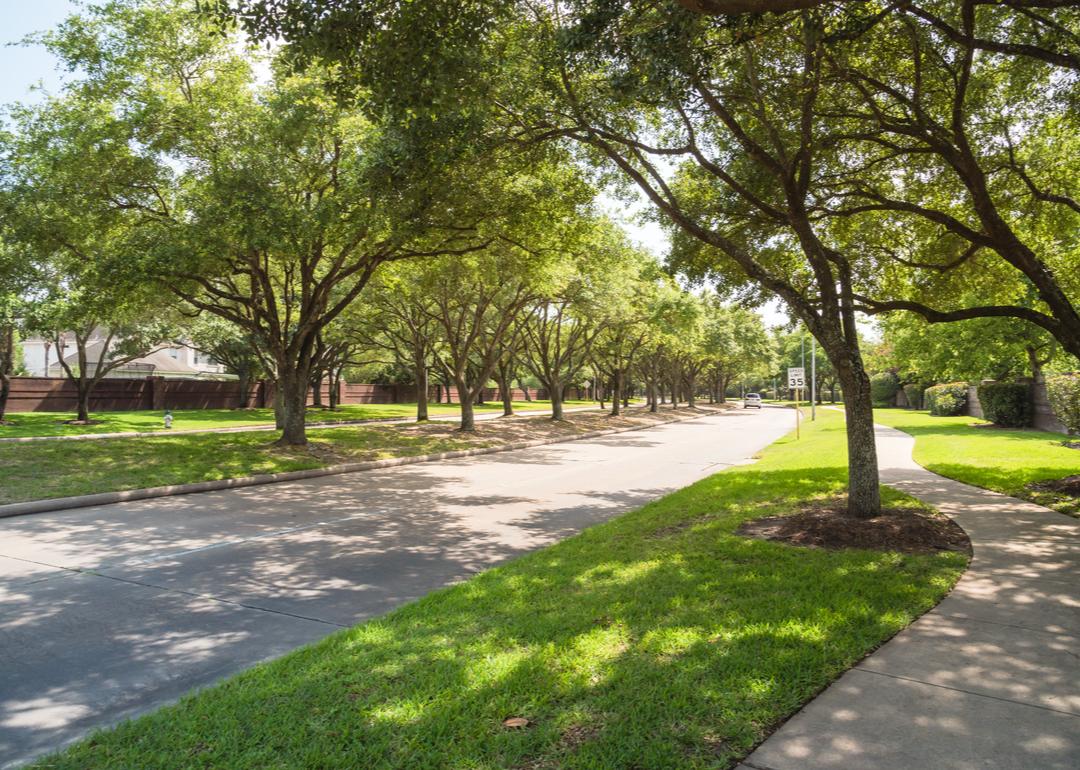 Trong Nguyen // Shutterstock
#30. Hollywood Park, Texas
Population: 3,130
Hollywood Park is a San Antonio suburb founded in 1955 to build the community into "a great, peaceful and friendly place to live." The Hollywood Park Community Association works toward that goal by hosting community events.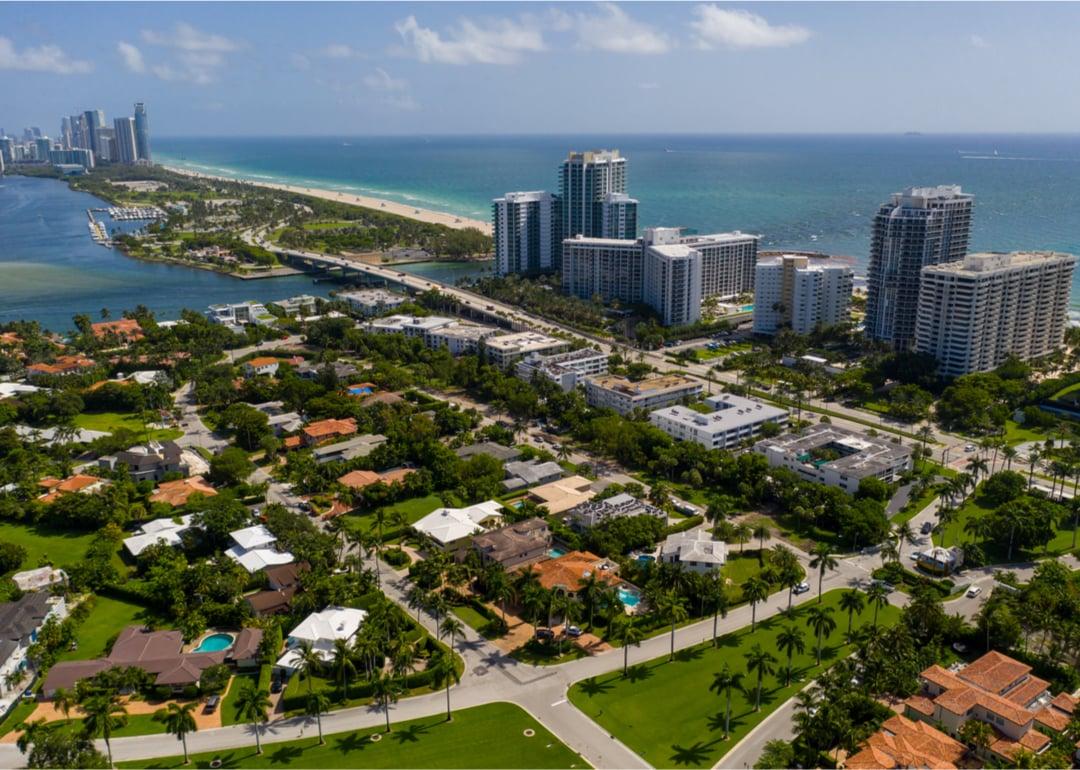 Felix Mizioznikov // Shutterstock
#29. Bal Harbour, Florida
Population: 3,037
Everything about the Miami suburb of Bal Harbour embodies luxury, from its fine dining to its upscale shopping and oceanfront resorts. For those who plan on having an active social life, there are plenty of activities in the area. But residents also have easy access to medical care, including at Miami Beach Community Health Center.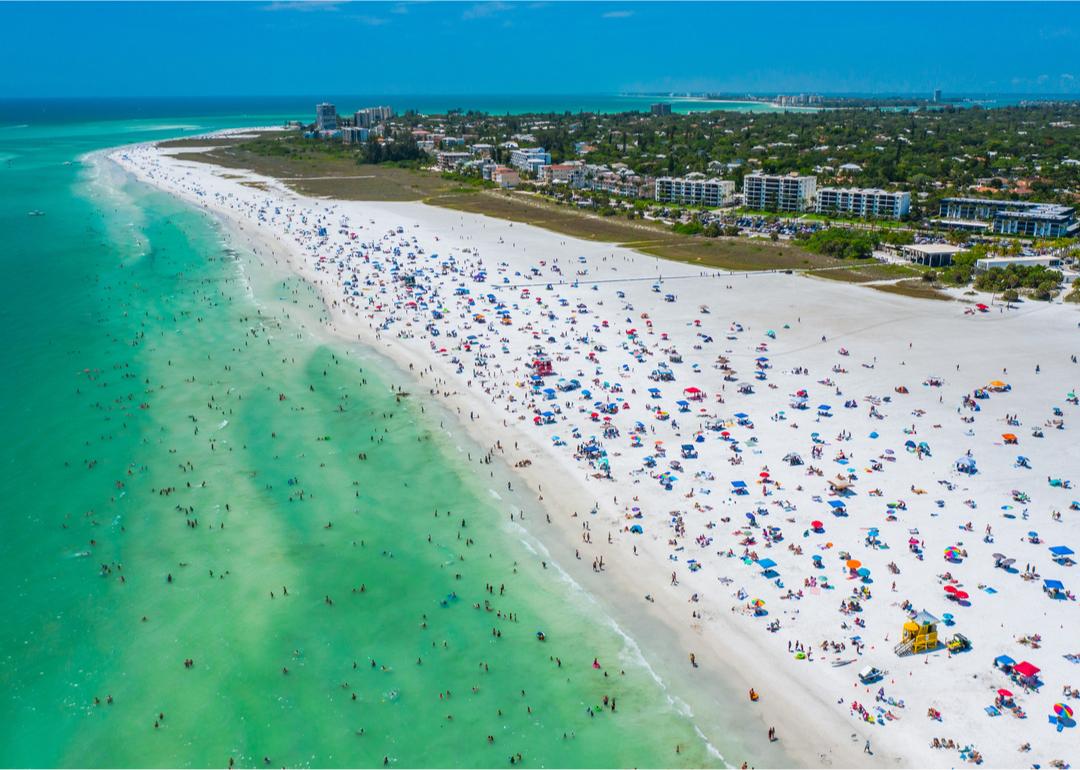 Suncoast Aerials // Shutterstock
#28. Ridge Wood Heights, Florida
Population: 4,875
Located in Sarasota County, full of beaches and attractions, Ridge Wood Heights scored particularly high with Niche on health and fitness. The community is only a 15-minute drive to Siesta Key, a Gulf of Mexico barrier island abounding with sandy beaches, tidal pools, and coral reefs.
Canva
#27. Tierra Verde, Florida
Population: 3,847
Tierra Verde is a wealthy boating community located partly on an artificial island created by filling spaces between several smaller islands. It lies south of St. Petersburg and St. Pete Beach, off a spur of the Pinellas Bayway, and is known for its marinas and restaurants. Fort De Soto Park, part of the Pinellas County park system, boasts beautiful beaches and a famous dog beach.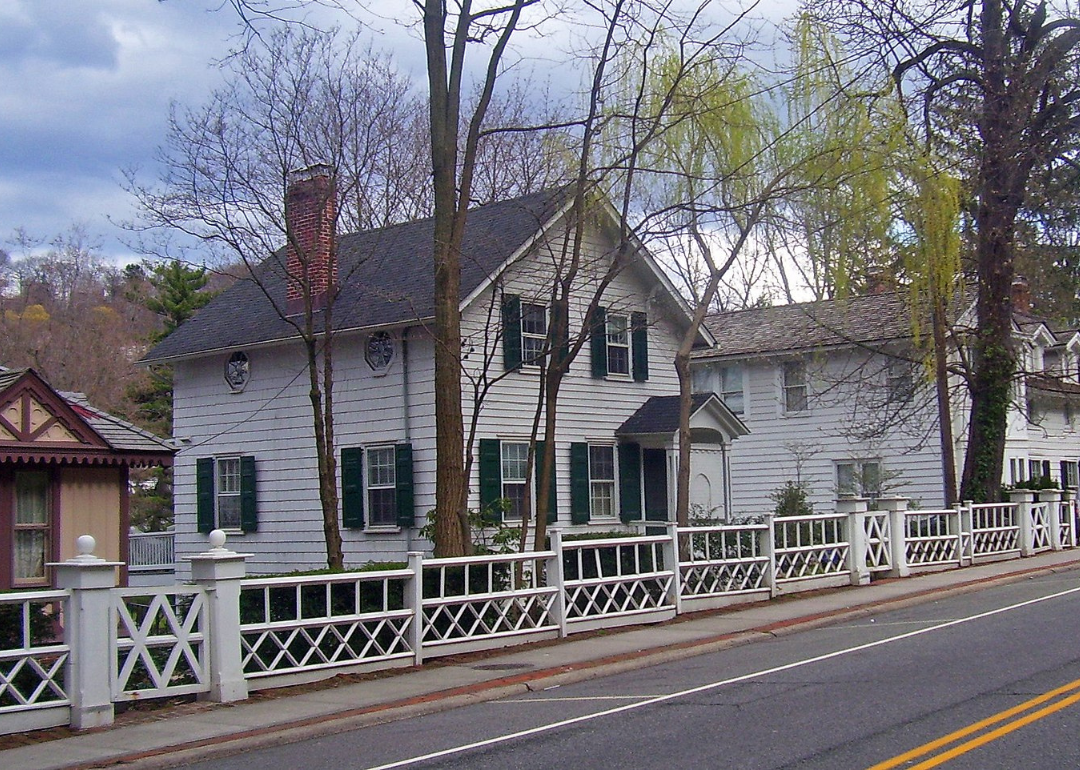 Daniel Case // Shutterstock
#26. Roslyn, New York
Population: 2,971
Originally called Hempstead Harbor, the village of Roslyn dates from the mid-1600s and although only 0.6 square miles, it has two historic districts on the National Register of Historic Places. There's a variety of housing, including rentals in two developments for older adults, Horizon at Roslyn and Atria on Roslyn Harbor. And it is only a little over 25 miles to Manhattan, easily reached by the Long Island Rail Road.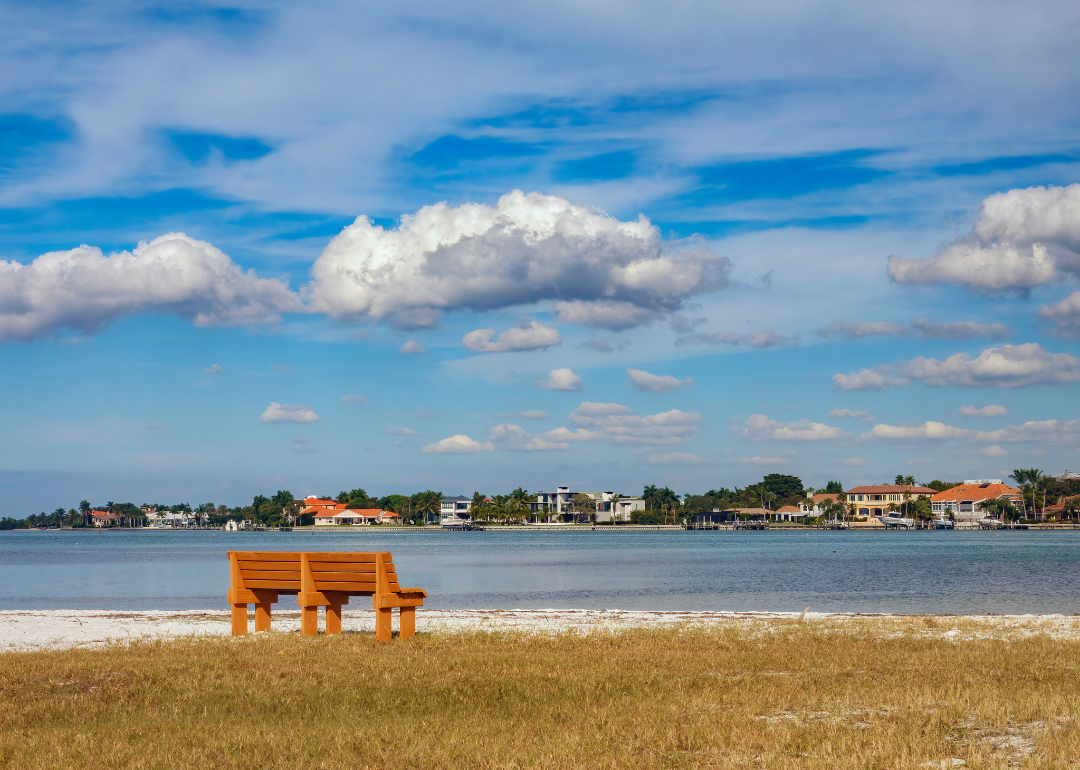 Ken Schulze // Shutterstock
#25. South Sarasota, Florida
Population: 4,700
South Sarasota offers a "sparse suburban feel," according to Niche, but with plenty of restaurants, bars, coffee shops, and parks to make it an attractive spot for retirees. Sarasota County has parks and beaches on the Gulf of Mexico, golf, shopping, nightlife, and festivals.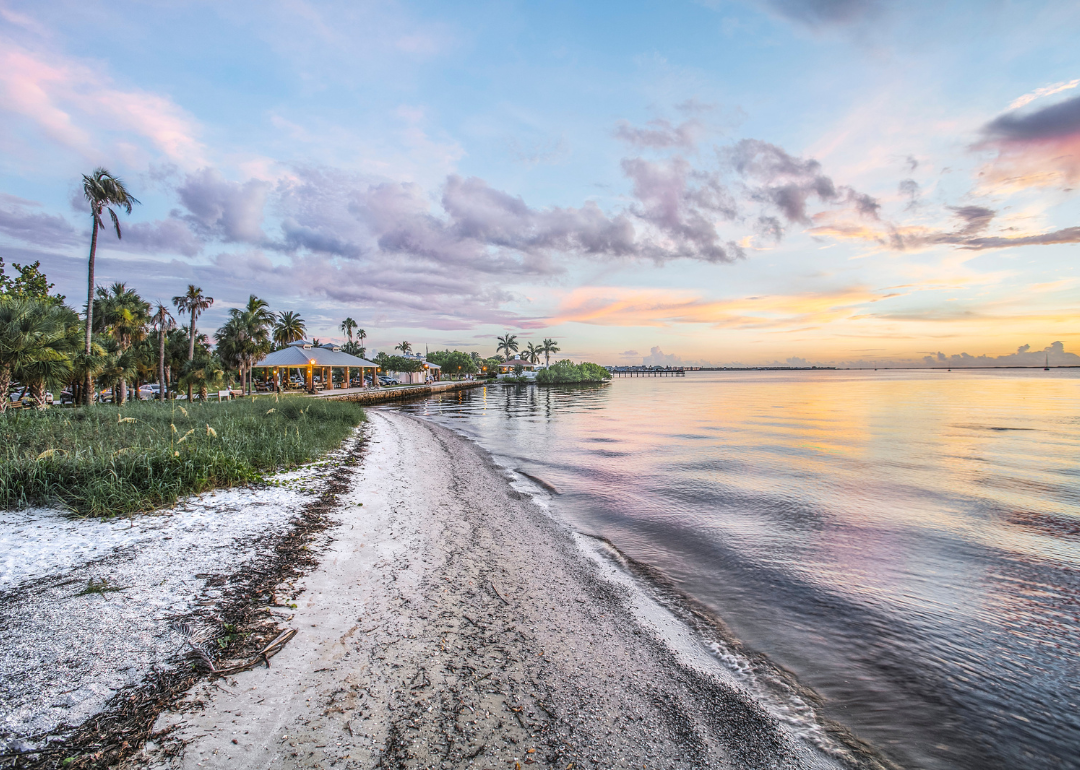 PixelPerfectMedia // Shutterstock
#24. Charlotte Harbor, Florida
Population: 4,644
Charlotte Harbor is a town on the Peace River, opposite the larger community of Punta Gorda, and features the Charlotte County Historical Center, a fishing pier park, and a miniature golf course. The harbor itself is the second-largest estuary in the state after Tampa Bay. Nearby are the Peace River Wildlife Center and the Ponce de Leon Springs State Park, where explorer Juan Ponce de León may have been fatally shot with a poisoned arrow, though the exact location is disputed.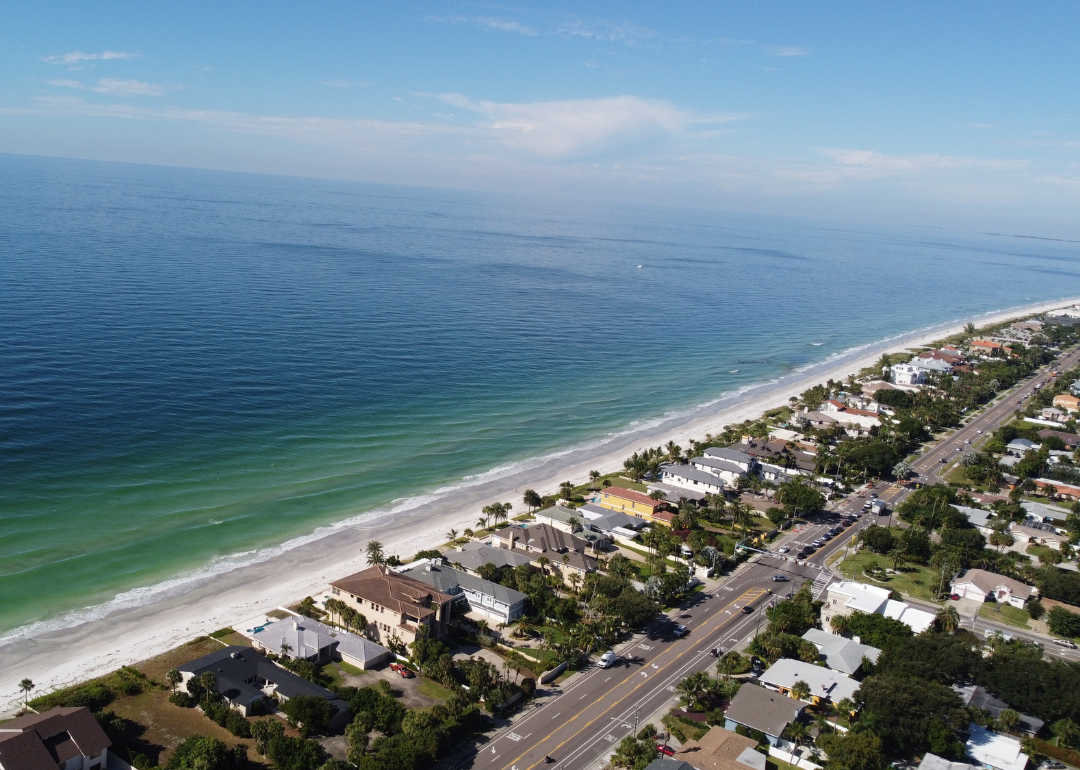 Achilles Productions // Shutterstock
#23. Belleair, Florida
Population: 4,266
Belleair traces its founding to the 1890s when a railroad magnate named Henry B. Plant built a hotel on a bluff south of Clearwater and accommodated the private railroad cars of his wealthy winter visitors on a railroad siding. Today, the community has built condominiums while creating a system of parks and paths and protecting its historic homes through a local registry.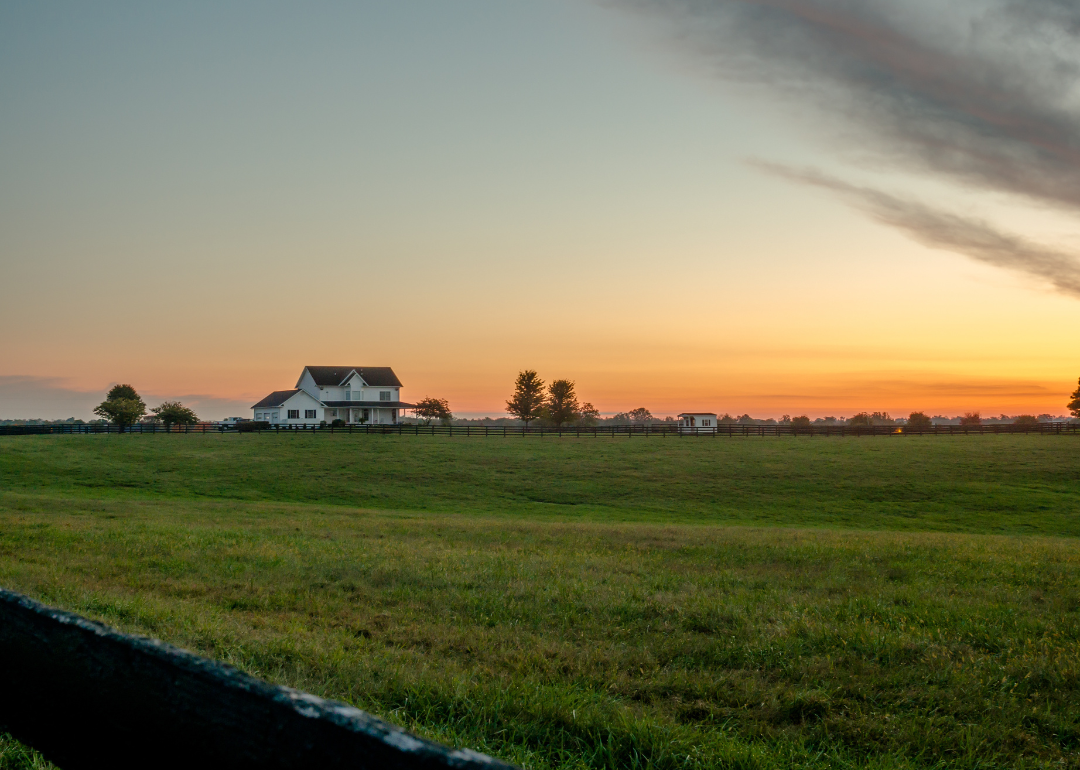 Gary Rolband // Shutterstock
#22. Windy Hills, Kentucky
Population: 2,381
Windy Hills calls itself the "City of Historic Homes," tracing itself back to deeds issued during colonial times to families that moved into the area from Virginia and Pennsylvania. Stores and restaurants are a short walk or drive away from the modern-day community's single-family homes, townhouses, and condominiums.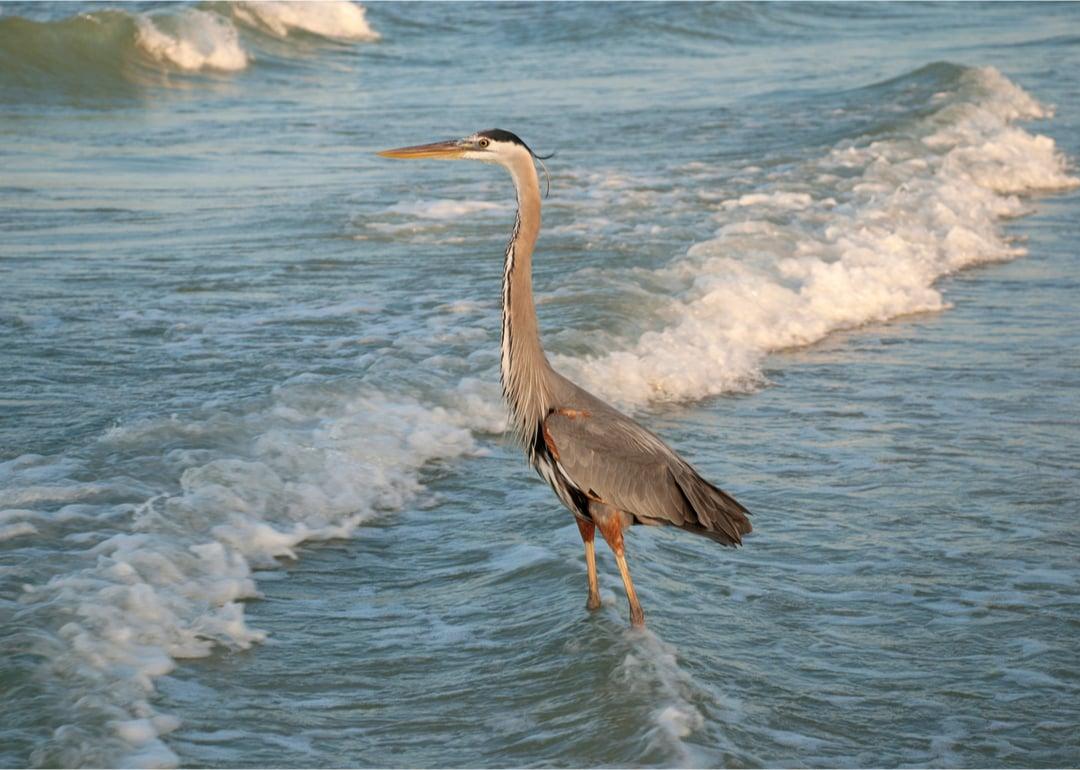 Oleksandr Koretskyi // Shutterstock
#21. Redington Shores, Florida
Population: 2,043
Redington Shores offers plenty of parks that may attract retirees. Constitution Park, for example, is an ideal setting for picnics or events, and Del Bello Park is a nature refuge with a dock for fishing as well as exercise equipment for those who wish to work out outdoors. Most of the residents in this laid-back Florida town are homeowners, with the average home worth $499,600 as of early 2023.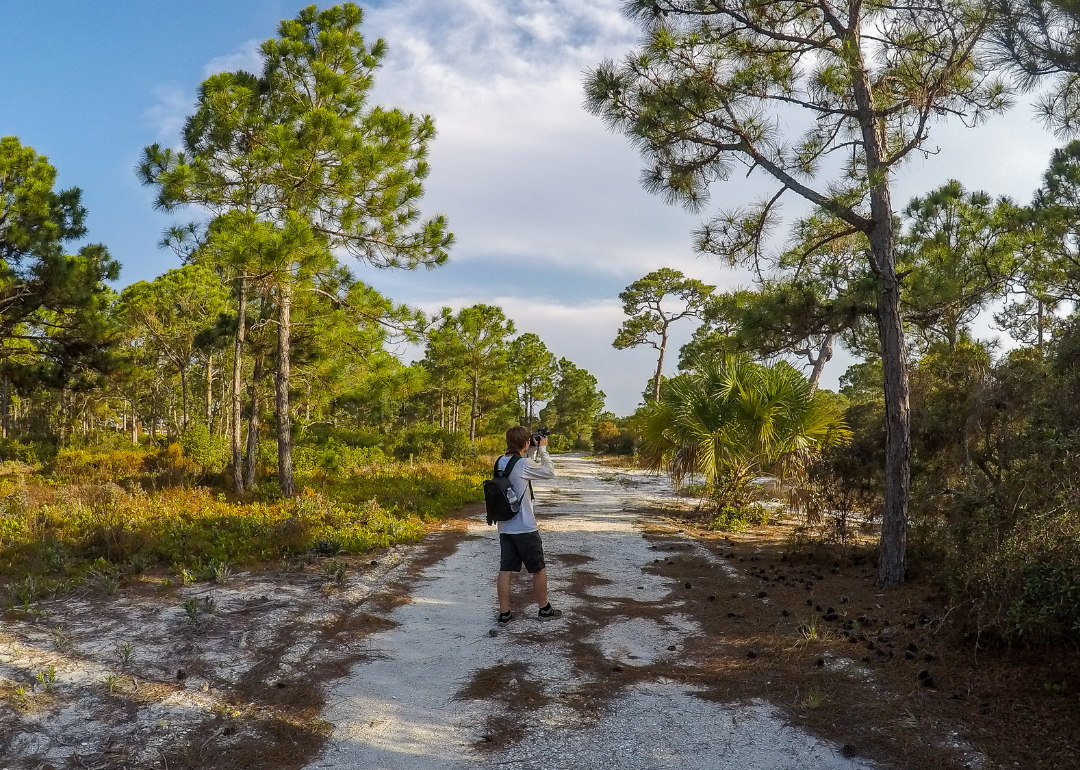 EdwinWilke // Shutterstock
#20. Hypoluxo, Florida
Population: 2,703
Hypoluxo calls itself the "Home of the Barefoot Mailman," a reminder of the days when the U.S. mail in South Florida traveled by boat and by foot along miles of beaches. The community is close to West Palm Beach and the beaches along the Atlantic. The "Hypoluxo Hammock" is an area set aside on the grounds of the Town Hall for only indigenous plants. Two other parks offer trails, natural scrub, benches, and landscaping.
Noah Densmore // Shutterstock
#19. Roseland, Florida
Population: 1,552
Like many Florida towns, Roseland is an ideal place for retirement thanks to its year-round warm weather and retirement communities. Retirees may also appreciate the town's affordability, as most of the residents in Roseland own their own homes, which have an average value of $240,700.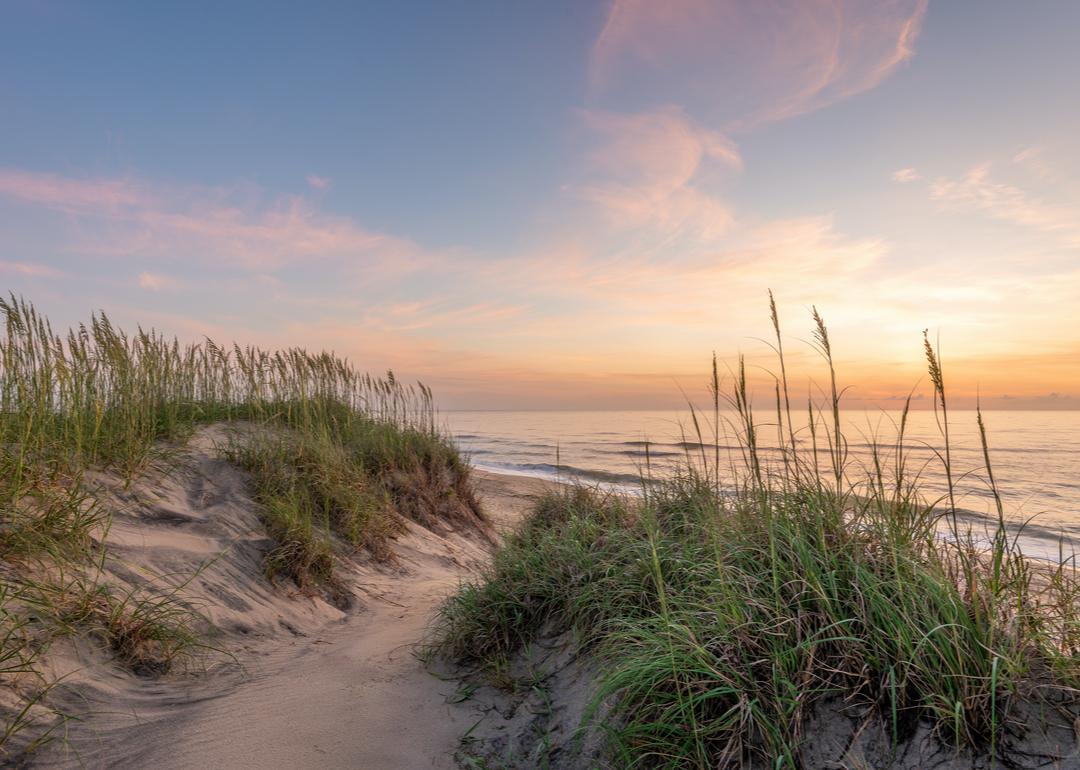 Michael R Brown // Shutterstock
#18. Pine Knoll Shores, North Carolina
Population: 1,288
This community sits on the 25.4-mile barrier island of Bogue Banks, which is part of an area known for its white beaches and clear water called the Crystal Coast. With numerous water trails and a temperate climate, the coast is a paddler's paradise. The North Carolina Aquarium at Pine Knoll Shores offers a different kind of fun, as well as volunteer opportunities.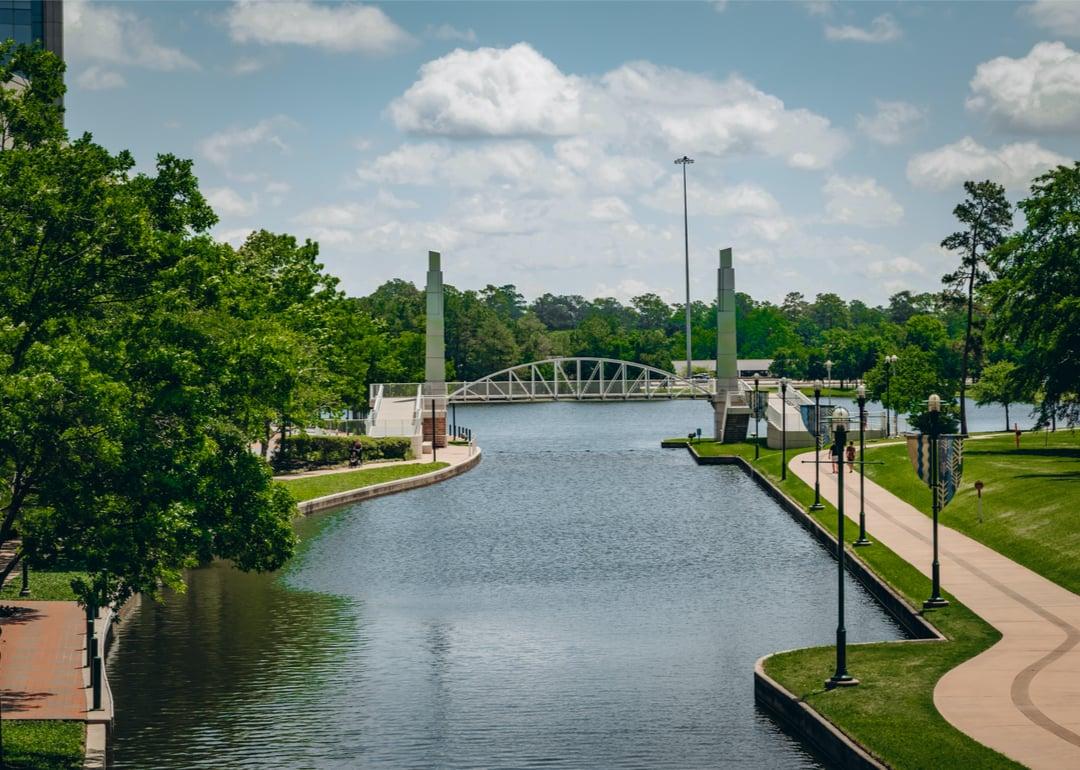 Barre Kelley // Shutterstock
#17. Shenandoah, Texas
Population: 3,350
Situated in the northern corridor of Houston, Shenandoah has many great amenities like the Aveda Institute, which offers a wide range of spa services. An indoor swimming and Olympic training facility holds national competitions and is also open to the public. And a 10,000-seat artificial turf stadium hosts football and soccer games. About 3 in 5 residents own their homes; the remainder rent, with rental costs close to the national average.
droneworldadventure.com // Shutterstock
#16. North River Shores, Florida
Population: 3,739
North River Shores sits on the banks of the North Fork St. Lucie River in Martin County. Among the attractions for residents are four waterfront neighborhood parks and a private boat ramp, all readily accessible in this low-population town.
Roschetzky Photography // Shutterstock
#15. West Lake Hills, Texas
Population: 3,373
This hilly, 4-square-mile patch of Texas is conveniently located near Austin's downtown region and two Austin gems: Zilker Metropolitan Park and Lady Bird Lake. West Lake Hills has also repeatedly received a Scenic City Certification, which recognizes cities that are "building sustainable communities and designing greenspaces that are accessible to all residents."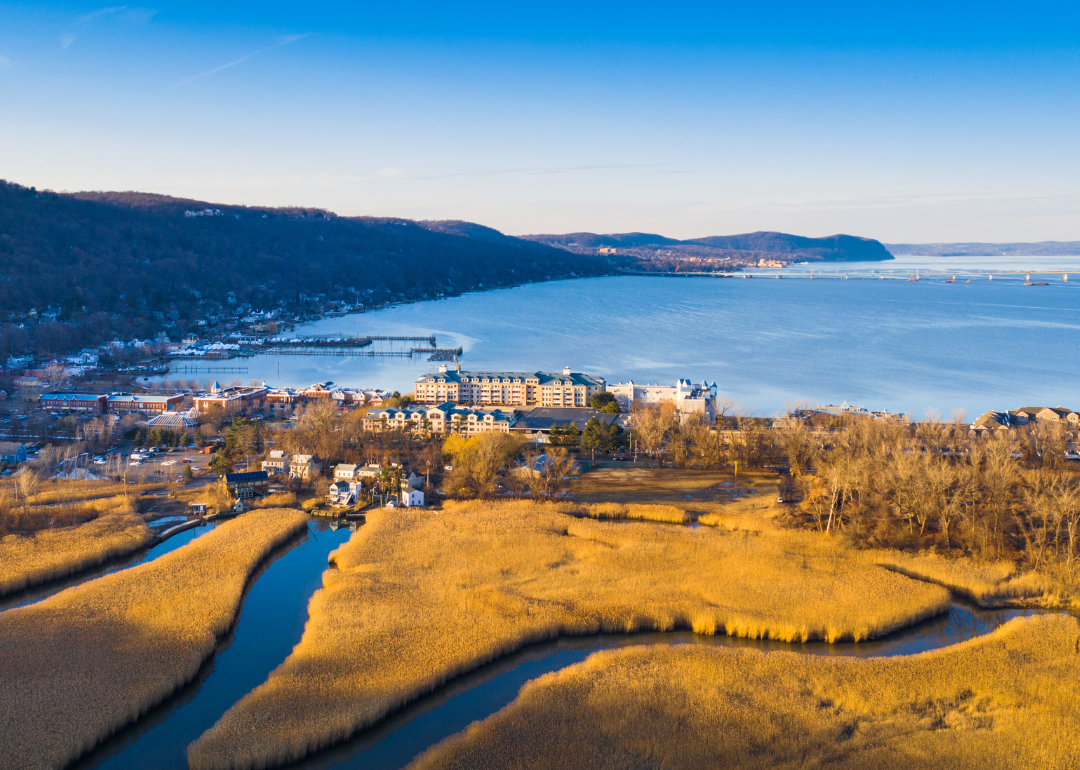 Canva
#14. Piermont, New York
Population: 2,525
Piermont, originally called Tappan Slote, sits on the Hudson River at the Sparkill tributary about 25 miles north of New York City. When the Erie Railroad began service from New York City to Lake Erie, it built a long pier that extended almost a mile into the river to transfer freight to and from river barges. Today, there are boutiques, art galleries, and restaurants along that pier and on the village's Main Street. Woody Allen's 1985 movie "The Purple Rose of Cairo" was filmed in Piermont.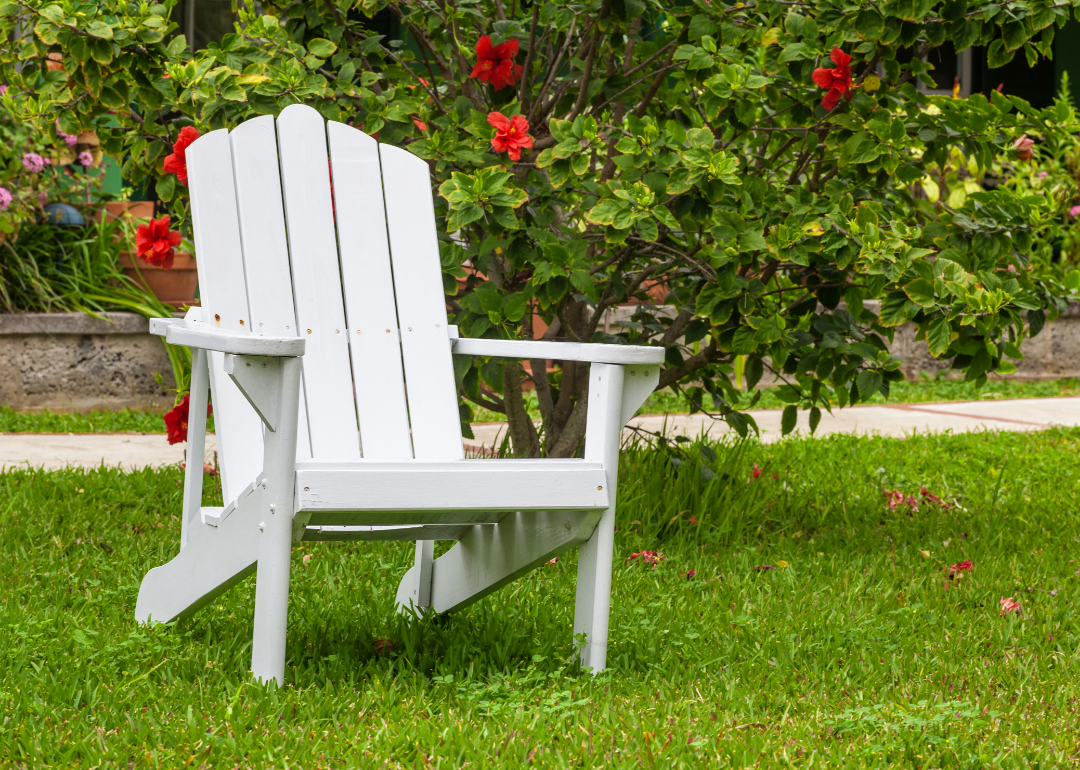 Canva
#13. Bingham Farms, Michigan
Population: 1,521
This community created its Design Review Board "to preserve, protect and enhance the ecologically and historically unique environment and aesthetic charm of the village." Residents are just minutes from Detroit and 30 miles from the Brighton Howell area, which has 123 miles of trails and 20 golf courses.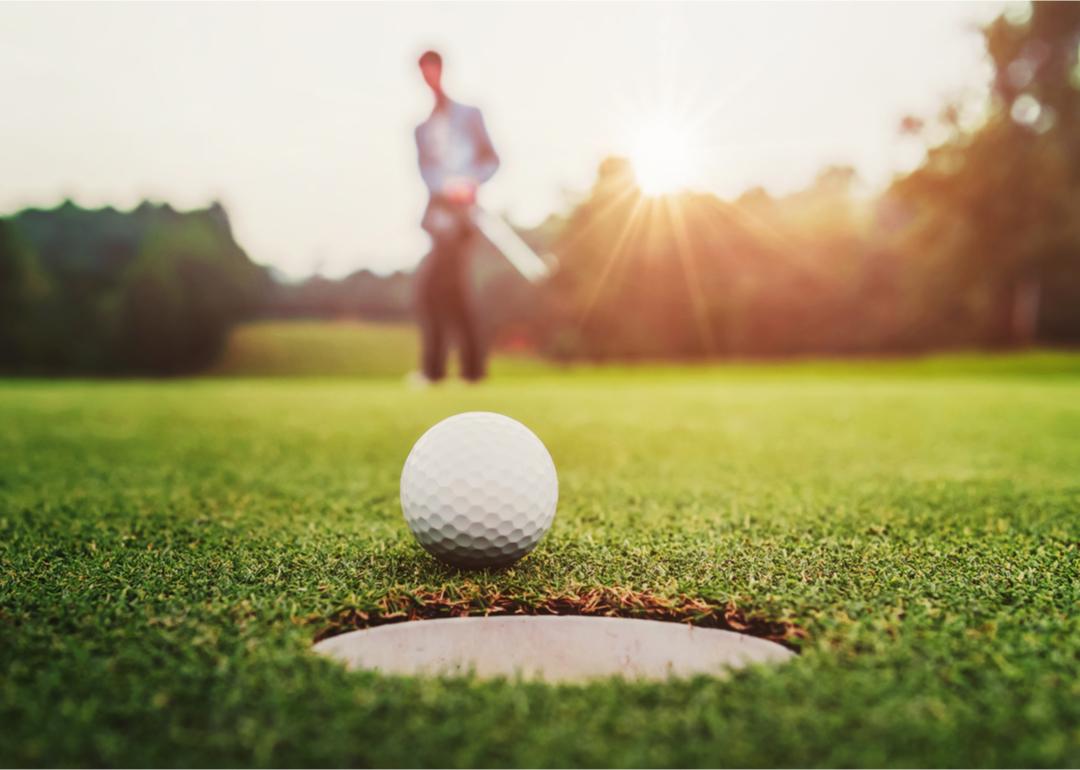 lovelyday12 // Shutterstock
#12. Brookridge, Florida
Population: 4,741
Brookridge may be less well known than other Floridian cities, but this low-crime, tight-knit Tampa suburb boasts high-ranking public schools and is one of the most affordable places for retirees in the state.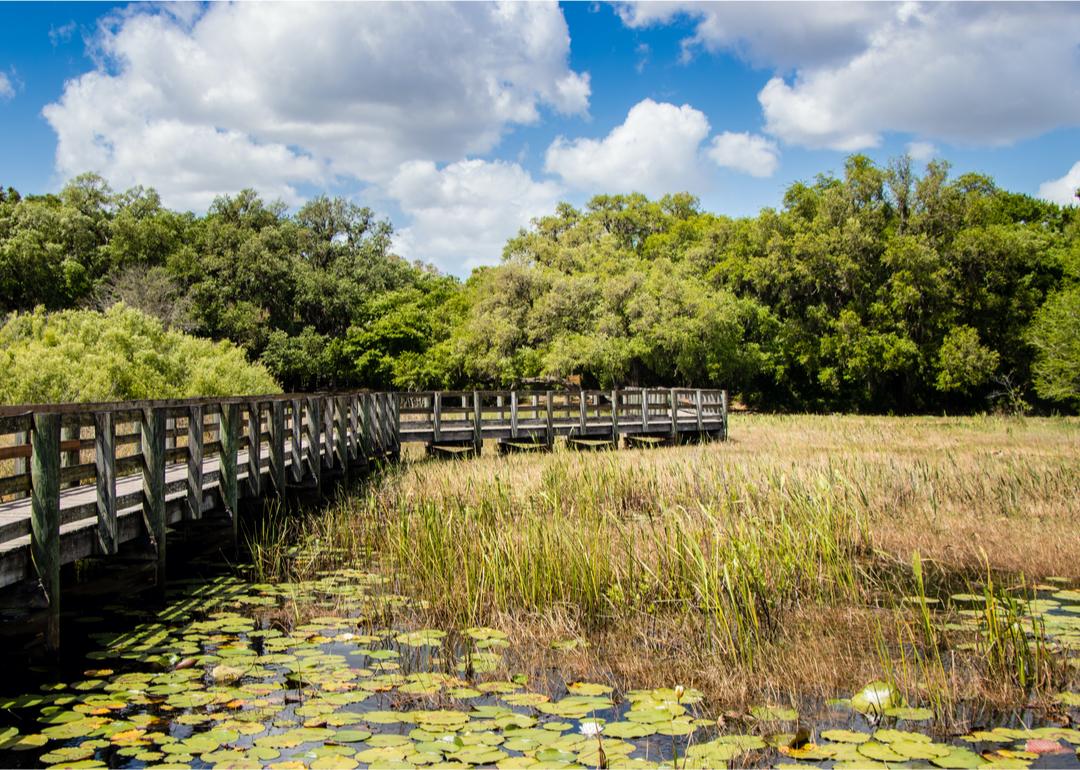 Lynda McFaul // Shutterstock
#11. High Point, Florida
Population: 3,845
High Point sits just inland from Florida's Gulf Coast, not far north of Tampa Bay's pulsing metropolis. Seniors love the warm weather and quaint downtown. Plus it's one of the most affordable places in the nation, with home costs far below the national median.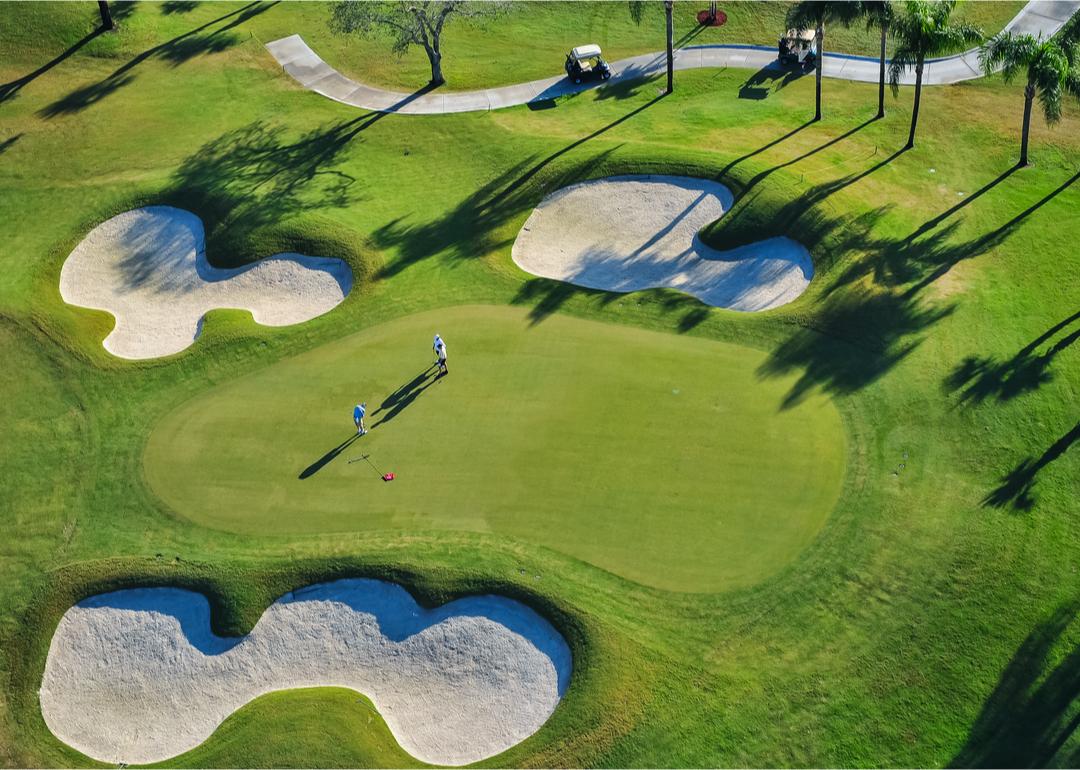 FloridaStock // Shutterstock
#10. Timber Pines, Florida
Population: 4,935
The Timber Pines Community Association, dedicated to offering premier "country club living for active adults," calls Timber Pines the "best-kept secret in Florida." Residents can swim in two geothermal heated pools, golf on four courses, play tennis on eight courts, and join over 100 clubs, classes, and organizations.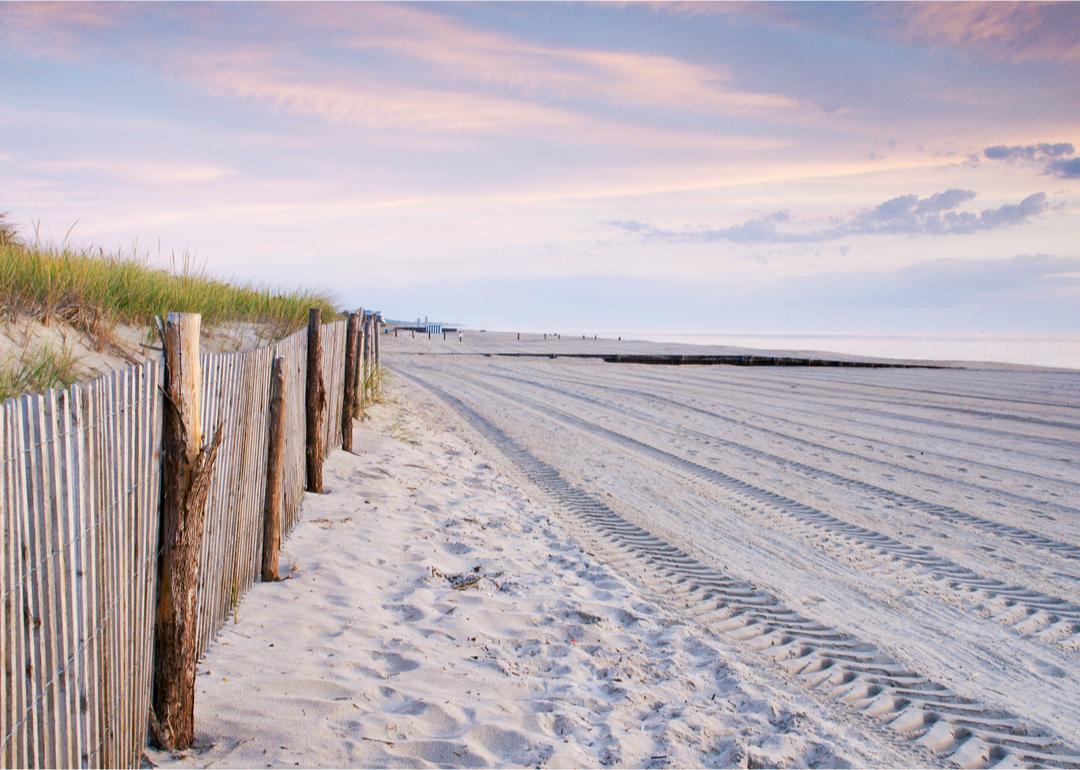 Bruce Goerlitz Photo // Shutterstock
#9. Rehoboth Beach, Delaware
Population: 1,392
For a town of just 1 square mile, there's much to enjoy, including pristine beaches and a mile-long boardwalk filled with attractions, shops, and restaurants. In the summer, Rehoboth Beach hosts a free concert series.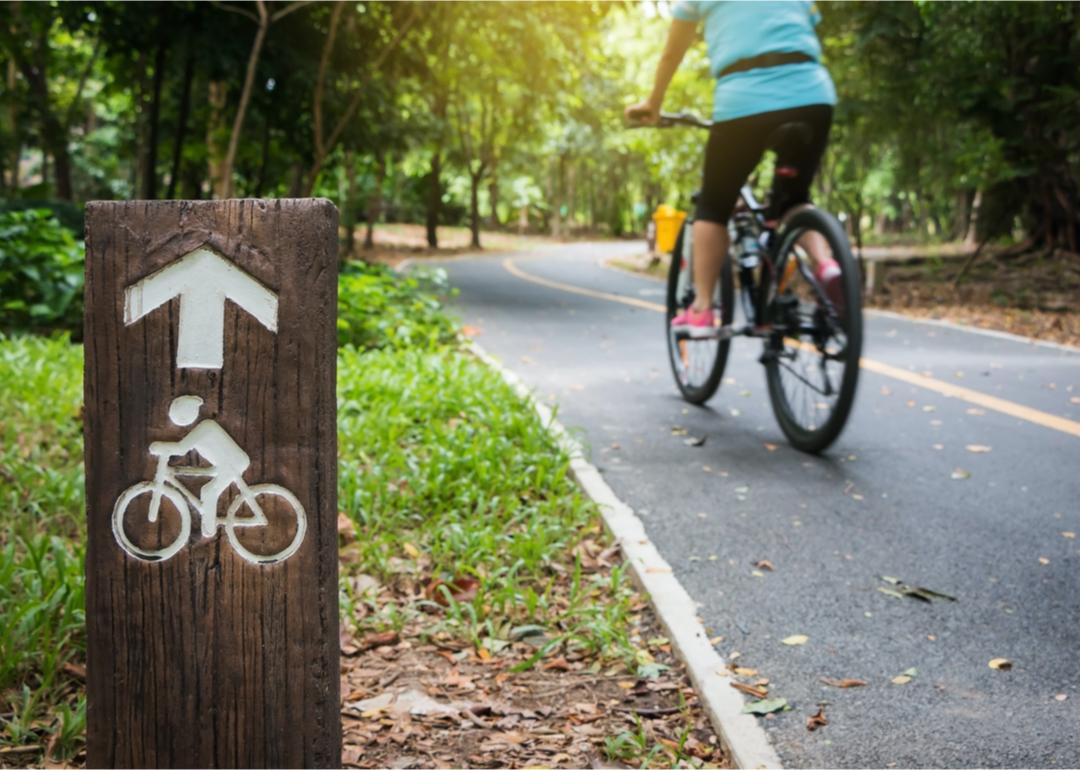 hutpaza // Shutterstock
#8. Leland Grove, Illinois
Population: 1,336
Leland Grove is just minutes away from Springfield and all the restaurants, attractions, and shopping the state capital offers. The community's comprehensive planning document declares that Leland Grove's "high-quality residential character represents its greatest strength" and that its "community spirit is a valuable asset."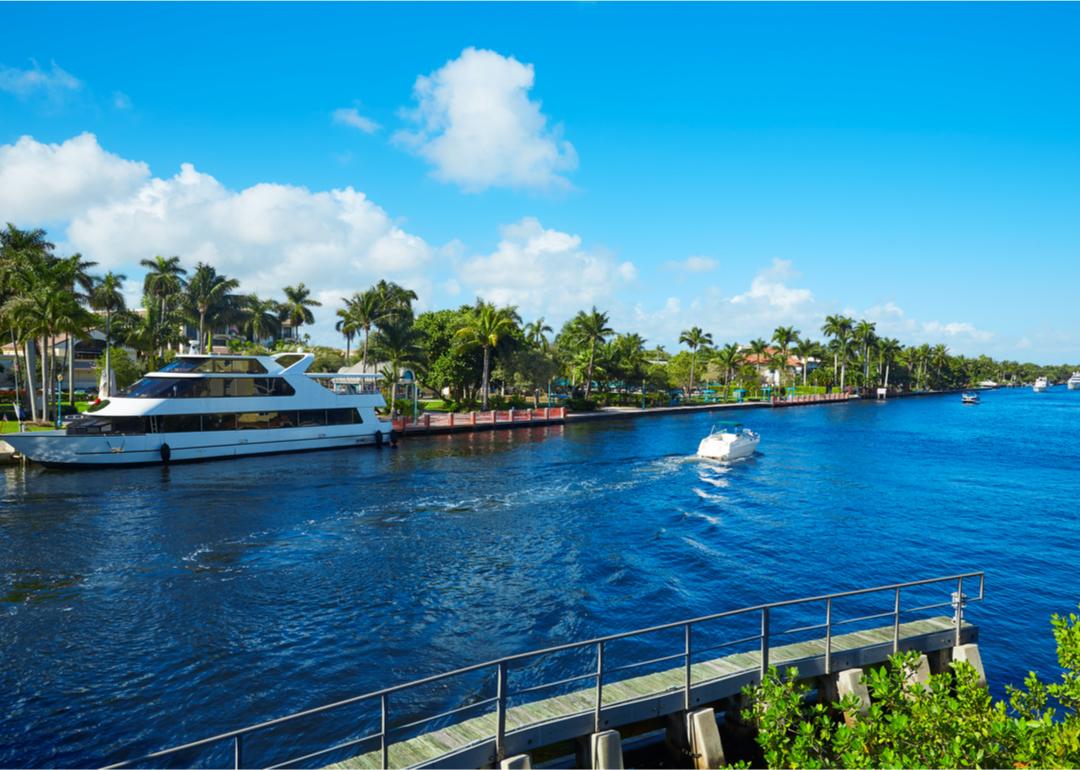 lunamarina // Shutterstock
#7. Gulf Stream, Florida
Population: 893
Gulf Stream in Palm Beach County has an active lifestyle community with parks and recreational activities. The affluent area has a thriving economy with high household incomes and most residents owning their homes. Among its unique features is the historic canopy of Australian Pines along North Ocean Boulevard.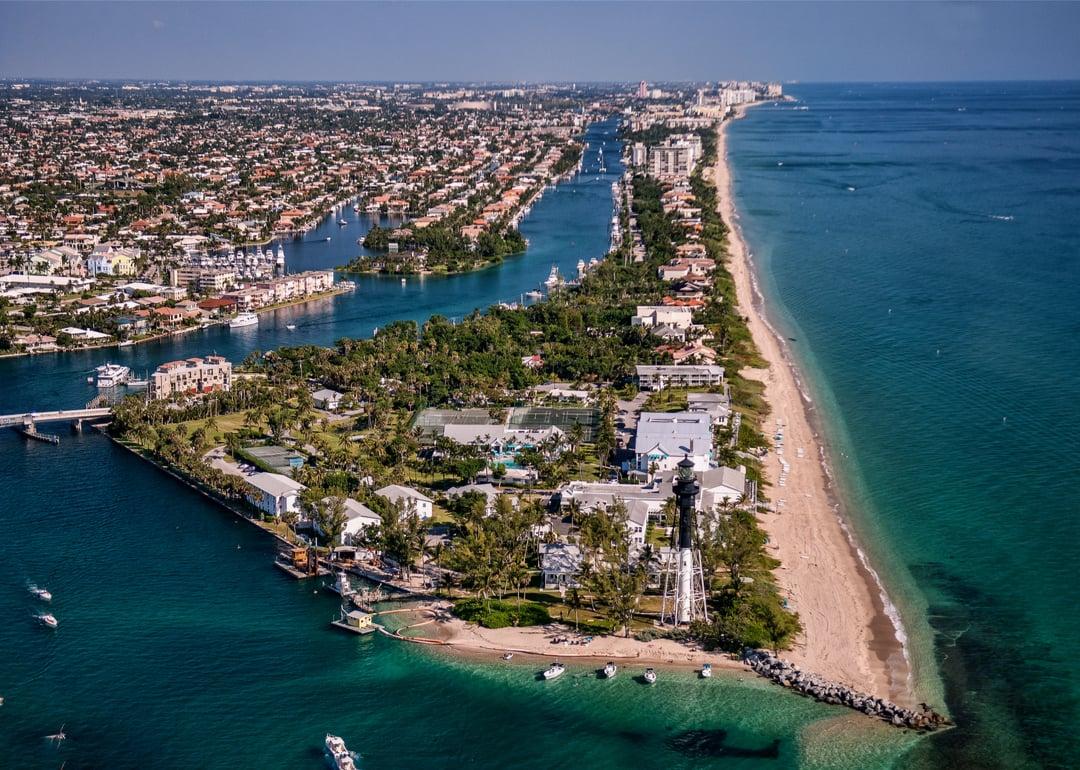 FloridaStock // Shutterstock
#6. Hillsboro Beach, Florida
Population: 2,011
Hillsboro Beach, a Fort Lauderdale suburb an hour outside Miami, has an urban feel with residents making an above-average income and owning their homes. The public school system is above average, and as with many other Floridian cities, there's always the option of taking a beach day.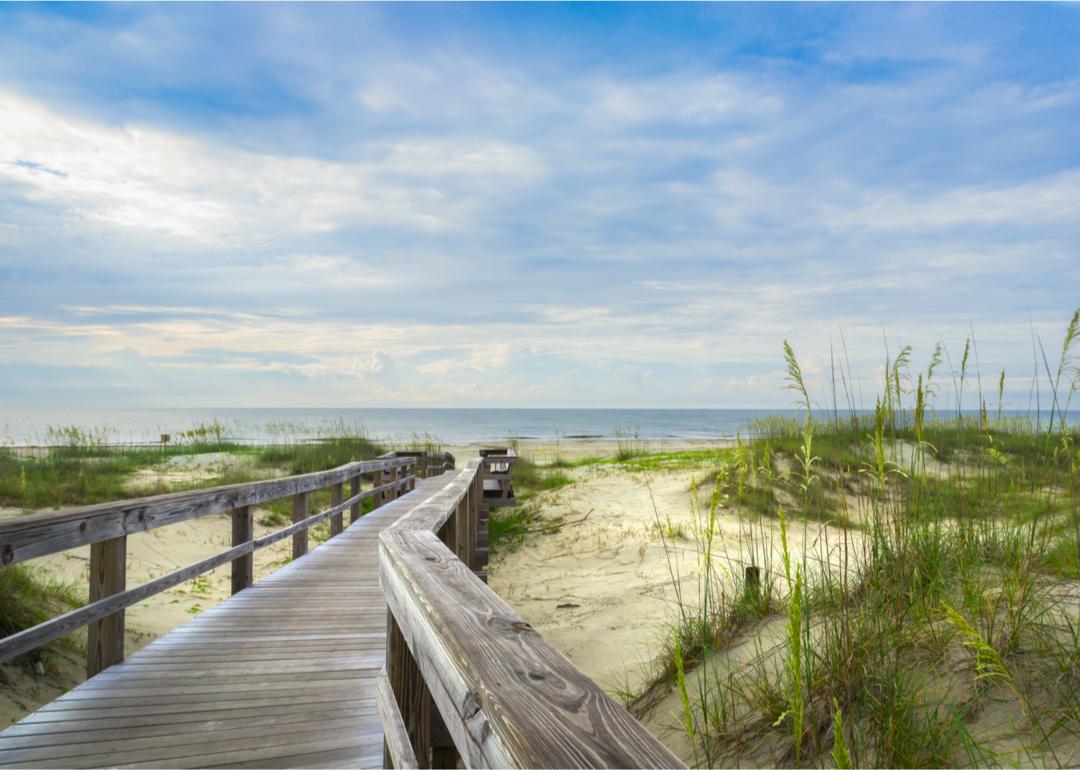 A. Joseph Molnar // Shutterstock
#5. Dutch Island, Georgia
Population: 1,247
Dutch Island, on the outskirts of Savannah, is like stepping into another world. The tight-knit island community was built among 500 acres of pristine natural beauty and prides itself as a perfect place for retirees thanks to its quiet and serene atmosphere. Dutch Island is small, with just 480 homes, and offers plenty of activities, including tennis, beach volleyball, boating, hiking, and a community pool.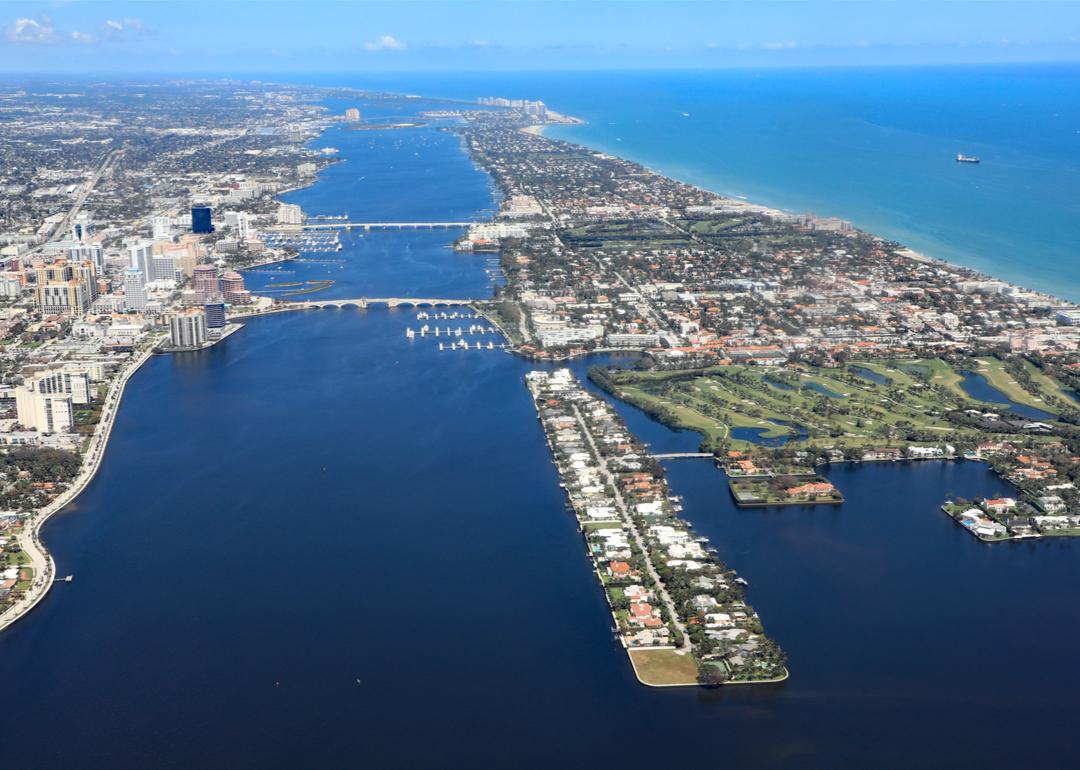 Thomas Barrat // Shutterstock
#4. South Palm Beach, Florida
Population: 1,875
An affluent and safe city, South Palm Beach is a haven for retirees. Its attractions include museums, golfing, dining, shopping, proximity to airports, and of course, beaches. There are plenty of retirement communities and easy access to reputable health services.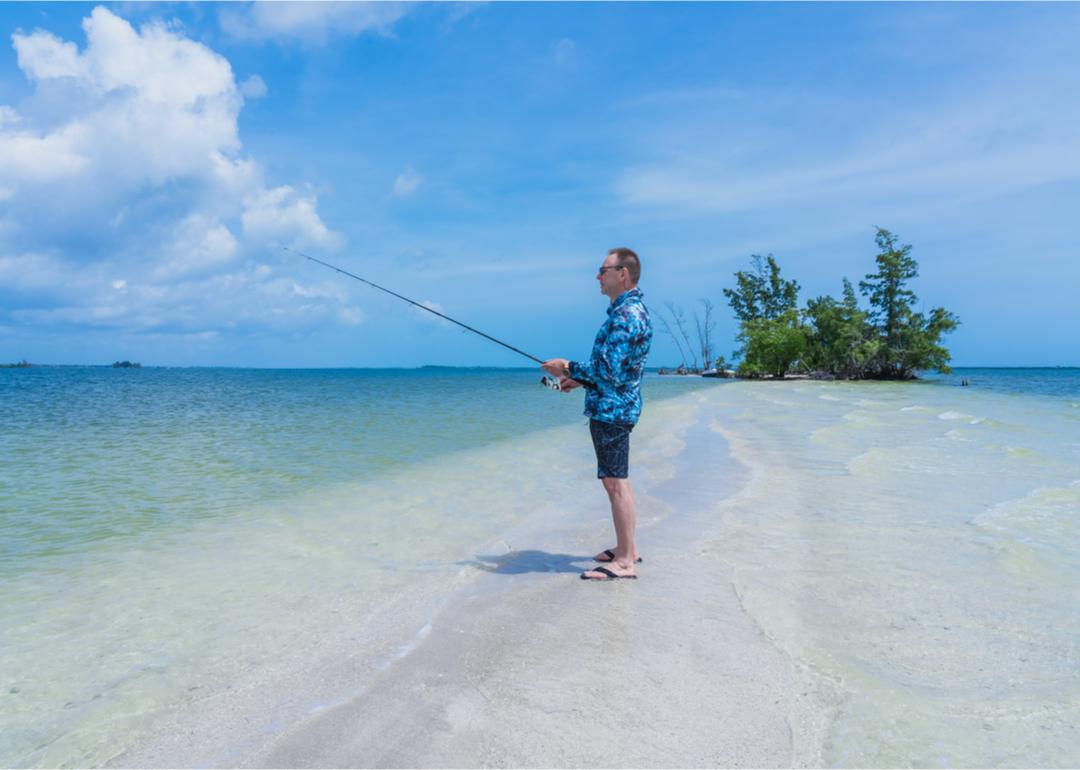 Sergey and Marina Pyataev // Shutterstock
#3. Indian River Shores, Florida
Population: 4,217
As of early 2023, the median cost for a home in the resort town of Indian River Shores was $774,700. Residents, however, get value from an affluent, low-key neighborhood that has a suburban feel and a strong public school system to keep property values high.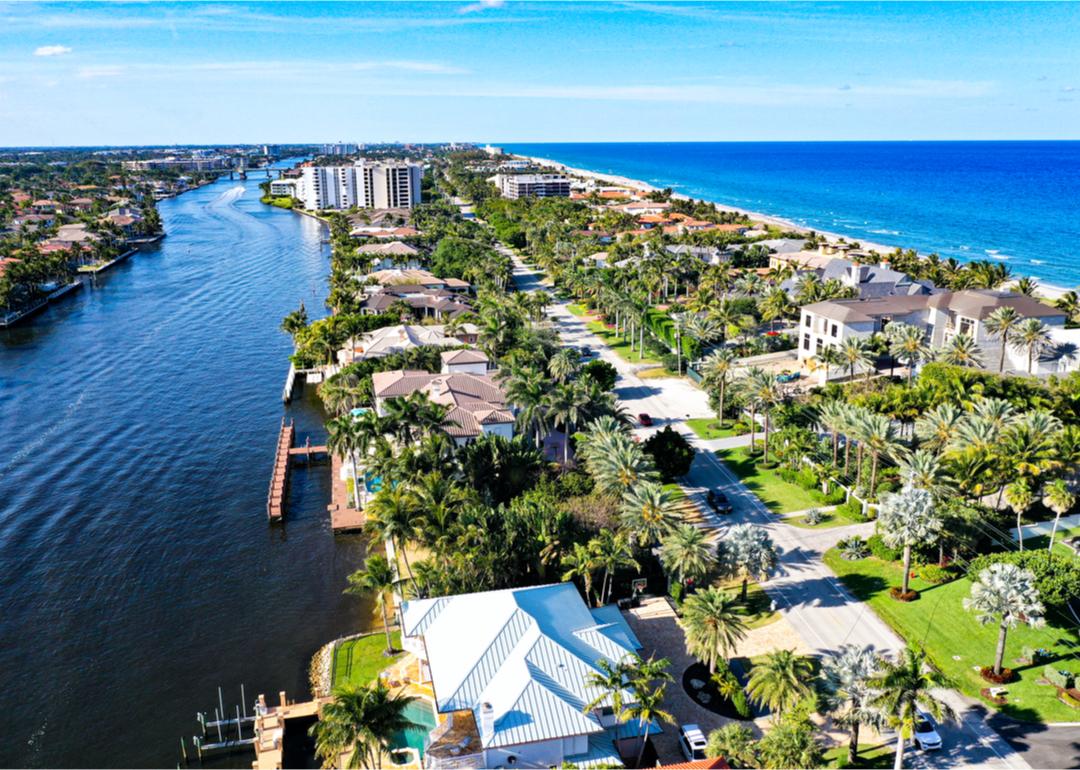 Creative Outfit // Shutterstock
#2. Highland Beach, Florida
Population: 4,244
Highland Beach, located in Palm Beach County, is an ideal location for retirees with its laid-back, relaxing beaches and scenic views. Highland Beach is situated between the more popular cities of Delray Beach and Boca Raton. The Palm Beach area has a huge golfing scene for those who are interested in the sport.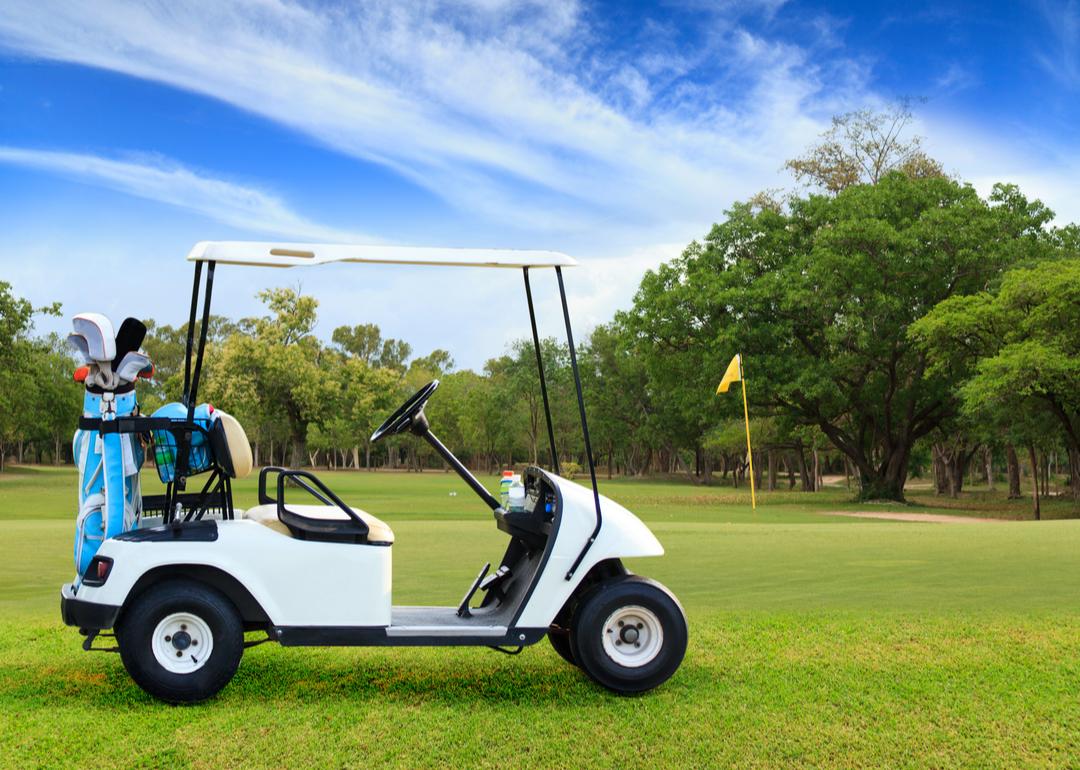 Naypong Studio // Shutterstock
#1. Lake Success, New York
Population: 2,856
This village on Long Island, just outside New York City, offers fitness center memberships and planned game and movie nights. There's plenty of opportunity for golfing at Lake Success Golf Club or the Fresh Meadow Country Club, which has been a historic destination for celebrities including baseball legend Babe Ruth.
More Stacker National