How the nursing workforce has changed over time
Published 2:00 pm Tuesday, March 21, 2023

Canva
How the nursing workforce has changed over time
Even as the population of the United States becomes more diverse—with people of color making up more than 40% of U.S. residents as of 2020—the nursing workforce isn't following suit.
Incredible Health analyzed 2023 data from Revelio Labs and 2020 data from the National Council of State Boards of Nursing and found that nurse demographics have remained relatively consistent over the past two decades. 
Bureau of Labor Statistics data shows that there were about 3.05 million nurses nationwide in May 2021, earning a median $37.31 per hour. Nurses' work is undoubtedly crucial, especially in the wake of the ongoing nursing shortage which was exacerbated by the COVID-19 pandemic.
Still, the last few years have seen a push for a more diverse medical field that better represents the population it serves. In the United States, people of color fare worse than their white counterparts across a wide range of health measures—a trend at least partly attributed to disparities in access to health care.
Receiving medical care from someone with a similar cultural background or ethnicity can help patients feel more comfortable. And research has linked more diverse health care workforces with higher-quality patient care. A 2022 Columbia University study even found that states with higher levels of nurse diversity reported fewer health complications for moms during childbirth.
Keep reading to see demographic snapshot of the nursing workforce today—and perhaps discover opportunities to increase diversity within the field.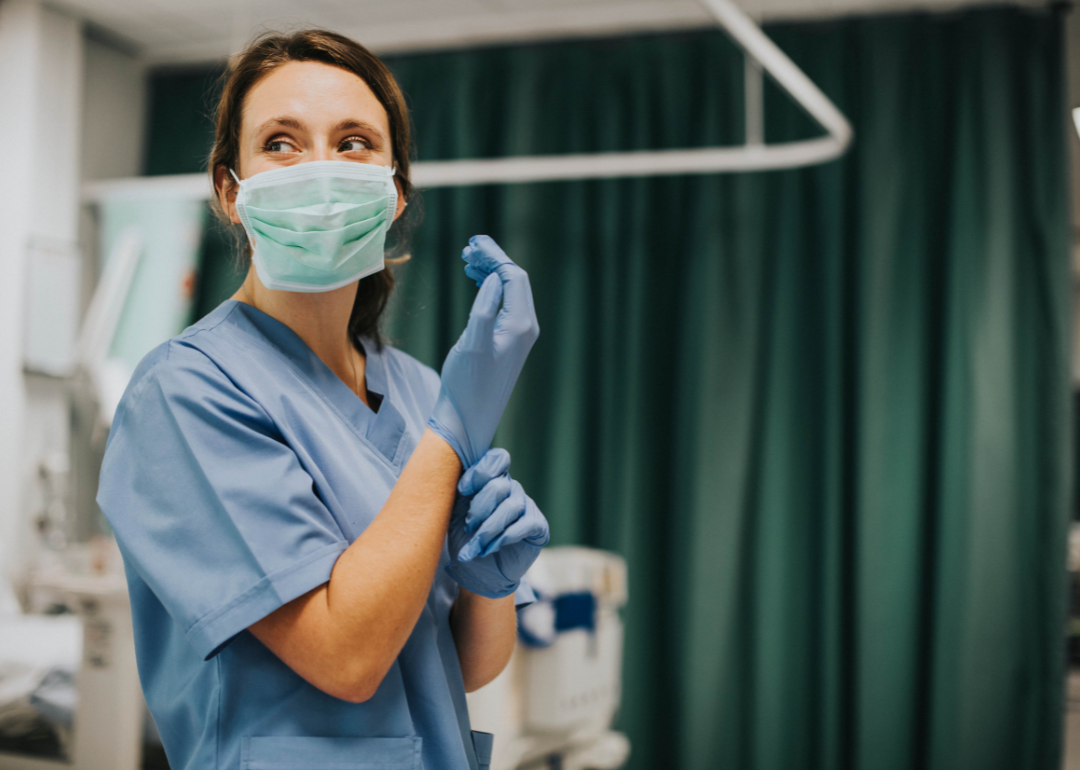 Rawpixel.com // Shutterstock
Nursing remains a female-dominated field
Revelio data shows that about 84% of nurses are female. This figure has remained nearly the same over the past decade, with the share of female nurses having changed by less than 1 percentage point since 2008. (Note: Only binary gender data was available.)
The reason that nursing remains so dominated by women likely comes down to societal gender norms.
Historically, people have viewed nursing as a woman's profession, from early wet nurses and midwives to Florence Nightingale's pioneering nurse training programs in the 19th century, which favored women over men.
Society sees nurses as caretakers, and ascribes seemingly feminine traits like humility, empathy, and kindness to the profession. Although the number of male nurses has grown slightly, these occupational stereotypes often dissuades men from entering the field.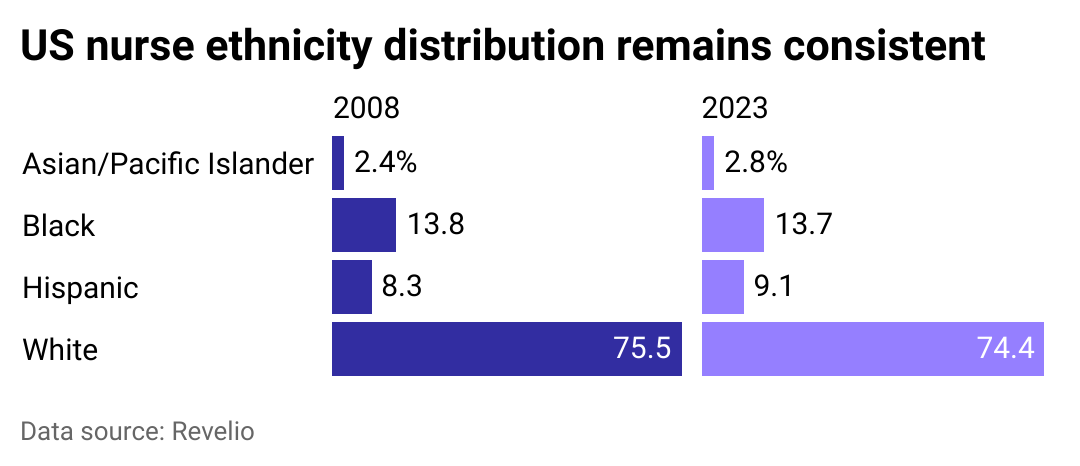 Incredible Health
Nurses are still predominantly white
Despite the need for diversity and inclusion in the medical field, about three-quarters of nurses are white—a percentage that has barely shifted in the last 15 years. As of 2020, only 58% of Americans identify as white, indicating that the nursing field isn't representative of its patient population.
A diverse workforce leads to increased creativity and problem-solving, and greater health equity for marginalized groups. 2019 research published in the American Economic Review journal found that patients are more likely to take advantage of preventative care and have better health outcomes when their provider is of a similar race or background.
Many nursing schools have made changes to increase the number of diverse nurses entering the field. Some are reducing their reliance on standardized testing and switching to holistic admissions policies. Some are reevaluating how institutions recruit students and faculty to eliminate racial bias. And others are introducing more hospital community programs to raise awareness of nursing as a potential career.
These efforts are paying off: The number of nursing students of color has steadily increased at the undergraduate and graduate levels over the past several years.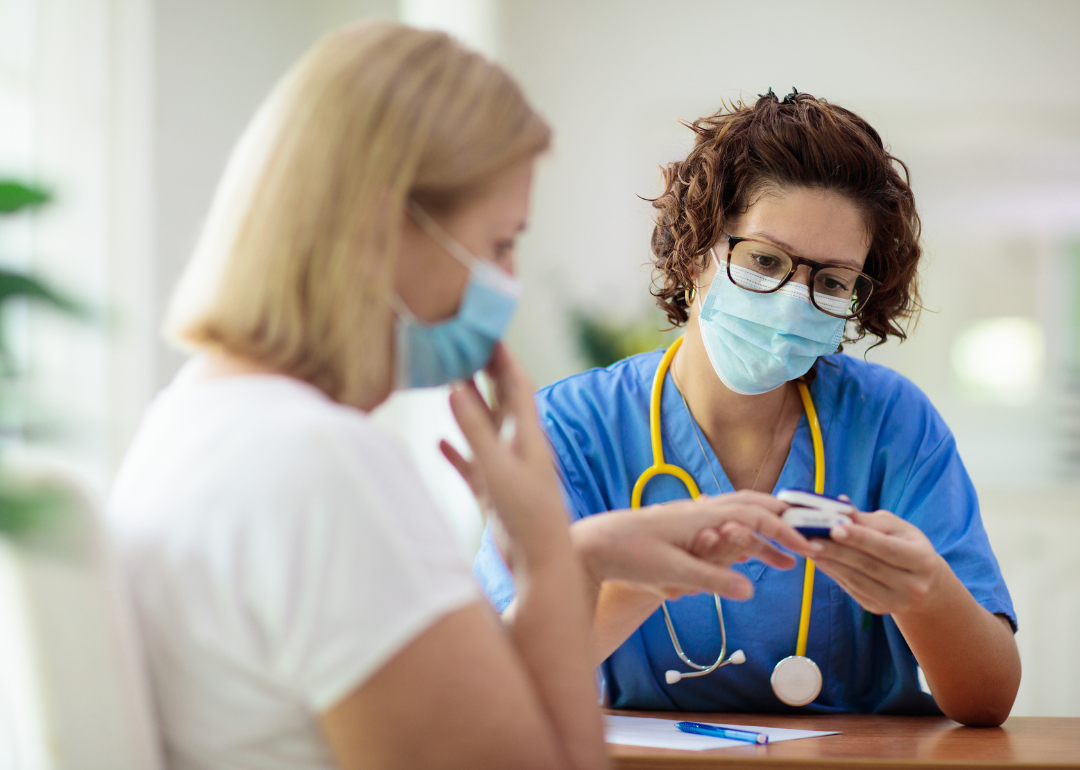 FamVeld // Shutterstock
The 2020 median age for RNs was 52
In 2020, the median age for registered nurses was 52—a year older than what the same study determined in 2017. Data Revelio sourced from LinkedIn also supports this observation, revealing that nurses have gotten older on average over the past 15 years. The higher average age in nursing can  be partially attributed to the aging baby boomer population, which represents the second-largest population behind millennials.
As baby boomer nurses retire, millennial nurses are taking their place: Millennials are entering nursing at about twice the rate of baby boomers. However, that still might not be enough to combat the worsening nursing shortage. Nursing school enrollment isn't keeping up with the demand for new nurses, and a lack of nursing school faculty makes it challenging to increase admissions.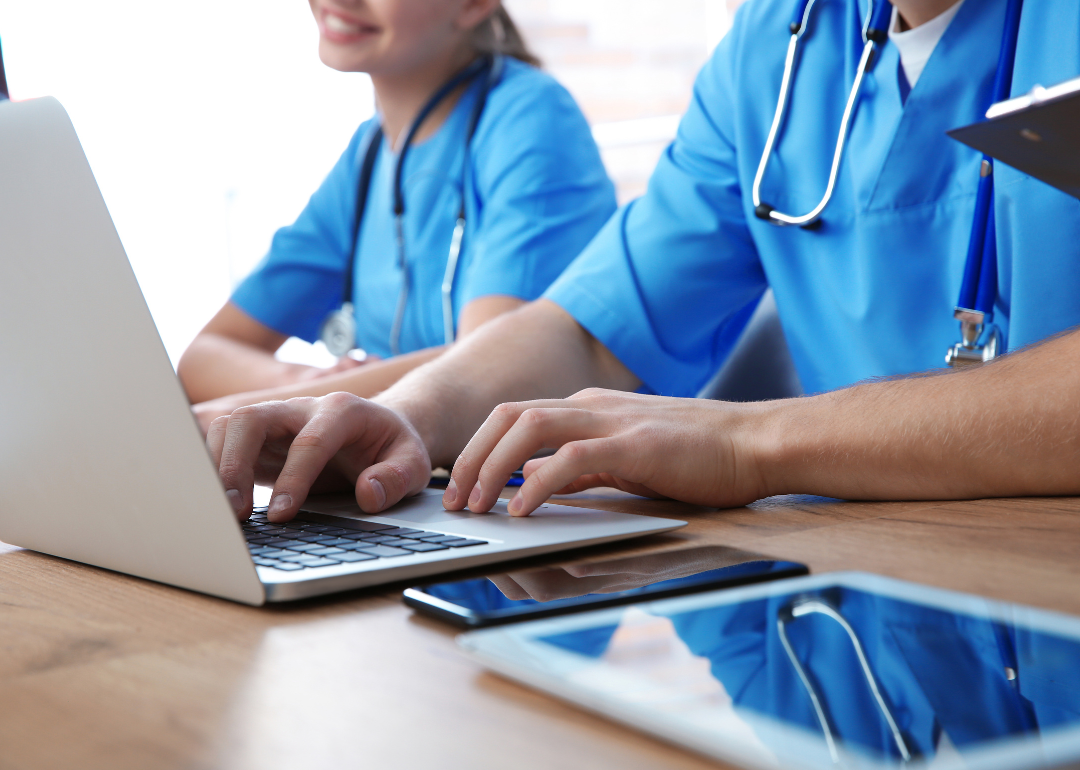 New African // Shutterstock
Bachelor's degrees growing among nurses
Prospective nurses have several choices for their education. To become a registered nurse, you must first complete either an associate degree in nursing over two years or a bachelor's degree over four years. Then, you need to pass the NCLEX-RN licensure exam.
Though you can get your nursing license with either an associate or bachelor's degree, many hospitals consider a bachelor's degree in nursing the gold standard. Still, some nurses complete a more affordable associate's degree first to start working sooner and then save up to pursue their bachelor's degree.
Some nurses return to school to complete a Master of Science in Nursing program or a Doctor of Nursing Practice degree. After completing coursework, prospective nurse practitioners must pass a national board certification exam.
In 2020, nearly half of nurses listed a bachelor's degree in nursing as their highest level of education. This statistic has steadily increased over the past decade. Forty-two percent of registered nurses also said their bachelor's degree qualified them for their first U.S. nursing license.
This story originally appeared on Incredible Health and was produced and
distributed in partnership with Stacker Studio.