Teachers often have to be licensed in the state where they work. Could shortages prompt a change?
Published 1:15 pm Tuesday, April 4, 2023

Canva
Teachers often have to be licensed in the state where they work. Could shortages prompt a change?
Anyone who watched a child attend online classes during the height of COVID-19 is probably acutely aware of the multifaceted roles and challenges educators in America face today. But even before the pandemic, there were already widespread teacher shortages across the U.S.
In particular, highly urban and highly rural areas have long struggled to fill vacancies in local schools, particularly where there are concentrations of low-income or high-poverty communities. But the shortage was not the result of a lack of suitable educators; instead, "there are too few qualified teachers willing to work at current compensation levels given the increasingly stressful environment facing teachers," according to the Economic Policy Institute.
Although 96% of public K-12 educators have a four-year college degree, and 56% have obtained additional advanced degrees, they make an average of 23.5% less per week than others with the same level of education in other occupations.
The pandemic only exacerbated these issues. It also made many outside of the education world aware of the gravity of these challenges for the first time. After three years of COVID-19, more than 75% of states in the U.S. are experiencing teacher shortages. An estimated 233,000 teachers resigned between 2019 and 2021. Certain subject areas, including STEM courses, physical education, and special education, are feeling the loss more than others.
Generally, individuals in most states interested in teaching must obtain an undergraduate degree; complete a teacher preparation program and a practical teaching experience (student teaching); pass at least one licensing exam; and apply for certification. This process can vary, and some states have looser requirements. Unlike other states, Arizona, Florida, Illinois, and Michigan do not require Praxis tests as part of teacher qualification, and Kansas only requires a bachelor's degree and "relevant experience."
One solution that would help fill workforce gaps is allowing educators to transfer their licenses and credentials to other jurisdictions, allowing them to move and continue working in other states more easily. Currently, the NASDTEC Interstate Agreement dictates this process and, unfortunately, makes it less than easy for educators to work in new states.
Amid continuing teacher shortages, Study.com looked at the impact cross-state teacher licensing could have and its current status across the U.S. using 2021 data from the National Association of State Directors of Teacher Education and Certification and additional information from the National Center for Interstate Compacts.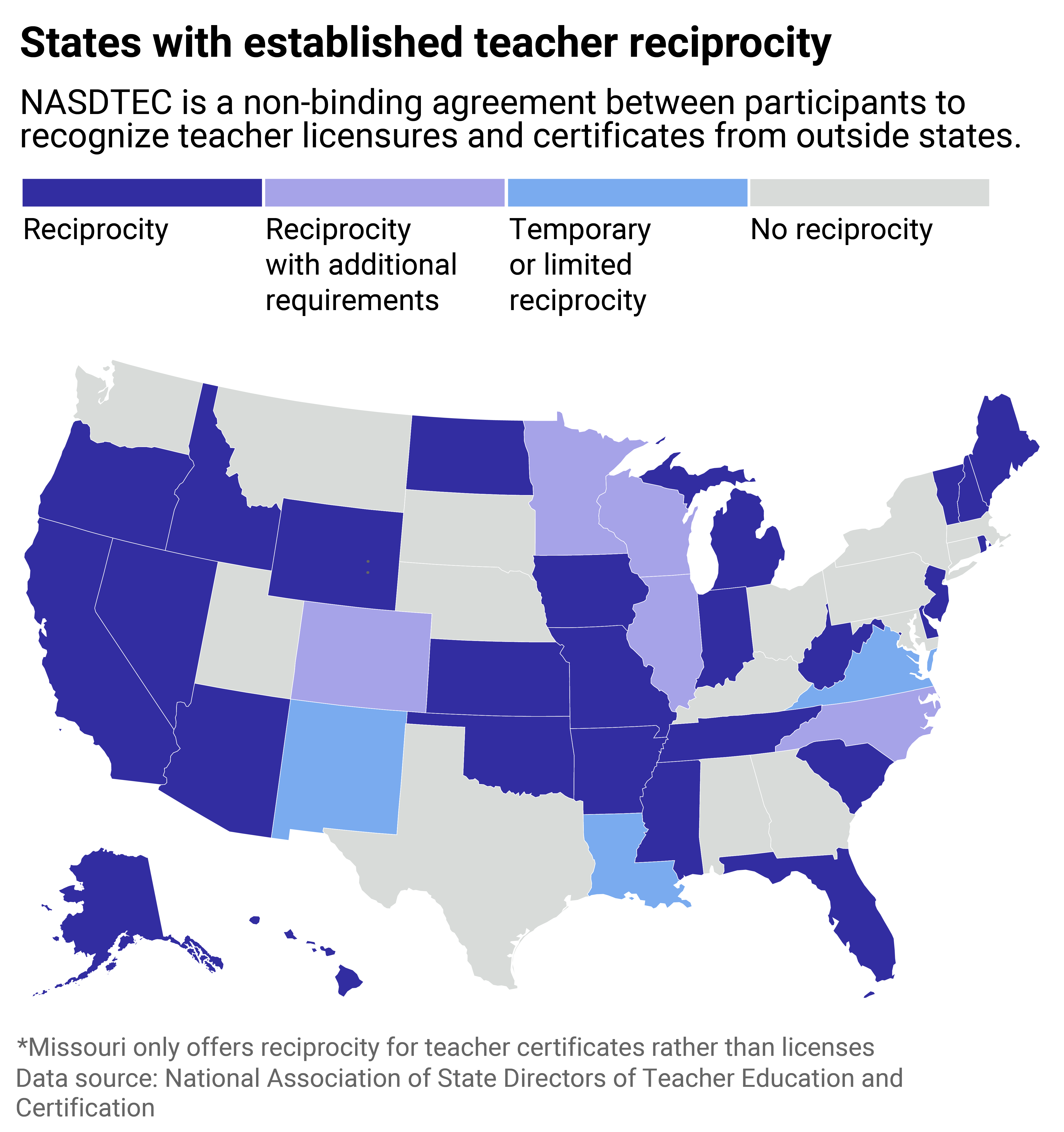 Study.com
The current landscape
The National Association of State Directors of Teacher Education and Certification was established in 1928 to oversee education departments in all 50 states and ensure teachers are held to comparably professional standards nationwide.
Each state defines its own certification and licensure requirements for its teachers, regardless of NASDTEC's approval. However, the NASDTEC Interstate Agreement allows states to opt for Jurisdiction Specific Requirements for which any teacher relocating to the area must qualify, which often vary according to a teacher's experience level.
In states that identify as "full-reciprocity," there are no additional requirements for teachers from outside jurisdictions. The Interstate Agreement is technically nonbinding and nonenforceable.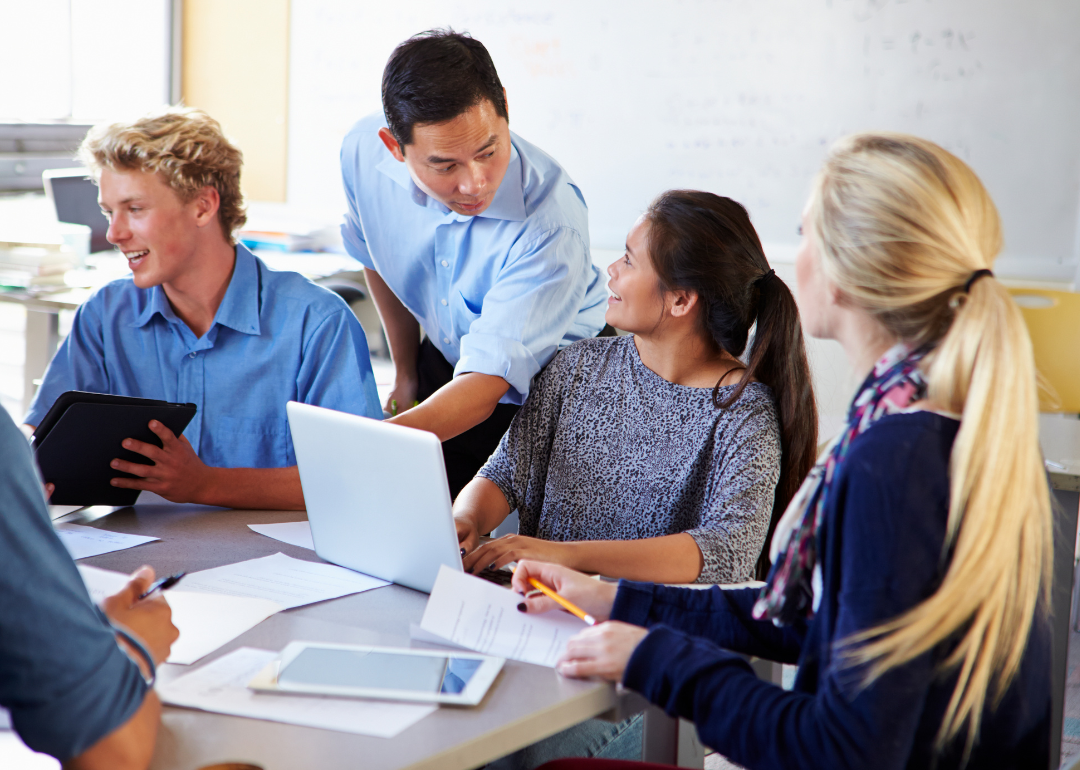 Canva
Teacher Mobility Interstate Compact
Under NASDTEC's Interstate Agreement, many educators are not allowed full reciprocity and must undergo some level of re-certification to be able to teach in a new state. This limits the ability of teachers to relocate and continue teaching in their new states—particularly in regions where teacher shortages mean the area would benefit from facilitating the easy transfer of outside educator credentials, such as Idaho, North Dakota, and South Carolina.
The Teacher Mobility Interstate Compact, on the other hand, would be contractually binding and establish uniform implementation, jurisdiction to jurisdiction. It would share and align educator licenses across participating states, meaning teachers can more easily move to other states and continue working.
Ten states are considering joining the compact, including Hawaii, Kansas, and Mississippi, which have each demonstrated a general drop in statewide test assessment results according to the most recent Nation's Report Card. An initial draft of the compact is available for public review.
For the program to launch, at least 10 states must approve it. Until then, teachers can take advantage of temporary reciprocity agreements in some states, including Massachusetts.
This story originally appeared on Study.com and was produced and
distributed in partnership with Stacker Studio.
More Stacker National