20 celebrity chefs' signature dishes
Published 9:00 pm Wednesday, April 5, 2023

VALERIE MACON/AFP via Getty Images
20 celebrity chefs' signature dishes
Feeling hungry? Learn about the signature dishes famous chefs have become known for—ones that made our mouths water, built travel itineraries around for a taste, and even dared to make at home to impress our loved ones.
Stacker compiled a list of 20 celebrated chefs from around the world—Michelin star recipients, James Beard Award winners, bestselling cookbook authors, and hosts of your favorite hit TV shows—and the dishes that helped put them on the culinary map. Among these iconic dishes are classic cultural fare like latkes and pork buns to reimagined desserts and artful museum-worthy entrees, plus treasured family recipes passed down through generations, ready to whet your appetite.
Many of these chefs started with humble roots but big dreams, turning a single restaurant or a life-changing performance in a food competition into food empires. Think fine dining or casual restaurants on different continents, even product lines such as cookware, kitchen utensils, and ready-made meals available at local groceries. Others on this list are considered legends in the industry, inspiring the food adventures of today's rising star chefs.
Read on to see which of your favorite chefs and their signature dishes made the list.
You may also like: 50 delicious Seafood recipes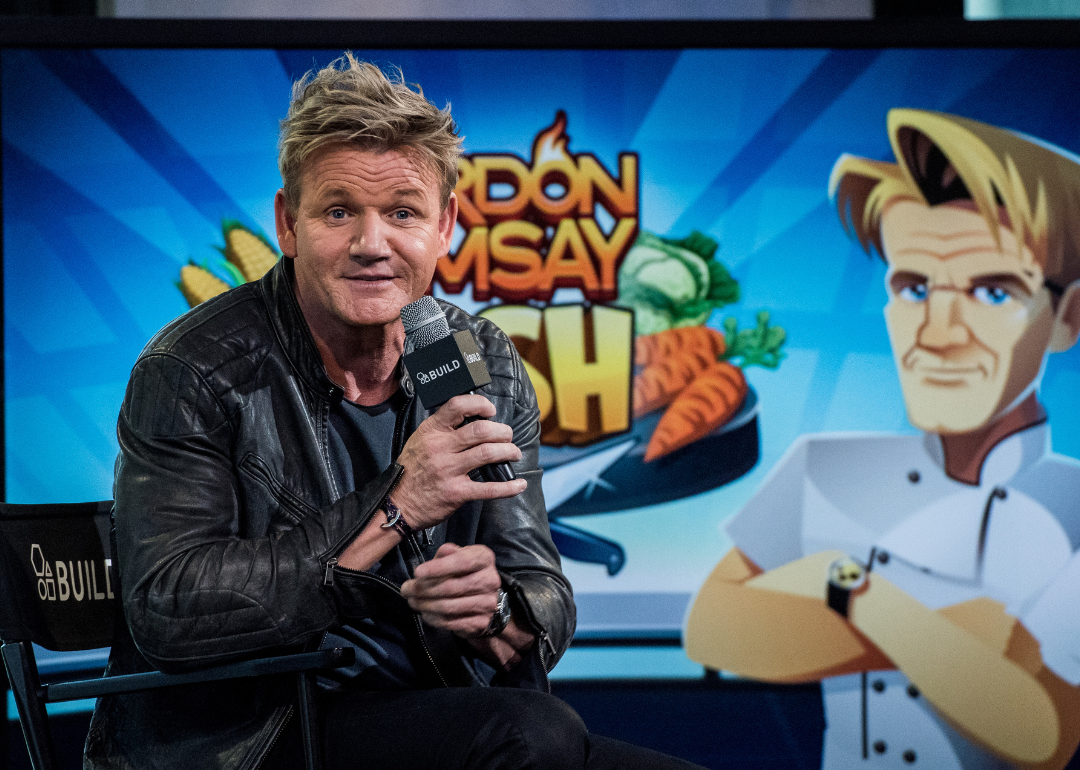 Roy Rochlin/FilmMagic // Getty Images
Gordon Ramsay: Beef Wellington
With a personality and voice arguably more well-known than his cuisine, Gordon Ramsay is an unforgettable force in the culinary world. But his beef Wellington will remind people what put him on the culinary map in the first place. The artfully pastry-wrapped and cut beef dish includes beef fillets (of course), Parma ham, and wild mushrooms. A red wine sauce made with peppercorns, shallots, and beef trimmings served on the side brightens up the flavor even more. Even better: The recipe is published online, ready for you to master and savor at home.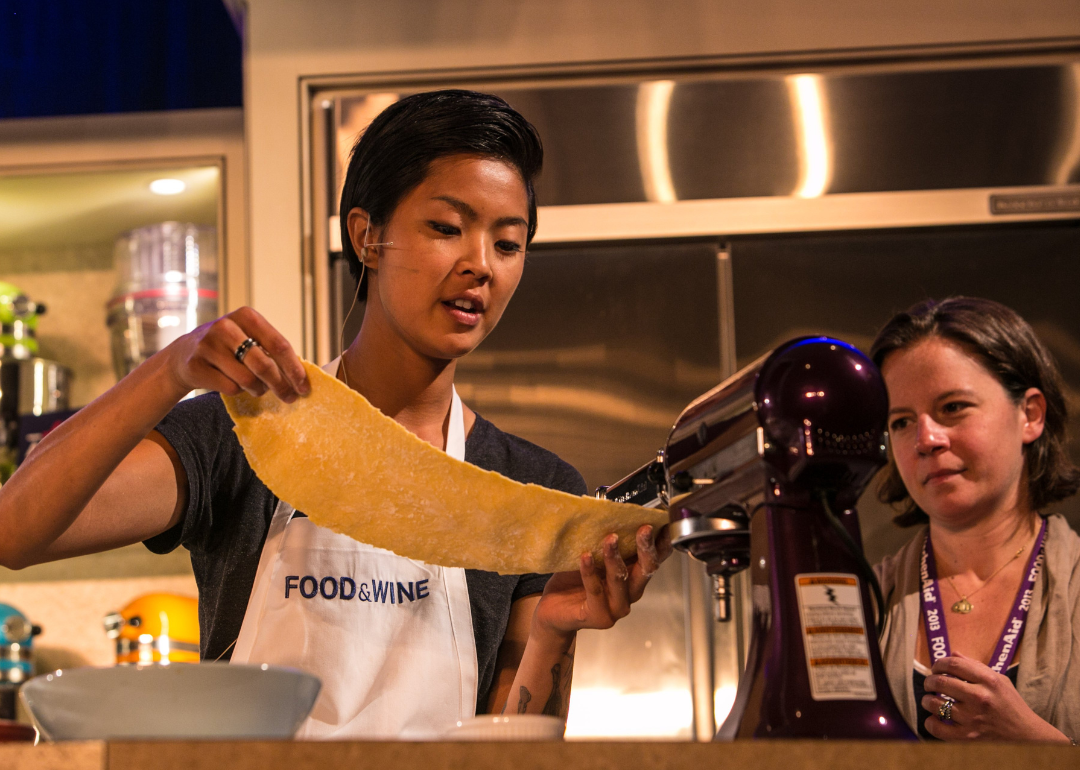 George Rose // Getty Images
Kristen Kish: Mafaldine
Since winning "Top Chef" in 2013, Kristen Kish has hosted "Iron Chef: Quest for an Iron Legend," "Fast Foodies," and "Restaurants at the End of the World." Her Arlo Grey restaurant in Austin, Texas, features her creamy Mafaldine pasta dish with an ingredient for which she's become famous: mushrooms. The wavy pasta, made with local Barton Springs Mill flour, is coated with a creamy, reduced champignon sauce—consisting of dehydrated white-button mushroom caps, shallots, sherry, and red wine vinegar—topped with aged Parmesan shavings continues to be the eatery's most popular dish.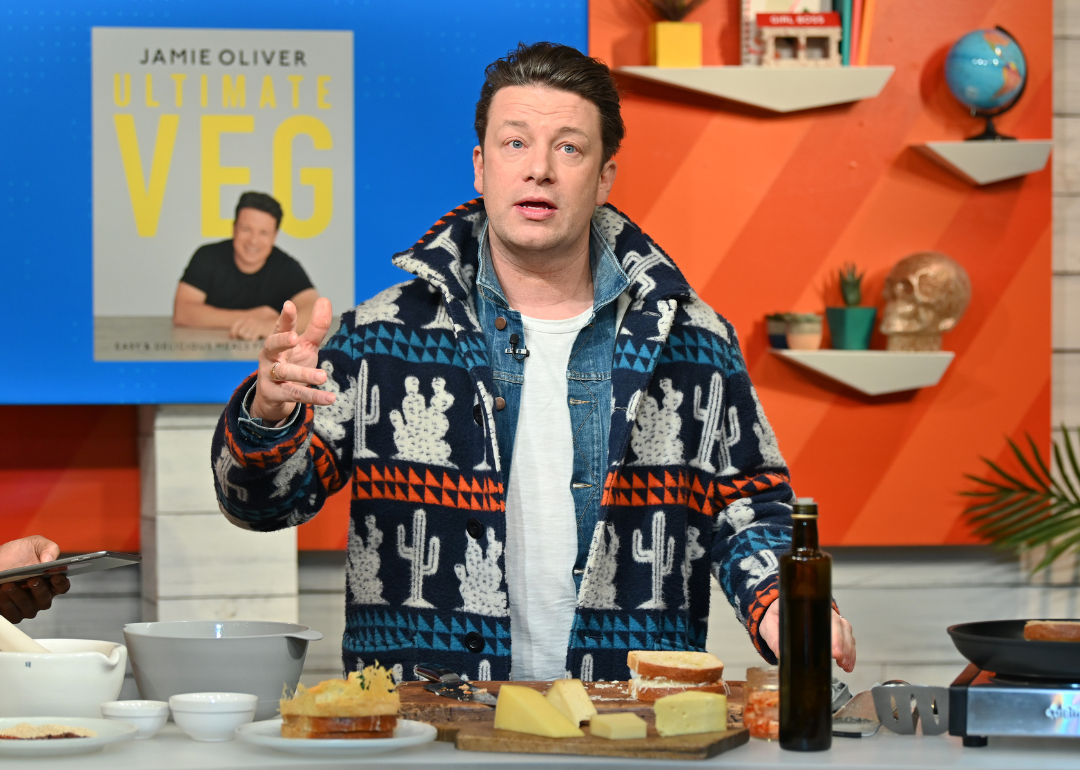 Slaven Vlasic // Getty Images
Jamie Oliver: Best roast potatoes
Teaching millions how to perfect such varied classic fares as carbonara, banana pancakes, and scrambled eggs with his upbeat tutorials on his popular YouTube channel has made British chef Jamie Oliver a hit with home cooks across the globe and such shows as "The Naked Chef" and "Jamie: Keep Cooking Family Favourites." The Emmy winner's ongoing mission to make school lunches healthy for growing kids is especially notable. Among his most-watched videos is "Jamie's Perfect Roast Potatoes," which uses Maris Piper potatoes, garlic, fresh sage, and unsalted butter (or a more decadent ingredient, goose fat). Here's the recipe to try for your next meal.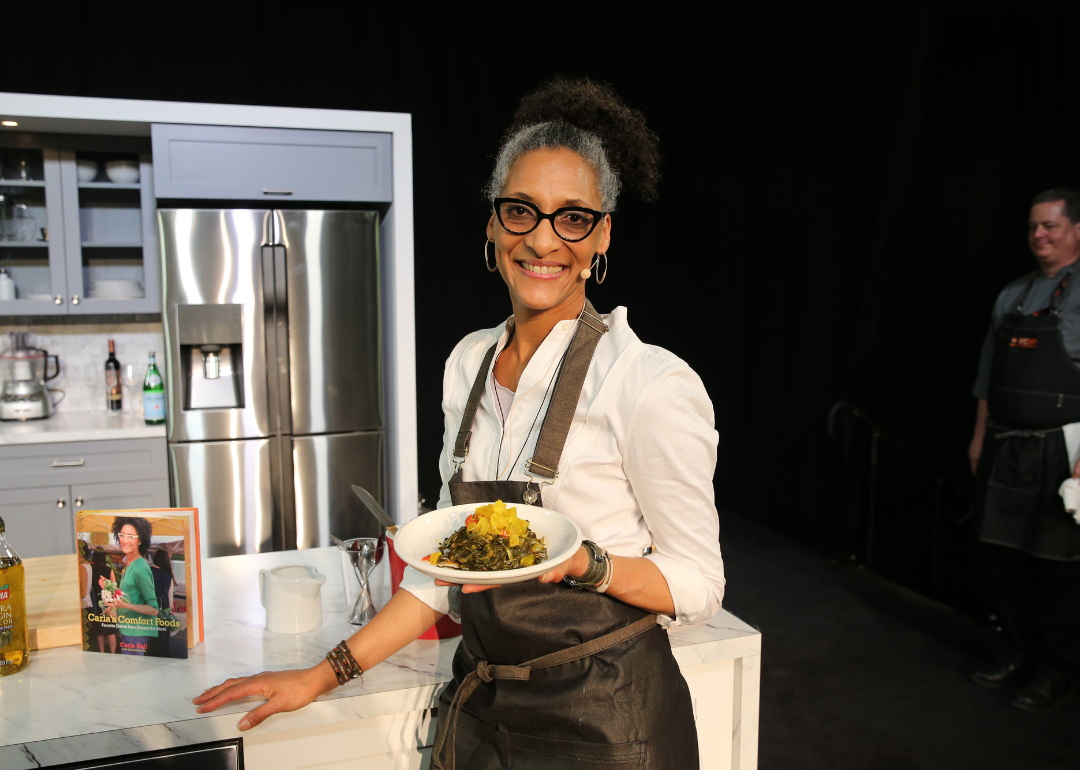 Neilson Barnard // Getty Images for NYCWFF
Carla Hall: Homemade cookie butter
The "Top Chef" alum, "Good Morning America" contributor, and Food Network personality is known for her classic Southern dishes—she's a Nashville native, after all—but Carla Hall's most popular recipe in 2022 was a set of recipes to elevate your everyday small bites: cookie butter. She shared all seven flavors—cinnamon graham cracker, lemon, pumpkin-spiced shortbread, peanut butter, Oreo, ginger snap, and speculoos—for people to make at home. An assortment of them spread in the most mouth-watering fashion will have you whipping up a batch again and again. They're perfect for jarring and gifting year-round too!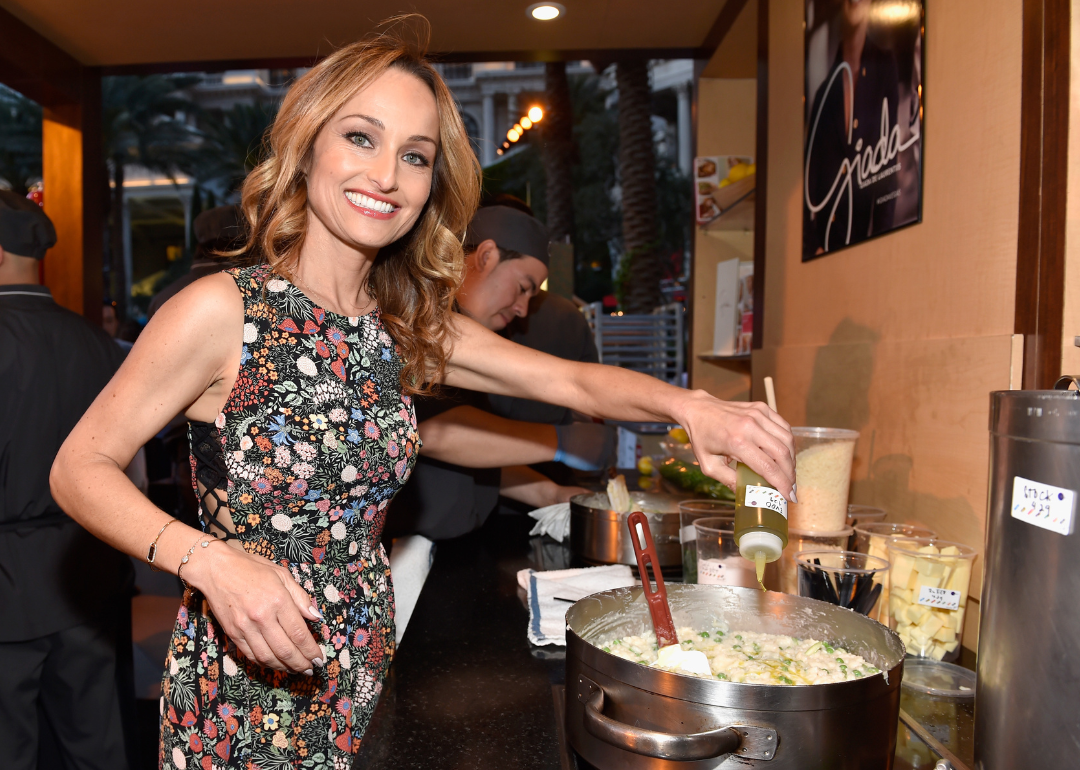 David Becker // Getty Images for Vegas Uncork'd by Bon Appetit
Giada De Laurentiis: Lemon spaghetti
If you're in the mood for a simple, quick-to-make yet refreshing meal, Food Network and "Today" show mainstay Giada De Laurentiis' lemon spaghetti may be your go-to dish. While the recipe uses basic ingredients—olive oil, Parmesan, lemon zest and juice, ground pepper, chopped basil—letting the pasta soak up the lemon sauce and adding pasta water is key. The bestselling author and restaurateur, who has two Vegas eateries, notes that it's also diners' favorite dish. For a more filling meal, try it with shrimp.
You may also like: 11 celebrity cooks who changed how we eat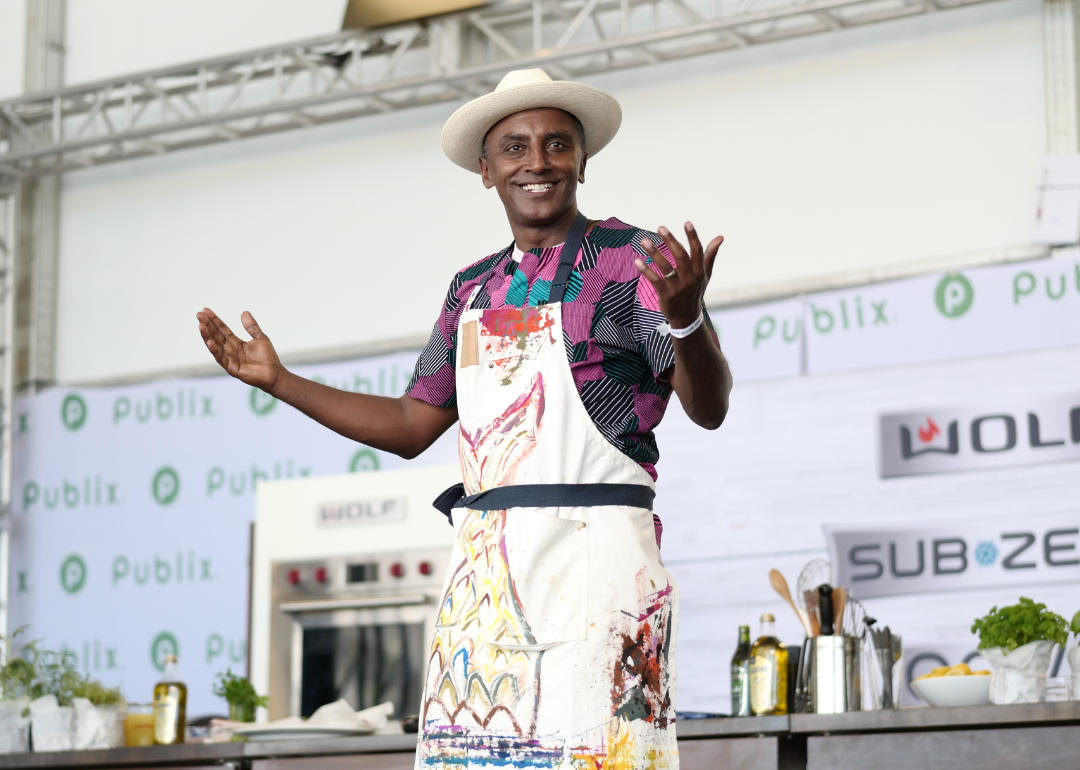 Reagan Rule/WireImage // Getty Images
Marcus Samuelsson: Helga's meatballs
Award-winning chef and restaurateur Marcus Samuelsson, who has more than 10 restaurants in North America and Europe, credits his grandmother Helga for his love and flair for cooking, so it's fitting that one of Samuelsson's signature Swedish dishes is named for her: Helga's meatballs. Far from your basic meatball dish, the recipe features two types of braised cabbage, lingonberry preserves, pickled cucumbers, and three types of meat.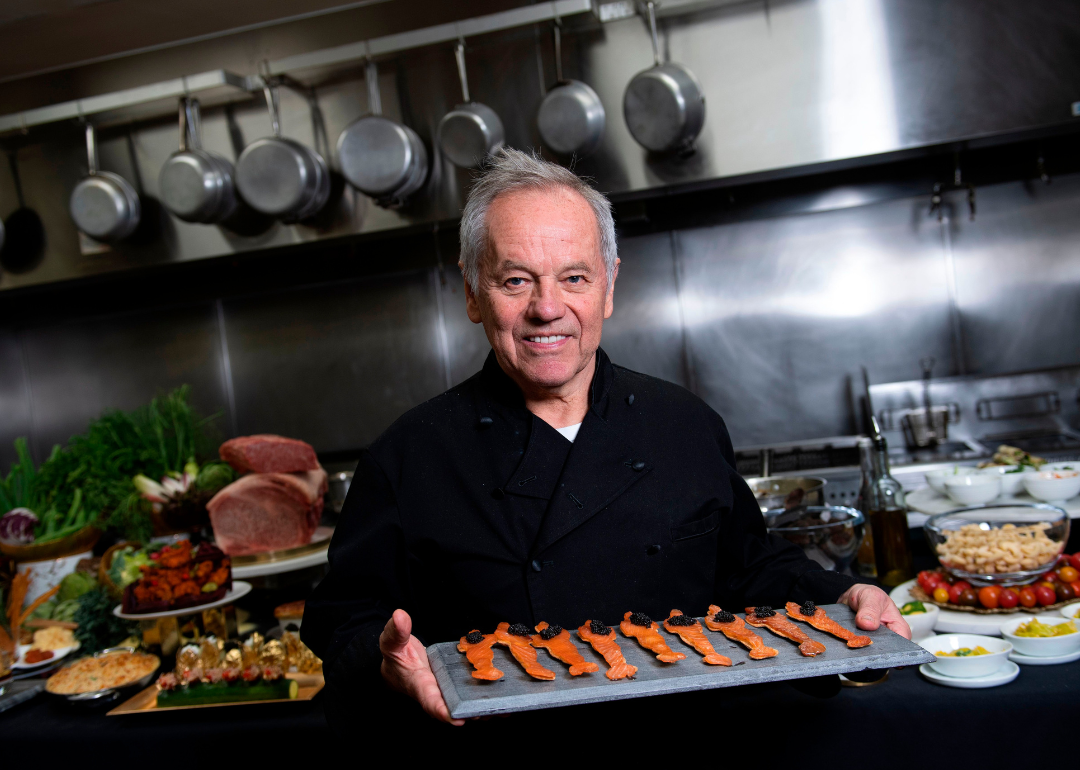 VALERIE MACON/AFP via Getty Images
Wolfgang Puck: Smoked salmon pizza
Austrian American chef Wolfgang Puck has called himself an Angeleno since 1975 and first made a name for himself in California cuisine with the opening of his Beverly Hills restaurant Spago in 1982. He's had the distinct honor of creating the Oscars Governors Ball menu for nearly 30 years. These days, you can pick up his kitchen appliances and cookware at local stores as well as his coffee and organic soup. But doesn't a Spago smoked salmon pizza sound more appetizing? Made with his signature pizza dough, creme fraiche, chives, and smoked salmon, this dish needs caviar (black or golden) to prepare it Spago-style.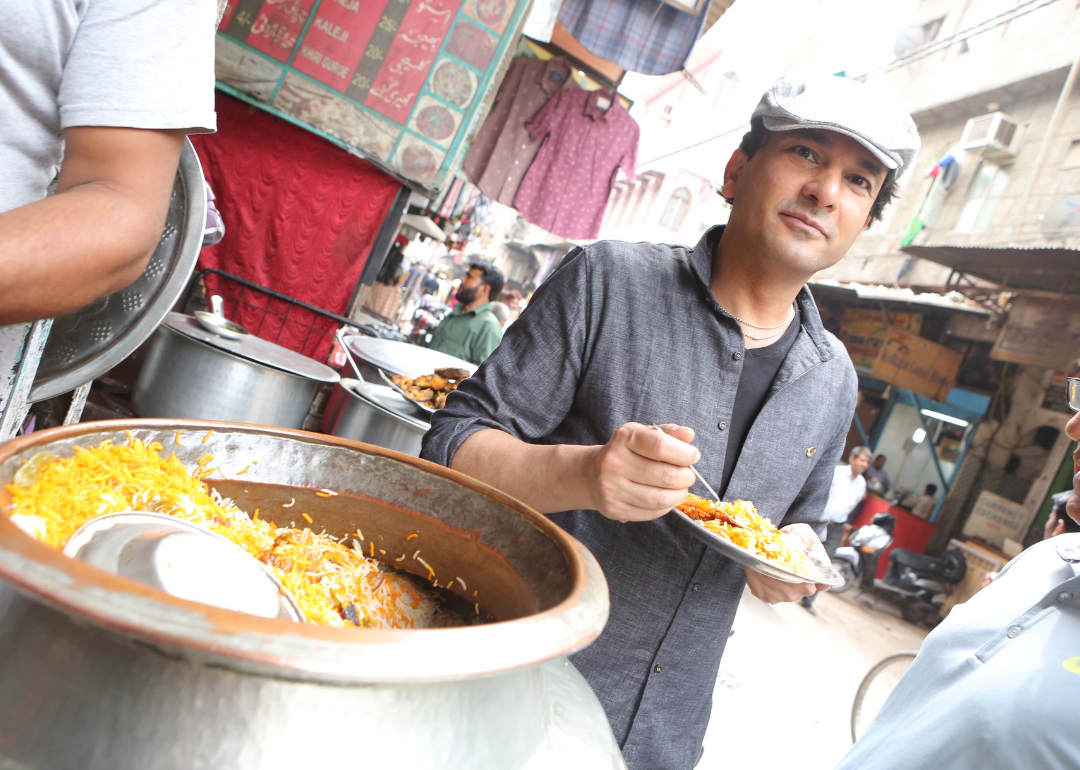 Manoj Verma/Hindustan Times via Getty Images
Vikas Khanna: Stuffed spinach and paneer roll
One of India's most beloved chefs and humanitarians, "MasterChef India" judge Vikas Khanna has quite the unique combination of honors: a Michelin star for his New York City restaurant Junoon, Eater's hottest New York chef, Asia Society's Asia Game Changer awardee for coordinating the #FeedIndia meal distribution to millions during the COVID-19 pandemic, and one of People's Sexiest Men Alive.
An author of many cookbooks, one of Khanna's most-watched recipe videos is of the stuffed spinach and paneer roll, a modern take on paneer that calls for rawa (aka semolina, or sooji), blanched spinach leaves, two types of nuts (walnuts and almonds), apricots, and roasted cumin powder, among other ingredients.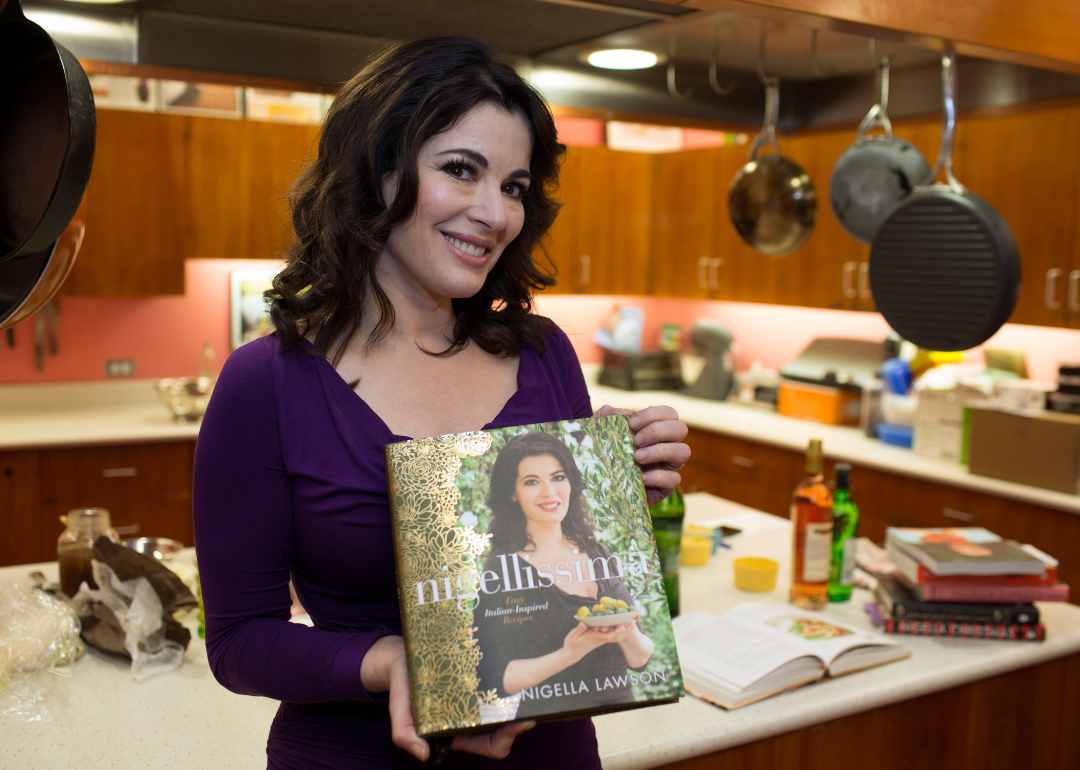 Chris So/Toronto Star via Getty Images
Nigella Lawson: My mother's praised chicken
One of the most entertaining people to simply watch eating food is Nigella Lawson, who has graced the small screen with her love of food for two decades. Her recipes are also delectable, but you must prepare them at home. The famed chef surprisingly does not have a restaurant. One of her signature dishes is her mother's praised chicken with white wine, English mustard, dill, carrots, leeks, celery, parsley, garlic, sea salt flakes, and red peppercorns. She told The Guardian that making this dish reconnects her to her mother, "cooking it feels like a devotional act."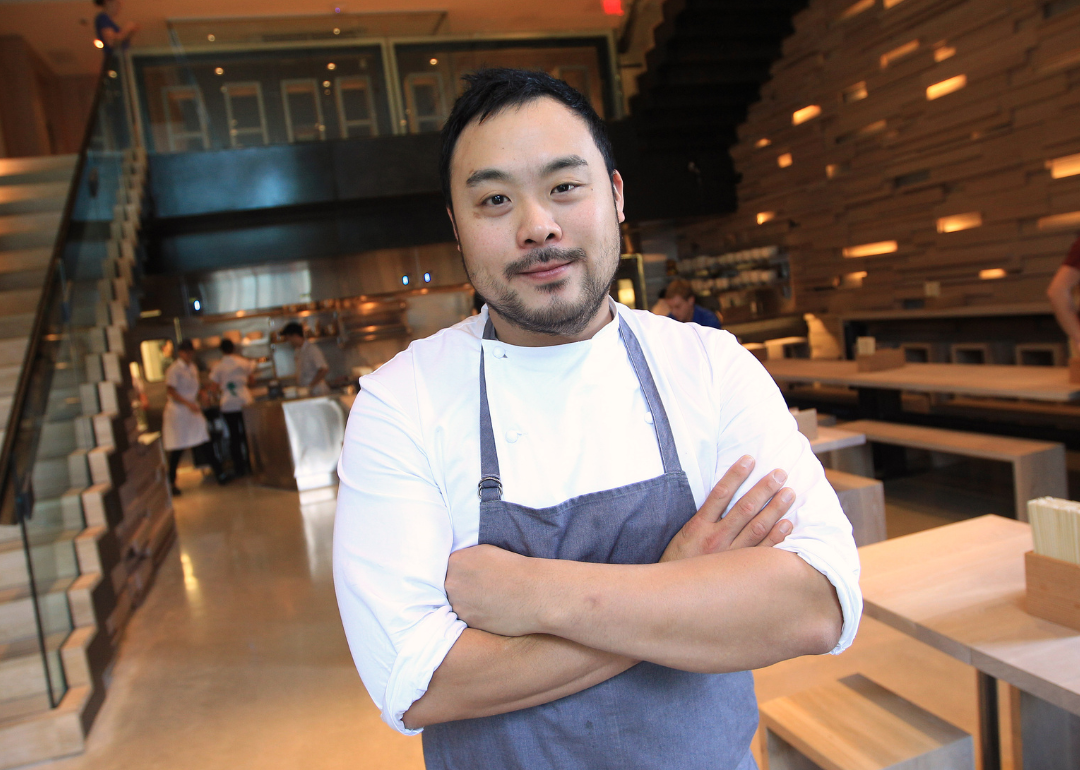 Rene Johnston/Toronto Star via Getty Images
David Chang: Pork buns
Momofuku restaurateur and James Beard Award winner David Chang's food and adventures wow at every turn—case in point, working a shift as a Domino's pizza delivery person in "Ugly Delicious"—emphasizing storytelling as an integral part of cooking. The chef's take on the classic gua bao for Momofuku Noodle Bar, first introduced on the menu as pork buns in 2004, swapped duck for pork belly served in steamed bao with pickled cucumbers and hoisin sauce. And it's been a hit ever since.
You may also like: IPAs to Pilsners: The best beer of every type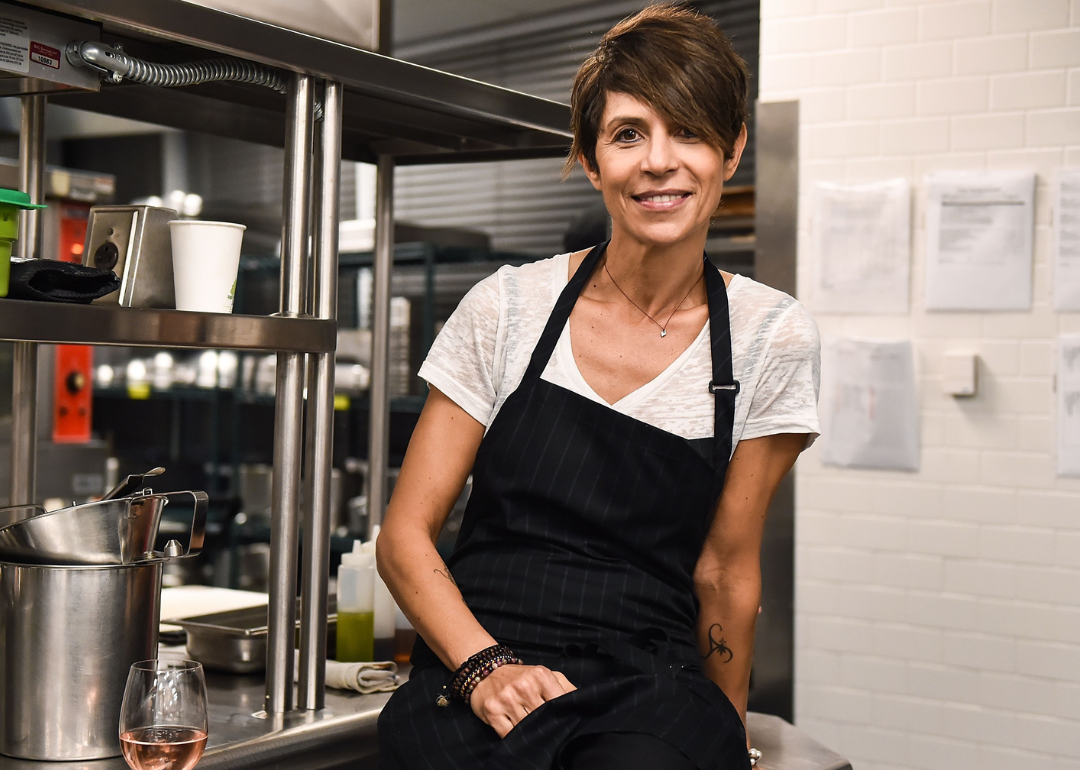 Daniel Zuchnik // Getty Images for NYCWFF
Dominique Crenn: Kir Breton
Who else became obsessed with Dominique Crenn after seeing her magnificent, almost too-pretty-to-eat dishes on "Iron Chef: Quest for an Iron Legend"? While the cooking competition may have been many viewers' introduction to Crenn's artful masterpieces, the French chef behind San Francisco's Atelier Crenn has long been a force in the culinary world as the first woman in America to receive three Michelin stars back in 2018—accomplishing that with no culinary school training.
Her famed white chocolate kir Breton orb is an out-of-this-world wonder with apple cider, creme de cassis, and cocoa butter that require spherical ice cube trays to prepare at home. Bonne chance!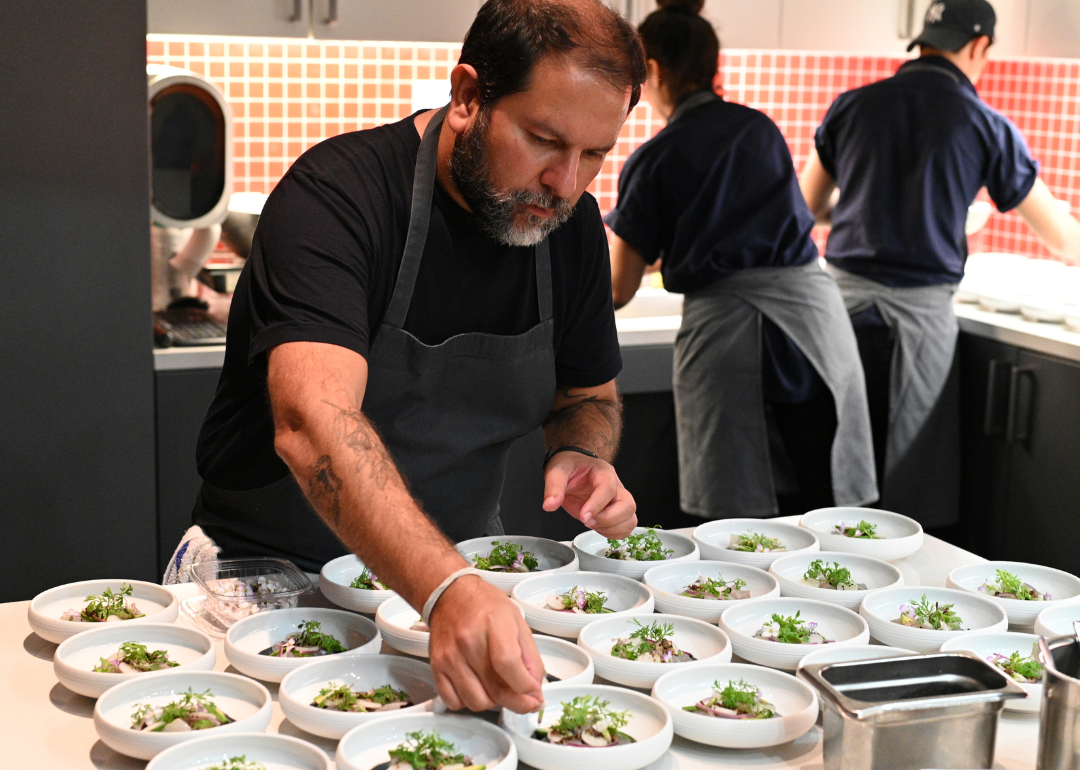 Slaven Vlasic/Getty Images for NYCWFF
Enrique Olvera: Mole madre, mole nuevo
Add a stop at Pujol on your next visit to Mexico City to sample Enrique Olvera's renowned mole— that is, if you can get a reservation. The chef—who has appeared on "Chef's Table," "Ugly Delicious," and "The Final Table"—has a tasting menu of seven courses with Mexican classics and contemporary twists on them.
His mole is exceptional for how it's created (blended by hand), loaded with ingredients (more than 100), served (presented along with a younger batch of mole—mole nuevo), and aged for longer than most restaurants' lifespans (with accounts varying from 1,000 to upwards of 2,500 days). He shared his mole madre recipe in his book "Mexico from the Inside Out," which includes a lengthy ingredient list that reveals how complex it is to make this staple food.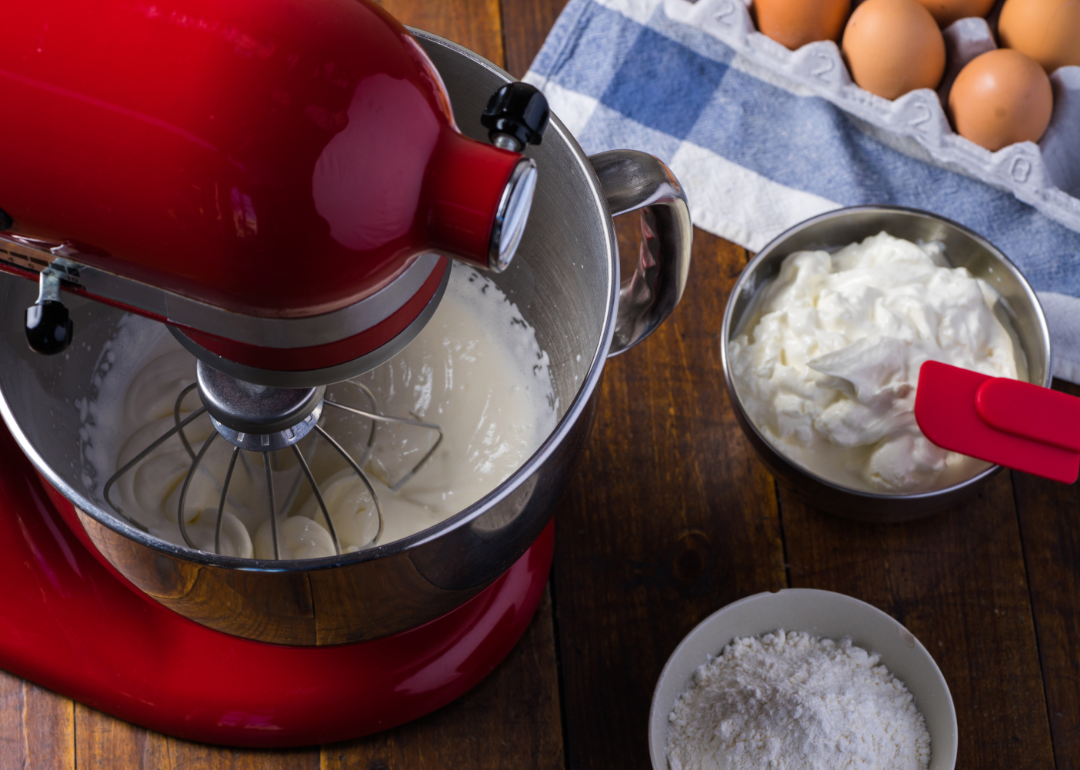 Canva
Amaury Guichon: Guilty pleasure
You may have gotten hooked on pastry chef extraordinaire Amaury Guichon from seeing one of his mesmerizing creations on TikTok, hosting "School of Chocolate," or among those lucky enough to take his classes at his Pastry Academy. However you've come to know his work, Guichon's sculpted desserts may appear intimidating to make, but his guilty pleasure recipe—pate a choux, mascarpone whip, red craquelin, raspberry pastry cream, and candied strawberry—may be worth a try to see if it is as tasty as it is beautiful.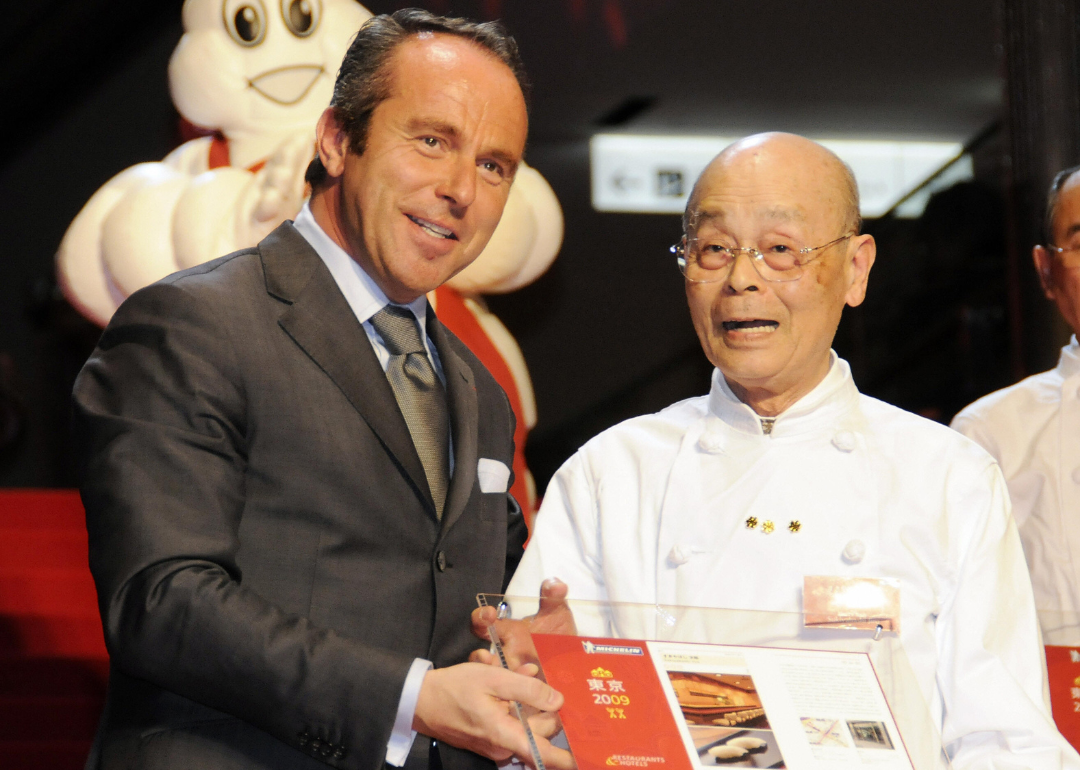 YOSHIKAZU TSUNO/AFP via Getty Images
Jiro Ono: Sushi
Revered worldwide as one of the greatest sushi chefs, Jiro Ono, now in his mid-90s, continues to attract people to his modest-sized Sukiyabashi Jiro in Tokyo for its omakase tasting menu. (Watch the documentary "Jiro Dreams of Sushi" to see this master chef at work.) Fresh, high-quality fish is key along with how the rice is prepared; Ono shared how to make his rice with a travel blog that you, too, can try in your own home with his rice recipe for chirashi sushi.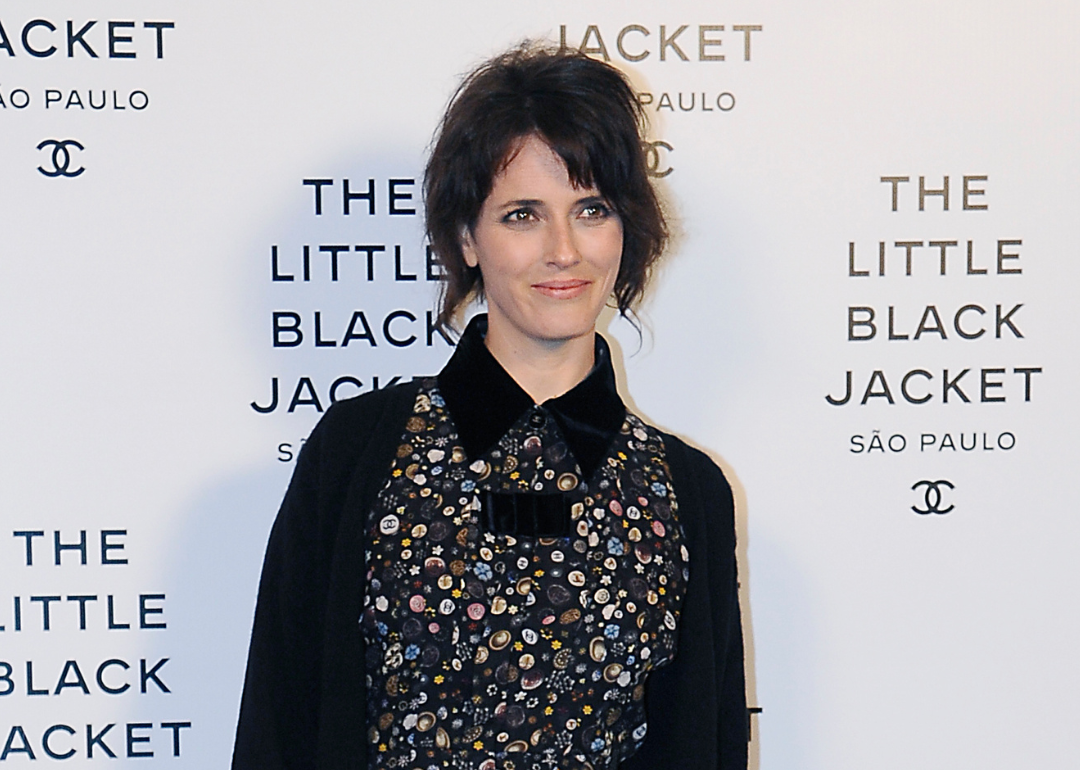 Fernanda Calfat // Getty Images
Helena Rizzo: Gnocchi
You'll find Brazilian chef Helena Rizzo of restaurant Maní in São Paulo on many "best of" lists—and appearing on TV on shows like "The Final Table," "MasterChef Brasil" and "The Taste Brasil"—for her imaginative and beautiful dishes that bring together flavors and staples from the different cultures of her home country, such as Italy and Japan. Her signature dish, gnocchi with tucupi dashi, exemplifies this.
You may also like: 50 flavor-filled Southern recipes
John Lamparski // Getty Images for NYCWFF
Rachael Ray: Super sloppy Joes
Rachael Ray's infectious smile and friendly demeanor are the cherries on top of a long career of giving Americans meals that worked with our everyday busy schedules and budget-minded meal plans with such programs as "30 Minute Meals" and "$40 a Day." (Not to mention numerous cookbooks and a magazine.) One of Ray's most popular dishes is super sloppy Joes, which can be made in—you guessed it—under 30 minutes. What sets Ray's dish apart? Her use of red bell pepper, red wine vinegar, tomato sauce and paste in place of mustard and ketchup.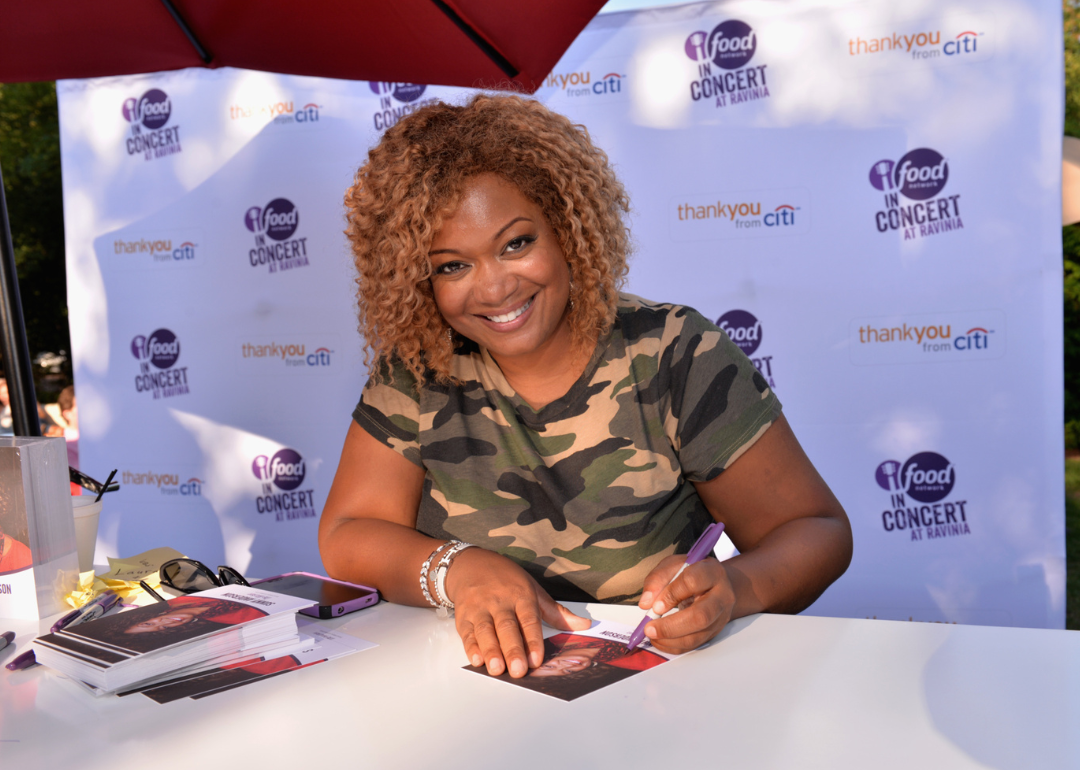 Daniel Boczarski // Getty Images for Food Network Magazine
Sunny Anderson: Braised ribs with barbecue sauce
Since 2007, Air Force vet Sunny Anderson has been entertaining TV audiences with her fun and insightful recipe tutorials on "Today," "The Kitchen," and "Beat Bobby Flay." In the "Away from Home Cooking" book, she shared her signature "sweet and tangy" barbecue ribs recipe that's packed with flavor. Get your Dijon mustard, honey, and apple cider vinegar ready. Anderson recommends having the tasty dish over rice.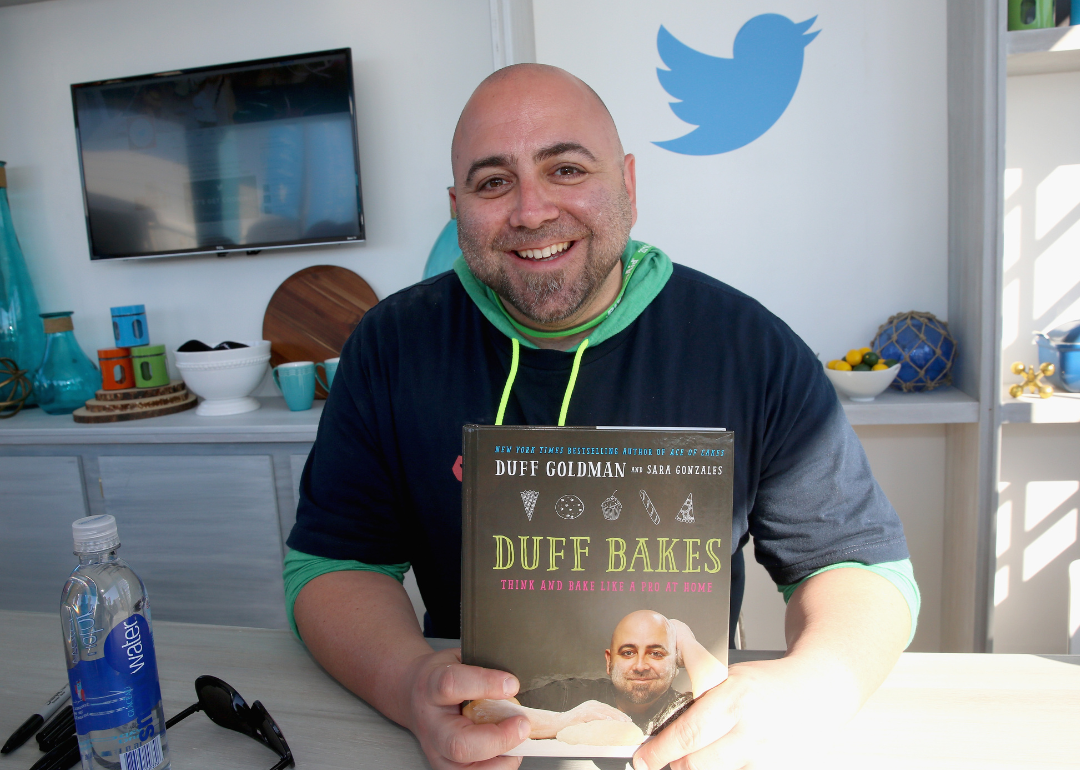 Aaron Davidson // Getty Images for SOBEWFF®
Duff Goldman: Slightly adapted Mamo's potato pancakes
Duff Goldman of "Ace of Cakes" is known for his legendary-size, scene-stealing cakes, but sweetness comes in all forms. And what's more lovable than recipes from his great-grandmother Mamo? (Even if they were supposed to be kept as family secrets.) Take this savory—and sweet, if topped with applesauce—dish, uniquely named "slightly adapted Mamo's potato pancakes" that's received five-star reviews on Food Network. It takes just 30 minutes to prepare, and you'll have enough latkes to feed a handful of friends and then some with the most basic of ingredients. Mamo would approve.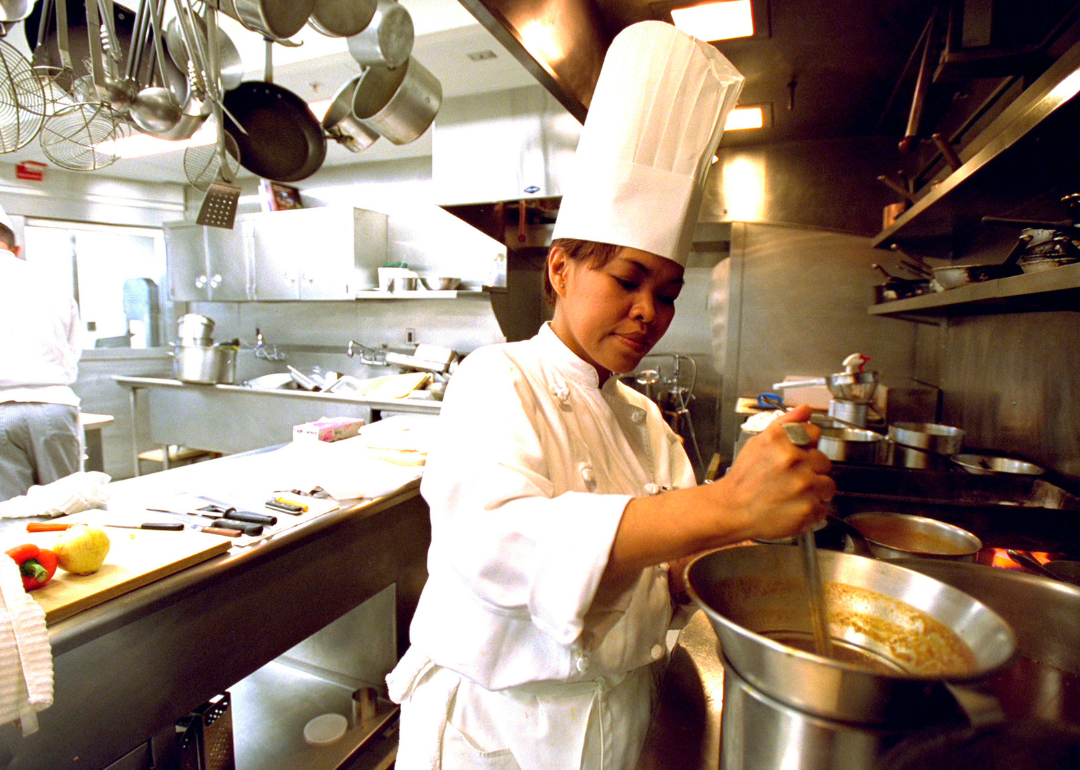 Tina Hager/White House via Getty Images
Cristeta Comerford: Arroz caldo
The Philippine-born chef has cooked for the most powerful people in the world as executive chef of the White House since 2005 and previously assistant chef since 1995. Talk about real pressure! Her appointment made her the first woman and person of color in the position.
Cristeta Comerford learned her incredible kitchen know-how from her mom, who no doubt introduced the chef to the any-hour-of-the-day Filipino comfort food arroz caldo, a rice-and-chicken soup. Former President Barack Obama was apparently a big fan of Filipino cuisine during both his terms, but it was the colorful dessert drink halo-halo that topped his list.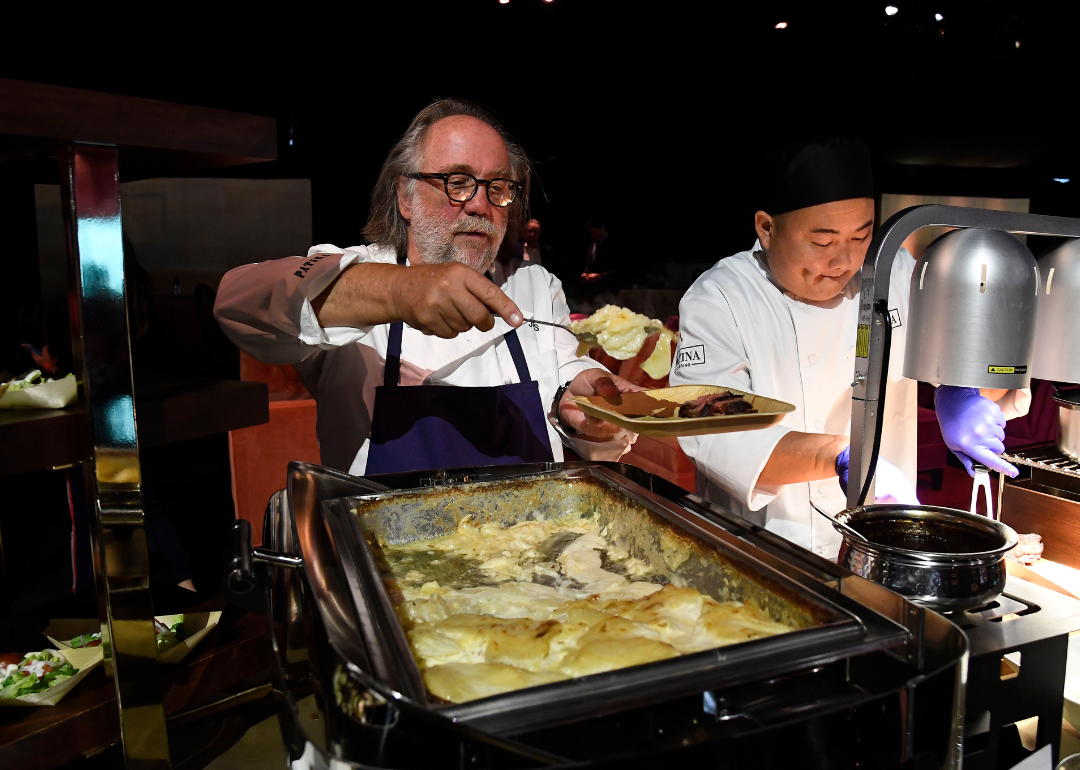 Kevork Djansezian // Getty Images
Joachim Splichal: Lobster salad
Known as one of the preeminent forces in California cuisine, the German-born James Beard Award-winning Joachim Splichal started with Patina Restaurant, one restaurant in LA more than three decades ago, that grew to more than 60 eateries throughout the country. He left the company in 2022 and is now focused on his vineyard in Provence. One of his favored dishes is his lobster salad recipe of endives, Valencia orange segments, and white wine with vanilla lemon jus with a micro arugula garnish.
You may also like: Bananas, avocados, and other beloved foods that may go extinct soon