5 Biden administration decisions that mirror Trump-era policies
Published 4:45 pm Friday, April 7, 2023

Bonnie Jo Mount // The Washington Post via Getty Images
5 Biden administration decisions that mirror Trump-era policies
In early March 2023, reports surfaced that the Biden administration is considering reinstating the highly controversial Trump-era policy of migrant family detention. Though the policy has not been formally announced, its reconsideration has raised alarm bells for human rights organizations, immigrants rights advocates, and more than 100 House Democrats, who wrote a letter to the president on March 28 expressing concern and urging him not to "return to a cruel policy of the past."
If the Biden administration moves forward with its revival of the policy, it would fly in the face of President Biden's campaign promises and his own actions to put a stop to family detention early on in his presidency. In a tweet posted in June 2020, Biden condemned the practice, writing, "Children should be released from ICE detention with their parents immediately. This is pretty simple, and I can't believe I have to say it: Families belong together."
A different letter, written by the American Academy of Pediatrics to President Biden on March 16, argued that detaining children for any length of time is unsafe, and can pose "a threat to child health," and asked him to "abandon any effort" to imprison families.
This is not the first time the Biden administration has entertained—or carried out—reinstating a Trump-era policy, despite its rollback of many Trump administration decisions. Some revivals of Trump policies have not been intentional choices on the part of President Biden. For instance, Biden attempted to end President Trump's "remain in Mexico" policy when he first took office but was blocked by a lawsuit that forced the program to restart. A U.S. district judge finally lifted his injunction in August 2022, allowing the Biden administration to proceed with ending the program.
Some Trump-era policies have, however, been taken up by the Biden administration without the insistence of the courts. Certain policy experts have pointed out that some degree of continuity between administrations, however ideologically different, is standard practice, while others have remarked on inconsistencies between President Biden's stated principles and his administration's actions.
Stacker compared policy briefs, news reports, and formal decisions from the Trump and Biden administrations to see how certain policies have carried over—or been walked back and then reinstated—between the two presidencies.
You may also like: Abortion laws around the world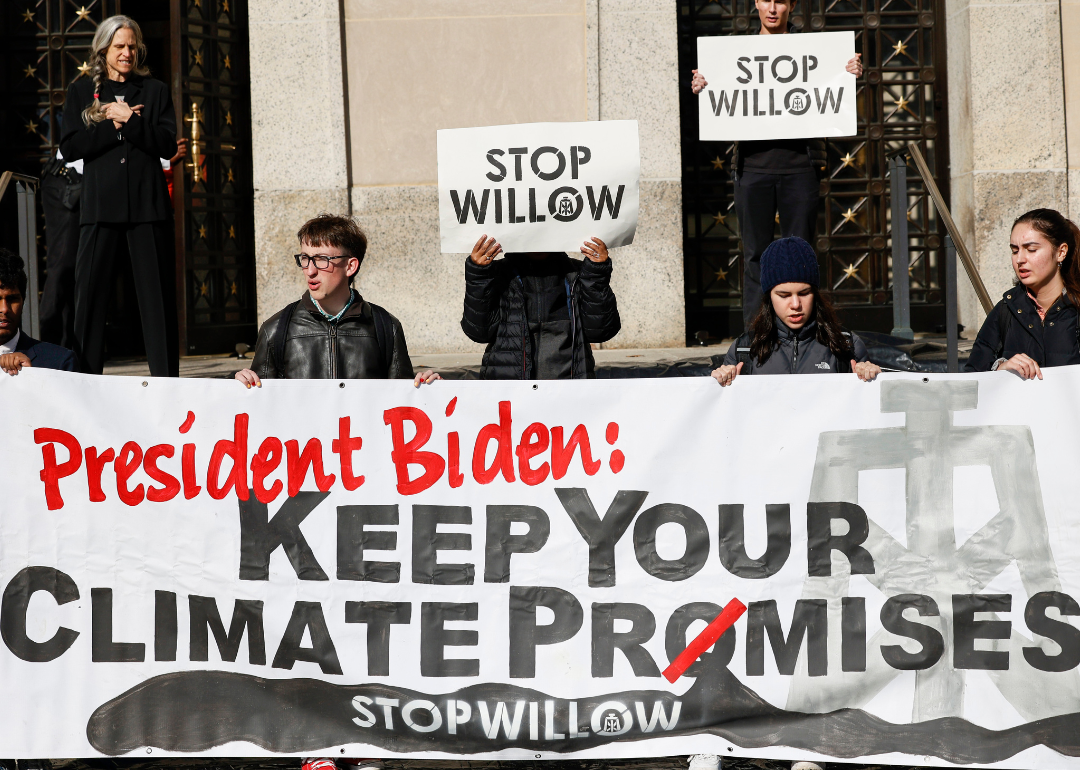 Jemal Countess // Getty Images for Sunrise AU
Controversial Alaska oil drilling project approved by Biden in 2023
On March 13, 2023, the Biden administration greenlighted the Willow Project, a multibillion-dollar oil drilling plan that opens up a section of Alaska's National Petroleum Reserve on the North Slope to oil extraction. The move contradicted President Biden's campaign promise to put a stop to new drilling on federal land.
The Willow Project was originally given the go-ahead by President Trump in 2020 but was blocked after a lawsuit from Trustees for Alaska charged that the potential environmental impacts of the project had not been fully evaluated. The version of the Willow Project approved by the Biden administration is of a smaller scope than what was originally proposed but is still expected to generate over 278 million tons of greenhouse gasses during its 30-year life span.
Reactions to the Biden administration's announcement have been mixed, with oil industry stakeholders and some lawmakers, including Alaska's Republican Sen. Lisa Murkowski, celebrating the decision for its perceived economic benefits. Environmental advocates and other legislators, on the other hand, have decried the decision, calling it harmful to the environment and antithetical to the Biden administration's stated climate goals.
Indigenous Alaskan communities have also given mixed responses. Julie Kitka, the president of the Alaska Federation of Natives, voiced her support for the project, as did several other community leaders. Others, like Sonia Ahkivgak of Sovereign Iñupiat for a Living Arctic, voiced dissent for the decision and called out the Biden administration's inconsistency on climate-related issues.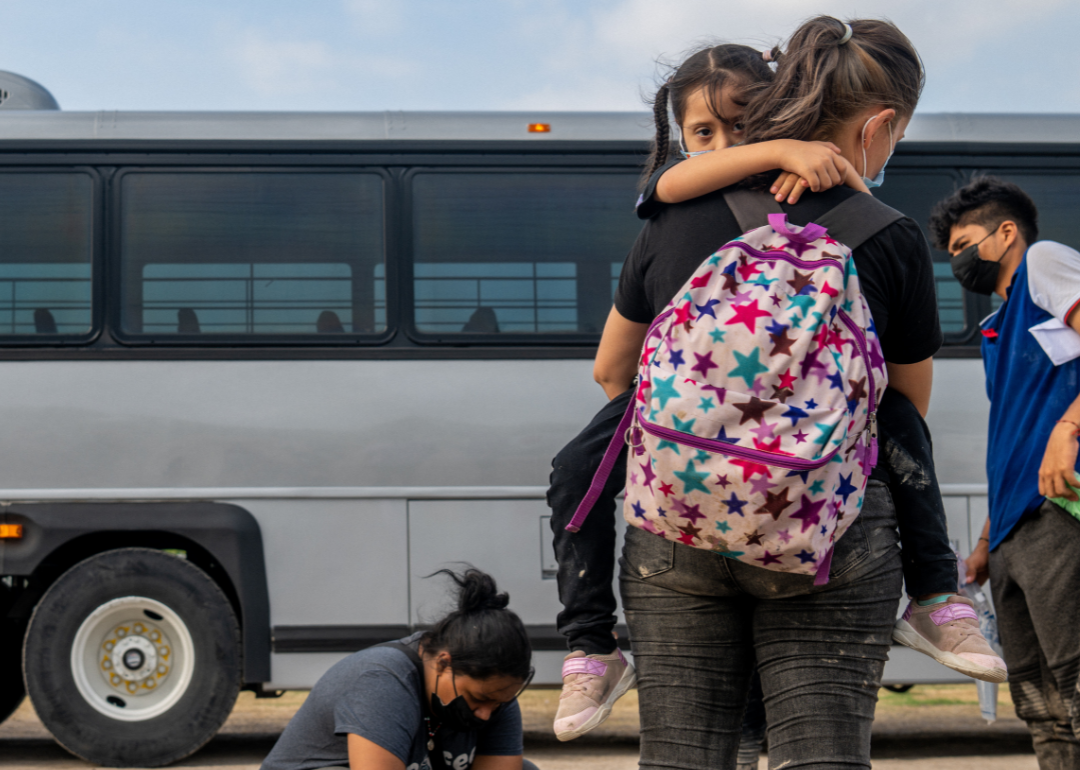 Brandon Bell // Getty Images
Asylum restrictions announced for many migrants seeking refuge in 2023
In February 2023, the Biden administration rolled out a new policy that would deport asylum seekers who cross the U.S. border with Mexico illegally or who do not apply for asylum in countries they travel through on their way to the U.S. American immigration law has previously made it so that asylum seekers can apply for protection in the U.S. regardless of how they arrive.
While stopping short of banning asylum seekers outright, the restrictive new policy, which is set to last for two years, will likely have a dramatic deterrent effect on those seeking protection. It has drawn comparisons to Trump-era policies and contradicts President Biden's promises to restore asylum.
Biden's new asylum policy will replace the Trump administration's asylum decree, Title 42, which is set to expire in May 2023. Title 42 was instituted during the pandemic and has essentially barred entry to all asylum seekers on the grounds of threats to public health. Title 42 has been used over 2 million times to expel asylum seekers, according to Politico.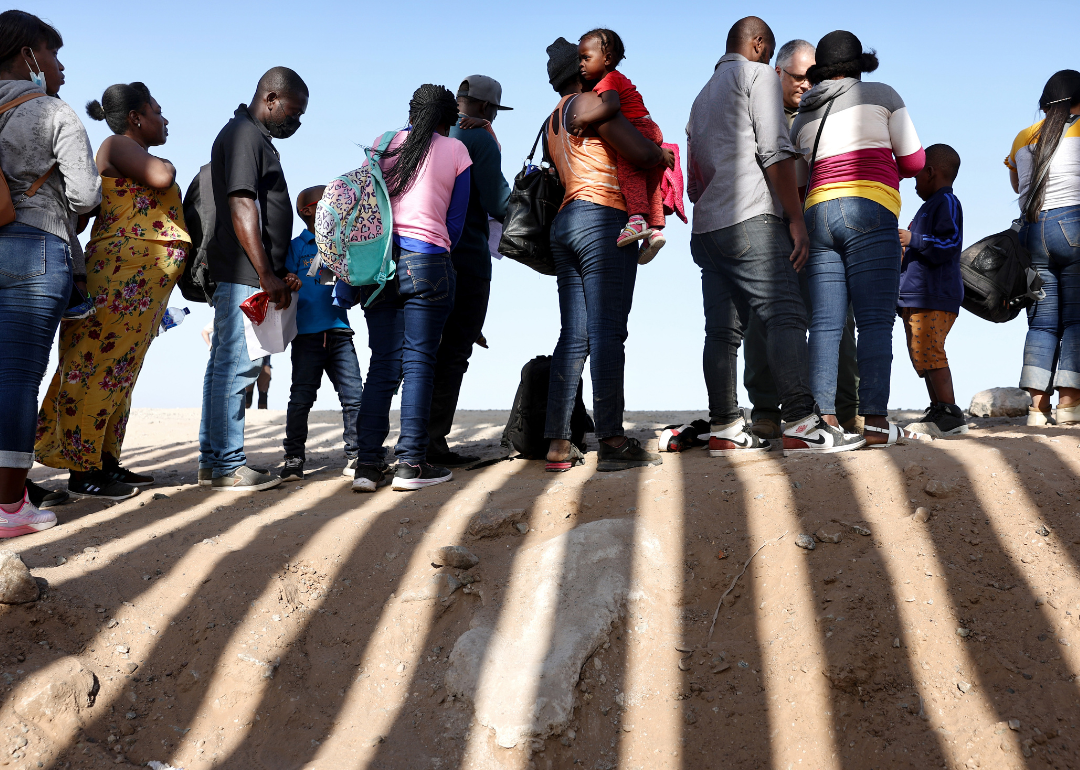 Mario Tama // Getty Images
Trump-era refugee caps continued in 2021
While campaigning for the presidency, Biden committed to raising the refugee cap in the U.S. to 125,000 from the limit of 15,000 Trump imposed—a limit Democrats called "racist." In 2021, however, the Biden administration announced that it would maintain the 15,000-refugee limit, sparking immediate backlash. President Biden quickly backpedaled, raising the cap to 62,500, half of his initial promise.
The following year, Biden raised the cap again, this time to the full 125,000, a number the administration repeated for 2023. However, an analysis of the number of refugees actually admitted in fiscal 2022 was only about 26,000, leaving thousands of ostensibly open slots unclaimed and even more waiting for admission. Refugee admission numbers have yet to reach pre-pandemic—and pre-Trump administration—levels.
Trump's 15,000 refugee limit, instated in 2020, was the lowest since the 1980 Refugee Act raised the cap from 17,400 to 50,000. The Trump administration's cap was announced during Trump's campaign for reelection and was criticized as a betrayal of the role of the U.S.'s as a humanitarian leader internationally.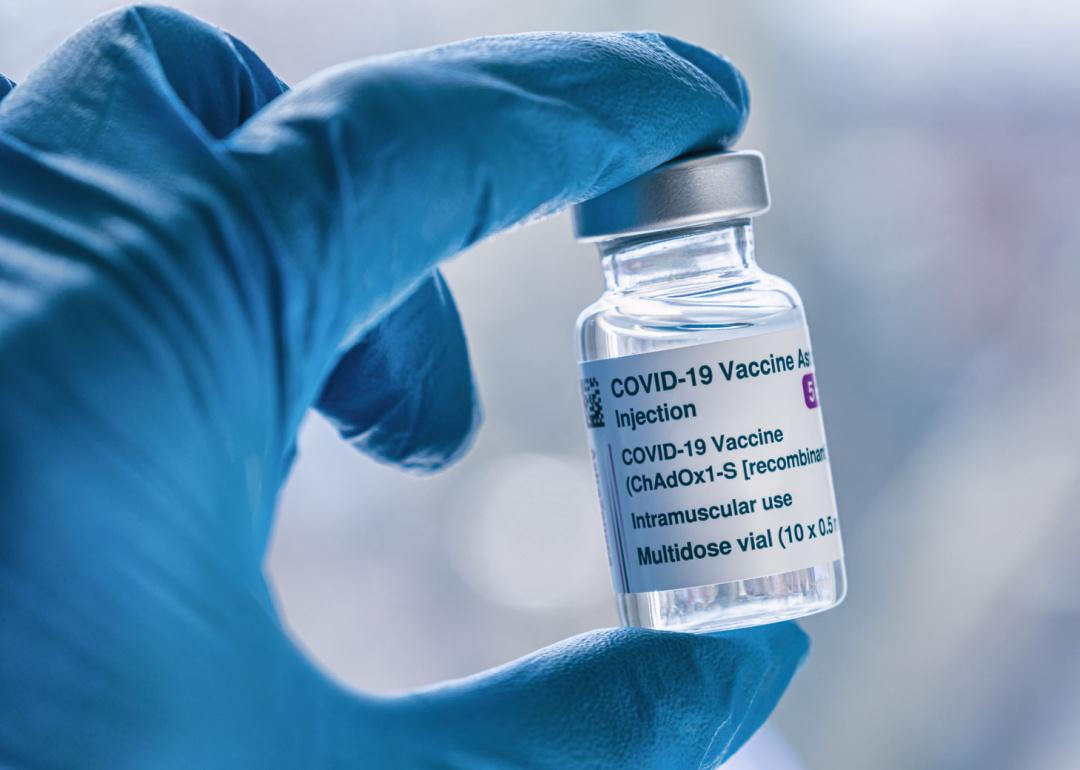 Marc Bruxelle // Shutterstock
Exports of excess vaccine doses to other countries in need were temporarily blocked in 2021
In March and April of 2021, Politico reported on conflict happening within the Biden administration about whether or not to send excess doses of the vaccine to countries with high COVID-19 rates and vaccine shortages. The stockpiled vaccines in question consisted mostly of that produced by AstraZeneca, which had not been given emergency authorization for use in the U.S.
Some top Biden administration officials argued that diminishing the U.S. vaccine stockpile would be unwise and reportedly brushed off requests from the State Department, U.S. Agency for International Development, health agency leaders, and others inside the administration to share extra vaccines with other countries. After more than a month of internal debate, the Biden administration announced that it would send millions of extra doses of the AstraZeneca vaccine abroad, but actual shipment of the vaccines did not begin until the summer of 2021.
The Biden administration's indecision about sending vaccines overseas was a continuation of the Trump administration's "America First" philosophy on vaccine distribution—a strategy that began even before the vaccine was fully developed. During Operation Warp Speed, vaccine ingredients and parts of the vaccine manufacturing supply chain were monopolized by the U.S., cutting lower and middle-income countries out. Despite urging from the World Health Organization in 2020 that sharing the vaccine globally would be the only way to keep the virus from spreading and mutating into even more dangerous variants, the Trump administration did not make a plan to do so.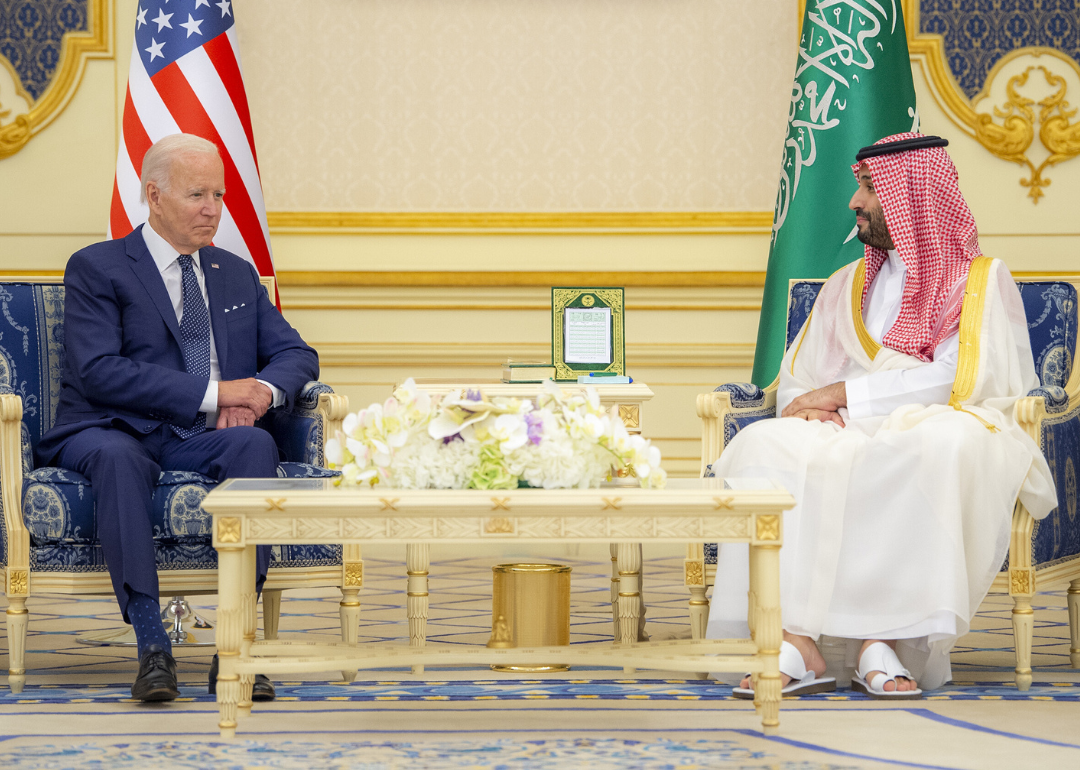 Royal Court of Saudi Arabia/Anadolu Agency via Getty Images
Foreign policy strategies maintained in Saudi Arabia and Israel
On the campaign trail, President Biden did not mince words about his stance on U.S. relations with Saudi Arabia, particularly in light of the 2018 killing of Washington Post journalist Jamal Khashoggi. He stated that he planned to "make them in fact the pariah that they are." When President Biden traveled to Israel and Saudi Arabia, however, he met with Crown Prince Mohammed bin Salman, and the U.S. has continued to supply the country with weapons and other aid in the Yemen War despite reports of civilian deaths from Saudi airstrikes.
These actions are seen by many foreign policy analysts as a continuation and even a compounding of Trump-era strategies in the Middle East, notably demonstrated through Biden's embrace of the Abraham Accords. President Trump brokered the Abraham Accords in 2020, which sought to normalize relations between Israel and Arab nations such as Bahrain, Morocco, and the United Arab Emirates. The deal symbolized a break from former Arab-Israeli negotiations, which had prioritized an independent state for Palestinians in exchange for normalized relations between much of the Middle East and Israel. The Abraham Accords are seen as a shift away from a two-state solution as a precursor to normalization.
You may also like: After Elizabeth II: Who is in the royal line of succession?