How race and income can determine the quality of the air you breathe
Published 5:15 pm Friday, April 7, 2023

Canva
How race and income can determine the quality of the air you breathe
Fine particulate air pollution, or PM2.5, is one of the largest environmental causes of human mortality. PM2.5 exposure is responsible for more than 100,000 premature deaths annually, with Black and Hispanic populations dying at a greater rate than other races.
When inhaled, PM2.5 pollutants—just a fraction of the width of a single strand of human hair—can travel deep into the lung tissue, enter the bloodstream, and increase the risk of cardiovascular disease, respiratory illnesses, and even lung cancer.
Most air pollution can be traced to the burning of fossil fuels, such as gasoline, diesel, oil, and wood. Inhalable particle pollutants form when chemical compounds emitted from industrial sites, automobiles, and other sources undergo chemical reactions in the atmosphere.
Despite average PM2.5 exposure falling 40% nationally over roughly the last two decades, disparities in exposure to this harmful air pollution persist among populations of color and low-income communities. People of color are exposed to more pollution from nearly every source, including industrial, agricultural, vehicular, construction, and residential sources.
New research from the University of California, Berkeley, and the University of Washington proves these present-day disparities are largely rooted in a discriminatory housing practice called redlining. Some neighborhoods—often those populated by people of color or where an industrial site was already located—were given the worst investment risk grades (D) by the federal Home Owners' Loan Corporation. People in D-grade neighborhoods were ineligible for federally backed loans or favorable mortgages and, as a result, could not build wealth through homeownership.
Without the resources and political influence to resist, these neighborhoods became common targets for hazardous waste, as well as industrial facilities and transportation infrastructure built adjacent to or directly through them. More than 80 years later, these redlined communities have consistently higher levels of nitrogen dioxide, a gas found in vehicular exhaust and industrial emissions, and PM 2.5 pollution.
Using data published in the Science Advances journal and gathered for the Environmental Defense Fund, Stacker looked at disparities in particulate pollution exposure in the U.S.
You may also like: Where US military aid is being spent, ranked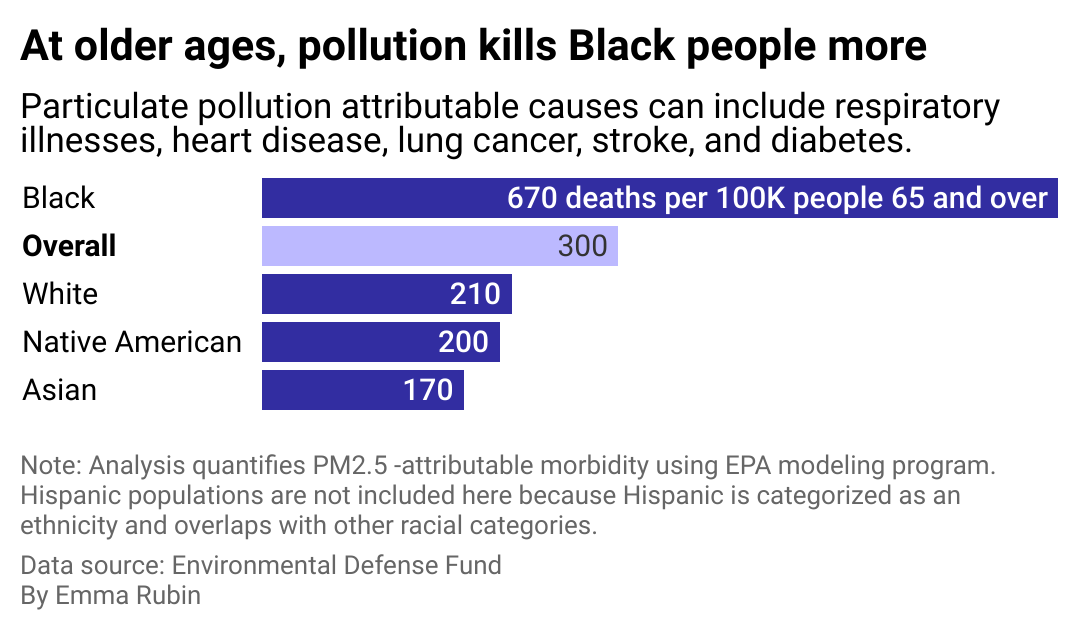 Emma Rubin // Stacker
Over 100,000 people are estimated to die from particulate pollution each year
Black and Hispanic Americans tend to live in neighborhoods with greater exposure to air pollution due to a generationslong legacy of housing segregation. Black Americans over age 65, in particular, experience three times the number of PM2.5-attributable deaths per capita compared to other races, likely from the combination of increased exposure and greater prevalence of medical conditions like lung and cardiovascular diseases.
The rate of lung cancer among people who never smoked, when broken down by race, was highest in Black and Hispanic patients, according to a 2021 study published by the JAMA Network. While the study does not attribute these cases solely to air pollution, it recognizes it as a potential factor.
Historically redlined neighborhoods tend to be characterized by less air-purifying greenspace and tree canopy. Consequently, residents are more vulnerable to the urban heat island effect, which can exacerbate air pollution levels and increase mortality.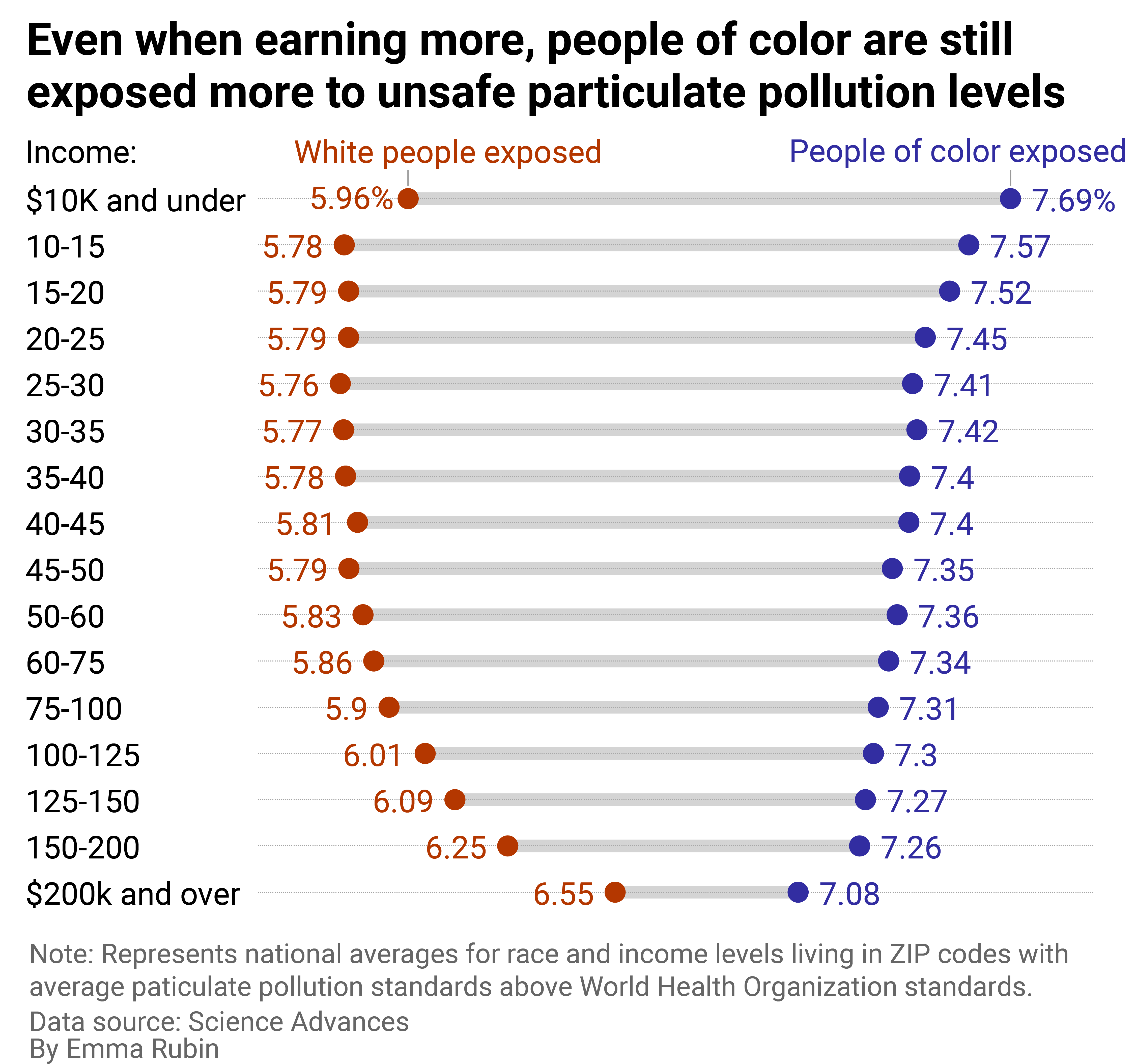 Emma Rubin // Stacker
Higher income does not guarantee better air for people of color
In addition to children, people over 65, and individuals with preexisting medical conditions, low-income communities are especially vulnerable to fine particulate pollution due to proximity to industrial sources of air pollution, underlying health conditions, and poor nutrition, among other factors. Low-income populations are nearly 50% more likely than wealthier populations to live in areas where levels of PM2.5 exceed the Environmental Protection Agency's current limit.
The disparity in exposure to air pollution between white people and people of color is reduced as income increases. However, even at higher income levels, populations of color are still more exposed to particulate pollution than white populations.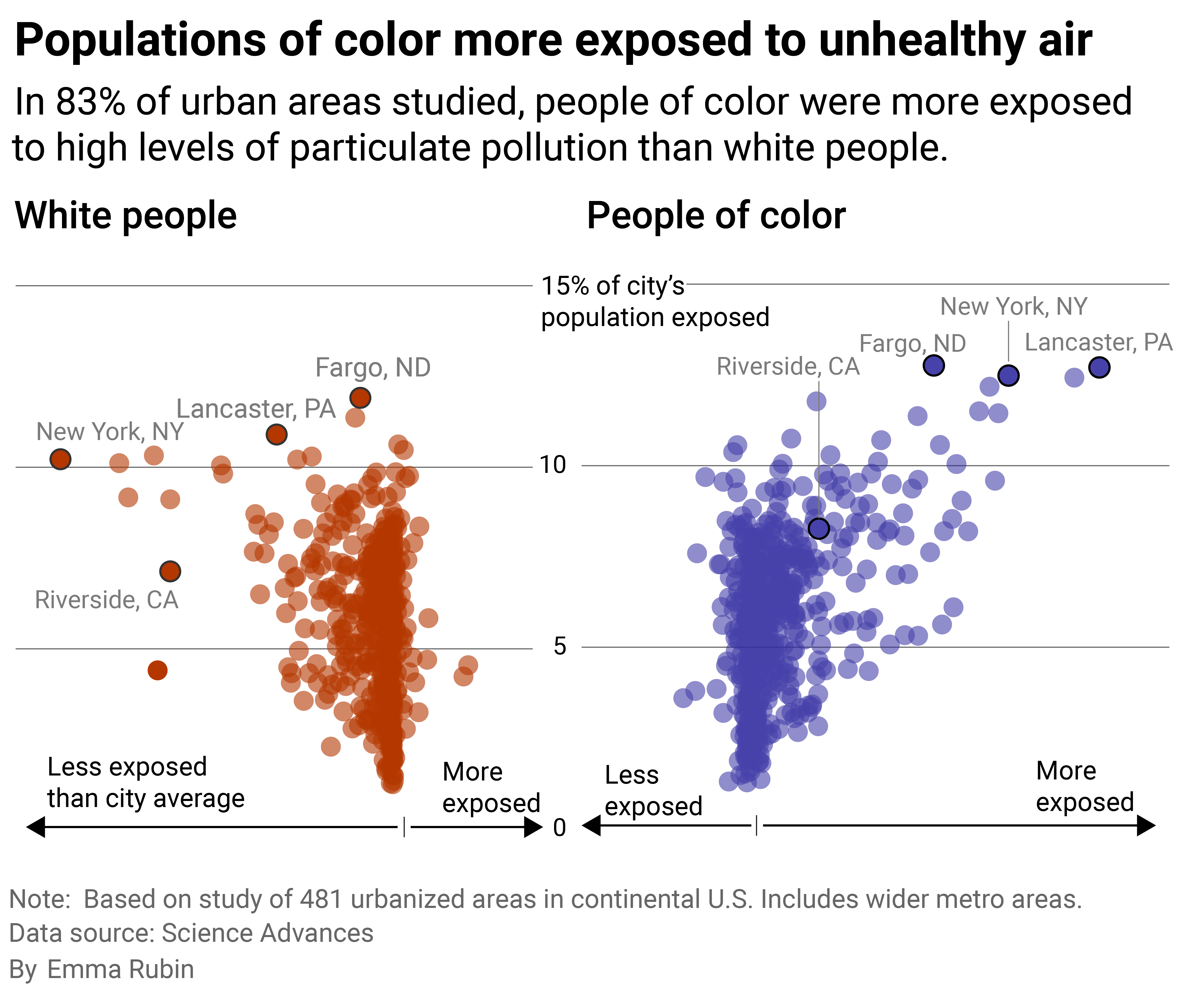 Emma Rubin // Stacker
Differences in urban areas more pronounced
Exposure to air pollution varies more by race than income. Researchers compared exposure to air pollution by race—whites versus people of color—and exposure based on income levels within populations of color. The disparities in exposure by race were more than double those present when comparing people of color at various incomes.
In rural areas, roughly 5% of all residents are exposed to PM2.5. By race, this breaks down to 4.8% of white people compared to 5.2% of people of color. For Black populations specifically, the share of exposure jumps to 6%.
In urban areas, exposure rates are much higher across the board due to increased proximity to emissions sources and higher emissions volumes. In roughly 400 out of 481 urban areas studied, people of color were exposed to higher-than-average levels of PM2.5 pollution, while white populations saw lower-than-average levels of exposure.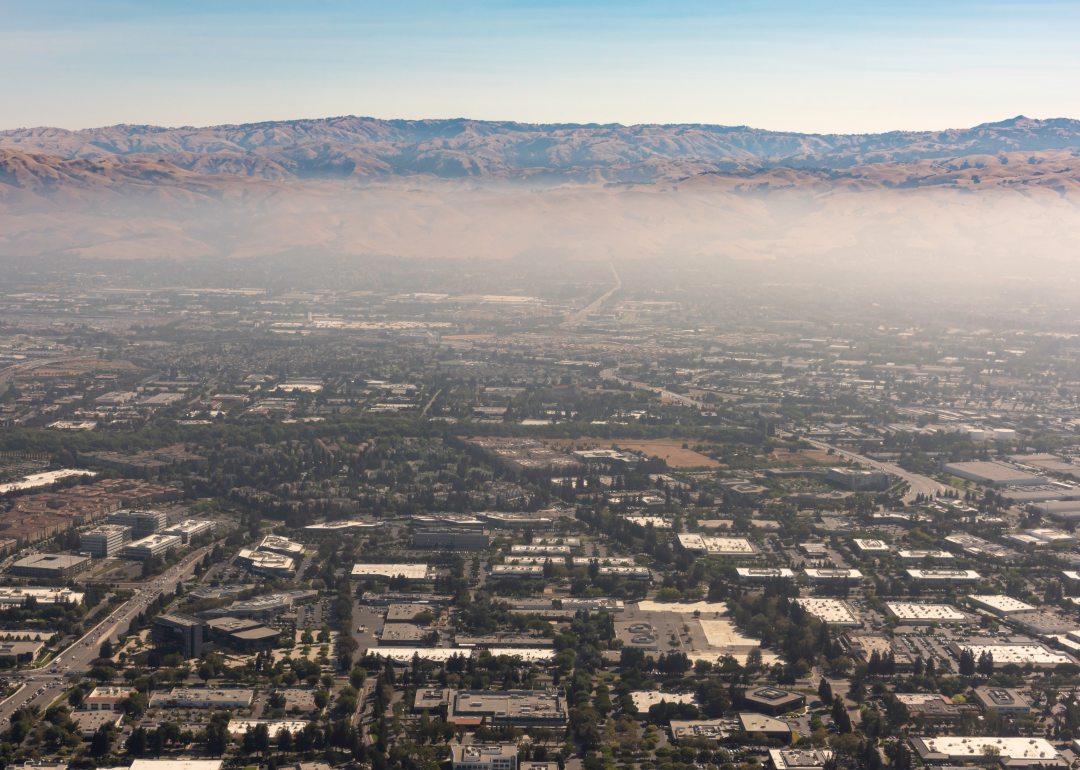 Canva
People of color are more impacted but less responsible for emissions
Inequitable exposure to PM2.5 pollution is just half of the problem. Disproportionate emissions by race are the other. A 2019 study published in the Proceedings of the National Academy of Sciences connecting air pollution exposure to consumption of goods and services found that white Americans disproportionately cause air pollution, while Black and Hispanic Americans disproportionately inhale it.
White populations are exposed to 17% less air pollution than they cause. In comparison, Black and Hispanic populations are exposed to up to 63% more air pollution, on average, than the pollution they cause. Industrial and roadway emissions, like light-duty gasoline vehicles and heavy-duty diesel vehicles, are among the largest sources of this exposure disparity.
More Stacker National