24 United States Barista Championship contenders and where to find them pulling your next espresso
Published 6:00 pm Monday, June 12, 2023

Canva
24 United States Barista Championship contenders and where to find them pulling your next espresso
If you just can't get through the day without a cup of coffee, you're certainly not alone. In 2022, the National Coffee Association found that daily coffee consumption outpaced every other beverage—including tap water. Additionally, espresso beverage consumption has increased by 30% since 2020. And as of 2023, espresso was consumed by more than 1 in 10 people who drank coffee in the past day.
Espresso might bring that little pep into our step every day, but sometimes you need an extra special cup. For that, you might want to search for a shop with an elite class of baristas—a champion, if you will.
Each year, the United States Barista Championship puts baristas nationwide through their paces. Over the course of a 15-minute round, competitors prepare an espresso, a milk beverage, and a signature beverage, all while giving a prepared speech. This combination of grace under pressure while making three different types of drinks, plus the taste of the coffee, earns them the coveted title.
If you're looking for a potential upgrade to your daily cup of joe, you may be in luck if any of these champs set up shop near you. Home Grounds surveyed the finalists and semifinalists of the United States Barista Championship from 2022 and 2023, highlighted 24 baristas from across the country, and found out where they're pulling shots.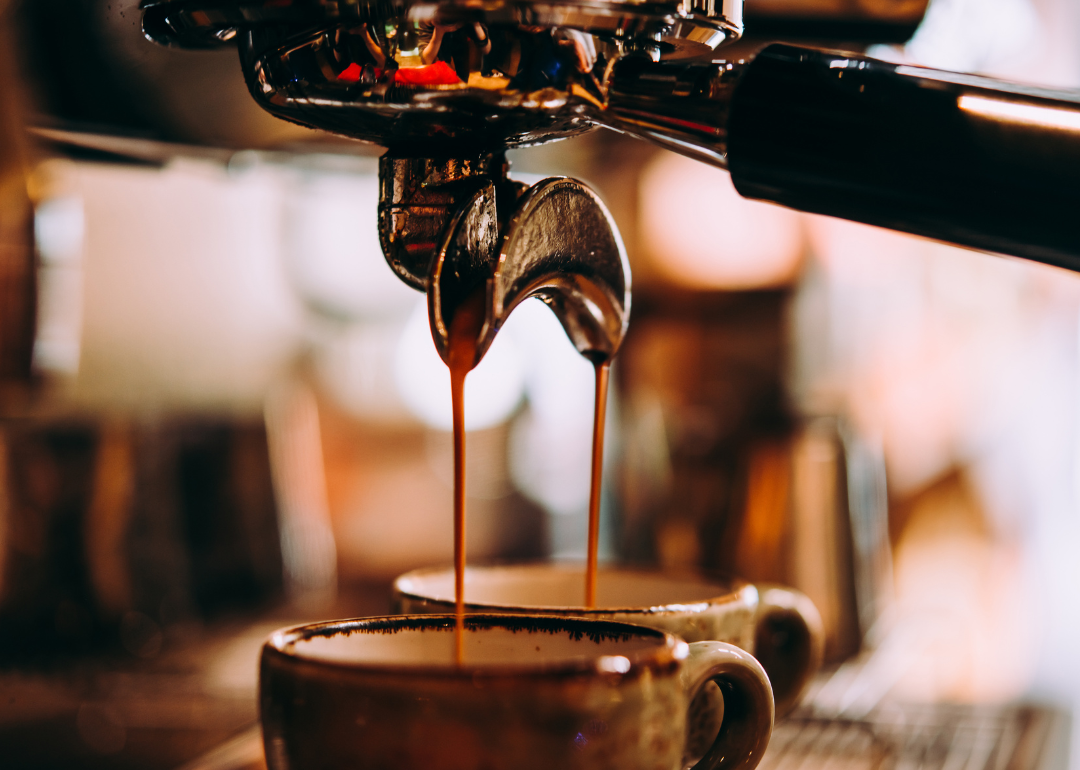 Yulia Grigoryeva // Shutterstock
Morgan Eckroth – Keeper Coffee
Morgan Eckroth hails from Oregon, where Stumptown Coffee Roasters reign supreme. She was first drawn to coffee by watching baristas at work in their neighborhood shop. "That was my first interaction with hospitality and finer customer service as a craft," she told CNBC. "I spent the rest of high school camped out at that café. I would meet friends there and really learned how to appreciate the [experience]."
Eckroth kept the barista gig while studying at Oregon State University and eventually started a TikTok account, MorganDrinksCoffee, that boasts over 6 million subscribers. Eventually, Eckroth's passion for coffee led her to compete in both the nationals and qualifiers for the championship in 2019 and 2020, becoming the U.S. Barista Champion in 2022; in 2023, they were the runner-up.
These days, Eckroth can be found crafting cappuccinos at Keeper Coffee in her hometown of Portland and working as a content marketing specialist for Onyx Coffee Lab.
Canva
Brooke Wolfe – Elixr Coffee Roasters
2022 USBC runner-up Brooke Wolfe of Nashville, Tennessee, got her start in coffee working at Starbucks in 2017. After a nearly four-year stint at Frothy Monkey as lead barista, Wolfe became Elixr Coffee's assistant manager in 2021. She has since moved to Philadelphia.
Luckily, the City of Brotherly Love is also home to four Elixr locations, where you can order a trusty standby like a cortado or an Americano. More adventurous drinkers can try a vegan strawberry milk latte.
If you see her behind the counter in the morning, it might be worth asking to try her signature competition drink: a foam blended with espresso and rhubarb nectar, egg white, sugary lime peel mixture, and coffee milk, which certainly sounds like it could perk up one's day with its citrusy notes.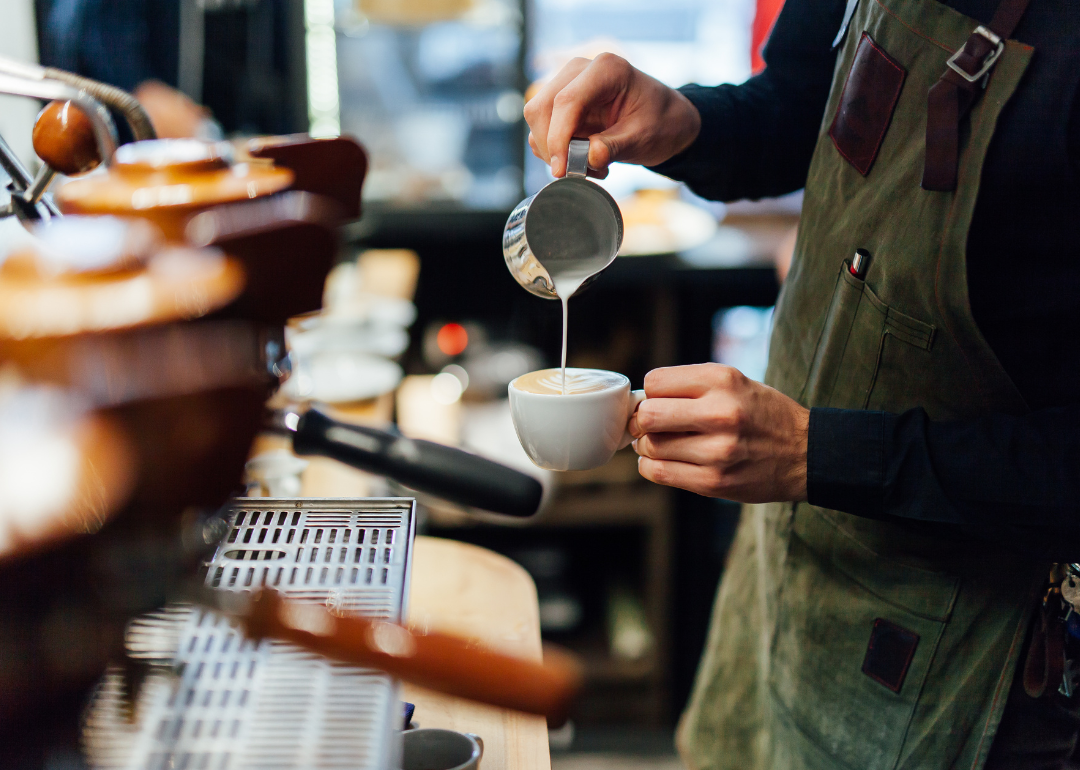 Aleksandrs Muiznieks // Shutterstock
Elisabeth Johnson – Dayglow
Elisabeth Johnson lives in sunny Los Angeles, where she is a manager at Dayglow Coffee. At USBC 2022, she placed alongside Morgan Eckroth and Brooke Wolfe. In an interview with Barista Magazine, Johnson said her love for coffee began at age 8, when she used to make pour-overs for her dad at his office. Her first official coffee gig, however, was at a double-sided drive-thru where her experience truly gave weight to her words at the competition: "Resilience requires consistency and perseverance."
At the competition, Johnson offered judges an espresso made of a Gesha variety coffee from Jameson Savage of Finca Deborah, brewed using a "Nirvana" nitrogen anaerobic process, which gives the beans a tropical, fruity flavor. In case LA isn't anywhere nearby, Dayglow offers Johnson's competition coffee for sale on its website. Dayglow has three locations in LA, can also be found in Chicago, and is coming soon to Brooklyn, New York.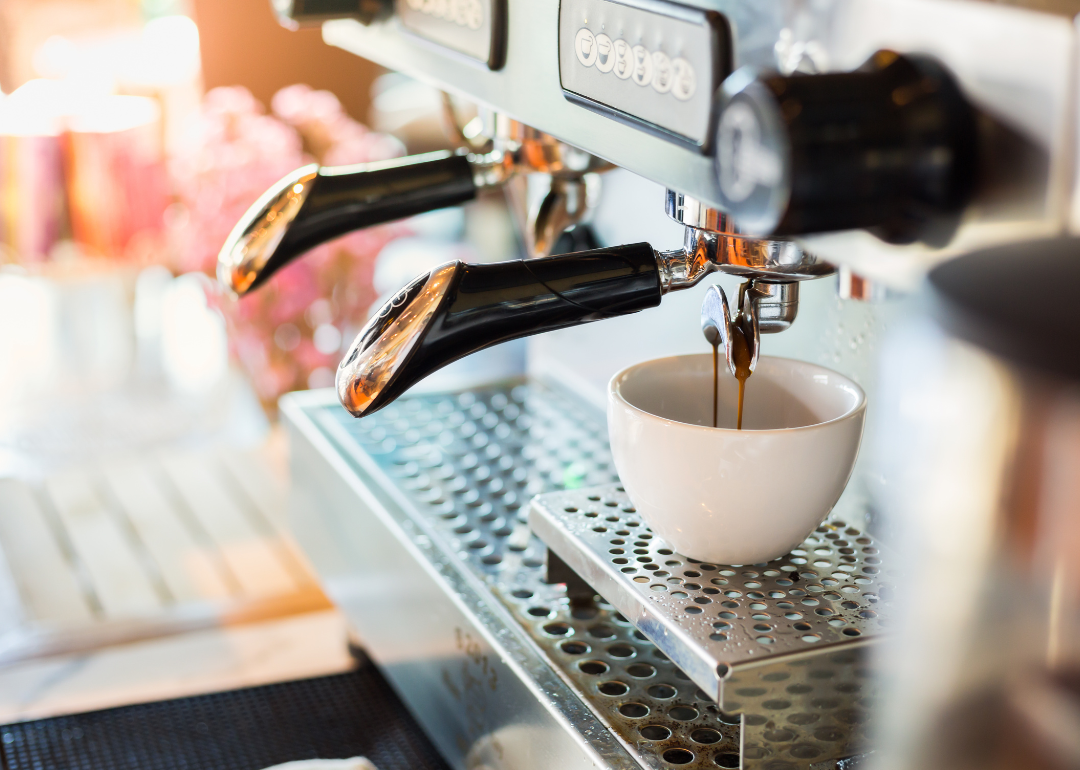 Canva
Meg Skop – Independent
Of the 2022 USBC competitors, Meg Skop was the only one to enter independently. The quarterfinalist currently lives in the San Francisco Bay area and works as a coffee sales manager for Oatly.
Skop first found coffee at her local grocery store in Wisconsin, Jewel, where she would look forward to trying the coffee samples while pushing a children's shopping cart. She enjoys the barista competition circuit, and while she can't be found behind the counter of a specific coffee shop, you can snag some of her signature espresso recipes via her TikTok.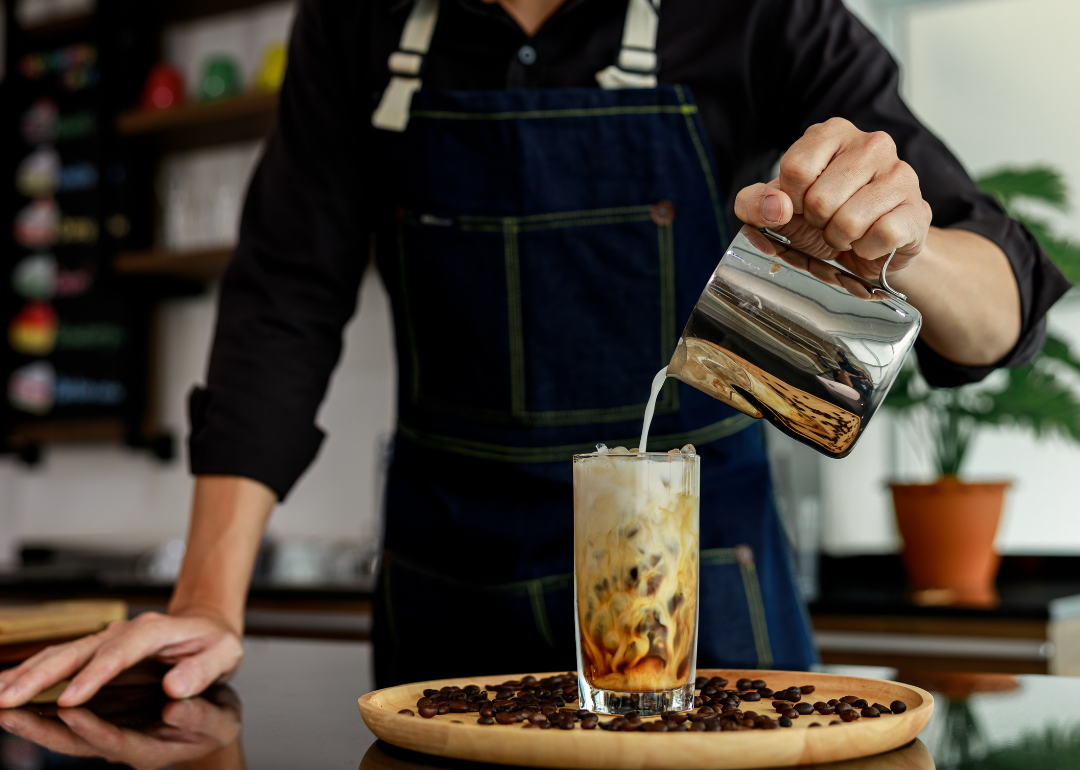 MISTER DIN // Shutterstock
Bryan Overstreet – The Coffee Movement
Before Bryan Overstreet was behind the counter, he was a paramedic. He turned to coffee for a change of pace and founded The Coffee Movement, inspired by the "communal vibe and celebratory nature of coffee culture" in Australia, where he formerly worked as a barista. Overstreet placed fifth at USBC 2022.
Along with serving espresso drinks, the San Francisco-based company also boasts a mobile espresso bar for events, a coffee subscription service for offices, and consulting services, including cafe and barista training and product testing.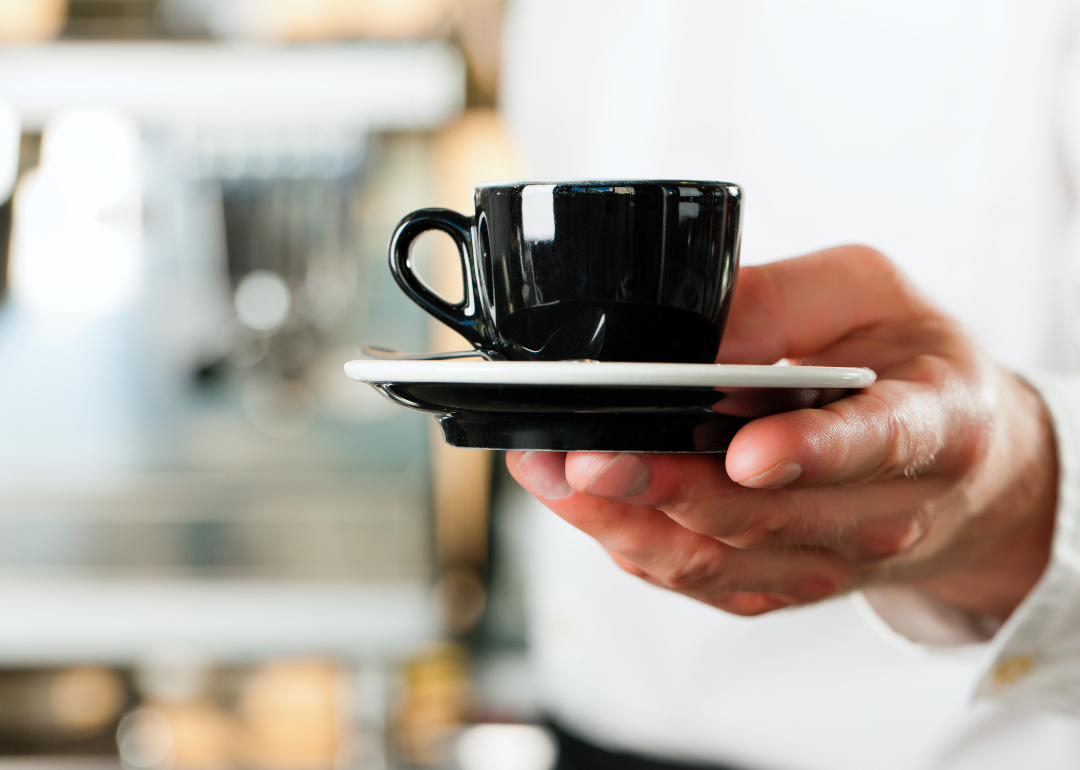 Kzenon // Shutterstock
David Buehrer – Greenway Coffee Company
David Buehrer is a veteran barista with more than 20 years of professional brewing experience under his belt. He placed sixth at USBC 2022 and has plenty to keep him busy. Buehrer is the co-founder of several hospitality businesses, including Greenway Coffee, Blacksmith, Coral Sword, and RDY, an independent cafe ordering app.
Greenway Coffee Company can be found in Houston, offering a variety of bagged coffee for purchase. For a cafe experience, head to Blacksmith for brunch or Prelude Coffee & Tea for an espresso to go.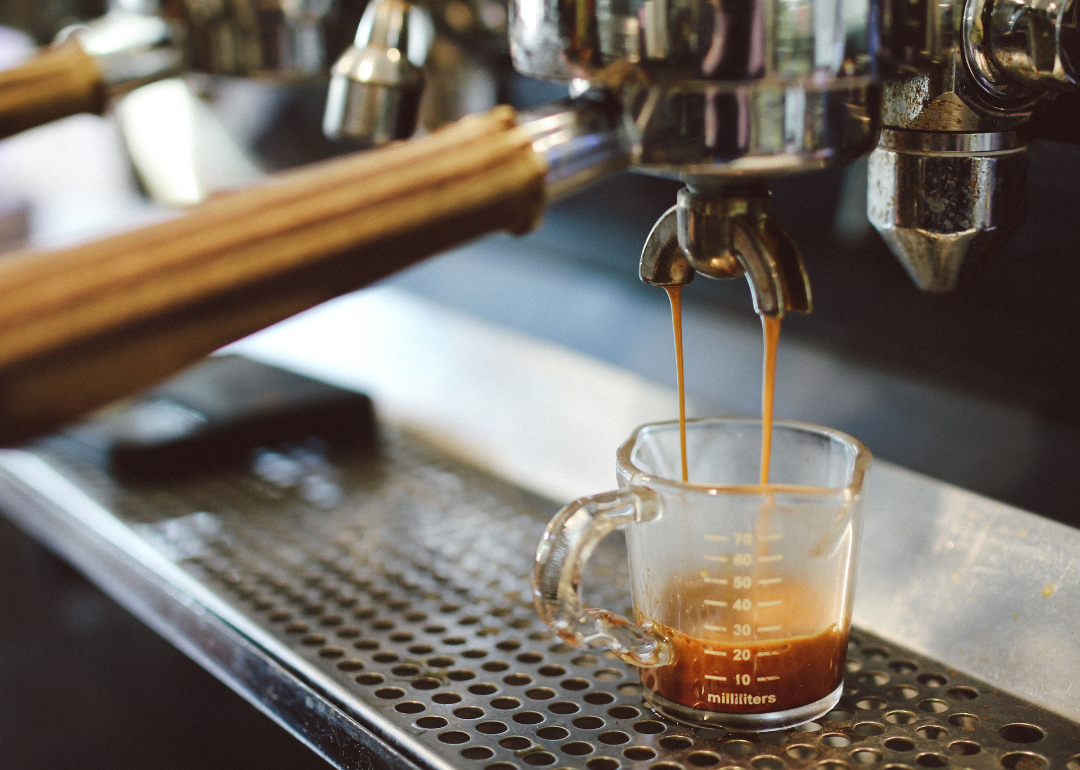 Canva
Isaiah Sheese – Archetype Coffee
Isaiah Sheese got bitten by the competition bug in 2009 and never looked back. The 2023 USBC winner and owner of Archetype Coffee in Omaha, Nebraska, has also been a judge for two barista championships. A seasoned competitor, Sheese often gives an even-keeled performance that never seems pressured despite the 15-minute time limit.
At the 2023 USBC finals, he brought along a "happy accident" variety of coffee: a cross-pollination of red and yellow Bourbons. His espresso had notes of peach jam, rainier cherry, oolong tea, and dark chocolate. His signature drink was similarly fruity, with hints of blood orange, pomegranate, and a bit of grapefruit bitterness finished with peach tea aromatic fog. Archetype offers a coffee subscription service and has three locations in Omaha where coffee enthusiasts can grab a cup (or two). If not, the shop also ships its beans.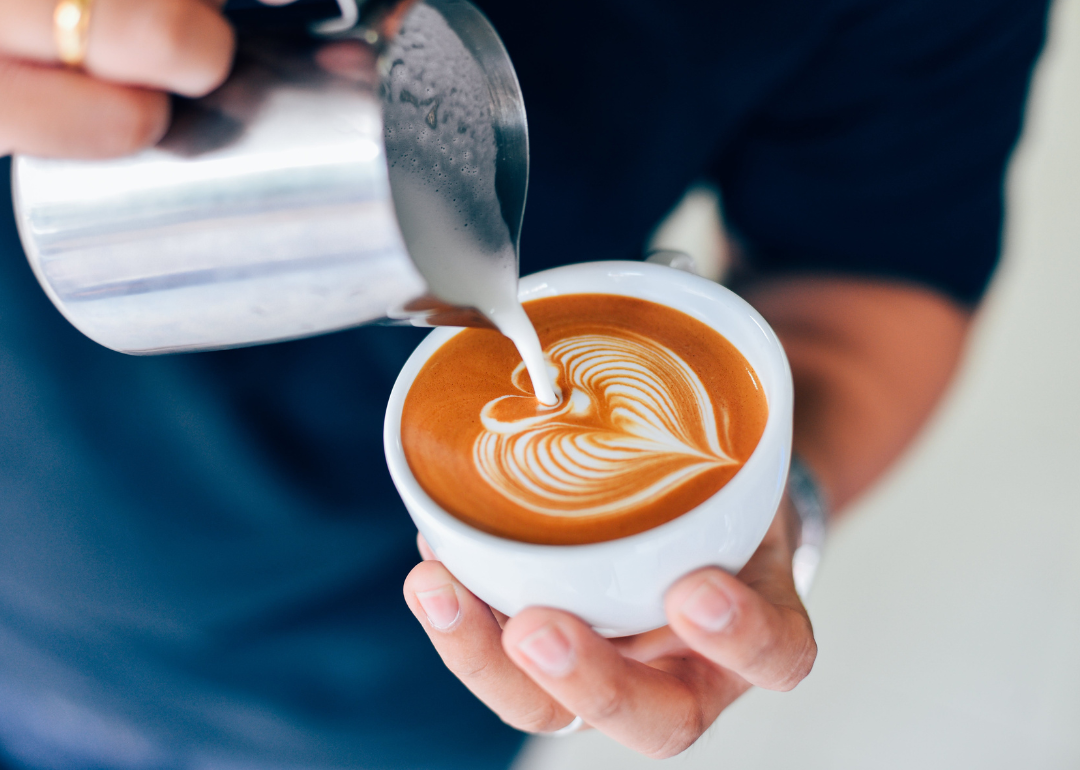 Canva
Juan Diaz – KWC
A first-generation Colombian American, Juan Diaz has coffee in his blood, but he would only learn about its specialty aspects while attending a university in Florida. Diaz placed third at USBC 2023, where he created a signature drink of egg white, panela, a lemon-sugar mixture poured over a frozen sphere of Sidra coffee concentrate. He can be found showing off his latte pours on Instagram. He also offers in-person barista courses in English and Spanish.
Diaz's company, KWC, hosts retreats to Colombia where baristas can learn about coffee production from "crop to cup." KWC also roasts coffee, which you can purchase online or pick up from the company's location in Alexandria, South Dakota.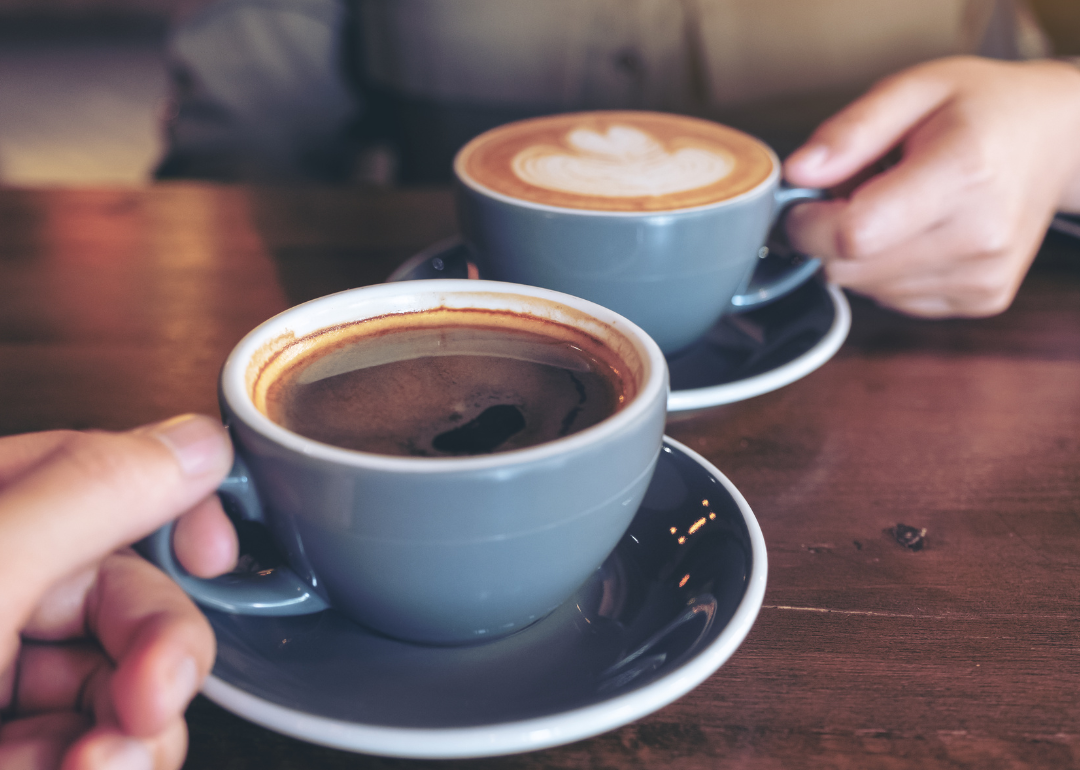 Canva
Dakota Graff – Onyx Coffee Lab
Dakota Graff is the director of coffee and green buyer for Onyx Coffee Lab, based in Rogers, Arkansas. He placed fourth at the 2023 USBC, where he was one of two competing. His competition espresso used a honey-processed Sidra coffee variety and had notes of red cherry, pomegranate, and dark chocolate. His signature piece also used a Sidra variety espresso mixed with eastern flavors of oolong tea and Sichuan peppercorn syrup.
Onyx is a multipronged coffee company, spanning delivery subscriptions, tea and drinkware, wholesale, consulting, private events, and barista training. Arkansas residents and visitors can find Onyx at their Rogers headquarters and three Bentonville cafe locations, which serve espresso drinks, tea, smoothies, and bakery treats.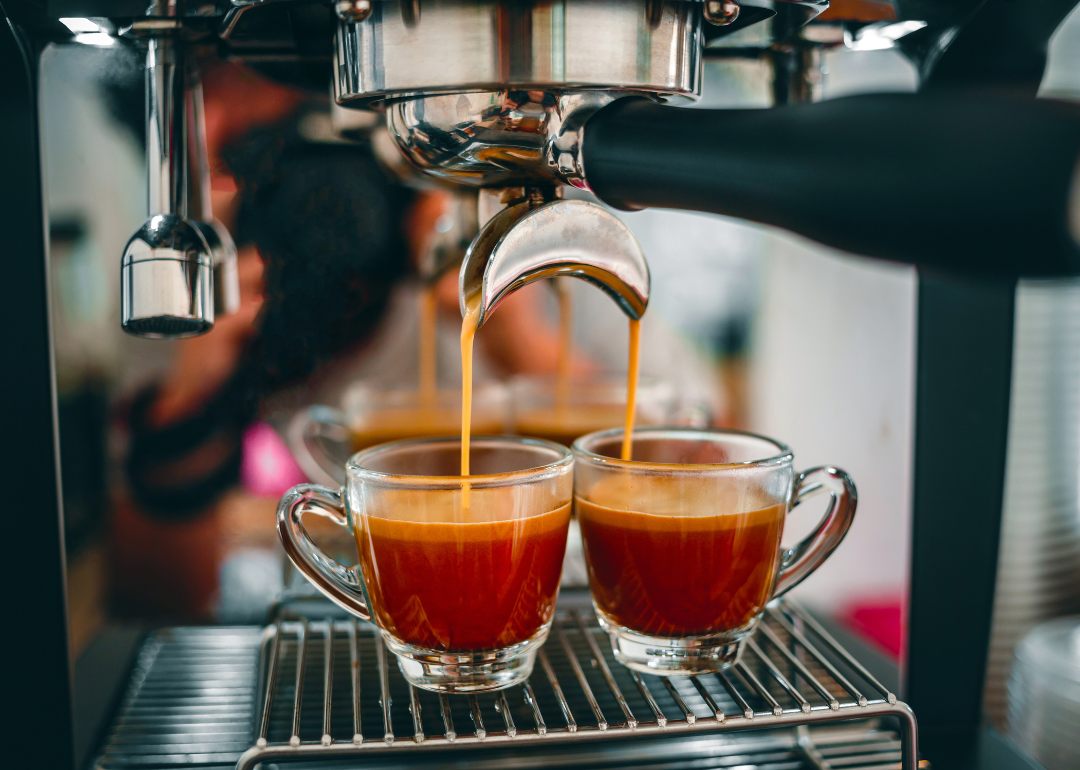 Canva
Reef Bessette – The Coffee Movement
Reef Bessette works alongside Bryan Overstreet at The Coffee Movement as co-owner and coffee scientist. Bessette and Overstreet met over a decade ago when they both worked at The Mill. At the 2023 USBC competition, where he placed fifth, Bessette used a frozen spoon to get his espresso to the right temperature. His milk course was also something to remember. Bessette skimmed the cream off one bottle of unpasteurized milk from Jersey cows and added it to another, thus doubling the fat content.
Raw Jersey cow milk also played a part in his signature drink, where he strained yogurt from it and fermented it along with white grapes and floral honey, mixing it with chilled filter Gesha espresso. In addition to his responsibilities at The Coffee Movement, Bessette also offers barista training at Saint Frank Coffee in San Francisco.
Canva
Frank La – Be Bright Coffee
Los Angeles-based Frank La can thank his wife for his pushing his coffee championship ambitions. "I met my wife at a cafe," La told Daily Coffee News. "She ordered a macchiato; at the time, I was a baby barista and had this reputation that I wanted to be one of the best baristas in L.A., and she tweeted about how bad her macchiato was."
His skills have certainly improved since then. He came in sixth at USBC 2023, where he represented Be Bright Coffee, which he launched with his wife, Michelle, as an online subscription-based roaster during the COVID-19 pandemic. After making regular, successful appearances at the weekly Smorgasburg food market, the couple finally opened their brick-and-mortar on Melrose that features signature drinks like the Vivid Cream Latte, a brown sugar latte with sweet foam and cocoa powder, and the Ultralight Bean, a caramel latte with sweet foam.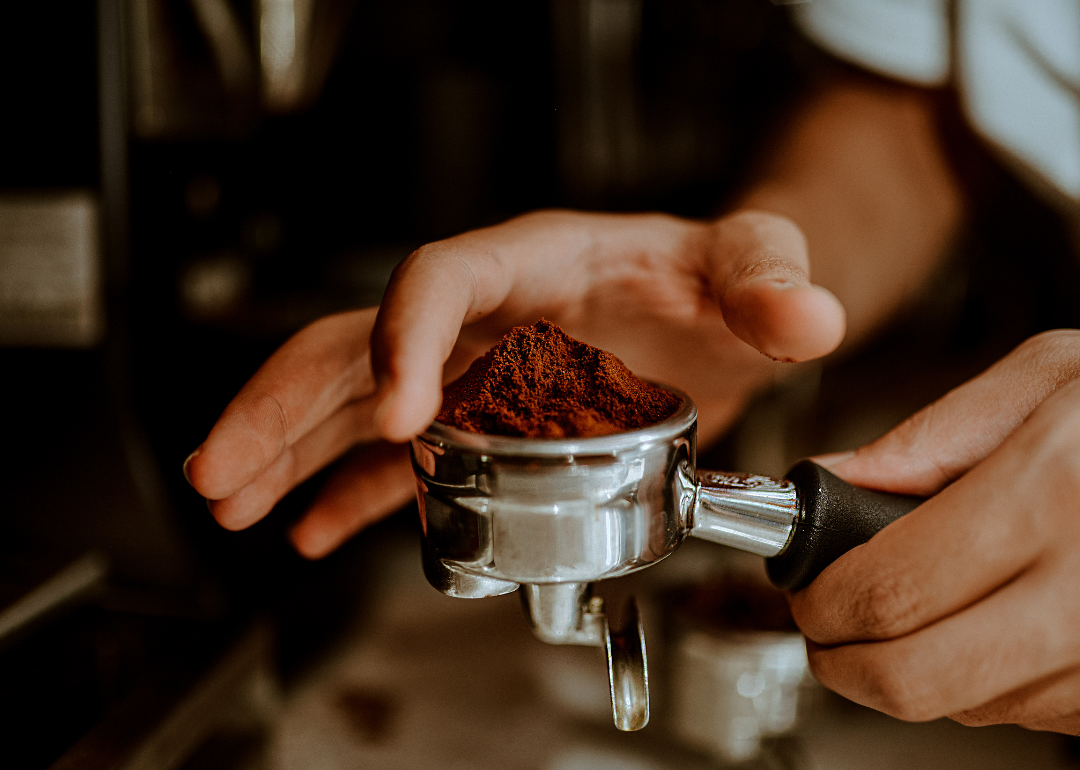 Canva
Andrea Allen – Onyx Coffee Lab
Andrea Allen is no stranger to the world of competitive coffee; the Onyx Coffee Lab co-founder won the 2020 USBC competition and was a 2021 runner-up at the World Barista Championship. She has worked in the world of coffee for 20 years and works alongside fellow competitor Dakota Graff at Onyx.
In competition, Allen is known for setting the trend, often using natural processed coffee or freeze-distilled milk in her recipes. She's also great at showstopping moments, like bringing in a green juicer or washing the judges' hands. It's no wonder she's made a name for herself in the coffee industry. At the World Championships, she competed using coffee that had almost no acidity, perfect for sweeter flavors like salted caramel, melted dark chocolate ice cream, and rich yellow batter cake.
The 2023 docuseries "The Road to Milan" follows Allen's journey through two years, from the U.S. Barista Championships to the World Coffee Championships in Milan. It has yet to be released but is making its way around the festival circuit, where it won Best Series at the 2023 Oregon Documentary Film Festival.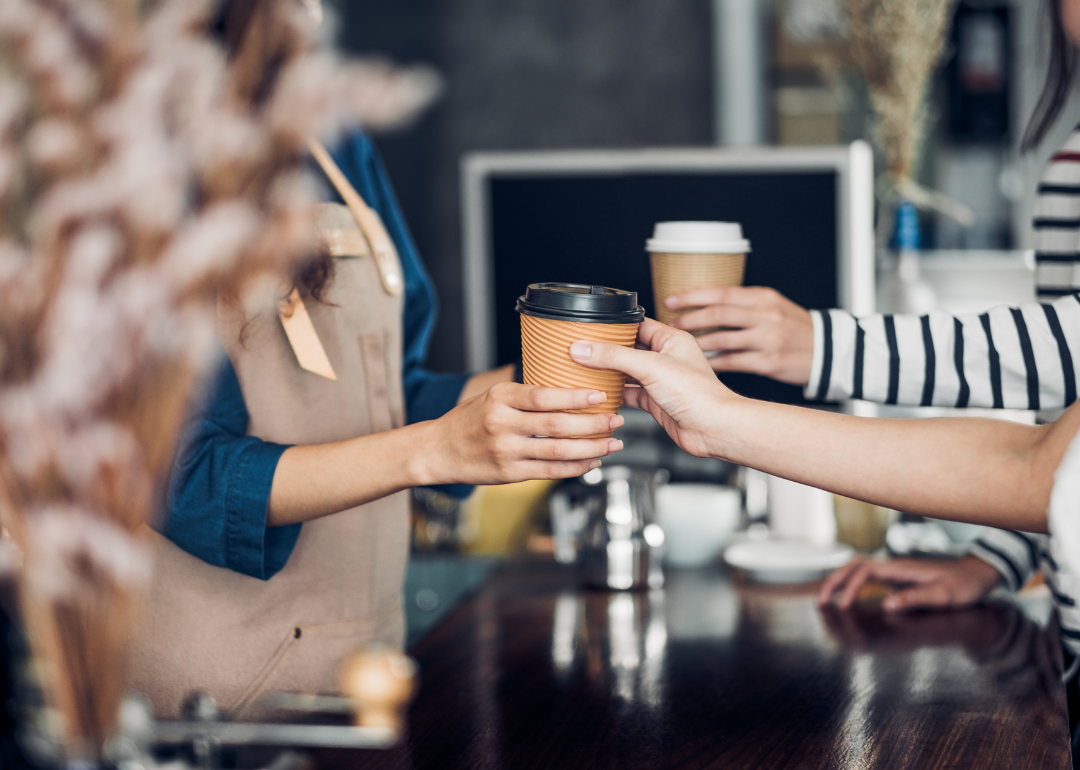 Canva
Kay Cheon – Dune Coffee Roasters
Kay Cheon came in eighth in round one of this year's USBC with previous accolades under his belt, including third at his first-ever competition at the 2018 competition. At his first competition, Cheon was inspired by the tart notes of his Hacienda La Papaya Ecuadorian coffee to create a cherry cola-inspired signature drink, serving it in Pepsi bottles poured into a short glass and garnished with a cherry.
Dune Coffee Roasters, who Cheon represented at the event, has four locations in Santa Barbara, California, as well as an online storefront. The cafes serve primarily espresso drinks but also have tea, lemonade, and hot chocolate for those who want to go a little easier on the caffeine.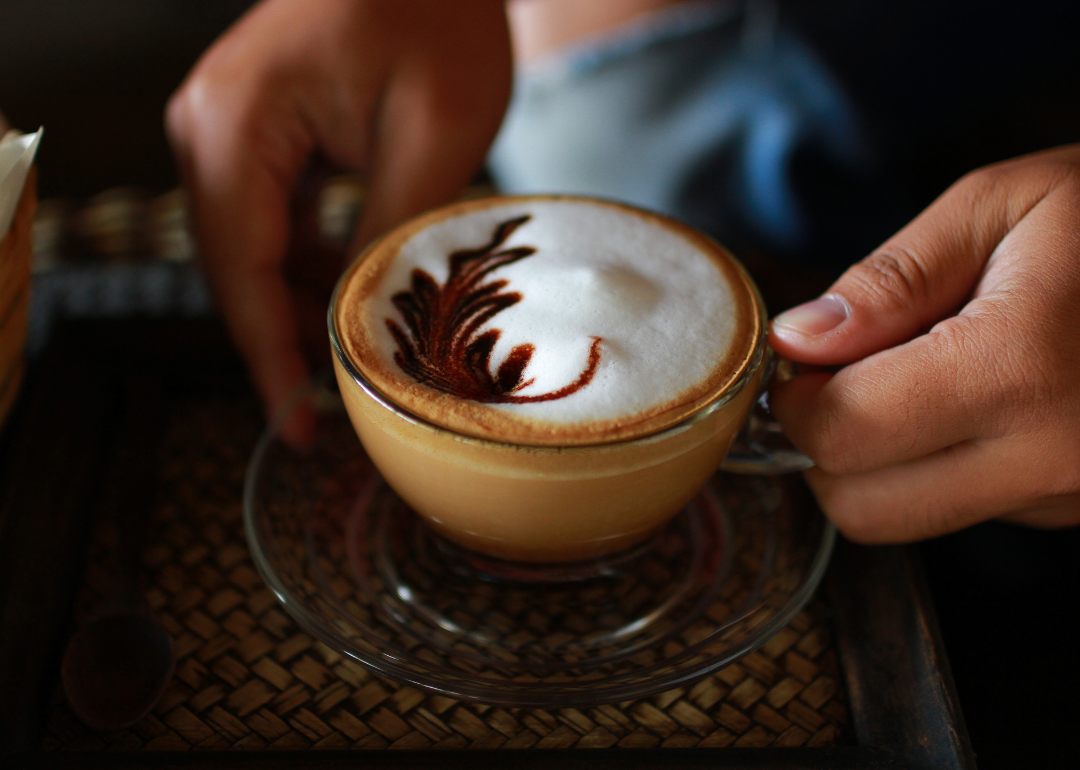 Canva
Sam Neely – Amethyst Coffee Company
It took some time for Sam Neely to get into coffee. They were first interested in the people at the cafes but gradually learned to love the drink around them as well. In 2018, they became the youngest-ever USBC competitor and made the finals on their first go. Their signature drink: four shots of espresso, a pineapple reduction, green tea, and coffee-blossom-honey sweet syrup livened up with carbon dioxide in a whipped cream canister and sprayed with rose water.
Formerly at the now-shuttered Amethyst Coffee Company in Denver, the self-titled "retired coffee person" works at the upscale restaurant Hestia in Austin, Texas. They may no longer be pouring espresso shots but will likely be able to pour a glass of the perfect red or white (or anything in between) to go with your dinner instead.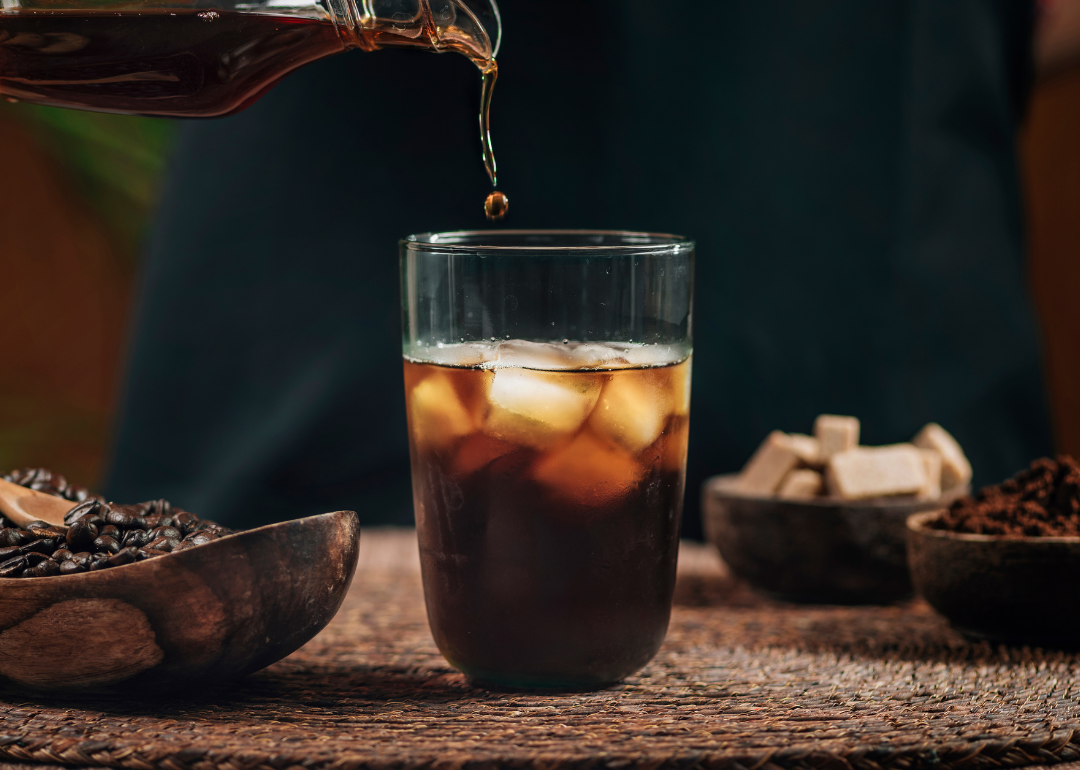 Canva
Sam Spillman – Dillanos Coffee Roasters
Sam Spillman won the 2019 USBC competition and competed in the 2022 U.S. Brewers Cup in Boston. She began working as a barista at 17 and is now the director of coffee at Caffè Vita Coffee Roasting Company in Seattle. Her signature coffee drink for the championship used natural lactic Gesha and had notes of peaches and raspberries with a jasmine aroma. To enjoy a Caffè Vita cup yourself, head to one of its seven Seattle locations, the two in New York, or the one in Phoenix.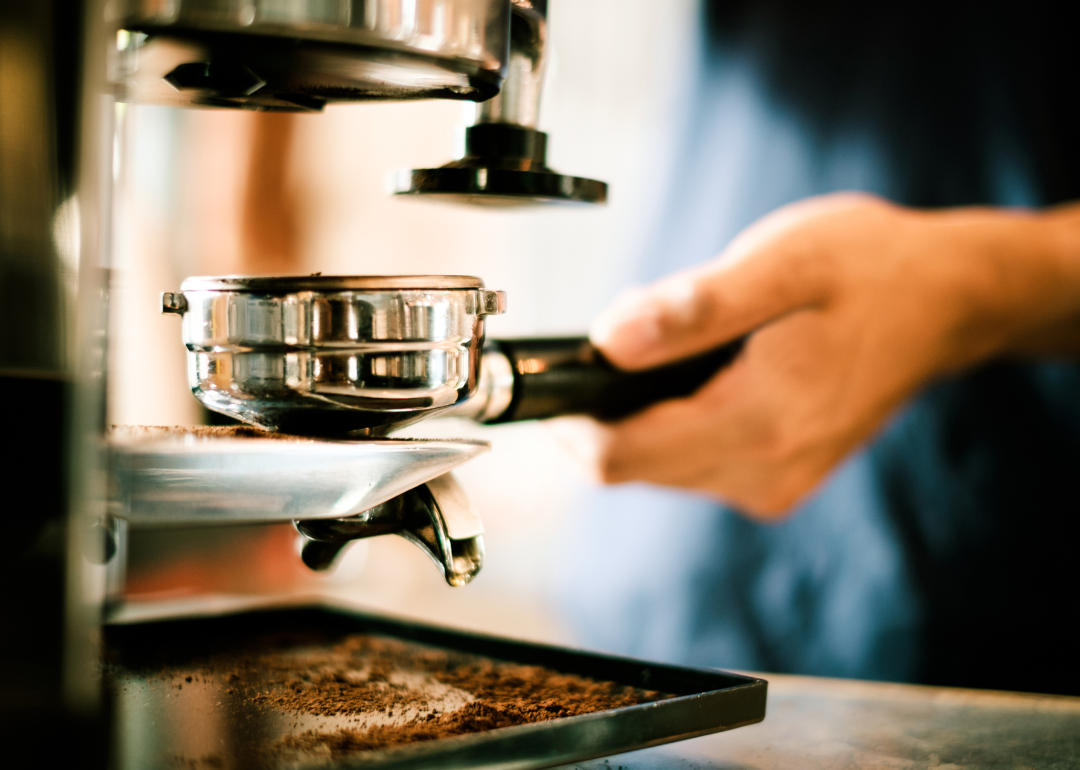 Canva
Anthony Ragler – Black & White Coffee Roasters
Anthony Ragler of Black & White Coffee Roasters is a two-time semifinalist at the USBC. He is also part of a culinary coalition with Greek yogurt brand Chobani, which connects people in the food and drink industry with each other to collaborate and build relationships.
Ragler first started making coffee in 2014 at a specialty coffee shop in Brooklyn and Washington Square Park, where he was only the second Black person hired. "It was very weird being in a part of Brooklyn that felt so unfamiliar," Ragler told Barista Magazine. "None of the customer base looked like me or seemed to have any knowledge of the background I came from."
These days, you can find him behind the counter at Black & White Coffee in North Carolina, founded in 2017 by two former U.S. Barista Champions. The company serves up a variety of espresso drinks and sandwiches at its three locations.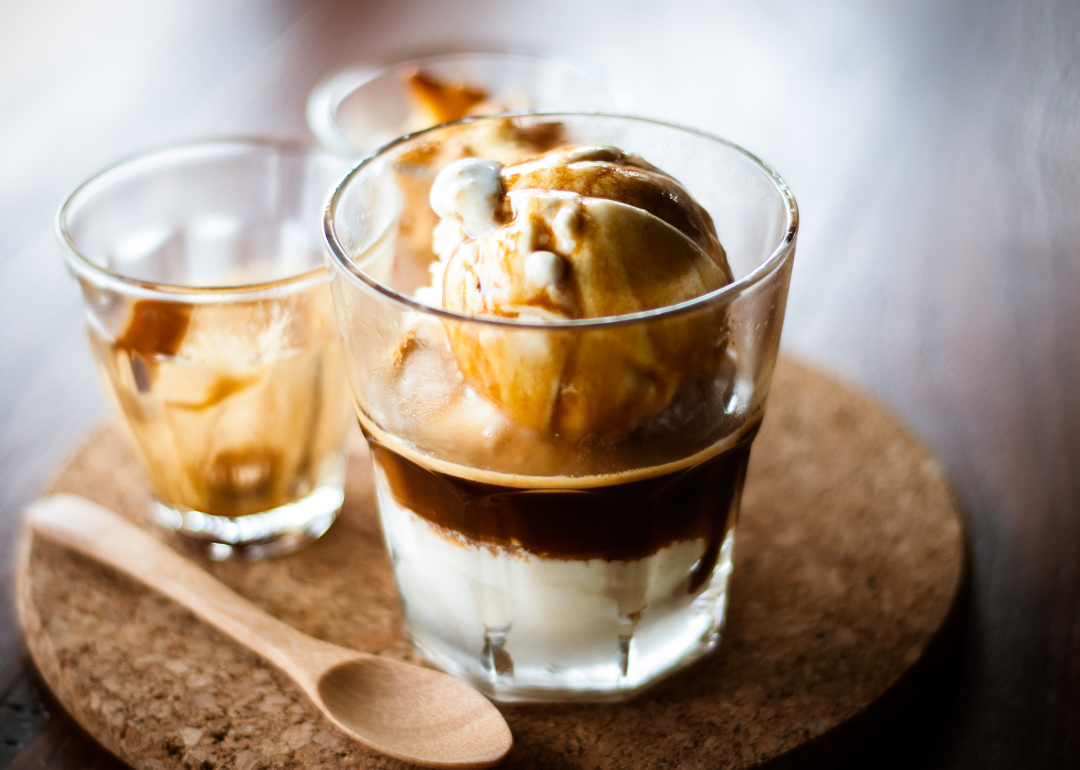 Canva
Becky Reeves – Creature Coffee
Becky Reeves was the seventh-place semifinalist at this year's USBC competition, representing Creature Coffee. Reeves began her coffee journey at 16 at Sunrise Coffee. She saw her first barista competition at Barista Camp, and the bug has been with her since.
Creature offers wholesale coffee and can also be found at its pop-up location in downtown Austin, Texas, during the Sustainable Food Center farmers market. Reeves' competition coffee, a pink Bourbon variety from western Colombia, is also available to order through the company.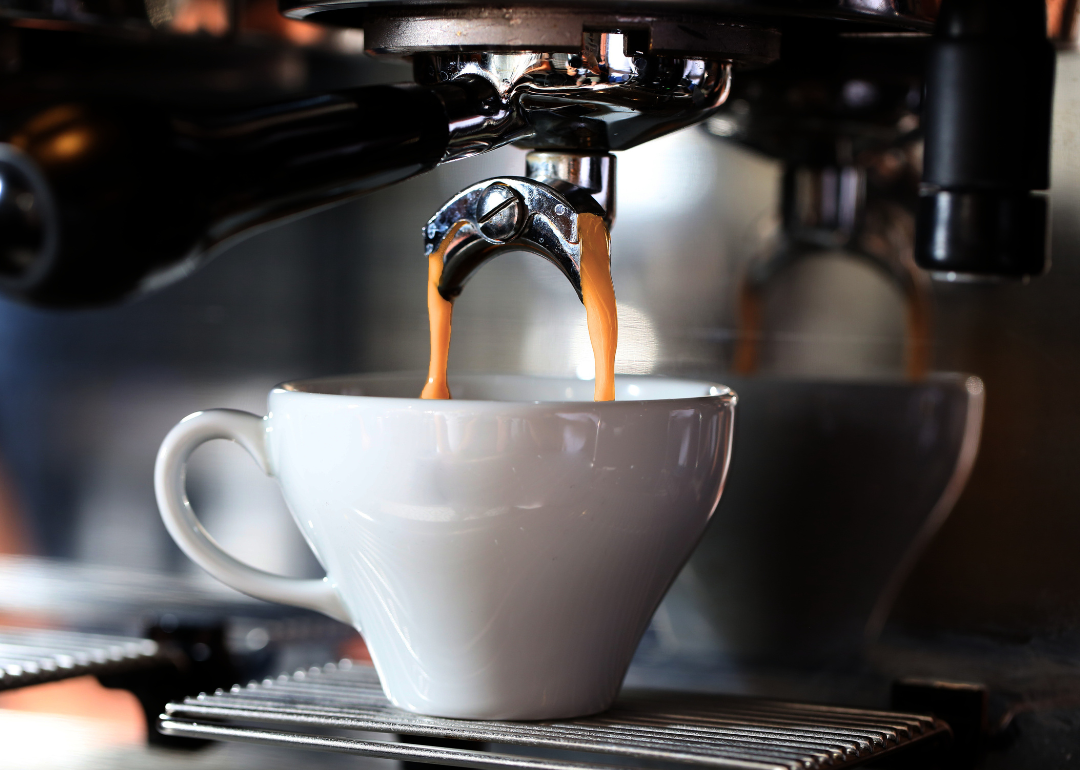 Canva
Jason Yeo – Saint Frank Coffee
Jason Yeo finished eighth in the 2023 semifinals, putting his nine years of coffee experience to the test. At the championship, Yeo competed using a naturally processed Gesha coffee variety with notes of black tea, apricot, and tangerine. His signature dish was similarly orange-flavored and used a cara cara orange sugar mixture, apricot pit orgeat, and citric acid solution blended with Gesha espresso.
Yeo works in coffee education and quality assurance at Saint Frank Coffee in San Francisco, home to two locations. Bon Appétit magazine recommends trying the Kaffe Tonic, "a bittersweet creation that adds a little fizz and brightness to your shot of espresso."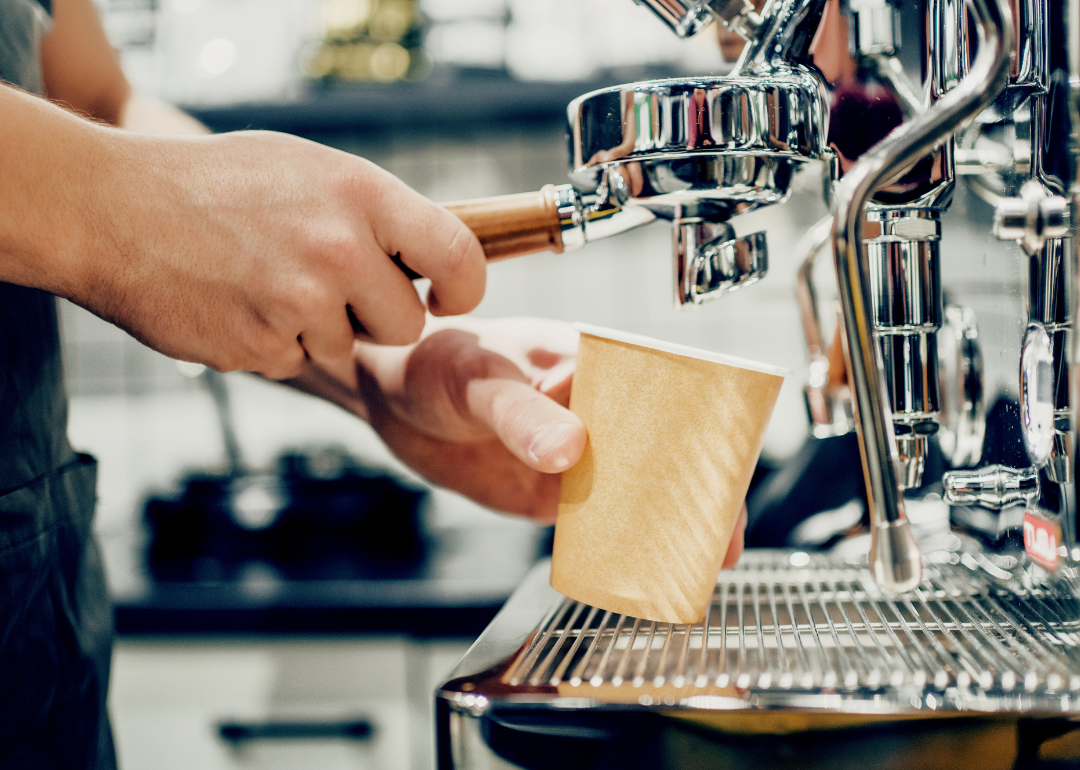 muse studio // Shutterstock
Gray Kauffman – Caffe Vita
Caffe Vita lead educator and drink developer Gray Kauffman placed 11th in the 2023 USBC semifinals. In addition to a background in beer and wine, Kauffman holds a Bachelor of Science in food and nutritional sciences from Seattle Pacific University and a wine level 2 certification from the Wine & Spirit Education Trust.
Growing up in Chicago, Kauffman worked on an alpaca ranch and cooked with their mom; it was at Seattle Pacific University, however, where they cultivated their fascination for food and the science behind it that would lead them down this caffeinated career.
If you can't make it out to one of Caffe Vita's locations in person, check out Kauffman's beverage creations on their Instagram and TikTok.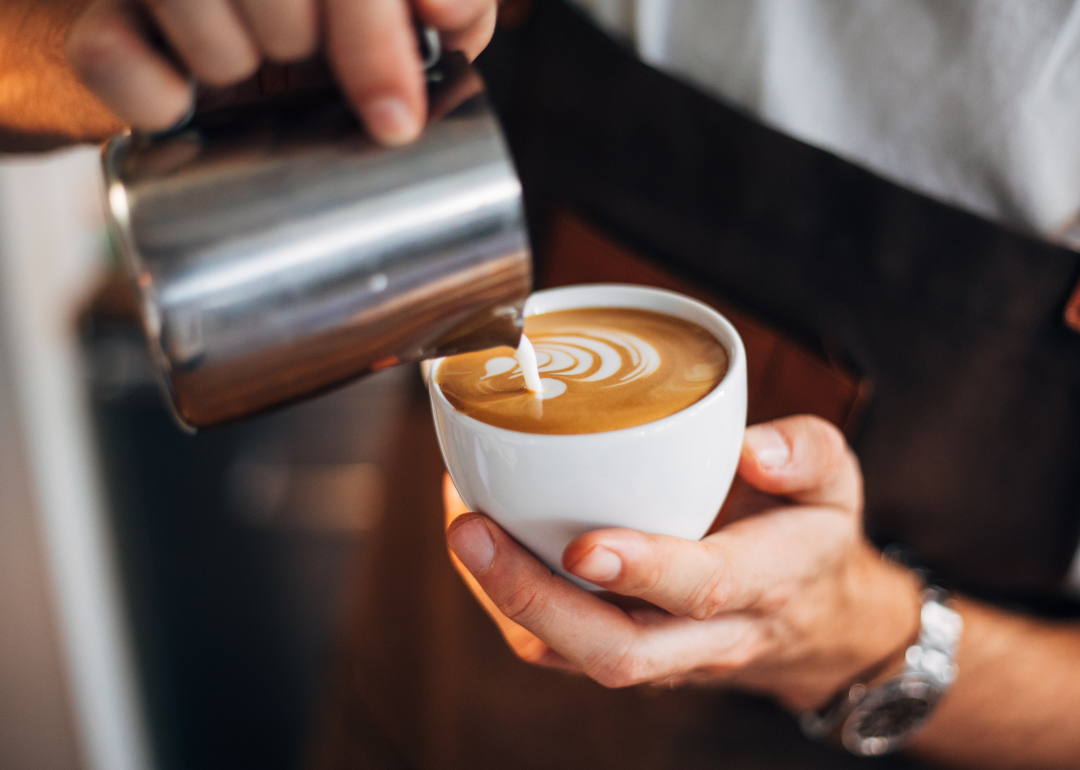 Canva
Hugo Cano – Amberson Coffee
This year's 12th-place USBC semifinalist, Hugo Cano, has worked in coffee professionally for more than 10 years. Cano is the founder of Amberson Coffee in Indianapolis and is part of Team Indy, a team of fellow coffee professionals offering free tips and guidance to first-time USCC competitors.
Because of his love for coffee, Amberson has created the hallmarks of a world-class shop in what was once a gas station on Fletcher Place, offering an immersive coffee experience and even an intro to latte art. Food & Wine magazine's best coffee in Indiana in 2022, Amberson Coffee serves the usual espresso drink suspects and offers a rotating food menu.
Canva
Addison Mathis – PERC Coffee
Addison Mathis placed 13th at the 2023 USBC semifinals—a long way from landing their first cafe job at 18. The Jacksonville, Florida, native now works for PERC Coffee in Atlanta as a quality assurance manager.
For their signature piece, Mathis took inspiration from their experience in Florida and Georgia, which involves a peach reduction added to espresso added with lemon juice, a lemon sugar mixture, egg white, and finished with a wildflower spritz.
PERC has four locations in Georgia, each with a full coffee menu and food like waffles, bagels, and sandwiches to soak up some of that caffeine.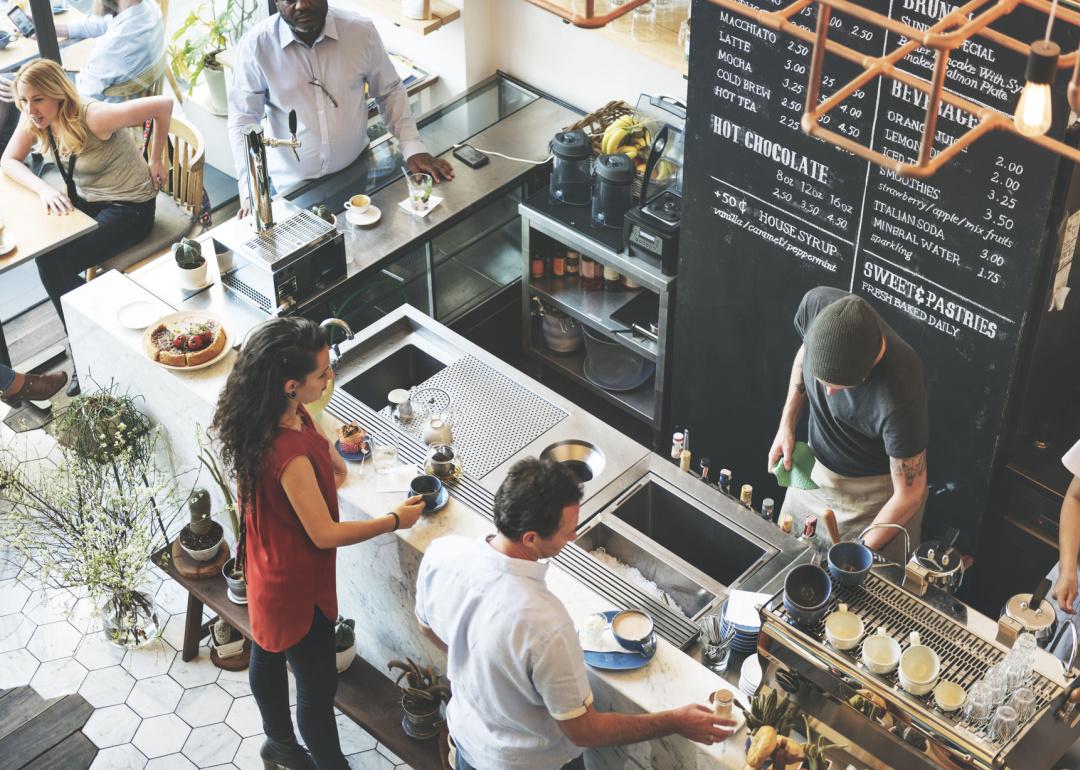 Rawpixel.com // Shutterstock
Reyna Callejo – Olympia Coffee
Reyna Callejo, the training and innovation director at Olympia Coffee, took home 15th place at USBC 2023. Callejo said she enjoys competing because she sees it as "the hardest way" to push herself, in addition to the competition itself being a platform to kickstart industry discussions. At the competition, she brought out an Ethiopian heirloom variety of coffee and pulled shots over whiskey stones. Her signature piece combined flavors like dragonfruit, Calpico, and Sichuan pepper.
Olympia Coffee is also home to two first-place champions: co-founder Sam Schroeder and green coffee buyer Jake Donaghy, who competed in the U.S. Coffee in Good Spirits Championship and the U.S. Cup Tasters Championship, respectively. Olympia has seven Seattle locations where diners can order a croissant to go with their cappuccino or a muffin with their mocha.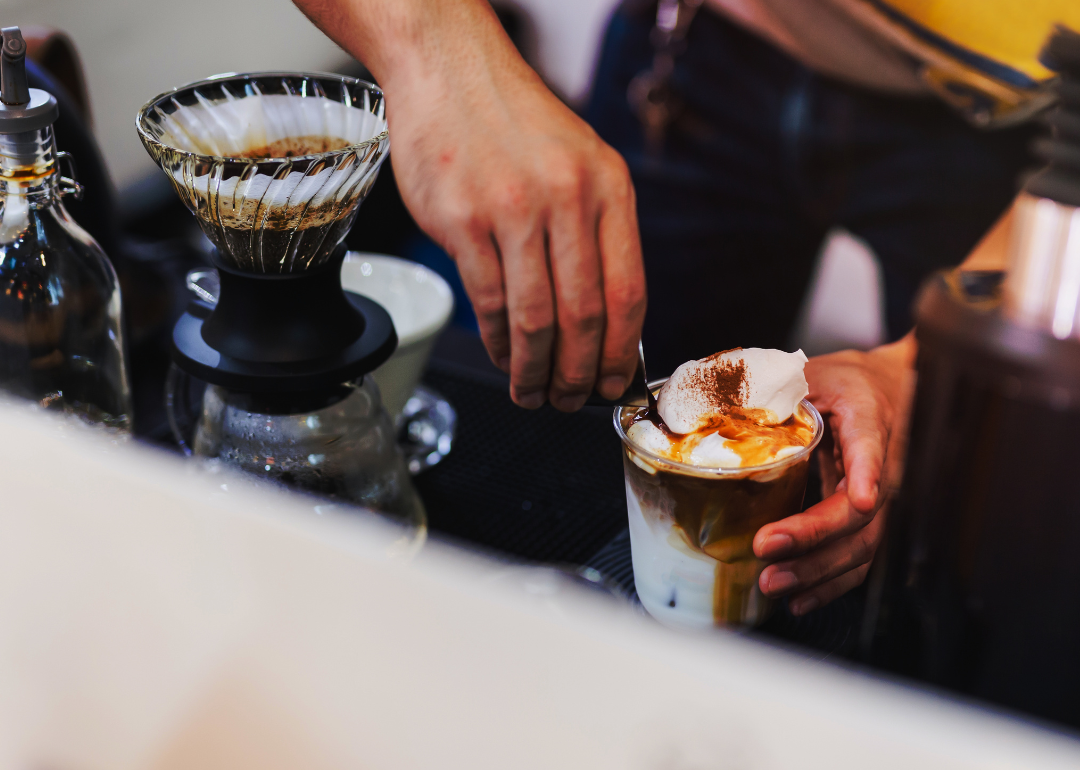 Canva
Seidy Selivanow – Kafiex Roasters
Seidy Selivanow, who placed 16th at USBC 2023, hails from Mexico and moved to the United States over a decade ago. In 2018, she and her husband, Matthew, opened The Coffee Lab, her first specialty coffee shop, located in Vancouver, Washington. In 2020, they opened a second shop, Gastro Pub. The Selivanovs also founded Kafiex Roasters, which offers various organic and fair-trade coffee. She used a Mexican coffee, a honey-processed Typica, and Bourbon from Chiapas at this year's competition.
You can order wholesale coffee online from Kafiex or visit Coffee Lab or Gastro Pub, where Seidy herself puts her gastronomy degree to good use as a chef.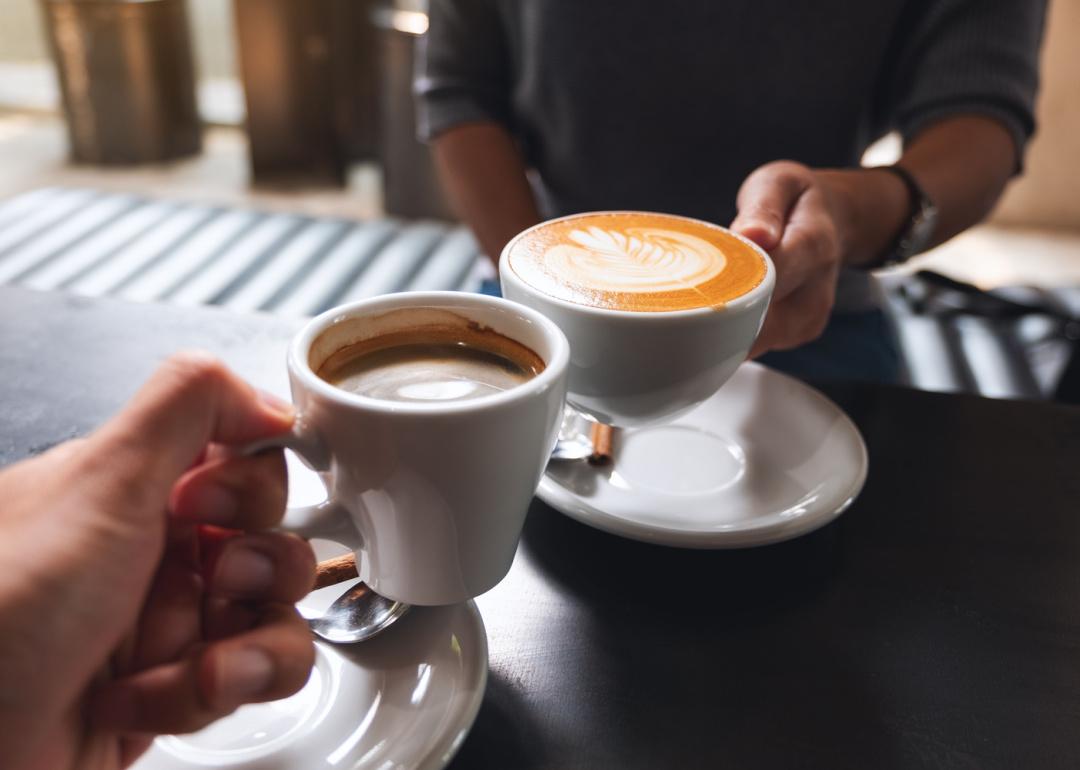 Farknot Architect // Shutterstock
Jenna Gotthelf – Counter Culture Coffee
Jenna Gotthelf has put eight competition seasons under her belt, placing 17th at this year's USBC competition. She has over 10 years of experience and is Counter Culture Coffee's national wholesale education manager in New York. Her signature beverage this year used ingredients easily found in coffee shops and grocery stores, incorporating orange blossom, cinnamon, tea, and a banana infusion.
"Commercial viability isn't normally a factor in competition sig bevs, but it would be cool if it was," Gotthelf told the judges. Counter Culture offers wholesale coffee, as well as a dozen barista training programs in various locations.
Data reporting by Lucas Hicks. Story editing by Carren Jao. Copy editing by Paris Close. Photo selection by Elizabeth Ciano.
This story originally appeared on Home Grounds and was produced and
distributed in partnership with Stacker Studio.
More Stacker National