9 ways coworking has changed since the pandemic upended everything in 2020
Published 2:30 pm Thursday, June 15, 2023

Canva
9 ways coworking has changed since the pandemic upended everything in 2020
When the COVID-19 pandemic necessitated the abrupt, widespread adoption of remote work, it didn't just create a temporary trend but a lasting preference for working remotely. At least 3 in 4 people (76%) working from home said they prefer it to in-person office work, according to a 2022 Pew Research Center survey. Hybrid work seems the most popular option, with more than half of remote-eligible workers (52%) preferring a hybrid schedule in one 2023 Gallup poll. Office occupancy data underscores the point: In January 2023, office occupancy reached half of pre-pandemic levels for the first time since the onset of the COVID-19 pandemic, according to Kastle Systems. That's not exactly the sweeping return-to-office movement many executives expected.
Another interesting trend in remote work is that of a third place: a physical location that's neither work nor home. Coworking spaces, for example, offer the background sounds and amenities of an office or cafe—hot coffee and tea readily available, meeting and conference room spaces, and reliable internet service, to name a few—without the many nuisances of working in an office, like an overbearing manager or a lengthy commute.
To discover how the pandemic has impacted coworking, Firmspace analyzed market research, surveys, and credible news reports. The following 9 trends show just how much the pandemic disrupted work culture, as well as the lasting effects this shift could have on coworking.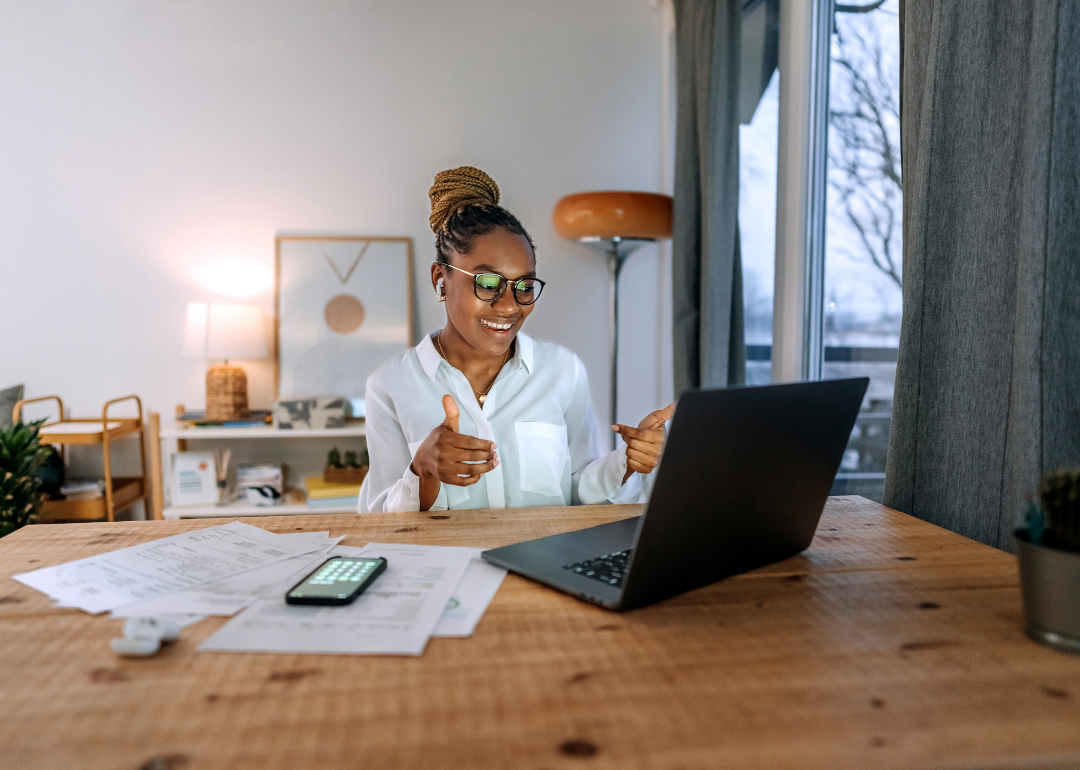 Canva
Flexibility is king
Once you've discovered your work can be done remotely, it's tough to see why going into an office five days a week is necessary. Three in 5 office workers expect the ability to work in a hybrid manner, and more than half (55%) are already doing so, according to a 2022 Jones Lang LaSalle survey. With flexibility top of mind for professionals, coworking spaces will have to adapt their business models to appeal to workers who may only want to use office space once or twice a week.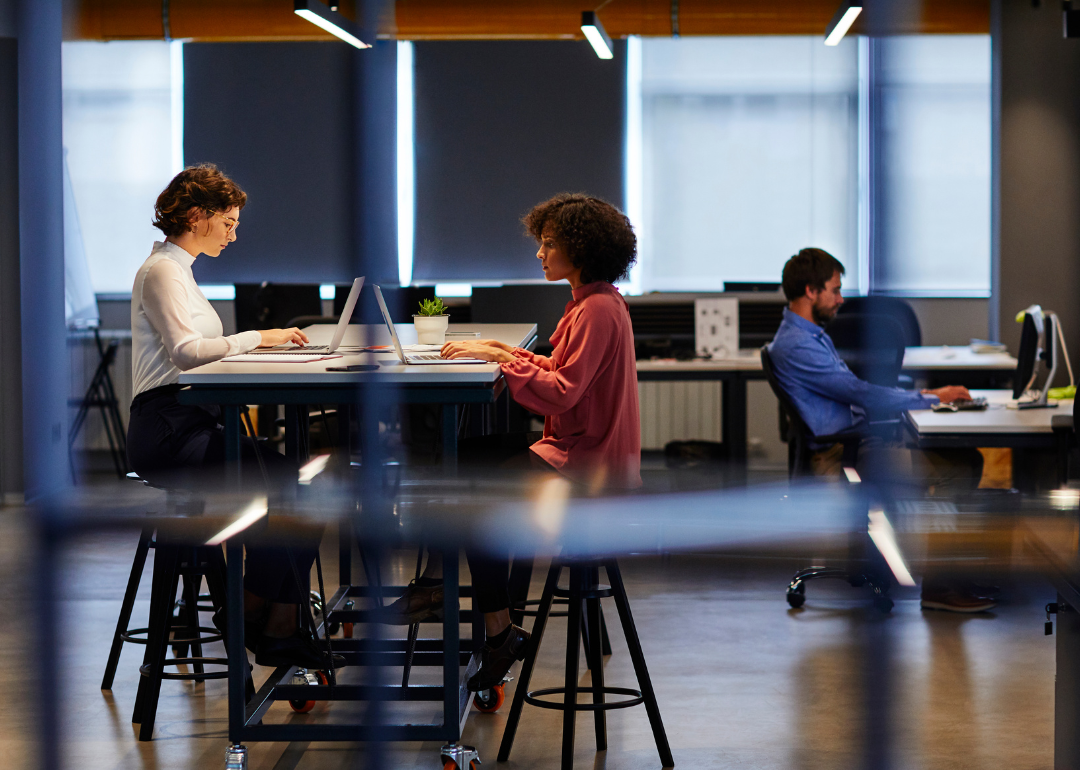 Canva
Workers are looking for a sense of community
Still, remote work can be lonely: A recent Indeed survey showed nearly 3 in 4 respondents (73%) said they miss socializing in person. Coworking spaces might be perfectly poised to fill that void. Recent research from the Harvard Business Review found that workers saw their social interactions at coworking spaces as more fulfilling than the ones they had at their office—likely due to various other professionals working from a coworking space.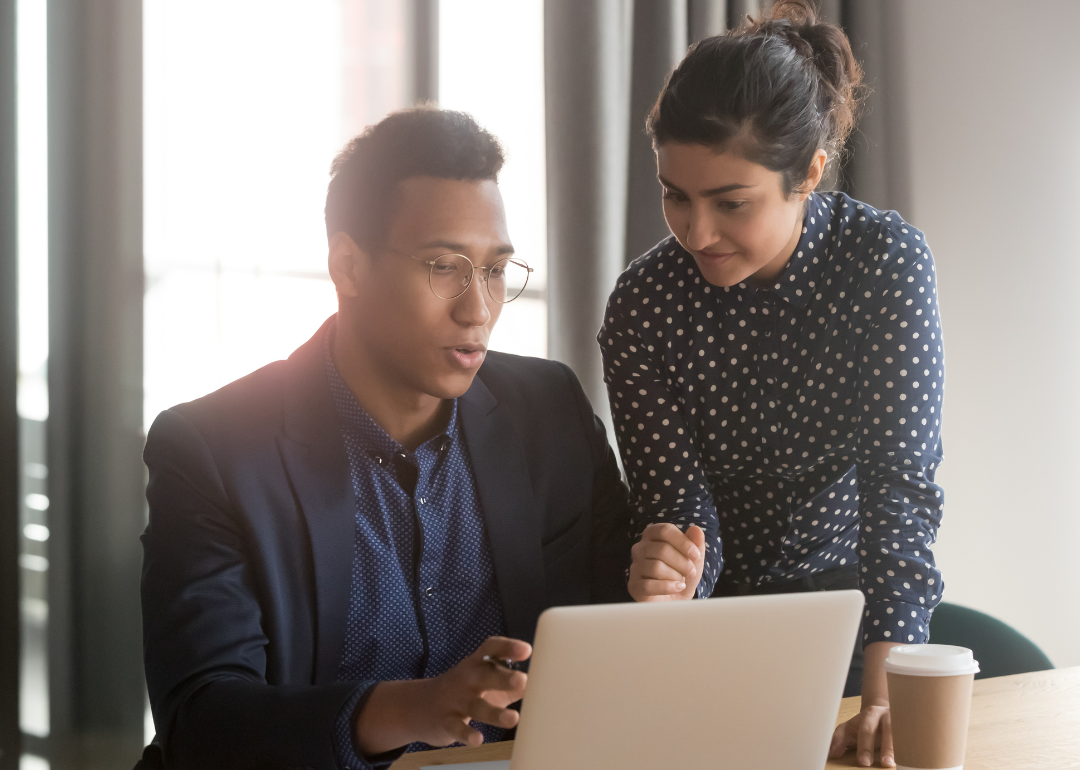 Canva
Tech support is a key benefit
The lack of tech support can be another pitfall of working remotely. When your computer crashes, there's only so much you can do to troubleshoot the issue over the phone. Coming out of the pandemic, more professionals are looking for tech support as a workplace benefit.
In a 2022 Jones Lang LaSalle survey, 3 in 5 respondents said they expect to receive technology and equipment support from their employer. Similarly, coworking spaces that prioritize in-house IT support will likely see a positive response from their clientele.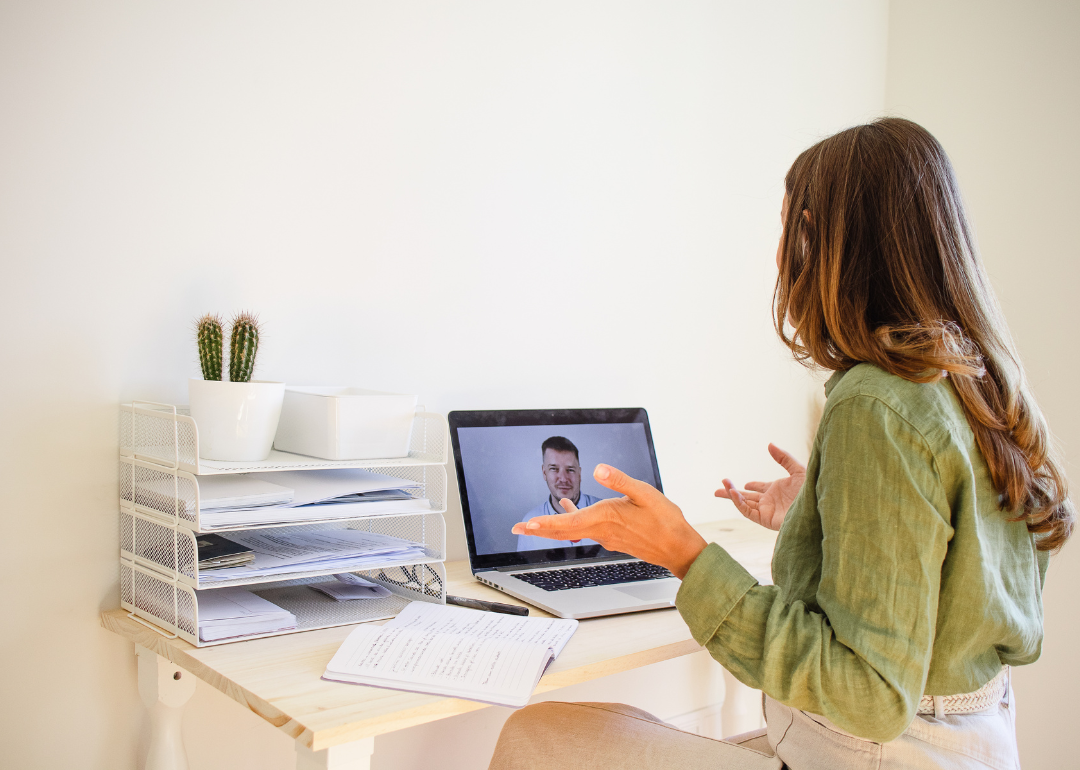 Canva
Private offices within coworking spaces are becoming increasingly popular
During the pandemic, video conferencing became the primary option for meetings—and even with more people returning to an office at least part-time, the trend does not seem to be easing.
About 4 in 5 people (77%) who work remotely at least some of the time said they use virtual conferencing services for meetings, according to a 2022 Pew Research Center survery. With freelancers, small business owners, and corporate employees able to dial into meetings from anywhere, coworking spaces could also see an increased demand for private offices or bookable meeting rooms.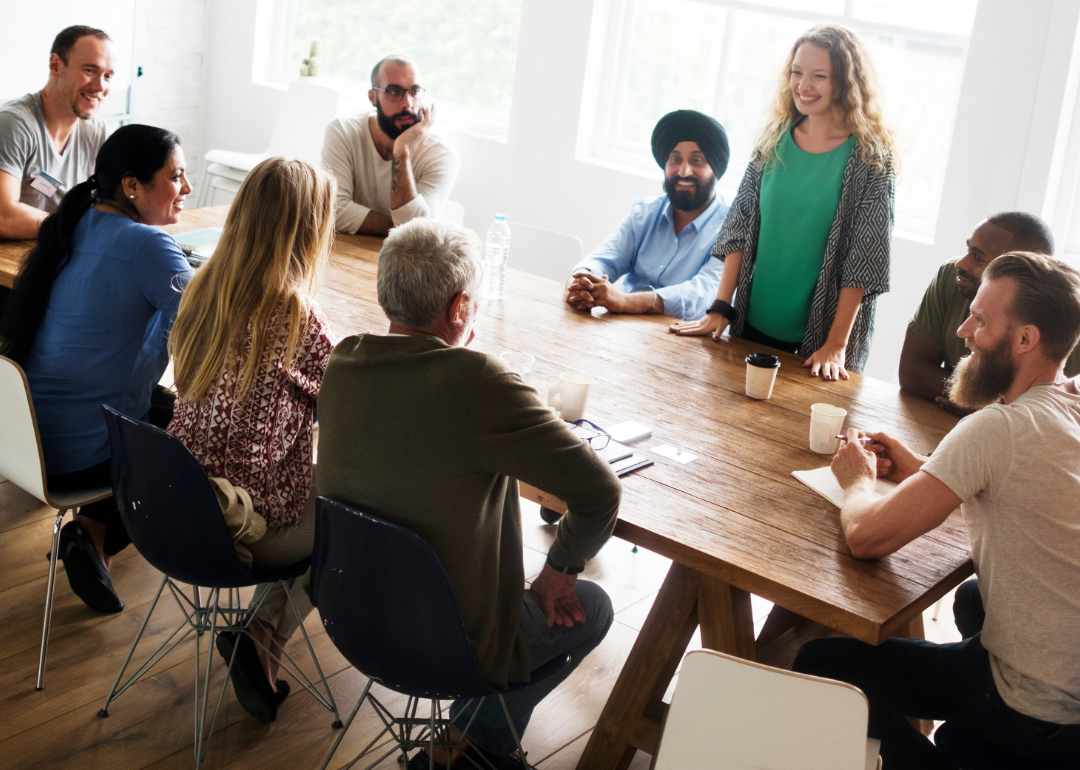 Canva
Many workers see coworking as a means of professional development
Coworking spaces aren't just a place to get work done but also a hub for professional development opportunities like panel discussions, networking events, and even skills-based classes. Research also shows these opportunities lead to higher job satisfaction and even better performance—a key reason why more workers will be looking for coworking spaces that offer professional development benefits.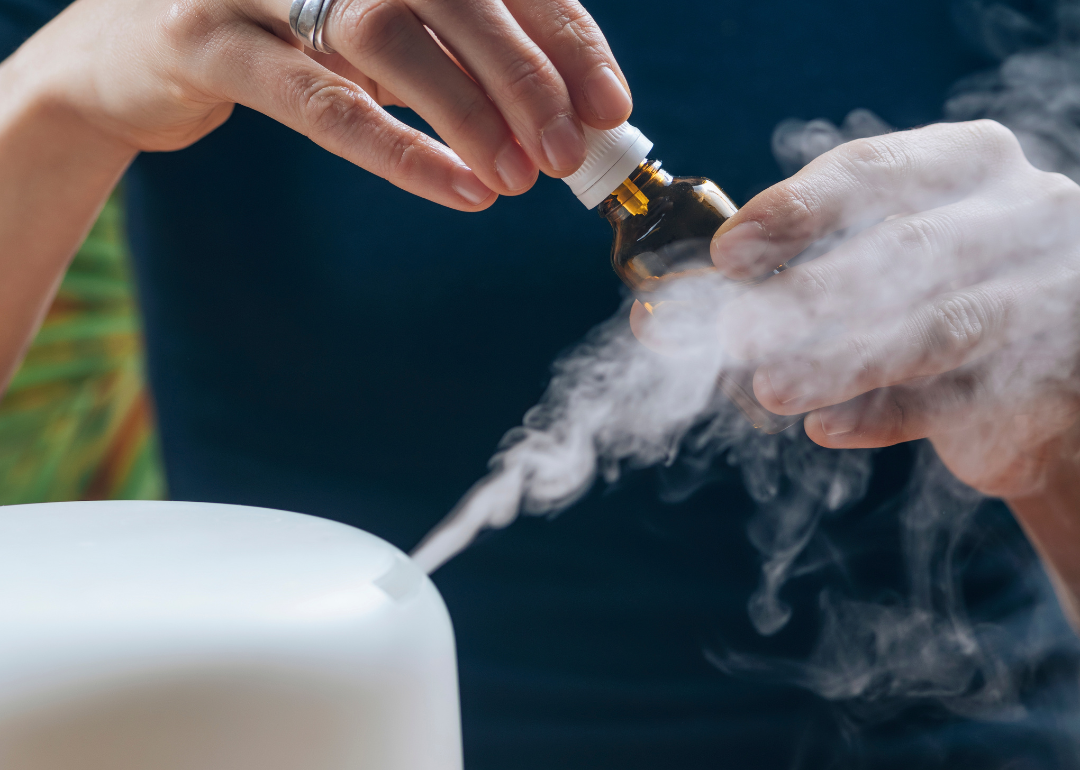 Canva
Wellness amenities are also in demand
In addition to changing how we think about work, the pandemic caused many people to reevaluate how they think about their health and well-being. One 2022 survey found that at least 3 in 5 Americans (62%) said their health was more important to them now than it was before the pandemic. That shift is being reflected in coworking spaces, with many prioritizing wellness-boosting features like nap pods, specially designed lighting, and even aromatherapy.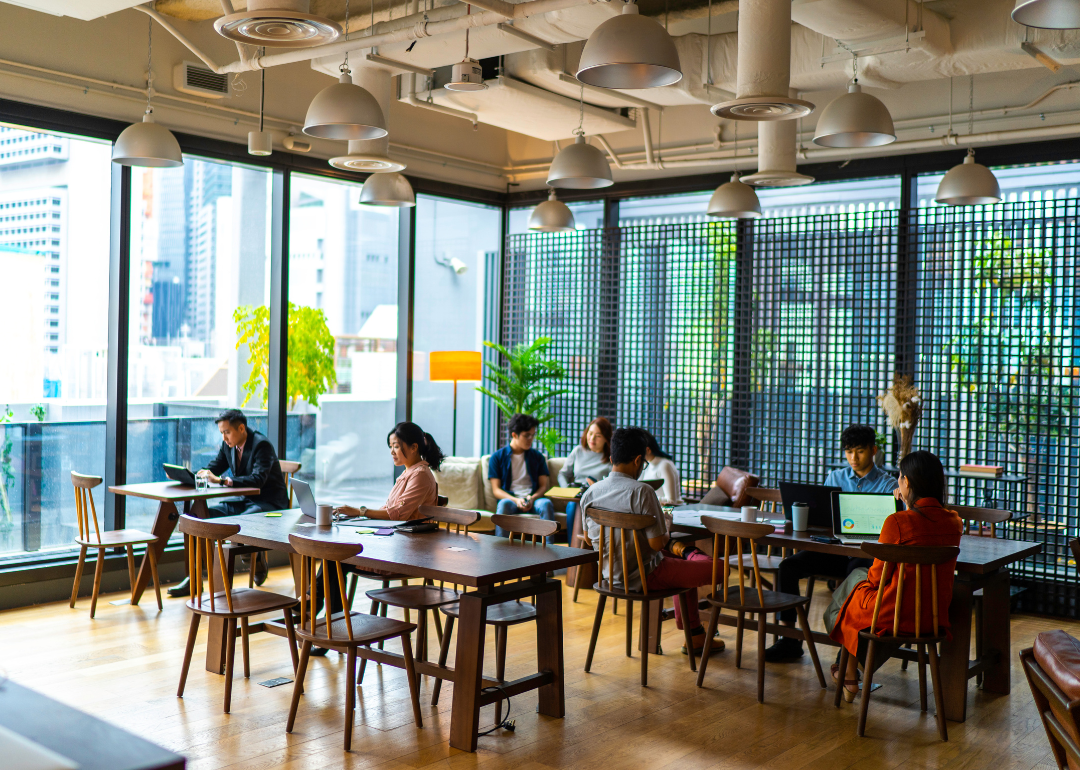 Canva
More employers are exploring coworking for their staff
Coworking isn't just for freelancers and startups; more companies are experimenting with coworking spaces for their staff. With the demand for hybrid work increasing, coworking might be an attractive option for corporations looking to downsize traditional office space. A survey of commercial real estate company CBRE's tech clients found that 36% expected to at least double the amount of flexible office space they use by 2024.
Canva
Coworking spaces will likely become even more customizable
As a wider range of professionals—including corporate employees looking for a break from headquarters, smaller operations, and freelancers—begin to cowork, the coworking spaces will likely begin offering a range of membership models. A CBRE survey found that many tech companies are already taking advantage of a combination of coworking models, the most common being enterprise solutions—where a company can kit out the room to their specifications—combined with suites and access passes for their employees.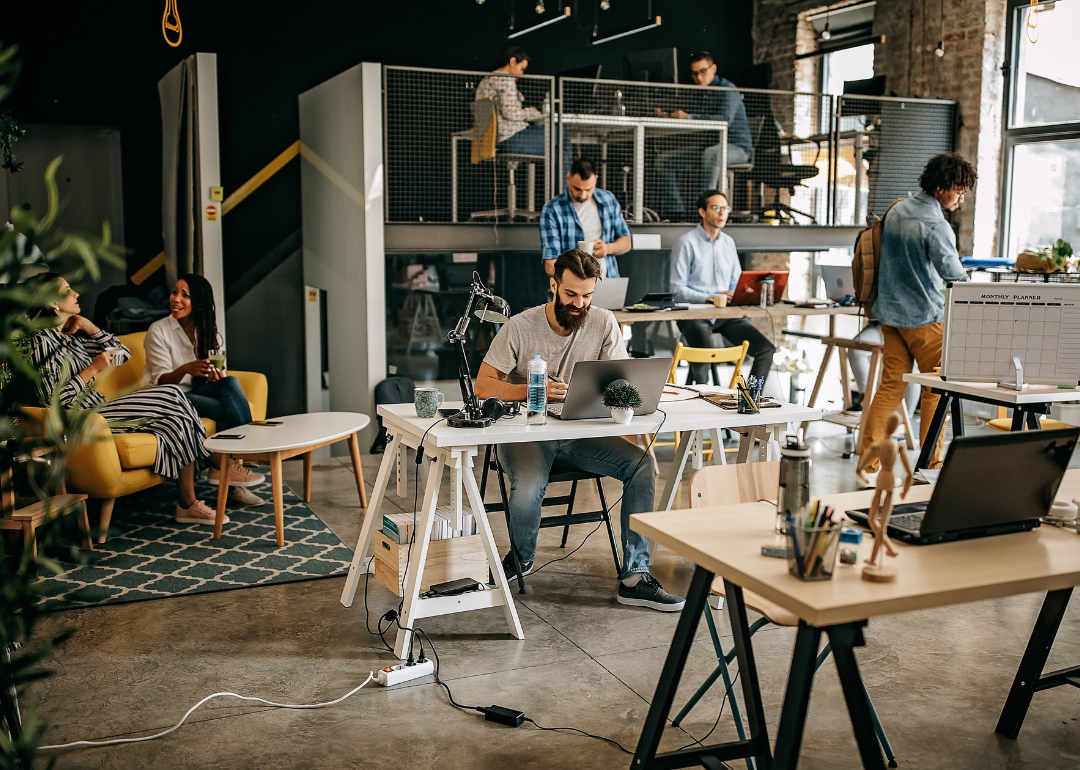 Canva
Coworking spaces could take a larger share of commercial real estate
With the commercial real estate market struggling amid a lackluster return-to-office movement, coworking spaces could also be poised to become a larger player in office space.
Thirty-one percent of executives believe they'll need less office space in three years, and 87% expected to make changes to their real estate strategy in the coming year, according to a 2021 PwC survey. The solution? More flexible work models, with half anticipating investing more in hoteling apps and 48% anticipating investing in more communal workspaces. Coworking spaces that allow companies to flex their space up and down as needed will likely look even more attractive to business leaders.
Data reporting by Dom DiFurio. Story editing by Jeff Inglis. Copy editing by Paris Close. Photo selection by Abigail Renaud.
This story originally appeared on Firmspace and was produced and
distributed in partnership with Stacker Studio.
More Stacker National