9 unusual things confiscated by TSA
Published 4:00 pm Friday, June 16, 2023

Christopher Evans/MediaNews Group/Boston Herald via Getty Images
9 unusual things confiscated by TSA
The Transportation Security Administration usually shuffles airline passengers' clothing, laptops, and shoes with little to no contention. According to the TSA, 5.5 million carry-on bags go through its security checks every day. Flagged items tend to be oversized bottles of liquids, gels, aerosols, lighters, or sharp objects.
But occasionally, TSA gets an item that would shock even the most seasoned agent. These items go through screening and come out somewhere unique: Instagram.
TSA's Instagram account shares stories of strange things that may raise eyebrows but successfully make it through screening, like this zombie-looking movie prop that went through Hartsfield-Jackson Atlanta International Airport. The account also shares examples of some items that don't make the cut and must be confiscated. Some stir up great debates, like a jar of peanut butter that TSA counts as a liquid and therefore can't fly in a carry-on. Other confiscated items aren't quite as…wholesome and often leave the traveling public asking, "Someone tried to bring THAT on a plane?!"
Bounce combed through TSA's Instagram account to compile a list of 10 of the most unusual things confiscated during security checks across the United States.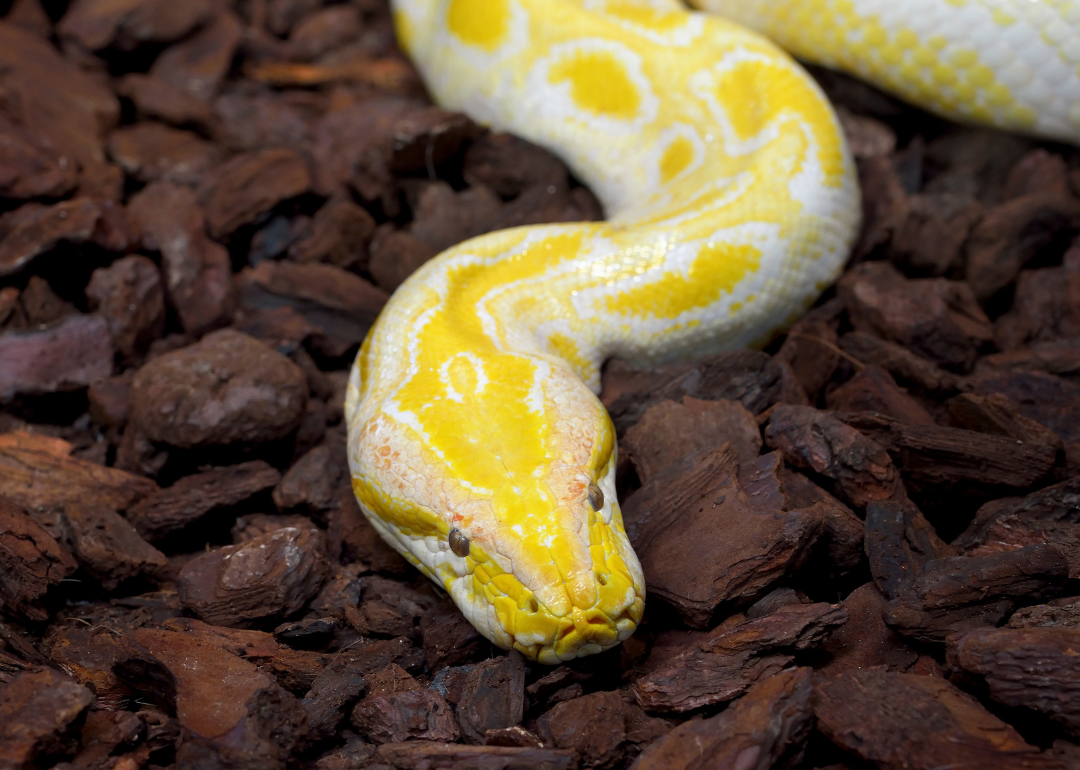 Canva
Boa constrictor
TSA officers at the Tampa International Airport probably wished that "Snakes on a Plane" was just a fictional movie when they found a 4-foot boa constrictor stashed in a roller bag. Coiled among shoes and toiletries, the reptilian stowaway was promptly discovered by agents as a passenger attempted to send it through the X-ray machine.
Canva
Breadfruit…with baby oil
This very strange combination had Honolulu International Airport TSA officers scratching their heads when they found bundles of plastic-wrapped breadfruit in a passenger's carry-on. The fruit itself was not so much the issue as what the passenger had stuffed inside one: a bottle of baby oil that was more than 3.4 ounces.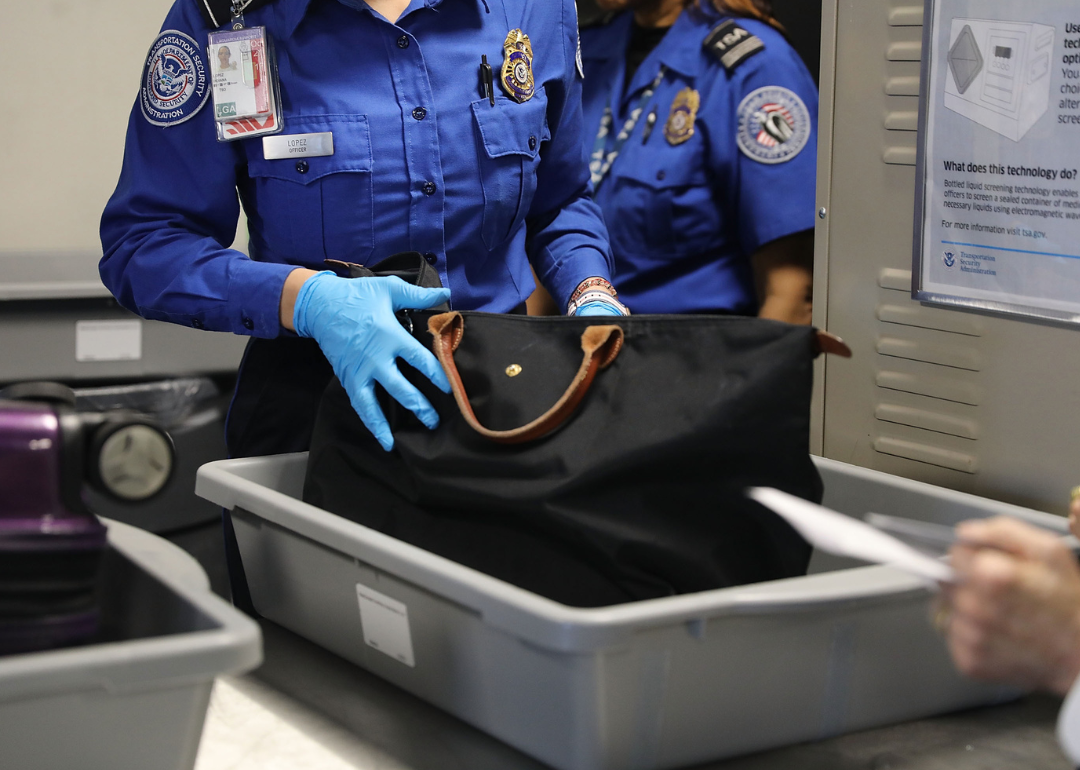 Spencer Platt // Getty Images
Eels and nearly 200 sea creatures
A passenger in Miami found out the hard way it's eel-legal to travel with a bag of live eels—yes, the elongated fish. Also along for the ride in the smuggler's bag were 163 fish and 22 invertebrates. The Fish and Wildlife Service came to the rescue, collecting the sea creatures before the fish took flight.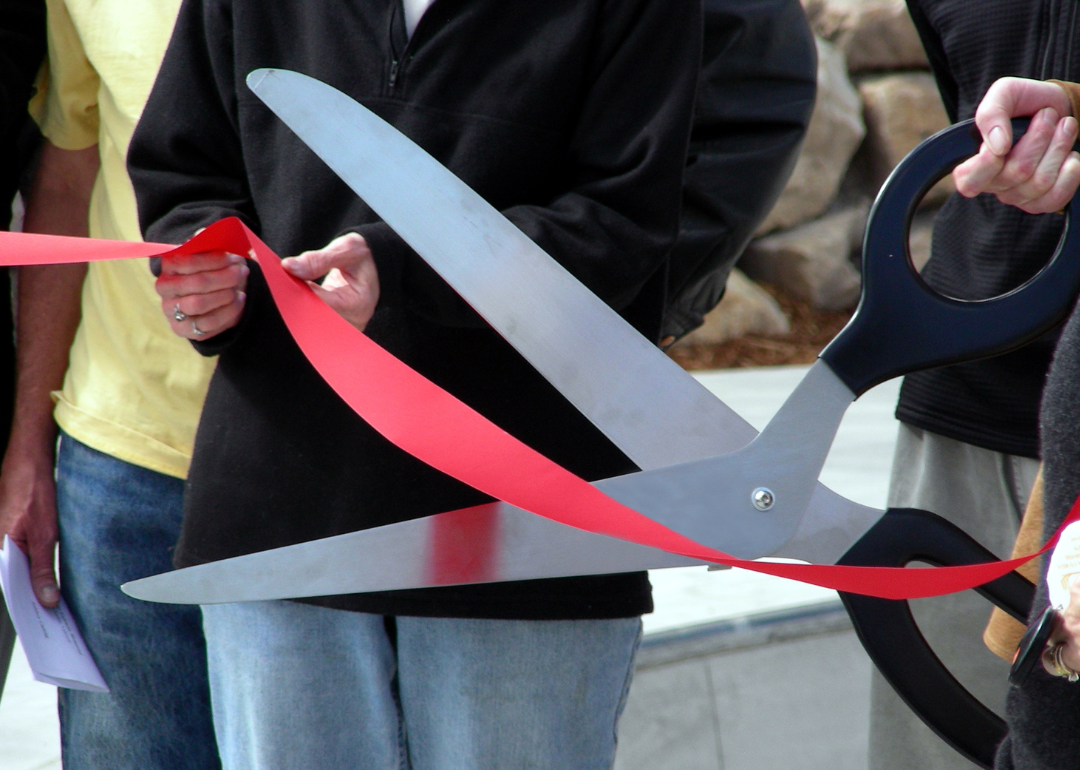 Canva
Ceremonial scissors
Oversized ceremonial scissors are a must-have for ribbon-cutting ceremonies at groundbreakings and other celebrations. While they were likely needed for a good photo op rather than a malicious purpose, Nashville International Airport TSA officers still had to confiscate them for safety reasons from a passenger.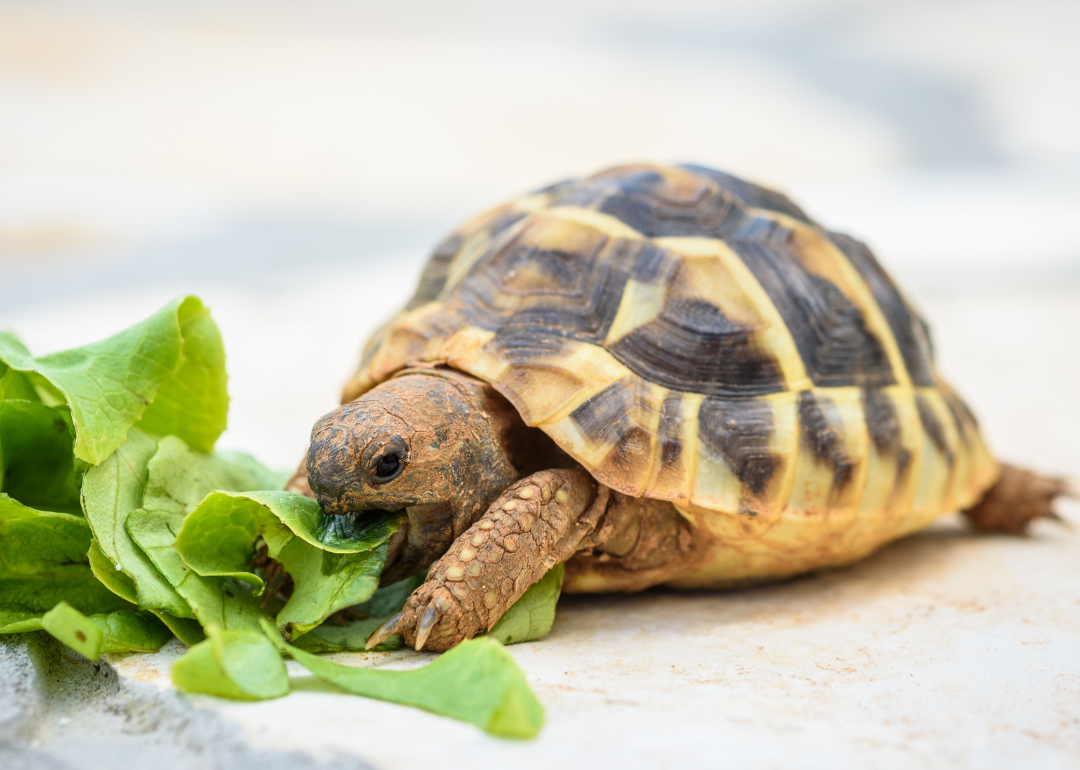 Canva
Pet turtle
In an attempt that was no doubt uncomfortable for both the reptile and its owner, a live turtle was hidden inside a passenger's pants at Spokane International Airport. TSA points out that typically, small pets are allowed through the checkpoint—with a proper carrying case and checking for your airline's rules ahead of time, of course.
Marcus Brandt/picture alliance via Getty Images
Freddy Krueger gloves
Here's another screening straight out of a horror movie: A traveler moving through security at Hartsfield–Jackson Atlanta International Airport security tried to bring their Freddy Krueger-shaped glove through a checkpoint in Silicon Peach. The passenger learned an important lesson that day: gloves with knives attached are, unsurprisingly, not allowed in carry-on luggage.
Canva
Maggots in a suitcase
According to TSA agents who stopped this suitcase at LaGuardia Airport, if the smell didn't get you, the sight of maggots spilling out of the bag would. Everyone in the area needed to vacate, and an entire cleaning crew came in to decontaminate after this foul discovery.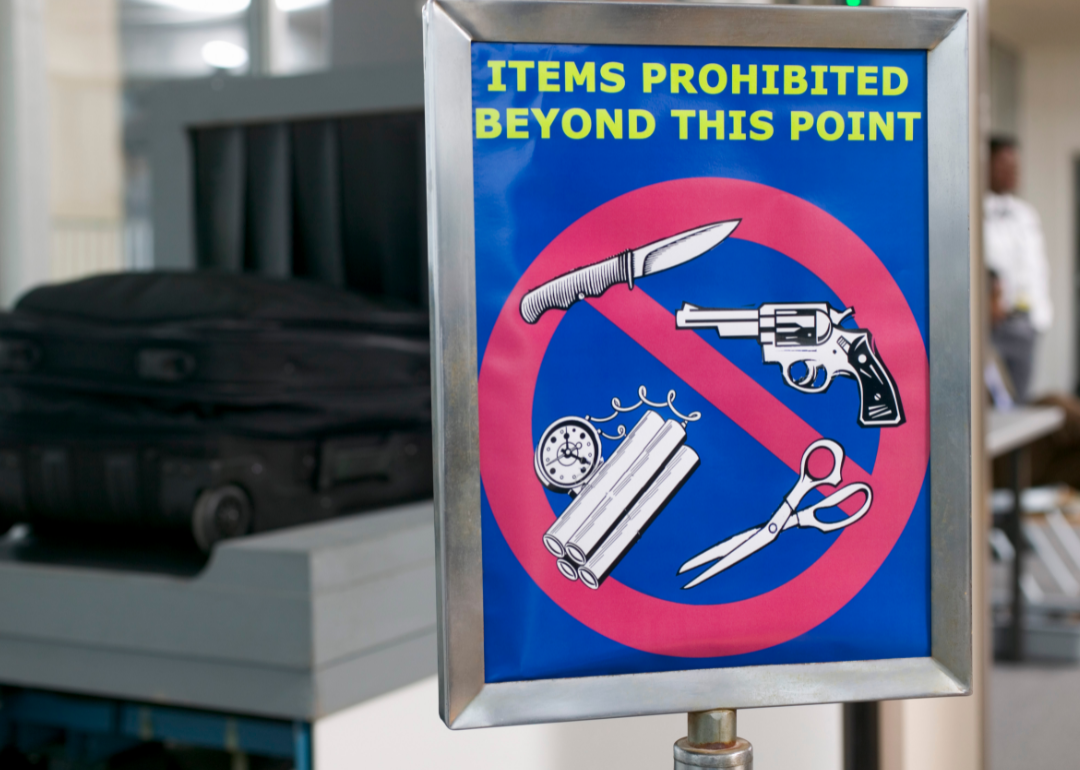 Canva
Shark in a jar
TSA agents at Syracuse Hancock International Airport stopped someone from boarding with a small shark inside a jar. It wasn't the shark that was fishy, but the liquid in the container. First, it was more than 3.4 ounces; second, the liquid chemical preservative was deemed hazardous and, thus, not permitted.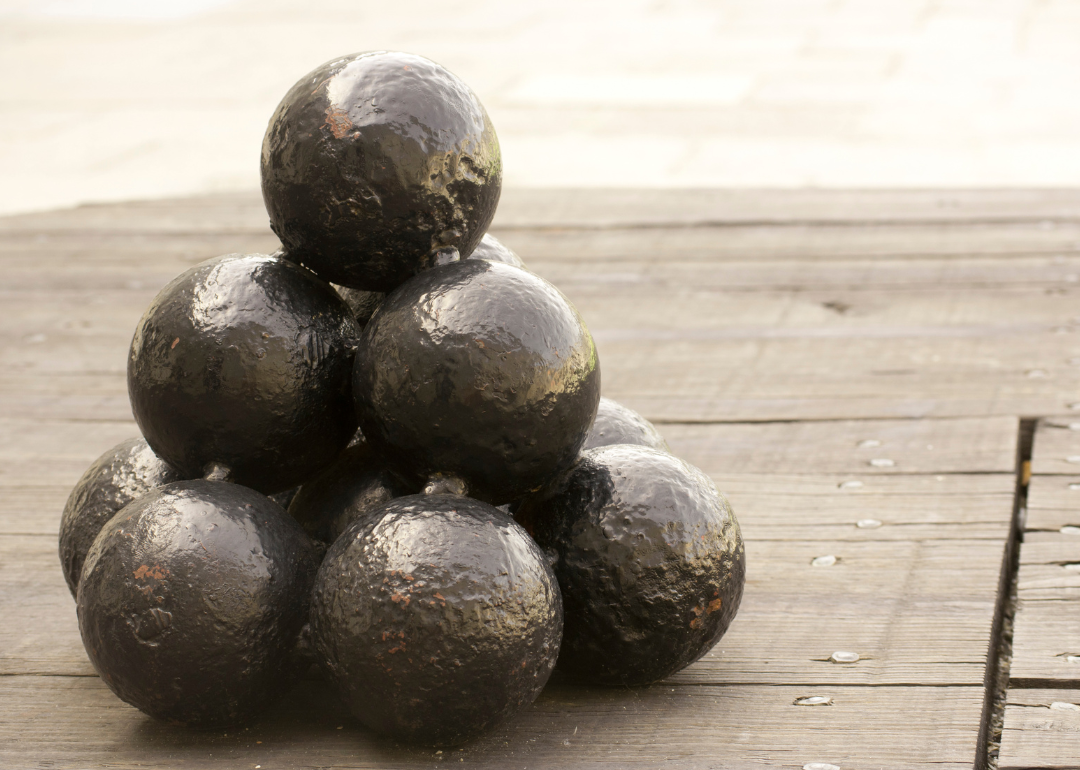 Canva
Antique cannonball
History buffs or not, passengers are still discouraged from bringing historic weapons. One passenger decided to bring an old cannonball and antique flare gun through security at Hawaii's Kahului Regional Airport. While they no doubt had an interesting history, they were promptly held by security.
This story originally appeared on Bounce and was produced and
distributed in partnership with Stacker Studio.
More Stacker National