Diapers, pizza, and other surprising things you can find in an airport vending machine
Published 2:35 pm Thursday, June 29, 2023

frantic00 // Shutterstock
Diapers, pizza, and other surprising things you can find in an airport vending machine
You're sitting at the gate, hoping to charge your phone before your next flight, and you realize the worst: You've forgotten to pack your charger. Not to worry—there might be a vending machine in the terminal where you can buy a new one.
Vending machines used to be all snacks and soda. But if you've been to an airport lately, you've seen them offering an array of items—not just ready-to-go portable chargers but also fresh pasta salads and chia pudding, and even puffer jackets. These vending machines put a unique spin on airport retail and allow airport management to add more shopping options to cater more conveniently to travelers.
Vending Mavericks explored some recent trends in airport vending and where you may find them. Next time you're at the airport, look around and see what unique things you can get from a vending machine.
This trend of expanding offerings started in 2006 when Atlanta's Hartsfield-Jackson International Airport started featuring Apple products in vending machines. From that venture, vending machine owners and airport management realized that vending machines could add unique shopping options that were also easy to maintain.
Vending machines are also always open, so if Mother Nature or a mechanical issue strands you at the airport, you'll be able to get something to eat, drink, wear, and even entertain yourself with, even if all the stores are closed for the day. If the airport's crowded and the restaurants are packed and have long lines, vending machines offering fresh food can be a fast way to grab a bite before you fly.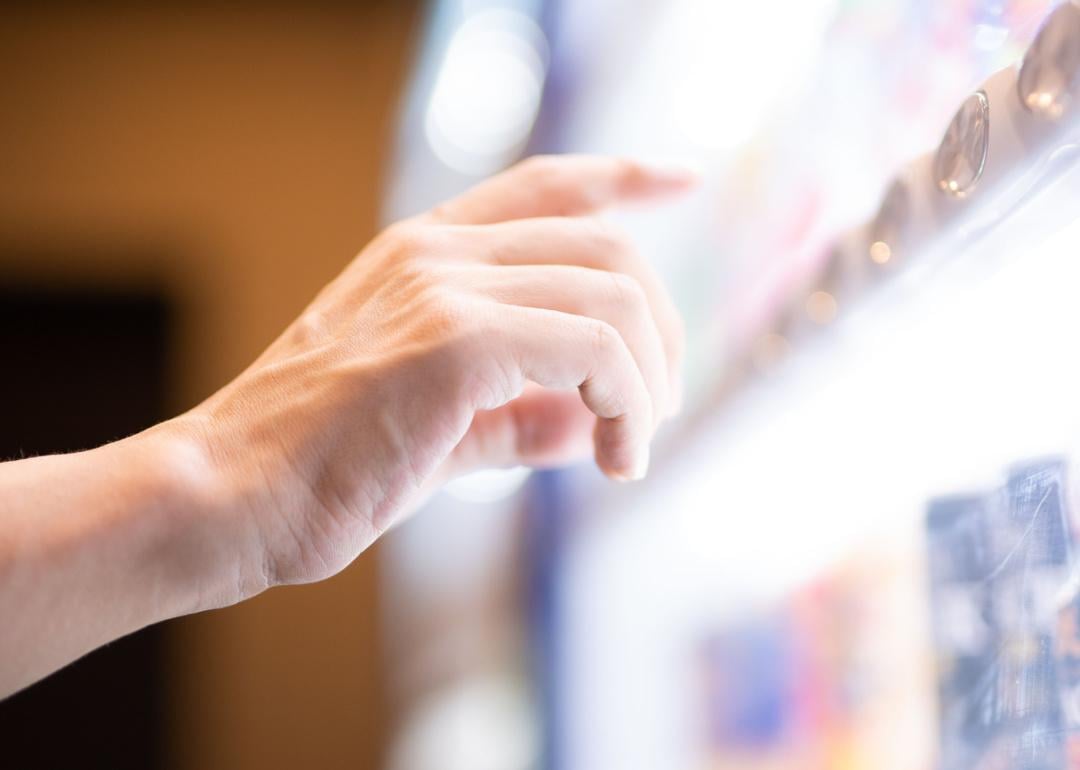 Shou // Shutterstock
Smoothies
Sometimes it can be hard to find a healthy dining option at an airport, particularly if all the shops and restaurants close before your flight takes off. At Vancouver International Airport, robotic smoothie vending machines can quickly mix up a fruit-based beverage at any time of the day.
Installed in early 2023, the smoothie machines are the product of a Vancouver-area company called Trendi. Trendi aims to lower food waste by using surplus fruit that's still good but can't be sold at retail stores. Trendi's low-waste philosophy also extends to packaging, which consists of recyclable cups, lids, and paper straws. The robot churns out smoothies in about a minute, making it a quick snack to grab before your next flight.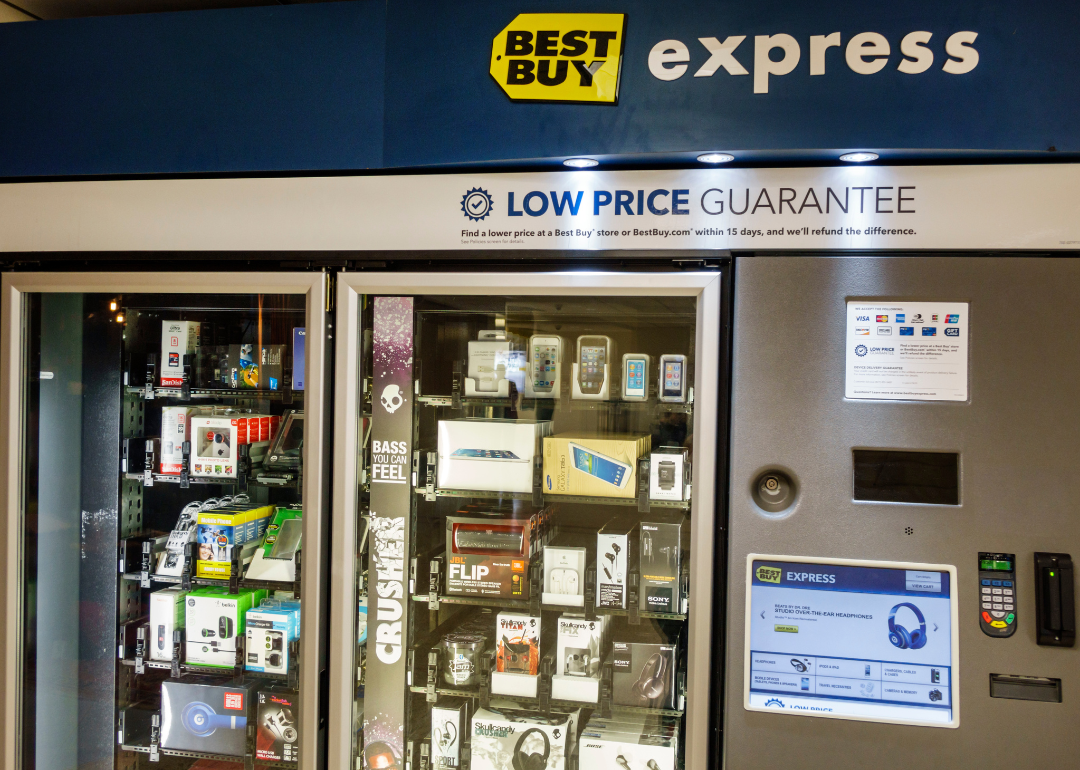 Jeffrey Greenberg // Universal Images Group via Getty Images
Cellphones
You might wonder why you'd want to buy a cellphone from an airport vending machine, but it's a convenience that might get you out of a jam. Instead of getting socked with international roaming charges when you use your cellphone outside of the U.S., look in the airport for a vending machine that sells cellphones and SIM cards.
Tokyo's Narita Airport has these machines, making swapping out your SIM card a breeze. In the U.S., Straight Talk has automated stores in several airports, including John F. Kennedy International Airport, Dallas-Fort Worth International Airport, Minneapolis-St. Paul International Airport, and Oakland International Airport. These kiosks dispense cellphones, SIM cards, and even service plans, which can come in handy if you accidentally lose your phone mid-journey.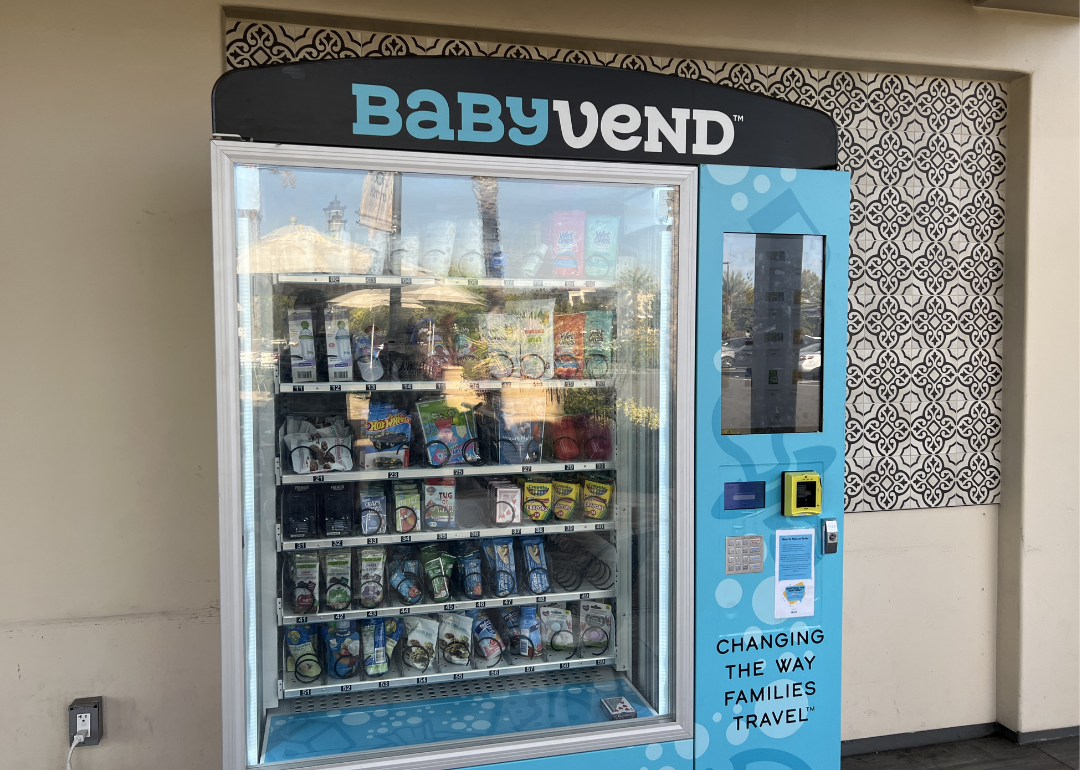 Gado // Getty Images
Diapers
Traveling with babies and toddlers can be stressful, but if you discover you're out of diapers or need a pacifier, then you have a real situation on your hands. Mother of twins Jasmin Smith has experienced this type of emergency and decided to create her own solution: Baby Vend. These vending machines stock diapers, teething rings, wipes, and more to help parents take care of their kids during a trip.
The first machine opened at the Ted Stevens Anchorage International Airport in Alaska in 2017. In 2021, the company announced it was expanding to Florida and Georgia. At the Boise Airport in Idaho, Wild Hare Vending has a similar machine with children's necessities and toys, and those flying through George Bush Intercontinental Airport in Houston can look for a Parents on the Go automated kiosk.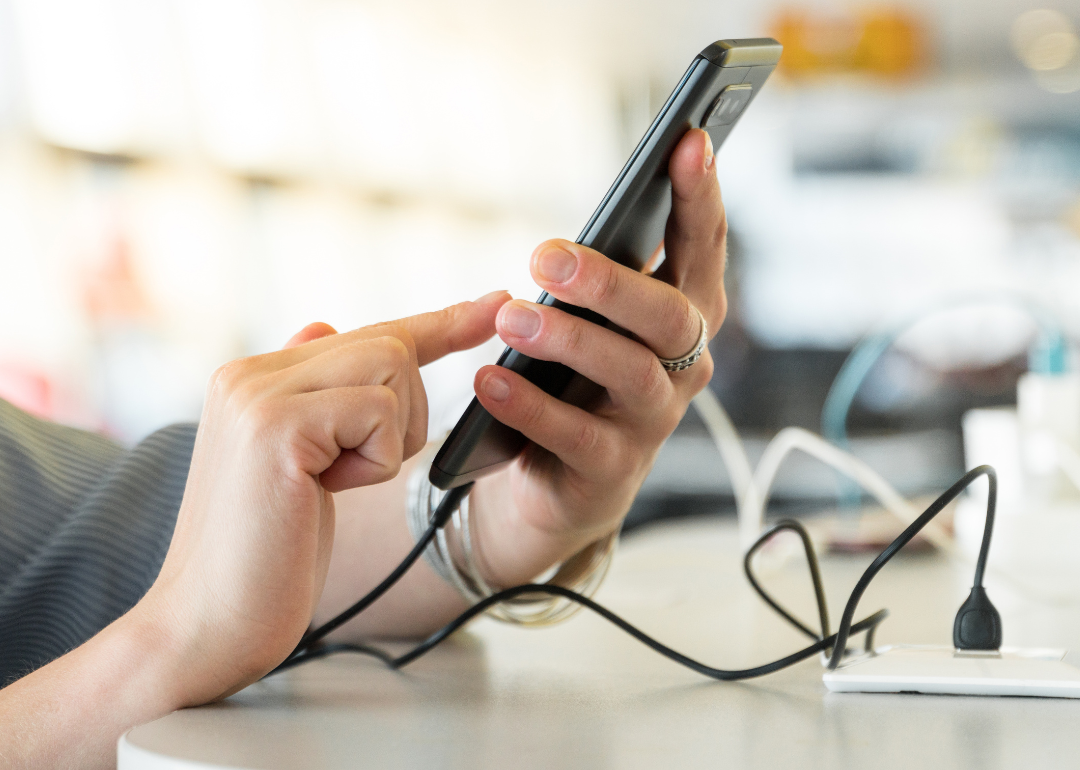 Kartinkin77 // Shutterstock
Portable chargers
With a society that's so reliant on electronics, it makes sense that some of the earliest airport nonsnack vending machines have sold gadgets. Best Buy got into the game in 2008 with self-serve kiosks that hold about 50 products. The mix includes things that likely didn't make it into the suitcase—like chargers, earbuds, headphones, and international adapters—but also more big-ticket items like GoPro cameras and tablets, all backed by Best Buy's Price Match Guarantee.
Plane Power, located at Seattle-Tacoma International Airport, also serves up the small items you might have forgotten, such as USB cords. FuelRod's small vending machines specialize in portable phone chargers that you can recharge or exchange so that you always have extra power. Another phone charging option is MobileQubes, an app-based charging system that allows you to check out a plug-free charger from a kiosk and return it to any location, even in another airport.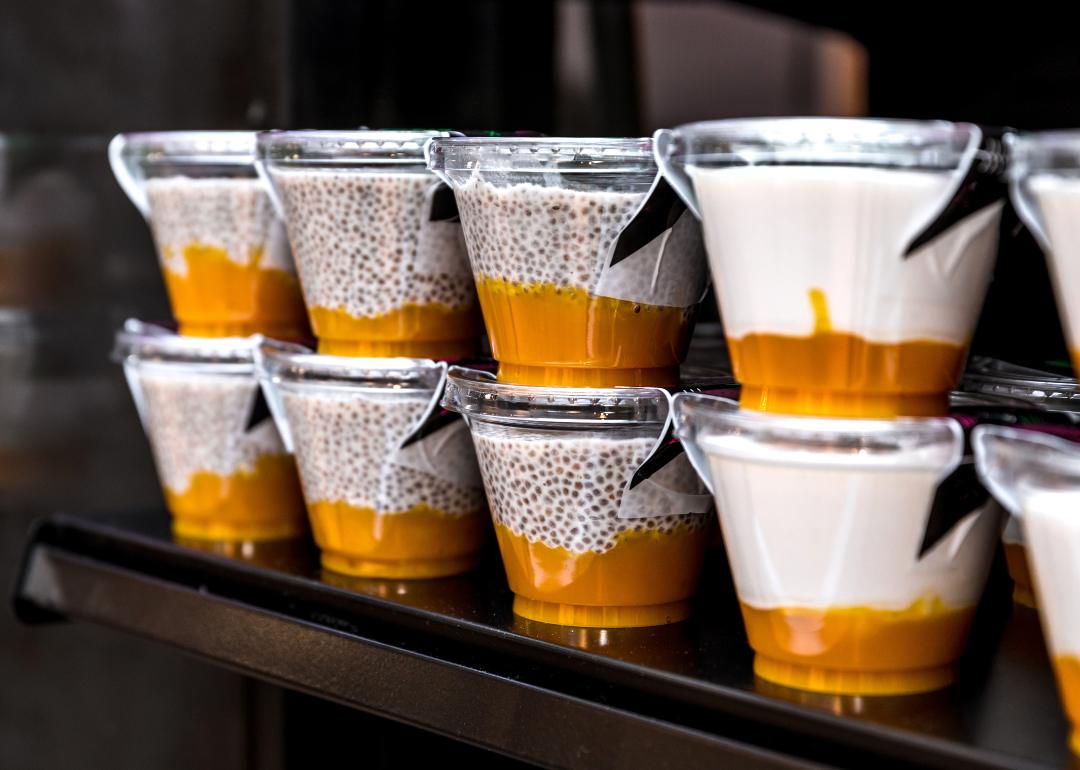 tartanparty // Shutterstock
Chia pudding
If you want to eat healthy at an airport, there can be few options at the food court, but some automated kiosks have popped up to fill the void. Farmer's Fridge—which started in Chicago but is now available at over 20 airports throughout the country—is a vending machine that sells healthy fresh food like salads, chia pudding, wraps, and snacks. Items come in recyclable jars that make toting them around the airport easier.
Washington D.C.-based Wellfound Foods operates similar kiosks that serve up healthy bowls, salads, artisanal sandwiches, oatmeal, and breakfast burritos. It has a machine in Baltimore/Washington International Thurgood Marshall Airport.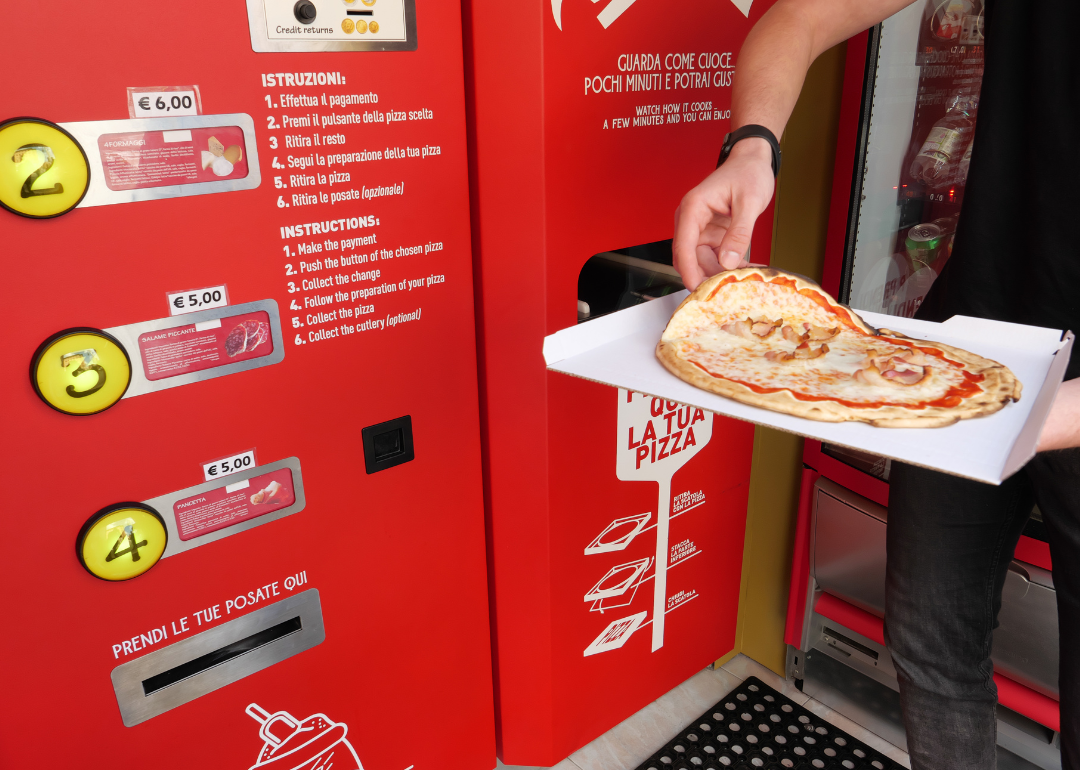 REPORT // Shutterstock
Pizza
Made-to-order pizza at an airport can be a tough ask, but Basil Street Pizza Kitchen can get one to you quickly. Its automated pizza vending machine is stocked with 10-inch brick-oven-style pizzas that take just three minutes to heat up. Customers can order four-cheese, pepperoni, and a flavor of the month—all of which are made fresh and then flash frozen before they're put in the machine.
The San Antonio International Airport has one in each of its terminals and views the machines as a way to offer hot meals around the clock even if other restaurants are closed or short-staffed. That said, the machines may have a short life—in May 2022 company owners announced they were looking for someone to buy the business.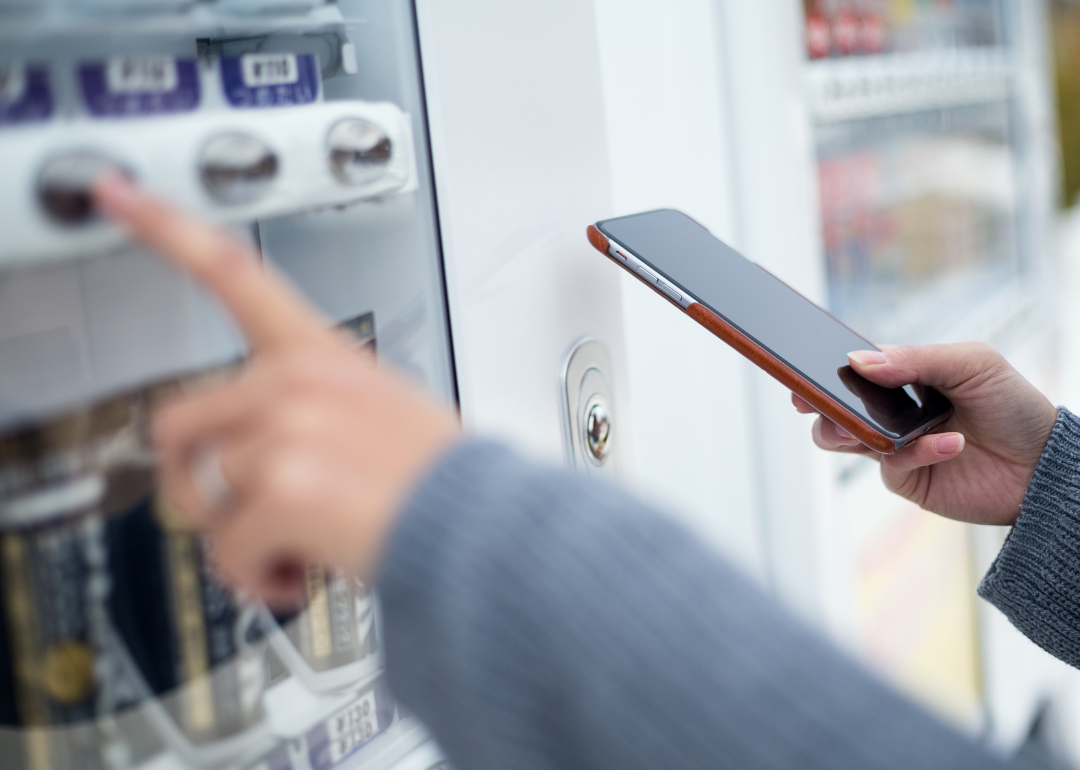 leungchopan // Shutterstock
Jackets
If you forgot to pack enough clothes for your trip, Japanese clothing retailer Uniqlo can come to the rescue with its clothing vending machines. The retailer launched the self-serve kiosks in 2017 at the Oakland International Airport and has since expanded to Hollywood Burbank Airport as well as airports in Houston and New York.
The machines are stocked with various types of clothing, including T-shirts and puffer coats, which can help if you're traveling to a different climate and can't buy the item at home. That's not the only airport clothing machine—at George Bush Intercontinental Airport in Houston, you can buy socks from Stance's automated kiosk.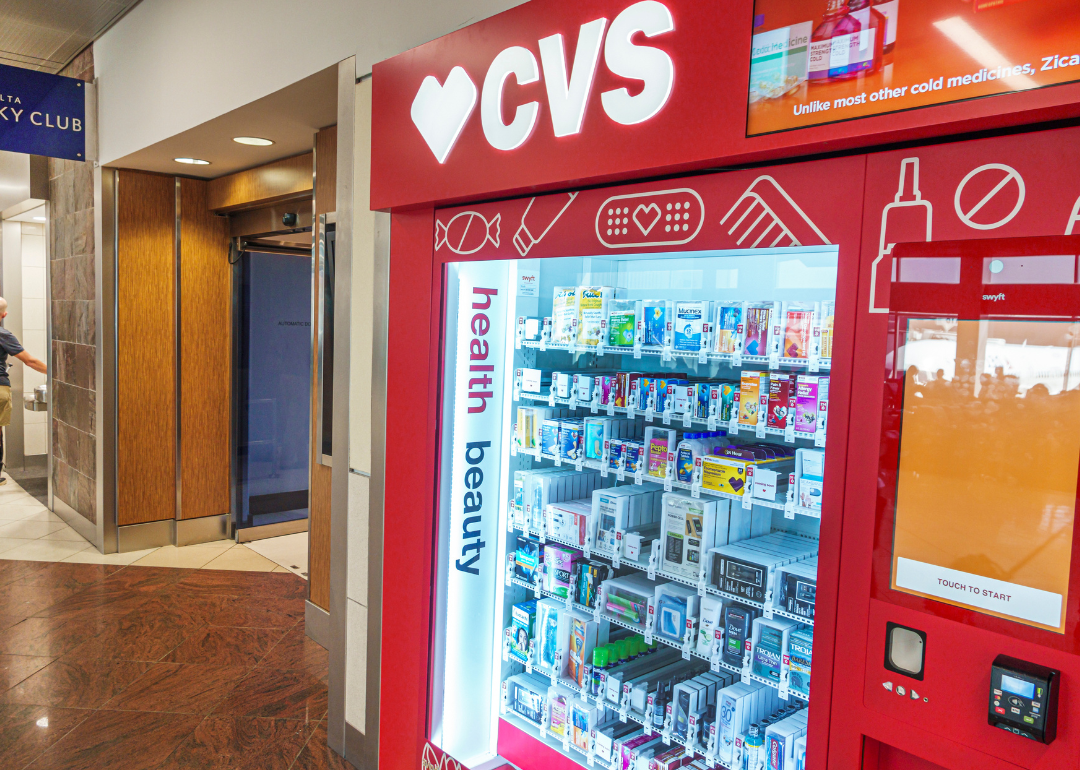 Jeff Greenberg/Education Images/Universal Images Group via Getty Images)
Ibuprofen
Waiting for your flight to depart doesn't have to be a headache—just go to The Pharmacy, a vending machine that dispenses items like ibuprofen, over-the-counter medications, and deodorant that you'd typically find at a drug store. Harry Reid International Airport in Las Vegas is one location where you'll find this vending machine.
Hudson, the ubiquitous airport sundries shop has created a cluster of vending machines including personal care items that it brands with a large Hudson LED banner so that you can have the experience of shopping at a Hudson 24/7. Not to be outdone, CVS also created its own branded retail kiosks that you can find in over 20 locations like Hartsfield-Jackson Atlanta International Airport and San Francisco International Airport. CVS says the vending machines sell 12 times more ibuprofen than a typical CVS store.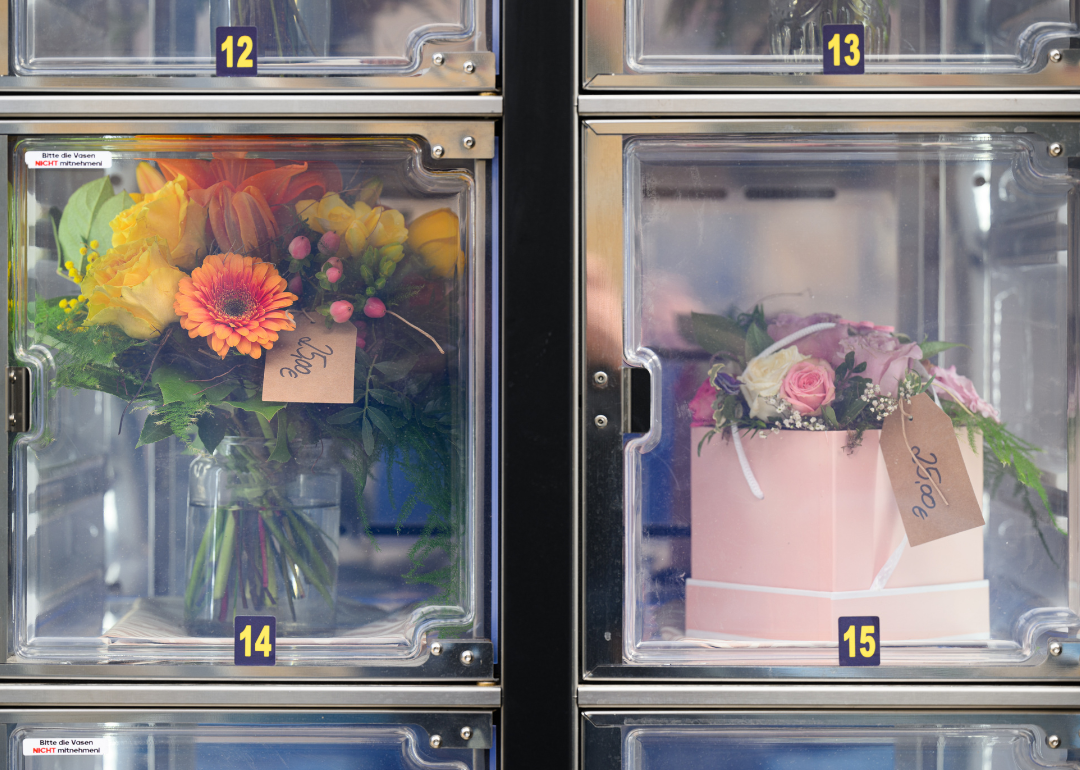 Robert Michael // picture alliance via Getty Images
Flowers
Some vending machines cater not only to passengers but also to those meeting them. Airports in Las Vegas and Raleigh-Durham, North Carolina, have flower vending machines in baggage claim areas and at meeting points. The refrigerated kiosks keep flowers fresh, so they're perfect for greeting that loved one you're excited to see. This type of vending machine isn't just an American phenomenon. Singapore's Changi Airport also has a self-serve flower store, complete with glass-window compartments so you can pick the exact bouquet you want to buy.
Data reporting by Paxtyn Merten. Story editing by Jeff Inglis. Copy editing by Tim Bruns. Photo selection by Elizabeth Ciano.
This story originally appeared on Vending Mavericks and was produced and
distributed in partnership with Stacker Studio.
More Stacker National