20 infamous band feuds from the '60s and '70s
Published 3:00 pm Thursday, July 13, 2023

20 infamous band feuds from the '60s and '70s
Take musical groups full of big egos and even bigger hair, put them in two decades full of substance use and musical experimentation, and you have a recipe for some pretty gnarly fights. Stacker delved into 1960s and 1970s music history to uncover the backstage conflicts and behind-the-scenes drama of some of the era's most iconic bands, using information from interviews, memoirs, and news sources.
The conflicts range from silly—see the Who's Roger Daltrey growing impatient at how long it took to film a promo, leading to a physical altercation with Pete Townshend—to serious, like Johnny Ramone's tendency for violent outbursts and stealing his bandmate's great love.
While some squabbles resolved fairly quickly, others lasted for decades—several remain unsettled. Many groups survived the fallouts, like Fleetwood Mac miraculously holding strong for decades through the messy web of divorces, breakups, and affairs members engaged in throughout the early '70s. For others, these disputes spelled out the beginning of the end for some of the era's most iconic bands.
Read on to learn about the backstage arguments and grudges between your favorite musical acts.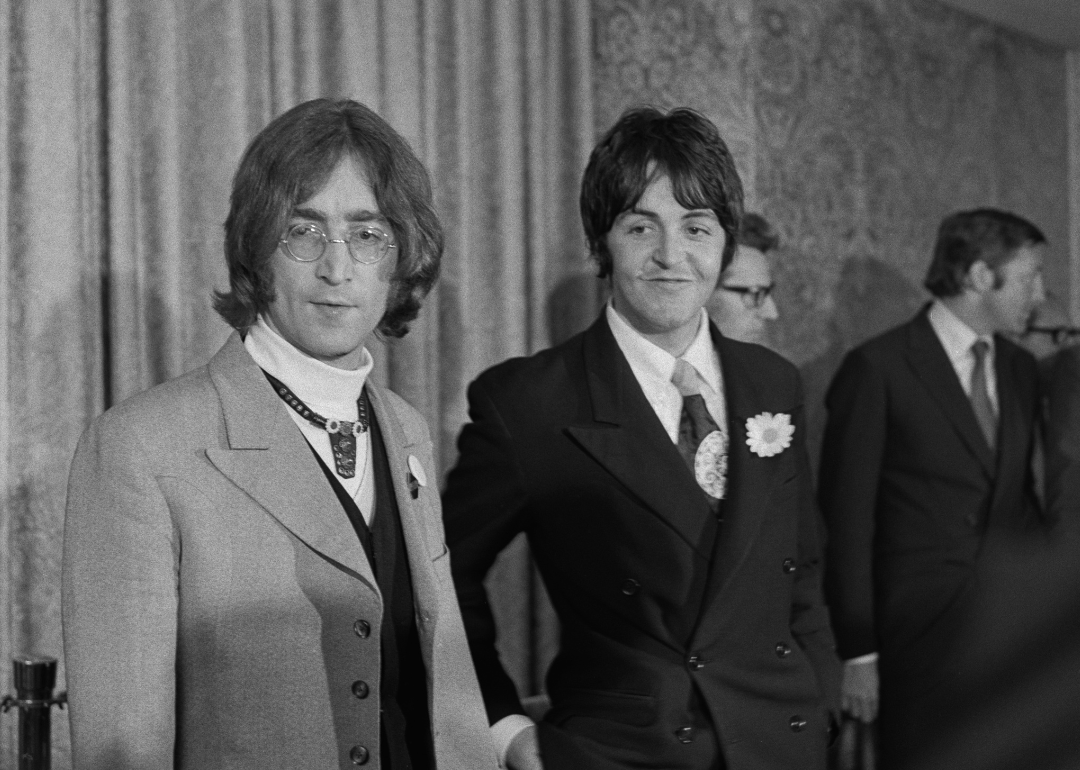 Don Paulsen/Michael Ochs Archives // Getty Images
The Beatles: John Lennon vs. Paul McCartney
John Lennon and Paul McCartney helmed history's most successful band as songwriting partners from the moment they met in 1957, but the two had major differences behind the scenes, both in personality and creative instinct.
While McCartney was "meticulous" and took painstaking care in writing songs, Lennon was more erratic and experimental. This, among many other differences between all four band members, led the group to split in 1970. That same year, McCartney went so far as to sue his bandmates to legally end their professional partnership, which sparked a public back-and-forth between him and Lennon.
In a 1971 Rolling Stone story, Lennon stated, "I pretty damn well know we got fed up of being sidemen for Paul." McCartney responded by sneaking in some thinly veiled strikes at Lennon on his 1971 album "Ram," singing, "Too many people preaching practices" and "You took your lucky break and broke it in two." While the pair reconciled a few years later, they remained relatively distant until Lennon died in 1980.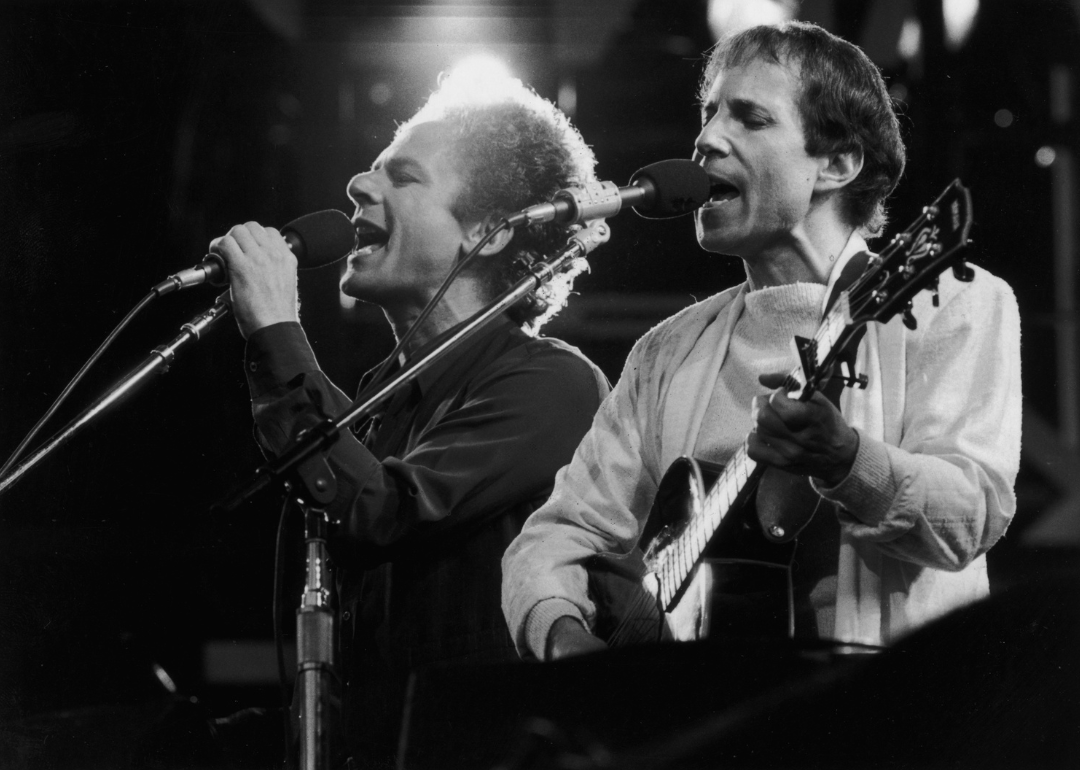 Express/Express // Getty Images
Simon & Garfunkel: Paul Simon vs. Art Garfunkel
The animosity between Paul Simon and Art Garfunkel began even before they hit it big, during the earliest years of their act. After they started working together in 1957, Simon signed a solo deal on the side, which Garfunkel felt betrayed by and would hold a grudge against for decades.
After a decade of nationwide success for the duo, this and other grievances would boil to a head when, in 1969, Garfunkel traveled to Mexico to film a role in a screen adaptation of "Catch-22." By November, Garfunkel had agreed to another film, leaving Simon feeling left behind. The two went on to produce one last album, "Bridge Over Troubled Water," and decided to part ways after. Although they have reunited for the occasional performance in the years since, their resentments remain.
In his 2017 memoir, Garfunkel remarked, "The friendship was shattered for life. … I never forget, and I never really forgive," while Simon told writer Robert Hilburn about his lack of trust in Garfunkel in the wake of the Jazz Fest in New Orleans. In his 2018 biography "Paul Simon: The Life," Simon told Hilburn: "[Garfunkel] let us all down. I was tired of all the drama. I didn't feel I could trust him anymore."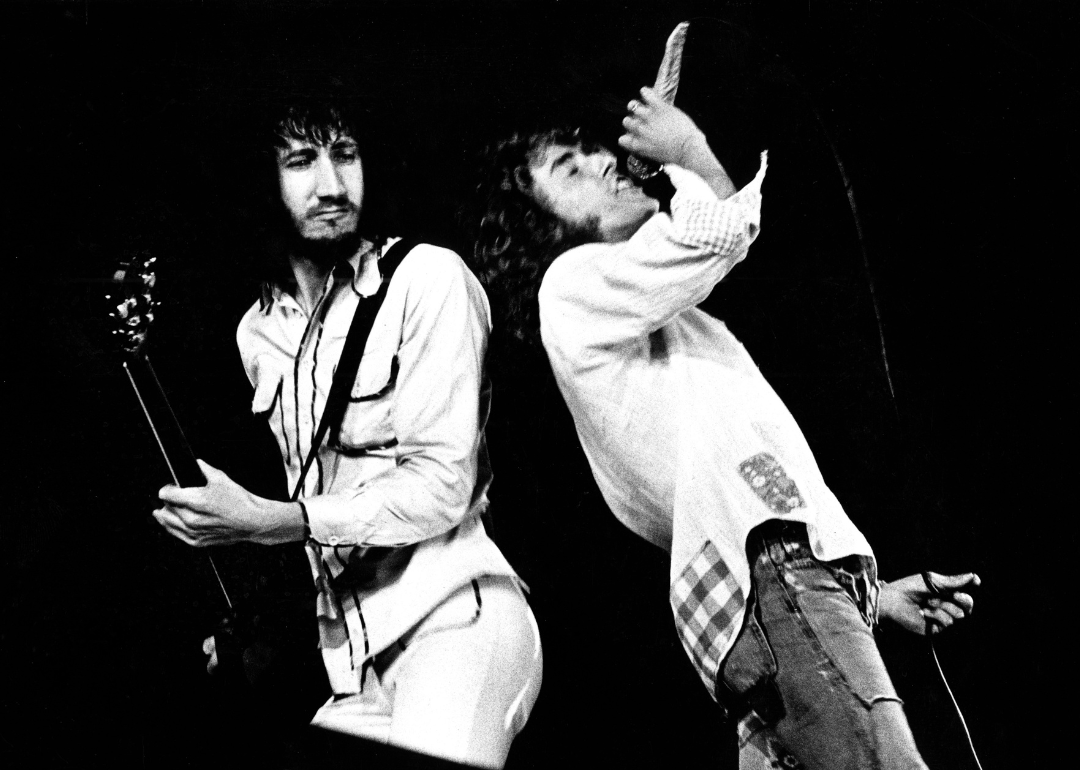 Gijsbert Hanekroot/Redferns // Getty Images
The Who: Pete Townshend vs. Roger Daltrey
The Who achieved widespread success in the late '60s and early '70s, but by 1973, guitarist Pete Townshend and frontman Roger Daltrey had accumulated some resentment. That year, while filming a slow-moving promotional material for their upcoming Quadrophenia tour, Daltrey recalled Townshend "went off like a firework."
The confrontation escalated into a physical fight, according to Daltrey. In 1975, Townshend complained to New Musical Express: "We've become a golden oldies group. … I can tell you that when we were gigging in this country at the early part of this year I was thoroughly depressed." In response, Daltrey gave the same magazine his side of the story months later, saying: "The Who wasn't bad. Wasn't quite as good as we could have been, but it was because Townshend was in a bad frame of mind about what he wanted to do. And he didn't play well."
The squabble was quickly resolved, with the pair collaborating with the band on an album and tour within the same year.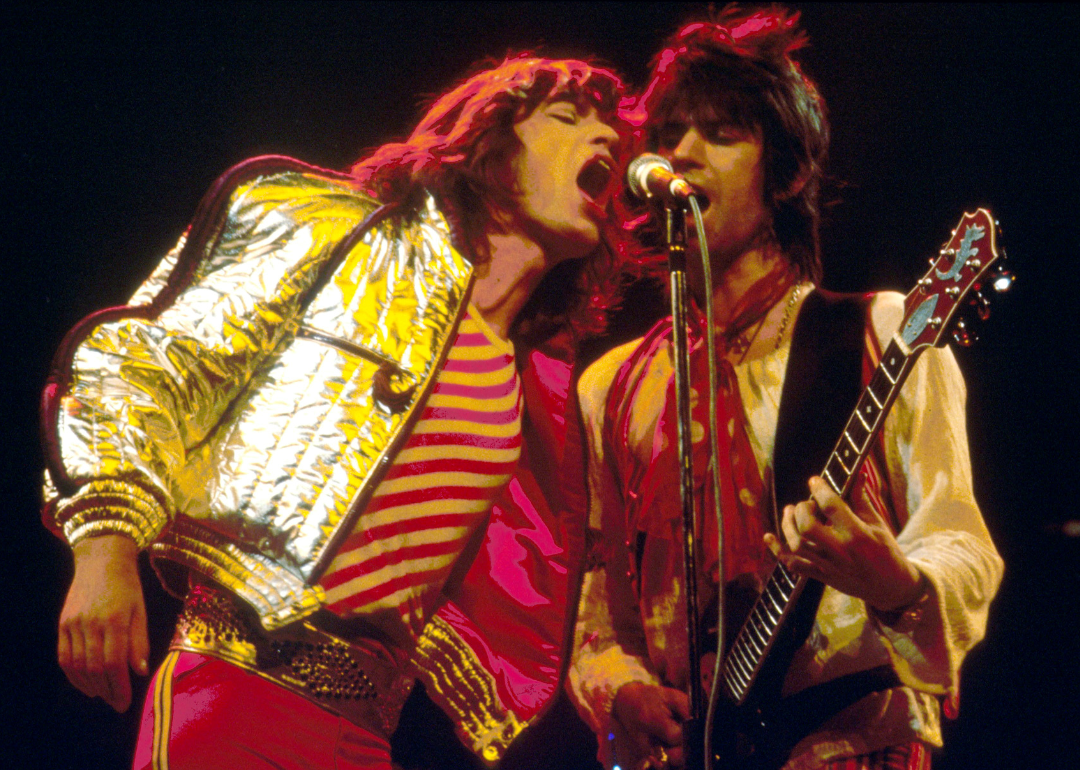 Michael Putland // Getty Images
The Rolling Stones: Mick Jagger vs. Keith Richards
The battle of the Rolling Stones frontmen began around 1978, when Keith Richards' narcotics addiction had grown so bad that he went on trial and was forced to sober up. In the years before, Mick Jagger had taken control of the group, away from the drug-addled Richards, but once the latter stopped using, he wanted his fair share of power back.
On the 1980 song "All About You," Richards sang what many interpreted as a particularly scathing critique of Jagger, leading the two to all but stop speaking by the following year: "Well if you call this a life/ Why must I spend mine with you?/ If the show must go on/ Let it go on without you/ So sick and tired hanging around jerks like you." Just as the band was preparing to go on tour to promote their album "Dirty Work," Jagger informed them by written letter that he was deciding to focus on his solo career instead.
Although it took several years, the two rock powerhouses did eventually reconcile, and today the Rolling Stones remain the longest-running rock band in history, completing a tour as recently as 2022.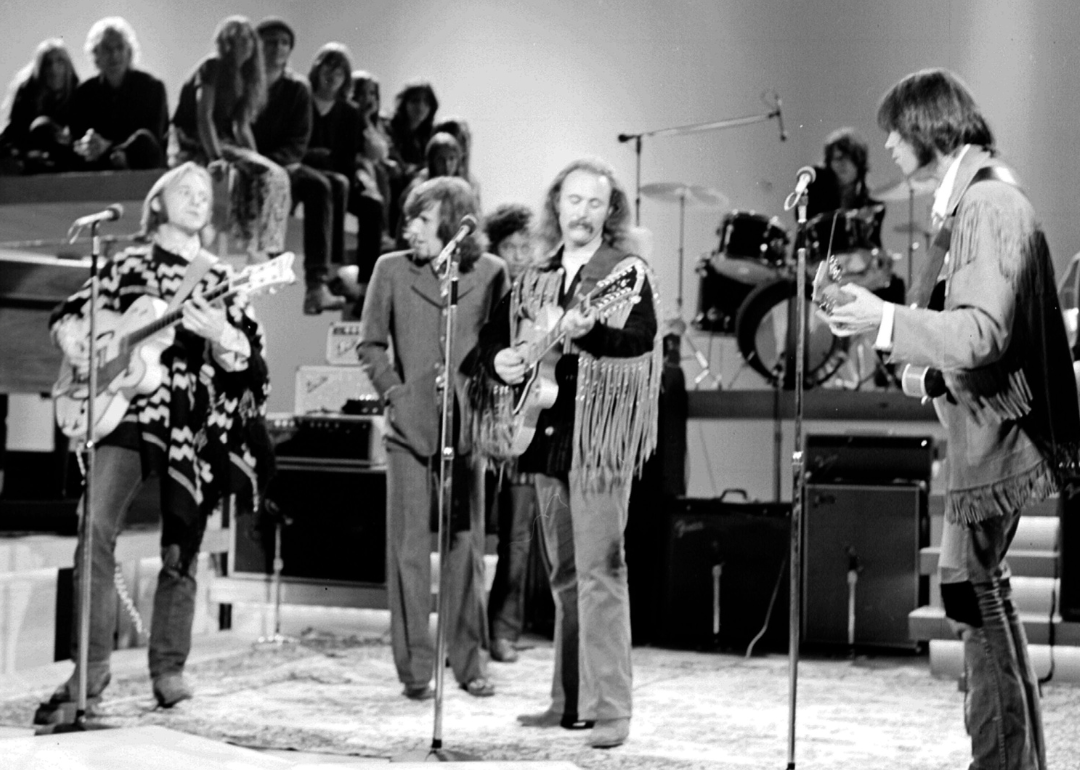 Michael Ochs Archives // Getty Images
Crosby, Stills, Nash & Young
Neil Young and Stephen Stills' conflicts lasted over several years, spanning not one but two iconic '60s and '70s bands. When they first joined in 1966 to form Buffalo Springfield, Stills was considered the most prominent member and used his position to mock Young's singing abilities publicly during concerts. Additionally, he had little sympathy for the latter's struggle with epilepsy, which made Young anxious to perform in front of crowds.
Once they joined the supergroup Crosby, Stills, Nash & Young, nearly every member had some sort of contention for the other. Crosby and Graham Nash had no longer been on speaking terms. Stills continued giving Young a hard time, while Young and bandmate David Crosby butted heads as well, with Crosby publicly calling Young's then-girlfriend Daryl Hannah a "predator." After releasing the critically acclaimed "Déjà Vu" and embarking on a tour laden with drug use and arguments, the group broke apart immediately following the final show.
The group has since come apart and broken up again over the decades but remains mostly on contentious terms, with Crosby remarking in a 2021 interview that he didn't anticipate a reunion of the group again. (Crosby died in January 2023.)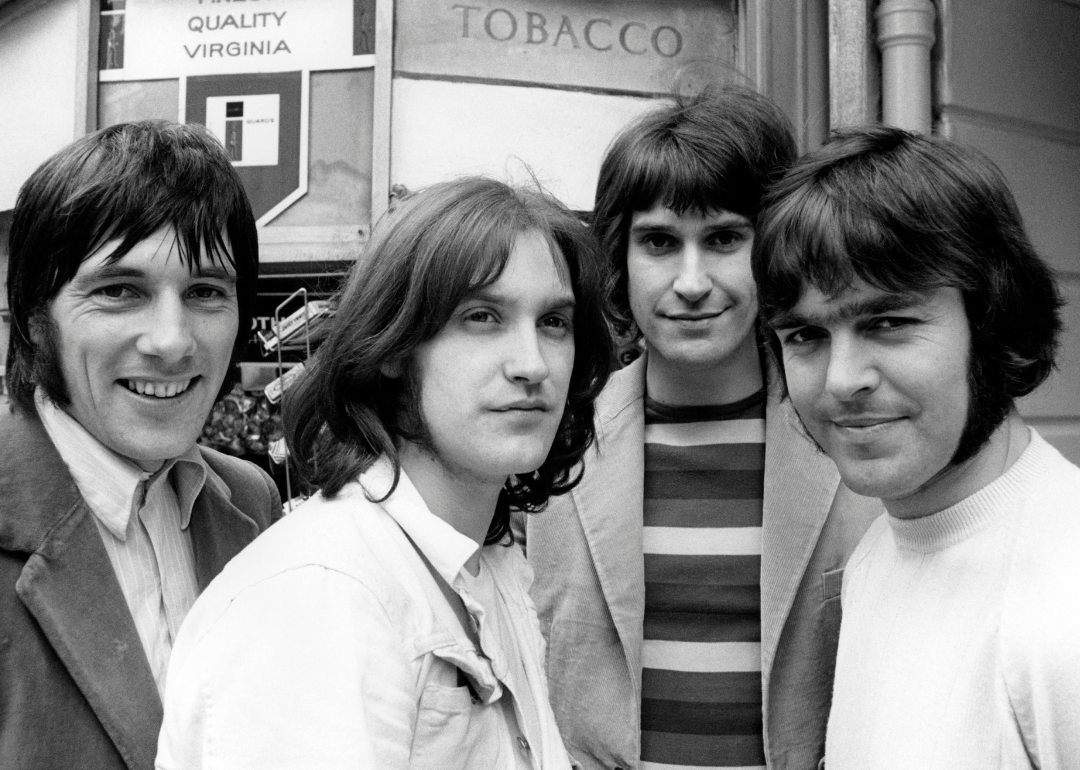 Ivan Keeman/Redferns // Getty Images
The Kinks: Ray Davies vs. Dave Davies
Like their later counterparts—brothers Noel and Liam Gallagher of Oasis, which they're often compared to—the Kinks' Ray and Dave Davies' disagreements began with their sibling rivalry. In 2010, Ray recalled, "We were battlers. … But the very thing that makes a band special is what ultimately causes it to break up." The same year, Dave said: "I think Ray has been happy for only three years in his life. … And those were the three years before I was born."
Throughout the Kinks' pinnacle in the '60s, the brothers constantly fought, whether onstage, in the studio, or at home. Despite their differences, the band managed to stay together until 1996—and the brothers' relationship seems to be on the mend; a reunion may even be possible.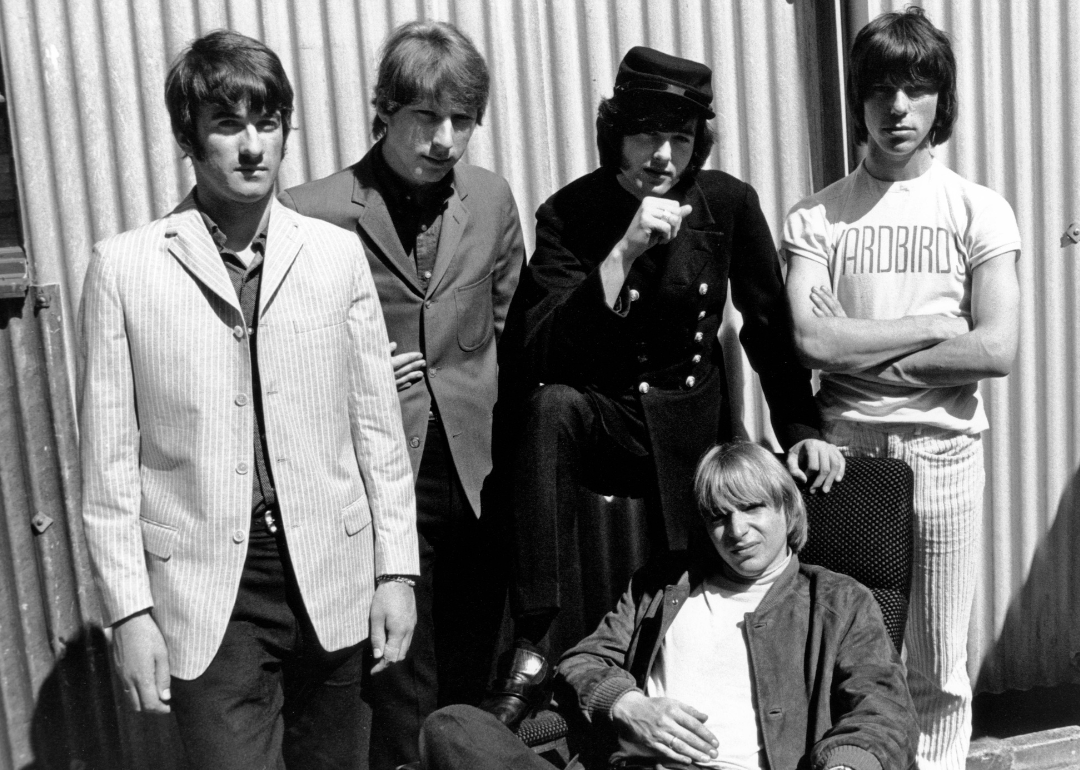 Ivan Keeman/Redferns // Getty Images
Jeff Beck vs. the Yardbirds
Jeff Beck squandered his opportunity as a replacement guitarist for Eric Clapton in the Yardbirds when he invited his friend Jimmy Page to join the band in 1966.
Page's presence made it easier to boot Beck out of the band when he refused to go along with the group's move toward a pop sound in favor of more experimental music. Things came to a head in late 1966, when Beck became frustrated after a string of back-to-back tour engagements across the U.S. He left the band soon after, and in his absence, Page moved up to lead guitar before debuting Led Zeppelin years later.
Although Beck went on to have a successful career in his own right, he seemed to harbor resentment for years, announcing onstage in his 1992 acceptance speech during his induction into the Rock and Roll Hall of Fame, "Someone told me I should be proud tonight, but I'm not, because they kicked me out. They did!"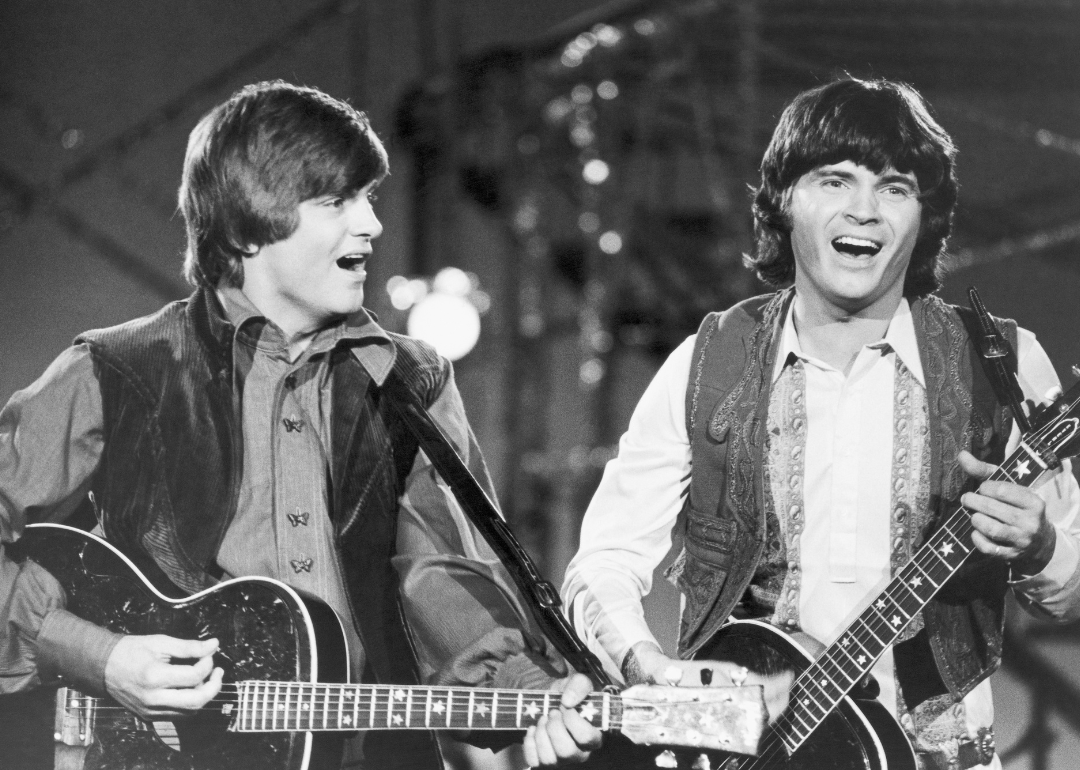 Michael Ochs Archives // Getty Images
The Everly Brothers: Don Everly vs. Phil Everly
"Never do business with family" seems to apply to rock 'n' roll as much as any other industry, as the Everly Brothers proved early on. Tensions between the brothers culminated in a heated confrontation during a 1973 Knott's Berry Farm performance in Buena Park, California.
Don was in his cups at the time, causing a Knott's manager to halt the show mid-gig. Phil tossed his guitar to the ground and stormed offstage in frustration, leaving Don to announce to the audience, "The Everly Brothers died 10 years ago." The duo didn't perform together again for an entire decade, eventually reuniting for a 1983 concert.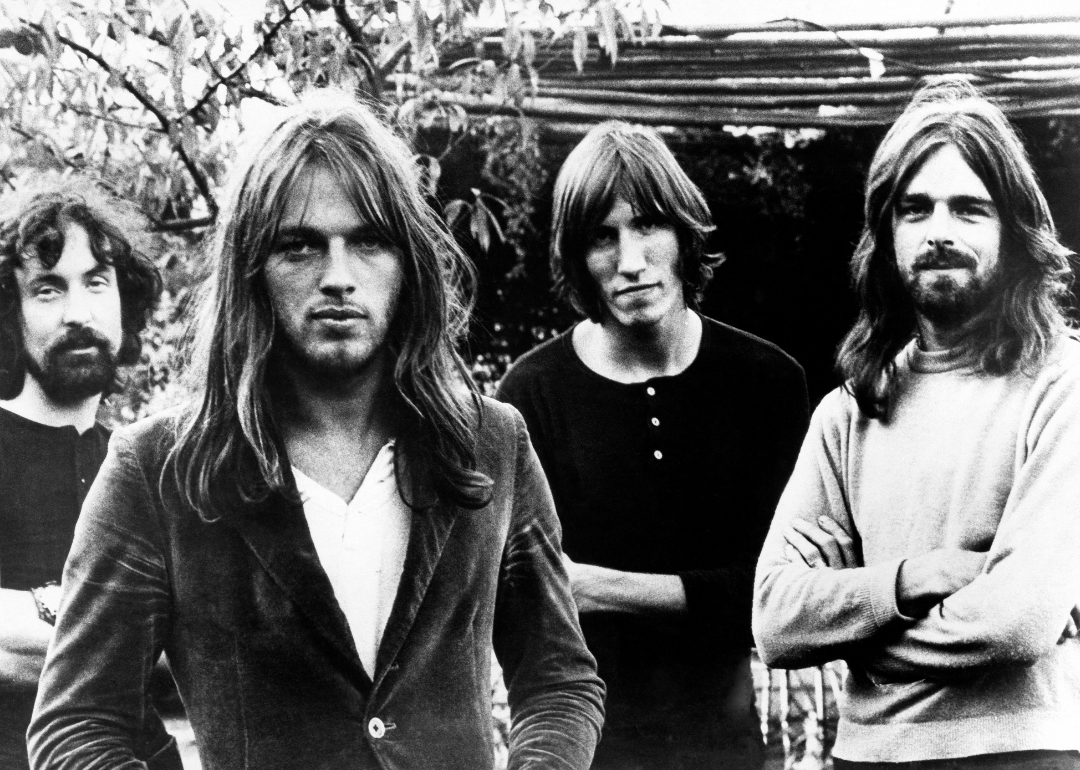 Michael Ochs Archives // Getty Images
Pink Floyd: David Gilmour vs. Roger Waters
Although 1979's "The Wall" was one of Pink Floyd's most iconic albums, its production was marred with conflict.
David Gilmour was frustrated with Roger Waters, who "forced his way to become that central figure" and attempted to dominate creative direction. Waters, on the other hand, claimed his bandmates were stifling his talent, telling Rolling Stone in 1987: "There was no point in Gilmour, Mason or Wright trying to write lyrics. Because they'll never be as good as mine. Gilmour's lyrics are very third-rate."
Touring for "The Wall" and producing the follow-up album "The Final Cut" in 1983 only saw increased divisions between Waters and Gilmour. When Waters eventually left the band in 1985, Gilmour objected to his desire to dissolve the band entirely. He continued to record with Nick Mason and Richard Wright as a trio, prompting Waters to sue them, albeit unsuccessfully.
Pink Floyd continued as a trio until after a few years of calm. The band eventually reunited for performances with the original lineup in 2005. In 2013, Waters admitted that he regretted the lawsuit.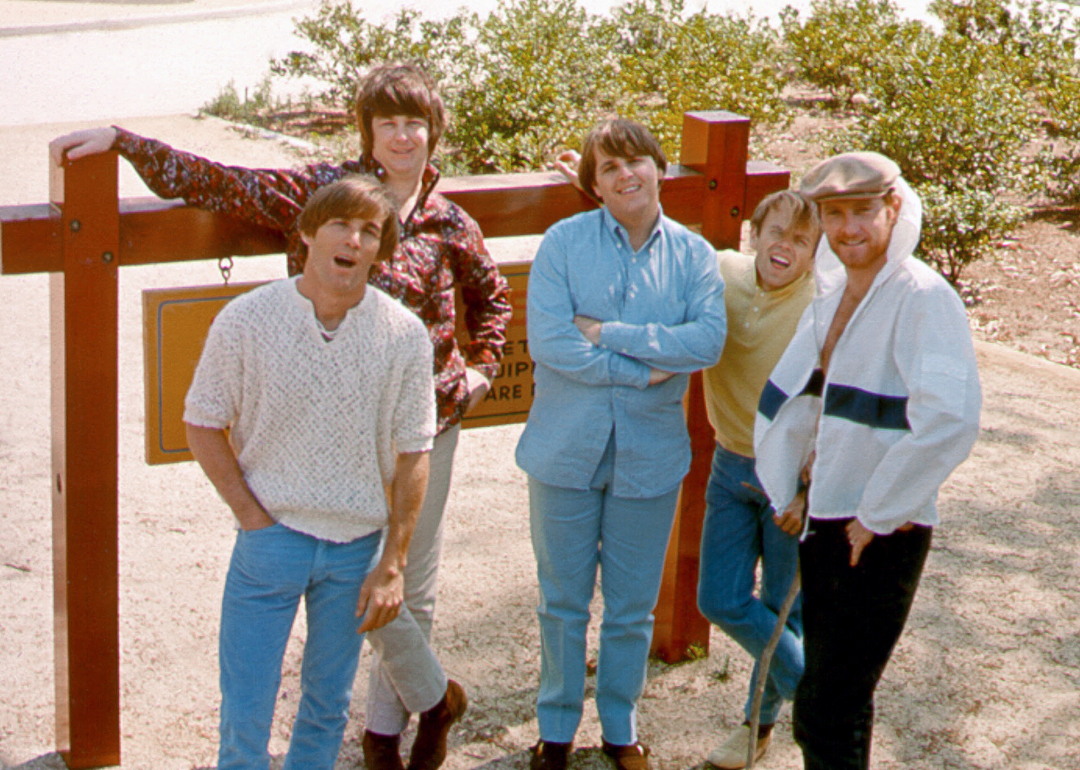 Michael Ochs Archives // Getty Images
The Beach Boys: Mike Love vs. Brian Wilson
The two major eras of the Beach Boys—their start as a happy-go-lucky surf pop group and later development into a more innovative, musically complex sound—are well-known now. Still, it wasn't a unanimous group decision.
Cousins Brian Wilson and Mike Love argued during the production of "Pet Sounds" in 1966, with the former pushing for a fresh sound and the latter strongly opposed to the new, psychedelic leaning, later remarking to Rolling Stone, "Don't f— with the formula!"
Love also took issue with Wilson's reputation as the group's primary songwriter, suing him multiple times over the years, one of which gained Love co-writing credits to some of their most popular songs, including "California Girls" and "I Get Around." In his 2016 autobiography, Love wrote: "There was always the perception that my cousin Brian did all the writing as well as the producing and stuff like that. That was not true. I was the co-author of so many big hits."
After deaths, substance abuse, and mental health struggles put distance between all of the band members over the years, Love won the legal right to use the Beach Boys' band name in 2008.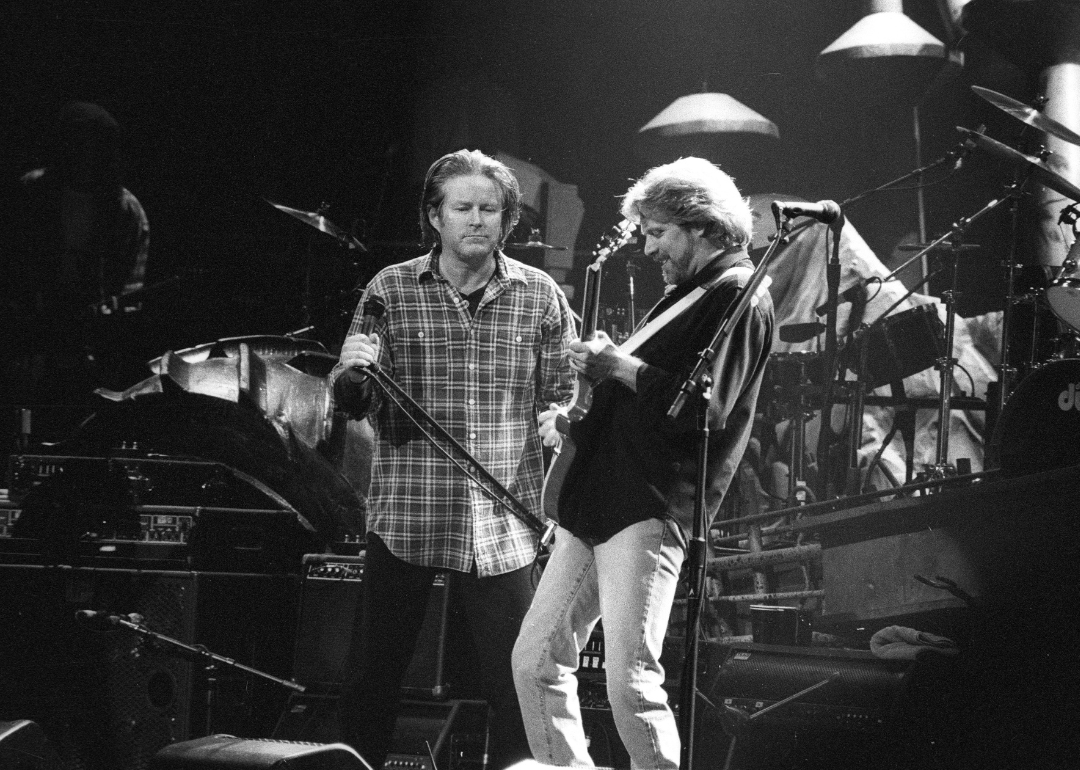 Jim Steinfeldt/Michael Ochs Archives // Getty Images
Eagles: Don Felder vs. Don Henley
The Eagles are one of the most notoriously contentious bands in contemporary music, and one of their biggest hits was at the center of a firestorm. During the 1976 production of "Hotel California," guitarist Don Felder tried his hand at vocals, but his bandmates were less than enthused with his performance and had lead singer Don Henley re-record the song, to Felder's dismay.
Felder's tension with Henley intensified during sessions for their next album, "The Long Run," when he sarcastically referred to Henley and bandmate Glenn Frey as "the Gods." The band splintered apart after Frey and Felder had a near-violent argument during a 1980 concert. They reunited in 1994 for a new album and tour, but Felder and Henley once again came to blows over Henley's higher paycheck, leading Felder to be kicked out of the band in February 2001. Felder sued the band for wrongful termination, and their distaste for each other has yet to wane.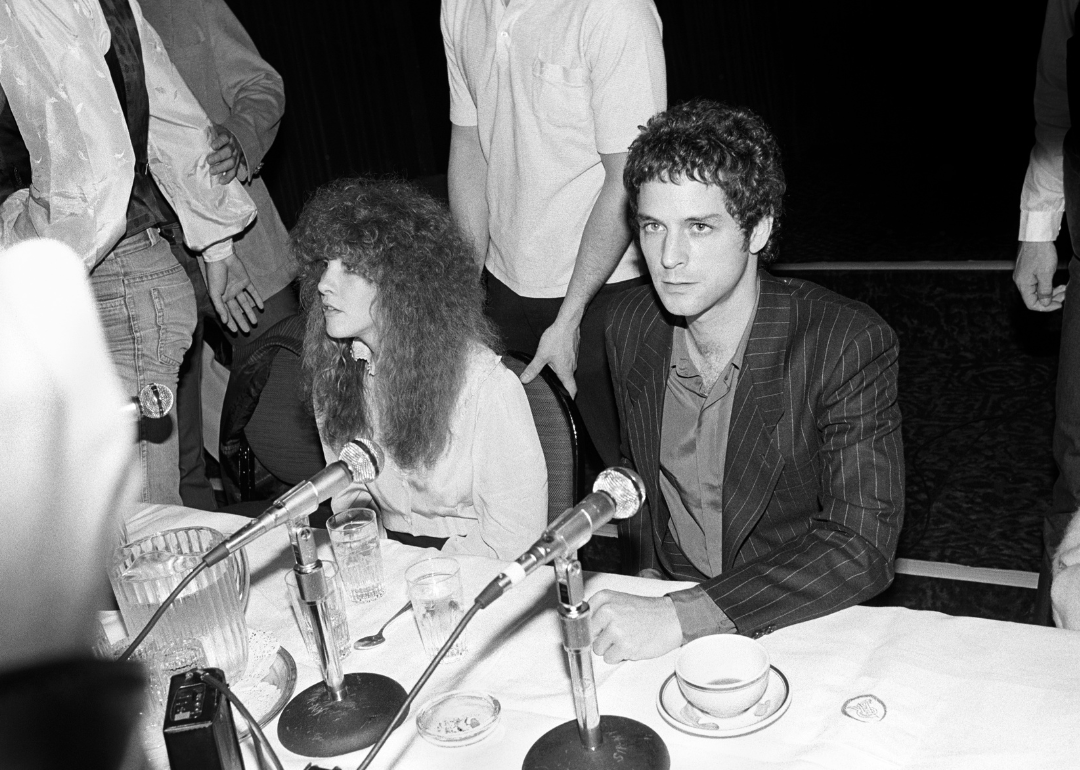 Ebet Roberts/Redferns // Getty Images
Fleetwood Mac: Stevie Nicks vs. Lindsey Buckingham
Stevie Nicks and Lindsey Buckingham were already on rocky terms when they were invited to join Fleetwood Mac in 1974, having spent years beforehand performing as the duo Buckingham Nicks and in a relationship marred by their battling strong personalities.
However, the opportunity to join the band was too good to pass up, and Nicks recalled telling Buckingham: "OK, this is what we've been working for since 1968. And so Lindsey, you and I have to sew this relationship back up. We have too much to lose here."
Even so, they broke up during the production of the band's seminal album "Rumours" in 1976, which Nicks described as "a living nightmare," adding, "He and I were about as compatible as a boa constrictor and a rat." Several of the album's most acclaimed songs are famously open messages between Buckingham and Nicks battling out each's perspectives on their failed relationship, including "Go Your Own Way," "Never Going Back Again," and "Dreams."
Despite the conflict between the former couple—and Nicks' brief affair with bandmate Mick Fleetwood in 1977—they remained musical collaborators for decades after "Rumours" released, both temporarily leaving the band to pursue solo careers before returning. In 2018, when Nicks denied Buckingham's request to delay Fleetwood Mac's tour schedule to accommodate his solo work, Buckingham was fired from the band for a seemingly final and permanent time.
Buckingham subsequently sued the band for breach of contract for his termination.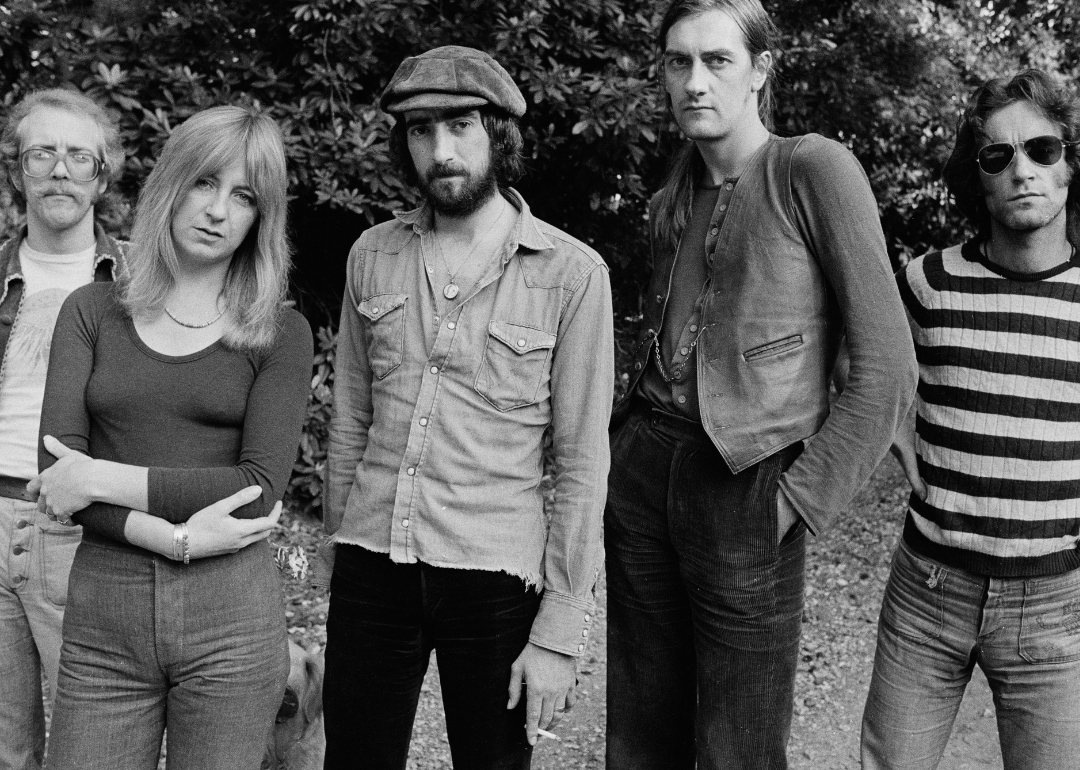 Michael Putland // Getty Images
Fleetwood Mac: John McVie vs. Christine McVie
Although Stevie Nicks and Lindsey Buckingham were perhaps the most well-known, they were just one of three couples enduring major falling-outs during the production of "Rumours."
At the same time, drummer Mick Fleetwood was going through a divorce with his wife, Jenny, as were bandmates John and Christine McVie. Christine described being too close for comfort with her former spouse while working together, witnessing John's drinking allegedly turn him into "more Hyde than Jekyll." She said she began an affair with the band's sound engineer "for [her] sanity."
Still, despite the web of on-and-off relationships among band members, Fleetwood Mac remained resilient: "Rumours" became one of the highest-grossing albums of all time.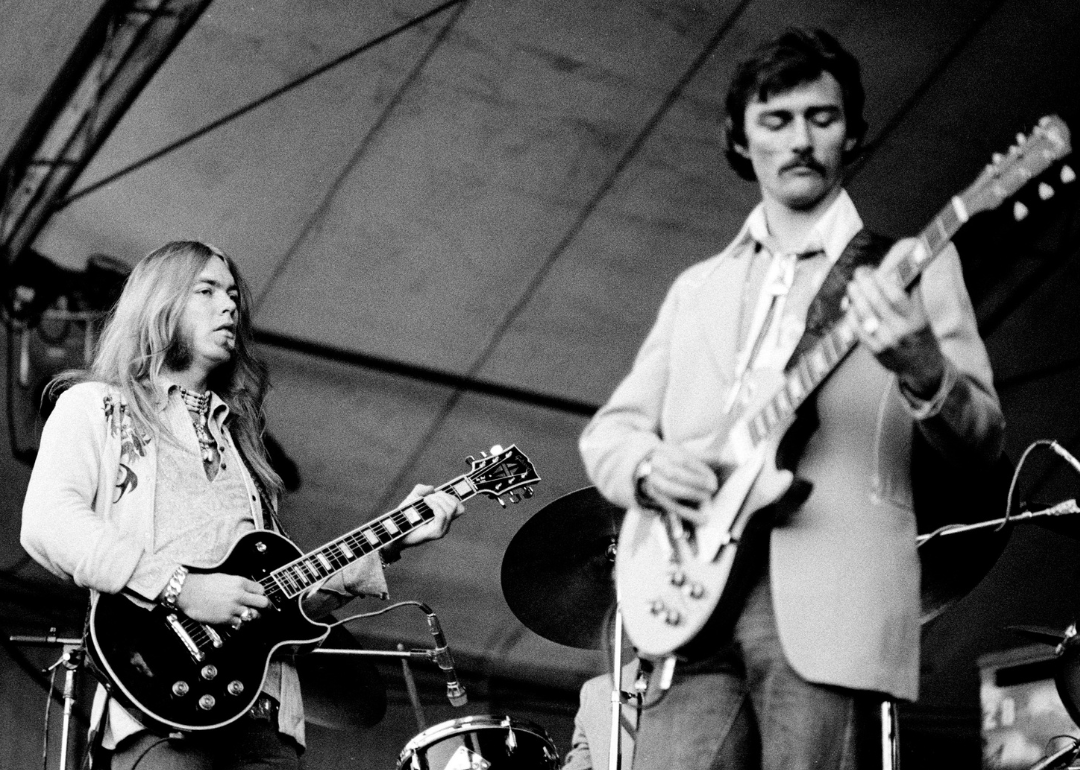 Gijsbert Hanekroot/Redferns // Getty Images
The Allman Brothers Band: Gregg Allman vs. Dickey Betts
Guitarist Dickey Betts was a famously rowdy coworker behind the scenes, frequently trashing hotel rooms, brawling with cops, and getting arrested. He first entered the band in 1969, but his heavy drinking and wild antics didn't fare well with lead singer Gregg Allman. Their differences caused the group's disbanding in 1976, with Betts stating in an interview with Rolling Stone, "There is no way we can work with Gregg again. Ever."
The band subsequently reunited in 1979, broke up again in 1982, and came together once more in 1989. But the final straw came in 2000, when the band had finally had enough of Betts' heavy drinking and permanently kicked him out of the group.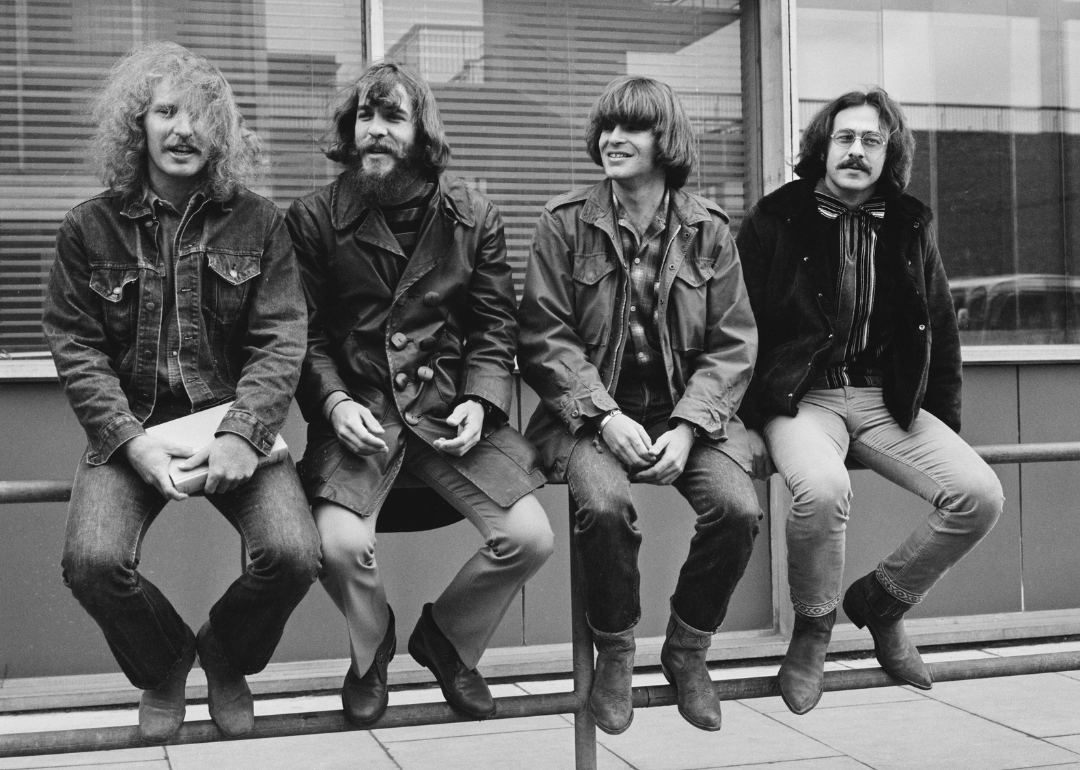 Evening Standard/Hulton Archive // Getty Images
Creedence Clearwater Revival: John Fogerty vs. Tom Fogerty
Creedence Clearwater Revival's work was astoundingly prolific, encompassing seven albums between 1968 to 1972 alone. However, lead singer John Fogerty felt it wouldn't have been possible without his oversight.
His overbearing personality led his brother and bandmate Tom Fogerty to finally quit in 1971. The entire band disintegrated the following year, with other members also dissatisfied with John's level of creative control.
The two brothers never fully reconciled, with John telling The Guardian in 2000: "The best I can say in Tom's case is he was the older brother, and the younger brother had a lot more talent; therefore, he was jealous even to a greater degree than the other two in Creedence Clearwater Revival."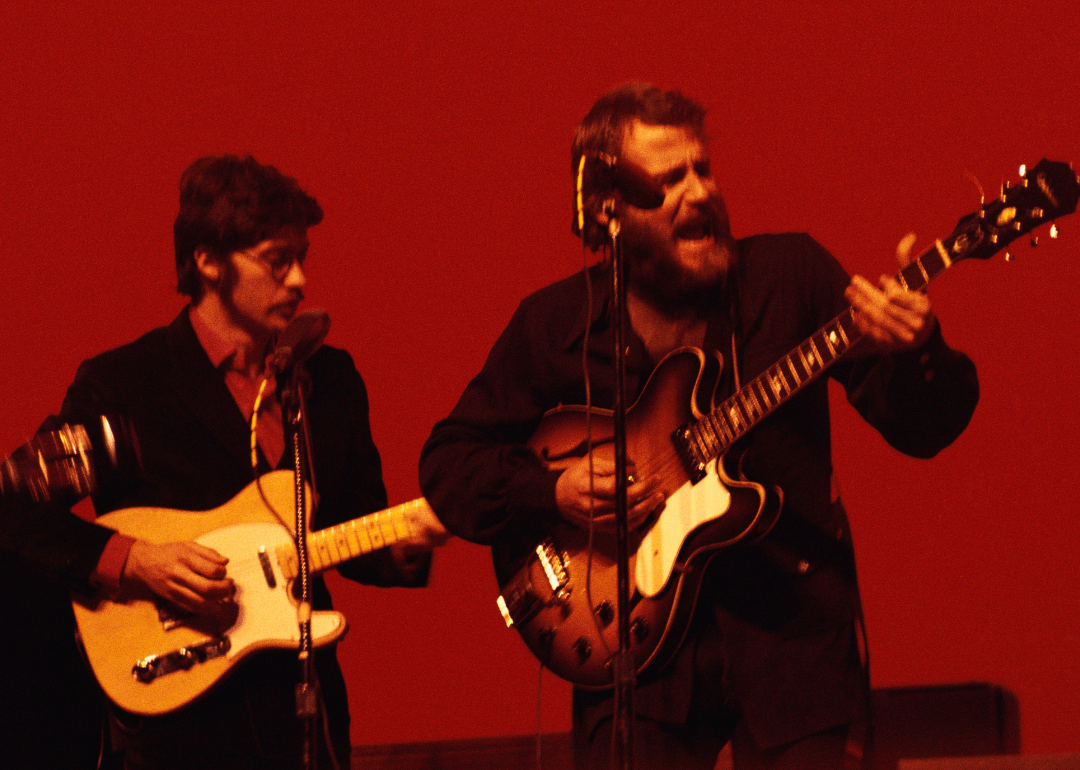 Harvey L. Silver/Corbis via Getty Images
The Band: Levon Helm vs. Robbie Robertson
Members of the Band—known as the Hawks up until 1963—were as eclectic in personalities as they were in musical styles, leading to heavy strife throughout their peak during the '70s.
In particular, Levon Helm grew to resent Robbie Robertson's gradual dominance over the group's songwriting, positing that he falsely claimed to be the sole songwriter to get a higher paycheck. By 1976, Robertson suggested they play one final farewell concert, to be documented by Martin Scorsese in what would later become "The Last Waltz." However, Helm took issue with the film positioning Robertson as the central figure of the Band, calling the film "the biggest f—– rip-off that ever happened to the Band."
Robertson only sought to set their differences aside at Helm's deathbed in 2012.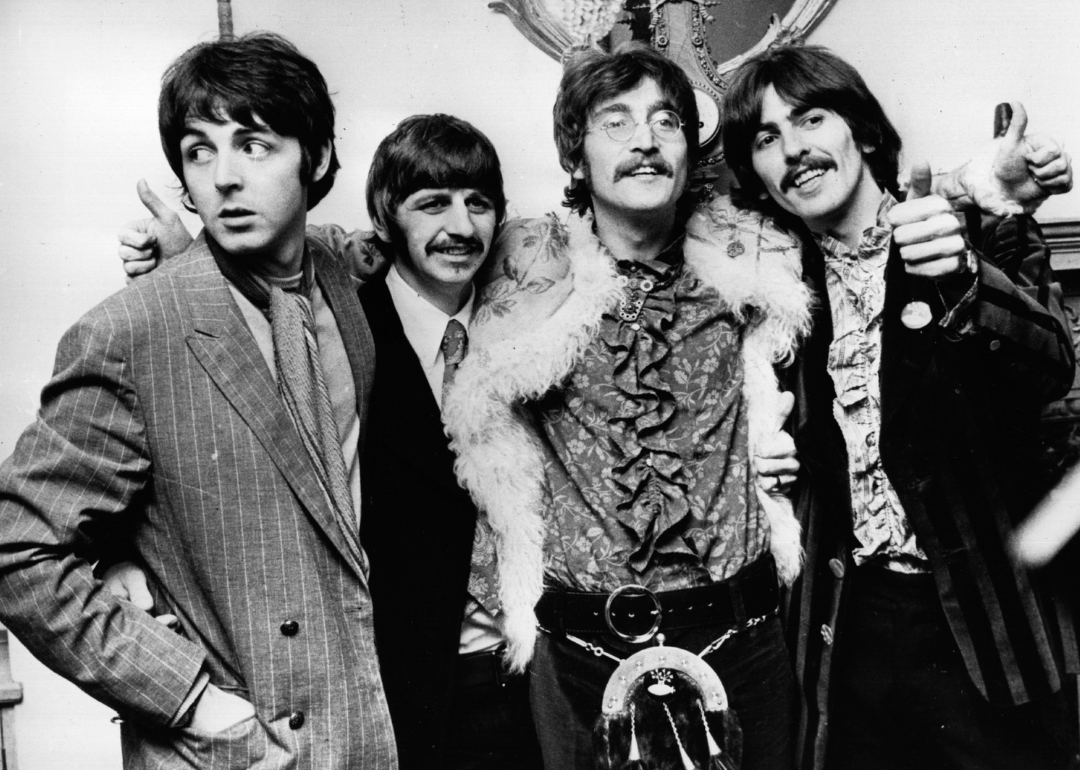 John Pratt/Keystone // Getty Images
The Beatles: George Harrison vs. Paul McCartney
It's no secret Paul McCartney and John Lennon were the double figurehead of the Beatles, something lead guitarist George Harrison reportedly came to resent. In 1967, during sessions for "Sgt. Pepper's Lonely Hearts Club Band," McCartney domineered. During filmed production for "Let It Be" in 1969, Harrison became so irate over McCartney's overbearing direction that he quit the band—only to rapidly return.
In the 2015 book "George Harrison: Behind the Locked Door," Harrison's then-wife, Pattie Boyd, remembered: "They would tolerate each other, but I think George basically didn't like Paul's personality. … Like a little brother, he was pushed into the background. He would come home from recording and be full of anger. It was a very bad state that he was in."
After the Beatles broke up in 1970, Harrison finally had the freedom to release his first solo album, "All Things Must Pass," largely comprising songs McCartney (and Lennon) had previously rejected.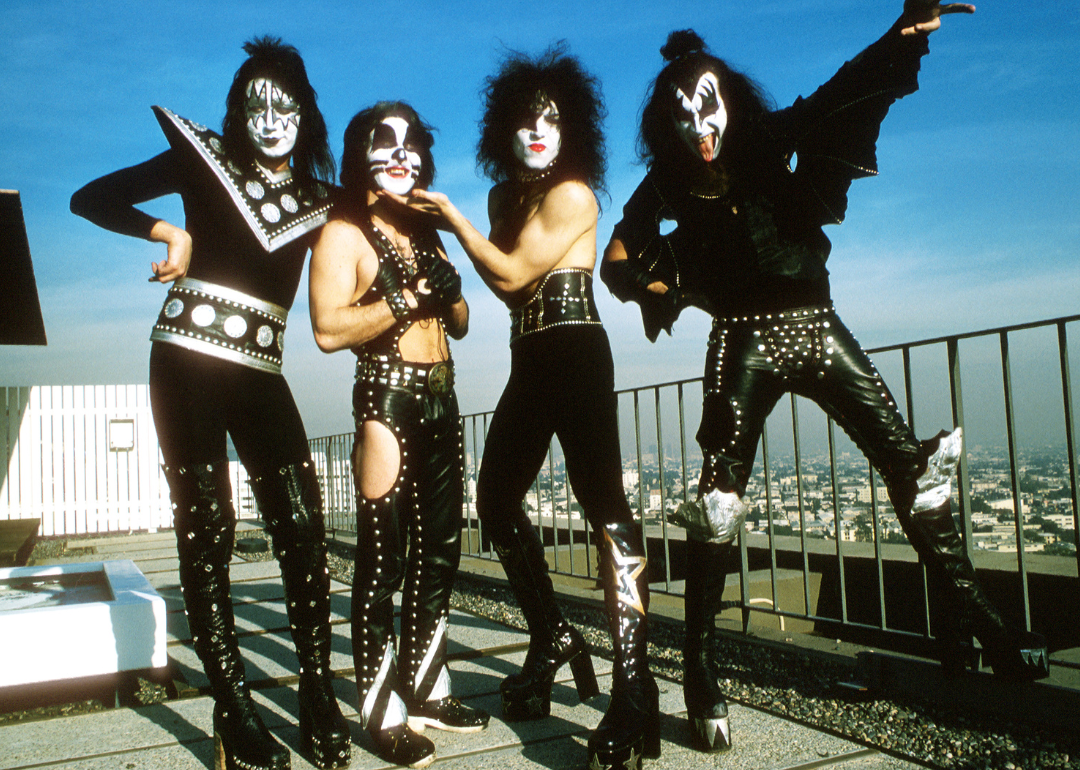 Michael Ochs Archives // Getty Images
Kiss: Gene Simmons and Paul Stanley vs. Ace Frehley and Peter Criss
The original 1973 lineup of the heavy metal foursome was more of two twosomes, with Gene Simmons and Paul Stanley believing they took the band's success more seriously than hard-partying Ace Frehley and Peter Criss.
By 1978, Frehley and Criss both allegedly stated they wanted to quit the band, leading to a short break before giving it another go by producing four Kiss solo albums released that September. However, this did little to improve relations. Stanley recalled a tense onstage argument between him and Criss over the latter's cocaine-muddled drumming performance in his 2014 memoir "Face the Music: A Life Exposed." In 1980, Criss was booted from the band, with Frehley following in 1982 after a lackluster commitment to Kiss' next album.
In a 2019 interview, Simmons recalled: "Ace and Peter … were in and out of the band—fired—three times. For drugs, alcohol, bad behavior, being unprofessional … they weren't carrying their load. You can't be in a car with two flat tires. It's not going to go anywhere."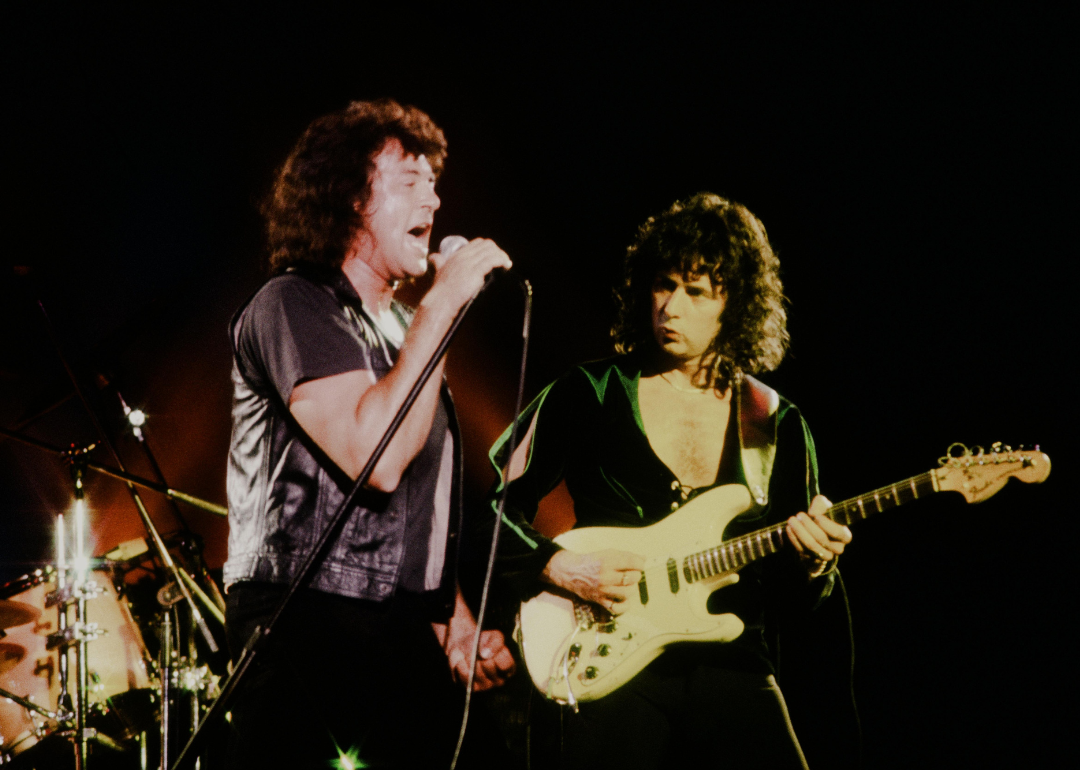 Koh Hasebe/Shinko Music // Getty Images
Deep Purple: Ian Gillan vs. Ritchie Blackmore
In 1973, Deep Purple saw one of its greatest successes with the release of "Smoke on the Water"—but behind the scenes, mainstream success may have driven a wedge between singer Ian Gillan and guitarist Ritchie Blackmore. Though it was unclear exactly why at the time, Gillan abruptly departed the band that same year.
In a 2020 interview, Gillan hinted that the band's increasing "commercialism" caused his exit, recalling: "[Blackmore] had an ear for the more popular stuff. And it was very successful. But I thought it couldn't survive, because it was planting itself in a fashion, and fashions come and fashions go."
Deep Purple disbanded entirely in 1976 before reuniting in 1984, which included Gillan and Blackmore. However, Gillan grew increasingly unhappy with Blackmore's dominance and metal-leaning musical preferences. In 1993, Blackmore quit Deep Purple—this time for good—in a spectacular fashion, throwing a tantrum onstage and launching a drink at a cameraperson during a live performance. Blackmore left the band four shows after, leaving Deep Purple to finish a series of concerts in Japan planned that December without him.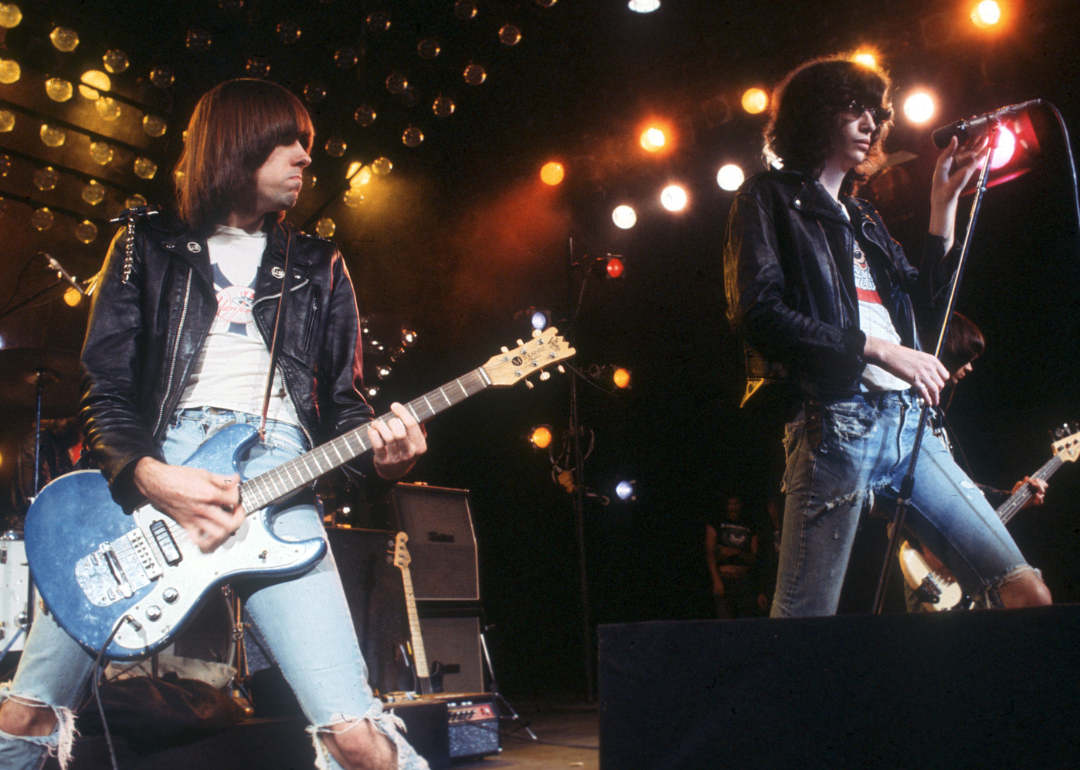 Michael Ochs Archives // Getty Images
The Ramones: Johnny Ramone vs. Joey Ramone
Johnny Ramone (aka John Cummings) and Joey Ramone (aka Jeffrey Hyman) may not actually be related, but they fought like rival siblings just the same.
Rumor has it their constant bickering and estrangement from each other was largely due to the group's strenuous touring schedule and Johnny's military-strict oversight of the band, including reportedly physically assaulting his bandmates for being late or not performing up to par.
Johnny met Joey's then-girlfriend Linda during recording sessions for "End of the Century," released in 1980, and the two allegedly began an affair, eventually marrying. It is speculated that Joey's song "The KKK Took My Baby Away" is aimed at Johnny for stealing his girlfriend.
Story editing by Carren Jao. Copy editing by Paris Close.
More Stacker National