Best places to live for people who love the outdoors
Published 2:05 pm Tuesday, July 18, 2023

Best places to live for people who love the outdoors
Deciding where you want to live—in a rural, urban, or suburban area—largely depends on your lifestyle. For instance, if your idea of the perfect Saturday is a long hike through the wilderness, living in a big city probably isn't ideal.
In fact, a large number of Americans are leaving large urban centers: Between 2020 and 2022, 2 million people left the country's largest cities, driven in part by social distancing measures in the early days of the pandemic as well as the increased prevalence of remote work.
While this trend has slowed somewhat in 2023, having access to the great outdoors is still top of mind for some—but not all. In fact, more than 25% of American adults don't get enough physical activity, according to the latest Centers for Disease Control and Prevention data.
For those who do value making their way outside for exercise, Stacker compiled a list of the best places to live for people who love the outdoors using Niche's 2023 rankings. Niche ranks places to live based on factors including the proximity to parks and beaches, air quality, and how often residents engaged in physical activity.
Most of the cities on this list are on the West Coast, with California claiming nearly two dozen spots. The list even includes a few large cities that happen to be located near local, state, or national parks.
Read through the list to get inspiration for your next move.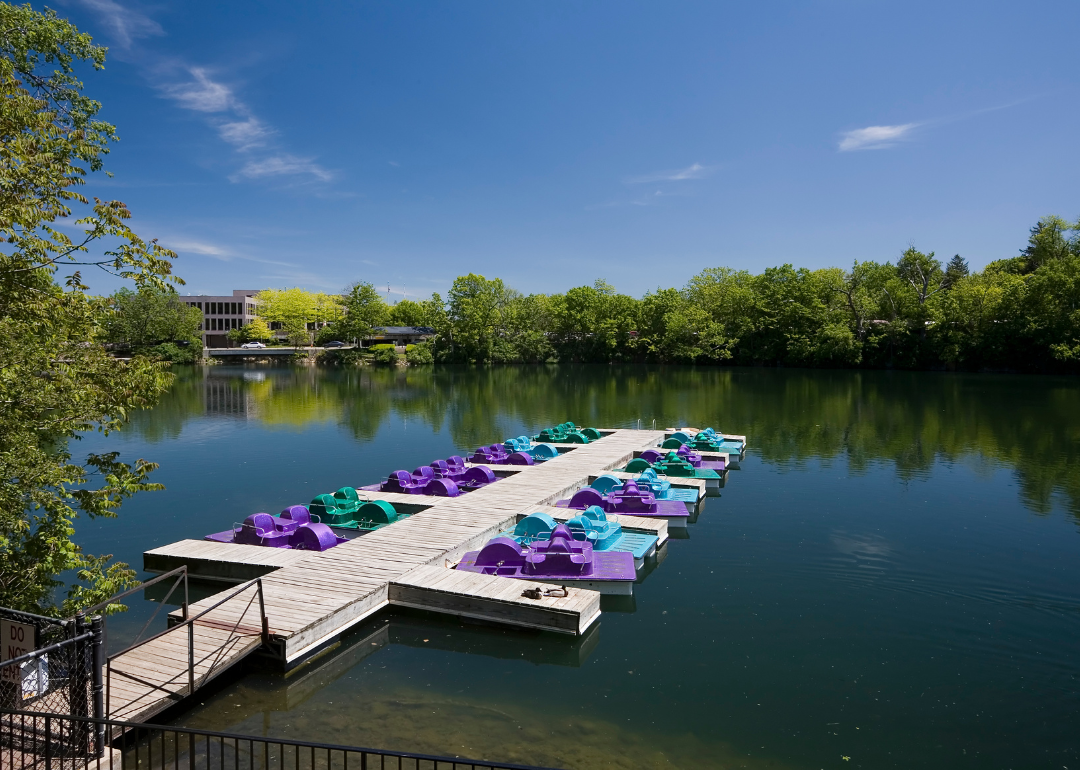 Canva
#50. Naperville, Illinois
– Population: 149,013
– Median home value: $433,400
– Median rent: $1,645
The DuPage River runs through this Chicagoland suburb, offering plenty of opportunities for outdoor recreation. In the summer, you can bike and run along the river trail; on snowy winter days, you'll see more snowshoers and cross-country skiers. The river is also popular with kayakers, and you might even see wildlife like blue herons, river otters, and turtles.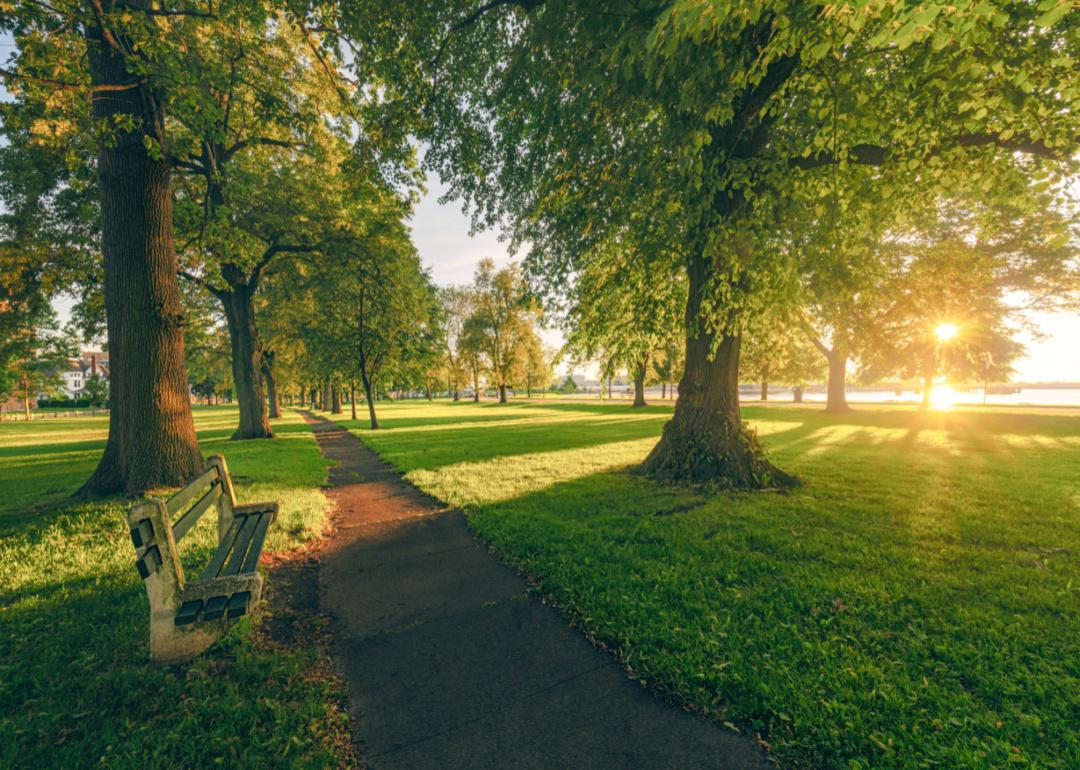 LBSimms Photography // Shutterstock
#49. Bridgeport, Connecticut
– Population: 148,529
– Median home value: $194,100
– Median rent: $1,225
With several yacht clubs and a full-service marina, Bridgeport is popular with boaters of all kinds. You can learn to sail and even compete in regattas, or try sport fishing for black sea bass, flounder, and other local fish. Thrill-seeking families can also try zip-lining on the aerial ropes course at the Adventure Park at the Discovery Museum.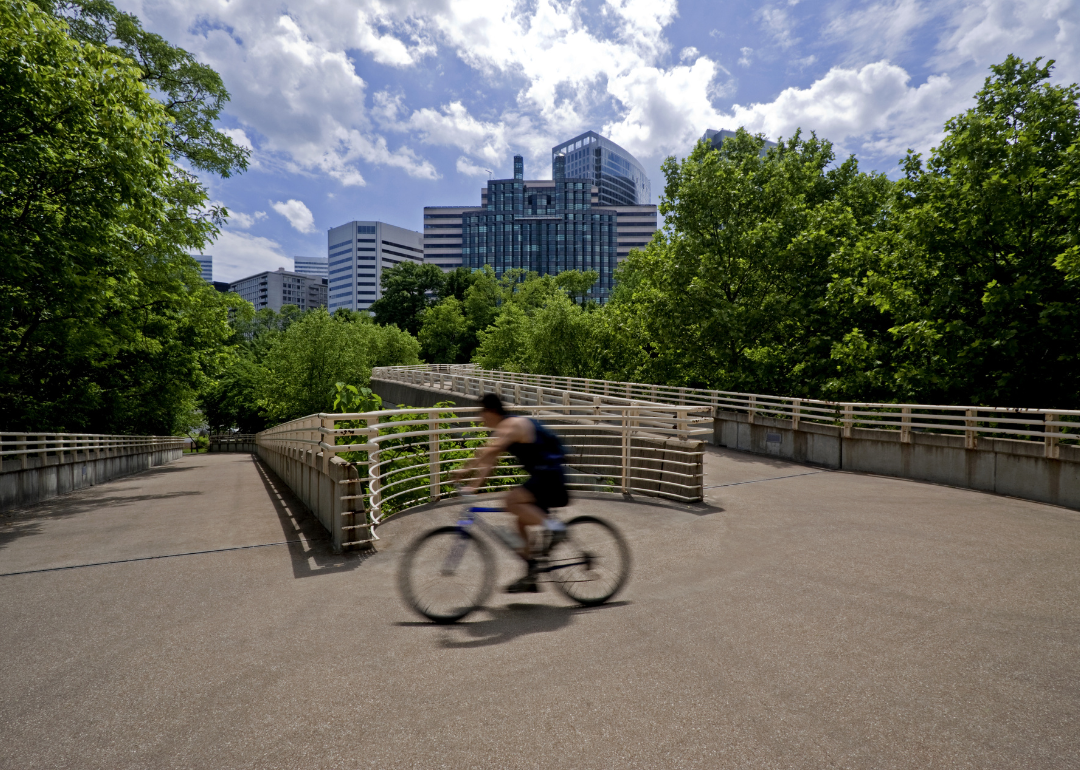 Canva
#48. Arlington, Virginia
– Population: 235,764
– Median home value: $755,800
– Median rent: $2,094
Just across the Potomac from Washington D.C., Arlington has plenty of outdoor recreation on offer. Go hiking in Potomac Overlook Regional Park, or take a more restful walk through the manicured rose gardens at Bon Air Park. The city also has more than 100 miles of designated bike paths and public outdoor pickleball, tennis, and basketball courts at Walter Reed Community Center.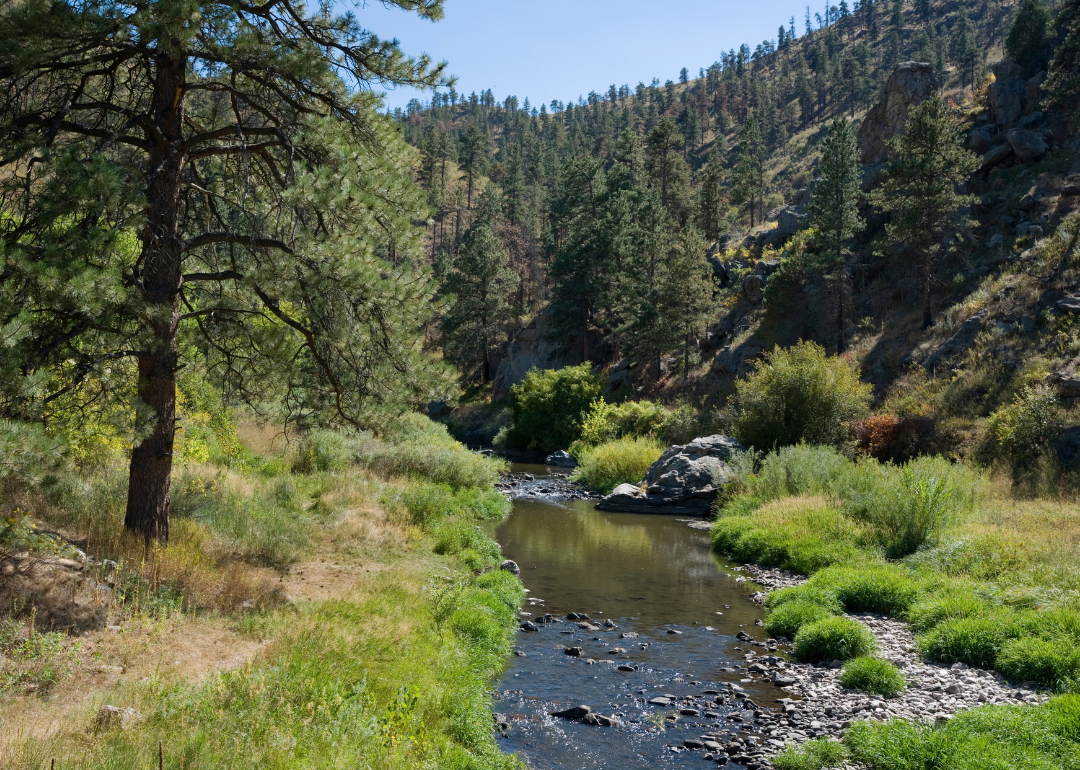 Canva
#47. Fort Collins, Colorado
– Population: 166,788
– Median home value: $431,300
– Median rent: $1,443
This Colorado city is surrounded on nearly every side by protected lands. Rocky Mountain National Park is just over an hour outside of the city, while Lory State Park, Boyd Lake State Park, and Reservoir Ridge Natural Area are even closer. Hiking, mountain biking, kayaking, skiing—almost any outdoor activity you can think of is easily accessible.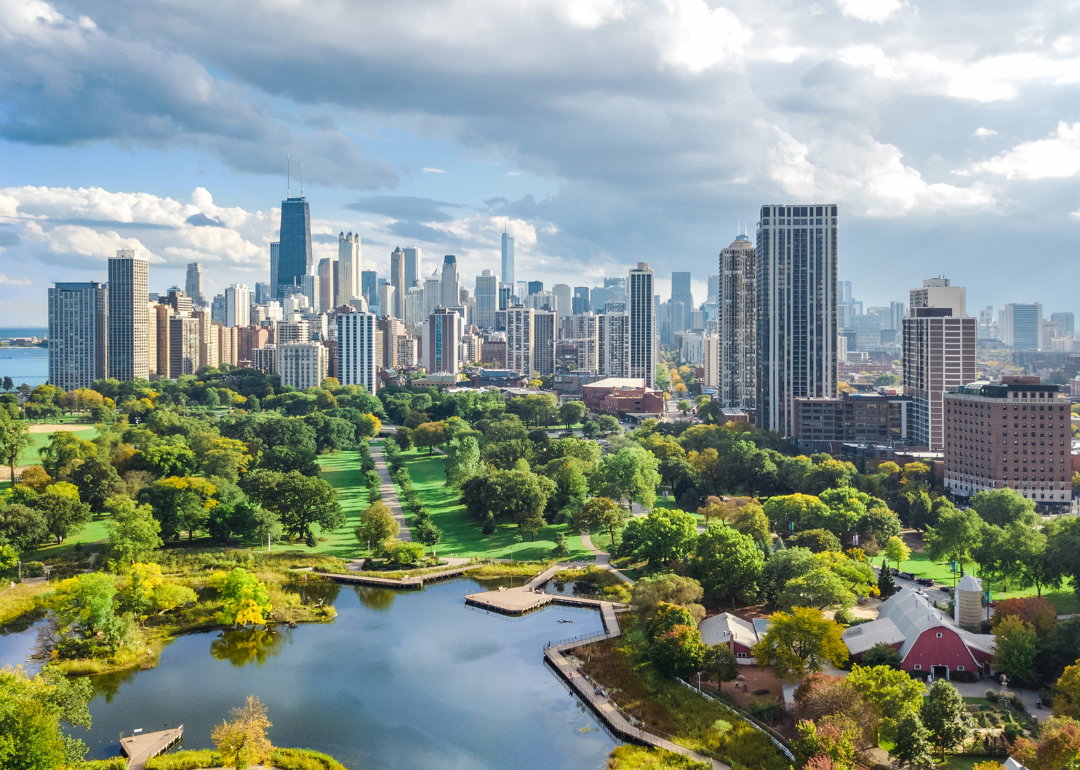 Canva
#46. Chicago
– Population: 2,742,119
– Median home value: $277,600
– Median rent: $1,209
Sure, Chicago may be the third most populous U.S. city, but it still offers plenty of opportunities to get outside. Chicago offers 26 miles of scenic lakefront, including 18 miles of trails and more than two dozen public beaches. You can even try urban hiking on the 606, a formerly abandoned elevated rail line that has since been transformed into a public park.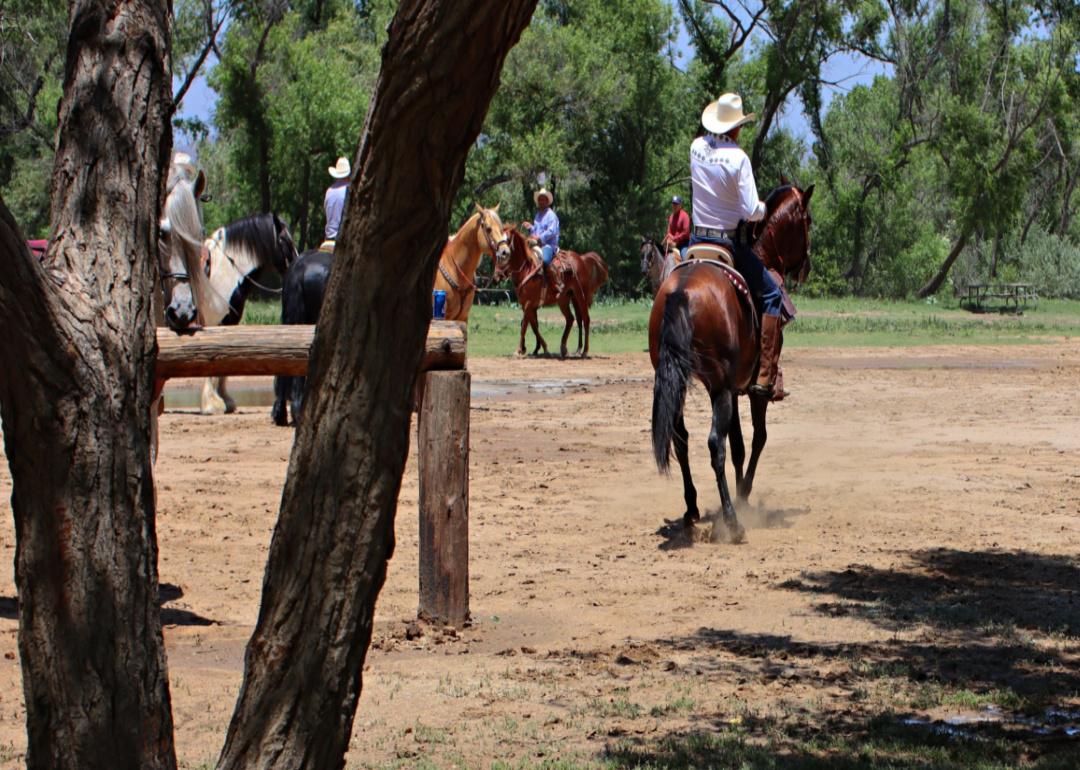 William X Brown // Shutterstock
#45. Corona, California
– Population: 157,844
– Median home value: $530,100
– Median rent: $1,802
With the Cleveland National Forest and the Santa Ana Mountains to the southwest, Corona has no shortage of nearby hikes. Take Coal Canyon Trail to an area known by locals as "Mini Moab," or climb up Skyline Drive for sweeping views of the mountains. On a hot day, locals beat the heat by driving to nearby Lake Elsinore for a swim.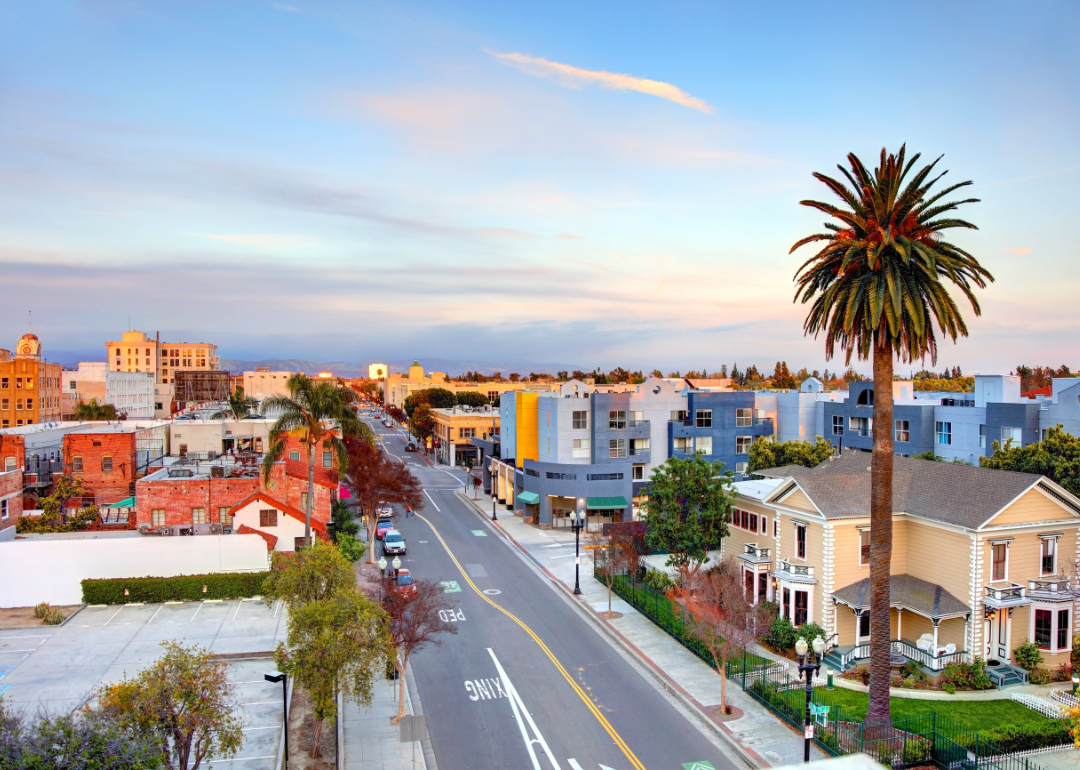 Canva
#44. Santa Ana, California
– Population: 313,818
– Median home value: $556,300
– Median rent: $1,726
This Orange County city is well situated near a variety of outdoor attractions. Hikers can hit the trail in Santiago Park, which also features an archery range, log cabin, and wildlife center. Driving about half an hour west will bring you to the Pacific Ocean at Seal Beach.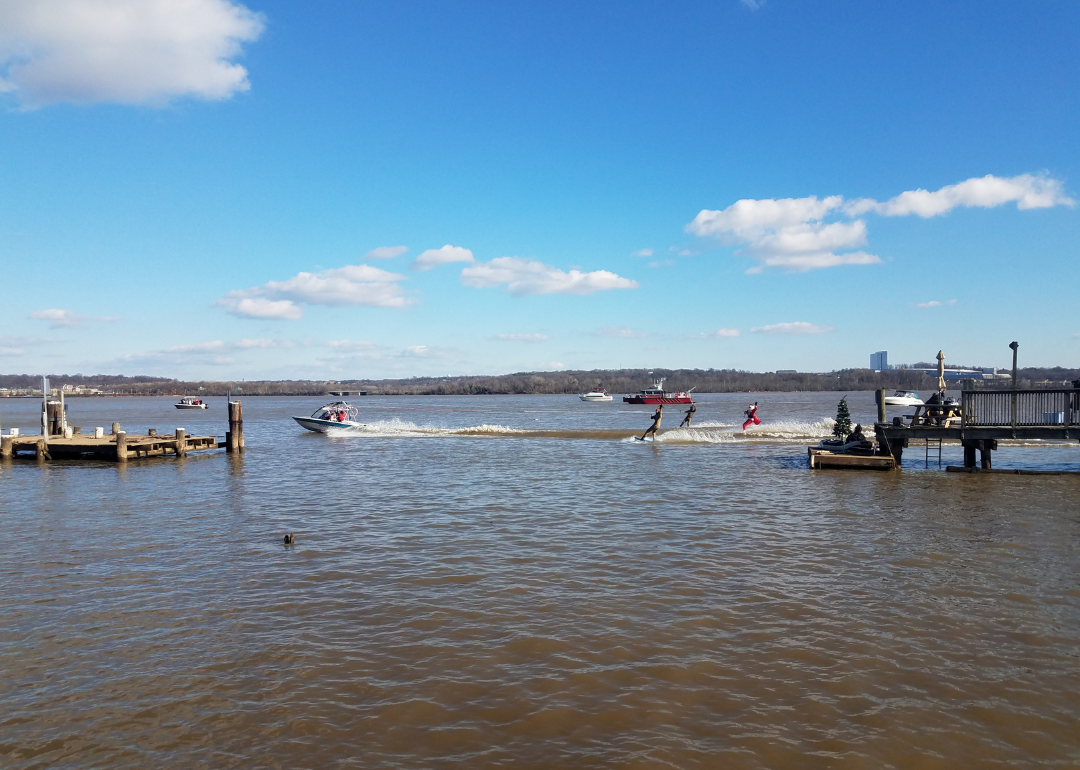 Canva
#43. Alexandria, Virginia
– Population: 158,185
– Median home value: $579,100
– Median rent: $1,848
Alexandria is packed with public parks, from the 50-acre woodland at Dora Kelley Nature Park to the outdoor classrooms at Green Spring Gardens to the waterfall-filled oasis at Winkler Botanical Preserve. Sailors can also launch their boats from the Washington Sailing Marina, while bikers have the nearby Mount Vernon Trail to cycle. You don't even have to leave city limits to do any of it.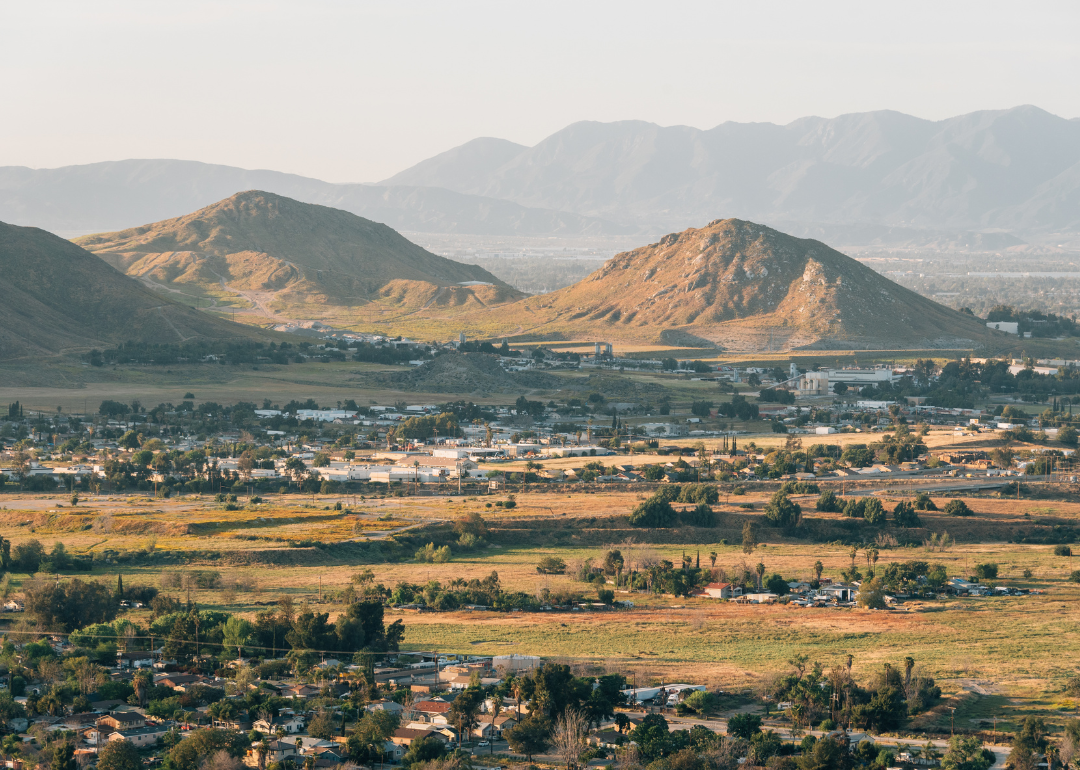 Canva
#42. Riverside, California
– Population: 314,858
– Median home value: $418,000
– Median rent: $1,568
This Southern California city boasts a surprising number of parks within its city limits. Sycamore Canyon Wilderness Park offers staff-led nature hikes on the first Saturday of every month, while hikers and trail runners can visit the site of the oldest outdoor nondenominational Easter Sunrise service in the United States at Mount Rubidoux. Prefer tennis? Work on your forehand at one of the 10 championship tennis courts at Andulka Park.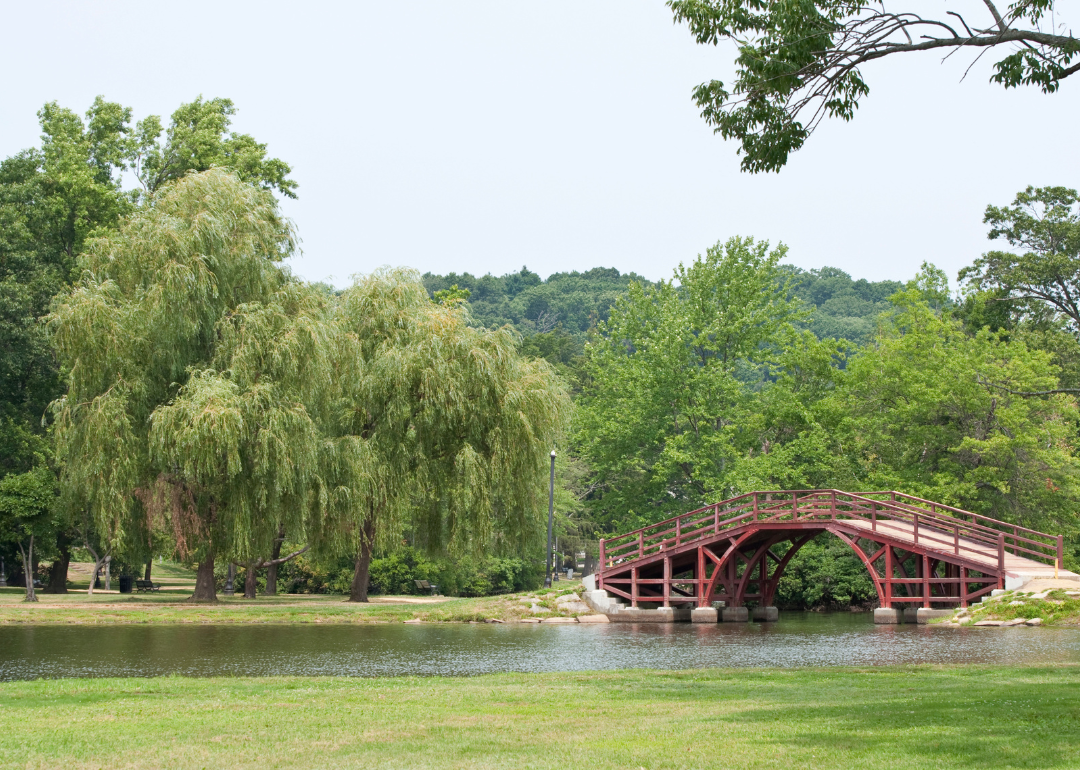 Canva
#41. Worcester, Massachusetts
– Population: 203,867
– Median home value: $259,800
– Median rent: $1,179
Massachusetts' second-largest city has lots of appeal for nature lovers thanks to a wide assortment of nearby parks. Bird watchers might want to visit Broad Meadow Brook Wildlife Sanctuary, where shady woods and small streams provide a lovely habitat for all kinds of birds and other forest creatures. You can also hike through woods and meadows to spy vernal pools and the falls at Cascading Waters or visit Quinsigamond State Park to swim, sail, or boat on the lake.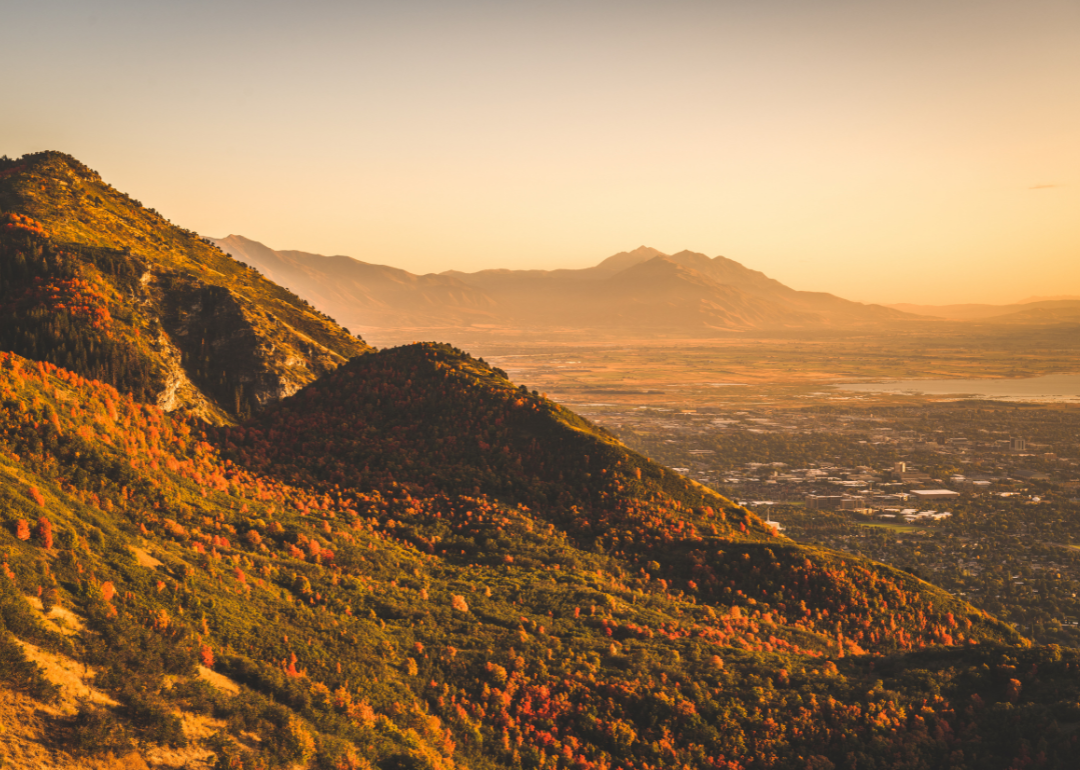 Canva
#40. Provo, Utah
– Population: 113,538
– Median home value: $328,500
– Median rent: $973
On the eastern bank of Utah Lake—the state's largest freshwater lake—Provo offers easy access to Utah Lake State Park, a haven for boaters and campers. Provo locals can also take their pick from plenty of nearby hiking trails, including the scenic Bridal Veil Falls near the entrance of Provo Canyon, a stunning view of Mount Timpanogos from the Stewart Falls Trail, and the 3-mile climb to Kyhv Peak.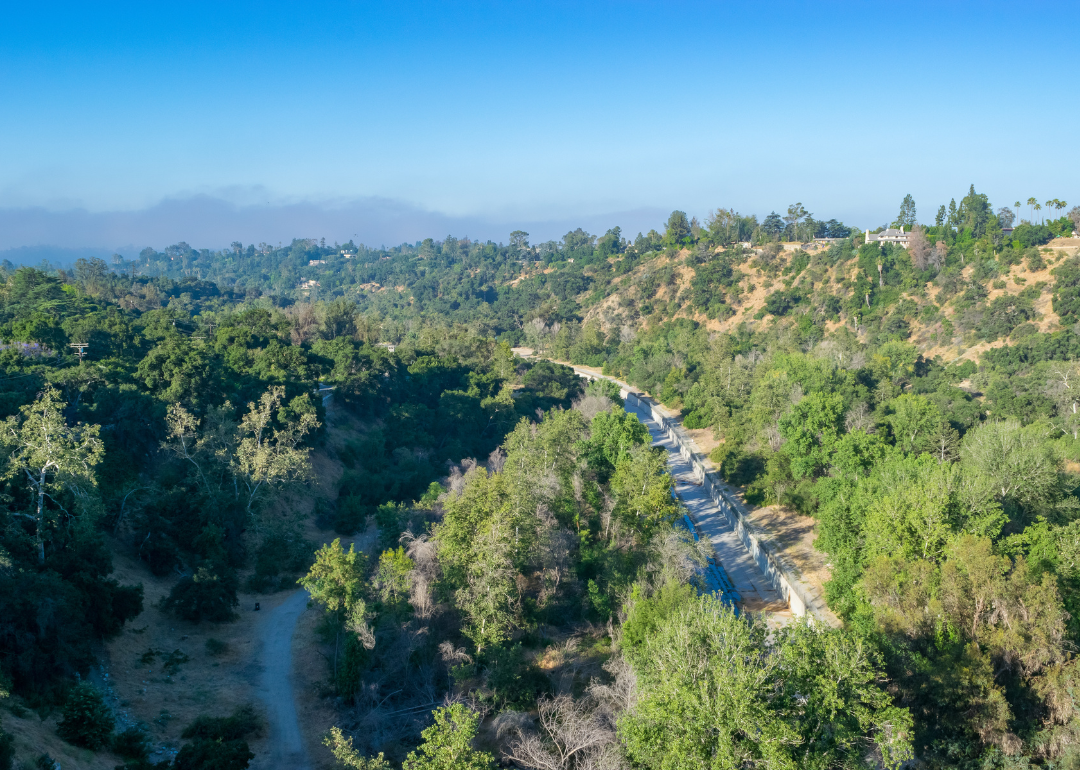 Canva
#39. Pasadena, California
– Population: 138,771
– Median home value: $863,100
– Median rent: $1,904
Just south of the Angeles National Forest, Pasadena residents are within easy access to lots of beloved hiking trails. Eaton Canyon has a popular, relatively easy hike to its picturesque waterfalls, while more experienced hikers might choose to climb up nearby Mount Wilson. If you prefer mountain biking, El Prieto Trail is another fan favorite.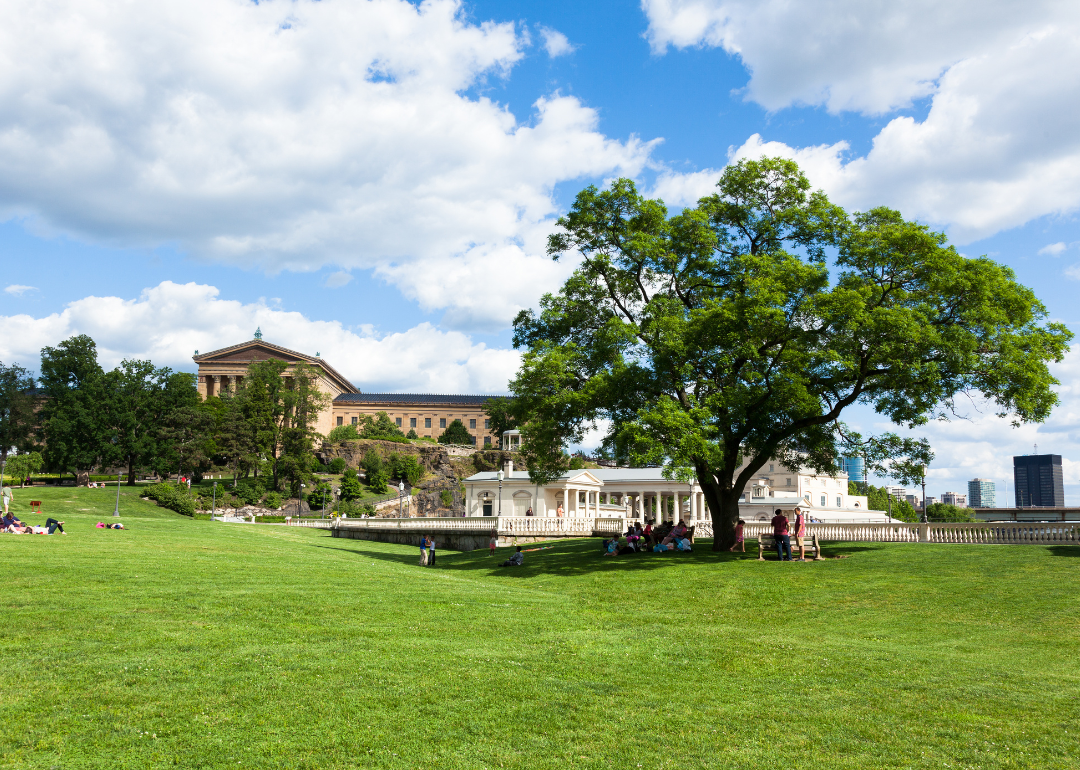 Canva
#38. Philadelphia
– Population: 1,596,865
– Median home value: $184,100
– Median rent: $1,149
The City of Brotherly Love may be best known for historical landmarks like the Liberty Bell, but it's also home to plenty of outdoor recreation spots. Part of the 120-mile Schuylkill River Trail runs through Philadelphia, allowing joggers, bikers, and sightseers alike to get outdoors. The city also offers several urban green spaces as part of the Fairmount Park system.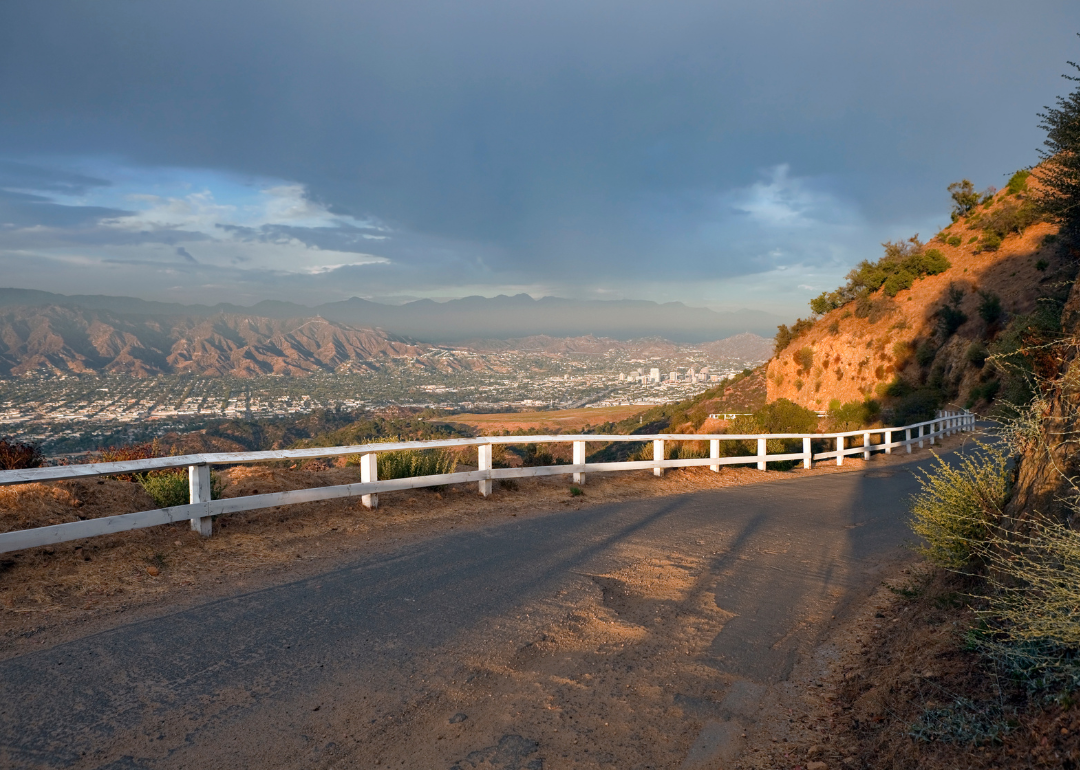 Canva
#37. Glendale, California
– Population: 196,512
– Median home value: $865,400
– Median rent: $1,835
Glendale lies just west of Pasadena, with a similarly hilly geography thanks to the nearby mountains. Hiking is equally popular here, with trails like the 5.5-mile Beaudry Loop and the good-for-birding Crescenta View Trail among the most beloved. Golfers also have several courses to choose from, including public options and country clubs.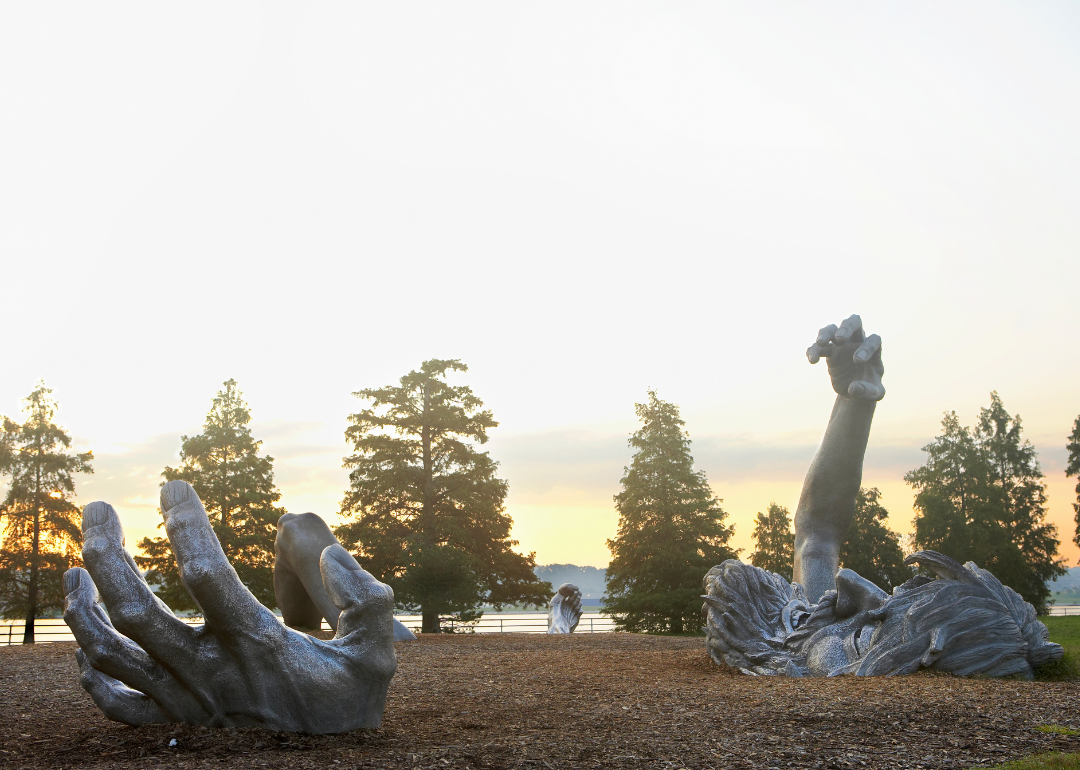 Canva
#36. Washington D.C.
– Population: 683,154
– Median home value: $635,900
– Median rent: $1,681
The nation's capital is a great choice for the city dweller who also loves nature. You can do everything from horseback riding to trail running in Rock Creek Park, or hike part of the 184-mile C&O Canal Towpath, which starts in the district and runs along the edge of Georgetown and out into Maryland. For a less physically exhausting activity, admire the plants on display at the National Arboretum.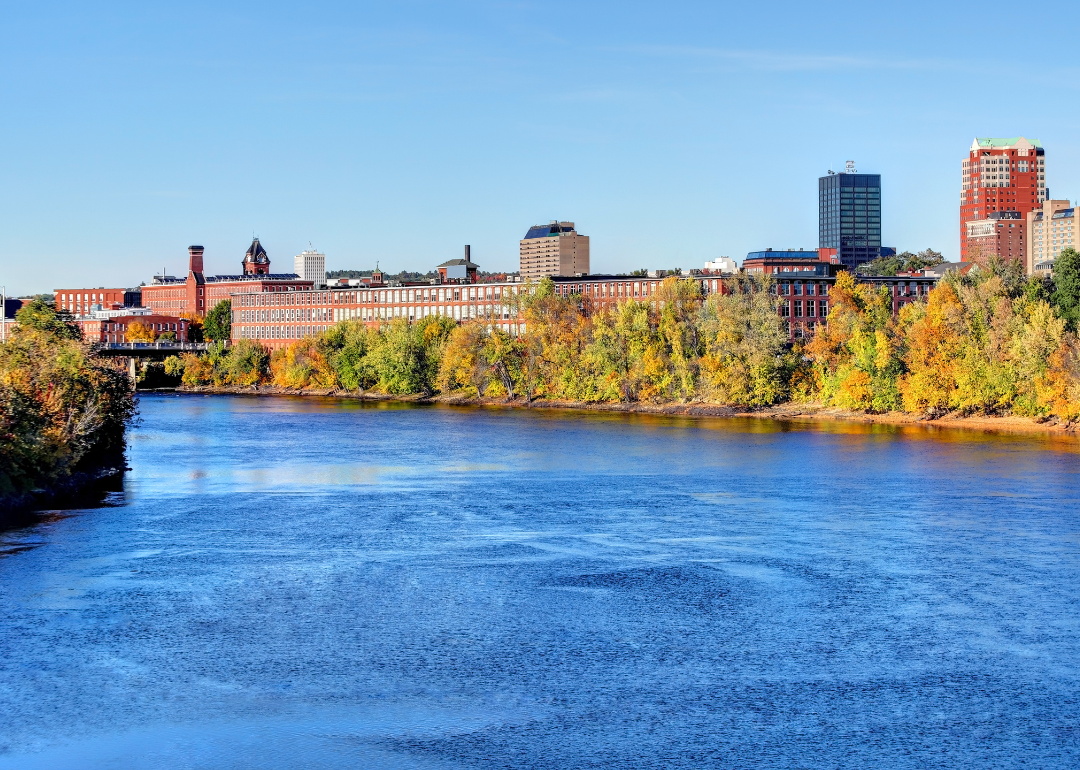 Canva
#35. Manchester, New Hampshire
– Population: 114,730
– Median home value: $258,100
– Median rent: $1,220
This New Hampshire city on the Merrimack River has plenty of all-season outdoor activities to offer locals. In the warmer months, you might fish at Dorrs Pond, play community sports in Livingston Park, or sail on Lake Massabesic. During the New England winter, skiing is the thing to do—and you don't even have to leave city limits to hit the slopes at McIntyre Ski Area.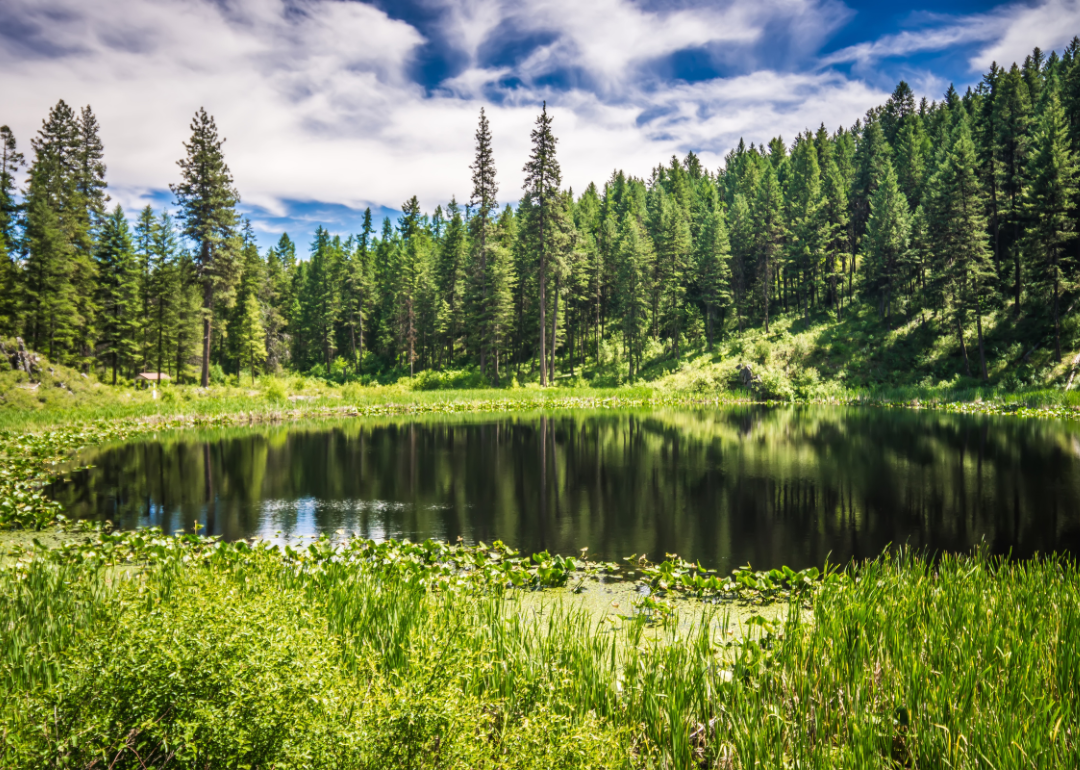 Canva
#34. Spokane, Washington
– Population: 225,709
– Median home value: $236,300
– Median rent: $956
The state of Washington is known for its outdoor recreation, and Spokane is no exception. Camping, hiking, mountain biking, and horseback riding are all offered at nearby Riverside State Park and Mount Spokane State Park. Animal lovers might want to make the half-hour drive to Turnbull National Wildlife Refuge, a 23,000-acre ecosystem that's home to wildlife, including 200 types of migrating waterfowl, moose, elk, porcupines, river otters, coyotes, cougars, and more.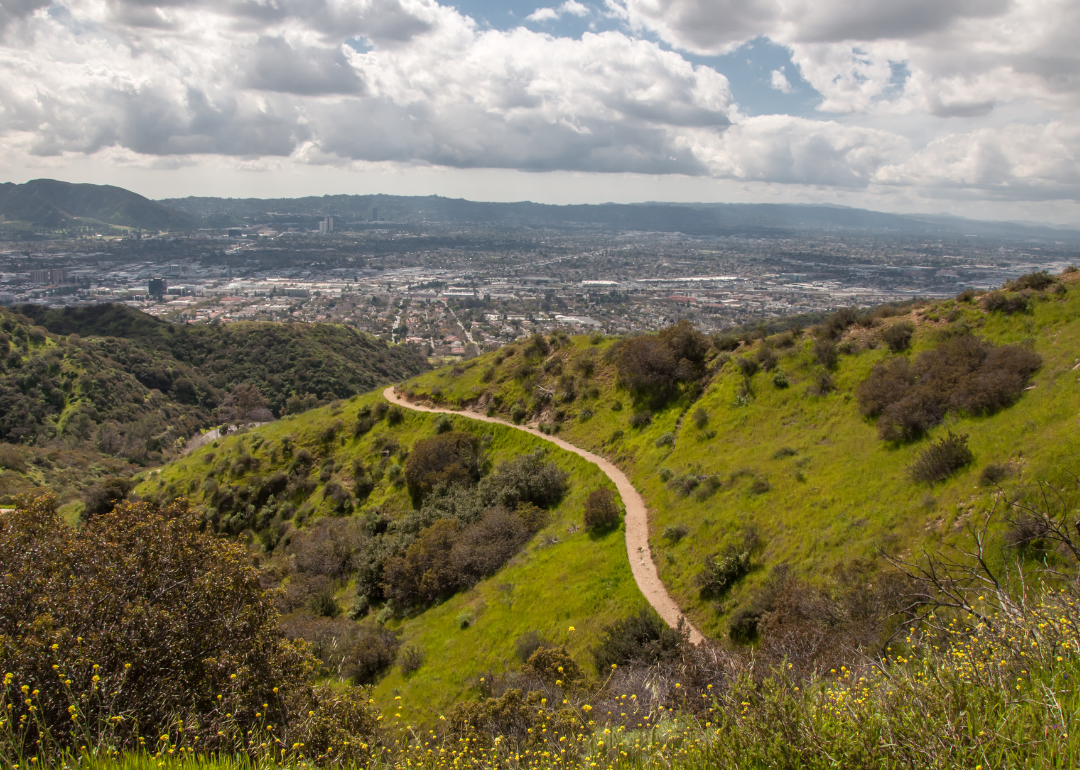 Canva
#33. Burbank, California
– Population: 107,364
– Median home value: $837,900
– Median rent: $1,859
Though Burbank is perhaps best known as the home to several Hollywood studios, it also offers a surprising amount of hiking trails. Climbing Cahuenga Peak to see the Wisdom Tree—a lone pine that has become a geocaching location where hikers have left notes containing their hopes and dreams—is among the most popular. Wildwood Canyon, Verdugo Peak, and Stough Canyon are also local favorites.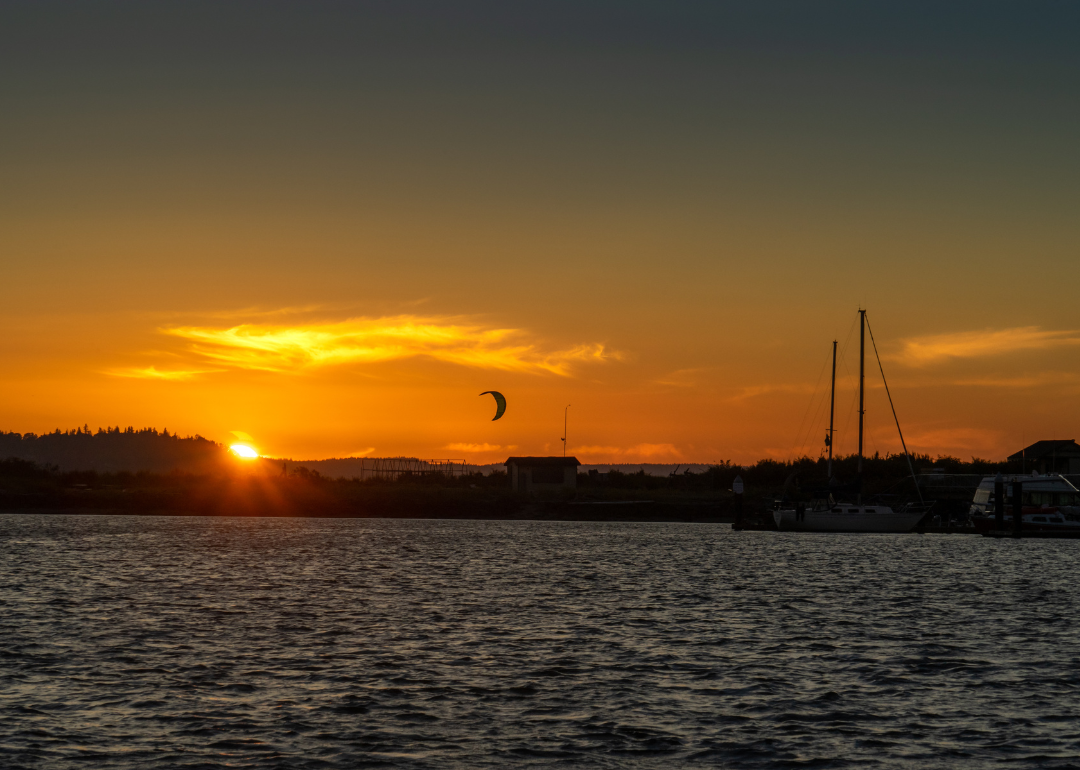 Canva
#32. Everett, Washington
– Population: 110,438
– Median home value: $394,900
– Median rent: $1,426
Located 30 miles north of Seattle, Everett sits on the eastern edge of the Possession Sound. For gorgeous views of the water, head to Harborview Park—it's a lovely spot for a picnic or afternoon stroll. If you're hoping to actually get into the water, take the ferry (or kayak!) to the sandy beaches on human-made Jetty Island. Alternatively, you can take in the flora and fauna at the Evergreen Arboretum and Gardens.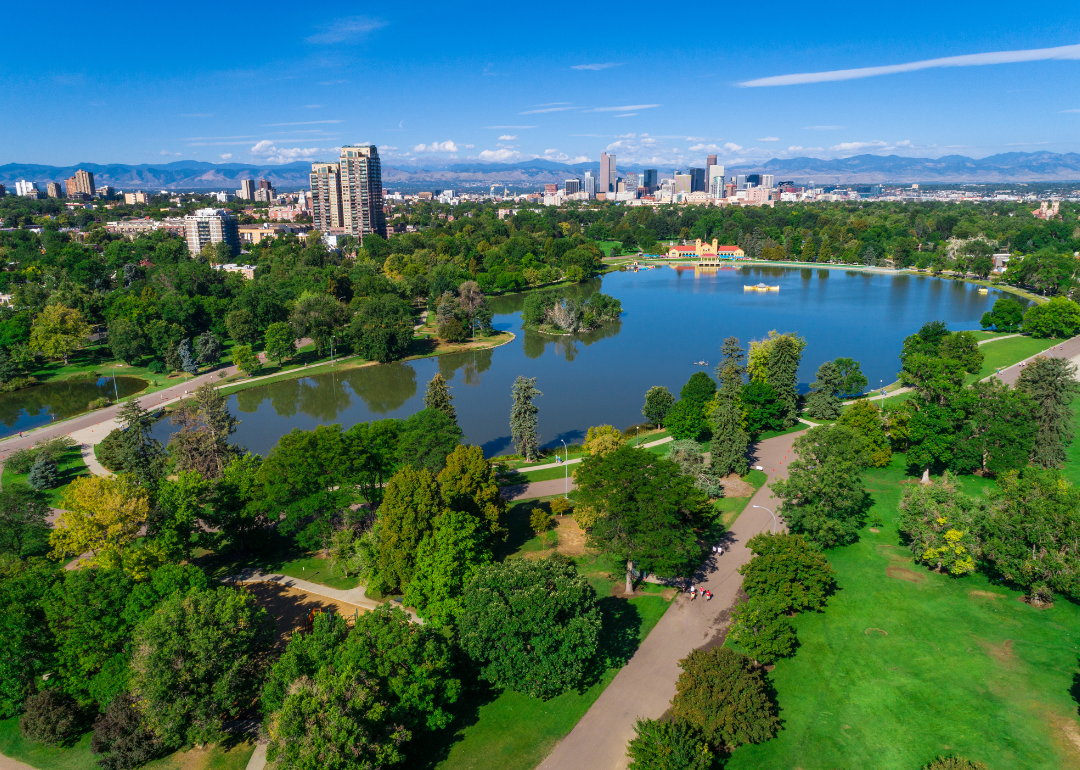 Canva
#31. Denver
– Population: 706,799
– Median home value: $459,100
– Median rent: $1,495
Given that the Mile High City is actually in the Rocky Mountains, it's no surprise that Denver is a paradise for outdoor adventurers. Of course, there is no shortage of day hikes or mountain bike trails within easy driving distance, but you don't even have to leave the city to experience the outdoors. Try kayaking the human-made chutes at Confluence Park, rent a pedal boat in Washington Park, or look for bald eagles in Rocky Mountain Arsenal National Wildlife Refuge.
Canva
#30. Boulder, Colorado
– Population: 104,930
– Median home value: $790,100
– Median rent: $1,711
Just 30 miles from Denver, Boulder offers a similarly wide array of outdoor recreation options. Families might opt for the flat Wonderland Lake loop trail through a wildlife sanctuary, or try boating or water skiing at the city-owned Boulder Reservoir. For hikers up for a bit more of a challenge, the Royal Arch Trail—a steep climb to spectacular views of the rock formations Boulder is known for—is well worth the effort.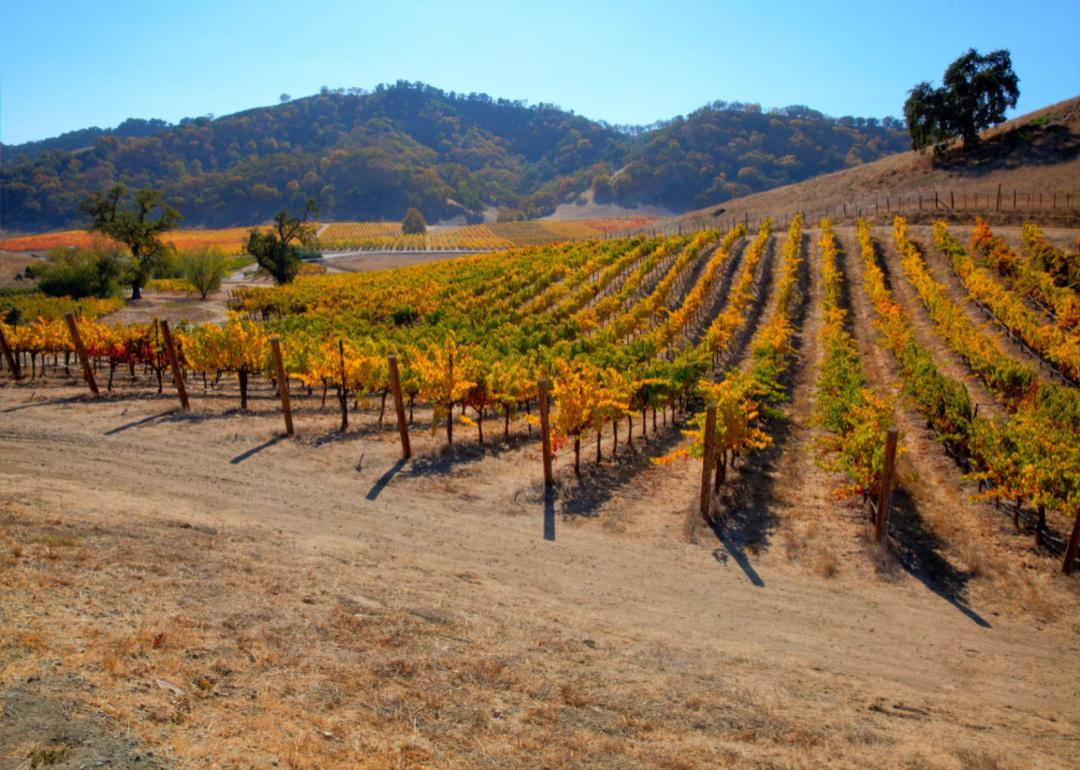 Mariusz S. Jurgielewicz // Shutterstock
#29. Santa Clara, California
– Population: 127,922
– Median home value: $1,199,500
– Median rent: $2,652
This Bay Area city offers easy access to many biking and walking trails. Alviso Marina County Park serves as your entry point to the Don Edwards San Francisco Bay National Wildlife Refuge, where you can spot a wide variety of migratory birds. Bike through the park's 20.6 acres, or go for a walk or jog along the San Tomas Aquino trail.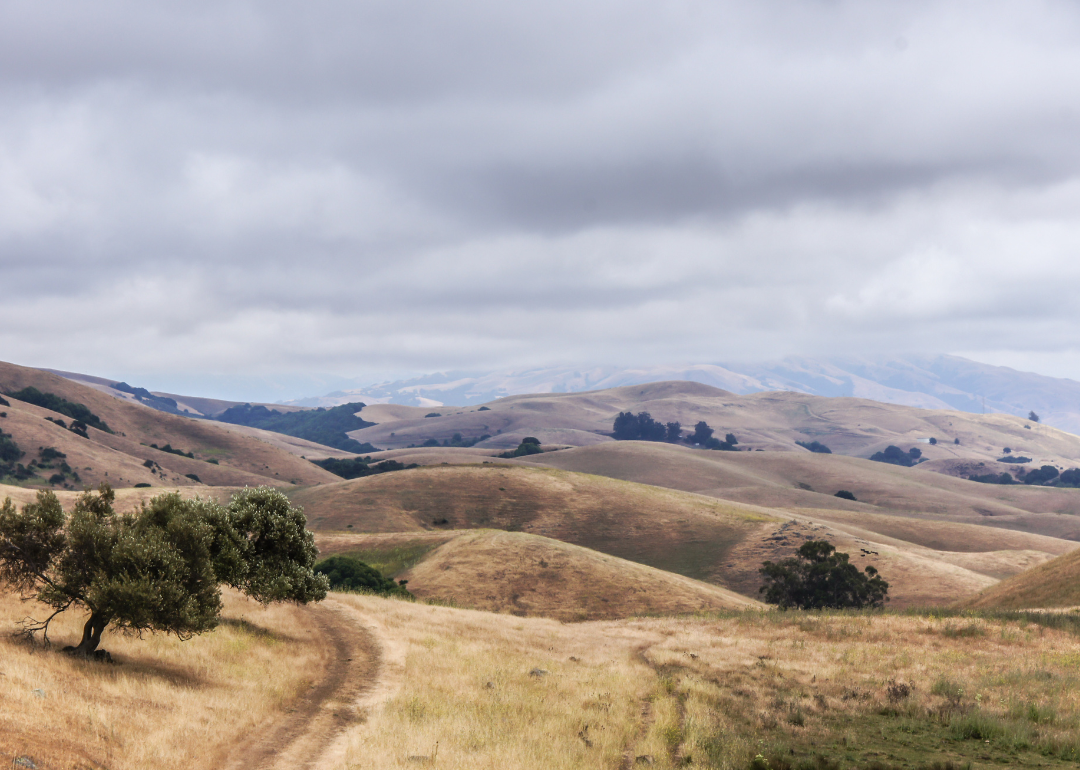 Canva
#28. Hayward, California
– Population: 162,254
– Median home value: $653,500
– Median rent: $2,071
Bird-watchers will find some of the widest variety of species in the Bay Area at Eden Landing Ecological Reserve, a 6,400-acre wildlife refuge on the San Francisco Bay. Keep an eye out for egrets, herons, and sandpipers in the salt marshes, as well as mallards, ruddy ducks, Canada geese, and other waterfowl in the bay. The reserve even allows hunting on select days. Prefer mountains to bay views? Take the Ridgeline Trail to climb up into the hills.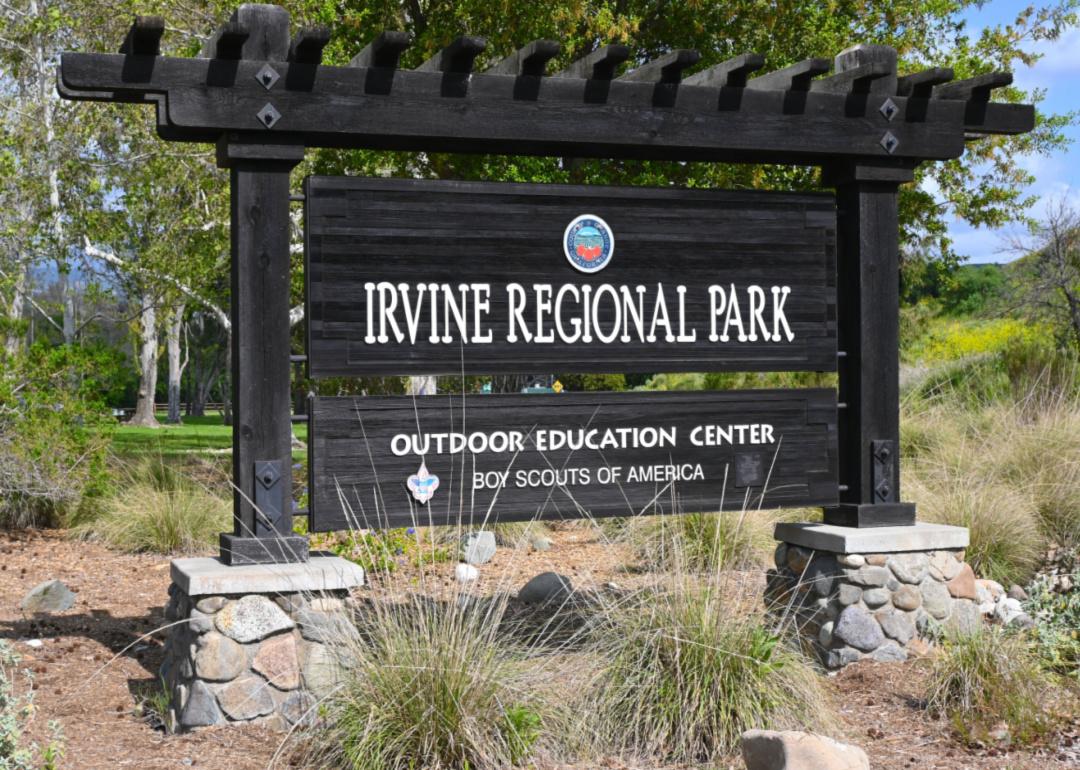 Steve Cukrov // Shutterstock
#27. Orange, California
– Population: 139,195
– Median home value: $712,500
– Median rent: $1,972
Though the city of Orange is perhaps best known for its proximity to Disneyland, residents also have plenty of nearby outdoor activities to choose from. Orange boasts 22 city parks, ranging from sports centers and athletic facilities to rose gardens and walking paths. Cyclists can even bike the Santiago Creek Bike Trail, a flat 8.5-mile path that's appropriate for kids and adults alike.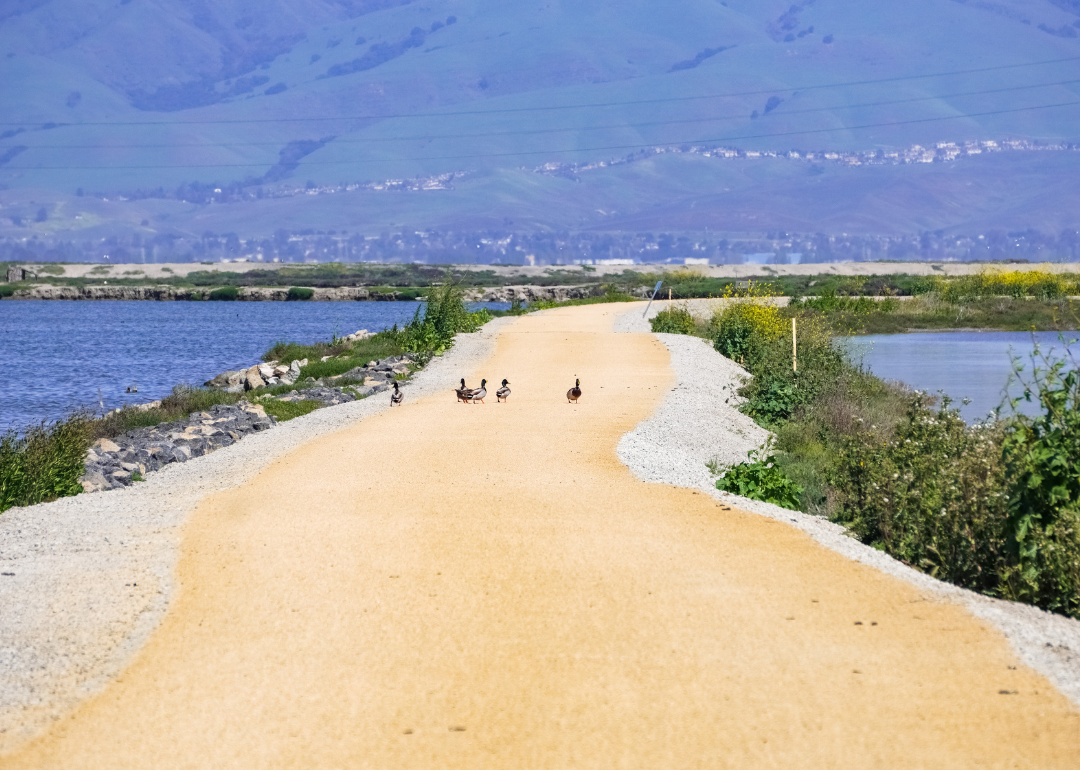 Canva
#26. Sunnyvale, California
– Population: 155,550
– Median home value: $1,528,500
– Median rent: $2,837
Like other Bay Area cities, Sunnyvale also offers locals the ability to admire the region's wetlands. Baylands Park includes biking and hiking trails through 70 acres of developed parkland, as well as access to the San Francisco Bay Trail encircling the bay. Golfers can also hit the links at the Sunnyvale Municipal Golf Course.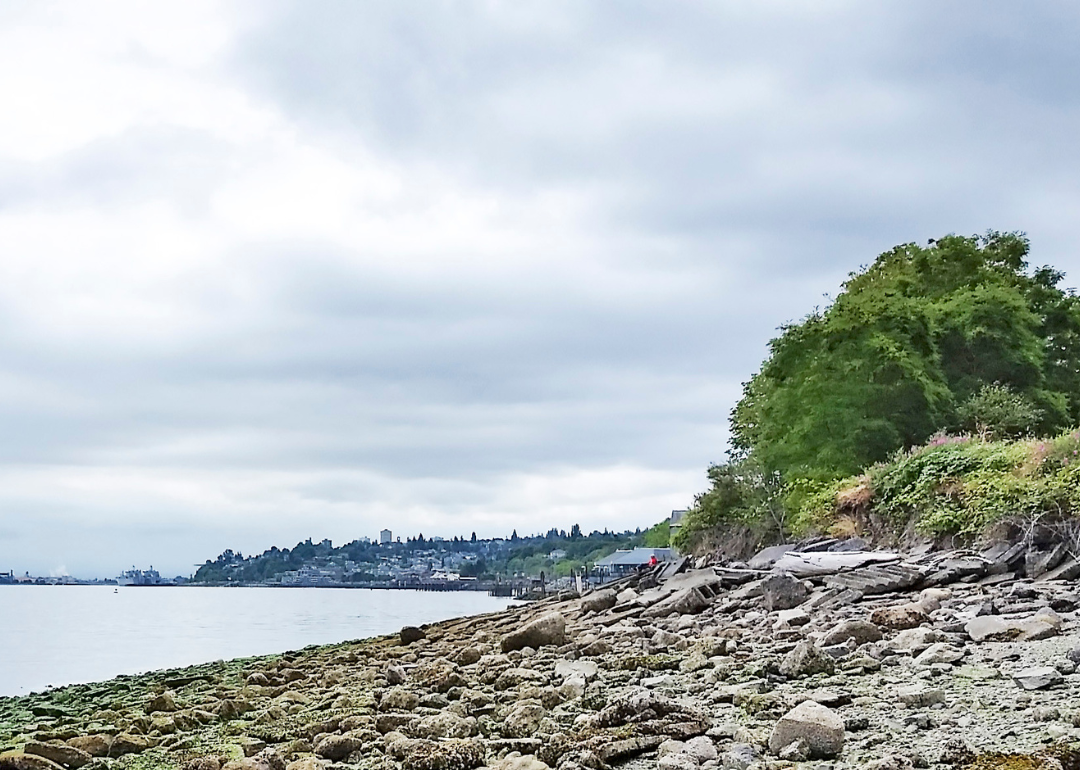 Canva
#25. Tacoma, Washington
– Population: 217,332
– Median home value: $347,100
– Median rent: $1,343
Located on the shoreline of Commencement Bay, Tacoma is a perfect place to get outdoors within view of Puget Sound. Point Defiance Park—a 760-acre urban park on high bluffs overlooking the sound—has dozens of activities to offer visitors, including exploring the shoreline at low tide, visiting the animals in the zoo, and admiring the Rhododendron Garden. On the other side of the bay, you'll find Browns Point Lighthouse Park, a truly picturesque spot offering tours of the lighthouse and picnic tables overlooking Tacoma's busy port.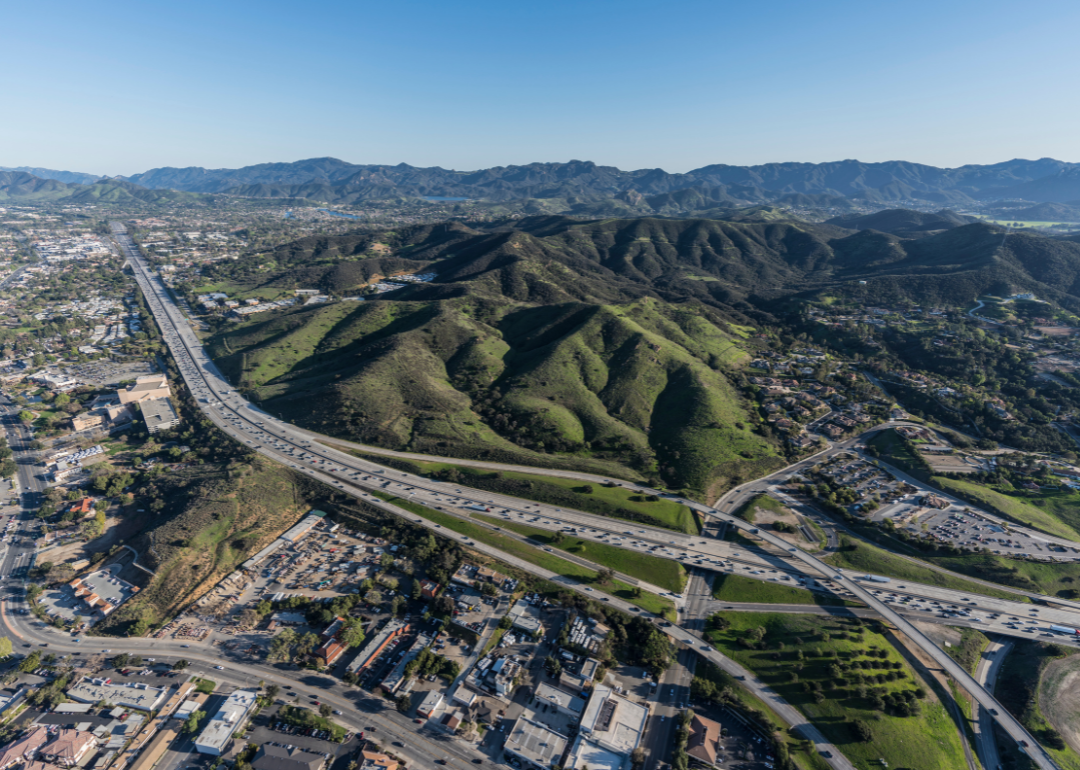 Canva
#24. Thousand Oaks, California
– Population: 127,274
– Median home value: $794,200
– Median rent: $2,303
With 14 hiking trails, Wildwood Regional Park is one of the most popular spots for outdoorsy people in Thousand Oaks. Don't miss the trail to Paradise Falls, a 40-foot cascade into a rugged canyon. Hiking the trail to Coba Arch near Simi Peak is another popular excursion, while the Gardens of the World is beloved by those who prefer a more relaxed outdoor experience.
Canva
#23. San Francisco
– Population: 865,933
– Median home value: $1,194,500
– Median rent: $2,130
San Francisco is well-situated near plenty of spectacular natural beauty, including Muir Woods National Monument and Point Reyes National Seashore, but you don't even have to leave the city to spend time outdoors. In Golden Gate Park, you can stroll through more than 1,000 acres of meadows, gardens, and lakes—and even spot a herd of bison. The Presidio is also chock-full of hiking and biking trails, including several with gorgeous views of the Golden Gate Bridge and the bay beyond.
Canva
#22. Long Beach, California
– Population: 466,565
– Median home value: $614,900
– Median rent: $1,516
As you might guess from the city's name, the thing to do in Long Beach is, well, go to the beach! Mother's Beach is great for families with young children since the shallow waters in Alamitos Bay are free of riptides. Granada Beach not only has a paved path for bikers and joggers but also offers beach volleyball courts and a consistent breeze that makes it great for wind- and kitesurfing. Dog owners won't want to miss Rosie's Dog Beach, a 4-acre stretch of sand where pups can run freely off-leash.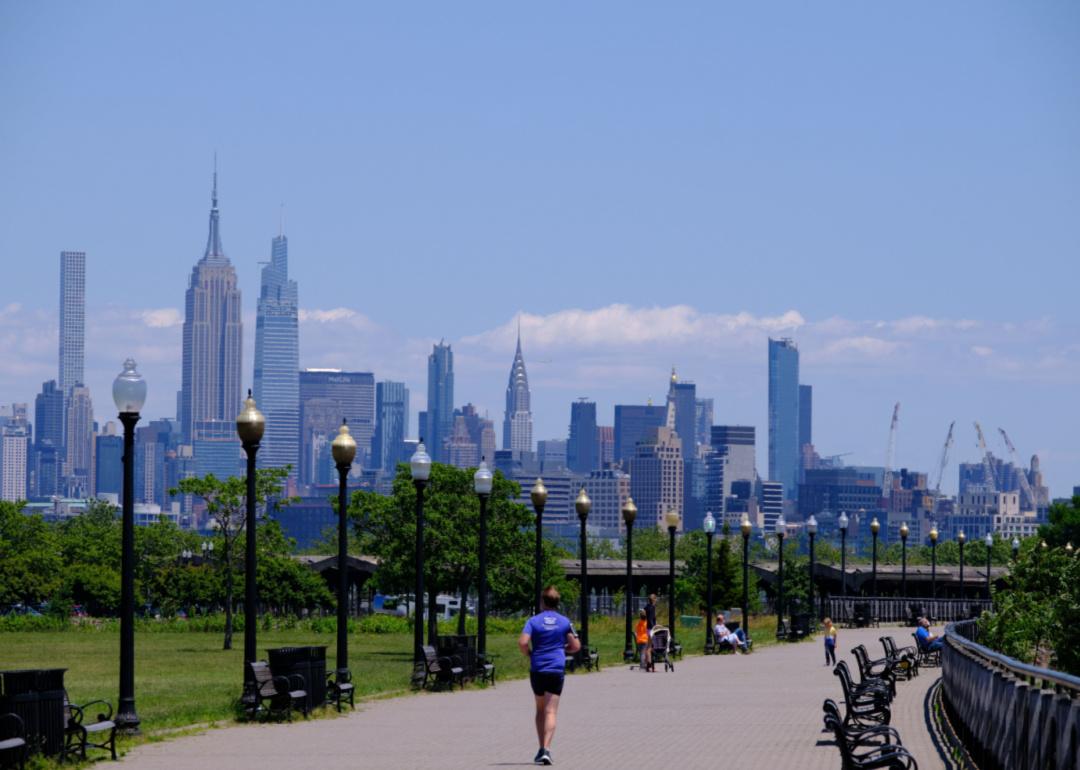 Marcelo Murillo // Shutterstock
#21. Jersey City, New Jersey
– Population: 287,146
– Median home value: $437,200
– Median rent: $1,611
Just across the Hudson River from Lower Manhattan, Jersey City can sometimes play second fiddle to the Big Apple. The views of the Statue of Liberty from Liberty State Park are unparalleled, though—and are the reason the park is so popular with runners. Though it doesn't have the same scenery, Jersey City's Lincoln Park is also a local favorite, thanks to its many public courts for tennis, basketball, baseball, handball, and more.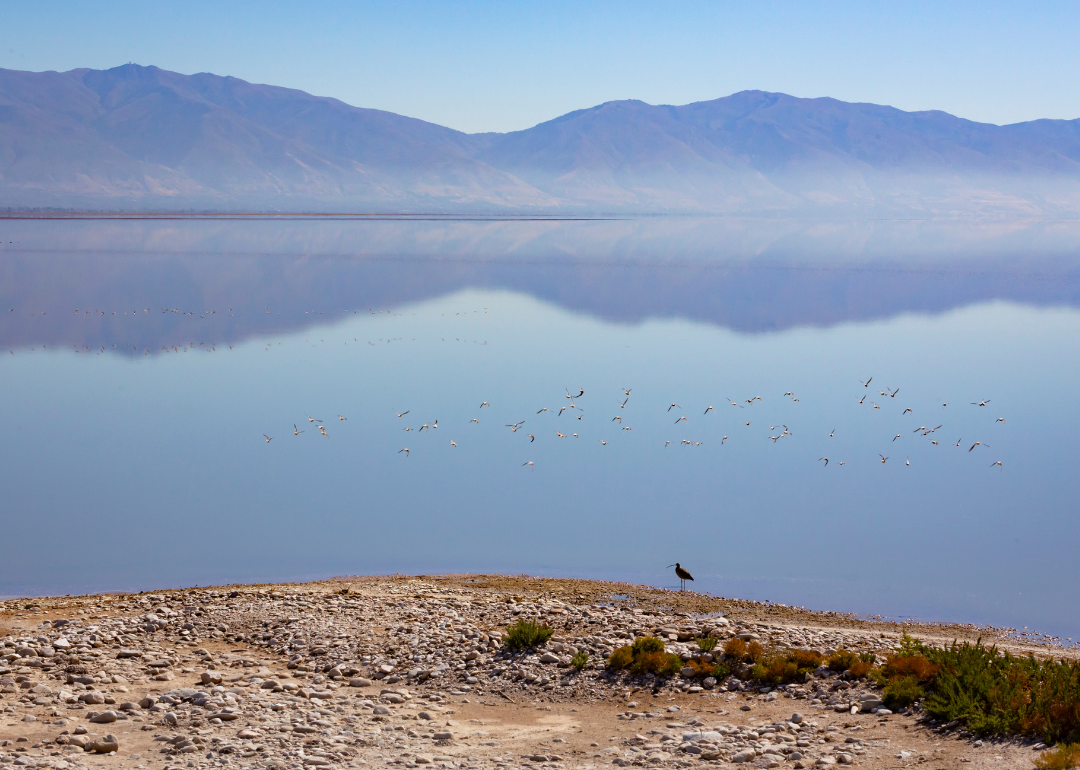 Canva
#20. Salt Lake City
– Population: 199,153
– Median home value: $380,200
– Median rent: $1,141
The nearby Great Salt Lake isn't just Salt Lake City's namesake—it's also a fantastic spot for sailing, swimming, and sunbathing, not to mention spotting bison at Antelope Island State Park. If hiking is more your speed, check out the stunning Bell Canyon Trail for gorgeous canyon scenery. Or, climb the 4,000-foot Mount Olympus for a more challenging excursion.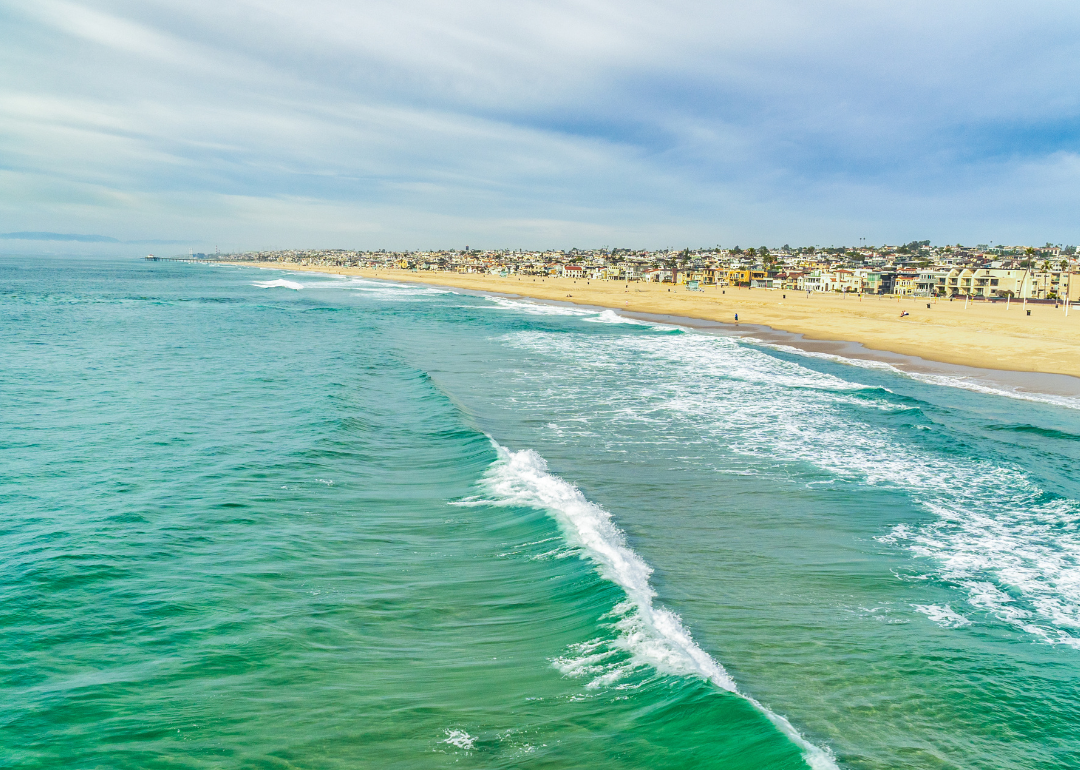 Canva
#19. Torrance, California
– Population: 147,156
– Median home value: $840,900
– Median rent: $1,906
Locals flock to Torrance Beach when they want some sun and surf. Everything from scuba diving to swimming to beach volleyball to surfing is allowed at this beach. For a view of more than just the Pacific Ocean, head to Del Cerro Park in nearby Rancho Palos Verdes. The hike to the top of the bluff offers a nearly panoramic look at the ocean, coastal headlands, and canyons.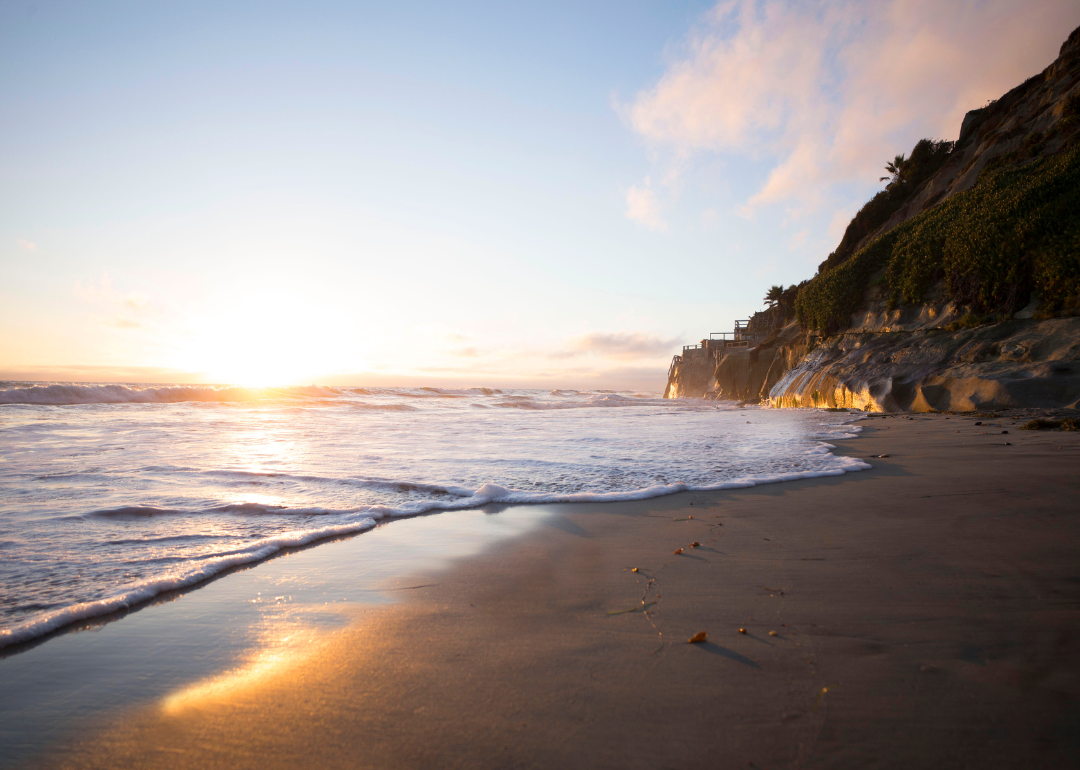 Canva
#18. San Diego
– Population: 1,385,398
– Median home value: $664,000
– Median rent: $1,885
San Diego has a whopping 70 miles of coastline, with no shortage of wonderful beaches to choose from. Admire the sea lions and sandstone cliffs at La Jolla Cove, catch a wave at Del Mar or Black's Beach, or ride the wooden roller coaster at Mission Beach. If it's not quite warm enough to swim, spend the day exploring Balboa Park. The 1,200-acre park features a wide range of hiking trails, in addition to a palm garden, the famed San Diego Zoo, and other cultural attractions.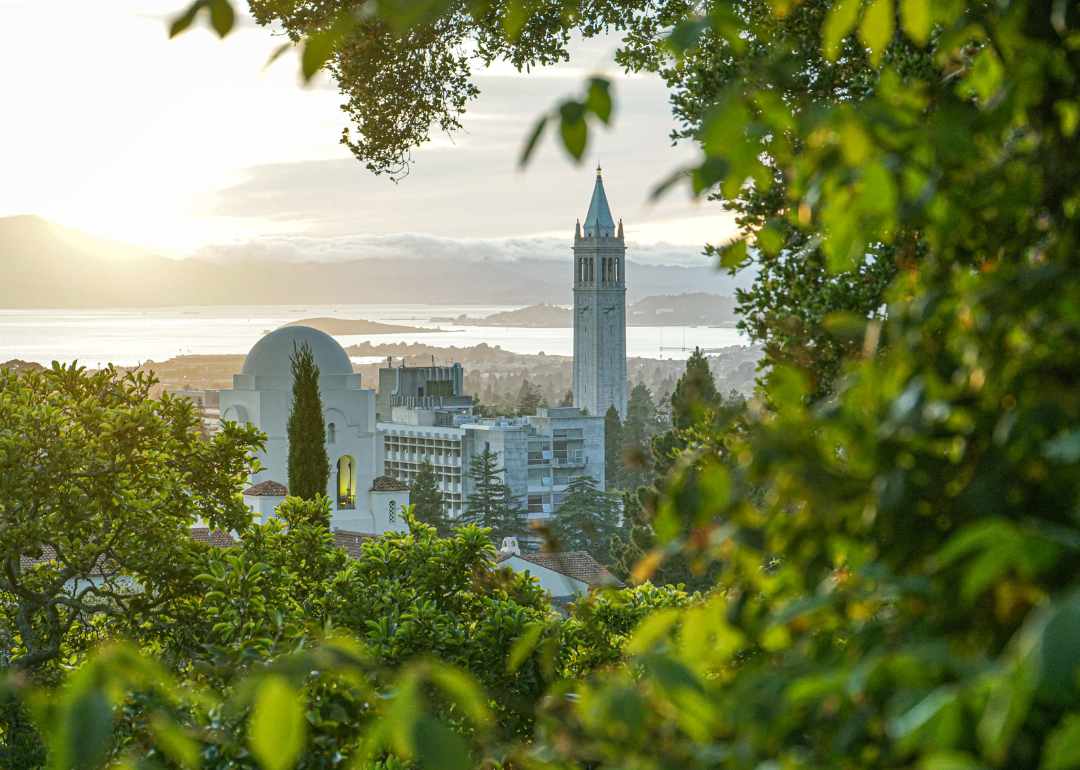 Canva
#17. Berkeley, California
– Population: 119,607
– Median home value: $1,111,000
– Median rent: $1,886
University of California Berkeley's botanical garden is a popular place to spend a sunny afternoon. There are a few other outdoor activities in and around Berkeley, including rock climbing at Indian Rock Park and hiking, camping, or horseback riding in Tilden Regional Park. For the best views in town, climb the Stonewall-Panoramic Trail in Claremont Canyon Regional Preserve to get a bird's-eye view of Berkeley, Oakland, and even the Golden Gate Bridge on a clear day.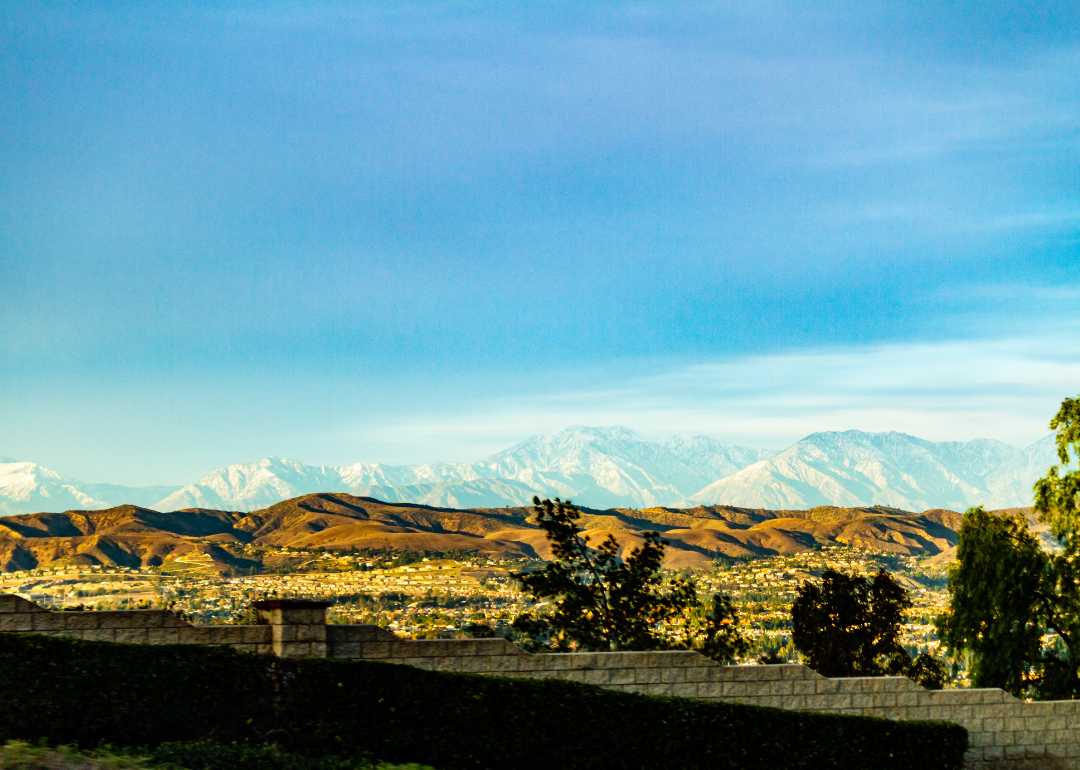 Canva
#16. Anaheim, California
– Population: 348,204
– Median home value: $623,300
– Median rent: $1,823
Disneyland isn't the only park within Anaheim's city limits. In fact, this Orange County city is home to several parks, including Oak Canyon Nature Center, which features a year-round stream, three canyons, oak woodlands, and 4 miles of hiking trails. Golfers can hit a few balls at the driving range at Dad Miller Golf Course, which is famous for being the setting of the world-record-setting hole-in-one made by a 93-year-old golfer in 1970. A young Tiger Woods even played the course in his high school days.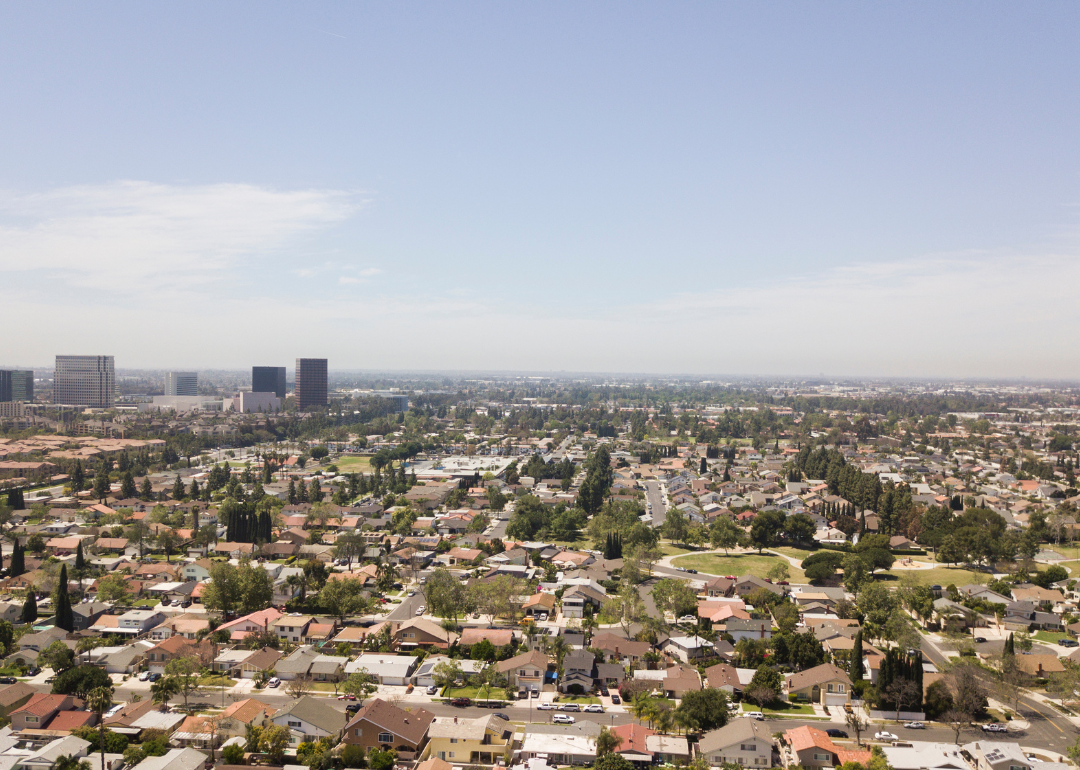 Canva
#15. Costa Mesa, California
– Population: 112,148
– Median home value: $841,700
– Median rent: $2,043
Just north of Newport Beach, Costa Mesa has a similar beachside setting—although it doesn't actually have any beaches of its own. Residents, however, do have nearby Huntington Beach or Balboa Island to explore for beach days. For hiking and biking, head to Talbert Regional Park, where you can explore six different plant zones on a series of trails.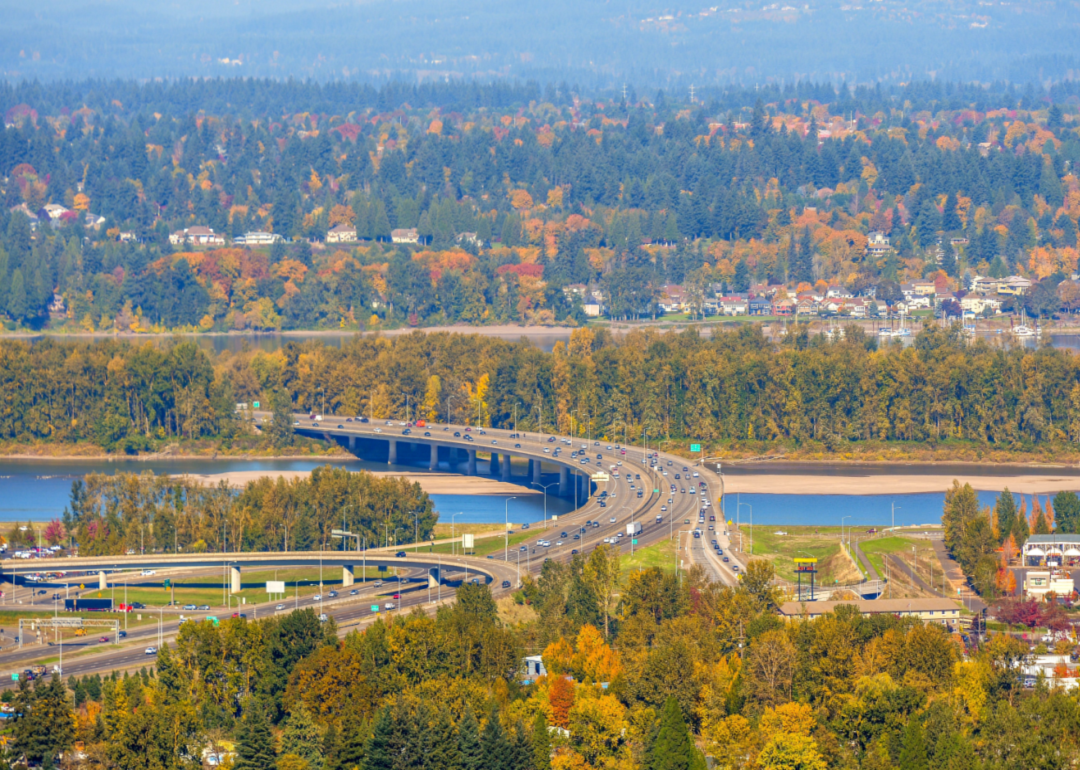 Nadia Yong // Shutterstock
#14. Vancouver, Washington
– Population: 188,331
– Median home value: $343,900
– Median rent: $1,396
This Pacific Northwest city sits on Washington's southern border—right across the Columbia River from Portland, Oregon, in fact. Admire views of the river from the Frenchman's Bar Trail, or try your hand at windsurfing, kayaking, or canoeing on Vancouver Lake. Vancouver is also a short drive away from national forests and preserved wilderness, including excellent hiking at the Cape Horn Trail, Ridgefield National Wildlife Refuge, and Moulton Falls.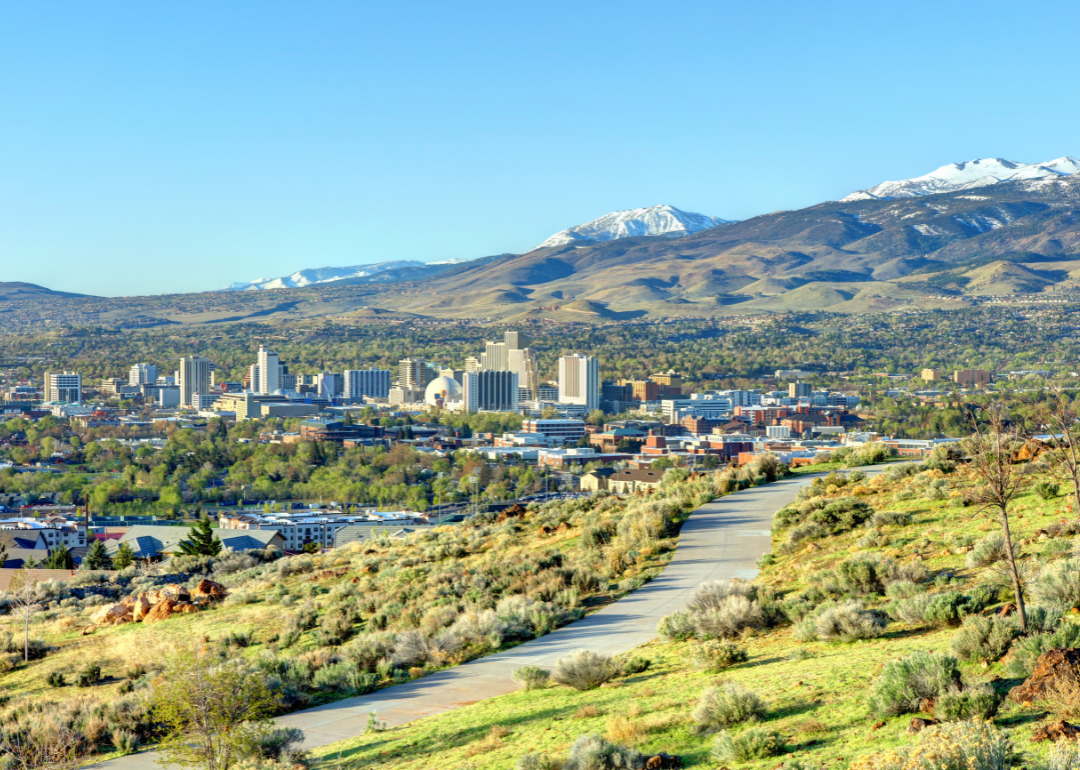 Canva
#13. Reno, Nevada
– Population: 259,913
– Median home value: $391,500
– Median rent: $1,213
Just under an hour's drive from stunning Lake Tahoe, Reno has no shortage of outdoor recreation options. Of course, the famed lake on the California-Nevada border has plenty of gorgeous hikes, water sports like guided kayak tours, and ski resorts to offer visitors. Equestrians can ride on a multitude of trails in the surrounding Sierra Nevadas, while heading east of Reno will bring you into the high desert, like at Hidden Valley Regional Park.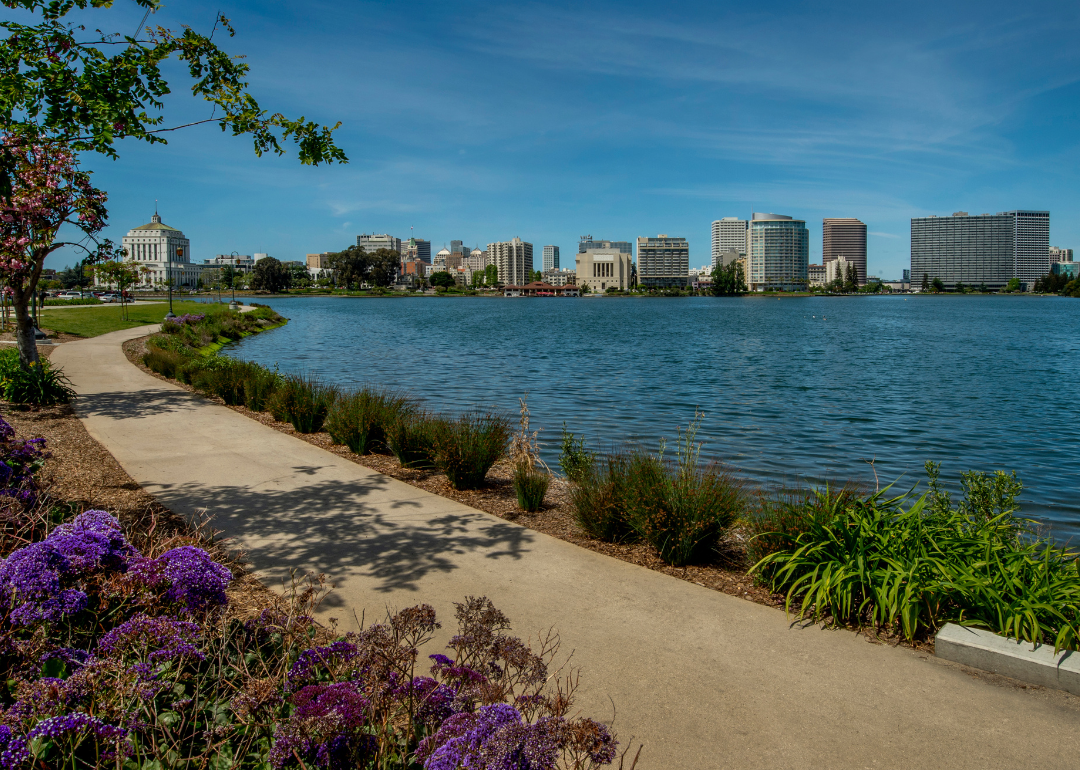 Canva
#12. Oakland, California
– Population: 437,548
– Median home value: $772,400
– Median rent: $1,676
Downtown Oakland may be as urban as it gets, but the city's eastern side abuts miles of preserves and parks. At Sibley Volcanic Regional Preserve, visitors can admire Round Top—not only one of the area's tallest peaks but also a leftover from a 10-million-year-old volcano. A few miles further south, Reinhardt Redwood Regional Park features peaceful redwood groves, while Anthony Chabot Regional Park holds a popular public campground.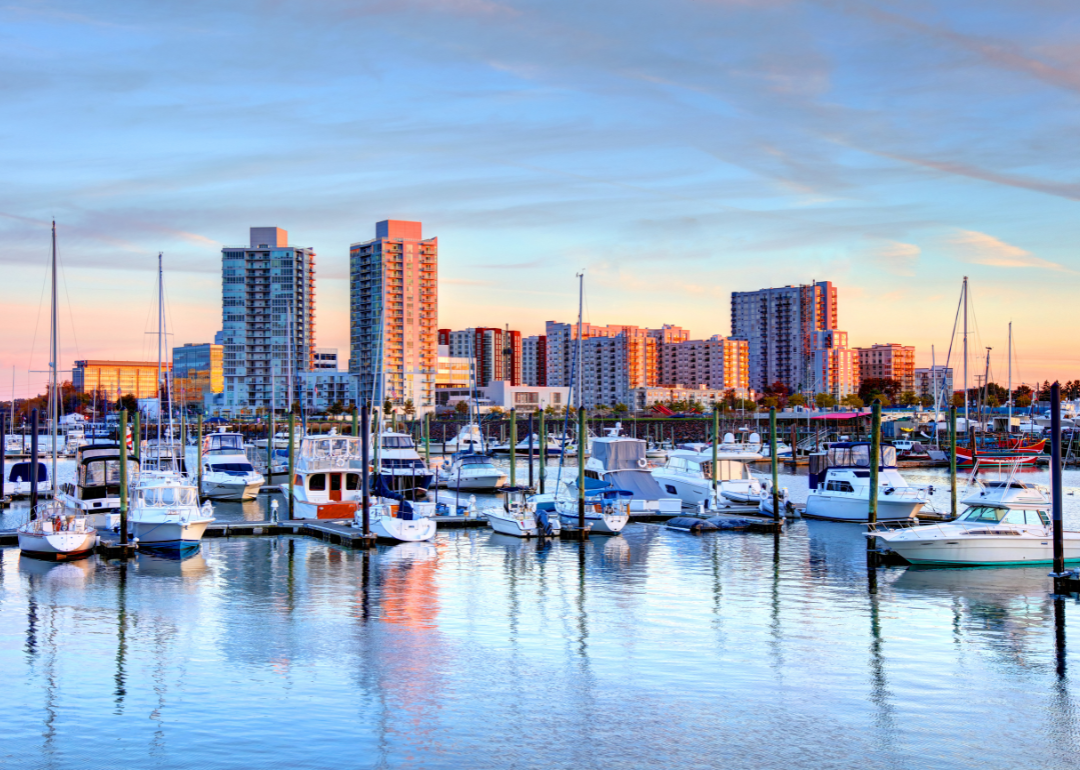 Canva
#11. Stamford, Connecticut
– Population: 134,820
– Median home value: $550,600
– Median rent: $1,981
A popular home base for New York City commuters who don't love city life, Stamford offers a nautical beachside setting. Though you will need to pay for a beach permit to take advantage of them, the city's beaches on the Long Island Sound are beautifully clean. If long walks on the beach are your thing, check out Cove Island, where the facilities include a scenic 1-mile loop trail. Families who just want fun in the sun might prefer Cummings Park, which includes amenities like volleyball courts and a fishing pier, as well as sand and surf.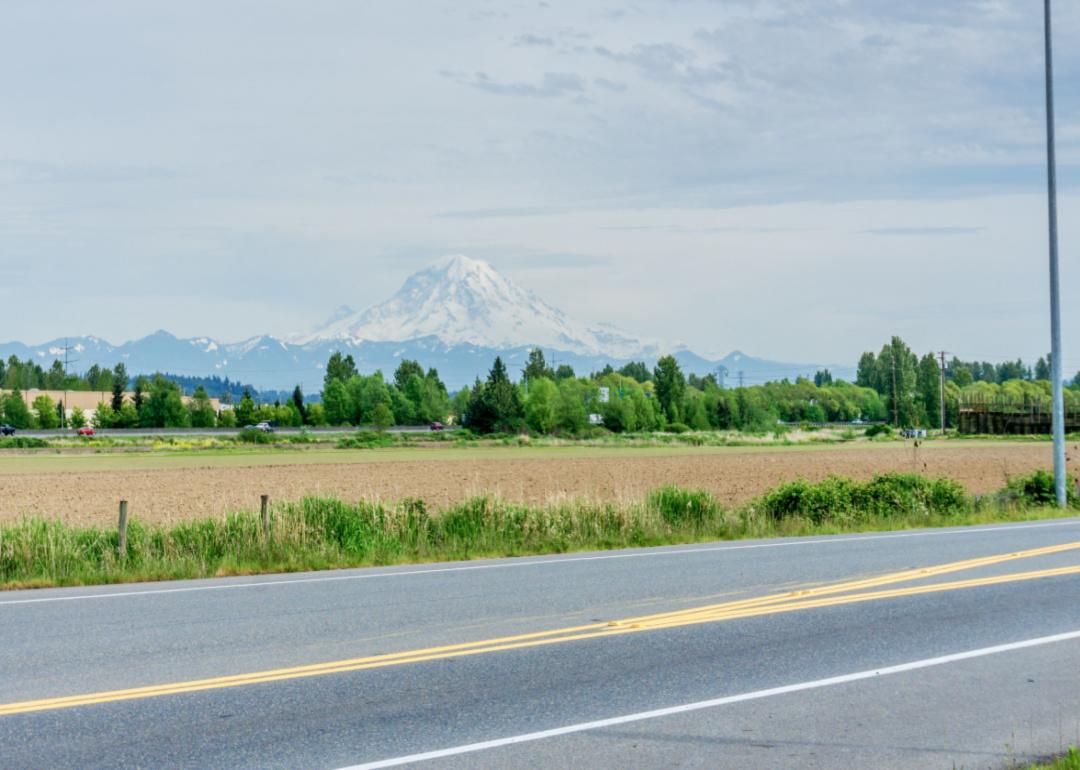 GeorgeColePhoto // Shutterstock
#10. Kent, Washington
– Population: 134,890
– Median home value: $414,200
– Median rent: $1,612
This city on the south side of Seattle—conveniently located near SeaTac Airport—is a great starting point for trips all over the state of Washington. Olympic National Park is about two and a half hours away, while Mount Rainier National Park is only a 1.5-hour drive. Kent also offers plenty of opportunities to get outside without leaving the city, including biking or jogging along the Soos Creek Trail, hiking Des Moines Creek Trail, and fishing at Lake Fenwick.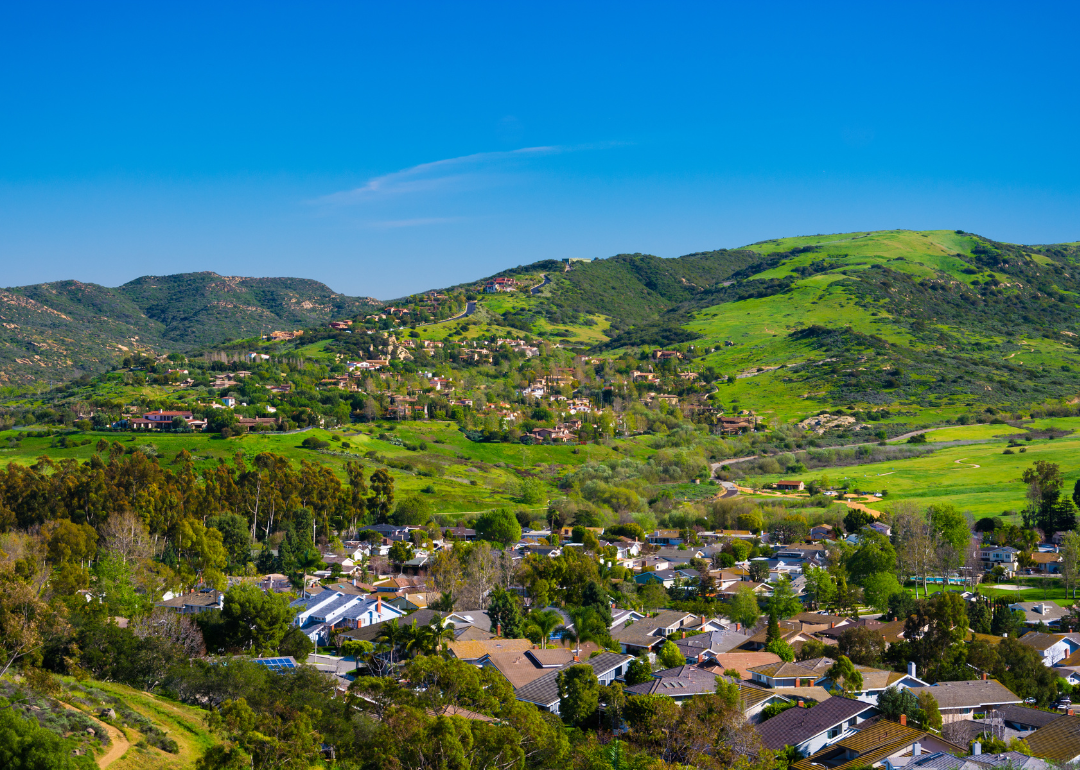 Canva
#9. Irvine, California
– Population: 297,868
– Median home value: $900,700
– Median rent: $2,533
In addition to several golf clubs—including the popular courses at Strawberry Farms and Oak Creek—Irvine has several wildlife and nature preserves just outside its borders. Anglers can fish the shoreline at Irvine Lake, while bird watchers might want to check out the trails at Tucker Wildlife Sanctuary in Modjeska Canyon. Limestone Canyon Nature Preserve is another dedicated protected area: It's free to visit, but only through a scheduled program like docent-led hikes, horseback rides, or bat-watching outings.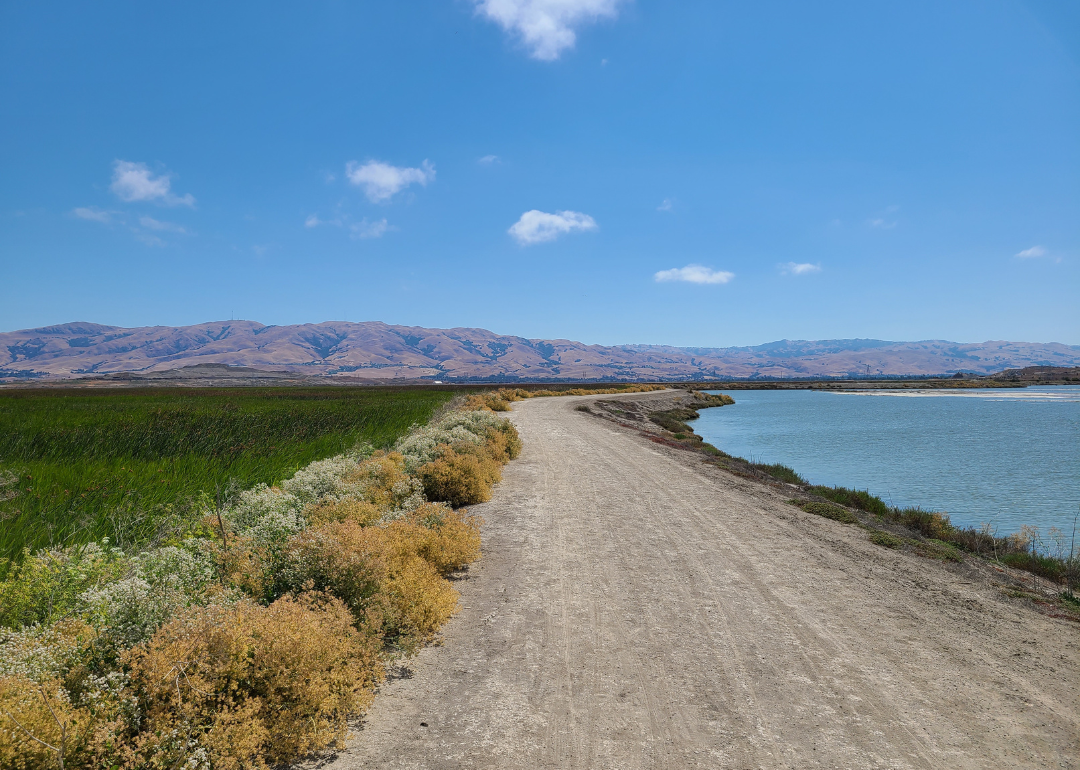 Canva
#8. San Jose, California
– Population: 1,013,337
– Median home value: $986,700
– Median rent: $2,366
Though San Jose is better known for its bustling downtown activities, like shopping on Santana Row or visiting the Winchester Mystery House, it also serves as a great launching point for outdoor recreation in the wilderness to the city's east. Many acres of the Santa Clara foothills are protected wilderness, offering plenty of ways to get outdoors. Hike or horseback ride in Alum Rock Park, fish at Grant Lake, or take the nearly 10-mile loop trail at Twin Gates.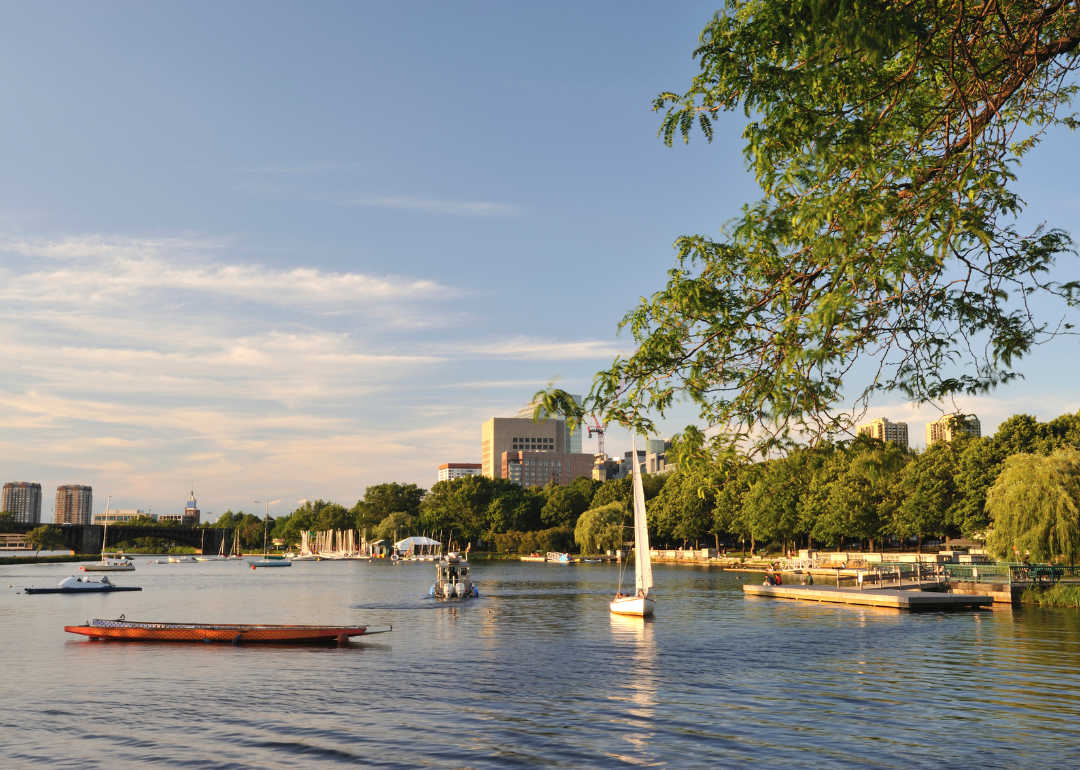 Canva
#7. Cambridge, Massachusetts
– Population: 116,892
– Median home value: $888,000
– Median rent: $2,388
The home of not one, but two elite universities (Harvard and MIT), Cambridge embodies the collegiate spirit. On any given morning, you're likely to see crews rowing the Charles River. In fact, you can even join them in the annual Head of the Charles Regatta—or just watch from the banks. You can also rent paddleboards or kayaks to go out on the river solo or with a friend. When the leaves begin to change in the fall, you're going to want a scenic walk through Cambridge. Head to Fresh Pond Reservation to stroll the 2.25-mile loop around the pond, or take your pup to Little Fresh Pond Dog Beach.
Canva
#6. Boston
– Population: 672,814
– Median home value: $610,400
– Median rent: $1,783
The best-known walk in Boston is undoubtedly the Freedom Trail, a pedestrian path to various historic sites dating back to the Revolutionary War. That's mainly in the city center, though: If you prefer a bit more open space, bike the 23-mile path along the banks of the Charles River. To feel properly lost in nature, get out of the city for a day hike in Blue Hills Reservation—which offers an impressive 125 miles of trails through marshes and meadows—or at World's End, a coastal preserve with Frederick Law Olmsted-designed carriage paths.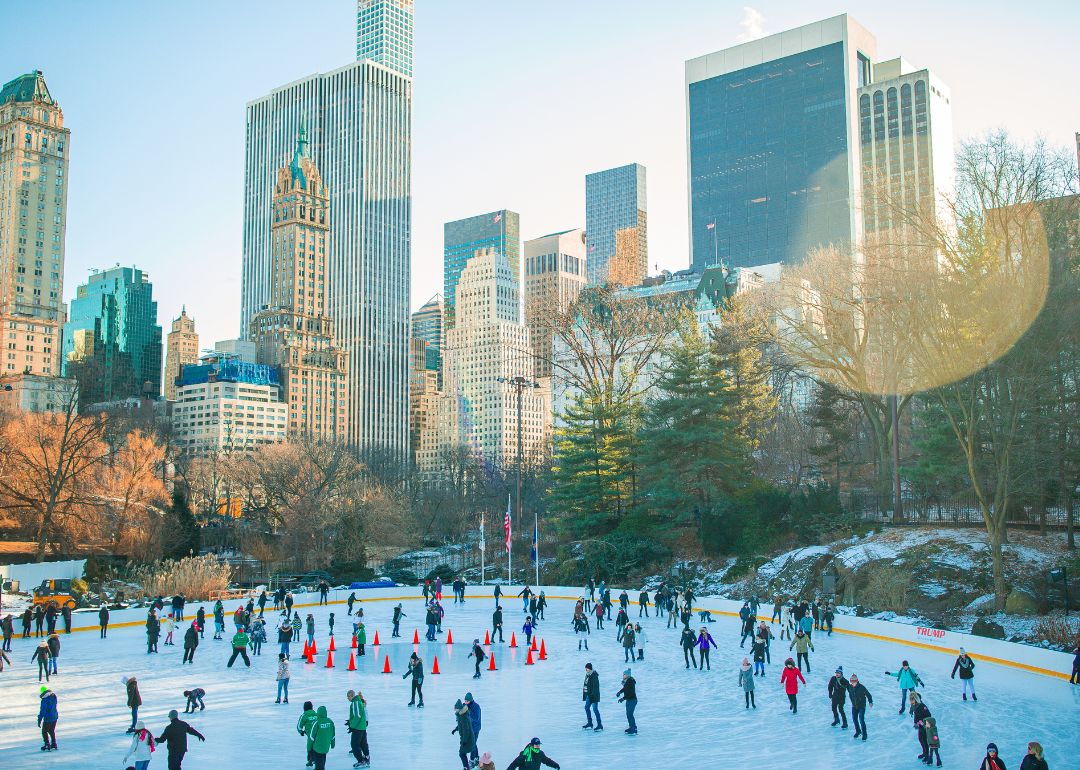 Canva
#5. New York City
– Population: 8,736,047
– Median home value: $660,700
– Median rent: $1,579
The Big Apple may be a concrete jungle, but it does feature tons of green space, including 843-acre Central Park, 585-acre Prospect Park, and 2,772-acre Pelham Bay Park, just to name a few. New York City also has several beaches, like surfer-friendly Rockaway Beach and family-favorite Orchard Beach. You can sail, Jet Ski, and even kayak on the Hudson River, or rent bikes to cycle almost all the way around Manhattan on the Hudson River Greenway. And don't forget all of the spectacular outdoor activities a short drive or train ride from the city, including nearby hikes like Anthony's Nose and Bear Mountain State Park.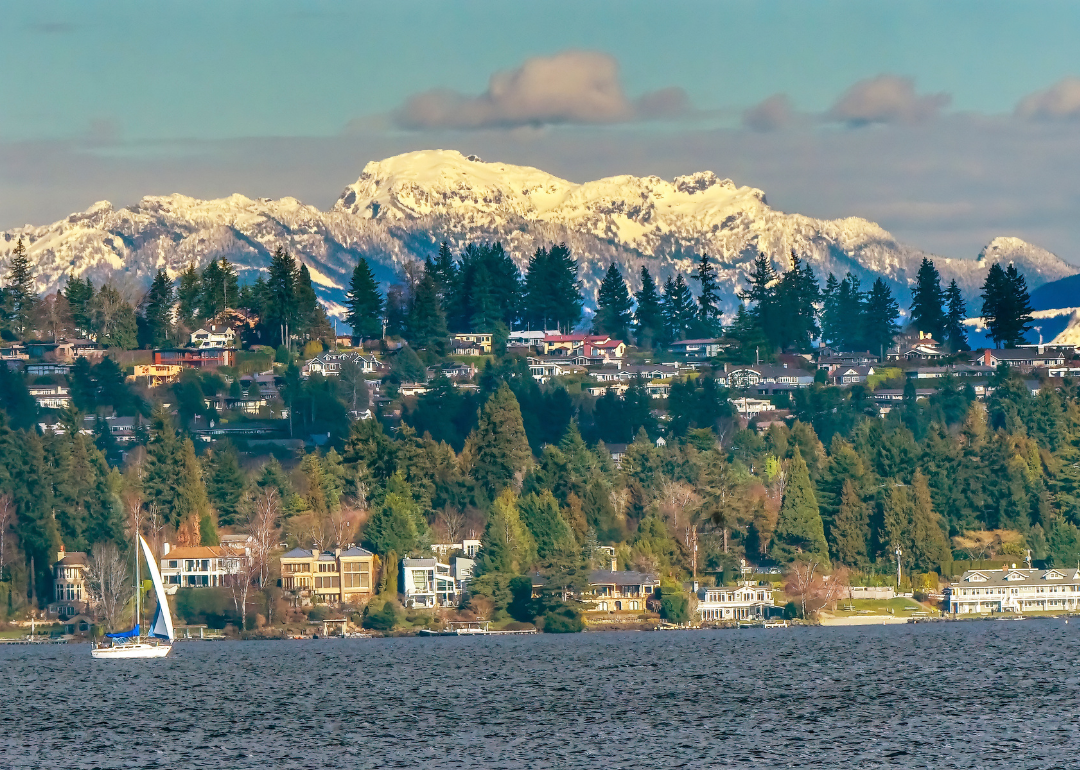 Canva
#4. Bellevue, Washington
– Population: 149,365
– Median home value: $951,200
– Median rent: $2,220
This affluent Seattle suburb is known for being near the home of famous entrepreneurs like Bill Gates and Jeff Bezos. However, Bellevue also has plenty to offer outdoor enthusiasts, too. Kayakers and paddleboarders can paddle out into Lake Sammamish, where birders might catch a glimpse of great blue herons. Just south of Bellevue, Cougar Mountain Regional Wildland Park is beloved for its excellent hiking and trail running through mature second-growth forests. A little farther afield, the ascent to Rattlesnake Ledge offers stunning views of Rattlesnake Lake and the Cascade Mountains.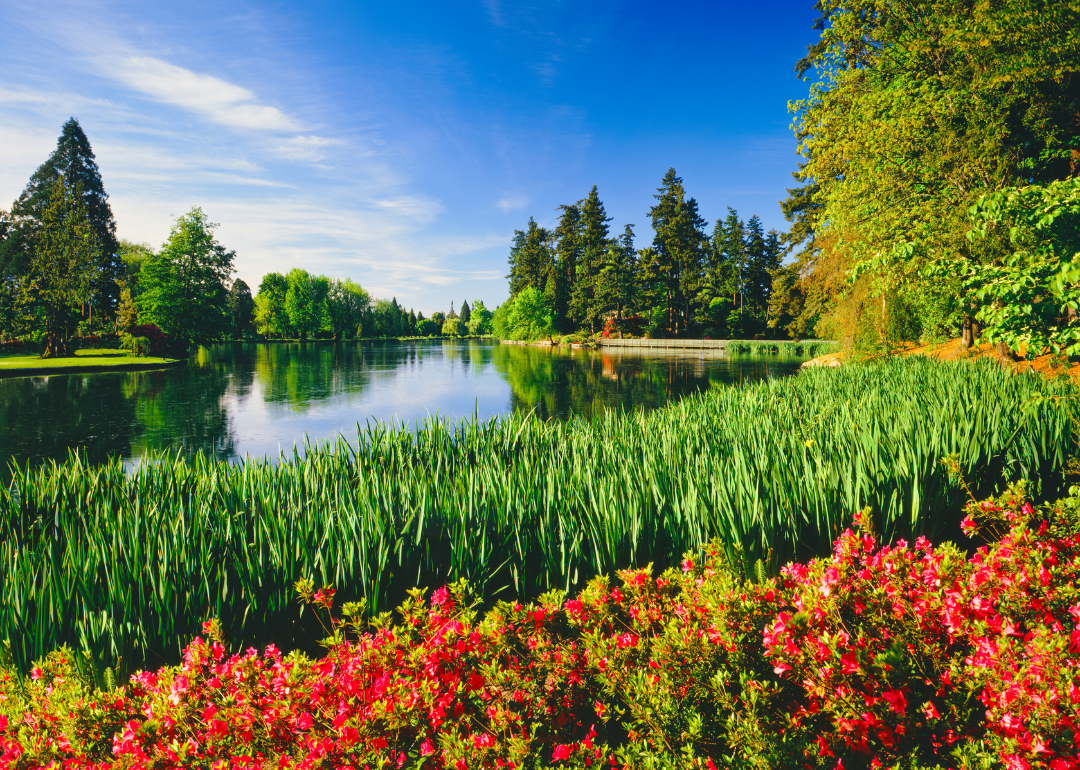 Canva
#3. Portland, Oregon
– Population: 647,176
– Median home value: $462,800
– Median rent: $1,406
With top-notch skiing at Mount Hood to the east and breathtaking camping spots like L.L. Stub Stewart State Park in the Northern Coast Range to the west, Portland is a great home base for people who want to get outside. The city itself boasts plenty of opportunities to spend time in nature, including hiking the trail from Lower Macleay Park to the historic Pittock Mansion—a local favorite thanks to its sweeping views of the city.
You can also rent kayaks to take out on the Willamette River, or boat to Government Island State Park for the day. But perhaps the most special experience you can have on the water in Portland is boating or kayaking through one of the country's largest urban wetlands in Smith and Bybee Wetlands Natural Area, where you can spot beavers, black-tailed deer, river otters, bald eagles, osprey, and Western painted turtles.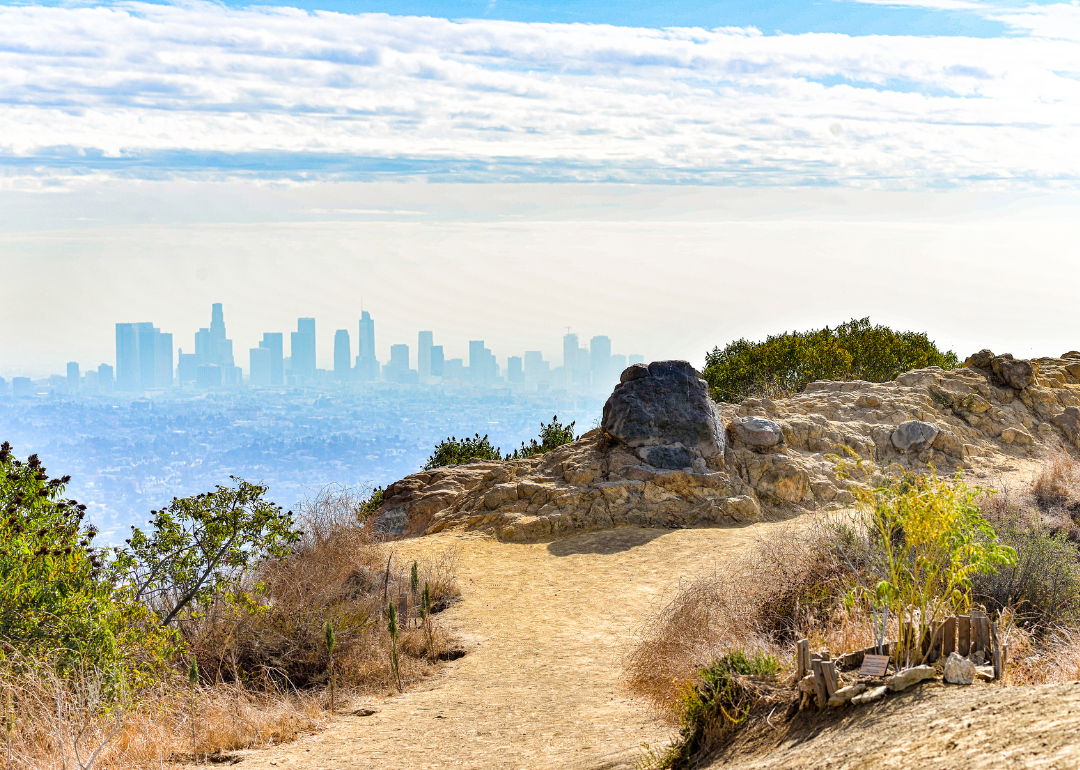 Canva
#2. Los Angeles
– Population: 3,902,440
– Median home value: $705,900
– Median rent: $1,641
From beaches to hills, LA's sprawling urban footprint contains a wide range of natural landscapes. Enjoy the sand and surf Southern California is known for at Will Rogers State Beach, Venice Beach, or Dockweiler State Beach. For a classically Los Angeles experience, hike high into the hills at Griffith Park to catch a glimpse of the Hollywood Sign. Or, if you prefer hiking with an ocean breeze, climb the Temescal Canyon Trail in Topanga State Park to catch sweeping views of the Pacific Ocean.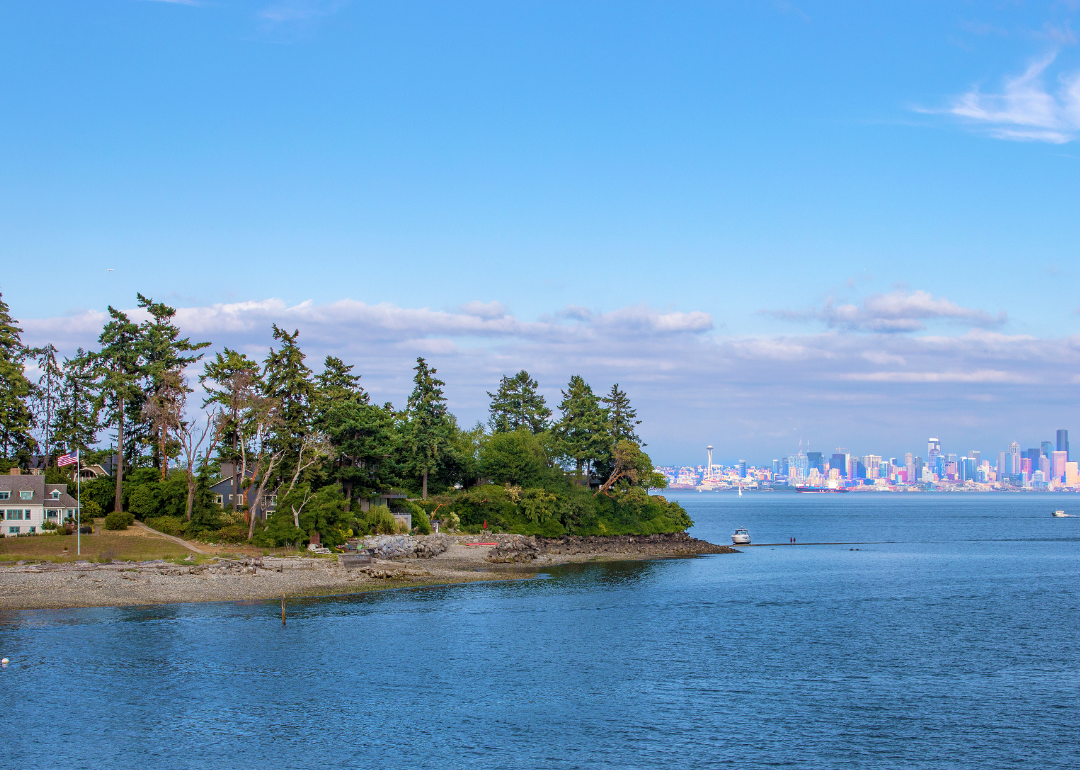 Canva
#1. Seattle
– Population: 726,054
– Median home value: $767,500
– Median rent: $1,801
Seattle takes the top spot on the list of the best places to live for outdoorsy folks, thanks to its proximity to both world-class national parks and forests and excellent recreation within its city limits. Olympic National Park and Mount Rainier National Park have already been mentioned on this list, and they're certainly a draw for Seattleites—but they aren't the only beautiful spots nearby.
Seattle's Discovery Park offers city dwellers a chance to get outside within the city, with miles of walking trails, two tidal beaches, active sand dunes, and more to explore. It would be remiss not to mention Lake Washington itself, which becomes a hot spot for stand-up paddleboarding, windsurfing, sailing, and all kinds of boating in the summer.
Data reporting by Elena Cox. Story editing by Jeff Inglis. Copy editing by Tim Bruns.
More Stacker National