What does the best coffee from 10 regions around the world taste like?
Published 2:00 pm Friday, August 11, 2023

What does the best coffee from 10 regions around the world taste like?
The United States is a nation of coffee drinkers, and the stats prove it: Americans drink about 491 million cups of coffee each day. What is now an essential morning routine has fueled conversation and significant change throughout history.
Historian Mark Pendergrast, author of "Uncommon Grounds: The History of Coffee and How It Transformed Our World," noted how the conversations over coffee helped spread ideas during the French and American revolutions.
Every day, coffee is what wakes drinkers up in the morning and, sometimes, what keeps them going throughout the day. Unsurprisingly, many have developed a deep love for the caffeinated drink, noting its different aromas and flavors.
Home Grounds looked into the flavor profiles of coffee from 10 different regions, drawing on coffee experts, news reports, and other sources. There are two major species of coffee: Arabica and robusta.
Arabica trees, the trees we can usually thank for our morning obsession, grow best near the equator in high altitudes with lots of indirect sun. While these coffee plants are native to Ethiopia, they have since made their way to other parts of the world, such as Latin America and Southeast Asia, producing coffee with slightly different terroir due to differences in soil, weather, and processing procedures after harvest. Many coffees produced by a single producer or region often tout 100% Arabica beans.
On the other hand, robusta is made from the Coffea canephora plant rather than the Coffea arabica. It is often grown in lower altitudes in countries like Uganda, Vietnam, and Indonesia. These beans feature more bitter flavors that make them perfect for espresso blends.
GELEFIN // Shutterstock
Ethiopia
Ethiopia claims birthright to coffee because it's where the Coffea arabica tree grows natively. It's no surprise then that the country takes its coffee drinking seriously. Homes and coffee shops alike offer jebena buna, a traditional ritual by which coffee is roasted, ground, and brewed in small batches within just a few hours. Whether enjoying jebena buna or more conventional coffee, Ethiopia has several regions that produce its distinct flavor profiles.
Harar, Yirgacheffe, and Sidamo are the most well-known. The nuanced flavor profiles change by region and how coffee beans are processed, but Ethiopian coffee is generally known for its light and fruity flavors, particularly blueberry. Coffee drinkers may also notice flowery notes, similar to jasmine tea, and a wine and berry aftertaste.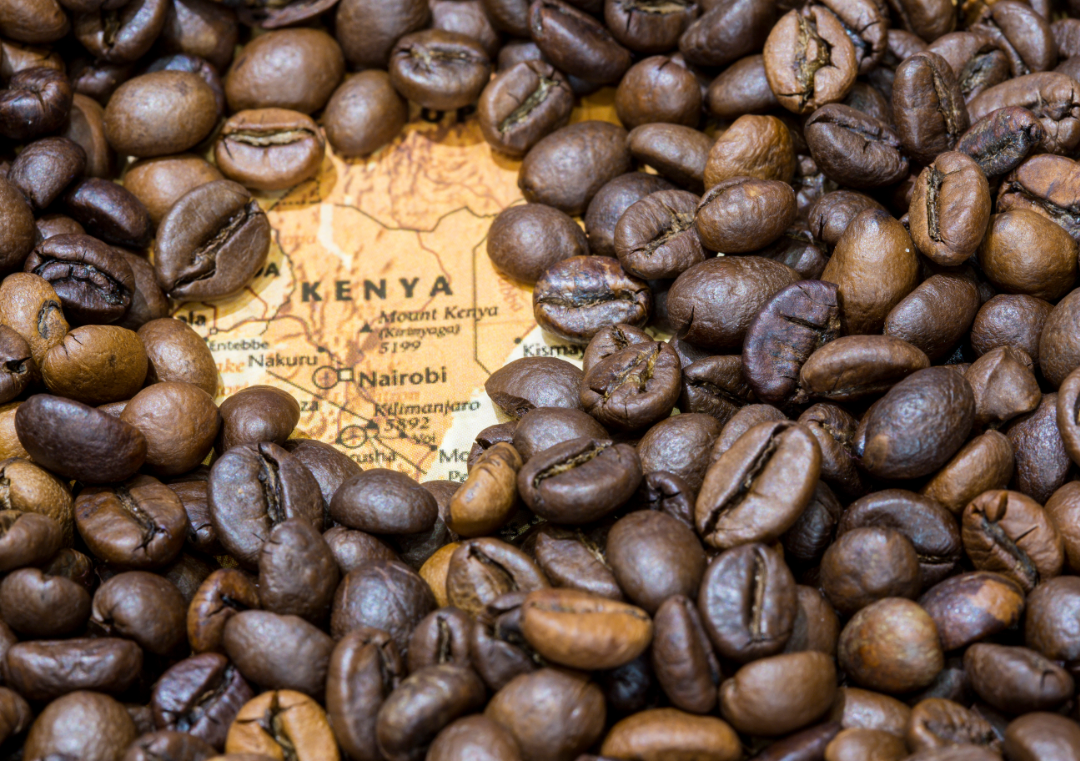 Canva
Kenya
Ethiopia's southern neighbors may prefer to drink a cup of tea over coffee, but Kenya maintains a strong reputation for producing high-quality coffee. It is a legacy the country has reclaimed from its British colonizers, who made it illegal for Africans to grow coffee commercially until 1955. Thanks to ongoing reforms, Kenyan farmers are starting to enjoy more of the economic and social benefits of producing some of the world's best coffee.
With its rolling hills, red volcanic soils, and high annual rainfall, the country's lush landscape is ideal for growing Coffea arabica trees. Those conditions give Kenyan coffee a floral note and crisp, berry flavor—the aftertaste of Kenyan coffee compares to lemongrass and grapefruit.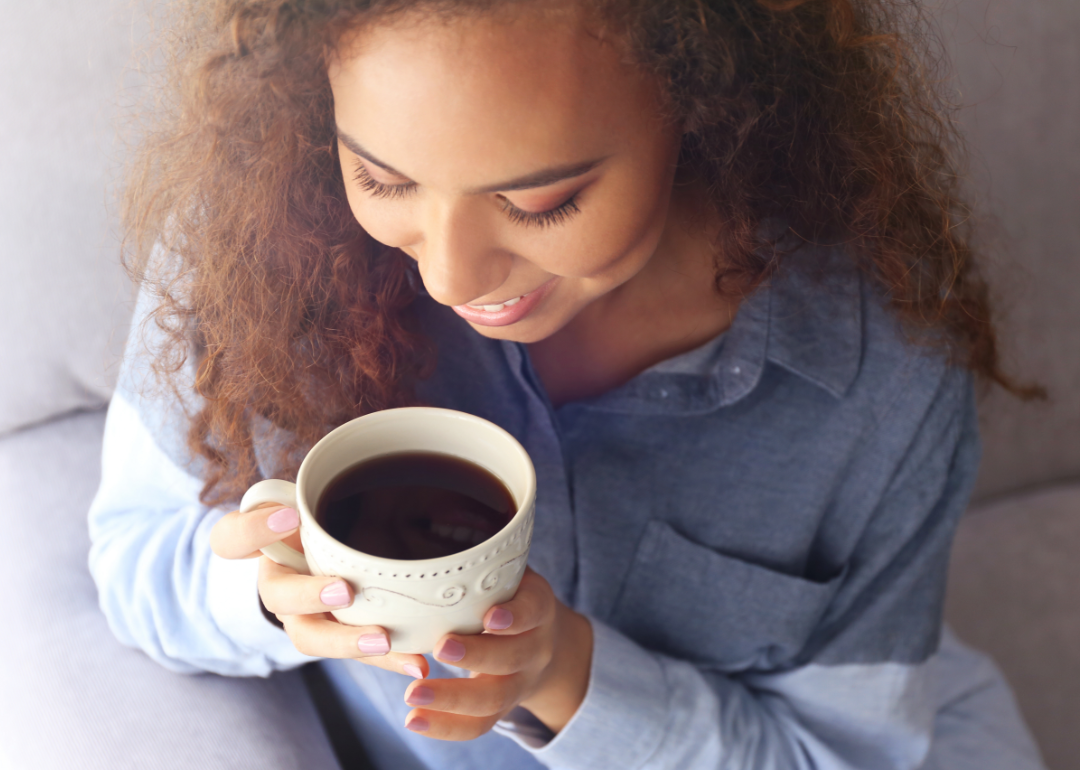 Canva
Tanzania
The flavors of Tanzanian coffee can change based on whether the beans were grown in the northern or southern part of the country. Northern beans grown near Mt. Kilimanjaro in fertile, volcanic soil tends to have a more chocolatey profile. Southern-grown coffee can produce a more floral profile. Both regions are known for their sweet berry notes and subtle notes of cedar.
However, Tanzania is at risk of losing its coffee-growing regions because of increased nighttime temperatures and less rainfall—the effects of climate change. As global temperatures rise, Tanzania will have to move its crop to higher altitudes, but much of that land is restricted to protect biodiversity.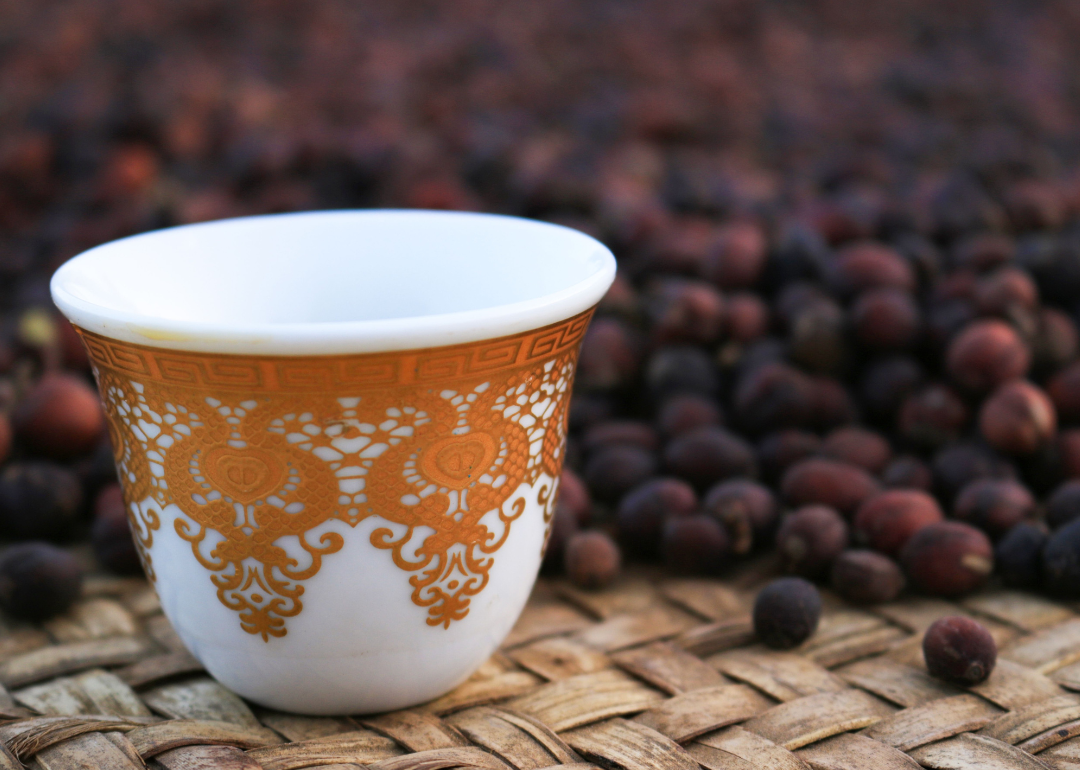 Ahlam Al-Samawi // Shutterstock
Yemen
Ethiopia may be the birthplace of the coffee plant, but we have Yemen to thank for the global coffee culture we know today. According to local legend, Sufi mystics would use coffee to help them concentrate as they chanted God's name.
In the 17th century, Yemen's port city Al Mokah was the heart of the international coffee trade—it's where we get the name mocha (though not the recipe) for the hot, chocolatey beverage. Naturally, the lingering flavor from Yemen's coffee beans is chocolatey. Other flavors include berry, woodiness, and even some earthy tobacco flavors.
Canva
Brazil
Brazil makes a third of the coffee consumed by coffee drinkers worldwide; it's the most significant producer by far. Brazilians are also big consumers of coffee and drink it throughout the day. It's common for Brazilians to offer someone coffee to greet them and show hospitality.
This coffee is typically made from robusta beans, but Brazilian farmers also grow plenty of Arabica beans. High-quality coffee grown in Brazil typically carries rich chocolate and nutty flavors with a low acidity.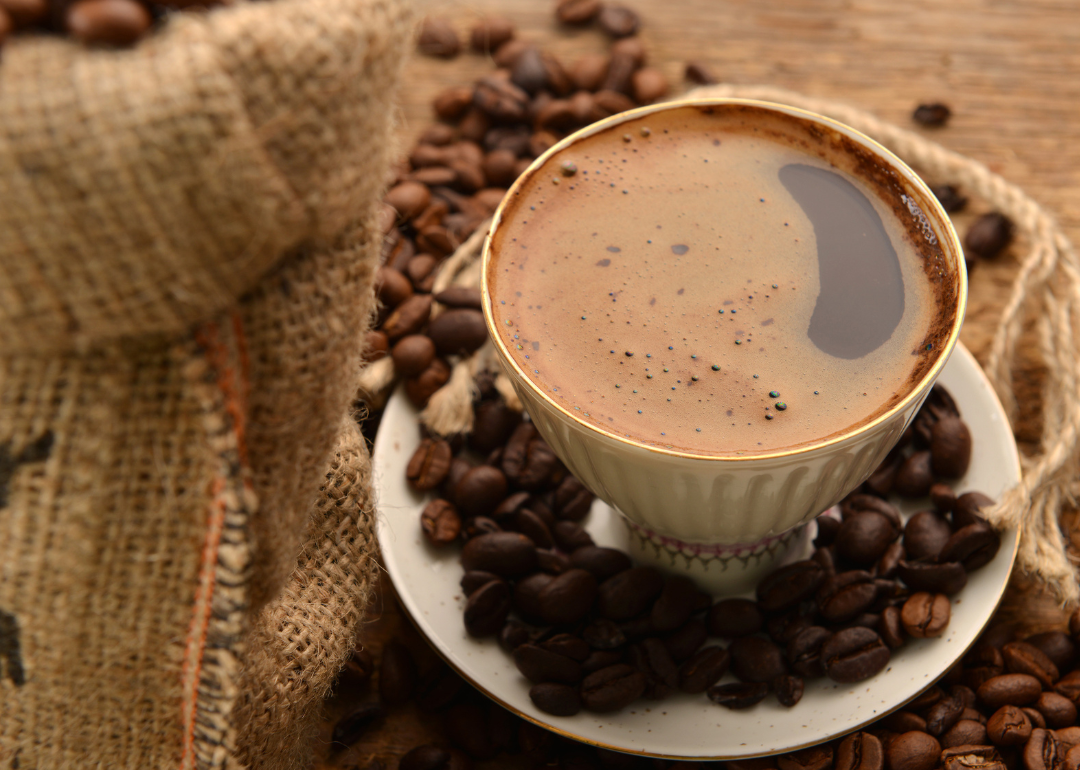 Denis Tabler // Shutterstock
Colombia
Colombian farmers are known for hand-picking their crops. In Colombia, coffee is more than a morning pick-me-up; it's also an opportunity to socialize with friends and family. It is so ingrained in Colombian culture that coffee has become part of its national identity.
Unlike other countries that may have one or two sub-regions for their coffee, Colombia's landscape and climate support many areas suitable for coffee growing, such as Huila, which produces juicy flavors with lots of body, or Santander, with more chocolatey and tobacco notes. Coffee from Antioquia tends to have a lighter body, not often preferred for a morning pick-me-up, while Toilma beans are bright with citric acidity.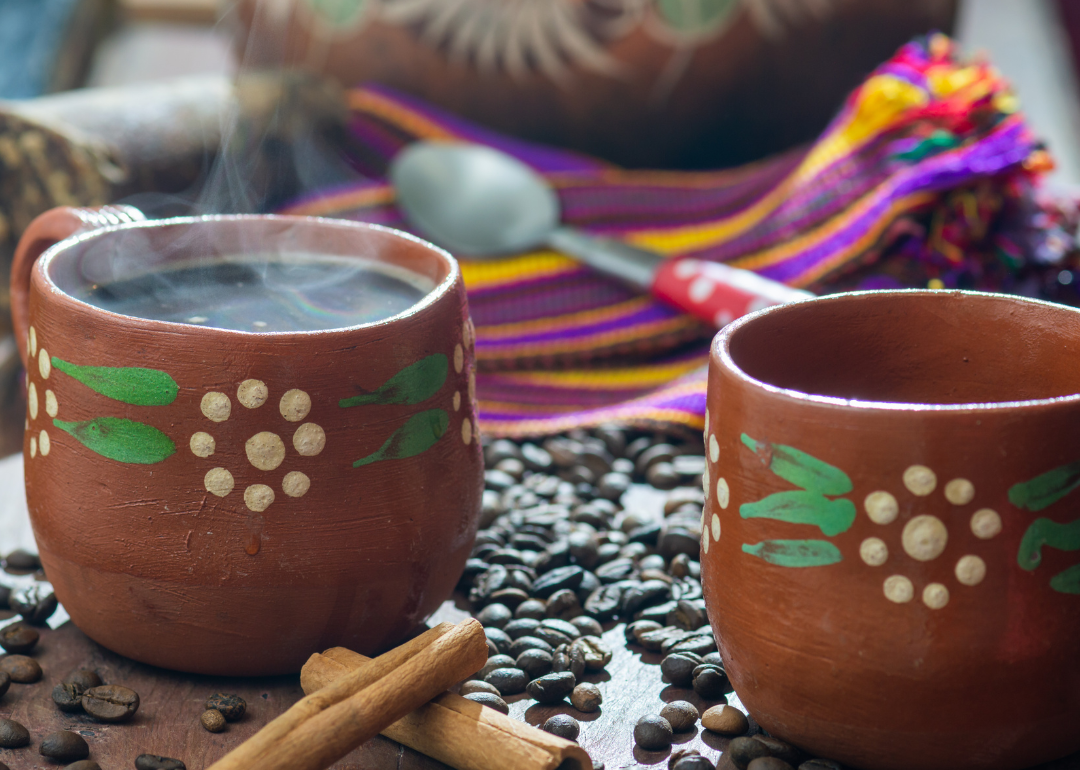 Robert Briggs // Shutterstock
Mexico
Coffee crops are grown across Mexico, but three Mexican states are known for coffee production. Oaxaca, Veracruz, and Chiapas border each other in the southern region of Mexico.
Veracruz boasts the oldest coffee-growing tradition of those three states, with trees dating back to the 18th century. Its beans carry the flavor of blueberries with a sweet and sour aftertaste. In Chiapas, beans taste like chocolate, nuts, citrus, and lemon. In Oaxaca, which sits in the middle of the two other regions, flavors tend to be sweet with notes of caramel.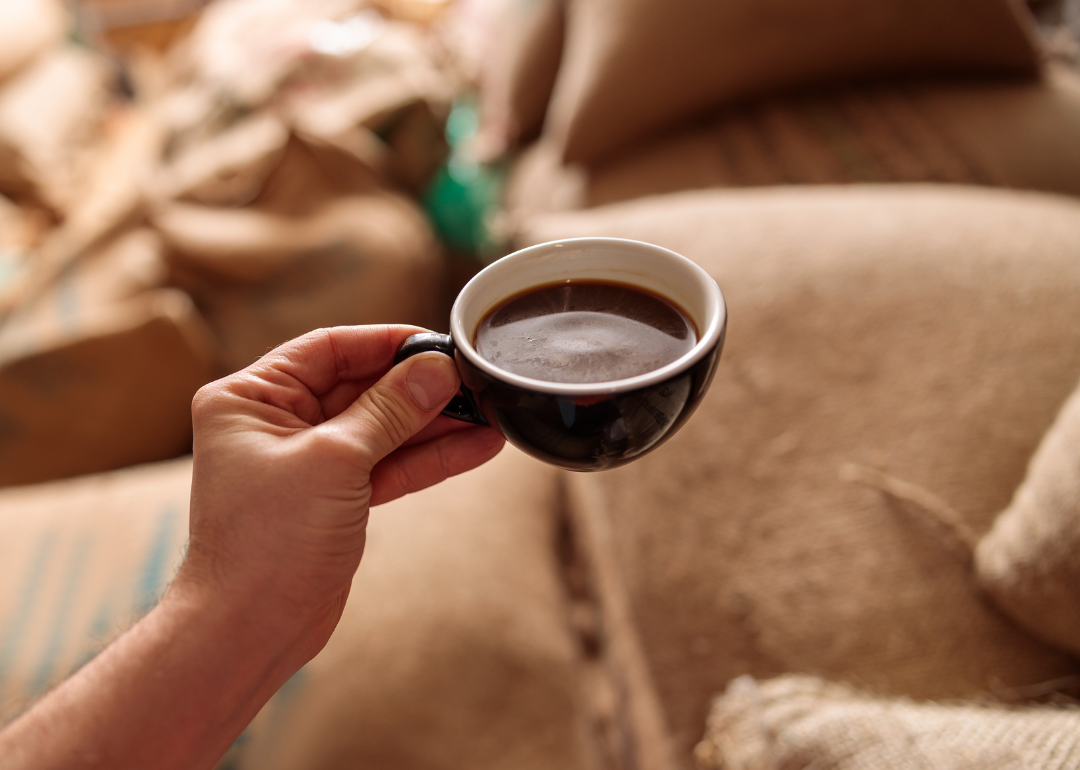 Yaroslav Astakhov // Shutterstock
Costa Rica
Costa Rica takes coffee seriously, and it shows. They call coffee the "grain of gold" and even designated it a national symbol. Costa Rica was the first Central American country to begin growing coffee trees in 1816, and it remains an ideal place to grow the crop.
Its tropical climate, fertile volcanic soil, and predictable weather help create a bountiful harvest. Coffee from Costa Rica comes in two Arabica varieties, the caturra and catuaí. Caturra beans typically produce coffee with a bright acidity and citrus notes. Catuaí coffee is known for its sweet acidity and chocolate and caramel flavors. Costa Rican coffee often blends the beans of these two varietals to balance out the flavors in your cup.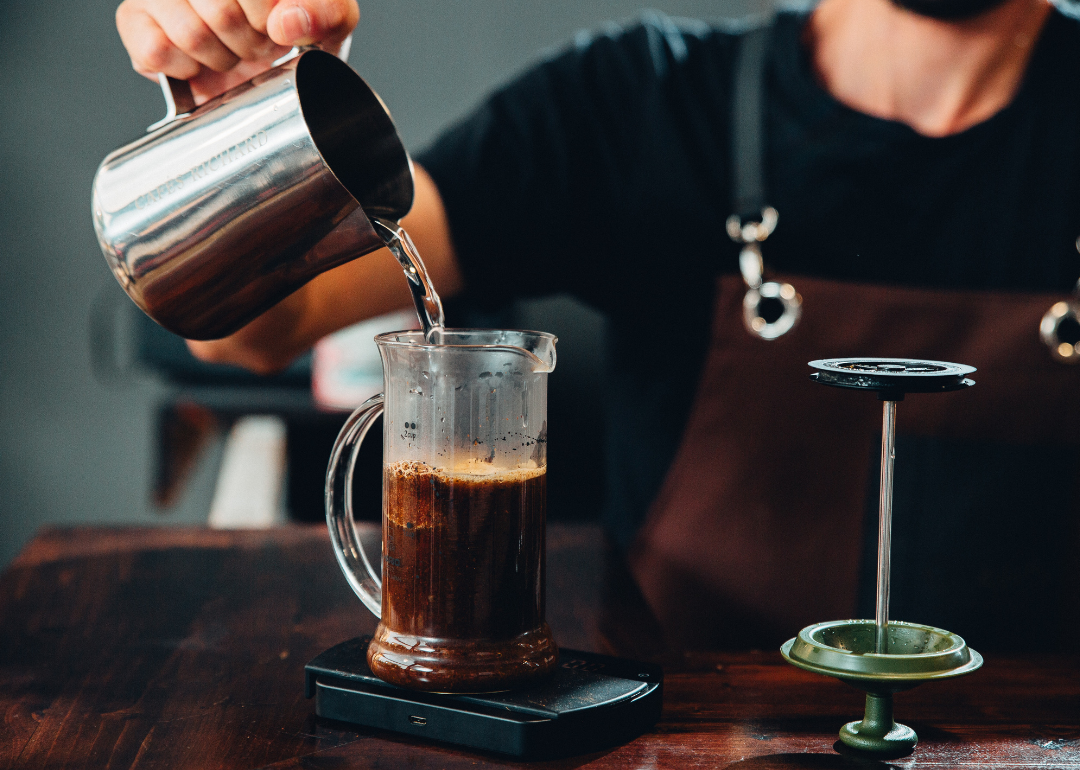 Canva
Guatemala
Guatemala prides itself in being the first country to differentiate the flavors from its growing regions. With eight regions, coffee connoisseurs can take their time to get through them all. Antigua is Guatemala's most famous coffee-growing region. With three volcanoes guarding its borders, the volcanic soil helps retain moisture and gives the beans their flavor profile. Antigua beans are known for their smoky, fruity flavor.
Four other growing regions (Acatenango valley, Atitlan, Fraijanes plateau, and San Marcos) also have volcanic soil, so if you're looking for something different, rainforest Cobán could be a good alternative. Its hills have limestone and clay soils. The cool, rainy climate creates coffee with fruit notes and a well-balanced body.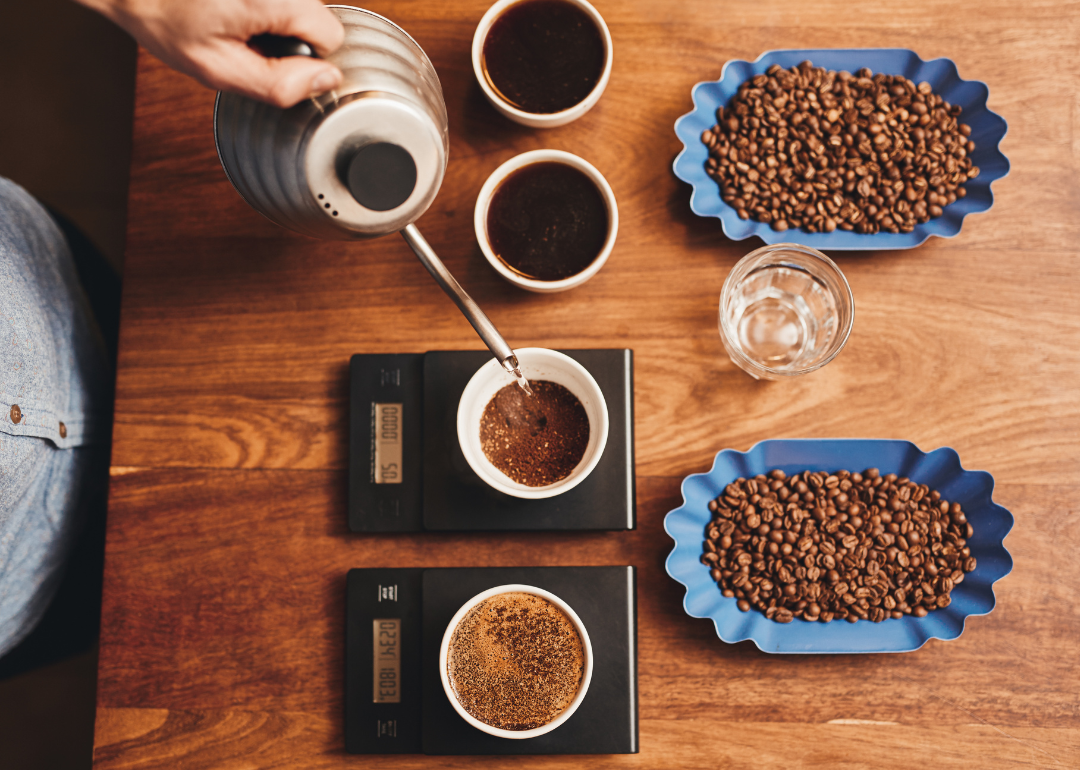 mavo // Shutterstock
Indonesia
Indonesia's coffee-growing history started with the Dutch in the 1600s, who smuggled the beans from Yemen. The Dutch East India Company colonized the island of Java, and soon, coffee growing spread to other regions, including Bali, Sumatra, and Sulawesi.
Because of their initial success, the word "Java" became synonymous with coffee, losing some of its varietal connotations along the way. Java coffee, however, has a clean, sweet taste with notes of molasses and fig. Sumatra coffee, on the other hand, has an earthier flavor.
Sulawesi coffee tends to be lighter than other Indonesian coffees and offers hints of cinnamon and cardamom, while Flores coffee has a milk chocolate flavor with woody notes. Finally, coffee from Bali brings flower, chocolate, and walnut flavors to mind, a perfect accompaniment to the area's beaches and coral reefs.
Story editing by Carren Jao. Copy editing by Kristen Wegrzyn.
This story originally appeared on Home Grounds and was produced and
distributed in partnership with Stacker Studio.
More Stacker National