Companies of all sizes have expanded retirement benefits—here's why
Published 1:45 pm Monday, August 14, 2023

Companies of all sizes have expanded retirement benefits—here's why
After years of instability in the global economy and the reduced availability of defined-benefit pension plans, employees have become more focused on their financial situations after retiring.
Retirement funds are among the most important elements of employers' benefits offerings, according to the Society for Human Resource Management, rating them as highly as other popular employee benefits like flexible working and health care. Twenty percent more employees said retirement benefits were a good reason to stay with a company in 2022 versus 2010 to 2022, according to a 2022 survey by the insurance advisory firm WTW.
Guideline used benefits data from the Bureau of Labor Statistics to examine the growth of retirement benefits across company sizes over the past decade. The analysis includes private industry establishments and workers nationwide. The data is based on surveys and therefore is subject to some error, meaning actual values may vary.
More than half of private industry employers offered some form of retirement benefits in 2021, according to the Bureau of Labor Statistics. The rate was about the same for companies with fewer than 100 employees, but a much higher percentage of companies (91%) with more than 100 employees offered retirement benefits.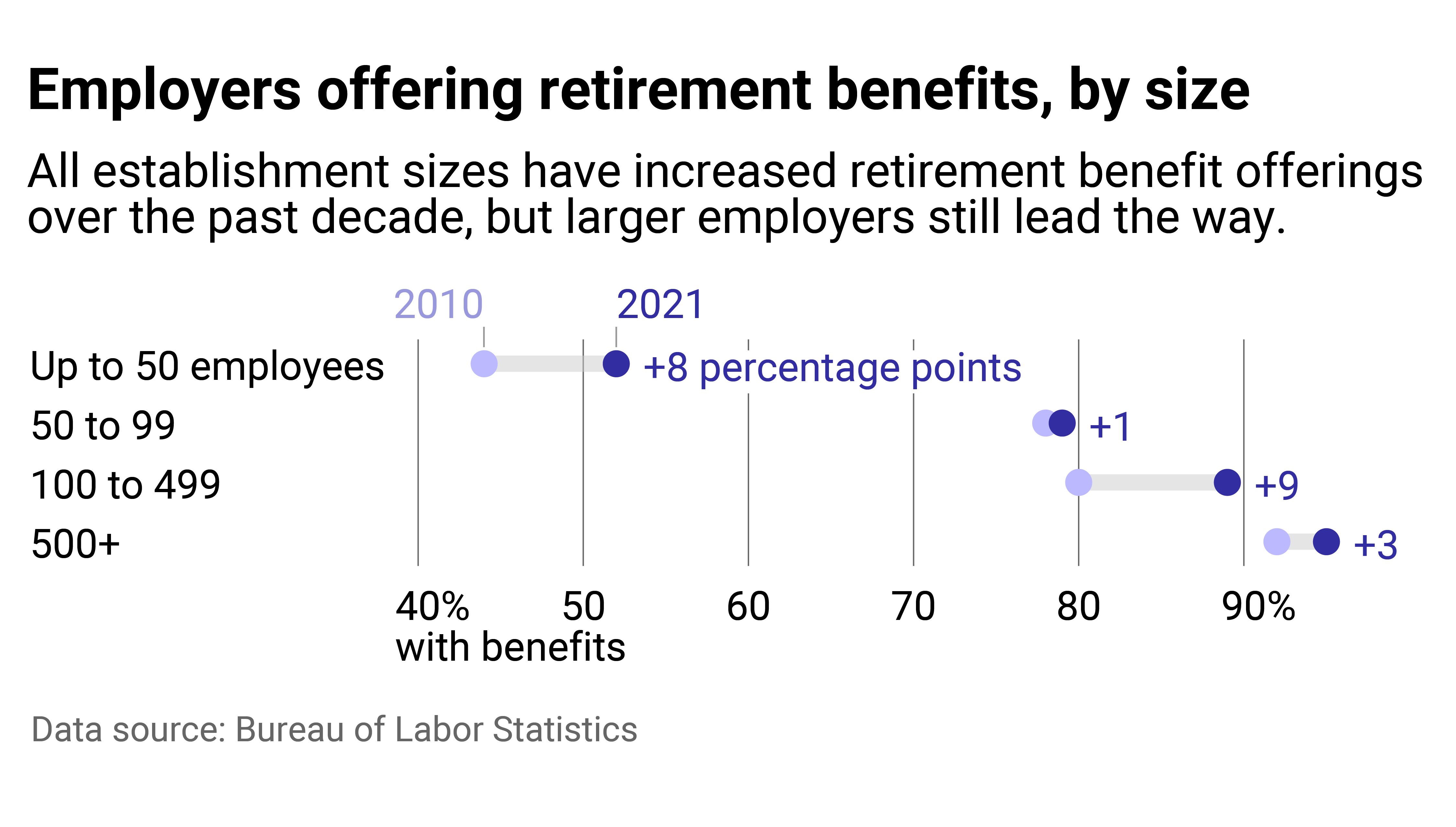 Guideline
Private employers of all sizes have expanded retirement offerings
More companies of all sizes in the U.S., from the smallest startup to the largest conglomerate, have begun offering retirement benefits over the past decade, according to data from the Bureau of Labor Statistics.
One potential reason for this is that fewer young workers expect Social Security benefits to still exist by the time they retire. In 2016, a Social Security Administration survey found 90.9% of workers aged 55 to 64 expected to receive Social Security benefits when they retired, but less than half of workers ages 18 to 34 expected the same. Yet in 2021, a Gallup survey showed that Social Security is the top source of income for retirees. If younger workers expect to lose a significant source of retirement income, they'll be looking to employers for help.
Research from the Pew Trusts in 2017 may explain why smaller and larger businesses have different offerings. Small companies tend to wait to implement retirement plans as they evolve from their initial startup stages, tacking them on as additional benefits during periods of growth or expansion to attract and retain employees.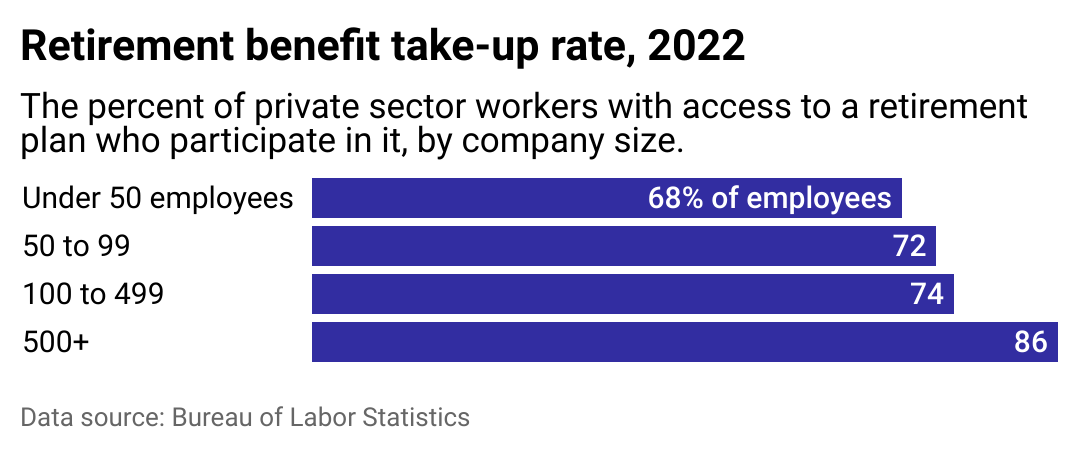 Guideline
The majority of employees with access to retirement plans participate in them
At least 68% of all private sector employees who have the opportunity to participate in a retirement plan do so, with the highest participation rate among companies with 500 or more employees.
A report from the Center for Retirement Research at Boston College found that when it comes to company sizes, smaller firms are much less likely to offer retirement plan benefits. A 2014 ADP analysis suggests that smaller and larger companies administer their plans differently. For instance, larger companies are more likely to automatically enroll employees in retirement plans and match a certain percentage of an employee's contribution to the plan.
A Department of Labor and the Internal Revenue Service report says employees enrolled in retirement plans by default are more likely to participate in those plans. They also confirm these types of plans contribute to increased employee retention.
In addition, employees who see an opportunity to get additional money from their employer through a matching program are more likely to participate in retirement plans. The expense this can present to small businesses is one reason why many don't offer retirement plans, and others choose to curb the costs by not matching contributions.
This story originally appeared on Guideline and was produced and
distributed in partnership with Stacker Studio.
More Stacker National